CNC software makes creating your own custom and creative projects possible. CNC design software lets you create 2D or 3D CAD designs, CAM software for CNC creates toolpaths and exports g-codes that your CNC router can interpret, and CNC controller software runs your machine to create perfect carvings and cuts.
But with such a wide variety of CNC router software on the market, how do you know which is best for you? Well, there are several factors to take into consideration, including user-friendliness, compatible operating systems, customizability, range of features, customer support, and what types of CNC machines the software can be used with, to name just a few.
You'll also want to consider price. While there are free CNC software that can be used by anyone, some of the best software can cost hundreds of dollars, so you need to find a program that's within your budget.
To help you out, in this guide we reveal the very best CNC software available right now, including both free and paid software. We take a close look at the key aspects of each software to help you make the right choice. But before we get into that, let's take a closer look at how CNC software works.
Here's a quick view of the best CNC router software:
All-in-one software:
Best CNC CAM Software
Free CNC controller software / G-code software for CNC:
Best CNC controller software (professional):
How Does CNC Software Work?
The first step in the process is to create a design using CAD (computer-aided design software), which is separate to the CNC programming software. You can think of this as a blueprint for your design.
Anything you can design, you can make a reality with the right CNC design software, whether it's a simple piece of woodwork or intricate, laser-cut fine jewelry.
You then need to use CAM software, which takes your CAD drawing file and creates a g-code. G-code is the most widely used CNC programming format and essentially provides information to the CNC machine about what work needs to be done.
Some software allow you to edit and input your g-code, known as g-code manipulation, while others – g-code sender software – simply send out the code to the firmware.
The CNC control software is directly connected to the CNC controller with a transfer protocol, usually a parallel DB25 port or USB. The controller then directs the central breakout board which in turn sends instructions to the drivers, based on the information provided by the software. The drivers provide instructions to the motors, which control each axis to create models.
Once you have your g-code, you use your CNC controller software to run the machine and create your model from your chosen material.
All-in-one CNC Software
Easel / Easel Pro – Best CNC Software For Beginners
Price: Easel is free, Easel Pro is $24/m or $233/year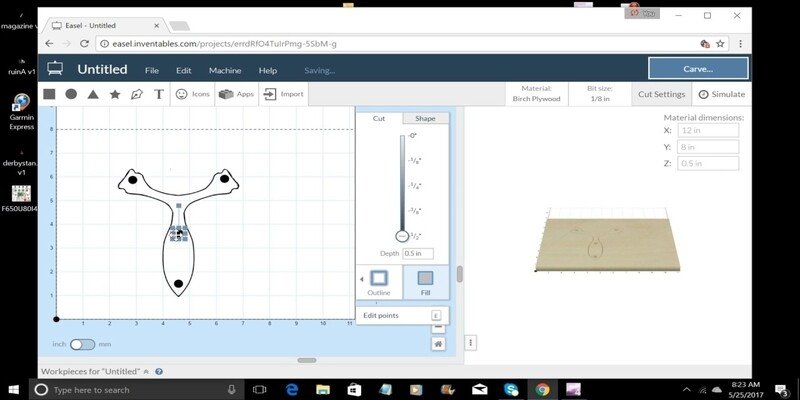 Made by Inventables, makers of the popular X-Carve CNC router, Easel is sold as the easiest and more accessible CAD-CAM software for CNC around, so even the least experienced of makers can get started. It's easy to import g-codes from tools like Fusion 360 into Easel and get machining right away for a convenient workflow.
Easel has seamless compatibility with most common CNC routers, not just their X-Carve machines, but including almost all popular 3018 CNC routers by brands like Sainsmart and Mysweety, as well as Maslow, Millright, BobsCNC, Shapeoko, and many more.
The all-in-one focus saves you hassle if you're a beginner or time-pressed, and you're able to design, import, and get carving all within the one CNC CAM software.
An online CNC software, Easel frees you from downloading and launching software continuously, as well as letting you easily store your designs and changes in the cloud. Easel is only improving, too, with continuous improvements and new features introduced, including v-carving, better tool paths, tiling, and new graphics added all the time.
If you get stuck, there's a great community built around both Easel software, and the X-Carve machines, to help you out. Also, check out Inventables' Easel 101 videos if you're a beginner and want to get learning.
Easel Pro has v-carving, more advanced tool paths (raster carving for optimizing the direction of your CNC router's cut based on the length/width of your part, ramping plunges, etc), access to the Pro design library with over 3 million designs, a customizable font library, and much more — but the very serviceable basic version is free.
CNC Design Software — CAD Software for CNC
Fusion 360 – All-purpose CNC CAM Software
Free for students and free trial, then $495/year
With a huge market share and a favorite of many makers, Fusion 360 is a great all-in-one CAD/CAM software for CNC. Capable of creating 2D and 3D CNC designs, Fusion 360 also has a g-code editor and CNC simulator based on your chosen toolpaths.
While Fusion 360 is free for personal use, you're limited compared to the paid version. You only get 10 active and editable Fusion 360 documents, can't use it for 4 or 5-axis CNC, can't export .dxf, .dwg and some other file types, and you don't get access to premium tools like HSMWorks.
For hobbyist use you're probably only using a 3-axis CNC machine though, and may not need complex simulation tools — you just want to get making with your CNC router. Fusion 360 is also free if you're a student for educational purposes.
If you're upgrading to Fusion 360's paid version, you can use 4 and 5-axis functionalities, and it works for a variety of CNC machines beyond just CNC routers: waterjet cutters, plasma cutters, laser cutters, FDM 3D printing, and more. Fusion 360 gives you a wide range of tool path templates to save you time and make you more efficient — making you more money. Adaptive clearing, parallel passes (for detailing), circular and pocket clearing, 2D contours, and many more custom options cut down on experimenting so you can get right to work. It's one of the best CNC programming software tools out there, and a great CNC CAM software for generating g-code files.
Naturally, post processors are available for a wide range of machines, so you don't need to worry about compatibility — you can find these in the Autodesk Post Library. Its popularity means there's a wide range of resources for learning specific elements, and ensures it'll be supported for decades to come.
Inkscape — Free 2D Vector CNC Design Software
Inkscape is a free and open-source CNC software commonly used in laser cutting for its great 2D design tools. And for all the same reasons, it's great for 2D CNC cutting as vectors work perfectly for CNC cutting signs and other projects with text and image designs.
For more complex and advanced design projects, using Inkscape (free) or Adobe Illustrator ($20.99/month) can be easier for the initial design work, before exporting the design as an SVG file and transferring it.
You can also use Inkscape to save money, as some free CNC software limits you design-wise, such as Easel's limited number of fonts in their free version. This makes it an effective free CNC engraving software, as well as for CNC carving. More advanced makers will have better (and more expensive tools), but if you're having fun with your 3018 CNC router, Inkscape is a great companion for 3018 CNC software and quickly makes simple designs.
While for convenience you could upgrade and pay $24 per month for Easel, more shrewd CNCers may consider designing the project in Inkscape for free, taking advantage of the limitless font options, before exporting the SVG and importing it into Easel for creating the toolpaths.
While not built in natively, you can install a third-party g-code extension to export g-codes for your control software, but by default, Inkscape can export DXF files for CNC, and a range of other formats. Overall, it's great for 2D designs and as CNC lettering software that can save you money.
V-Carve Pro / Desktop – Professional CAD Software for CNC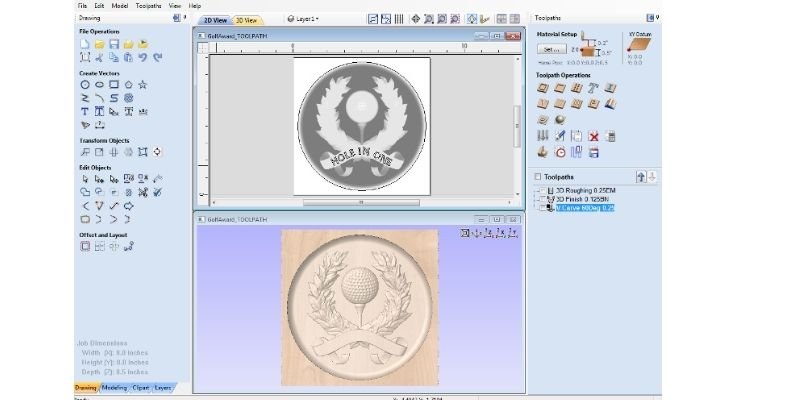 Vectric's V-Carve CNC software comes in two main options: V-Carve Desktop, and V-Carve Pro. While they're mostly similar, there are a few key differences: mainly the limited job and tool path sizes in V-Carve Desktop of 25 x 25 inches — so if you have a larger than 6060 CNC router then you'll need to upgrade. 
V-Carve lets you create complex 2D, 2.5D, and 3D CNC toolpaths and includes v-carving textures. With V-Carve you get access to Vectric's expansive 3D clipart file library for creating models quickly, and the software supports a 4th axis/rotary attachment module for any 4 axis CNC makers.
However, if you plan to use V-Carve for laser cutting or engraving, keep in mind that you'll need a further laser module license to use it for laser projects. While only $49, some may be irked by the extra cost.
Read more: the best laser cutter and engraving software
Overall however, V-Carve Pro and Desktop are advanced CNC software tools for hobbyist and professional carving, and the one-off license fee may swing it in your favor if you're not a fan of monthly subscriptions, as with Easel or Carveco.
You also get an unlimited free trial that doesn't expire — but the downside is you're heavily limited on features, for example, you can't export output files. Mac users needn't fret, as though V-Carve isn't natively designed for MacOS, you can run Parallels Desktop and run it without issue — many CNCers worldwide use this exact method for their workshops.
Carveco Maker — Powerful CNC CAD Software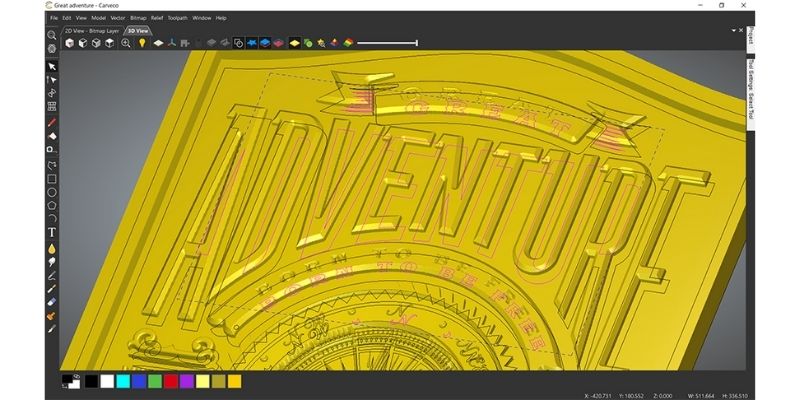 A competitor to V-Carve in the CNC CAD software category for both 2D and 3D design, Carveco Maker instead goes down the monthly subscription route, costing $15/month, or one month free if you sign up for a yearly subscription.
The software focuses on hobbyists and small business users, speeding up your workflow so you can work productively and create things like custom signs, boards, and 3D carvings — and earn more, too.
The UI has similarities to Photoshop so it feels intuitive, not alien as some more basic CNC router software can. Carveco Maker supports all major image file types, from bitmap and PDF to jpeg, tiff, dwg, and dxf, and also features a 3D clipart library like V-Carve for quickly prototyping designs or adding other fun details to existing projects. 
You can map out different machining strategies within the software, from v-bit carving, drilling, 2D area clearing, inlays, and more, and select from a huge range of custom tools and machines, picking your speeds and feeds. Unlike V-Carve Desktop there's no size limit for your creations (V-Carve Pro removes these limits), and when you're done, simply export your design to your CNC controller software.
However, Carveco is only built for Windows, so Mac users will have to look elsewhere. 
Free CNC Control Software
LinuxCNC – Best Free CNC Control Software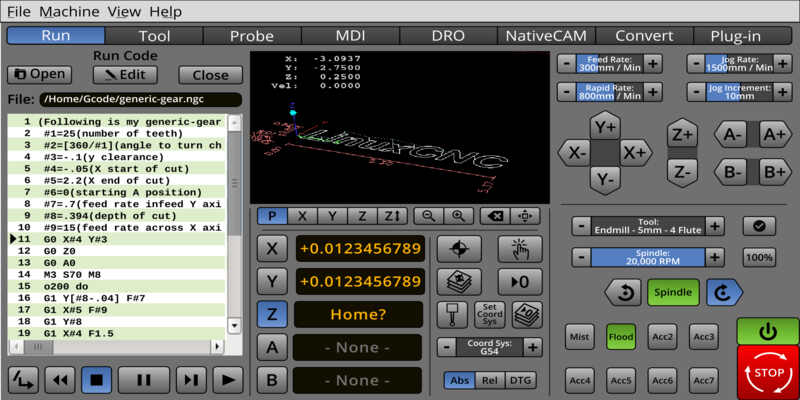 If you're looking for free CNC control software, you can't go wrong with Linux. This open-source software has been around since 1993 and is one of the most popular options amongst CNC hobbyists. Many later software, including the famous Mach series, had their original code based on Linux.
LinuxCNC can control up to 9 axes of a CNC machine and run mills, lathes, robot arms, laser cutters, plasma cutters, hexapods, 3D printers, and more. It has several different GUIs suited to particular types of usage, such as interactive development and touch screen. The software is also highly customizable and supports many advanced control features, including rigid tapping and cutter compensation.
You'll need to have a PC with real-time computing capabilities in order to run Linux, otherwise you'll only be able to run the demo version. This is because it runs under a Linux kernel with a real-time extension, allowing the software to generate the pulses required through a parallel port and operate as an all-in-one option.
You can easily install the Linux CNC software on Debian and Ubuntu, or via Linux's live/install DVD/USB images. The software is compatible with many popular machine control hardware interfaces. Another benefit of using this software is that it has an active user community where you can engage with other Linux users.
This software may seem a little intimidating to beginners due to its wide range of advanced features, but if you put the time into learning it, it's a fantastic free CNC machine software to use.
GRBL Candle – Powerful, Dependable Free CNC Software
GRBL Candle is a free CNC control software that is used with some of the best GRBL-based CNC routers, such as the Sainsmart Genmitsu 3018 Pro and Vevor CNC routers. While it is fairly simple software, it's still high quality and very dependable.
Candle ships with all popular basic DIY routers, such as 3018 CNC routers, as an easy and accessible CNC control software for beginners. It supports everything you need for creating your CNC projects, from loading, editing, and running g-codes on your router, as well as manual control to move coordinates / set zero coordinates.
GRBL isn't just suited to beginners, though. This software also has many advanced parameters that make it suitable for more experienced users, so it's a good software for growing your skills as a CNC machine operator. On the downside, it doesn't offer backlash compensation and it doesn't support rotation axis. Overall, it's a great mini CNC router software option that's simple and great for beginner CNCers.
Openbuilds Control
Openbuilds, and the accompanying Openbuilds part store, form a one-stop shop for creative DIY projects, as well as a store that gives you the tools you need to build them. Spearheaded by Peter Van Der Walt, who also founded the LaserWeb laser software project, Openbuilds Control is compatible with Mac, Windows, and Linux, so if you're looking for CNC software for Mac, Openbuilds Control could be for you.
Openbuilds Control lets you control your CNC router or machine, and also works with lasers, plasma cutters, and drag knife machines. It's a great open-source CNC control software with a surprisingly intuitive UI, too, flattening the learning curve.
You can interface with your machine, run g-codes, set zero coordinates for your CNC router within the software, and it also connects with Openbuilds' browser-based CAM software — Openbuilds CAM — for importing SVGs, DXF, and other files and converting them to g-code. It even features live update visualizations of where your router is within the current job in the CNC control software.
PlanetCNC – Free Software with G-code Manipulation
PlanetCNC is an excellent CNC router software that also comes with its own hardware. This software uses more modern techniques than some of the programs on this list, focusing on g-code manipulation. The software allows you to edit g-code and search for and bookmark lines of code. It also supports the copy and paste of g-code, allowing for fantastic flexibility.
One of the best things about this intuitive software is its flexible configuration options, with a fully-configurable tool change procedure, and simulation features. It supports many CNC machine uses, including spindle synchronization, probing, measuring, video display, relay control, and canned cycles. PlanetCNC software is also renowned for its stability and robustness.
PlanetCNC is free to use, but you'll need to have a controller with a valid license. It's compatible with Windows, Mac, Linux and Raspberry Pi operating systems and can import a wide range of file types, including Gerber, DXF, NC and PLT/HPGL. The transfer protocol is USB, which many users find much more comfortable than parallel ports.
PlanetCNC has an active user community and offers users great support. Another interesting aspect of this software is that it offers an API which allows users to create applications on top of it.
Universal Gcode Sender – Free CNC Software with G-code Manipulation
Universal Gcode Sender (UGS) is another free CNC control software option that's become very popular due to its ease of use and strong features. This software has everything you'll need as a CNC hobbyist and is particularly user-friendly, so it's a good choice for beginners.
Some prefer UGS over GRBL Candle for the better control over individual axes on your CNC machine UGS offers. For example, UGS lets you control the Z-axis separately from the XY axes, so when moving axes you can set different movement values. This helps prevent accidentally jamming your router into the work area because you've set the XY axes to move greatly, and then accidentally clicked the Z-axis and the same amount of movement has occurred.
Useful features include executable all-in-one JAR files, a 3D g-code visualizer with coded line segments and real time tool position feedback, duration estimates, a web pendant interface, and more.
Another advantage of this software is its decent configurable G-code manipulation which allows you to remove comments, truncate decimal precision to configurable amounts, convert arcs to line segments, remove whitespaces and more.
UGS is written in Java to support multiple operating systems and is compatible with Windows, Mac, Linux (including ARM SBCs), and Raspberry Pi — making it popular for use with Arduino CNC routers. It also works well with custom setups. Bear in mind that you'll need to pair this software with firmware that accepts g-code for your board.
Professional CNC Control Software
Mach4 – Overall Best CNC Software
Price: $200 for Hobby version, $1,400 for Industrial version
Developed by Newfangled Solutions, the Mach series is a leader in CNC software. Its latest offering is Mach4, a complete reboot of the popular Mach3 CNC software program. Whereas Mach3 was designed for simple hobby machines, Mach4 is suitable for industrial CNC work as well, with greatly improved speed and quality.
There are actually two versions of the software available – a hobby and an industrial version – with the latter costing significantly more. The industrial version includes advanced features such as Macro B G-code programming, tool life management, screw mapping, and an advanced GUI editing tool.
Mach4 is an extremely intuitive software that has customizable features and remote control options with quick and easy GUI customization. In the developer's own words, it's designed to be "expendable, flexible and extremely responsive for use with very large files". The software has a modular architecture and allows for quicker development than Mach3 and other CNC controller software.
Mach4 uses "Motion Control", whereby the core adapts to the motion of controllers attached, making for up to 100x faster response from button click to machine action and improved backlash control. Other useful features include improved anti-gouging, robotic loaders and asynchronous motion to control uncoordinated motion.
You can use Mach4 to control up to 6 axes of a CNC machine and run mills, drills, lathes, routers, tangenital knife, plasma, and 3D printers, among other machines. Each can be quickly and easily set up with the profiles and screens available in the Mach4 installer. The company is currently working on adding laser controls to the software.
Mach4 is a Windows-based software and is compatible with most Windows PCs. There's a free demo version with up to 500 lines of G-code so that you can try out the software.
Read more: Mach3 vs GRBL (or Arduino vs parallel port)
TurboCNC – Cheap Yet Reliable CNC Software
Price: $60
TurboCNC isn't a new flashy program, but, in the words of developer Dak Engineering, it's 'quality, no-nonsense software'.
Like LinuxCNC, TurboCNC has been around for years and remains a popular option among CNC enthusiasts and has an active user community. This software runs on MS-DOS, which may come as a surprise due to the age of that operating system, but it allows the software to have precise timing similar to that of LinuxCNC.
This efficient controller runs stepper motors and step-servos and can control up to 8 axes of motion. It has a built-in code editor that allows you to stop and restart anywhere in a program, fully configurable IO for reversible and speed control spindles, backlash compensation, fully parametric programming, and multi-axis threading capability.
Other useful features include linear, circular, and helical interpolation using IJ or R notation, 60 tool offsets, and fully configurable step/direction or direct phase outputs that are compatible with MaxNC and HobbyCNC boards, Geckodrives, and Camtronics drives. Turbo uses canonical RS-274 g-code, so it works with a number of top CAM software like VectorCAM, ACE Converter, and DeskEngrave. It also supports unlimited file sizes.
Turbo CNC comes with free support, which along with its very low price makes it a good option if you're working on a tight budget.
CNC Simulator Software
If you're looking for CNC simulator software, read our separate guide to each different CNC simulator.
CNC Software FAQs
Other articles you may be interested in: