Whether you're a beginner or hobbyist, having the right CNC software is a crucial part of bringing your projects to life. CNC (Computer Numerical Control) software creates program codes and instructions that are used to operate a CNC mill or other type of CNC machine. Most CNC software can automate the manufacturing process, making it more accurate, consistent and efficient.
But with such a wide variety of CNC router software on the market, how do you know which software is right for you? Well, there are several factors to take into consideration, including user-friendliness, compatible operating systems, customizability, range of features, customer support, and what the types of CNC machines the software can be used with, to name just a few.
You'll also want to consider price. While there are free CNC software that can be used by anyone, some of the best software can cost hundreds of dollars, so you need to find a program that's within your budget.
To help you out, in this guide we reveal the very best CNC software available right now, including both free and paid software. We take a close look at the key aspects of each software to help you make the right choice. But before we get into that, let's take a closer look at how CNC software works.
How Does CNC Software Work?
The first step in the process is to create a design using CAD (computer-aided design software), which is separate to the CNC programming software. You can think of this as a blueprint for your design.
These "blueprints" are then used by the CNC router software to guide the machine through the manufacturing process. Anything you can design, you can make a reality with the right CNC software, whether it's a simple piece of woodwork or intricate, laser-cut fine jewelry.
You then need to use CAM (computer-aided manufacturing software), which takes your CAD drawing file and creates a g-code. G-code is the most widely used CNC programming language and essentially provides information to the CNC machine about what work needs to be done.
Some software allow you to edit and input your g-code, known as g-code manipulation, while others simply send out the code to the firmware.
The CNC control software is directly connected to the CNC controller with a transfer protocol, usually a parallel DB25 port or USB. The controller then directs the central breakout board which in turn sends instructions to the drivers, based on the information provided by the software. The drivers provide instructions to the motors, which control each axis to create models.
Once you have your g-code, you can use your CNC software to run the machine and create your model. This can be done with a wide range of materials, including wood, metals and plastics, allowing you to create an almost endless number of possible projects.
Best Free CNC Software
LinuxCNC – Best Free CNC Software
If you're looking for free CNC software, you can't go wrong with Linux. This open-source software has been around since 1993 and is one of the most popular options amongst CNC hobbyists. Many later software, including the famous Mach series, had their original code based on Linux.
LinuxCNC can control up to 9 axes of a CNC machine and run mills, lathes, robot arms, laser cutters, plasma cutters, hexapods, 3D printers, and more. It has several different GUIs suited to particular types of usage, such as interactive development and touch screen. The software is also highly customizable and supports many advanced control features, including rigid tapping and cutter compensation.
You'll need to have a PC with real-time computing capabilities in order to run Linux, otherwise you'll only be able to run the demo version. This is because it runs under a Linux kernel with a real-time extension, allowing the software to generate the pulses required through a parallel port and operate as an all-in-one-option.
You can easily install the Linux CNC software on Debian and Ubuntu, or via Linux's live/install DVD/USB images. The software is compatible with many popular machine control hardware interfaces. Another benefit of using this software is that it has an active user community where you can engage with other Linux users.
This software may seem a little intimidating to beginners due to its wide range of advanced features, but if you put the time into learning it, it's a fantastic free CNC machine software to use.
Easel – Free All in One CNC Software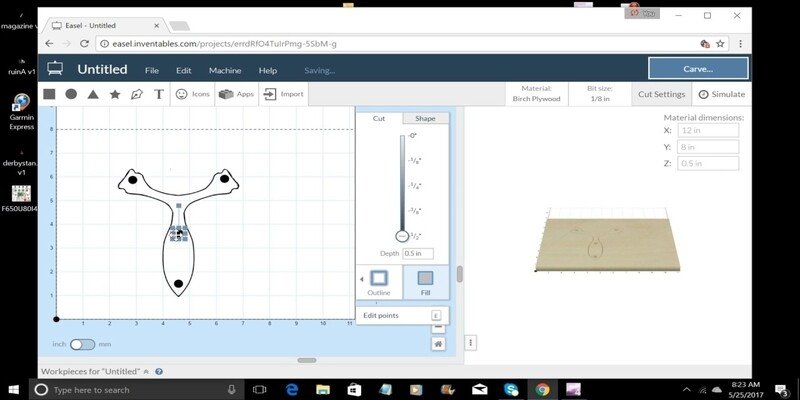 This is a free software from Inventables, the maker of some of the best CNC machines around, such as the X-Carve. With Easel, you can design, import and carve from a single program, meaning you don't need any separate CAD or CAM software.
This web-based program is a very user-friendly and versatile CNC milling software, with custom design tools and interactive apps, so it's suitable for both simple and complex projects. Each project also has a sharable link, so you can easily collaborate with the community.
The Inventables website showcases some fantastic creations produced using Easel, including an egg tray, a mini maze and even swizzle sticks for cocktails!
Easel has a unique social aspect and is a fantastic option for beginners, as Inventables offers "Easel Classes" which is a community learning experience aimed at helping you develop your CNC skills. On top of that, you can buy project kits which contain everything you need to make some popular projects, and there's also "Maker Challenges", where you can share your designs in exchange for Inventables rewards.
As well as the free version there is also Easel Pro, a paid option with advanced business features. Easel Pro starts from $12.99 a month.
GRBL – Powerful, Dependable Free CNC Software
GRBL is a free CNC software that is used with some of the best CNC machines, such as the Sainsmart Genmitsu 3018 Pro and the Vevor CNC 2418 3 Axis. While it is a fairly simple software, it's still high quality and very dependable.
This is an Arduino-based software that is compatible with all Adruino boards apart from the Arduino Mega. It runs CNC machines very smoothly and boasts impressive acceleration and deceleration control. It is very easy to set up and use, making it a novice-friendly software option.
GRBL isn't just suited to beginners, though. This software also has many advanced parameters that make it suitable for more experienced users, so it's a good software for growing your skills as a CNC machine operator. On the downside, it doesn't offer backlash compensation and it doesn't support rotation axis.
Unlike some other software on this list, GRBL is limited to three-axis CNCs. It enables communication and is designed to not depend on a computer with a parallel port, whereas most industrial and many hobby CNC controllers do require a parallel port. Another benefit is that it manages all the timing, meaning the machine controller can be computer agnostic.
PlanetCNC – Free Software with G-code Manipulation
PlanetCNC is an excellent CNC router software that also comes with its own hardware. This software uses more modern techniques than some of the programs on this list, focusing on g-code manipulation. The software allows you to edit g-code and search for and bookmark lines of code. It also supports the copy and paste of g-code, allowing for fantastic flexibility.
One of the best things about this intuitive software is its flexible configuration options, with a fully-configurable tool change procedure, and simulation features. It supports many CNC machine uses, including spindle synchronization, probing, measuring, video display, relay control, and canned cycles. PlanetCNC software is also renowned for its stability and robustness.
PlanetCNC is free to use, but you'll need to have a controller with a valid license. It's compatible with Windows, Mac, Linux and Raspberry Pi operating systems and can import a wide range of file types, including Gerber, DXF, NC and PLT/HPGL. The transfer protocol is USB, which many users find much more comfortable than parallel ports.
PlanetCNC has an active user community and offers users great support. Another interesting aspect of this software is that it offers an API which allows users to create applications on top of it.
Universal Gcode Sender – Free CNC Software with G-code Manipulation
Universal Gcode Sender (UGS) is another free CNC software that's become very popular due to its ease of use and strong features. This software has everything you'll need as a CNC hobbyist and is particularly user-friendly, so it's a good choice for beginners.
Useful features include executable all-in-one JAR files, a 3D g-code visualizer with coded line segments and real time tool position feedback, duration estimates, a web pendant interface, over 3,000 lines of unit test code, and another 1,000 lines of comments documenting the tests.
Another advantage of this software is its decent configurable G-code manipulation which allows you to remove comments, truncate decimal precision to configurable amounts, convert arcs to line segments, remove whitespaces and more.
UGS is written in Java to support multiple operating systems and is compatible with Windows, Mac, Linux (including ARM SBCs), and Raspberry Pi. It also works well with custom setups. Bear in mind that you'll need to pair this software with firmware that accepts g-code for your board.
Best Paid CNC Software
Mach 4 – Overall Best CNC Software for Beginners
Price: $200 for Hobby version, $1,400 for Industrial version
Developed by Newfangled Solutions, the Mach series is a leader in CNC software. Its latest offering is Mach4, a complete reboot of the popular Mach3 CNC software program. Whereas Mach3 was designed for simple hobby machines, Mach is suitable for industrial CNC work as well, with greatly improved speed and quality.
There are actually two versions of the software available – a hobby and an industrial version – with the latter costing significantly more. The industrial version includes advanced features such as Macro B G-code programming, tool life management, screw mapping, and an advanced GUI editing tool.
Mach 4 is an extremely intuitive software that has customizable features and remote control options with quick and easy GUI customization. In the developer's own words, it's designed to be "expendable, flexible and extremely responsive for use with very large files". The software has a modular architecture and allows for quicker development than Mach3 and other CNC controller software.
Mach4 uses "Motion Control", whereby the core adapts to the motion of controllers attached, making for up to 100x faster response from button click to machine action and improved backlash control. Other useful features include improved anti-gouging, robotic loaders and asynchronous motion to control uncoordinated motion.
You can use Mach4 to control up to 6 axes of a CNC machine and run mills, drills, lathes, routers, tangenital knife, plasma, and 3D printers, among other machines. Each can be quickly and easily set up with the profiles and screens available in the Mach4 installer. The company is currently working on adding laser controls to the software.
Mach 4 is a Windows-based software and is compatible with most Windows PCs. There's a free demo version with up to 500 lines of G-code so that you can try out the software.
TurboCNC – Cheap Yet Reliable CNC Software
Price: $60
TurboCNC isn't a new flashy program, but, in the words of developer Dak Engineering, it's 'quality, no-nonsense software'.
Like LinuxCNC, TurboCNC has been around for years and remains a popular option among CNC enthusiasts and has an active user community. This software runs on MS-DOS, which may come as a surprise due to the age of that operating system, but it allows the software to have precise timing similar to that of LinuxCNC.
This efficient controller runs stepper motors and step-servos and can control up to 8 axes of motion. It has a built-in code editor that allows you to stop and restart anywhere in a program, fully configurable IO for reversible and speed control spindles, backlash compensation, fully parametric programming and multi-axis threading capability.
Other useful features include linear, circular, and helical interpolation using IJ or R notation, 60 tool offsets, and fully configurable step/direction or direct phase outputs that are compatible with MaxNC and HobbyCNC boards, Geckodrives, and Camtronics drives. Turbo uses canonical RS-274 g-code, so it works with a number of top CAM software like VectorCAM, ACE Converter, and DeskEngrave. It also supports unlimited file sizes.
Turbo CNC comes with free support, which along with its very low price makes it a good option if you're working on a tight budget.
If you enjoyed this article:
Sign up to our email list and get the latest CNC news, buyer's guides and giveaways direct to your inbox: