The best wood laser engravers blend your artistic endeavors with powerful design software while saving you time, money, and costly errors.
I own several laser engravers, and my favorite is the xTool D1 Pro for cutting and engraving wooden crafts
In my opinion, it's better than my Ortur LM3 and I managed to cut thicker wooden sheets (though I have the 20W version), and the build quality is the best among the current diode lasers.
If you're going for a CO2 laser, avoid the K40s – especially if you're a fan of Lightburn.
For a CO2 laser I recommend the xTool P2 — it's the best desktop CO2 laser right now. It's cheaper and more powerful than the Glowforge Pro, and a better made machine than OMTech Polar or Gweike Cloud Pro.
In this buying guide, I'll break down which laser cutter to get for your exact needs, discuss the key factors to consider for wood engraving and cutting specifically, and answer some common FAQs.
Optional 40W Diode Upgrade
Beyond my top picks, here is the full list:
The Best Wood Laser Cutters & Engravers
xTool D1 Pro 10W – Best Wood Laser Engraver Under $1000
Pros
Well-built: best build quality of any diode laser
Up to 40W laser power options: choose between 5W, 10W, 20W, and a brand-new 40W version
Large working area with extension kit to go even larger (936 x 432 mm)
High-quality laser beam
Performed amazingly and diced through even thicker wood in my hands-on xTool D1 Pro test
Cons
Pricier than Neje, Ortur, and other entry-level lasers (but it's better than them)
The xTool D1 10W is the best diode laser under $1,000, so if you're able to spend that kind of money I the xTool. I own both this and the Ortur Laser Master 3, and while I like the Ortur, I think the xTool is better.
xTool D1 10W and Ortur LM3 are very similar in performance, with 10W dual laser power, and both allow for WiFi connectivity and control via an iOS or Android app.
But, to separate the two, the xTool is more sturdily built with steel rods and wheels and protected belts, whereas the Ortur LM3 doesn't protect the belts. The xTool is also slightly larger, and can be extended to 936 x 432 mm with the extension kit.
The xTool also comes in 5W and 20W versions:
I personally went for the 20W version, and for laser cutting wood, it absolutely dices through it. For example, here's a 0.5-inch piece of wood we cut right through in no time at all:
You can cut 3 mm basswood or acrylic sheets in a single pass, and laser engrave on wood effectively at about 100 mm/s – making it one of the best laser engravers for cutting boards. It's also perfect for accurate and contrasting portraits, adding a brand or logo, or, if you buy the RA2 rotary add-on, rounded items too.
Overall, if you have the money to spend, either the xTool, or the Ortur LM3, are the best diode lasers under $1000. More a more in-depth test, you can also read my full xTool D1 Pro laser review.
Best diode pick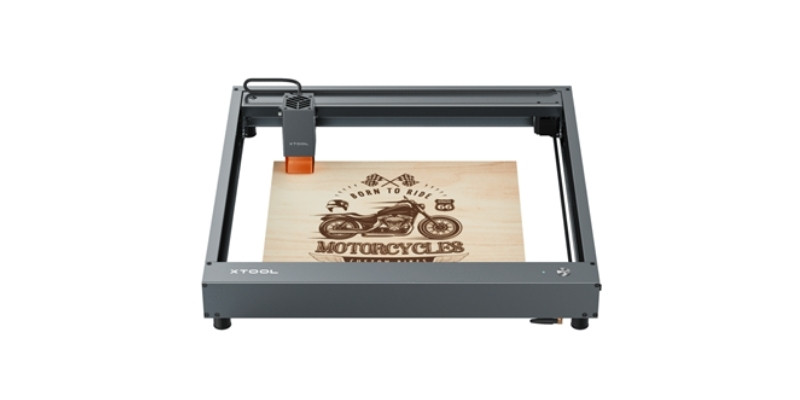 We earn a commission if you make a purchase, at no additional cost to you.
---
xTool P2 — Best CO2 laser for cutting thick wood
Pros
Powerful 55W CO2 laser in a user-friendly package.
Curved engraving features for wooden spoons, rolling pins, etc.
Cheaper than Glowforge Pro, even with all the accessories added on.
Cons
Materials are expensive on the xTool, and can be bought cheaper elsewhere.
In my opinion, the xTool P2 is the best CO2 laser for woodworkers, crafters, and hobbyists right now. For the price, no other desktop CO2 laser offers 55W power – and no other laser in the price range can cut through 20mm thick basswood in a single pass.
The 24" x 12" work area provides ample space for cutting letterboards, signs, jewelry boxes, coasters, and even using the rotary to customize mugs, rolling pins, and other wood best-sellers for your side-hustle.
The dual 16MP cameras eliminate setup guesswork by scanning your material and aligning designs automatically.
Most impressively, the xTool P2 uses these cameras to create depth measurements across uneven, or curved surfaces, so you can engrave perfectly on wooden objects like spoons and bowls. Here's a wooden spoon I engraved with the P2: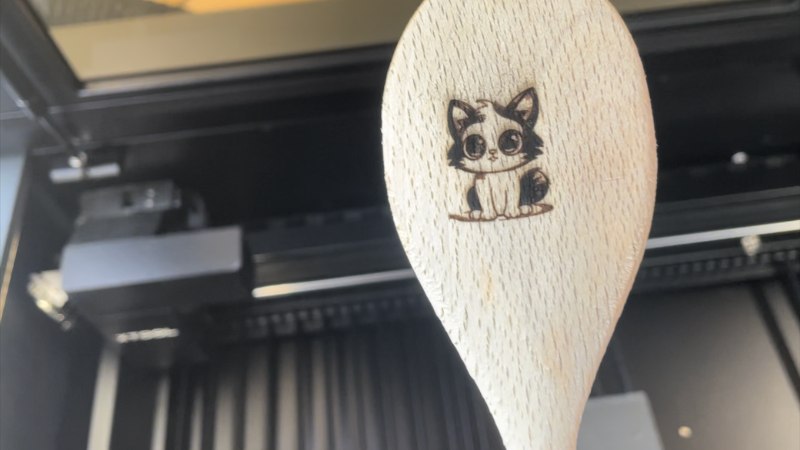 For more info on how this works for laser engraving curved wood materials, I've recorded a video on the process here:
Unlike lower-powered diode lasers, the xTool P2's CO2 laser can cut and engrave all types of wood – from balsa to oak – with precision and speed. It can mark wood darkly when needed, or just etch the surface lightly.
Though the spot size is larger than my xTool D1 Pro, the P2 is still very precise – and has up to 1000 DPI quality (only the Glowforge Pro that I know of has higher quality, and it's $2000 more expensive).
For example, here's an intricate slate engraving I tried. It's not wood, but it shows the accuracy you can create with the xTool P2.
If you have any repeatable wooden projects, like coasters with brands, logos, or repeatable images on, then the batch processing features will save you hours of time.
Simply align your design on one of the material workpieces in the tray, click the "Smart Fill" button, and xTool's intelligent system will auto-align the image on all other workpieces it detects with the cameras. This repeatability also means you'll have that same perfect alignment on all your projects without errors.
For professional results in woodworking projects of all kinds, the xTool P2 outperforms competitors with more laser power, faster speeds, and smarter software (XCS has grown on me a lot, and I use it more than Lightburn now). It's the best wood laser cutter in its price range, perfect for crafters, DIYers, and small businesses alike.
---
Neje Master 3 – Cheapest diode laser engraver for wood
Rotary Attachment? Yes
Cutting area: 460 x 810 mm
Power: 5W
Pros
Various size options: and an extendable working area
Can cut fairly deep wood cuts, considering its low power
The Neje 3 Max version has excellent laser beam quality
2 year warranty
Cons
Low power (5W)
No enclosure option from the manufacturer
Aluminum frame is not as sturdy as steel
Often sold out and unavailable
The Neje Master 3 is one of the best laser engravers for wood under $500. You have a variety of size options, and a range of laser modules – though you won't get the same variety of maximum power that xTool offer.
In the case of Neje 3, the options are Neje 3, 3 Plus, 3 Pro, and 3 Max. These offer you 170×170mm, 255×420mm, and 400×410mm size options for their 5.5W laser. However, the Neje 3 Max provides 590×980mm with an 11W laser beam for about $700. Most Neje lasers also have kits to extend the working area.
The 3 Max's laser beam has a fantastically small spot size that results in great energy density. In other words, it's an 11W laser comparable to most other 20W diode lasers. As a result, it cuts thicker wood than most similarly powered lasers, making it one of the best machines for laser cutting plywood under $800.
It's easy to set up and use, with software for either Windows or macOS, as well as Android and iOS apps. The Neje laser itself is compatible with Lightburn and LaserGRBL, so you shouldn't have any compatibility issues.
Most interestingly, the Neje Master 3 range have a maximum speed of 1000mm/s. My xTool D1 Pro is less than half of that, and it's considered one of the fastest in its price range – and generally, you'll only find 1000mm/s in $3000 CO2 lasers. However, the practical engraving and cutting speed is similar to competing diode lasers, so it's not all as speedy as it sounds.
Additionally, Neje lasers are often out of stock or otherwise unavailable, so they can be difficult to buy. Plus, they've already discontinued their earlier Neje 2 machines.
---
Flux Beamo 30W – Best Laser For Cutting Wood For Crafts
Pros
Enclosed desktop laser: so no assembly process
Built-in camera: for easy job setup
Compatible with more materials than diode lasers, and better resolution
User-friendly software
Cons
Small work area: limited to smaller wood cuts
Impossible to extend the work area and no passthrough doors
Fume extractor costs about $1000
The Flux Beamo is a compact and enclosed desktop laser cutter and engraver that boasts good mid-range features.
Beamo's enclosed build offers quite a few benefits, namely its increased health and safety. When laser cutting materials, especially acrylic, but also with some woods, the fumes emitted during the cutting and engraving process are harmful, and enclosed cutters allow you to direct the smoke and fumes – via ventilation hoses – away from your working area. You can also buy air filtration attachments that let you filter the fumes, but essentially all this gives you better control over your air quality.
Enclosed machines also have more stability when cutting, as there is more hardware to control the process, but that's not the only reason to consider buying the Beamo. This machine comes with an HD camera, giving you exact viewing of how your model will come out in preview mode, a laser that cuts up to 5mm on the second cut, and engraves harder materials alongside wood, like cement, glass, and stone.
Flux has its own software, Beamo Studio, but it integrates seamlessly with popular software like AutoCAD, Inkscape, and Microsoft Word, giving you a flexible and lightweight machine that's perfect for experienced hobbyists looking to take advantage of a range of designs.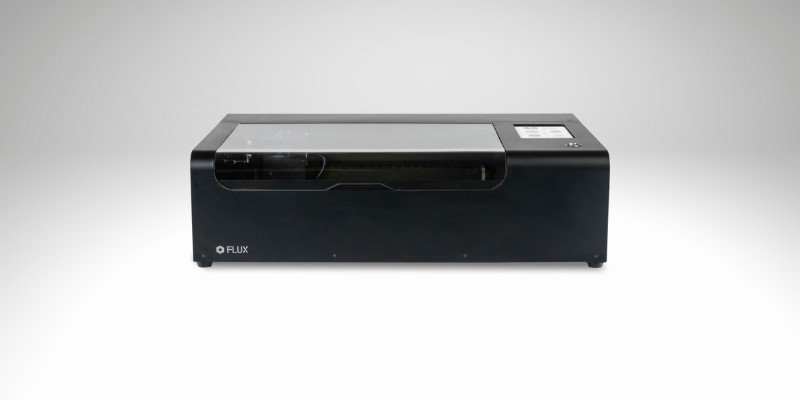 We earn a commission if you make a purchase, at no additional cost to you.
---
OMTech 50W – Best Laser Cutter for Balsa Wood
Pros
Large work area
Passthrough door to extend work area further and cut very large wood sheets
Rotary axis included for engraving rounded objects
Cons
No camera: similar priced machines like the Flux Beamo have these features
Manual focus
OMTech 50W is the best laser cutter for balsa wood, alder, pine, and more for the price.
This is one of their lower-grade CO2 lasers, but you'll still find yourself cutting through wood with ease, along with rubber, leather, and other fabrics. It doesn't cut through hardwood, but it does engrave it.
It has a two-way pass through system, with openings on the front and rear side of the machine, allowing you to work on objects bigger than the machine itself, and offers the famed air assist which uses a pressurized air stream to keep your cuttings and engravings more precise. The 50W also comes with a water cooling system and automatic shutdown safety features.
The 50W is a great mid-range option because you get high-end features like the two-way pass through, which is great for businesses or hobbyists working on larger projects, for a cheaper price. It's also a decent step up from their beginner-friendly K40 models, delivering that professional craftsmanship you're looking for.
Best CO2 pick
We earn a commission if you make a purchase, at no additional cost to you.
---
FSL Muse Core – A Premium Pic
Price: $3,500 — Available at Matterhackers here
Rotary Attachment? Yes
Cutting area: 508 x 305 mm
Power: 40W / 45W options
Max Thickness of Wood it can cut: 1/4″
Pros
Customizability: great range of upgrades and add-ons to get the perfect set of features for your needs
Removable floor for cutting taller objects
Optional 45W laser option for more power and longer life
Cons
Prices add up: factor in $750 to start for the Muse Coolbox
No passthrough doors
No camera
No autofocus
The FSL Muse Core is a 40W (or an upgradeable 45W) laser cutter that rivals the Glowforge name in terms of its gorgeous design, and high-end features and power.
It uses a browser-based software, RetinaEngrave v3.0, that works offline, but the most impressive aspect of this unit though is its customization. Between four extra focus lenses, cooling bundles, multiple extractors, air compressors, and a rotary attachment, the possibilities are endless in terms of how to customize this machine to your needs.
Cutting up to ¼ inch thick on a range of woods, and other materials such as acrylics and fabrics, this is not only a beautiful machine, but a powerful one, that will deliver on all professional and high-end promises.
However, the Muse Core can get expensive, depending on the add-ons you need, and some consider it expensive for what you get with this base model. Immediately, it's another $750 for the Coolbox, which is a pretty integral part. It costs another $3000 to upgrade to the Muse 3D, and for this you get Muse's Intel Real Sense 3D camera and autofocus, but it's a lot of extra cash.
Also, Muse Core doesn't have passthrough doors for fitting long wood sheets. You only get the passthrough door in Muse Titan, which is a highly customizable machine with many feature options, but costs $5995.
3D Wood Laser Cutter
We earn a commission if you make a purchase, at no additional cost to you.
---
OMTech 80W – Best Laser Cutter For Wood Overall
Pros
High-power CO2 laser
Large work area: ideal for cutting larger wood blocks for crafting
Good value: good price for what you get
Tremendous Z-clearance: you can easily place and engrave and cut place boxes and other tall objects
Optional auto lift and rotary
Cons
Too large for home projects
Are you looking for the best laser cutter for plywood? If so, look no further than OMTech's 80W laser. It's also the best laser cutter for MDF, cherry, balsa, and any other of the best wood for laser cutting and other purposes.
I've already discussed lower-cost wood cutting machines for crafts, but the OMTech 80W is a powerful commercial machine. It's one of the best laser cutters for small businesses and small shops, and works far faster than 40W and 50W OMTech variants if you have the budget.
The two-way pass-through system turns into a four-way, giving you even more accommodation for large projects, and it comes with a Ruida control board that's compatible with the famous Lightburn software, a secondary LCD screen, and increased speed, performance, and cutting power of up to 9mm thick of wood and acrylic materials.
You'll also get red dot guidance, an adjustable laser nozzle, and a linear rail guiding system that gives you stepper motors for the x and y-axis for efficient power transmission, and higher precision.
Everything in this machine is bred for precision and power, giving you seamless cuts and high-grade designs. However, hardwoods are still a cutting barrier, although you can engrave them.
We earn a commission if you make a purchase, at no additional cost to you.
---
Glowforge Plus 3D Laser Printer – Best Laser Cutter for Wood and Metal
Pros
Beginner-friendly: very easy to set up and get started, and a favorite among beginner makers starting Etsy stores
Proofgrade materials included wood sheets come with preloaded laser settings (but they're expensive)
Camera and autofocus
Big community: great for support if you get stuck
Cons
Slow for its price range
No passthrough doors: you'll need to upgrade to the Glowforge Pro for this
No compatibility with 3rd party software: and it's online-only, a problem for some without WiFi in their workshops
No rotary compatibility
The Glowforge Plus sits nestled between the Pro and Basic Glowforge models, giving you commercial features for under $5,000.
The Plus comes with a 40W custom laser tube, upgraded hardware for improved speed, like a dual macro and wide-angle lens camera, full autofocus, and a 1-year warranty for those demanding of their tech, making it the best beginner laser engraver for woodworking (as long as you have the budget).
Along with cutting and engraving wood, the machine works with leather, acrylic, stone, ceramic, and titanium, however, Glowforge recommends using their Proofgrade materials. These are materials sourced and encoded by the company that your Glowforge scans and then learns the exact lab-tested, optimal settings for cutting that material.
However, your Glowforge warranty will be voided if your laser is damaged by using materials that are not their Proofgrade materials. To be clear, your warranty is not voided by the act of using other materials, but if you use them and they cause the laser damage, it means you're not covered.
Glowforge machines are known for their precision, cutting within 1/1000th of an inch, as well as other high-end features such as air assist, autofocus, and access to a range of ready-to-print designs.
The Plus is a class 1 laser and requires no special training to use, making it the best high-end laser cutter not only for small businesses but also experienced hobbyists that want to beef up their laser cutting capability.
Glowforge Plus
Glowforge are the easiest to use lasers for home business owners looking to create cool projects and sell them on Etsy or other stores and make money .
We earn a commission if you make a purchase, at no additional cost to you.
---
Factors to Consider When Buying a Laser Engraver For Wood Cutting & Crafts
Price
Wood is one of the easiest materials to laser cut, so if you wanted to go really cheap, you could here.
Most diode lasers cost under $1000. Diode lasers are cheap, and are excellent at cutting wood, so they're ideal if you're starting a new business. I recommend the xTool D1 Pro range, and I myself opted for the xTool D1 Pro 20W version for my wood cutting. I think it's slightly better than my Ortur Laser Master 3 for wood, but both are great and both sit at $600-700.
However, CO2 lasers in the 45W range and above cut wood far faster than diode lasers. However, these lasers cost a lot more: upwards of $2500 for OMTech machines, and $3000-$7000 for Muse, Glowforge and similar machines.
One last tip, if you're buying a diode laser, make sure you don't buy an IR laser module by mistake. It has to be a blue laser diode if you want to laser cut wood — though IR lasers are great for metal and glass engraving.
| Laser Engraving Machine | Price (USD) |
| --- | --- |
| xTool D1 Pro | $699 |
| Neje Master 3 | $269 |
| Flux Beamo | $1,995 |
| OMTech 50W | $1,999 |
| FSL Muse Core | $3,500 |
| OMTech 80W | $3,199 |
| Glowforge Plus | $3,995 |
Wood Thickness and Laser Power
Your laser's power determines the thickness of wood you can cut with a single pass. Woods that are thicker than ½" are generally not suitable for laser cutting. But the wood thickness you can cut also depends on the type of wood, and laser power.
Diode lasers have lower power in general, however, they are effective wood cutters at their power. The xTool D1 20W and Neje 3 Max can both cut thicker wood in one pass than other 10W and 5W diode lasers.
On the other hand, to cut a similar thickness of wood with CO2 lasers, choose at least 40W of power. These lasers will also cut wood faster than diode lasers.
| Laser Engraving Machine | Power (W) | Maximum Wood Thickness |
| --- | --- | --- |
| xTool D1 Pro | 5W, 10W, 20W, or 40W | 1/10″ – 6/10″ |
| Neje Master 3 | 5W | Not listed |
| Flux Beamo | 30W | 1/5″ |
| OMTech 50W | 50W | 1/4″ |
| FSL Muse Core | 40W / 45W | 1/4″ |
| OMTech 80W | 80W | 2/5″ |
| Glowforge Plus | 40W | 1/4″ – 1/2″ |
Work Area and Extendability
What size of wood do you want to cut? That depends on your projects. Are you making signs, or are you making small home decorative items?
You'll need a larger work area to cut bigger designs out of wood sheets. But, there are also three ways for a laser to handle larger working areas:
Extension kits
Passthrough doors
Removable floors (engraving only)
Some lasers offer extension kits to increase your work area and help you cut larger wood sheets. These are diode lasers that don't come with an enclosure.
Enclosed lasers use other methods for extendibility. Some of them have passthrough doors that allow you to process long materials by feeding them through the door.
Lastly, a removable floor allows you to engrave on materials larger than the machine.
| Laser Engraving Machine | Work Area | Work Area (with Extension kit) |
| --- | --- | --- |
| xTool D1 Pro | 430 x 400 mm | 935 x 430 mm |
| Neje Master 3 | 170 x 170 mm | 1030 x 810 mm |
| Flux Beamo | 300 x 210 mm | N/A |
| OMTech 50W | 295 x 495 mm | N/A |
| FSL Muse Core | 508 x 305 mm | N/A |
| OMTech 80W | 500 x 700 mm | N/A |
| Glowforge Plus | 500 x 280 mm | N/A |
Enclosure and Fume Extraction
Laser cutting wood produces toxic fumes and gas, and it's best to use an enclosure on diode lasers that don't come with one – or at least keep them in a well-ventilated area. Popular lasers by xTool, Ortur and Neje offer their own enclosures as add-ons, which are reasonably priced.
An enclosure allows you to use fume extractors to direct the fumes out a window. Air filters also allow you to cut wood without a fume extractor.
Also, if you're using an extension kit to increase the work area, check that there is a matching larger enclosure. Otherwise, you'll need effective ventilation.
| Laser Cutter | Can you get an Enclosure | Can you get a Fume Extractor |
| --- | --- | --- |
| xTool D1 Pro | Yes | Yes |
| Neje Master 3 | No | No |
| Flux Beamo | Already enclosed | Yes |
| OMTech 50W | Already enclosed | Yes |
| FSL Muse Core | Already enclosed | Yes |
| OMTech 80W | Already enclosed | Yes |
| Glowforge Plus | Already enclosed | Yes |
Ease of Use
Does the laser machine you want to buy have a camera and autofocus? If so, you'll be much more comfortable, as it generally makes things easier and faster.
Emergency stops, pause buttons, red dot pointers, WiFi connectivity, and other conveniences can also enhance your wood cutting experience, especially if you're a business prioritizing efficiency and finishing as many jobs as possible.
| Laser Cutter | Wifi Connectivity | Emergency Stop/Pause Button | Assembly Time |
| --- | --- | --- | --- |
| xTool D1 Pro | Yes | Pause Button | 30 minutes |
| Neje Master 3 | Yes | Emergency Pause Button | Around an hour |
| Flux Beamo | Yes | No Buttons (use power button) | Comes pre-assembled |
| Omtech 50W | Yes | Emergency Stop Button | Around an hour |
| FSL Muse Core | Yes | Pause or Stop Button | 30 minutes |
| Omtech 80W | Yes | Emergency Stop Button | Around an hour |
| Glowforge Plus | Yes | None | Less than an hour |
Rotary
You don't need a rotary if you're only cutting wood sheets. However, if you're making decorative cylindrical wooden paraphernalia, you'll need a laser with a rotary add-on option. All the lasers I recommend on this buyer's guide support rotary attachments, except for Glowforge.
| Laser Cutter | Rotary Attachment |
| --- | --- |
| xTool D1 Pro | Yes |
| Neje Master 3 | Yes |
| Flux Beamo | Yes |
| Omtech 50W | Yes |
| FSL Muse Core | Yes |
| Omtech 80W | Yes |
| Glowforge Plus | No |
Cooling System
Cooling systems are more important for CO2 lasers than diode lasers. Most CO2 lasers come with a water cooling system since they get hot pretty fast, but some lasers have more effective cooling systems than others, allowing you to run them for longer hours.
Some lasers support adding external cooling systems and radiator water chillers. If you're planning to use the CO2 laser for several hours each day, you'll need an effective cooling system.
| Laser Cutter | Cooling System |
| --- | --- |
| xTool D1 Pro | Fan |
| Neje Master 3 | Fan |
| Flux Beamo | Internal Water Cooling System |
| Omtech 50W | Built-in Ventilation |
| FSL Muse Core | External Cooling System |
| Omtech 80W | Built-in Ventilation |
| Glowforge Plus | Closed-loop Liquid Cooling System |
Compatibility and software connectivity
If this is your second or third wood laser cutter, then you probably know what software and platform work best for you. To avoid issues, ensure the machine you choose is compatible with your software and computer of choice for seamless workplace integration.
For example, popular OMTech K40 40W lasers are not compatible with Lightburn, unless upgraded, which is a favorite laser software among many home makers. Keep an eye out to ensure you don't run into compatibility issues.
| Laser Cutter | Software Compatibility |
| --- | --- |
| xTool D1 Pro | xTool Creative Space |
| Neje Master 3 | NEJE control software and GRBL control software |
| Flux Beamo | Beamo software |
| Omtech 50W | Lightburn |
| FSL Muse Core | RetinaEngrave v3.0 |
| Omtech 80W | Lightburn |
| Glowforge Plus | Adobe Illustrator, Inkscape, CorelDraw and more. |
What is a Wood Laser Cutter?
A wood laser cutter uses a laser beam to accurately cut or engrave woods such as balsa, plywood, MDF, and others. Both diode lasers and CO2 lasers can cut wood. The laser's power, and the type of wood you're cutting or engraving, determines the maximum thickness you can cut – though entry-level lasers can often cut up to ½" wood in one pass, depending on the type of wood
These will typically be CO2, or gas, lasers that "cut", or burn, the wood to create your desired design, giving you that dark scorched wood effect. The laser's intensity adjusts to create varying levels of "burn" during this process, and product shading and contrast if required.
If you don't want the iconic seared brown look, there's also a way to create white engravings when using the correct settings, i.e. a low temperature and high speed.
When laser cutting wood, you need to consider multiple factors before processing, like the density and resin content of the wood. For example, Balsa wood is soft and therefore requires less power to cut than hardwoods like Mahogany. There's also MDF (made from glued wood fibers), which requires a machine that uses compressed air with its laser for optimized cutting and engraving.
Laser wood cutters are popularized for making arts and crafts, but they're also excellent for furniture construction, interior design, gifts, models, and so much more. They not only allow you to make these things, but they make them faster and better than traditional methods, giving you more money and creative opportunities.
Wood Laser Cutting vs Engraving
It's important to note the difference between cutting and engraving wood.
All the laser cutters on our list are also capable of engraving wood, it just depends on the settings you use. For cutting wood, you'll want a higher-powered setting, whereas engraving works with less intensity. With engraving, you don't want to cut through the wood, but instead burn the top layers while maintaining most of the structure.
Because power isn't as much a necessity with wood laser engraving, you don't have to shell out a lot of money for a great laser engraver. However, if large-scale projects and precision are priorities, then it's worth checking out the premium options.
FAQs
What woods can be laser cut?
The woods that can be laser cut include pine, alder, basswood, poplar, balsa, beech, cherry, oak, walnut, mahogany, plywood, bamboo, MDF, and HDF. Woods that are not suitable for laser cutting are extremely dense hardwoods and fiberboard.
What wood is best for laser cutting?
Balsa is very cheap and laser cuts well. Other excellent woods for laser cutting include pine, alder, cherry, birch, and oak. Cherry is a popular choice in furniture-making. On the other hand, dense hard woods are difficult to laser cut. 
---
Other articles you may be interested in: