You might've heard about the growing popularity of wood laser cutters, but now it's time to try it out yourself. These wood laser cutters and engravers promise to blend your artistic endeavors with powerful design software while saving you time, money, and costly errors.
In the following article, we'll break down what wood laser cutting and engraving is, how to pick which laser cutter to get, and give you a taste of the best machines currently on the market for every budget, skill level, and job.
BUDGET OPTION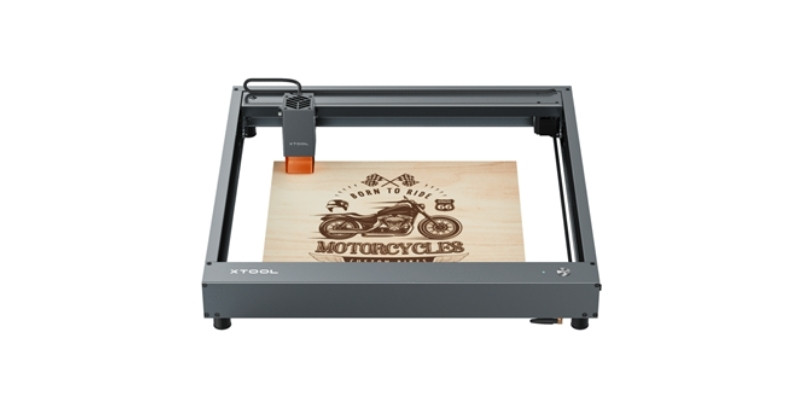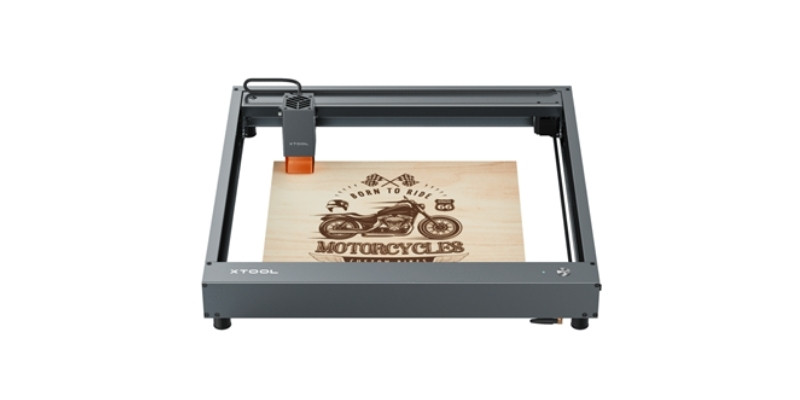 xTool D1 Pro
Powerful 10W wood laser cutter and engraver for under $700
Single-pass basswood and acrylic cutting
400mm/s max speed for fast engraving
Available at:
MID-RANGE PICK
FSL Muse Core
3D-enabled features and accessories
Very customizable and upgradable
Powerful 45W laser that cuts up to 1/4 inch thick wood
Available at:
PREMIUM PICK
Glowforge Plus
Top shelf quality engraving and cutting
Innovative "proofgrade" materials
Great for professional and at-home use
Available at:
What is a CNC Wood Laser Cutter and Engraver?
A laser wood cutter is a mechanized way of cutting and engraving wood using a laser beam and design software.  
These will typically be CO2, or gas, lasers that "cut", or burn, the wood to create your desired design, giving you that dark scorched wood effect. The laser's intensity adjusts to create varying levels of "burn" during this process, and product shading and contrast if required.
If you don't want the iconic seared brown look, there's also a way to create white engravings when using the correct settings, i.e. a low temperature and high speed.
When laser cutting wood, you need to consider multiple factors before processing, like the density and resin content of the wood. For example, Balsa wood is soft and therefore requires less power to cut than hardwoods like Mahogany. There's also MDF (made from glued wood fibers), which requires a machine that uses compressed air with its laser for optimized cutting and engraving.
Laser wood cutters are popularized for making arts and crafts, but they're also excellent for furniture construction, interior design, gifts, models, and so much more. They not only allow you to make these things, but they make them faster and better than traditional methods, giving you more money and creative opportunities.
Our top recommendations:
Pros
Faster production times
Better quality creations
Increased money profit
More design opportunities
Cons
Large upfront cost
Costly maintenance if not managed correctly
Learning curve
Wood Laser Cutting vs Engraving
It's important to note the difference between cutting and engraving wood.
All the laser cutters on our list are also capable of engraving wood, it just depends on the settings you use. For cutting wood, you'll want a higher-powered setting, whereas engraving works with less intensity. With engraving, you don't want to cut through the wood, but instead burn the top layers while maintaining most of the structure.
Because power isn't as much a necessity with wood laser engraving, you don't have to shell out a lot of money for a solid laser engraver. However, if large-scale projects and precision are priorities, then it's worth checking out the premium options.
The Best Wood Laser Cutters & Engravers
Neje Master 2S Max Laser Cutter – Best Laser Engraver For Wood
First on our list is the budget favorite Neje Master 2S Max. This laser cutter and engraver is unique for its wallet-friendly price point and open design. Unlike other cutters, there's no enclosure with this laser, and instead, it only has a frame with a laser that moves along the x and y-axis to cut your work.
It cuts up to 3mm thick of wood – as well as leather, paper, and other non-metal materials– and comes with air assist which uses concentrated air alongside the laser to create precise cuts. This is less powerful than the other options on this list though, making it a better engraving option.
The Neje Master 2S Max also comes with a 2-year warranty for the laser module and entire machine, making it a perfect, low-risk option for new users adjusting to the learning curve. Don't worry though, you'll still get access to pro features like its compatibility with the popular LightBurn design software, which is a laser cutting necessity.
Assembled in as little as 6 screws, you won't find any other machine in this price range with this size working area, user-friendliness, and level of capability. This is also our top choice for wood laser engraving because you get all the necessary precision and power without paying for unneeded extras.
---
xTool D1 Pro 10W – Best Cheap Laser Engraver Under $1000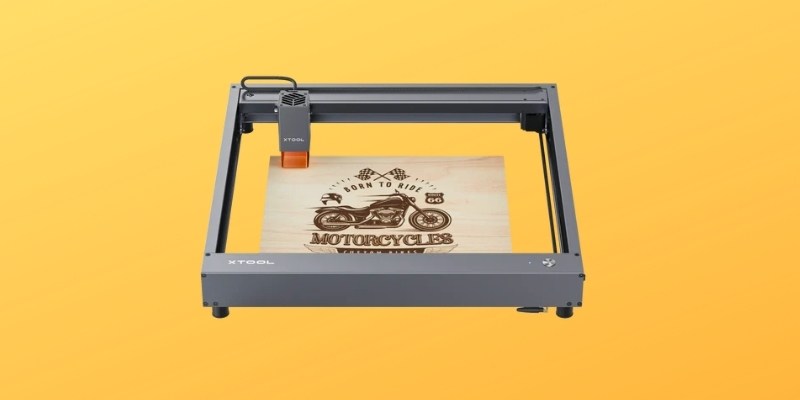 The xTool D1 10W is the best diode laser under $1,000, so if you're able to spend that kind of money we recommend you opt for the xTool, or a great alternative in the Ortur Laser Master 3.
They're very similar in performance, with 10W dual laser power, and both allow for WiFi connectivity and control via an iOS or Android app.
But, to separate the two, the xTool is more sturdily built with steel rods and wheels and protected belts, whereas the Ortur LM3 doesn't protect the belts. The xTool is also slightly larger, and can be extended to 936 x 432 mm with the extension kit.
The xTool also comes in 5W and 20W versions:
xTool D1 Pro alternatives and where to buy them
We personally went for the highest-power 20W version, and for laser cutting wood, it absolutely dices through it. For example, here's a 0.5-inch piece of wood we cut right through in no time at all:
You can cut 0.6mm basswood or acrylic sheets in a single pass, and laser engrave on wood effectively at 400mm/s – so its ideal for all your wood laser cutting and engraving needs. For accurate and contrasting portraits, adding a brand or logo, or, if you buy the RA2 rotary add-on, rounded items too.
Overall, if you have the money to spend, either the xTool, or the Ortur LM3, are the best diode lasers under $1000.
Best Diode Laser
Read our full review: xTool D1 Pro laser review
---
Flux Beamo 30W – Best Laser Wood Cutter for Crafts
The Flux Beamo is a compact and enclosed desktop laser cutter and engraver that boasts fantastic mid-range features.
Beamo's enclosed build offers quite a few benefits, namely its increased health and safety. When laser cutting materials, especially acrylic, the fumes emitted during the cutting and engraving process are harmful, and enclosed cutters allow you to direct the smoke and fumes – via ventilation hoses – away from your working area. You can also buy air filtration attachments that let you filter the fumes, but essentially all this gives you better control over your air quality.
Enclosed machines also have more stability when cutting, as there is more hardware to control the process, but that's not the only reason to consider buying the Beamo. This machine comes with an HD camera, giving you exact viewing of how your model will come out in preview mode, a laser that cuts up to 5mm on the second cut, and engraves harder materials alongside wood, like cement, glass, and stone.
Flux has its own software, Beamo Studio, but it integrates seamlessly with popular software like AutoCAD, Inkscape, and Microsoft Word, giving you a flexible and lightweight machine that's perfect for experienced hobbyists looking to take advantage of a range of designs.
Budget 30W CO2 Laser
---
OMTech 50W – Best MDF and Balsa Wood Laser Cutter
OMTech is one of the biggest names in the laser cutting industry and it's easy to see why. Not only do they frequent the ranking lists, but OMTech offers some of the strongest laser cutters on the market.
This is one of their lower-grade CO2 lasers, but you'll still find yourself cutting through wood with ease, along with rubber, leather, and other fabrics. It doesn't cut through hardwood, but it does engrave it.
It has a two-way pass through system, with openings on the front and rear side of the machine, allowing you to work on objects bigger than the machine itself, and offers the famed air assist which uses a pressurized air stream to keep your cuttings and engravings more precise. The 50 W also comes with a water cooling system and automatic shutdown safety features.
The 50 W is a great mid-range option because you get high-end features like the two-way pass through, which is great for businesses or hobbyists working on larger projects, for a cheaper price. It's also a decent step up from the previous models that are better suited for beginners and will deliver that professional craftsmanship you're looking for.
---
FSL Muse Core – 3D Wood Laser Cutter
The FSL Muse Core is a 40 W (or an upgradeable 45 W) laser cutter that rivals the Glowforge name in terms of its gorgeous design, and high-end features and power.
Things you won't find anywhere else is the Muse's Intel RealSense 3D camera, which maps millions of 3D data points on the surface of your material to create accurate cuts and engravings, as well as glide over curves and bumps. There's also an optional motorized Autofocus, which lets you set data points before cutting and lets you accurately pinpoint designs on rough surfaces.
It uses a browser-based software, RetinaEngrave v3.0, that works offline, but the most impressive aspect of this unit though is its customization. Between four extra focus lenses, cooling bundles, multiple extractors, air compressors, and a rotary attachment, the possibilities are endless in terms of how to customize this machine to your needs.
Cutting up to ¼ inch thick on a range of woods, and other materials such as acrylics and fabrics, this is not only a beautiful machine, but a powerful one, that will deliver on all professional and high-end promises.
3D Wood Laser Cutter
---
OMTech 80 W – Best Laser Wood Cutter Overall
It's no surprise that one of the industry's leading laser cutter manufacturers should visit this list again, but it's for a good reason. The 50 W is a great mid-range cutter, but the 80 W is a professional woodcutter's dream.
The two-way pass through system turns into a four-way, giving you even more accommodation for large projects, and it comes with a Ruida control board that's compatible with the famous Lightburn software, a secondary LCD screen, and increased speed, performance, and cutting power of up to 9mm thick of wood and acrylic materials.
You'll also get red dot guidance, an adjustable laser nozzle, and a linear rail guiding system that gives you stepper motors for the x and y-axis for efficient power transmission and higher precision.
Everything in this machine is bred for precision and power, giving you seamless cuts and high-grade designs. Hardwoods are still a cutting barrier, although you can engrave them.
---
Glowforge Plus 3D Laser Printer – Best Laser Cutter for Wood and Metal
The Glowforge Plus sits nestled between the Pro and Basic Glowforge models, giving you commercial features for under $4,000.
The Plus comes with a 40 W custom laser tube, upgraded hardware for improved speed, like a dual macro and wide-angle lens camera, full autofocus, and a 2-year warranty for those demanding of their tech.
Along with cutting and engraving wood, the machine works with leather, acrylic, stone, ceramic, and titanium, however, Glowforge recommends using their Proofgrade materials. These are materials sourced and encoded by the company that your Glowforge scans and then learns the exact lab-tested, optimal settings for cutting that material.
Glowforge machines are known for their precision, cutting within 1/1000th of an inch, as well as other high-end features such as air assist, autofocus, and access to a range of ready-to-print designs.
The Plus is a class 1 laser and requires no special training to use, making it the best high-end laser cutter not only for small businesses but also experienced hobbyists that want to beef up their laser cutting capability.
Best Laser Cutter for Wood and Metal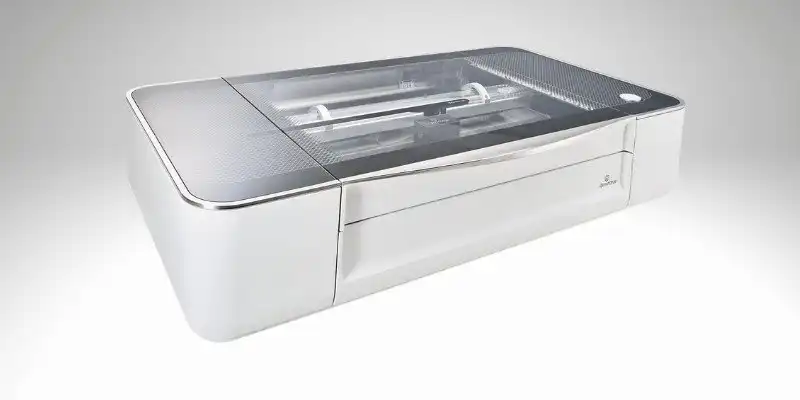 Glowforge Plus
Glowforge are the easiest to use lasers for home business owners looking to create cool projects and sell them on Etsy or other stores and make money .
Dynamism here
Glowforge here
We earn a commission if you make a purchase, at no additional cost to you.
---
The Wood Laser Cutter & Engraver Buyer's Guide
Now that you have an idea of what the different wood laser cutters are and who they benefit, it's time to pick which one to buy.
Consider the size of the machine – This will determine the size of projects you can work on, and the versatility of your products. Not all large working areas need an expensive laser cutter, but if you want to maximize precision and size, then high-end machines with a pass-through system are best.
Look at compatibility – If this is your second or third wood laser cutter, then you probably know what software and platform work best for you. To avoid issues, ensure the machine you choose is compatible with your software and computer of choice for seamless workplace integration.
Check the machine's connectivity support – This often goes overlooked, but the difference between a wireless and non-wireless laser cutter can change the entire work environment. Accessibility, user-friendliness, and workplace ergonomics are all affected by how you connect to the machine.
Take advantage of the materials it supports – Wood laser cutters also work with a variety of materials, so consider alternative mediums you'd like to work with. Leather, acrylic, stone, and glass are just a few of the popular options worth exploring.
---
Other articles you may be interested in: