CAD CAM software is used by hobbyists and professionals across a wide range of applications, from CNC machining to dentistry. But what exactly is it, and how do you go about finding the best CAD CAM software?  
If you're searching for the answers to these questions, you've come to the right place. In this guide, we reveal the best CAD CAM software available right now. We've selected both free CAD CAM software and paid solutions that are suitable for a range of different applications, so you're sure to find a software to suit you.
Before we take a look at the top CAD CAM solutions, however, let's take a look at what exactly CAD CAM software is, what it's used for, and why it's beneficial. 
What is CAD CAM software? 
CAD CAM software is any software package that combines CAD software (computer-aided design) with computer-aided manufacturing capabilities. This means that the software will allow you to design 2D and 3D models, and also send the instructions to a machine like a CNC router, CNC mill or plasma cutter that will make your designs a reality.
CAD and CAM software has a range of different applications. It's commonly used in CNC and mechanical manufacturing where it can be used to both design and manufacture products in a streamlined workflow. It's also used for woodworking, industrial design, electrical engineering, and in dentistry and medicine.
Let's take a closer look at what exactly are the differences between CAD and CAM, and why it may be best for you to choose a software that offers both. 
For those who know what they're after, here's a list of the following software
Best Free:
Best Paid:
CAD vs CAM 
CAD is the creation, modification and optimization of designs using a computer. CAD can be used to create both 2D and 3D designs and is widely used by designers as it's faster, more accurate and more efficient than traditional design methods. 
CAM, on the other hand, is the manufacturing of workpieces and products by a machine that's controlled by a computer. CAM software converts design files into code, such as g-code, which is sent to a machine that then cuts, mills or drills according to the instructions.
There are loads of different software solutions out there that perform CAD and CAM capabilities. However, most of these software are only capable of doing one or the other.
This is because, although they're often part of the same workflow, CAD and CAM are in essence quite different.
The fact that most software can only perform one of the functions means that often you'd need two separate software to complete your project. There are several problems with this.
First, you need to find two high quality software that can perform the functions you need and are within your price range. Secondly, you need to make sure they're actually compatible with each other. 
With the best CAD CAM software, this is no longer a worry. You can do every part of the design process, from conceptualization to rendering, and then manufacture it all with a single software. 
Best Free CAD CAM Software  
FreeCAD – Advanced Free CAD CAM Software for Parametric Modeling 
FreeCAD is completely open source CAD and CAM software that's free to all users. While it may be free, it's a very high quality software that's ideal for hobbyists and professionals alike.
This free CAD CAM software is designed for creating 3D parametric models and has some great features to help you do just that. For example, everything you do in FreeCAD uses real-word units, from microns and inches to feet or kilometers. It can even use a combination of units, enabling you to produce high realistic, full-precision models and then export them for CNC machining. 
The software uses an advanced geometry engine based on Open CASCADE Technology, meaning it can support solids, BRep objects, and NURBs curves and spines. It also offers a wide range of tools to create and edit these objects, including Boolean operations.
In addition, as all the objects you can create in FreeCAD are natively parametric, their shape can be based on a range of properties like numeric values, texts and even other objects. All shape edits are recorded, so you can easily undo or redo and keep a precise history of your models. 
While FreeCAD offers very advanced CAD and CAM capabilities, it's also well designed, easy-to-use and highly customizable. It's available on Mac, Windows and Linux.
Another of the advantages of using this free CAD CAM software is that it has an active user community. In the forum, you can check out tips of how to get the most from FreeCAD, view and showcase your own projects, and even check out FreeCAD-related job offers! 
Fusion 360 – Free CAD CAM Software Suitable for a Wide Range of Modeling 
Autodesk's Fusion 360 is a unified CAD, CAM and PCB software that's free for personal and hobby use. There's also the option to upgrade to the full package for $60 per month which has more advanced CAD and CAM features.
While it may not offer all the same capabilities as the paid version, the free version of Fusion 360 is still a great option for hobbyists. For starters, it can be used for a wide range of applications, including 2 and 3-axis milling, turning, adaptive clearing, and for FDM 3D printers.
It's also compatible with water jets, laser cutters and plasma cutters and supports a wide range of 3D file types, including 3MF, STL and DXF.  
This free CAD CAM software also has a great mix of 3D design and modeling tools. Whether you're interested in parametric modeling, surface modeling, direct modeling, freeform modeling or mesh modeling, Fusion 360 can do it all.
As well as modeling, you can also use Fusion 360 for rendering. You can leverage local or cloud rendering to create photorealistic images of your models in a much quicker time than it takes with other software. 
Fusion 360 is available for both Windows and MacOS, which is one of the reasons it's among the most widely used free CAD CAM software. 
If you do want to upgrade, there are numerous advanced extensions you can add to your subscription. This makes Fusion 360 a great choice for both hobbyists and a range of professionals, including machinists, mechanical and electronics engineers, and industrial designers. 
Best Paid CAD CAM Software 
EnRoute – Best CAD CAM Software for CNC Routers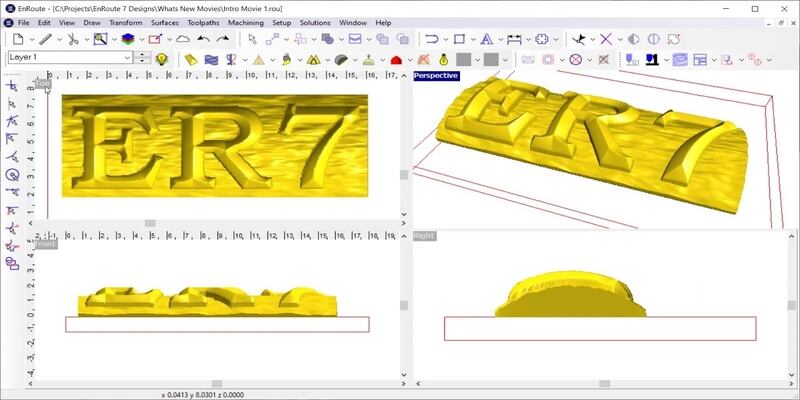 EnRoute, by SAi, is a CAD and CAM software that provides 2D and 3D design and toolpath capabilities for several different types of machines, including CNC routers, lasers, plasma cutters, knife cutters and water jets.
This is an ideal software solution for everyday cutting, nested-based production and creative design projects. It's suited for a range of different applications, from sign making, textured panels and channel letters to ATP panels, woodworking and metal machining.
The EnRoute CAD CAM software is a very user-friendly software that makes designing simple, even for beginners. This is thanks to features like the perspective view, which allows you to easily select and move objects.
You can easily draw freehand using a stylus or mouse, and there are a variety of precision editing tools for modifying your texts and shapes. There are ready-to-use texture templates to make the whole design process that bit easier, as well as a customizable material library.
We also really like the realistic simulation which you can use to test your models and reveal errors before you get to the manufacturing stage. Another useful design feature is the advanced nesting to help you use materials more efficiently. 
When it comes to CAM capabilities, EnRoute boasts an automated toolpath. A toolpath is the series of coordinates a machine follows, and the automated toolpath supports the use of different materials and sizes within each job, helps readily enable future enhancements, and provides direct support for double sided processing. 
VISI – Best CAD CAM Software for Mold & Die Industries 
Price: Dependent upon quote 
VISI is a professional CAD CAM software specifically designed for the mold and die industries and is considered one of the leading solutions in this area. It's a wide ranging suite with a variety of different tools which you can select based on your needs, so there's no set price and you need to get a quote from the company.
The main CAD tool of the software suite is VISI Modeling. This provides true hybrid modeling as it allows you to combine wireframe, solid and surface modeling. There are also advanced modeling tools that allow you to deform geometry while maintaining model integrity, which is particularly important for parts with high gloss and parts that have aerodynamic requirements.  
There are several different VISI CAM CAM software tools you can add to your package, including the 2D machining, 3D machining and 5-axis machining features. Each boasts high speed, efficient toolpaths with some impressive advanced features. 
For example, for 3D machining VISI is capable of automatically detecting flat surface areas of workpieces and then machine them using a flat bottomed tool. This helps reduce machining time and improve the surface finish dramatically. 
The 5-axis machining tool has similarly intelligent features, such as the ability to automatically convert 3D toolpaths to increase the number of strategies available to cover any scenario that occurs during machining. 
This industrial CAD CAM software can work with a variety of different file types, including the industry standard Parasolid as well as the likes of IGES, CATIA, Creo and many others.
CATIA V5 – Best CAD CAM Software for Professionals 
Price: Dependent upon quote 
Developed by Desktop Engineering (DTE), CATIA V5 is an extremely powerful software that's among the world's leading CAD and CAM solutions, with over 80,000 users.
This software boasts some excellent mechanical and shape design tools. For mechanical design, there's an advanced 3D product creation package that includes specification-driven modeling, generative applications and controlled associativity.  
These features deliver extremely productive and robust engineering change management, helping to eliminate the risk of human error and reduce development time and costs. Other useful mechanical design tools include an intuitive design environment for working with sheet metal parts and dedicated mold tools for addressing the plastic injection process. 
When it comes to shape design, the CATIA CAD CAM software can facilitate industrial design processes by allowing users to manipulate shapes with complete freedom. It also boasts industry leading ICEM surfacing technologies for surface refinement, advanced technologies for mechanical surfacing, and the ability to design composites.
In terms of CAM, CATIA V5 has some advanced machining features that make it ideal for businesses. For example, it's highly efficient due to the tight integration between tool path definition and computation, and tool path verification and output creation. This makes it easier to machine the right part the first time. 
Other useful CAM features include effective change management, a high level of automation, and optimized tool paths to help reduce manufacturing time. 
As CATIA V5 is a professional grade software with a wide range of capabilities, there's no set price. You'll need to request a quote from the CATIA sales team and go from there.
Exocad – Best CAD CAM Dental Software 
Price: Dependent upon quote 
CAD and CAM software is perhaps best known for its use in industrial machining, but one of its more interesting uses is in the dental industry. Exocad is one such example of this.
This software can be used for virtually every aspect of dentistry, including design, implant planning, orthodontics, scanning, and production. Whether you're a dental surgeon or a technician, this is a hugely useful tool.
Exocad DentalCAD is the main software and can be used to create and manufacture restorative dentistry products, such as crowns, bridges, veneers, inlays, pontics, removables and more. The powerful platform is robust and rapidly processes high data volumes, helping improve efficiency.
You can combine practically any open data sources you need, including intraoral and model scans, 3D face scans and jaw motion data. In terms of its CAD capabilities, Exocad DentalCAD is compatible with most 3D scanners, 3D printers and milling machines, so you have freedom of choice. 
This CAD CAM dental software is beginner-friendly thanks to its intuitive interface. You can use the Wizard mode that has workflow guides to help you get to grips with the software, while the Expert mode allows you to adjust your settings based on your experience and access more advanced features and tools.
Exocad is another commercial CAD CAM software that you need to get a quote for before buying. This is because, like VISI and CATIA, it's an extensive suite that has a wide range of different aspects, so you can create a custom package based on your needs.
Related articles: