The Best Websites for Free DXF Files for CNC 2023

At CNCSourced, we're a team from across the world, united by our passion for everything CNC, laser cutting, and more! We try to publish at least once per week, and we're always up for talking anything DIY and making! Altogether we've written over 150 technical guides, from how to wire stepper motors, to brand-new ways to CNC carve granite with $5. You can read more about us on our about page.
DXF (drawing exchange format) files are a vital tool for CNC enthusiasts. They allow you to easily create a wide range of projects using your CNC machine, from the simple to the intricate.
Luckily, you don't need to spend hours creating dxf files yourself or spend money on buying them, as there are many free DXF files available online.
I recommend 3axis as the best choice for downloading free DXF files. It has the widest range of high-quality files, from artistic to functional designs, suitable for both beginners and experienced hobbyists. And you don't even need to create an account to access them.
Ready to Cut is better suited for those who are looking for a place to engage with other CNC enthusiasts to share designs, while CNC Cookbook is a one-stop shop for downloading DXF files and learning online courses.
In this guide, I'll compare my experience with the most popular websites for free DXF files across all the important factors (like range of downloads, ease of use, and all the hidden details) so you can make the right choice.
So let's take a look at the best websites to get free DXF files in 2023.
3axis – Choose from 8,676 Free DXF Files
3axis is the best website for free DXF files when it comes to the sheer amount of files available, with no less than 8,676 on offer.
This is a huge collection and there's a free CNC file for just about every project you could imagine on this site. From animals, cartoons and logos to scenery, tools and furniture, this website is a CNC user's dream. You can click on one of the category tags or simply scroll through the pages to browse the endless designs.
What's really impressive about 3axis, aside from the huge number of free 3D DXF files, is the quality and intricacy of some of them. There's a fantastic number of artistic and decorative files.
For example, just the first page shows a laser cut vinyl wall clock, a Mandala 3D illusion lamp, mobile phone stands etched with animal designs, and a bull-shaped wall mount.
However, this site is also a great place to source less artistic and more functional free CNC DXF files. A 10x4ft conference room table, an elephant-shaped pen holder, a nut tray, and a clothes hanger are just a few of the designs you can make a reality using 3axis's free DXF files.
Also, with such a great variety of designs from the simple to the intricate, this site is a great resource for both beginners and more experienced hobbyists.
As well as DXF files, 3axis offers free vector files, PDFs, STLs, BMPs, DWGs and more.
CNC Cookbook – Free DXF Files Spanning 15 Categories
CNC Cookbook is a well known website among CNC enthusiasts and it has one of the best collections of free DXF files available online.
This website offers hundreds of free files for CNC routers and other machines such as laser and plasma cutters. The free CNC files are categorised in the following way to make it easy to find the files you're looking for:
Animals
Vehicles
Nature
People
Maps
Music
Symbols
Holidays
Toys
Sports
Food
Religion
Western
Line art and patterns
Other
As you can see, this is a huge range of free CNC design files spanning a variety of topics, so there's something to suit just about everyone.
One of the best things about CNC Cookbook is that you can download the entire library of free CNC files into a single zip folder. The website is also regularly updated with new free DXF files.
As well as free DXF images, CNC Cookbook is an excellent source of learning materials, offering free courses, free calculators such as the G-Wizard calculator, a blog, a newsletter and daily live streams.
Ready to Cut – Free DXF File Sharing Community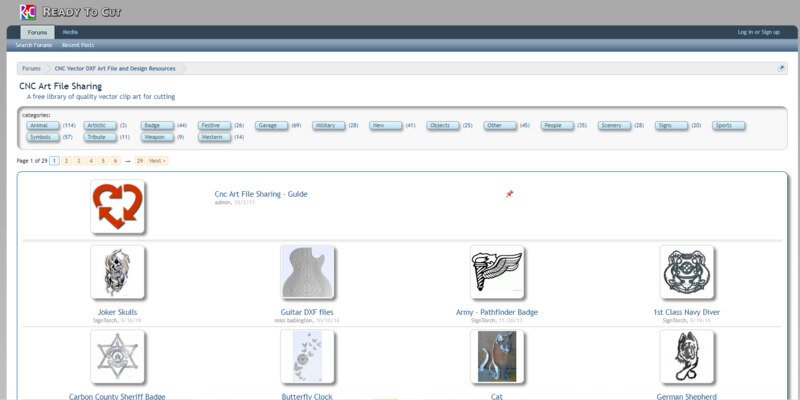 Ready to Cut is different from the other sites on this list in that it's a community forum website dedicated to free DXF file sharing.
To start with, there is a library of other 300 DXF files, spanning categories like animals and people to western icons and weapons. What we especially like is the categories are clearly laid out and you can easily see the number of free g-code files for CNC routers available in each category. There are some really high quality designs available on the site, as you can see below.
However, Ready to Cut offers far more than just DXF files for free download. It's a community site with over 36,000 members where you can engage with other CNC enthusiasts and browse a range of different forums.
For example, there are forums for CNC tutorials where you can learn new CNC skills, which is always useful. You can search over 1,000 discussions by keywords and even filter by metrics like date posted and number of replies.
The highlight for us, though, is the CNC art requests forum. Here, you can post requests for DXF files of certain designs, and you can even post images and ask if someone will convert it into a DXF file. Of course, there's no guarantee someone will, but it's a very active forum and there's the option to give donations to people who fill out your requests.
DXF1.com – Over 4,000 Free CNC DXF Files
With more than 4,000 free DXF files for plasma cutting and CNC router work, DXF1.com is one of the largest and best resources for free files. These files have also been downloaded more than 400,000 times, so they're very popular among the CNC community.
DXF1's collection spans 78 categories, so there's loads of variety. There are main categories that are separated into sub categories – for example, the maze category has 4 sub categories, such as circular mazes, square mazes and triangular mazes.
Icons make up more than half of the collection at this site, and you really can find an icon representing just about everything, so it's perfect for that. There's also free military DXF files, animal files, religious symbols, signs, cut panels and more.
What we really like about this site is that every individual free DXF file has a star rating generated from user reviews, so you can get an idea of its quality before you download and work with it.
Another nice aspect of DXF1.com is that it regularly updates its site with new free DXF files and these are often festive, such as Easter and Christmas designs.
Scan2CAD – New Weekly DXF Files & Free Trial for Image to DXF Converter Software
ScanCAD offers free CNC project files alongside a paid service, and while it doesn't offer as many files as 3axis or CNC Cookbook for free files, it's definitely worth checking out.
This site works slightly differently in that it doesn't offer individual DXF files but packs of seven royalty-free files, with each pack covering a different design category.
On the plus side, there's an incredible variety of free DXF designs. For example, the first page alone has packs of free 3D DXF files for tanks, serving boards, Ancient Egypt, Unicorns and Paris designs, so the diversity on offer is really impressive. There are 27 pages in total, with new free DXF files uploaded weekly.
On the down side, the only way to browse different design categories is by clicking through the many pages, so there's no easy way to find what you're looking for like there is on other sites.
Also, some of the design packs are rather simplistic with just model outlines and DXF files for silhouettes, compared to the more intricate free DXF art designs seen on sites like 3axis.
It's also worth mentioning Scan2CAD's main service, which is converting images to DXF and g-code for use with CNC machines. While you need to pay for the software, which is available on Mac and Windows, there is a 14-day free trial you can use to convert some images into DXF files for free.
DXFforCNC – Free CNC Files Alongside Paid Files
This site is similar to Scan2CAD in that it offers free plasma DXF files and free CNC router project files alongside files you have to pay for.
There are plenty of free CNC files to choose from, with 23 pages of files in total. These are all single files. You can take your pick from lots of different designs, from people and animals to signs and cars.
DXFforCNC has a particularly good file selection for small home decoration CNC projects, so it's a really good place to get a nice design if you want to make something like a welcome sign using your CNC router. There's also lots of different pet-based designs.
While it offers DXF files for free download, DXFforCNC is primarily a commercial site. It offers a huge range of files that range in price, and it's a good site if you're looking for really high quality, original designs.
Another benefit of this site is that it has a news section, tutorials and tips for CNC hobbyists, so it's a decent learning resource as well.
---
What are DXF files?
Originally created by Autodesk for their CAD software way back in 1982, DXF files are a type of CNC file called vector CAD files and can contain a wide range of objects, from lines, arcs and circles to polygons, bezier curves and text. 
How do I use DXF files?
DXF files are compatible with most CAD and CAM software, as well as many drawing programs such as Adobe Illustrator, and you can easily import them into your chosen program.
Once you've imported the file into your CAD or CAM software, you can use it to send g-code to a CNC router which will then cut or engrave in the shape of the DXF file. 
What can you use DXF files for?
DXF files have many uses. They're ideal for beginners trying out CNC work for the first time and they're also great for hobbyists looking to complete certain projects.  
There's a huge variety of free DXF files available online, from decorative and artistic files you can use to add the finishing touch to a project to more functional files you can use to make things like trays and stands.  
Related articles: