Acrylic, or plexiglass, makes for amazing projects. Personalised signs, art projects and more can brighten up your home, or become the next best-selling product for your online business.
My top pick if have under $1000 to spend on a diode laser is the xTool D1 Pro. The 10W laser is enough to cut thin acrylic (you can still cut clear acrylic sheets, but you'll have to paint it first), and it has the best build quality of anything in its price range.
If you want a CO2 acrylic laser cutter, you can opt for the Flux Beamo if you only need to make small designs (so, no large signs), or for a larger working area I recommend the FSL Muse Core.
If you prefer something beginner friendly and you're newer, Glowforge is your best bet, and if you're more advanced and accept losing some of the user-friendliness, go for the OMTech 50W or OMTech 80W.
In this guide, I'll share my hands on experience with all of the best acrylic laser cutters, lay out the differences between diode and CO2 lasers, and walk you through all the factors you should consider to make the right choice.
BUDGET OPTION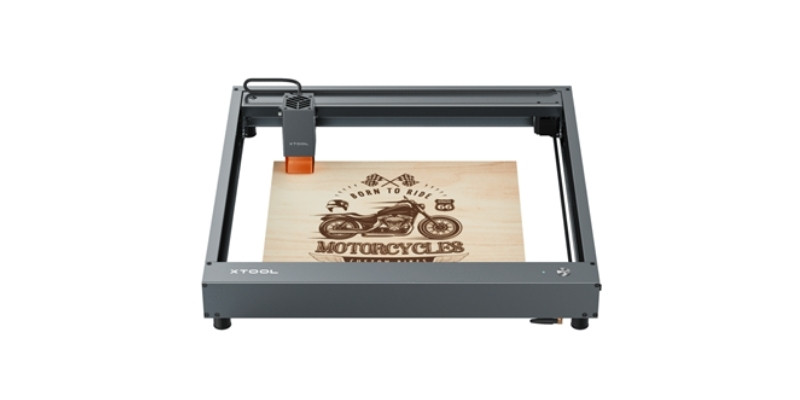 xTool D1 Pro
Powerful 10W acrylic laser cutter for under $700
Single-pass 0.6mm+ acrylic cutting
High-quality steel frame and parts
Available at:
MID-RANGE PICK
FSL Muse Core
3D-enabled features and accessories
Very customizable and upgradable
Powerful 45W laser that cuts up to 1/4 inch thick wood
Available at:
PREMIUM PICK
Glowforge Plus
Top shelf quality engraving and cutting
Innovative Proofgrade materials include acrylic options
Great for professional and at-home use
Available at:
CNCSourced is reader-supported. When you buy through links on our site, we may earn an affiliate commission. Learn more
Best Acrylic Lasers – Reviews
xTool D1 Pro 10W – Best Cheap Laser Engraver Under $1000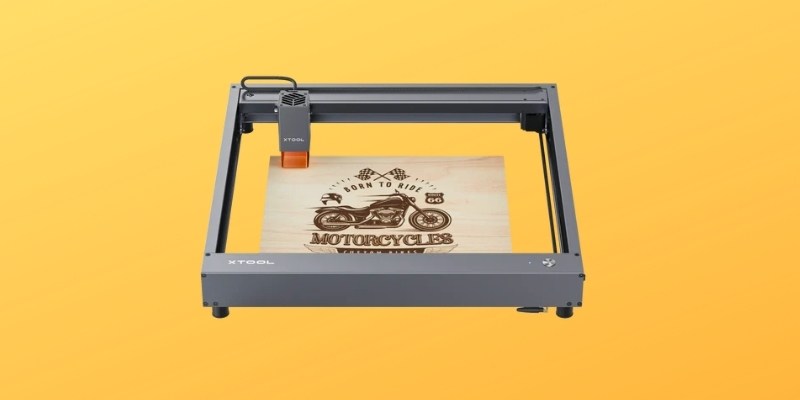 Pros
Very well built: sturdy metal frame and protected belts
20W version: for cutting thicker acrylic
Optional enclosure and fume extractor add-ons
Complete material settings info via xTool
Cons
Can't cut clear acrylic
Would not recommend for thicker than ¼" acrylic
The xTool D1 10W is the best acrylic laser cutter under $1,000, so if you're able to spend that kind of money we recommend you opt for the xTool.
It's better overall than its closest rival, the Ortur LM3, though both are 10W lasers, have WiFi and app connectivity, and have similar work areas.
But the xTool is more sturdily built with steel rods and wheels and protected belts, whereas the Ortur LM3 doesn't protect the belts. The xTool can also be extended to 936 x 432 mm with the extension kit.
The xTool also comes in 5W and 20W versions:
Even with the 10W D1 Pro you can cut 1mm black acrylic sheets in a single pass, or 3mm sheets in two passes. However, if you buy your acrylic sheets from xTool, the machine cuts even thicker. For example, the D1 10w can cut 2mm black acrylic from the xTool store in a single pass. You can cut 5mm colored acrylic with 5 to 10 passes (depending on the color).
The 20W version can cut even thicker acrylic, so if you're planing on thick acrylic laser projects then the xTool is ideal, yet still doesn't break the bank. These numbers are true, too, we cut a 12.5mm thick piece of wood with just a few passes (example above) – so thicker acrylic shouldn't be a problem.
xTool D1 can engrave white acrylic at 100mm/s, black acrylic at about 50mm/s, and mirrored acrylic at about 80mm/s.
For any rounded items such as mugs or glasses, you can also engrave these if you buy the RA2 rotary attachment.
Overall, the xTool and the Ortur LM3, are the best diode lasers under $1000, but we still recommend the xTool as our top pick. You can also read our full review of the xTool D1 Pro 20W.
Best diode pick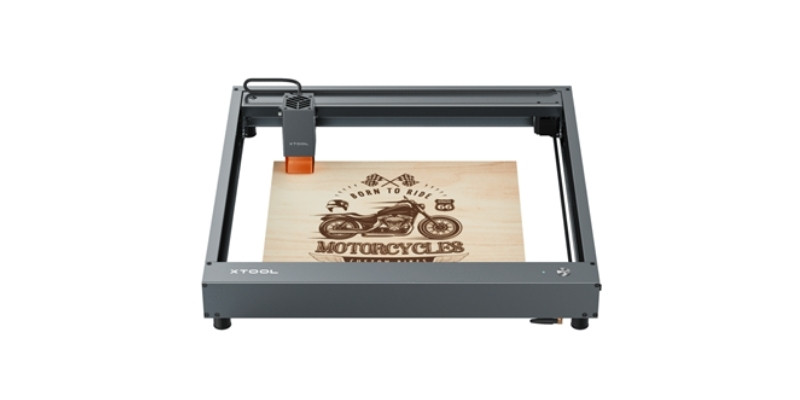 We earn a commission if you make a purchase, at no additional cost to you.
---
NEJE 3 / 3 Max – Cheapest Laser Engraver For Acrylic
Power: 5.5W – 11W
Work Area: 170×170mm, 255×420mm, 400×410mm, 590×980mm (depends on which option)
Laser Type: CO2
Pros
Various laser head module options
Good power and fast for the price
Small spot size options to cut acrylic deeper and cleaner
Cons
The 3 and 3 Plus versions are cantilever style – not sturdy
Can't cut transparent acrylic
Requires cast acrylic – so higher price
Low power – can cut only thin acrylics (black and colored sheets)
No enclosure – acrylic vapor and toxic fumes can't be managed
Neje 3 is the best cheap laser cutter for acrylic. You can cut thin black or colored acrylic with it – but not transparent acrylic.
You have over 10 different laser head options to pick from. All can cut acrylic, but the E40, A, and N laser head series are best suited for cutting and engraving acrylic.
You can easily cut 3mm black acrylic with Neje 3, and with the right settings and more passes, you should be able to cut 5mm acrylic too.
There are four Neje 3 machines: Neje 3, 3 Plus, 3 Pro, and 3 Max. The Neje 3 and 3 Plus have a cantilever design, which isn't very sturdy. Another big difference is the work area. The work areas are 170×170mm for the Neje 3, 255×420mm for Neje Plus, and 400×410mm for Neje 3 Pro.
If you step up to Neje 3 Max, you get a high-quality 11W laser with a 590×980mm work area. The laser's spot size is incredibly small (even smaller than xTool lasers), resulting in high energy concentration for cutting deeper. You can also upgrade other Neje 3 lasers to the 11W A40640 laser module, but you'll have to buy it separately.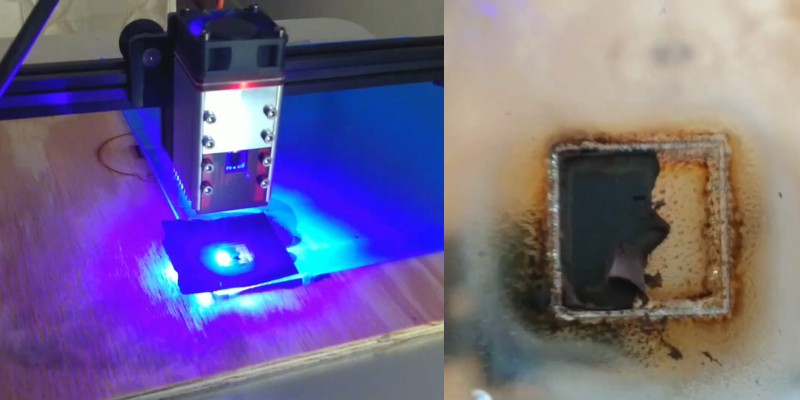 Neje lasers give you many software choices. You can use Neje's software, LaserGRBL, or Lightburn. It also has apps for Android, iPhone, iPad, and macOS.
One of the drawbacks of using a Neje as an acrylic cutter is its lack of enclosure. Engraving and cutting acrylic give off smelly fumes you must extract and ventilate. Without an enclosure, it's difficult to do.
It's cheap and cheerful, and one of the better low-cost acrylic laser engravers. I personally prefer the xTool D1 Pro as it's better built, and has higher-power options (I have the 20W version, but there's now a 40W version too). But, for a cheap versatile laser for cutting acrylic in thin sheets (it can't cut clear acrylic, or cut ¼" or thicker sheets) Neje is a good option.
Budget-Friendly Laser Engraver For Acrylic
We earn a commission if you make a purchase, at no additional cost to you.
---
---
FLUX Beamo – Best Small Laser Engraver for Acrylic
Pros
Can cut up to 5mm thick on the second pass.
Can cut transparent acrylic (cast and extruded).
Camera: makes it easy to work with
Good beam quality
Cons
Can't handle larger acrylic sheets, or projects like signs.
No passthrough doors
Fume extractor costs about $1000
The FLUX Beamo is the best small laser cutter for acrylic. It doesn't handle large projects, but it does cut up to 5mm thick acrylic on the second pass, alongside engraving materials like glass, cement, and stone.
This compact desktop machine comes with a 30W laser and acrylic lid, so you see your work taking place as it happens. It also has its own software, Beam Studio, where you get one of the most user-friendly experiences on this list with its streamlined ecosystem.
Just because it has its own ecosystem though, doesn't mean it won't play well with others. AutoCAD and Adobe Illustrator and Photoshop are just a few Beamo-compatible software options.
Overall, the Beamo is the best option for those wanting a compact entry-level laser engraver. Its small design allows it to fit on smaller desktops, and it's enclosed with ventilation, so you don't have to worry about dealing with acrylic fumes. Plus, it even comes with a rotary module add-on for increased versatility and 360-degree engraving.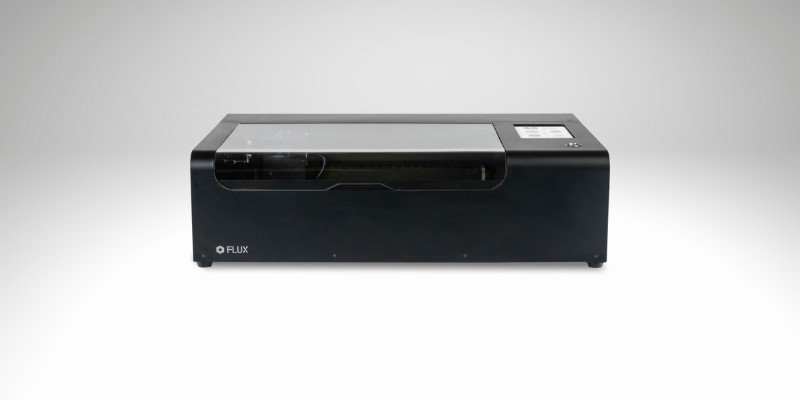 We earn a commission if you make a purchase, at no additional cost to you.
---
OMTech 50W – Best Acrylic Cutting Machine Under $3000
Cutting area: 295 x 495mm
Power: 50W
Laser Type: CO2
Pros
Powerful: can cut ¼" transparent acrylic
Passthrough door: so you can feed large acrylic sheets
DSP controller (Ruida or Rykon) with LCD
Versatile, also good for other materials and rotary engraving
Cons
Too advanced for beginners.
No camera
Manual focus
Big machine compared to desktop lasers
The OMTech 50 W is one of their mid-range acrylic laser engraving machines that cuts up to 6mm thick acrylic and plexiglass with a 50w CO2 laser tube and offers a 4-pin port connection for rotary axes.
Along with increased power and performance from their other desktop laser cutters, the 50W has dual LCD display panels that allow you to see the work area, monitor electrical currents, and auto-judge faults for optimized safety and power supply. There's also the Ruida digital control panel that gives you control over the laser head, project progression, speed and power settings, and project framing.
The 50 W has the ever-important air assist and includes a rotary module, adjustable laser nozzle, built-in ventilation, and a two-way pass-through system. This means it opens on the front and back sides of the machine, allowing you to work on projects larger than the machine itself.
OMTech gives you top-notch safety features and all those little add-ons that truly change the experience of laser engraving acrylic. As a mid-range cutter, we don't recommend it for new users, however, it's a fantastically robust machine that will meet all the demands of experienced hobbyists and small businesses.
Best CO2 pick
We earn a commission if you make a purchase, at no additional cost to you.
---
Snapmaker Artisan / Snapmaker 2.0 (With 10W add-on)
Snapmaker 2.0 — Available here
Snapmaker Artisan — Available here
Work Area: 400 × 400mm (Artisan) / 350 × 350mm (2.0 A350)
Laser Power: 10W
Laser Type: Diode
Pros
3-in-1 machine – CNC cut or laser cut acrylic
7" touchscreen LCD
Enclosure to manage acrylic vapors
Easy to use
Cons
Can't cut transparent acrylic
Relatively large spot size: reduces single pass acrylic thickness cutting
Not as precise as xTool or Neje (also not as fast)
Not a standalone professional laser cutter
Snapmaker 2.0 version has a 1.6W laser – needs upgrade to 10W for acrylic cutting
You have two options with the Snapmaker, either the 2.0 or the new Artisan. I have the Snapmaker 2.0 A350T, and it's excellent.
Unlike the other options, the Snapmaker is a 3-in-1 laser: you can also CNC carve and 3D print.
This is a major advantage if you're a versatile maker who wants to cut acrylic, but doesn't need to do it much. You can switch in the laser head for acrylic work, and then get back to 3D printing filament later on – all in one machine.
However, you won't cut much acrylic with the standard Snapmaker 2.0 1.6W laser. I upgraded to the 10W high-power laser, which comes by default with the Snapmaker Artisan.
Like other diode lasers, Snapmaker can only cut black or colored acrylic. In one of my tests, I cut a rhino puzzle out of 3mm thick black acrylic. It took us about 15 minutes and the results were quite satisfying.
Another plus is that Snapmaker Artisan has an enclosure, and there's an optional enclosure for the Snapmaker 2.0, so you can keep acrylic fumes out.
The work area is also relatively generous. Snapmaker Artisan has a 400×400mm work area (and the 2.0 A350 has a 350×350mm work area). There are smaller versions of the 2.0, but I recommend getting the largest version – the smallest version also isn't compatible with the rotary module.
Top 3 in 1 Pick
We earn a commission if you make a purchase, at no additional cost to you.
---
FSL Muse Core – Laser Engraver for Large Acrylic Sheets
Pros
Very customizable and versatile
Gives you the option of the Intel RealSense 3D camera.
Powerful: an cut ¼" transparent acrylic and much thicker colored acrylic
Removable floor: engrave on any size of acrylic sheet
Cons
High price tags on some basic customizable options
No camera on the Core model
No autofocus on the Core and the 2D model
No passthrough doors
The Full Spectrum Laser Muse Core cutter is one of the most advanced desktop acrylic laser engravers available.
With an optional 45W laser tube, the Muse Core boasts a level of customization not seen in other models. However, most added features come with a steep price curve. For example, if you want a normal camera like Flux Beamo, you'll have to jump up to Muse 2D which costs about $5000.
The Muse Core is also as strong as it is high-tech, with the ability to cut up to ¼ inch thick of acrylic.
But there are more options on the menu. Do you want a camera with autofocus, like Glowforge does? You can with the Muse 3D, but at at the price of $6499. And you won't even get a passthrough door at this price as you do with other lasers like Glowforge.
On the other hand, you can choose among 5 different lenses, several cooling options (yes, you have to add a cooling system for about $750 to your cart as an extra option), and more.
But, one of Muse's fantastic features is its removable floor, which allows you to put the machine on very large acrylic sheets and engrave them.
All in all, the Muse Core is brimming with technological capabilities that offer great customizability. Choose from rotary modules, focus lenses, extractors, and water pumps to create a machine that meets your needs.
3D Wood Laser Cutter
We earn a commission if you make a purchase, at no additional cost to you.
---
OMTech 80 W – Strongest Acrylic Laser Cutter and Engraver
Cutting area: 500 x 700 mm
Power: 80W
Laser Type: CO2
Pros
Industrial laser at hobby price
Powerful 80W laser: cuts 10mm thick transparent acrylic
4-way pass-through door for feeding large acrylic sheets
Autofocus and auto lift
Extremely versatile: work on most materials and most sizes and shapes
Upgradable to more powerful air assist and chiller systems
Cons
No camera
May have to add a chiller for working longer hours
Too large and heavy for small home projects like awards crafting
MF models don't have autofocus
The OMTech 80w is the best laser for cutting acrylic since it has it all. The OMTech 80 W is much like the 50 W when it comes to robust features, but gifts you a lot more in addition.
What it shares with the 50W is a sturdy and secure build with acrylic laser engraving essentials like air assist, built-in ventilation, and a secondary LCD panel that lets you monitor electrical currents and auto-judge faults.
However, in this model, we get a few powerful upgrades. The most notable is the jump from 50W to an 80W tube, easily cutting 10mm acrylic. However, you can cut thicker if you don't mind experimenting with settings and a little quality sacrifice on the edges. You should use higher air pressure and lower speeds to cut thicker acrylic.
This machine can engrave acrylic at 500mm/s. It's the fastest on the list. So, this machine is also the best laser engraver for acrylic.
We also move from a two-way pass through system to a four-way, with back, front, left, and right doors, allowing you to work on even bigger projects.
You also get a motorized Z-axis that comes with auto lift in the AF models. So, you don't have to manually move the tray up and down. Another convenient feature is the autofocus. So, this machine automatically adjusts both the work bed and the focus.
Another plus is the Ruida controller. You can run it with RDWorks which is only compatible with Windows. Alternatively, you can also run the machine with Lightburn, which supports both Windows and macOS.
This model is all about size and power, so if you plan on working on large-scale acrylic projects, this machine will effortlessly keep up with demand.
We earn a commission if you make a purchase, at no additional cost to you.
---
Glowforge Plus – Best Desktopp Laser for Acrylic
Pros
Powerful desktop laser – cut ¼" transparent acrylic
Beginner-friendly: extremely easy to use, and no special training is required.
Camera and autofocus – easy to use
Proofgrade acrylic sheets the size of work area with automatic settings
Cuts and engraves acrylic relatively fast
Big community
Cons
No passthrough doors
No Lightburn or other 3rd party software
Only works online
Glowforge Plus is the best laser cutter for acrylic for beginners. It's Glowforge's most affordable premium acrylic laser engraving machine as its mid-range option. This class 1 laser requires no special training before using it and only requires you to place it near a window for ventilation.
With an increased speed and hardware than the Basic model, the Plus promises to deliver clear-cut designs with its custom 40W laser tube, cutting up to ½ inch thick material with multiple passes. You can cut ¼" acrylic with it with a polished result. You can also cut a little thicker though the quality suffers.
Although Glowforge can be relatively slow on some materials, it's pretty fast on acrylic. Glowforge can cut 3/16" acrylic in one pass at 45mm/s and engrave it at 335mm/s. So, after the OMTech machines, Glowforge is the fastest at cutting and engraving acrylic, making it a good acrylic printer and cutter.
What's truly unique about this brand however is its Proofgrade materials. These are materials that have been encoded, and when scanned by the laser cutter automatically know the optimal settings for engraving that material, giving you one-button cutting and engraving. This includes acrylic, as well as wood, glass, leather, and many others.
Another benefit of the proof grade acrylic is that you get exactly the size you can fit in your Glowforge without worrying about cutting down to size. On the downside, Glowforge's warranty policy says that using any acrylic bought from other sources (not proof grade) voids the warranty. That's not a good policy. But, either forget the warranty or stay with Glowforge's proof grade acrylics.
There aren't any pass-through functions, which is a turn off – especially at this price – but Glowforge is known mainly for its beginner-friendly approach, like its Proofgrade materials and accurate designs, making this the best option for newer makers and small online businesses. For more easy-to-use lasers, check out our article on the best laser cutters for beginners.
You can put up to 18"×20" acrylic sheets in Glowforge, but the work area is only about 11"×19".
There's also an optional Glowforge Air Filter, which filters the acrylic fumes, so you don't have to worry about ventilation or machine placement.
Glowforge Plus
Glowforge are the easiest to use lasers for home business owners looking to create cool projects and sell them on Etsy or other stores and make money .
We earn a commission if you make a purchase, at no additional cost to you.
---
Factors to Consider When Buying a Laser Cutting Machine for Acrylic
Acrylic is excellent for laser cutting and engraving, giving polished and clean edges when cut. Acrylic engravings also deliver a nice contrast with no burring and warping.
CO2 lasers are the best for cutting and engraving acrylic, but diode lasers can also engrave and cut thin black and colored acrylic sheets (but not transparent acrylics).
Laser Type
Your laser's type massively affects what you can do with acrylic. If you buy a CO2 laser, you can cut and engrave all acrylic, but if you buy a diode laser, you're restricted to black and colored acrylic.
Also, since most extruded acrylic is not colored, only CO2 lasers can cut and engrave them. And since extruded acrylic is cheaper, you benefit from lowered material costs if you have a CO2 laser. Overall, if you want to cut clear acrylic, don't buy a diode laser.
Laser Power
Your laser's power determines how thick acrylic you can cut. So, you have to ask yourself: "how thick are the transparent acrylic sheets I want to cut in mm?"
To get to the ballpark of the required laser power, multiply that by 9 or 10. For example, a 40W CO2 laser can cut 5mm clear acrylic, while an 80W CO2 laser can cut up to 9mm clear acrylic.
There are ways to cut a little deeper, but you'll sacrifice surface finish.
Best Acrylic Laser Power Comparison
Passthrough Door, Size, and Work Area
It's key to ensure that the acrylic sheets you want to use for your project fit in your laser machine. So, choose a laser that can accommodate your projects.
Some laser machines can accommodate larger pieces of material than their work area as they have a "pass-through" slot. For example, Glowforge Pro accepts up to 18" × 20" acrylic sheets, but can engrave only around 11" × 20". The OMTech lasers on this list have passthrough doors.
If you need to work on large acrylic sheets, such as for sign-making, buy a laser with passthrough doors. This way, you can feed an unlimited length of acrylic through. However, the material width is still limited to the laser's working area.
Best Acrylic Laser Work Area Comparison
Price
If you can get away with only working on colored acrylic, you can get a diode laser. We've discussed the best options under $500, and $1000 here.
Also, if you're only engraving acrylic, you can get a cheaper CO2 laser. However, if you want to cut clear acrylic, you can't sacrifice laser power. We've recommended some fantastic options under $3000 and $5000.
Then, consider if the laser requires extra ventilation accessories like fume extractors and air filters (you need ventilation when cutting acrylic).
Finally, it's your choice whether you spend more on luxuries like a camera and autofocus.
If you're on a tight budget check out the NEJE 3, or the xTool D1 Pro for best value for money
Air Assist
Air assist is essential for cutting acrylic since laser-cutting acrylic produces flare ups. The air assist is your friend here, reducing the chances of starting a fire.
Still, never leave your machine unattended when laser cutting acrylic. The air assist also makes the acrylic cut edges much cleaner.
The lasers we discussed here have air assist, however, you can upgrade some of them if needed.
Exhaust System and Ventilation
Acrylic vapor has an unpleasant smell, and while it's not as toxic as some other materials (for example, cutting PVC will give off chlorine!), you'd still be best to avoid it.
You have two options: buy an air extractor, or buy a laser with air filters.
However, these options dictate that the laser be enclosed. All the CO2 lasers on our list are enclosed and have options for fume extraction. The diode lasers aren't enclosed, but all of them offer optional enclosures, except for the Neje 3 laser.
If you're not enclosing your laser when cutting acrylic, it's best to use it outside.
Ease of Use
Some factors affect how easy a laser is to use, like having a camera helps with job setup. Some brands sell acrylic sheets in specific sizes for their machines, which is especially helpful if your laser has a small work area.
Another excellent feature is the autofocus. If you buy a laser with manual focus, make sure that the machine at least retains focus between jobs (as most lasers do). This helps you when placing acrylic sheets in the laser, one after the other. You won't have to refocus the laser every time since the acrylic sheets have similar thicknesses.
Software
Although acrylic doesn't care about your laser software, you do. So, if you love Lightburn, buy a laser that's compatible with it – some OMTech lasers aren't, for example. Also, check the laser software's compatibility with your favorite operating system.
How much does an acrylic laser cutter cost?
Most lasers under $1000 are diode lasers that can only cut 5mm black or colored acrylic. Starting at about $2300, you can buy a CO2 laser in the 40-50W range with a generous work area that can cut 6mm clear acrylic. Starting at $3500, you can buy 80w CO2 lasers that can cut up to 10mm clear acrylic.
What machines cut acrylic?
Table saws, CNC acrylic cutting machines, scoring tools, and laser cutters can cut acrylic. CO2 laser acrylic cutting is an excellent choice since lasers can cut in custom patterns (as opposed to saws), and give clean-cut edges. Plus, they can engrave acrylic with great detail for awards, art projects, and more.
How To Engrave Acrylic?
First, choose your acrylic, for example cast acrylic is better for engraving. Cast acrylic comes in many colors, while extruded acrylic is mostly transparent with few color choices, though it's cheaper than cast acrylic.
Then, prepare your design. You can use grayscale for CO2 lasers, but use threshold mode for diode lasers.
Next, adjust your settings. Use relatively low power (25-50%) and some distance in line spacing. If you use too many lines per inch, your engraving quality decreases dramatically.
After that, pull off the acrylic protective film. If you're using a diode laser, you may have to prepare the acrylic surface depending on the color. For example, you should put black paint on clear acrylic.
Next, position the laser head or use the laser camera to set up the design. Turn on air assist and fume extractors. Hit start and enjoy!
Which Acrylic Is Better for Laser Engraving: Cast or Extruded?
Cast acrylic is better for laser engraving, though both cast and extruded acrylic can be engraved. Both acrylics are easy to laser cut.
Laser engravings on cast acrylic look uniform, clean, and have better contrast. On the other hand, laser engravings on extruded acrylic appear duller and not as impressive.
You can see the grain direction in extruded acrylic after laser engraving, since the extrusion happens in one direction. On the other hand, cast acrylic has a very orderly crystalized geometry, that also reflects better laser engravings.
Can you engrave clear acrylic?
Yes, you can engrave clear acrylic if you have a CO2 laser, as well as cut it. However, diode lasers can't directly engrave clear acrylic directly (and they can never cut it). Still, one trick for engraving clear acrylic with a diode laser is to, first, paint it black. After engraving, you can wash off the paint with the appropriate paint thinner.
What is the best acrylic for laser cutting?
If you have a CO2 laser, you can laser cut both extruded and cast acrylic equally well, however, cast acrylic offers a better engraving quality – though it's also more expensive. On the other hand, thin and colored cast acrylic is the only option for cutting with a diode laser.
Here are some of our acrylic recommendations:
Common laser cut acrylic projects
Here are some ideas for laser cutting acrylic projects:
Signs
Awards
Engrave info signage for touristy places
Ornaments and art projects
FAQs
What laser do I need to cut acrylic?
Diode lasers and CO2 lasers can cut acrylic, but to cut thicker acrylic, you'll need a CO2 laser. Diode lasers can only cut thin colored acrylic sheets, but they can't cut clear acrylic, whereas a 45w CO2 laser will cut 6mm clear acrylic.
How thick acrylic can a 40W laser cut?
A 45W laser can cut about 5mm thick acrylic. An approximate formula is laser power/10 = acrylic thickness. The formula is a ballpark. As you can see, most 40w lasers can cut 5mm thick acrylic (not 4mm). You can also cut slightly thicker acrylic if you don't mind compromising the surface finish.
Can a 10 watt laser cut acrylic?
A 10W diode laser can cut black and colored acrylic, but it can't cut clear acrylic. 10W diode lasers can cut 3mm black acrylic in 2-3 passes. With over 5 passes, you can cut up to 5mm black acrylic.
How thick can Glowforge cut acrylic?
Glowforge can cut ¼" acrylic (about 6mm thick acrylic).
Other articles you may be interested in: