Acrylic, or plexiglass, is a unique material that's incredibly fun and creative to work with, but also very temperamental.
Acrylic laser cutters and engravers help take out a lot of the guesswork – and labor – that comes with working with acrylic, like burring edges and achieving clean lines, by automating and modernizing the process.
With the help of cutting-edge software and the models listed below, you'll be creating acrylic models you never thought possible. In the following buyer's guide, we'll cover the best acrylic laser engraving machines on the market, as well as break down how to engrave acrylic and how to choose a machine.
BUDGET OPTION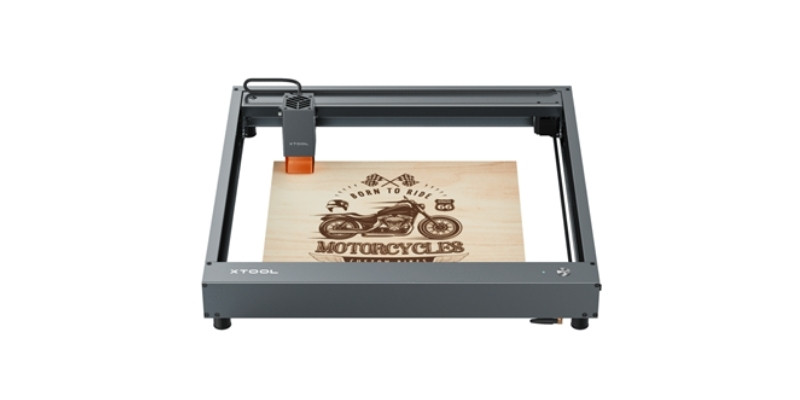 xTool D1 Pro
Powerful 10W acrylic laser cutter for under $700
Single-pass 0.6mm+ acrylic cutting
High-quality steel frame and parts
Available at:
MID-RANGE PICK
FSL Muse Core
3D-enabled features and accessories
Very customizable and upgradable
Powerful 45W laser that cuts up to 1/4 inch thick wood
Available at:
PREMIUM PICK
Glowforge Plus
Top shelf quality engraving and cutting
Innovative Proofgrade materials include acrylic options
Great for professional and at-home use
Available at:
Can You Laser Engrave Acrylic?
Yes. Acrylic engraving happens when the laser vaporizes the top layers of material. So, the material absorbed by the laser quickly changes into a liquid then into a gas. Due to this vaporization, you want an enclosed laser engraver with a ventilation system that directs the smoke away from the work area, such as out of a window.
Along with being enclosed, you'll also want a machine with air assist in order to further manage the vapor in all aspects of the engraving environment.
Acrylic, or plexiglass, is actually an ideal material for laser engraving because lasers avoid warping the material, offer automatic deburring, and give you those precise angles and clear edges you're after when cutting acrylic. They're also incredibly powerful, with industrial laser cutters processing up to an inch thick of acrylic material.
Most acrylic laser engraving machines use CO2, or gas, laser cutters, which are also used to create a frosted matte finish on the material. Fiber lasers are also used to mark and change the acrylic's color, however, if you want to cut and engrave you'll need a CO2 laser.
Pros
Enhanced workflow
Better standardized products
Wider variety of designs
Better control over the acrylic
Cons
Expensive up-front cost
Potentially costly maintenance if not maintained correctly
Learning curve 
How to Laser Engrave Acrylic?
When engraving, there are two types of acrylic: cast and extruded.
Cast acrylic is made by pouring liquid into a mold and turns into a matte material that's highly sought after for customization projects, like awards.
Extruded acrylic is made by putting pellets into an extruder, which are then melted and extruded out. This is the easier and cheaper option to make and maintains its clear deposition during engraving. It's also softer than cast and is best for projects that require smooth edges.
In general though, acrylic or plexiglass absorb certain light wavelengths, meaning you're able to engrave with relatively low power. Regardless of which version you use, you only need around 25% – 50% of power to achieve your desired design.
The Top-Rated Acrylic Laser Cutters
CNCSourced is reader-supported. When you buy through links on our site, we may earn an affiliate commission. Learn more
NEJE 2S Master Max – Budget-Friendly Laser Engraver For Acrylic
If you're most concerned with how to engrave clear acrylic and black acrylic, then you're in for a treat. Thanks to NEJE and their line of affordable laser engravers, engraving acrylic has never been cheaper.
However, it's a bittersweet reward. Part of the reason for the 2S Master Max's low price is its lack of hardware, and therefore lack of safety features. This machine has an open system, meaning there's no enclosure around the laser or during the engraving process. Acrylic is known for releasing harmful fumes and smoke during the engraving process, and without the enclosure it's paramount you have the correct safety gear and environment before using.
A well-ventilated area, safety goggles, and a face mask are essential for operating this laser engraver. That said, it does have air assist and cuts up to 5mm thick black acrylic with 4 passes.
This is a fantastic option for beginners because it's cheap, easy to assemble, and offers a low-risk option when it comes to managing the learning curve, but also guarantees a powerful laser and accurate designs.
Budget-Friendly Laser Engraver For Acrylic
---
xTool D1 Pro 10W – Best Cheap Laser Engraver Under $1000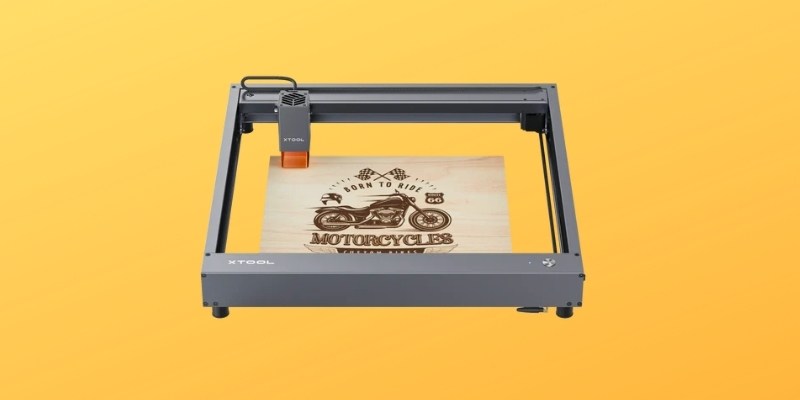 The xTool D1 10W is the best acrylic laser cutter under $1,000, so if you're able to spend that kind of money we recommend you opt for the xTool.
It's better overall than its closest rival, the Ortur LM3, though both are 10W lasers, have WiFi and app connectivity, and have similar work areas.
But the xTool is more sturdily built with steel rods and wheels and protected belts, whereas the Ortur LM3 doesn't protect the belts. The xTool can also be extended to 936 x 432 mm with the extension kit.
The xTool also comes in 5W and 20W versions:
xTool D1 Pro alternatives and where to buy them
Even with the 10W D1 Pro you can cut 0.6cm acrylic sheets in a single pass, and laser engrave on wood effectively at 400mm/s – so its ideal for all your acrylic laser cutting and engraving needs.
The 20W version can cut even thicker acrylic, so if you're planing on thick acrylic laser projects then the xTool is ideal, yet still doesn't break the bank. These numbers are true, too, we cut a 12.5mm thick piece of wood with just a few passes (example above) – so acrlyic of 0.6-0.8cm should be no problem.
For any rounded items such as mugs or glasses, you can also engrave these if you buy the RA2 rotary attachment.
Overall, the xTool and the Ortur LM3, are the best diode lasers under $1000, but we still recommend the xTool as our top pick.
Best Diode Laser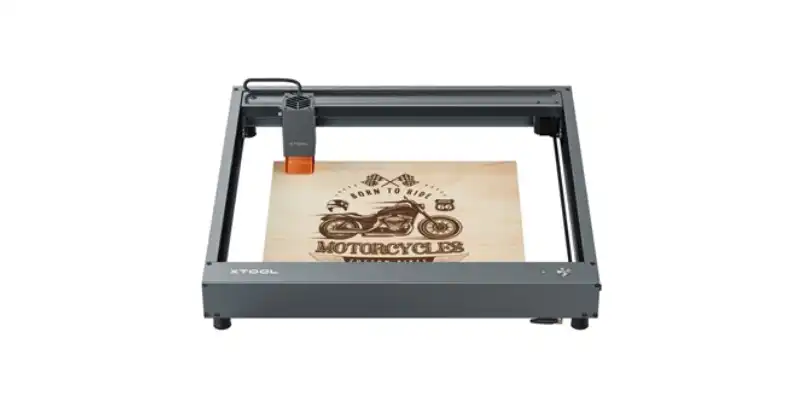 Read our full hands-on review: xTool D1 Pro 20W review.
---
FLUX Beamo – Best Small Laser Engraver for Acrylic
The FLUX Beamo laser cutter and engraver is your pocket-sized best friend when it comes to laser engraving acrylic. It doesn't handle large projects, but it does cut up to 5mm thick acrylic on the second pass, alongside harder materials like glass, cement, and stone.
This compact desktop machine comes with a 30w laser and acrylic lid, so you see your work taking place as it happens. It also has its own software, Beam Studio, where you get one of the most user-friendly experiences on this list with its streamlined ecosystem.
Just because it has its own ecosystem though, doesn't mean it won't play well with others. AutoCAD and Adobe Illustrator and Photoshop are just a few Beamo-compatible software options.
Overall, the Beamo is the best option for those wanting a compact entry-level laser engraver. Its small design allows it to fit into tight spaces, and it's enclosed with ventilation, so you don't have to worry about dealing with acrylic fumes. Plus, it even comes with a rotary module add-on for increased versatility and 360-degree engraving.
Budget 30W CO2 Laser
---
OMTech 50W – Best Value Laser Cutter and Engraver
OMTech is one of the biggest names in the laser cutting industry and it's easy to see why.
The OMTech 50 W is one of their mid-range acrylic laser engraving machines that cuts up to 6mm thick acrylic and plexiglass with a 50w CO2 laser tube and offers a 4-pin port connection for rotary axes.
Along with increased power and performance from their other desktop laser cutters, the 50 W has increased user experience with dual LCD display panels that allow you to see the work area, monitor electrical currents, and auto-judge faults for optimized safety and power supply. There's also the Ruida digital control panel that gives you control over the laser head, project progression, speed and power settings, and project framing.
The 50 W has the ever-important air assist and includes a rotary module, adjustable laser nozzle, built-in ventilation, and a two-way pass-through system. This means it opens on the front and back sides of the machine, allowing you to work on projects larger than the machine itself.
OMTech gives you top-notch safety features and all those little add-ons that truly change the experience of laser engraving acrylic. As a mid-range cutter, we don't recommend it for new users, however, it's a fantastically robust machine that will meet all the demands of experienced hobbyists and small businesses.
---
FSL Muse Core – Best at Home Acrylic Laser Cutter and Engraver
The Full Spectrum Laser Muse Core cutter is one of the most advanced desktop acrylic laser engravers available.
With an optional 45w laser tube, the Muse Core boasts a level of customization and cutting-edge technology not seen in other models. For example, its 3D technology, which gives you the option of the Intel RealSense 3D camera.
Unlike a normal camera, the RealSense accurately maps uneven engraving surfaces using millions of 3D data points, giving you precise and detailed designs. This works alongside its real-time Auto-focus, which is a sensor built into the laser head that allows you to set different focus points ahead of engraving for a streamlined workflow.
The Muse Core is also as strong as it is high-tech, with the ability to cut up to ¼ inch thick of acrylic.
All in all, the Muse Core is brimming with technological capabilities that offer great customizability. Choose from rotary modules, focus lenses, extractors, and water pumps to create a machine that meets your needs.
3D Wood Laser Cutter
---
OMTech 80 W – Strongest Acrylic Laser Cutter and Engraver
The OMTech 80 W is much like the 50 W when it comes to robust features.
A sturdy and secure build with acrylic laser engraving essentials like air assist, built-in ventilation, and a secondary LCD panel that lets you monitor electrical currents and auto-judge faults.
However, in this model, we get a few powerful upgrades. The most notable is the jump from a 50w CO2 laser tube to an 80w tube, giving you up to 8,000 hours of operating time. We also move from a two-way pass through system to a four-way, with back, front, left, and right doors, allowing you to work on even bigger projects.
One thing to note is that the machine's Ruida control panel only works with macOS if you use the LightBurn software, which isn't included, although arguably worth the extra cost. It's compatible with Windows though, with both the included RDWorks software and LightBurn.
This model is all about size and power, so if you plan on working on large-scale acrylic projects, this machine will effortlessly keep up with demand.
---
Glowforge Plus – Best Laser for Acrylic
The Glowforge Plus is Glowforge's most affordable premium acrylic laser engraving machine as its mid-range option. This class 1 laser requires no special training before using it and only requires you to place it near a window for ventilation.
While the OMTech cutters focus on strength, Glowforge focuses on precision.
With an increased speed and hardware than the Basic model, the Plus promises to deliver clear-cut designs with its custom 40w laser tube, cutting up to ½ inch thick material with multiple passes.
What's truly unique about this brand however is its Proofgrade materials. These are materials that have been encoded, and when scanned by the laser cutter automatically know the optimal settings for engraving that material, giving you one-button cutting and engraving. This includes acrylic, as well as wood, glass, leather, and many others.
There aren't any pass-through functions, which is a turn off – especially at this price – but Glowforge is known mainly for its innovative technology, like its Proofgrade materials and accurate designs, making this the best option for those focusing on precision rather than project size.
There's also an optional Glowforge Air Filter, which filters the acrylic fumes, so you don't have to worry about ventilation or machine placement.
Best Laser Cutter for Wood and Metal
Glowforge Plus
Glowforge are the easiest to use lasers for home business owners looking to create cool projects and sell them on Etsy or other stores and make money .
Dynamism here
Glowforge here
We earn a commission if you make a purchase, at no additional cost to you.
---
How to Choose an Acrylic Laser Engraving Machine
When choosing what laser engraver to buy, it's important to think about what main features you need.
Consider the size. The working area isn't dependant on the price of the machine, with plenty of low-cost and mid-range options offering impressive engraving areas. However, if you still want that professional-grade accuracy and detail, then take your pick of one of the higher-end machines with a pass-through system.
Think about the materials you'll be working with. While the goal here is to buy an acrylic laser engraver, it doesn't hurt to take advantage of the other materials your machine engraves. If harder materials like stone and glass pique your interest, go with a more powerful laser, but if you want to stay with softer materials, like leather and fabric, then save a few bucks by choosing a lower-powered laser.
Make sure your machine is compatible. Odds are if you're an experienced user, then you already have your favorite software and style of working. If you've adopted external software like LightBurn and AutoCAD, make sure your machine also supports that software, and your computer platform (i.e. iOS or Windows), to avoid frustration.
Lastly, check the connectivity options. Bluetooth and wireless support are common occurrences in today's world, but not all laser cutters have managed to keep up. If a wireless connection is instrumental in your working environment, then expect to pay higher prices for more accessible laser engravers.
---
Other articles you may be interested in: