CNC mills are computer-controlled machines that cut and engrave a wide variety of materials, from wood to metals like titanium. They are mostly used by businesses for manufacturing products, though many hobbyists also use them for home CNC projects. 
However, finding the right CNC mill for you isn't always easy. For starters, most CNC machines are very expensive and designed for industrial settings, so finding an affordable yet high quality machine can be tricky. Secondly, all different mills come with their own features, so you'll need to find the one that best suits your purpose. 
To help you out, we've picked out the best CNC mills for 2021. We've gone with mostly affordable yet powerful machines for hobbyists and small businesses with a few of the best industrial CNC mills also included, so that whatever you're looking for, you're bound to find it in this guide.
Before we get into our best CNC mills list, however, let's just take a quick look at what exactly CNC mills are and how they differ from CNC routers.
What are CNC Mills? 
CNC mills are a type of computer numerical control machine that cut, shape and engrave materials like wood and metals. Milling is the process of using rotary cutters to remove material from a workpiece. The milling cutter is held by a spindle and can cut in different angles as it moves along the different axes.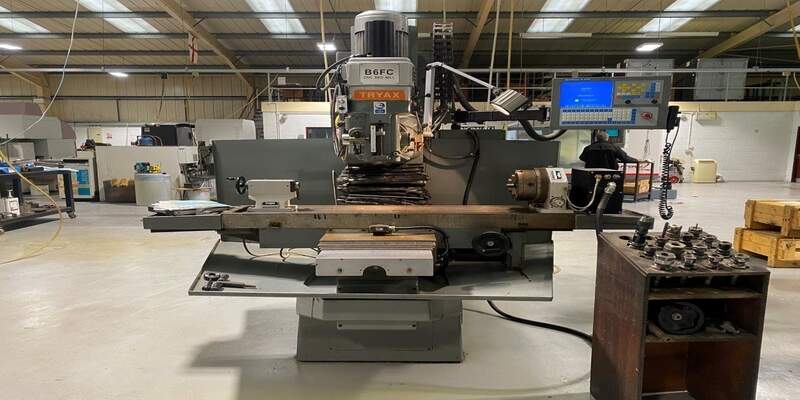 CNC mills can range from 2-axis machines up to 5-axis mills. The number of axes defines how they cut. For example, a 2-axis machine can only cut vertically and horizontally, whereas a 5-axis CNC mill can cut complex shapes for uses such as in prosthetics and other medical applications, and car models. 
CNC mills differ from manually controlled mills in that they're operated using a computer. The computer number control is a programmed code that relays instructions for precise movements to be carried out by the mill. The control software converts the numerical code into Cartesian coordinates which allow mills to work with extreme precision. 
CNC Mills are used across a huge range of industries, from simple carpentry to automotive and aerospace design. 
CNC Mills vs CNC Routers 
To the untrained eye, CNC mills and CNC routers may appear very similar. While they both do have similar functionalities, there are several key differences.  
Cuttable Materials  
Arguably the most important difference is that CNC milling machines are designed to cut and engrave extremely strong materials like metal with ease.
CNC routers are best for softer materials like plastics, acrylics, wood and aluminium, while CNC mills are capable of cutting much tougher materials such as steel and titanium.
Axis Motion 
CNC routers use stationary workpieces and spindles that move in X, Y and Z. In contrast, CNC milling machines use parts that move in X and Y and spindles that move in Z. The difference in axis motion means that CNC mills have increased clearance along the Z axis, allowing them to perform thicker cuts of tougher materials.  
Most mills also have spindles that are slower but have more torque than those used in routers, which primarily rely on rotational speed for cutting. This higher torque — the force that causes objects to rotate around axes — provides more power to cut harder materials.
Design 
Whereas most routers use a gantry frame design, CNC mills typically use a C-frame structure with a column and base. The C-frame structure helps make mills more robust so they can handle harder materials than CNC routers. 
CNC routers are typically mounted upon stationary work tables and usually have a larger work space than mills. 
Price 
The price for CNC mills and routers varies a lot depending on the type of machine you're buying. However, on the whole, CNC mills are generally more expensive than CNC routers of comparable quality. 
Low cost, benchtop CNC routers are much more common than cheap, small CNC mills, but as you'll see below, there are now some affordable, compact CNC mill options available for hobbyists.
CNCSourced is reader-supported. When you buy through links on our site, we may earn an affiliate commission. Learn more
Best CNC Mills 
Let's now take a look at the best CNC mills, starting with the cheapest. 
Grizzly Industrial G0727 – Best Benchtop CNC Mill 
If you're a beginner looking to get into CNC milling and only have a small workspace, look no further than Grizzly Industrial's G0727. This is a small 5" x 8" mini mill that can fit right onto your benchtop! It's also one of the most affordable CNC mills on the market.  
This mill works both horizontally and vertically, so it's a versatile and flexible machine that can be used for a range of difference projects. Also, there's very little set up time due to the simple conversion to horizontal and vertical operations.  
Another nice feature of this home CNC milling machine is that the DC motor provides variable spindle speeds for matching material, tooling and finish. This benchtop CNC mill uses a 1/2 horsepower, 110 V single-phase motor with an R-8 spindle taper. 
The G0727 has a 45 degree L/R head tilt, a maximum spindle to table distance of 6-1/2", a longitudinal table travel of 11-7/8" and a cross table travel of 3-11/16", with a table size of 4-3/4" x 18-1/3". 
Other benefits of this hobby CNC mill include dovetail ways for improved accuracy, a heavy cast iron construction and compact design mounts for robustness, and three-axis control, all of which combine to give great precision and versatility. 
Bolton Tools BF20VL Variable Speed Mill – Powerful CNC Mill for Home Use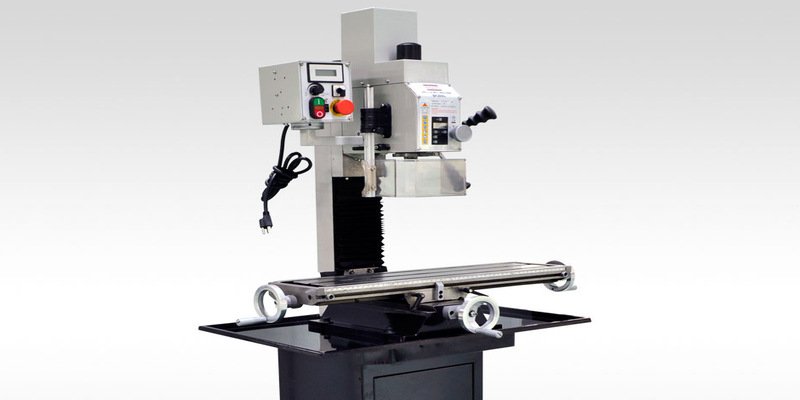 Bolton Tools is well known for providing high quality CNC mills at low prices, and the BF20VL is a great example of that.  
This 27.5" x 7" variable speed milling machine is perfect for small machines. It may only be a little benchtop mill, but it comes with a sturdy dovetail column, so it's a robust machine. The mill also has a digital read-out for both the RPM and spindle quill travel. 
This mill comes with a 6 7/8" x 18 7/8" travel on the table. The all-gear drive spindle is driven by a one horsepower motor that provides plenty of power for cutting a wide variety of different materials.  
Another useful feature of this CNC mini mill is its 90-degree head tilt, which allows you to carry out functions like drilling holes through a block at an angle without the need for an angle vise. 
The BF20VL's small size and low price make it one of the best budget CNC mill machines for beginners. There are also a range of optional accessories on Bolton Tools to enhance your milling. 
Taig 5019DSLS Micro Mill – Best Small CNC Mill for Steel Cutting 
Don't be fooled by the small size of this Taig Tools machine – the 5019DSLS micro mill is a powerful mill that certainly packs a punch and is perfect for beginners. 
One of the most impressive parts of this home CNC milling machine is the Advanced Digital Syn Lock Servo (DSLS) control, which uses the latest micro controller chip technology.  
This is coupled with new 200 oz-in stepper motors that reach rapid traverse speeds of 100 inches/minute with High Motor Torque, with a step resolution of 000125 inches, providing both precise and robust cutting. Taig Tools has carried out capability tests showing a single pass that showed a single pass 1/8" depth slot cut in mild steel with a 1/8" end mill.    
This desktop CNC mill has a precision engineered steel and aluminium structural design, so it's very sturdy. Each moving component is made of steel and hard anodized aluminum, and the machine features adjustable brass gibs to ensure it will last a long time. 
So if you're looking for a desktop CNC milling machine that provides exceptional steel cutting and high motor torque for a low price, the 5019DSLS is a great choice. 
Tormach PCNC 440 – Best CNC Mill for Schools and Universities  
Tormach is a well known name when it comes to CNC mills and the PCNC 440 is a great example of this company's quality.  
This is a small, compact CNC mill designed to provide an alternative to the mostly larger machines on the market. The PCNC can fit almost anywhere, such as garages, offices, basements, schools and machine shops, so it's a great choice for small businesses and educational settings. 
One of the best things about this CNC metal milling machine is that you can use it to cut almost anything. The PCNC 440 can shape and engrave even the toughest metals thanks to the powerful Poly-V Belt transmission system. 
This machine has a 0.75 HP R9 spindle that works at an incredible 10,000 RPM. Despite the mill's small size, you still get 10 inches of travel on both the X and Z axes, and 6.25 inches on the Y axis. The maximum clearance between table and spindle nose is 11 inches, so there's more than enough room to work with. 
Another benefit of the Tormach PCNC 440 is that it comes with the company's PathPilot CNC controller. This is a very intuitive platform that has powerful conversational programming that allows you to tweak programs and keep progressing, so it's a good choice for hobbyists and experts alike. 
There are a range of customizable packages available to purchase for the PCNC 440, so you can tailor the package exactly to your needs. Tormach provides a wide variety of training materials and offer great customer service if anything does go wrong.
CNC Supra Vertical Knee CNC Machine – Best CNC Milling Machine for Intuitive Controls 
This mill, created by CNC Masters, is a mid-range machine that's powerful enough to keep industrial millers happy while also being user-friendly.
You can use the Supra Vertical straight out the box, with a simple setup process and intuitive controls that are easy to get the hang of. This is a versatile CNC mill and can be used for a wide range of projects, from engraving to ceramic production. 
This is also a very strong and robust mill, made entirely out of cast iron. One nice feature is that as well as using automation technology for the machining of complex parts, this CNC milling machine can also be operated manually by using the hand wheels of the axis.  
The Supra Vertical has full 3 axis movement that's easily controlled using a computer variable spindle control. It has a max travel of 34" x 11.5" on the X and Y axes, while the Z axis is quill driven for high precision. 
There are various packages available which come with different add-ons, so you can pick the package that best suits your budget. 
Bridgeport Series 1 Standard Knee Mill – One of the World's Most Popular CNC Mills 
The Bridgeport Series 1 Standard is an impressive mill that its creator Hardinge claims is "the most popular milling, drilling and boring machine in the market", and with over 370,000 of the machines built, there's certainly some substance behind the claim. 
This Bridgeport CNC mill is favored by many professionals and business owners due to its high levels of accuracy, reliability and versatility. 
It has some really useful features, such as the innovative airflow cooling design. This eliminates the need for external fans, which prevents expansion from heat build-up and prolongs bearing life. 
Other benefits of the Bridgeport Series 1 are its one-shot lubrication so you can easily keep your machine lubricated and the SystemChrome-plated ways and gibs for increased robustness. 
Regarding the specs, this 3D milling machine is 87" high with a 49" x 9" worktable. It has a Power Quill Feed 3 drilling capacity of 3/8" and a manual drilling capacity of 2 Cl/min. The mill also has a high speed range of 500 – 4,200 RPM and a low speed range of 60 – 500 RPM, so this CNC milling machine packs plenty of power. 
There are a full range of accessories available from the Hardinge website so that you can customize your Bridgeport CNC mill as you wish. 
Haas Modular Mini Mill – Best Professional Grade Mini CNC Mill 
Haas is a huge name in the CNC milling industry and provides exceptionally high quality, professional standard machines around the world. It creates a huge variety of different milling machines, but the Modular Mini Mill is its cheapest and most accessible to date, though it's still not cheap! 
This compact mill boasts an impressive 40-taper performance despite being much smaller than most other machines of similar power. It's therefore a good option for universities, small companies and so on. 
In fact, Haas is a pioneer in professional-grade mini mills, having built the world's first in the year 2000 and installed over 25,000 globally since. The Module Mini Mill is the latest model in the series. 
This Haas CNC mill is ideal for a wide range of projects. It can reliably and accurately handle small-parts manufacturing, which makes it ideal for cutting aluminum and finishing work, but it also has enough torque to cut steel. 
Another interesting aspect of this CNC milling machine is that you can add a range of bolt-on modules to increase flexibility. For example, you can add a faster spindle, increased rapids, a coolant pump, a 4-axis drive to run a rotary table, and all of these together if you wanted. 
As an added bonus, Haas offers free training with every purchase of its CNC mini mill.
If you enjoyed this article:
Sign up to our email list and get the latest CNC news, buyer's guides and giveaways direct to your inbox: