Finding the right CNC mill for you isn't always easy. For starters, most CNC milling machines are very expensive and designed for industrial settings, so finding an affordable yet high-quality machine can be tricky.
Secondly, all different mills come with their own features, so you'll need to find the one that best suits your purpose.
The TAIG 2019 CNC Micro Mill is the best choice for beginners getting started with CNC milling. This precise and compact milling machine has a large user community to help out with tutorials and tips, and the two-year warranty makes it a pretty risk-free purchase.
If budget is your number one concern, the SainSmart Genmitsu 3018-PROVer is an affordable alternative for high-quality machining. However, beginners will find it trickier to set up and use than the TAIG Micro Mill.
To help you out, I've picked out the best CNC mills I've tested to share my hands-on experience and help you make the right choice.
This guide compares mostly affordable yet powerful machines — and budget CNC routers that provide low-cost alternatives — for hobbyists and small businesses, with a few of the best industrial CNC mills also included. Whatever you're looking for, you're bound to find it in this guide.
CNCSourced Recommends
Low-cost CNC Mill Alternatives
CNCSourced is reader-supported. When you buy through links on our site, we may earn an affiliate commission. Learn more
Best CNC Mills & Low-cost Alternatives
TAIG 2019 CNC Micro Mill – Best Small CNC Mill
Price: $2,495
Working Travel: 300 x 140 x 150 mm
Max Spindle Speed: 10,000 RPM
Assembly Time: Comes pre-assembled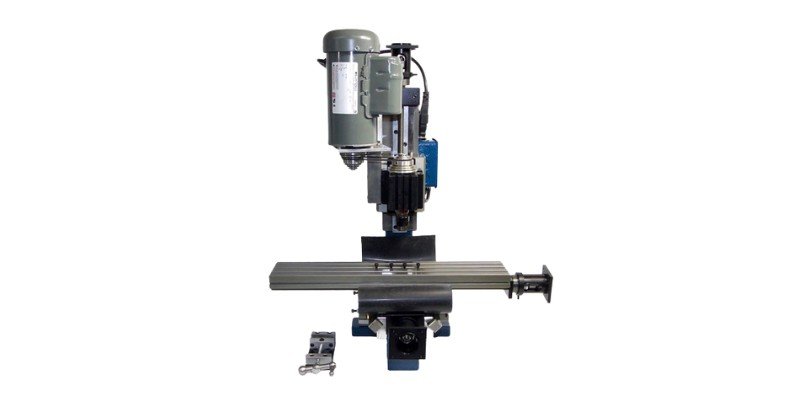 Pros
Best machine to learn CNC milling.
Powerful machine.
Integrated with Mach3.
If you're new to CNC milling, then the 2019 CNC Micro Mill by TAIG is hands down the best option to start with.
CNC forums across the board praise this mill as the best machine to learn CNC milling on. It's a smaller machine, so it's easier to come to grips with and boasts high levels of accuracy and precision normally seen in more expensive models.
The catch though is it needs to be run at low speeds. So, in theory, it has the rigidity to cut through the toughest metals and accuracy to design intricate parts, but just at a snail's pace. For that reason, we don't recommend this machine for production, a.k.a if you need to hit multiple orders a day.
If that's the case you're better off with a Tormach.
That said, it does reach traverse speeds of up to 30 inches per minute and reaches up to a 1/8" depth with a single pass on steel.
One thing to note about this micro mill is that it doesn't come with a computer, so you need to think about that additional price, however, we do enjoy the customizability this affords. This way you can choose which computer to use, including one you're already familiar with, and lessen the initial learning curve. It does come with the MACH3 software though.
This TAIG machine comes with a two-year warranty, and you don't need to bother with expensive upgrades since you'll be working at low speeds anyways, making this the most economical CNC mill on the market.
It comes preassembled and with a large community to help you build your craft, offering a fantastic introductory machine to CNC milling that won't limit your growth or wallet.
Tormach PCNC 440 – Best CNC Mill for Home Shop
Price: From $5,390
Working Travel: 254 x 159 x 254 mm
Max Spindle Speed: 10,000 RPM
Assembly Time: 2-3 days
Pros
High quality with precise and accurate cuts.
Can cut a wide range of materials.
Comes with the company's PathPilot CNC controller.
Cons
Expensive for an entry-level package.
Tormach is a well-known name when it comes to CNC mills and the PCNC 440 is a great example of this company's quality.
This is a small, compact CNC mill designed to provide an alternative to the mostly larger machines on the market. The PCNC can fit almost anywhere, such as garages, offices, basements, schools and machine shops, so it's a great choice for small businesses or home workshops.
One of the best things about this CNC metal milling machine is that you can use it to cut almost anything. The PCNC 440 can shape and engrave even the toughest metals thanks to the powerful Poly-V Belt transmission system.
This machine has a 0.75 HP R9 spindle that works at an incredible 10,000 RPM. Despite the mill's small size, you still get 10 inches of travel on both the X and Z axes, and 6.25 inches on the Y-axis. The maximum clearance between the table and spindle nose is 11 inches, so there's more than enough room to work with.
Another benefit of the Tormach PCNC 440 is that it comes with the company's PathPilot CNC controller. This is a very intuitive platform that has powerful conversational programming that allows you to tweak programs and keep progressing, so it's a good choice for hobbyists and experts alike.
There are a range of customizable packages available to purchase for the PCNC 440, so you can tailor the package exactly to your needs. Tormach provides a wide variety of training materials and offers great customer service if anything does go wrong.
Haas Modular Mini Mill – Best CNC Mill for Small Businesses
Price: $30,746
Working Travel: 406 x 305 x 254 mm
Max Spindle Speed: 6,000 RPM
Pros
High quality and professional standard.
Great for universities and small companies thanks to an impressive 40-taper performance despite being small.
Ideal for a wide range of projects.
Can add a range of bolt-on modules to increase flexibility.
Haas is a huge name in the CNC industry and provides exceptionally high quality, professional standard machines around the world. It creates a huge variety of different milling machines, but the Modular Mini Mill is the cheapest professional CNC mill to date, though it's still not cheap!
This compact mill boasts an impressive 40-taper performance despite being much smaller than most other machines of similar power. It's, therefore, a good option for universities, small companies and so on.
In fact, Haas is a pioneer in professional-grade mini mills, having built the world's first in the year 2000 and installed over 25,000 globally since. The Module Mini Mill is the latest model in the series.
This Haas CNC mill is ideal for a wide range of projects. It can reliably and accurately handle small-parts manufacturing, which makes it ideal for cutting aluminum and finishing work, but it also has enough torque to cut steel.
Another interesting aspect of this CNC milling machine is that you can add a range of bolt-on modules to increase flexibility. For example, you can add a faster spindle, increased rapids, a coolant pump, a 4-axis drive to run a rotary table, and all of these together if you wanted.
As an added bonus, Haas offers free training with every purchase of its CNC mini mill.
Low-cost CNC Mill Alternatives (Routers)
Sainsmart Genmitsu 3018 PROVer – Highly Popular among Hobbyists
Cutting Area: 300 x 180 x 45 mm
Max Spindle Speed: 10,000 RPM
Assembly Time: 2 hours
Pros
Affordable, easy to use, safe and high-quality.
Sturdy and durable.
Comes with an offline controller.
Cons
Difficult setup for beginners.
The Sainsmart Genmitsu 3018 is one of the most popular hobbyist CNC machines out there. It ticks all the boxes of most hobbyists: affordability, ease of use, safety and high-quality machining.
This is a versatile machine that can cut a wide range of materials with a 1.8-inch engraving depth, allowing you to work on wood, plastics, acrylics, software metals like aluminum, and much more.
It's a very sturdy CNC mill, with a well-constructed metal frame that's optimized for safety, with 5mm acrylic buffers that prevent cutaway materials from flying about during the cutting process. The 750 motor spindle with 10,000 RPM provides also plenty of power and accuracy
This machine runs on the popular and intuitive GRBL software that's based on Arduino. GRBL is known for being easy to use yet reliable, and it also comes with the Carveco Maker CAM software for design.
Another nice feature is the offline controller, which is really user-friendly and has a 1.8" display for reading layouts, so you don't even need a computer to control the machine.
There's also the possibility to upgrade this router to a laser cutter with the Sainsmart laser module kit. Various other upgrades are available, including an aluminum spindle holder for mounting higher-quality spindles.
Sainsmart laser kit available here
If you're in any doubt regarding the Sainsmart Genmitsu 3018, just check out the hundreds of reviews from happy customers on Amazon.
---
Maslow CNC – Large CNC Table for Low Price
Pros
Has industrial uses for consumer prices.
Massive work area.
Easy to use with some nice features.
Cons
Does not include a wooden frame.
If you're familiar with different size CNC machines and how size can affect cost, you may be wondering how the 4ft x 8ft MakerMade Maslow 4×8 CNC Router can be bought for just over $500, whereas large CNC mills able to cut that size would cost tens of thousands.
Well, the reason is that this is a very unique machine produced by the open-source, community-driven Maslow project, which aims to "make large format CNC technology available to everyone."
So if you're a hobbyist or small business owner looking for a large machine at a fraction of the usual cost, here it is.
This is built with the hobbyist in mind, so it's easy to use but also has some nice features, such as z-axis functionality and the ability to adjust cutting depth for working with different materials and on different projects.
However, perhaps the best thing about this CNC machine is that it's the center of a very active user community. Not only can you chat with other users about all things CNC, but there's also a marketplace where you can buy things people have made with the Maslow and even sell your own projects.
If you want an idea of what's possible with this machine, the Maslow website highlights many projects from other users, from home decorations to fully functional desks and even a life-size boat.
---
BobsCNC Evo 4 – Excellent 2×2 CNC Mill Alternative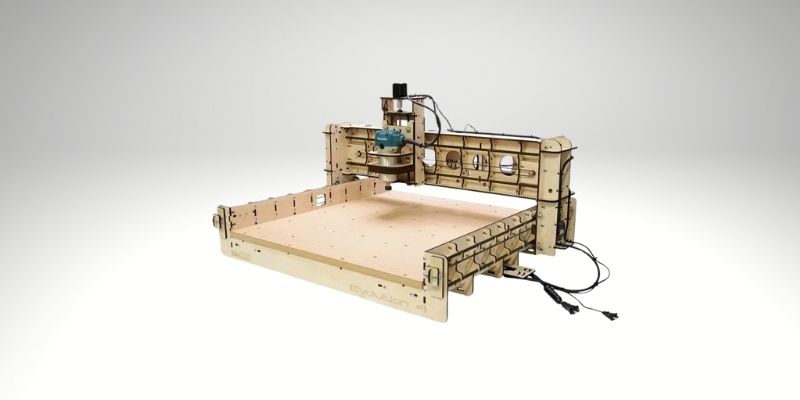 Pros
Affordable and offers a large work area.
Can work with many different materials with great accuracy and durability.
Reliable and powerful.
Cons
Replacement parts can be difficult to source.
If you're looking for an affordable CNC mill surrogate that offers a large working area, check out the BobsCNC Evo 4.
This 2ft x 2ft router and others from BobsCNC are well known in the community for their wooden frames and somewhat unusual design, but these are some of the best hobbyist routers out there.
The laser-cut wood frames have an SG20U supported trail system, meaning the machine is incredibly stable with repeatability of just 0.0002-0.0004". Another advantage of this wooden router's frame is that it offers quieter machining than metal ones.
So with the BobsCNC Evo 4 you can work on wood, plastic, aluminum, MDF and much more with great accuracy and durability.
This is another hobbyist CNC that runs on Arduino. One of the great things about it is the fantastic amount of learning resources offered by BobsCNC, including over 100 instructional videos on the company's Youtube channel.
BobsCNC Quantum CNC Router Kit
The Evolution series of machines, which stand out for their laser-cut wooden frames and somewhat unusual designs, with the Evo 4 being the best in the line, are possibly the most well-known products from BobsCNC.
Amazon here
We earn a commission if you make a purchase, at no additional cost to you.
12/03/2023 03:41 pm GMT
---
Carbide3D Shapeoko 4 XL – Best Desktop CNC Mill
Pros
Great value-for-money.
Has advanced V3 electronics, which are highly resistant to electromagnetic interference and static discharge.
Customizable, powerful, and effective.
Cons
No dust collection plate.
The Shapeoko 4 XL, by Carbide 3D, is one of the best value-for-money CNC machines we've come across. While it's pretty expensive for a hobbyist machine, the price is more than justified by the fantastic quality it offers.
For example, the 15mm belts are a lot stiffer than the 9mm belts used in other machines, which along with the redesigned V-wheels mean this machine is really strong and rigid.
It has fully supported Y extrusions on a hybrid table, which also contributes to the incredible sturdiness of this machine. There's also the more rigid 65mm router mount, with the increased thickness resulting in less deflection during heavy cuts.
One of the highlights is undoubtedly the advanced V3 electronics, which are highly resistant to electromagnetic interference and static discharge, helping you maintain precise working in a shop environment.
Another nice thing is that you get a high-quality dust boot included when you buy the Shapeoko 4 XL, helping improve safety and reduce wear to the machine, whereas with many other routers you need to buy the dust boost separately.
You may even consider a standard, manual mini mill instead. We also have a buyer's guide recommending the best desktop mills.
Tough CNC Router For Metal
What are CNC Mills?
CNC mills are a type of computer numerical control machine that cut, shape, and engrave materials like wood and metals. Milling is the process of using rotary cutters to remove material from a workpiece. The milling cutter is held by a spindle and can cut in different angles as it moves along the different axes.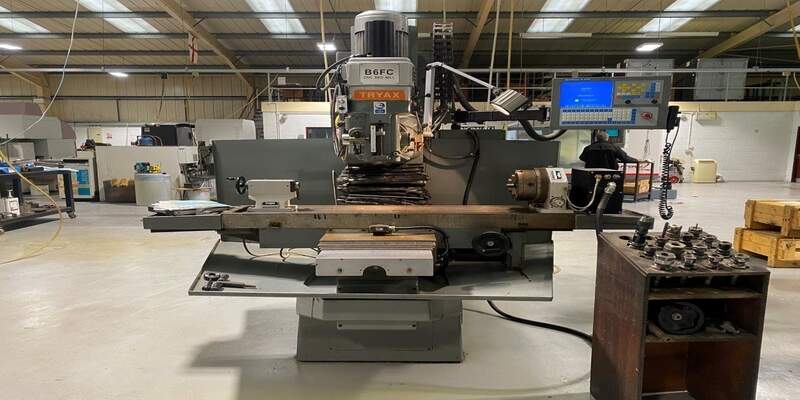 CNC mills can range from 2-axis machines up to 5-axis mills. The number of axes defines how they cut. For example, a 2-axis machine can only cut vertically and horizontally, whereas a 5-axis CNC mill can cut complex shapes for uses such as in prosthetics and other medical applications, and car models.
CNC mills differ from manually controlled mills in that they're operated using a computer. The computer number control is a programmed code that relays instructions for precise movements to be carried out by the mill. The control software converts the numerical code into Cartesian coordinates which allows mills to work with extreme precision.
CNC Mills are used across a huge range of industries, from simple carpentry to automotive and aerospace design.
What are CNC Mills Used For?
CNC mills can cut and engrave a wide variety of materials, from wood to metals like titanium. They are mostly used by businesses for manufacturing products, though many hobbyists also use them for home CNC projects.
Because of their versatility, CNC milling machines can help with applications like:
How Much Do CNC Mills Cost?
Entry-level CNC mills start at around $2,000 and then go up to +$40,000 for more advanced mills.

However, included in this price is the machine as well as the control software used for the machine. More expensive CNC mills operate at an industrial level and will include advanced features like automatic tool changing and more axes.

Those looking to use a CNC mill at home are best sticking to the entry-level machines, like the TAIG we have listed, or going with a CNC router if you want to save a couple of bucks.
CNC Mills vs CNC Routers
To the untrained eye, CNC mills and CNC routers may appear very similar. While they both do have similar functionalities, there are several key differences. In fact, if you want to buy a cheap CNC machine, your only options really are to buy a router, as low-cost CNC mills start in the several thousand dollar price ranges.
Cuttable Materials
Arguably the most important difference is that CNC milling machines are designed to cut and engrave extremely strong materials like metal with ease.
CNC routers are best for softer materials like plastics, acrylics, wood and aluminum, while CNC mills are capable of cutting much tougher materials such as steel and titanium.
Axis Motion
CNC routers use stationary workpieces and spindles that move in X, Y, and Z. In contrast, CNC milling machines use parts that move in X and Y and spindles that move in Z. The difference in axis motion means that CNC mills have increased clearance along the Z axis, allowing them to perform thicker cuts of tougher materials.
Most mills also have spindles that are slower but have more torque than those used in routers, which primarily rely on rotational speed for cutting. This higher torque — the force that causes objects to rotate around axes — provides more power to cut harder materials.
Design
Whereas most routers use a gantry frame design, CNC mills typically use a C-frame structure with a column and base. The C-frame structure helps make mills more robust so they can handle harder materials than CNC routers.
CNC routers are typically mounted upon stationary work tables and usually have a larger workspace than mills.
CNC Mill Price
The price for CNC mills and routers varies a lot depending on the type of machine you're buying. However, on the whole, CNC mills are generally more expensive than CNC routers of comparable quality — even mini CNC mills command a higher price tag.
Low-cost, benchtop CNC routers are much more common than cheap, small CNC mills.
One of the main limitations of CNC mills is their price. It's rare to find a CNC mill that costs less than $5,000, but that's cheap when it comes to these machines – the best ones used in industry cost tens of thousands of dollars.
Keep that in mind while we look at some more affordable CNC routers later on. While these won't offer the same speed or accuracy as highly advanced industrial CNC mills, they're a great choice for hobbyists who can't afford to splash out huge amounts.
Tips for High End CNC Machines
There are many premium CNC mills out there, such as the UMC-500 by Haas, one of the leading manufacturers of industrial CNC machines.
The first thing you'll notice is that this is a 5 axis router. 5 axis machining is much more advanced than the standard 3 axis machining seen in most hobbyist machines. It adds two rotational axes in addition to the standard Y, X, and Z-axis, meaning it can machine parts with significantly higher precision and flexibility. 5 axis mills like this are used to process highly complex products, such as aircraft parts and even military weapons.
You can use 30 different tools with this machine and it can mill even the hardest metals like steel, unlike hobbyist machines which are restricted to aluminum.
Of course, as this is a CNC machine, highly technical designs can be created beforehand, simulated, and then fed to the machine which will process workpieces accordingly with little to no manual intervention needed.
Haas and other distributors of this machine don't even advertise the price – you have to get in touch for a quote – but you can be sure it'll set you back tens of thousands.
Looking for a comprehensive price guide for various types of CNC machines? "How much does a CNC cost?" is the guide for you.
CNC Mills FAQs
What is a CNC mill operator?
A CNC mill operator is someone who sets up, operates, and tends to the milling machine. They work on a range of tasks including, but not excluded to:
– Removing workpieces from the machine
– Quality checking workpieces
– Loading materials onto the machine
– Observing the operations
– Managing cutting speeds, cutting depths, feed rates, and applying shop mathematics
– Studying and crafting workpiece blueprints
What are the different types of CNC mills?
When it comes to CNC mills, there are two main types – vertical and horizontal.
Vertical CNC mills use a vertical machining center (VMC) to sport a vertically-orientated spindle that holds and rotates the cutting tool against the stationary workpiece. The spindle moves up and down while pushing into the workpiece in order to remove excess material.
These typically have thinner, longer cutting tools and provide great visibility so you can supervise how the cut is progressing.
 
Vertical machines are best for plunge work, small parts, short series, and precision parts.
 
There are a further two types of CNC vertical mills: turret milling machines and bed milling machines.
 
The main difference between these two styles is how the parts move.
 
With a turret machine, the spindle and bed move perpendicular and parallel to the axis, while bed milling machines only move the table perpendicular to the axis. Because of this, most companies prefer turret machines as they hold the bulk of the versatility.
 
Turret machines work best with small projects and excel with milling precise small parts. Alternatively, the bed machine's rigidness and larger frame make it ideal for milling bigger parts.
Horizontal CNC mills, as you might expect, possess a horizontal machining center (HMC) and a spindle that holds the cutting tools horizontally instead of vertically.
Horizontal tools are shorter and thicker and are used to make deeper, heavier cuts than vertical tools. Horizontal mills were actually created first, and it was through the creation of attachments and modifications that the vertical mill came about.
 
Horizontal CNC mills work best for long material work, like cutting gears and cutting grooves and slots into workpieces. It's meant to work for heavier materials and pieces.
Other CNC buyer guides: