Increasing productivity is key to any business, and the best CNC machines for small businesses deliver precise cuts while saving you valuable time.
Whether you plan to sell custom wooden wares on Etsy, or need a more professional CNC router for prototyping or commercial part production, there's a tool to match your project and budget.
I've tested the most popular CNC routers on the market (including laser cutter and engraver options) and will share my hands-on experience with the top choices in this guide.
The Sainsmart Genmitsu 3018 PROver is the best affordable CNC machine for small businesses overall. It's easy to set up, and can handle an impressive variety of materials relative to its price. Plus, an optional laser engraver upgrade option makes it a versatile choice.
However, it may not be the best choice for larger projects. A better pick would be the Maslow CNC, which can cut entire pieces of furniture on its enormous 4 x 8 ft work area.
For a premium choice, check out the Snapmaker 2.0. It's a joy to use and can do everything right out of the box – including 3D printing and laser engraving. It is a little pricey though!
Tough CNC Router For Metal
05/28/2023 11:03 pm GMT
For every CNC router, there will be areas it excels and other aspects where it comes up short.
So read on to learn about important factors like accuracy, speed, ease of use, and price so you can choose the best CNC machine for your small business.
In a rush? Our top recommendations:
Affordable CNC routers for small businesses:
Best for Professional Use:
CNCSourced is reader-supported. When you buy through links on our site, we may earn an affiliate commission. Learn more
Affordable CNC machines for shops and simple crafts
1. Sainsmart Genmitsu 3018 PROver – Best Affordable CNC Engraver For Low Cost or Beginner Ventures
Pros
Easy to set up
Very affordable (and a cheap way to try out CNC technology)
Works with a variety of materials
Optional laser engraver upgrade option
Cons
More expensive brands are sturdier, more powerful, and offer better quality and larger work area
Simplicity is key to this machine, and its 1.8 inches of engraving depth makes it an attractive option for anyone looking to personalize simple pieces such as wooden coasters with character designs for an Etsy store or other venture.
Although it comes as a CNC kit, it is one of the easier CNC machines to assemble. You can have it up and running in around an hour, ready to put the 300 x 180 x 45 mm working area to work.
Although it doesn't have the sturdy build quality of more expensive brands, it can still be used for light milling and engraving, so there are plenty of hobby craft business projects it can be used for. This is all thanks to its stepper motor-head, making it compatible with all types of plastics, wood, soft aluminum, acrylics, and more.
For fine-tuning, there is the option of adding a laser engraver attachment to the motorhead. With this add-on, it becomes an even more useful CNC machine for your home shop, as you can switch out the CNC router for all your engraving needs.
Because the router does not have a limit switch, mistakes are more likely. Still, at $200, it makes for an affordable entry point for anyone looking to start a CNC business and work on different projects.
We earn a commission if you make a purchase, at no additional cost to you.
---
2. Vevor CNC 3018 – Best CNC machine for a shop making small crafts
Price: $109-279 — Available on Amazon here
Working Area: 300 x 180 x 45 mm
Precision: 0.003″
Spindle Speed: 10,000RPM
Material Compatibility: Wood, acrylic, plastic, and PVC.
Pros
Very affordable
Made from durable aluminum alloy
Simple setup — good for beginners looking to make and sell crafts
Cons
Can't work with tough materials
Another 3018 CNC machine, if you are new to the world of CNC, then Vevor has made a product that makes for an easy entry point.
It is great for engraving a variety of plastics, ideal for making personalized jewelry and accessories. It can also engrave aluminum, wood, and PVC among others. The offline controller is a nice addition, letting you use it with or without a computer.
When looking for an affordable CNC router for home business, you might not expect such sturdy build quality. The aluminum alloy and bakelite materials inspire confidence and look the part.
The Vevor 3018's spindle speed can reach 10,000RPM which, while not the fastest on our list, is far from a slouch for engraving signs or phone cases. For simpler projects such as these, the 300 x 180 x 45 mm work area is more than enough.
It will struggle to get through hard materials, and can't cut metals, but it will be more than enough to make custom engravings and small crafts like key holders without any issue.
It is ideal for a small woodworking shop that wants to make engraving easy and because of the budget price point (it can be picked up for as little as $150), it won't put a dent in your profits.
---
Best CNC machines for small businesses and more professional projects
3. Maslow CNC – Best For Making Furniture Under $500
Pros
Astonishingly large 4 by 8-foot work area
Very affordable for the size
Fits compactly in your workshop to save space
Cons
Can take a while to build
This is one of the best CNC machines for a small business with a garage workshop. It's enormous — you can cut entire pieces of furniture with it! — but because it hangs at a 90-degree angle up against your wall, it actually saves precious space.
Woodworking CNC machine reviews rate it highly. This is because it offers a unique mix of affordability and the ability to make furniture. Large wooden projects like custom chairs are possible with the Maslow CNC and its 4 x 8 ft work area.
For more info: our ranking of the best 4×8 CNC routers
The affordable $549 price tag is surprising for many reasons. Firstly, you don't expect to get all the functionality the Maslow CNC has to offer — but you will have to compromise a little. The assembly takes a little longer, especially since you need bricks, plywood, and 2×4's to assemble it.
Also, it is not ready to go out of the box, so you will need to install the software and make a few tweaks before it can be used to make that first woodworking project.
However, once calibrated, the software works well on a variety of PCs, tablets, and Raspberry Pi computers. The feed rate of 20 to 35 inches per minute is fine for most, but it can cut plywood up to 2 meters long. Making use of gravity and chains, it returns to the same position to make accurate cuts, and repeatability is one of its strengths.
We earn a commission if you make a purchase, at no additional cost to you.
---
4. MakerMade M2 – Upgraded 4×8 CNC machine for small businesses making furniture
Pros
Vertical design saves space
Huge 4×8 foot work area
Sub-1mm repeatability
Cons
Have to provide a spindle for yourself
Another space-saving option, the MakerMadeM2 hangs from a wooden backboard and uses a pulley system to move. Because it hangs vertically, it is an ideal CNC machine for small businesses based in a garage or where space is limited — but who still want to cut and carve large wooden parts.
Seasoned CNC vets will know how messy things can sometimes get when working on large furniture projects. To protect the user, the built-in dust collector makes cleaning up a lot easier.
The repeatability is always within 1mm, making it one of the most accurate CNC machines on our list. This is especially important when making furniture where every piece needs to fit perfectly.
For these large furniture projects, the large 4×8 foot cutting area, like the Maslow CNC, makes these projects a breeze. But that doesn't relegate it to only large cuts — it will certainly make light work out of small projects such as keepsake boxes and other crafts.
There is also a laser cutter upgrade available, and with a 40-inch/min cutting speed, it is going to be able to get through large commission pieces faster than a lot of the competition.
---
5. BobsCNC Evo 4 – Best CNC Machine For Woodworking
Price: $1,230 — Available on Amazon here
Working Area: 610 x 610 x 85 mm
Precision: Around 0.002 to 0.004″
Spindle Speed: Up to 30,000RPM
Material Compatibility: Wood, plastic, acrylic, and foam
Pros
Very accurate
BobsCNC has a reputation for excellent customer service
Generous cutting area
Cons
Replacement parts can be difficult to source
Because it can work with large plywood sheets, wood, and aluminum, the BobCNC Evo4 is one of the best CNC machines for a small business. It can turn your garage into a mini factory and bring an array of mid-sized designs to life.
BobsCNC are known for offering excellent customer service. And while you may not need much extra support if you're well versed in common CNC problem troubleshooting, if this is your first CNC machine, this can be a valuable resource.
Its cutting area measures 610 x 610 x 85 mm, making it ideal for a small business that makes crafts such as personalized wall tiles, photo frames, wall signs, and custom jewelry. It also features a birchwood frame, a self-squaring gantry, and a mount to accommodate different routers such as the quieter DeWalt DW611.
You'll need to set aside a few hours to assemble the machine. Once assembled, you get to experience the accuracy of its 0.002 – 0.004" repeatability, and you'll understand why this is one of the best CNC machines for a home business.
BobsCNC Quantum CNC Router Kit
The Evolution series of machines, which stand out for their laser-cut wooden frames and somewhat unusual designs, with the Evo 4 being the best in the line, are possibly the most well-known products from BobsCNC.
We earn a commission if you make a purchase, at no additional cost to you.
---
6. Snapmaker 2.0 – Best 3-in-1 CNC Machine
Pros
Not just a CNC machine — it can also 3D print and laser engrave
3 different sizes available to fit your needs
A complete making factory in one machine
Reliable and popular — Kickstarter's most-funded technology project of all time!
Cons
Less useful if you don't need a 3D printer
If you are the ambitious type, you will get a lot of use out of this 3-in-1 CNC machine. It can also be used for CNC, 3D printing, and laser engraving, giving anyone who owns it the advantage of versatility.
It is available in 3 sizes that will suit different budgets, with the A150, ($1,199), A250 ($1,499), and the large A350 ($1,799) which we will look at in more detail. We tested the largest-sized A350, and were very impressed with the accuracy of the carved pieces using the 4-axis rotary module add-on and straight groove v-bit.
Read the full review: we tested the Snapmaker 2.0 CNC carver and laser
Switching the heads to use the different functions takes only a matter of minutes and four screws. It won't take long before you can 3D print a commissioned 3D superhero figure, then switch out the 3D printer to engrave it and make it unique.
The build volume of the Snapmaker 2.0 A350 measures 320 x 350 x 350 mm, making it an ideal CNC machine for a small shop. It can 3D print materials such as PLA, PETG, ABS, and TPU, but anyone who doesn't want to use the 3D printing capability will want to stick to a standard CNC router.
For CNC, it has a dedicated machining bed made up of an MDF wasteboard. This is where the clamps can be inserted to hold the workplace steady, and it has a sturdy feel to it when milling. You can also purchase a rotary axis, turning it into a 4 axis CNC router and giving you more dimensional options.
Its spindle speed can be switched between 6,000 – 12,000 RPM and it can be put to use to engrave text and images, so those custom coasters showing a favorite memory are going to come out great. It can also be used to cut out object outlines.
Top 3 in 1 Pick
We earn a commission if you make a purchase, at no additional cost to you.
---
7. Carbide Shapeoko XL / XXL
Price: $1,525+ depending on model — Available on Matterhackers here
Working Area: 400 x 400 x 75 mm
Spindle Speed: Up to 30,000 RPM
Material Compatibility: Wood, plastic, and metals like aluminum, brass, and copper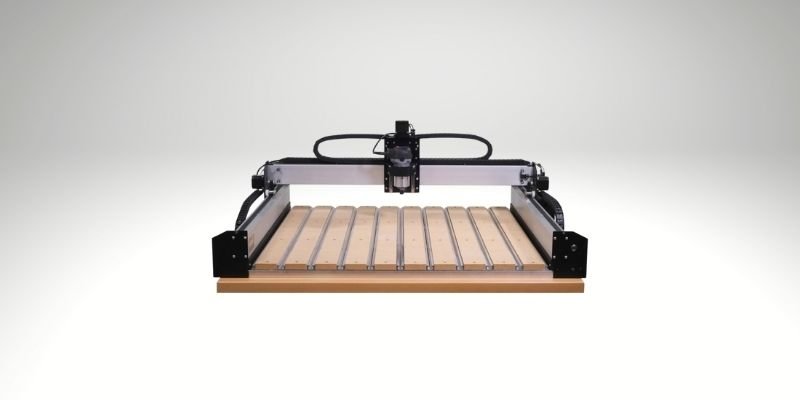 Pros
Generous cutting area
Intuitive control
Powerful spindle
Cons
No dust-collecting plate
With a cutting area of 16 x 16 x 3 inches, this is a great option for any small craft business. It works with a variety of materials such as acrylic, ABS, and Delrin, but you'll probably find it most useful for soft metals and up to ¼ inch woods.
The Carbide Shapeoko comes in different sizes, including the regular, as well as XL, and XXL, all with different cutting areas. Each model is easy to assemble so you can be up and running in an afternoon, experimenting with some new items for your craft shop.
It runs on the open-source network GRBL framework so the opportunities for new ideas are pretty much endless. It works with the Dewalt DWP-611 spindle, which feels incredibly powerful when coupled with the heavy-duty stepper motors — can get through stock materials without much issue.
If we are trying to find issues, we would have to say that the lack of a dust collector is a bit of a hassle. This can be rectified, especially if you work with care, but dust can spill over at times. The control software isn't intimidating, and it has a simple operating system that will please a beginner.
Tough CNC Router For Metal
We earn a commission if you make a purchase, at no additional cost to you.
---
8. Inventables X-Carve – Best CNC Machine For Beginners
Price: $2,300— Available on Matterhackers here
Working Area: 750 x 750 x 115 mm
Precision: 0.03 to 0.05″
Spindle Speed: Up to 27,000RPM
Material Compatibility: Wood, plastic, PCB, and alloy 6061
Pros
Has a dust collection plate
Easy to use
Comes with an X-controller that automatically stops the machine
Cons
A more advanced setup process
The Inventables X-Carve comes as a kit that includes everything you need to assemble a working machine. There is also an upgraded version that has all the bells and whistles such as a bigger working area, Nema23 stepper, and ACME Z-Axis lead screw among other add-ons.
Inventables have added a dust collection plate that goes under the spindle. This is a welcome addition that the previous model didn't offer, and a nice feature for keeping your home workshop clean.
The X-controller is another great extra — a big red button that completely stops the machine in case you experience a belt slip that could otherwise ruin your project.
The X-Carve can cut just about anything except hard metals and soft fabrics. Any basic project, like engraving words in wood, can be done with minimal issue.
Thankfully, the support forums are helpful because some may find the setup difficult. Still, it doesn't take long, so you can make the most of the generous 750 x 750 x 65 mm work area, and engrave those custom photo albums and personalized chopping boards.
CNC Pick For Cutting Thicker Wood
We earn a commission if you make a purchase, at no additional cost to you.
---
9. Zmorph Fab – Best CNC Machine Under $5,000
Price: $3,980 — Available on Matterhackers here / Available on Amazon here
Working Area: 235 x 250 x 165mm
Precision: 0.008″
Spindle Speed: 9,200RPM
Material Compatibility: PCB/FR4, Carbon, Textolite, PVC, Plexi, PC, Dibond,
Hips, PP, PET, PE, Plywood, Beech Wood, Aluminum,
Brass, Copper, Wax, Modeling Board, Styrodur, ABS,
Nylon, HDPE, PTFE, LDPE, POM
Pros
Professional-level machine
Works with a wide range of materials
Functions as a CNC machine, 3D printer, or laser engraver — and can even 3D print food!
Impressive safety features
Easy tool head switching
Cons
Might be a bit pricey for some
Another 3-in-1 machine that can seemingly do it all. An impressive list of over 50 materials are compatible with this professional machine, and its build area of 235 x 250 x 165 mm makes it ideal for 3D printing small crafts, and then engraving them for a personal touch.
There are 5 different tool heads. Switching between each one only takes a minute thanks to the SMART Toolheads System that detects which tool is in use. The Zmorph Fab's advanced programming makes this far simpler than some other machines, and makes for a more efficient and effective workflow overall.
The build area is fully enclosed and is one of the safer CNC machines for a small business to use indoors. It has a HEPA/Carbon filtration system moves fumes and particles away, preventing you from inhaling them.
Overall, the Zmorph Fab is an advanced, reliable CNC machine for small businesses and shop use. It's reliable and designed to work around the clock, so you can trust it to build and carve those larger custom pieces throughout the night, saving you time.
Best CNC Machines for Small Businesses At A Glance
Note: The precision values are based on the information available and may vary depending on various factors such as the material being used, the type of bit being used, and the operator's skill level.
What Can Small Businesses Use a CNC Machine for?
The best CNC machines for a small business we recommend can work with a wide variety of materials and many different applications.
The key benefit of a CNC machine is that you can make truly bespoke items, whether that's personalized products you can sell directly to consumers, or custom parts to help your service business.
Here are some examples of profitable projects your business can undertake with your new CNC machine:
Creating custom signs and logos
Seasonal pieces like Christmas decorations
Fabricating and prototyping small parts and components
Engraving personalized designs and logos onto materials like wood, metal, or plastic
Producing custom furniture and cabinetry
Making gifts and souvenirs, such as keychains, jewelry, and coasters
Creating designs and decorations for events, such as weddings, birthdays, and corporate events
Cutting and shaping materials for model-making and hobby projects.