Looking to take your jewelry engraving skills to the next level?
Whether you're a seasoned professional or an aspiring enthusiast, this guide will consider the 6 best jewelry engraving machines in 2023, so you can unlock your creativity with quality personalized jewelry pieces.
A jewelry engraving machine makes shallow cuts into the surface of jewelry to personalize pieces and add delicate details like a name, special message, or date.
Before we get started though, consider exactly what you need: do you want a hand tool for manual engraving or a laser engraver for more intricate designs?
Also, the power you require will depend on which metals you want to engrave– which will affect how much you'll need to spend.
You don't need large working areas if buying a jewelry laser engraver as rings and other jewelry are typically small – but you do need an extremely precise engraving machine for creating beautiful details on intricate jewelry pieces.
In this article, I'll share my hands-on experience with the best engraving machine for jewelry, comparing them across these important factors (and more) so you can decide which is right for your projects and experience level.
From my testing, a great all-rounder for under $1000 is the xTool D1 Pro, with the IR laser add-on for engraving metal jewelry. It's one of the best options that isn't a fiber laser engraver, and it's my favorite laser engraver in my workshop.
You can save money however by getting a hand engraving tool, and I recommend the Dremel rotary tool if you're opting for one of these. I prefer laser machines for jewelry engraving overall however.
Best Jewelry Laser Engraving Machines
Now let's take a look at the best laser engravers for jewelry, starting with the most affordable.
xTool D1 Pro – Best Diode Laser Engraver for Jewelry with Infrared Attachment
Pros
Powerful diode laser that can etch coated metals like anodized aluminum
Infrared attachment available for better metal and jewelry engraving
Extremely stable and precise
Fast engraving speeds
Rotary add-on available for $280
Connects via WiFi, USB, and TF card
Cons
Infrared and rotary modules make it more expensive
The xTool D1 Pro is probably the best engraving jewelry machine that doesn't use a fiber laser.
It's a diode laser, and while the base machine uses a 10W laser, I bought the 20W version. There's also a 5W version, and a separate 40W laser head you can buy as a standalone accessory. From 10W power and up, it's suitable for etching and engraving coated metals.
With an industrial grade, all-metal design, 0.08×0.06mm ultra-fine compressed laser spot, a motion accuracy of up to 0.01mm, and dual laser technology that combines two beams into one, the D1 Pro can precisely engrave stainless steel without the metal even needing coating.
This jewelry engraver also boasts engraving speeds of up to 10,000 mm/min, making it much faster than many cheaper diode lasers.
The xTool D1 Pro is highly configurable and has many add-ons and accessories, the most important for jewelry designers being the infrared laser attachment (costing $559). This is a 120W laser with a 0.03mm spot that allows you accurately engrave virtually any type of material and is perfect if you're looking to start your own jewelry crafting business.
Another useful add-on to consider is the RA2 Pro rotary attachment. This is ideal for engraving 360° on rounded objects, ideal when engraving jewelry like bangles.
Other accessories to consider include the air assist for minimizing burn marks during engraving, and the xTool enclosure for safer engraving.
xTool offers its own laser software, XCS, which is highly intuitive and optimized for the D1 Pro. Alternatively, it's also compatible with the most popular laser engraving software like Lightburn, which I personally prefer.
The D1 Pro is also a very intuitive and safe laser engraver ideal for beginners, thanks to its easy laser focus adjustment, flame detection and limit switches, and the ability to transfer data using WiFi, a USB cable, or a TF card for offline use. I personally recommend it, and you can read my full xTool D1 Pro review for more.
Best diode pick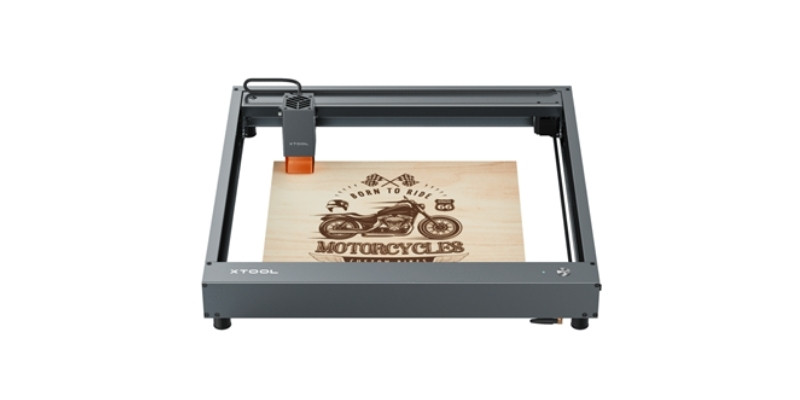 ---
Atomstack S20 Pro – Great Alternative
Pros
High quality laser
Can laser engrave color on metal surfaces
Intuitive and safe
Control via mobile app and offline
Rotary attachment available
All-aluminum structure
Fast engraving for the price
Cons
Can't engrave gold or silver
If you're looking for a high quality but affordable laser jewelry engraver, we recommend the Atomstack S20 Pro.
Atomstack is one of the best-known hobbyist laser engraver manufacturers, so you know you're getting a reliable machine and great support. It uses a 20W laser with a 0.08×0.1mm compressed spot, which is good for the price range – even if it's not as fine as the D1 Pro.
It can engrave metals like anodized aluminum and stainless steel up to depths 0.05mm, so you can etch metal surfaces. If you want to create jewelry out of materials like wood and acrylic, you can achieve faster and deeper engravings.
You can also use the S20 Pro to produce different colored effects on metal surfaces, as the laser will produce vibrant colors when coming into contact with metals. You can control this by adjusting the laser power and line interval. For example, 25% with a 0.01 interval produces a lilac color, while 30% power with a 0.04 interval gives a blue color effect.
It has a fully aluminum structure to give it great stability, and like all Atomstack machines, the engraver is very safe and intuitive to use. The dual-pump air assist kit rapidly removes smoke and dust, while the panoramic filter glass cover protects your eyes from the laser.
You can use it both online and offline thanks to the terminal control panel, which means you don't need a computer. Atomstack even offers its own iOS and Android mobile app for a highly intuitive way to control your engraver.
Finally, there are numerous accessories available to improve your jewelry engraving experience with the S20 Pro, including a rotary engraver.
---
JPT Fiber Laser Engraver – Best Fiber Jewelry Laser Engraving Machine
Pros
Choose from three different laser powers
Available in three different sizes
Can engrave all types of metal
Up to 7,000 mm/s marking speed
Up to 1mm engraving depth
Very sturdy and reliable
Great support
Cons
Expensive
Only supports USB connection
It doesn't come cheap, but the JPT fiber laser engraver offers fantastic quality and is ideal for professional jewelry makers and business owners.
One of the things I like about it is that it's available in different configurations. Depending on your preference, you can choose between 20W, 30W, and 50W lasers as well as three working areas (110x110mm, 150x150mm, and 175x175mm), depending on the size of jewelry or number of pieces you want to engrave in one job.
Each configuration is suitable for jewelry engraving, although the more powerful lasers achieve deeper and faster engravings. For example, the 20W has an engraving depth of 0.2mm, the 30W 0.4mm, and the 50W 1mm.
Another benefit is that the JPT fiber laser engraver offers a rotary fixture with an 80mm diameter which is specifically designed for working on small, circular items like rings and bracelets.
Fiber lasers can have a variety of different wavelengths, but JPT's fiber laser has a wavelength of 1064nm, which is perfect for metal engraving. It's also capable of impressive marking speeds of up to 7,000 mm/s, and is overall one of the best commercially available jewelry laser cutters.
This model is also highly precise, with less than 1% typical distortion, largely due to its super steady, all-metal construction and high-efficiency, air-spaced design.
It's important to ensure you find a reliable fiber laser engraving when the price is so high and the JPT is one of the most trusted among consumers, and a great reputation for excellent tech support.
Best fiber pick
---
OMTech FM7979-30S 30W – Best Fiber Jewelry Engraver for Large Businesses
Pros
Precise, fast, and durable.
The small spot size of 20nm, is great for cutting metals 2mm deep.
Supports a rotary axis, perfect for engraving large curved jewelry pieces.
The jewelry laser engraving machines we've covered so far use standard lasers, but the OMTech FM7979-30S 30W is a fiber laser engraver.
This means it's significantly more precise, faster, and durable, but, as you can see from the price, it's also a lot more expensive.
In the OMTech FM7979-30S 30W, this results in a laser with an incredibly small spot size of just 20nm that's capable of cutting metals up to 2mm deep. This laser also has a really long tool life of 100,000 hours, making it perfect for larger businesses with intense production rates.
This jewelry engraving machine comes with a built-in workspace grid with removable position bars, which makes it easy to precisely place materials and keep them secure while engraving.
It also supports a rotary axis (which you have to buy separately), which is perfect for engraving large curved jewelry pieces like bangles.
The FM7979-30S 30W is compatible with programs like AutoCAD, Adobe Illustrator, and CorelDraw, so you can take your pick from the best CAD and CAM software.
Although it may be a more advanced machine, it's still very intuitive and easy to set up and use.
The high-speed galvanometer drive system makes focusing the lens very simple, and once adjusted the red dot locator and scanner calibrate for a quick and precise focus setup.
This version of the FM7979-30S has a 200x200mm working area and an engraving speed of up to 7,000mm/s. If you want a larger 300x300mm area and more power you can bag the 50W for $5,799.99, or you can save some cash by going for the smaller, less powerful 20W for $3,0999.
---
Best Hand Engraving Tools For Jewelry
If you prefer to use a handheld laser engraver pen, this is our top pick.
Utool 24W Engraver – Good Cheap Handheld Jewelry Engraver
Pros
Powerful engraver.
Comfortable to use, even for long engraving jobs.
Five different speed levels are available.
Cons
Can be loud and bulky.
The Utool 24W is a really impressive handheld jewelry engraver.
This powerful engraver has a tungsten carbide tip so you can engrave even the hardest metals like stainless steel, and it comes with three spare tips you can swap tools once the tip starts to wear.
We're particularly big fans of the ergonomic design and rubber handle which makes it really comfortable to use, even for longer engraving jobs.
There are five different speed levels, so you can pick the one that's best suited to your skill level and required production rate. You can also choose from five different depth levels for making thinner and deeper engravings.
---
Dremel Lite 7760 – Best Handheld Engraver
Pros
Great customer reviews.
Adjustable speeds.
360-degree soft grip.
If you're looking for a more premium hand rotary tool, we recommend the Dremel Lite 7760.
This tool is extremely popular among users, with a 4.6 Amazon rating from more than 7,000 reviews, which gives you an idea of how good it is.
It has a 1.8" collet and thanks to the patented EZ twist nose cap, you can easily swap tools without even needing a wrench.
You can adjust the speed from 8,000 to 25,000RPM, giving you plenty of room for maneuverability, and the 360-degree soft grip materials help prevent your hand from aching.
Whereas the Utool runs off batteries, the Dremel has a rechargeable battery and comes with a USB charger, which saves you the time and money of constantly replacing batteries.
Best Handheld Engraver
---
How Does a Jewelry Engraving Machine Work?
Jewelry engraving machines engrave personalized designs onto materials – usually metals. You can do this either via a laser engraver which uses CNC technology to follow a computer design to accurately engrave the jewelry, or a hand engraving tool using routers or rotary with tough diamond or carbide tips to carve and etch designs.
Weaker diode lasers however can only really engrave anodized aluminum, and you'll need an infrared laser attachment, or a fiber laser, to engrave on more precious metal jewelry.
Fiber lasers are best for metal jewelry engraving, which passes a beam through optical fibers, building up focused energy capable of precise engravings on even the toughest of metals.
Jewelry Engraver Buyer's Guide: Main Factors To Consider
Precision
Arguably the most important aspect of choosing a laser engraver is the engraving precision it provides. After all, most people in this hobby or profession will be looking to make very fine, accurate engravings.
You want to pay attention to the laser's spot compression – the smaller it is, the more precise engravings you'll be able to make.
Fiber laser jewelry engravers provide the most precise cutting.
Laser power and wavelength (if choosing a laser engraving machine)
The more powerful your laser, the faster and deeper you can engrave. 10W or 20W diode lasers can engrave metals like anodized aluminum, but 50W CO2 lasers or even 30W fiber lasers will be far more effective.
Wavelength is important because higher wavelengths have higher reflectivity – for example, CO2 lasers with 10.6um wavelength have 99% reflectivity. This renders them useless for working on metals like gold that have highly reflective surfaces, which is why fiber lasers are so effective for jewelry engraving as they have low wavelengths.
All infrared lasers have a wavelength of 1064nm and so do many fiber lasers (although fiber laser wavelengths can be changed depending on the doped material used, with some having up to 2000nm).
Laser engraver for jewelry power comparison
Ease of use
Usability is particularly important if you're a beginner, as the last thing you want is an overcomplicated tool or machine that's too difficult to use effectively.
We recommend reading user reviews to see what other people say about a machine's usability, and also look out for features like the Atomstack X7 Pro's touchscreen controller that makes for super intuitive offline engraving.
As well as the usability of a machine itself, you should also find out what software it's compatible with beforehand so you can be sure you can use it with your preferred programs.
Work area
When selecting an engraver for jewelry, the size of the work area can significantly impact your productivity and the types of projects you can handle.
The xTool D1 Pro has the largest work area (430x390mm), and is ideal for users engraving large pieces of jewelry or who want the flexibility to work on multiple items at once.
On the other hand, the JPT Fiber Laser Engraver's smaller work area (ranging from 110x110mm to 175x175mm) is better for working on smaller boutique pieces with a higher level of detail – or simply for users with limited workspace available.
Unlike their fixed counterparts, handheld engravers aren't constrained by a specific work area. This flexibility allows you to work on any size of jewelry piece, and you can even carry them to different locations. Whether you're engraving a small ring or a large necklace, these handheld devices can accommodate all sizes of work.
Work area comparison for jewelry engraving machines
Types of Jewelry Engraving Machines
Handheld engraving rotary tools and laser engraving machines are the two main types of machines and tools you can use to engrave jewelry.
Let's take a look at each type so you can decide which is best for you.
Handheld Engraving Tools
The cheapest and most basic options are handheld engraving tools, often referred to as engraving pens due to their pen-like shape. These are typically powered by batteries and use tough diamond or carbide tips to engrave jewelry. However, they require a lot more skill, and one small error can ruin your etching.
They start at just $20, so they're ideal if you're an amateur looking to get started, or if you just prefer working by hand.
Laser Engravers
Jewelry laser engraving machines use high-powered lasers to make fine and precise engravings into the metal or other material's surface. They offer jewelry makers many benefits over handheld tools due to tiny laser spot sizes (for fantastic precision) as well as guaranteed repeatability without the chance of human error.
You create your designs using CAD (computer-aided design) software, which is now widely used in jewelry design. Then, you then convert your design to g code using CAM (computer-aided manufacturing) software, send the code to the machine, and then the laser engraves the design.
They are generally more expensive than engraving pens, with the cheapest diode lasers starting at around $200, but the best fiber lasers start at over $5000.
There are big differences between different types of lasers and the jewelry you can engrave. I'll explain each type of laser, and the jewelry they can carve, below:
Diode lasers
Diode lasers are the least powerful type and are most commonly used for engraving and cutting materials like wood, leather, and acrylic, and not commonly used for metals.
You can etch metal like stainless steel and anodized aluminum with stronger diode lasers, but diode lasers are weaker, less precise, and far slower than CO2 or fiber lasers.
Diodes are not suitable for engraving highly reflective metals like gold, but if you just plan to engrave on anodized aluminum keyrings and other projects, diode lasers work fine. I've engraved a bunch of anodized aluminum projects with my Snapmaker's 10W laser module, and on my xTool D1 Pro 20W.
You can also buy an infrared attachment for the xTool D1 Pro, which is far more effective for metal jewelry engraving.
Infrared lasers
Infrared lasers are more suitable for jewelry engraving than diode or CO2 lakers due to their 1064nm wavelength, which is better absorbed by metals. Infrared lasers can engrave almost any type of metal, including silver, gold, and platinum.
CO2 lasers
CO2 lasers are more powerful than diodes. However, they're mostly restricted to the same types of metals, though they can also engrave brass. They're still not suitable for working on metals like gold as the lasers are too reflective.
Fiber lasers
Fibers lasers are the best for metal jewelry engraving, though they're also the most expensive type of laser. They engrave and etch into metal faster than others, they're more precise, and can handle almost any metal, including precious metals.
Other articles you may be interested in: