Laser cutters can cut, slice and engrave materials varying from acrylic and wood, to steel and aluminum. It's a technique that's used across a wide range of industries, from engineering to aerospace — as well as by hobbyists at home.
The technique, which was first used back in 1965 for drilling holes in diamond dies, has several benefits. For example, it's highly accurate and is also very consistent with little room for human error. It's much more efficient than methods such as etching, and it can also be used for more complex designs than other methods.
Laser engraving isn't controlled manually — it relies on laser cutting software that instructs the laser where to move using a CNC (computer numerical control) programming language, such as g-code. You'll also need software to create and edit your designs prior to the engraving process, but how do you know which laser cutting and engraving software is right for you?
In this guide, we reveal the best laser engraving software and the best laser cutter software for 2021. We've included both free and paid solutions to suit different budgets, and we've reviewed the key aspects of each software so that you can easily pick the one that best suits your needs. 
See also: our buyer's guide of the best laser cutters and engravers.
Best Free Laser Engraver & Cutter Software 
LaserGRBL – Best Free Laser Cutter Software for Windows 
LaserGRBL is a very popular, open-source laser engraver software for Windows that's completely free to download and use.  
Unlike some other software, LaserGRBL is specifically designed for hobbyists, so it doesn't have the steep learning curve that comes with more professional programs. It's a simple yet effective tool that's user-friendly, so it's perfect for beginners. 
LaserGRBL has some really useful features, such as the jogging feature that allows you to manually position the laser head with two sliders to control the size and speed of steps. There's also the override function, which allows you to speed up or slow down the effective engraving speed and laser power in real time during the engraving process. 
Another notable feature is the raster image import function. With this, you can load any kind of image, including photos, clip art, pencil drawings and icons into LaserGRBL and turn it into g-code without any additional software.
Raster images are a different type of graphics to the vectors used in most online laser engraving software. Vectors can be scaled up and down without losing quality so they're used for cutting materials and engraving thin lines, whereas raster graphics are made up of small pixels and are used for cutting and engraving larger areas. This means the GRBL laser cutter software can be used for a wide variety of laser cutting projects. 
This laser engraver software is compatible with GRBL v9.0 and GRBL v1.1. It's capable of loading and sending g-code to Arduino, and you can also engrave images, pictures and logos with the internal conversion tool. 
Inkscape – Best Free Laser Engraver Software for Mac 
Inkscape is a popular open source vector graphic design and editing software. While it's not a specialist laser cutting software, you can still use it for engraving, as shown in the video below.  
This free laser engraver software offers all the standard drawing and shape tools and offers a range of object manipulation tools, such as transformations, z-order operations and alignment and distribution commands. It also offers node editing features, allowing you to precisely modify designs and easily troubleshoot problems with vectors. 
One of the best things about Inkscape is that it uses SVG (scalable vector graphics) as its native format. As the SVG graphics formatting markup language is royalty-free, you can use its commands to create your designs without any expense. 
Unlike LaserGRBL, the Inkscape free software for laser engraving is available on all major desktop platforms including Mac, Windows and Linux.
Another advantage of Inkscape is that there's a very active user community surrounding the laser engraver software. There are forums, mailing lists and even a chat room, and you can also contribute to the community if you have development skills. 
SolveSpace – Free Laser Cutter Software with Great Flexibility 
SolveSpace isn't the most user-friendly laser cutting software — it has a fairly minimalist interface and a pretty steep learning curve, but if you put the time in to master it, you'll find it has an array of functions that make it a really useful tool. 
This software has a wide variety of applications, including exporting 2D vector art to a laser cutter machine with g-code toolpaths. It has several impressive features that make it suitable for this. 
For example, there are a wide range of drawing tools as well as parametric and associative assembly. You can link parts and drag them with six degrees of freedom, link surfaces and merge them with Boolean operations, and you can also link lines and curves for 2D work and solid operations, so it's a very flexible design tool. 
Another bonus is that SolveSpace is one of the best laser cutting software if you have limited storage space as it's less than 10 MB and is very fast to download. You can also directly export your design into SVG from the CNC laser cutter software. 
LaserWeb 4 – Best Laser Engraving Software with Free Cost Estimator 
The fourth iteration of this software, LaserWeb 4 is a free program that's used for controlling your laser cutter based on your design. 
One feature that makes this laser engraver software particularly useful is that you can import multiple files in different formats into a single project, so it's very flexible and great for collaboration. 
Another benefit that isn't seen with some other software is its job cost estimator tool, so it's very helpful for budgeting – something that's particularly important for beginners and hobbyists. 
LaserWeb can be used to control your engraver via both vector and raster files, so it's ideal for engraving both small and large projects. There are also many settings you can use to customize different aspects of your engraving, including the pass depth, cut rate, smoothing, diameter are more. 
Finally, the LaserWeb community is filled with tips, modifications and additions to the code, so you can choose free extras and customize the laser cutting machine software as you please. 
Best Paid Laser Cutter & Engraver Software 
Lightburn – Best Laser Cutting Software for Mac 
Price: $30 for g-code license, $59 for DSP license
Whereas laser cutter software like LaserGRBL are restricted to Windows, Lightburn can be used on Windows, Mac and Linux, so it's available to everyone. This is another well known later engraver software that can be used for layout, editing and controlling your laser cutter. 
Lightburn has some really useful features that make it popular among laser cutters. For starters, it's a versatile software that allows you to easily import artwork in a variety of common graphic and image formats. It also supports most Ruida, Trocen, TopWisdom and g-code controllers, with more to be added soon. 
The CNC laser engraver software allows you to arrange and edit vector shapes with the editor, and you can even create new shapes with the help of powerful features. These include offsetting, boolean operations, welding and node editing. 
You can also adjust the power, speed, cut order, brightness & contrast, number of passes and more while you engrave. 
Lightburn is an all-in-one laser engraving software, as it allows you to send your designs directly to your cutter, eliminating the need to use additional programs.
Lightburn comes with a 30-day free trial you can use to try out the software. Another benefit of using Lightburn is the active support forum where you can get help with any issues and discuss topics with other users. There is also a news section on the Lightburn website that provides updates on developments and bug fixes. 
Adobe Illustrator – Great for creating laser cutter designs
Price: From $27.81 per month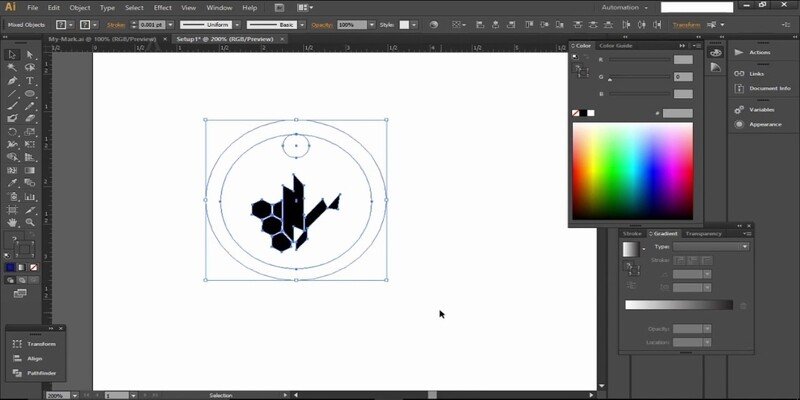 Adobe Illustrator isn't a specialized laser cutter software, but it's the gold standard when it comes to graphic design software and can be used to generate g-code from an SVG file that you can use with your laser engraver. 
While there's a bit of a learning curve for beginners, it has just about everything you could ask for when it comes to working with vector graphics and it works with AI, PDF, DXF, DWG, SVG and EPS file formats. 
One of the main benefits of using Illustrator for laser cutting is the Artboards feature. This allows you to lay out your designs on the screen to see how they'll fit onto your material sheets. You can set up as many Artboards as you need in a single view, so you can simplify the overall process and easily keep the final product in mind as you design. 
Another advantage is that this laser engraving software is adapted to different techniques such as vector cutting, vector engraving and raster engraving, so it's a very versatile program.  
Finally, this laser engraver software can also be used on iPad, meaning you can easily draw using an iPad pencil. The iPad version also has an expansive topography toolkit. So, if you're looking for a laser cutter control software that's ideal for vector work and offers professional grade precision and efficiency, you can't go wrong with Illustrator. 
DraftSight – Best Laser Engraving Software for Professionals 
Price: From $499 per year 
The most expensive software on our list, DraftSight is a professional-grade CAD and laser cutting software developed by Dassault Systemes. 
DraftSight is the perfect software for perfecting the design that you want to send to your laser cutter. For example, among its many features is the image trace function, which turns images like JPEGs or PNGs into curves, angles and vector lines.  
This makes it much faster and easier to cut an already existing pattern without going back to the drawing board. It also has 2D constraints so that you can control your drawing parametrically by specifying geometric and dimensional properties of your designs. 
Another feature worth mentioning is DraftSight's hairline option that allows you to control line width within the print options. This is set for the exact size of a single pass of a laser, so it's ideal for laser cutting and allows you to avoid less precise cuts caused by rasterization of wider lines. 
There are several purchase options for DraftSight — the price we've listed is for the Premium Version, which is more expensive than the Standard and Professional versions but is the best for laser engraving. Overall, this 2D design software for laser cutters is our recommended pick for professionals. 
If you enjoyed this article:
Sign up to our email list and get the latest CNC news, buyer's guides and giveaways direct to your inbox: