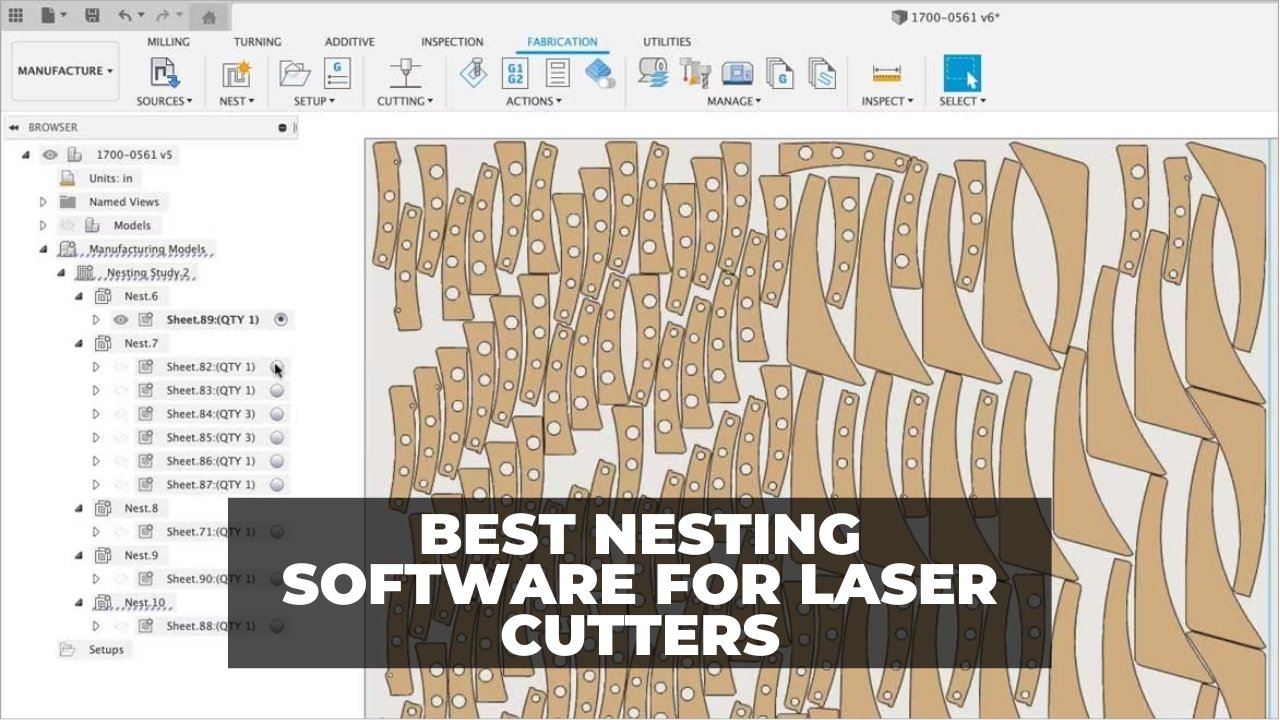 Nesting software reduces material waste by rearranging how the design lays on the sheet material. It also reduces the cutting time by arranging the designs so that they share perimeters. This is especially important in mass production, and when you're laser cutting expensive materials.
I've spent a lot of time with nesting over the last few years, both in saving material for CNC projects, as well as laser cutting. I've done manual nesting for home projects, and used professional nesting software on industrial machines.
In my opinion, the best free nesting software is Deepnest.
Meanwhile, the best nesting software for laser cutting on an intermediate level are Nest&Cut (cloud-based) and Pronest (offline).
For experts, I recommend Solid Edge 2D. Also, if you're using Adobe Illustrator software or CorelDraw, I recommend the eCut nesting plugin as your best option.
What Is Nesting and Nesting Software?
The nesting process is arranging 2D parts on a sheet so that they occupy the least area.
Nesting software calculates the positions where each shape could fit, and uses an algorithm to place them optimally to encompass the least possible space. It also optimizes for cutting time by merging common lines across parts, so the laser cuts two parts in the same path.
For example, let's say we want to cut out the letters of the word "laser" for sign-making. In the image below, I've shown how you can simply design the word laser and cut the letters, or how you can do manual nesting to cut the letters out of a smaller area.
Best Free Nesting Software
Deepnest: Best Open Source Nesting Software for laser cutting
Price: Free and open source
CAD: No
CAM: No
Import: DXF, SVG, CorelCDR
Exporting files: DXF, SVG file
Web-based: No
Operating system: Windows, macOS, Linux
Best for: simple projects
Pros
Free
DXF file support
Cons
Very basic – no control over layout constraints
The best open-source nesting software for offline laser cutting is Deepnest. It doesn't have any flashy features compared to more professional software, but it's simple and good at optimization.
Deepnest doesn't automatically choose between your various sheet sizes and scraps, but you can define the shape and size of your sheets. Then, mark those as sheets, and Deepnest will consider anything you don't mark as parts to be nested in the sheets. Then, hit start and it will run an iterative algorithm that keeps reducing material waste until you hit stop or it reaches the number of iterations you intended.
SVGNest: Free and Online Nesting Software for Laser Cutting
Price: Free and opensource
CAD: No
CAM: No
Import: SVG
Export: SVG, DXF
Web-based: Yes
Compatible OS: all OSs
Best for: simple projects
Pros
Free
Cloud-based
Integrated with Lightburn
Cons
Needs internet access
Very basic
SVGNest was developed by the same team that developed Deepnest.
It is probably the most popular nesting software now, since it's integrated into the latest versions of Lightburn, and doesn't require installation. It makes for much smoother nesting within the Lightburn workflow. It's also cloud-based, so all the processing happens on the server side when you hit "start nest."
Lightburn needs an internet connection to connect to SVGNest's servers, though the computations are performed locally in your browser, so once the site is loaded you can disconnect and it'll still work. However, just like Deepnest, it's best only for simpler nesting projects.
Paid Nesting Software
eCut: Best Nesting Software for Laser Cutting with CorelDraw
Price: $69.95 (also needs CorelDraw or Illustrator)
Multiple size sheets: No
CAD: Yes
CAM: Yes
Import: DXF, DWG
Export: DXF, NC
Web-based: Yes
Best for: entry-level laser cutting with CorelDraw
eCut is a plug-in that adds to CorelDraw and Adobe Illustrator. It's a great nesting add-on, especially given how popular these software are with laser cutter users. Plus, eCut is the cheapest paid software on this list at $69.95, with future software updates costing around $26.
eCut has many CAD functions that help with sign-making, like filleting the edges. You can also define one sheet and find a nesting for the parts you've made. eCut can also produce g codes for several lasers (but not, for example, those with Ruida controllers).
If you have a small laser business and want to save on both the material and the software cost, eCut is a great option.
Nest&Cut: Best Nesting Software for Laser Cutting Businesses
Price: $59/month, with a free trial
Multiple size sheets: Yes
CAD: No
CAM: Yes
Import: DXF, DWG
Export: DXF, NC
Web-based: Yes
Best for: Entry-level shops
Pros
Professional level software
Browser-based, so doesn't require a high-performance computer
Reasonably priced
Cons
Requires an internet connection
Overall, the best nesting software for laser cutting and CNC shops is Nest&Cut. Its developer, Alma, is a leading nesting software developer with several nesting software options for different uses. Nest&Cut is their medium-level automated nesting software and is excellent for laser cutting, and it runs on Windows, MacOS, and Linux.
Nest&Cut is still very affordable, and offers so much more than free software tools. For example, you can choose part orientation, which is useful for keeping a particular grain direction.
Another useful nesting feature is that you can select several sheet sizes. This is especially useful as I will often have part of a sheet left over from a previous cut, which I can then reuse this the new smaller sheet size.
You can also define a filler part, which is a part that you need to make in large numbers. Wherever there is an unused area in the material, it will try to fit your filler part.
Nest&Cut also has CAM and postprocessor features. It recognizes many CNC and laser machines and plasma cutters, and can export NC files that are optimized for them.
Alma also offer a more expert nesting software for laser cutting sheet metal, Almacam Cut. But for most common laser uses, Nest&Cut is more than enough.
ProNest: Best Nesting Software for Laser Cutting Businesses Working Offline
Price: $40-$90/month depending on features
Can extract flat pattern: No
Multiple size sheets: Yes
CAD: Yes
CAM: Yes
Import: DXF, DWG, PDF, OMX, SLDASM (SolidWorks assembly), standard CAD
Export: DXF, NC
Web-based: No
Best for: professional use
Pros
Professional level toolset
Feature-rich and versatile
Cons
No major improvement over the years
The best nesting software working offline and on a professional level is Pronest. It has many key features and imports files from all major CAD systems. ProNest also has some simple 2D CAD features so you can move things around manually.
ProNest tracks your plate inventory and has plenty of other features for nesting optimization, like defining the number of parts, kerf, and the cut direction. It can also import SolidWorks files that have been exported to flat geometry, hence why most SolidWorks users prefer ProNest! ProNest can also generate various reports in PDF format.
MyNesting: Best Nesting Software for Occasional Needs
Price: $5-$7 per project or $150 per month, with a one-off fee upon request
Can extract flat pattern: No
Multiple size sheets: Yes
CAD: No
CAM: No
Import: DXF
Export: DXF
Web-based: No
Best for: prototyping – occasional user
Pros
Various payment methods
Accessible features like inside nesting for one-time use
Cons
Slightly overpriced considering capabilities for long-term use on credits
MyNesting is another paid nesting software that's interesting for its payment method. They offer monthly subscriptions at $150 and even a one-off fee for unlimited use, but they also offer buyable credits. This is useful if you only have the occasional need for nesting, or if you want to test the software before fully committing.
For example, making a prototype from an expensive raw material is possible with one MyNesting credit for $7.50, for use on this one project.
You can download the software for free, create a MyNesting account and buy credits. The software connects to your account, and simply gives you the nesting file for your project.
Solid Edge 2D Nesting: Best Nesting Software for Experts and Manufacturers
Price: available upon request
Can extract flat pattern: Yes
Multiple size sheets: Yes
CAD: No (works with Solid Edge)
CAM: No
Import: PSM and PAR (Solid Edge files), DXF, DWG, standard CAD formats
Export: DXF, DWG, PSM, etc.
Web-based: No
Best for: industries laser cutting sheet metal
Pros
Extracts flat pattern geometry
Multiformat nesting with no bugs
Expert level
Excellent support from Siemens
Cons
Industrial level pricing
Solid Edge 2D Nesting is the best nesting software for laser cutting metal sheets, experts, and manufacturers. It can read SolidEdge design files, and extract flat pattern geometry to optimize where to place your parts.
This is why it's so good for manufacturers and designers: just design, and let the nesting software extract the required 2D parts.
It also identifies shapes with potential issues so that you can investigate them. Then, just define the sheets and the number of parts, and it produces an excellent nesting solution. If you have issues, Siemens provides unlimited technical support to help.
Inventor Nesting: Best Nesting Software for Autodesk Clients
Price: available upon request
Multiple size sheets: Yes
CAD: No (works with AutoCAD and Inventor)
CAM: No
Import: Autodesk formats, DXF, DWG, standard CAD formats
Export: DXF, DWG, etc.
Web-based: No
Best for: manufacturers designing with Autodesk products and laser cutting sheet metals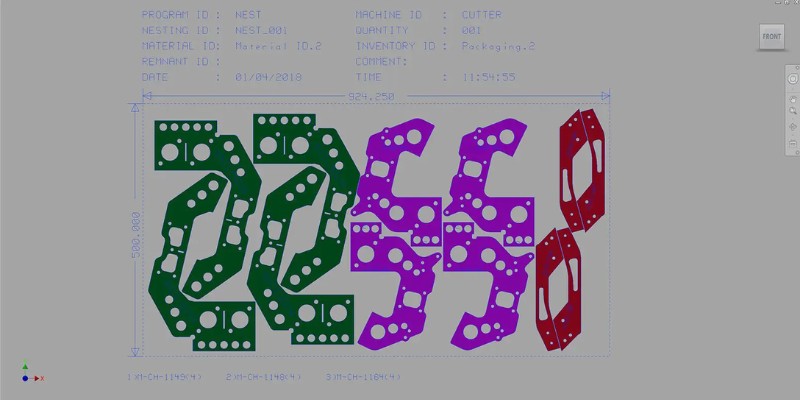 Pros
Advanced
Included in Autodesk software package
Cons
Best used with other Autodesk software
If you already use Autodesk software in your workflow, Inventor Nesting is well-suited for you.
It comes within the Autodesk design software package, including AutoCAD and Inventor, among other Autodesk software. And, Inventor Nesting works seamlessly with other Autodesk CAD software beyond just AutoCAD and Inventor.
Inventor Nesting can also extract shapes from a CAD file. It will also recognize the materials and nests them on sheets with the same material. In its nesting study, you can create several nests and investigate which one you prefer.
However, if you don't have Autodesk's design package, I recommend picking a different nesting program.
What Can Nesting Software Do?
Nesting involves much more than squeezing a bunch of 2D designs, and automatic nesting programs vary greatly in their capabilities!
Generally, free nesting programs can import limited file formats (SVG or DXF files) and only improve the arrangement of 2D designs on a single sheet. You shouldn't expect more complicated nesting operations.
Mid-range software can import industry-standard CAD formats, and multiple files. It can nest parts within parts (when software puts smaller parts in larger cavities of other parts). They also have automatic and manual tools so you can move the designs around, and can nest with several sheet sizes as well as letting laser cutters use their off-cut sheets.
More advanced software have tools for entering how many of each part you want, instead of making you add the parts multiple times. They may also allow you to define the orientation for some parts and allow mirroring for others, helping with grain direction.
If you're working with metal sheets, it also needs to have settings for the kerf of cut that tells the software the cutter's diameter so it spaces the designs accordingly.
Expert-level nesting software have many advanced features. Some have interactive CAD importers and can extract flat pattern data from a 3D design. For example, some advanced software can dissect a 3D design's various parts, and shows you the 2D parts you'll have to cut. They also have the most efficient nesting algorithms that save you the most time and material space.
Types of Nesting: Manual and Automatic
Manual nesting and automatic nesting are the two main methods of nesting for reducing costs.
In manual nesting, you arrange the designs yourself within your CAD software. This takes longer and requires more skill.
In automatic nesting, the CAD software uses algorithms to arrange the design in the most possible way, based on the shapes, sizes and number of parts, compared to the material sheet's dimensions.
Nesting is an extremely complicated problem in applied mathematics.
However, nesting is a complex problem in applied mathematics, known as the packing problem. When studying this mathematical problem years ago, I learned that you often can't find the absolute optimal solution. This is why different nesting software can yield different results, with varying degrees of nesting efficiency.
For example, one nesting software may suggest a design arrangement with 15% material waste, while another may suggest an arrangement with 10% material waste. The discrepancy is due to the different algorithms and methods each software uses to solve the nesting problem.
So, not all nesting software is the same. For example, some nesting software employ an iterative nesting algorithm that starts from a "guess", and then incrementally improve this arrangement by making small changes and comparing the results. Then, it goes back and uses the second arrangement as its starting guess. If not stopped, this process can run forever!
FAQs
How much does nesting software cost?
Some nesting software are free, and some can cost thousands of dollars, depending on the level of complication and their features. Free nesting software can arrange 2D designs on a single sheet, but more advanced software costing from less than $100 up to $1000+ can optimize with various sheet sizes, nest parts within parts, prioritize sheets, define the number of parts, filler parts, kerf of cut, lead in and lead out, and much more.
Does AutoCAD have nesting?
No, AutoCAD doesn't have nesting and relies on Inventor Nesting, another Autodesk software, for nesting optimization. Nesting AutoCAD files is also possible with other nesting software.