Any laser engraver can cut soft woods, acrylic, and other soft materials. But metal laser engraving, marking or etching is a whole new challenge.
Generally, going for a CO2 laser or fiber laser engraver is best for quickly and effectively engraving metal. But, and most people don't know this — you can actually mark metal with desktop laser engravers with one unorthodox strategy (more on this further on).
I'd recommend the xTool D1 Pro as the best choice if you want a diode laser. This powerful and accurate engraver is incredible value for money, with a larger work area than the competition, too.
If you're looking for a CO2 laser, I recommend the xTool P2. It's powerful with 55W power, the fastest dekstop CO2 laser that can engrave metal at up to 600mm/s, and has batch processing features and simple rotary engraving for all types of metal engraving.
This hands-on guide will share everything you need to know about the best metal laser engravers, comparing them across:
accuracy and precision
ease-of-use
power
value for money
And any unexpected surprises my tests revealed!
(For non-metal laser cutting and engraving, we also have a general ranking on the best laser cutters and engravers)
CNCSourced is reader-supported. When you buy through links on our site, we may earn an affiliate commission. Learn more
The Best Laser Engravers For Metal Ranked
1. Ortur Laser Master 2 Pro – Best Cheap Laser Engraver for Metal
Laser Power: 5 – 5.5W
Working Area: 400 x 400 mm
Laser Type: Diode
Pros
Impressive safety features.
Delivers great accuracy.
Uses the powerful Ortur Laser 1.5 firmware.
Cons
Can only be used to mark the metal and not engrave.
The latest laser engraving machine for metal from Ortur, the Laser Master 2 Pro is a newly upgraded machine that boasts some fantastic features. Having tested both the Laser Master 2, and now this Pro version, we were impressed with the safety improvements and other upgrades on the Pro.
Whereas you may not have thought a non-CO2 or fiber laser could mark metal, several tests have actually been done, that have managed to effectively mark metal with logos and other small details.
The trick is — and it may sound strange — to cover your metal surface with mustard prior to laser marking metal. Mustard appears to react with the metal, making for more effective engraving — with better results with mustard than with a black marker pen or vinegar, which was also tested.
More is shown in this video below, and is discussed further here.
The video above shows metal engraving using the Ortur Laser Master (no longer sold), and the metal laser engraver we tested is the new and more advanced Laser Master 2 Pro, so if that laser can create those details, the more powerful Laser Master 2 Pro can do even better.
It's also much safer — it has an emergency stop and flame detection, has an upgraded voltage system, and automatically stops if the laser is tampered with or touched in any way. It's definitely one of the best metal laser marking machines around.
Accuracy is the main priority for metal engravers, and this machine certainly delivers on that front. It's equipped with the latest OLM-PRO-V10 motherboard, which provides highly precise engraving and a fast engraving speed, while also ensuring engraving remains smooth and delicate. You can also read our full test and review of the Ortur Laser Master 2 Pro
It also uses the powerful Ortur Laser 1.5 firmware. This optimizes the motion algorithm and increases movement speed up to 10,000mm/mm. It uses a second-generation FAC laser model with a focal point of just 0.08*0.15mm, which makes for powerful, smooth metal engraving.
---
2. Atomstack X7 Pro – Another Great Value Pick
Pros
A powerful 10W laser.
Good engraving area of 410 x 400 mm.
Easy to use, with an ergonomic touchscreen.
Cons
Like the Ortur laser master 2 Pro, it can only be used to mark metal and not engrave.
A more premium desktop laser engraver, the Atomstack X7 Pro's powerful 10W laser comfortable cuts through even 20mm-thick wood, as well as 15mm acrylic. This power also means it can mark metals — for example, light signatures or logos, or for adding traceability to products via barcodes or serial numbers.
The wide 410 x 400 mm engraving area is more than enough, especially as many hobbyist metal laser engraving projects are usually on the smaller size, but it can even be extended to 850 x 410 mm with the X7 Pro extension kit (another $129).
You can even add a 4th axis to it for an extra $109, with Atomstack's R3 rotary module for niche curved metal marking.
However, if you're planning on using either this or the Ortur for laser engraving metal, temper your expectations. It's laser marking metal, rather than engraving, and these cheaper, less powerful metal lasers will engrave more faintly, and take longer to do so, than more powerful industrial metal laser engravers. Though, for $599 it's a great deal for home makers or small businesses, it certainly isn't a metal laser cutter — just a metal marking machine.
It's easy to use, with an ergonomic touchscreen, offline engraving options if your workshop doesn't have WiFi, and an upgraded laser that's more stable and with a more compressed laser spot (0.06mm) for crisper details than ever before.
You can see the Atomstack X7 in action engraving metal here:
---
3. xTool D1 10W – Best Diode Laser For Metal Engraving
Price: $699 — Available at xTool here
Laser power: 10W (5W, 20W and 40W also available)
Work area: 432 x 406 mm
Laser Type: Diode
Pros
One of the best diode lasers available.
Can mark and engrave on coated metals, especially if you buy the infrared laser add-on.
Accurate, reliable, and sturdy.
Cons
Diode lasers are still very limited for metal engraving, and you can only etch on coated metals like anodized aluminum.
The xTool D1 10W is the best diode laser in my opinion, slightly beating the Ortur Laser Master 3 which I also own. The xTool has a better-quality steel frame, versus a cheaper rotary roller and better safety features on the Ortur.
You can stick with the standard 10W laser (which xTool say is the equivalent of other brands' 15W lasers), or upgrade to the 20W model for more power.
While you'll need a fiber laser to really effectively mark metals, more powerful diode lasers such as the xTool D1 Pro can mark coated metals: stainless steel, anodized aluminum and similar can all be engraved on.
I recommend two accessories for this: the infrared laser attachment, and the RA2 Pro rotary chuck. With these, you can better engrave metals, and engrave rounded metal objects like beakers, flasks, and more. You can also read my full review of the xTool D1 Pro 20W.
Other variations available include:
The work area is large, and you can buy the extension kit that increases your work area to an incredible 936 x 432 mm.
It's accurate (0.01mm precision, 0.08 x 0.06 mm spot size), reliable with the sturdy frame and steel wheels and rods and protected belts, and safe. The software that comes with the xTool is also really user-friendly, or you can use it with LightBurn instead. There's the Laserbox iOS app for connecting via iPad or similar device.
Other makers online have shown the xTool's effectiveness for engraving anodized aluminum, and while if you can afford a fiber laser (we recommend them further in this article) you should opt for one, if you're looking to save money or buy a diode laser, this is up there for the best.
Best diode pick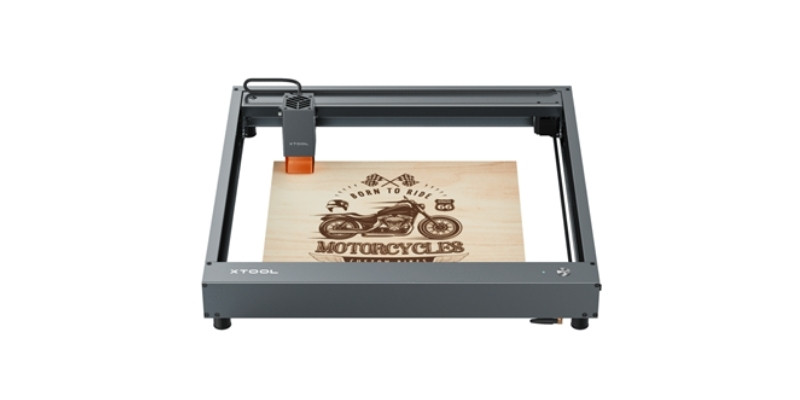 We earn a commission if you make a purchase, at no additional cost to you.
---
4. Snapmaker 2.0 3-in-1 – With High-Power Laser Add-on
Pros
A laser engraver, 3D printer, and CNC machine, all in one.
Fantastic autofocus feature.
Easy and accessible for beginners.
Cons
The standard 1.6W tool head struggles with metal engraving.
This is the most unique machine on our list, as far from being just a laser engraver, the Snapmaker 2.0 Modular 3-in-1 is also a 3D printer and CNC carving machine.
Starting with the laser engraving aspect, this machine has a fantastic autofocus feature that automatically uses the optimal laser height without you having to repeatedly test for the focal point. However, the standard 1.6W laser tool head struggles with metal engraving, though this maker online has managed to make it work, so we recommend you pick up the high-power laser add-on for tougher material engraving.
Makers online have created Steve Wozniak-esque metal business cards with the Snapmaker 2.0, as well as variety of other projects. We also tested the 4-axis rotary module for 360-degree engraving, and we were impressed with the quality with which the laser engraved cylinder material blocks — though we didn't try it with metal.
Snapmaker's focus on making things easy and accessible makes it ideal for beginners. Their Snapmaker Luban software, and the Snapmaker's advanced and intelligent firmware, auto-calibrates, measures the depth and area of material (saving you time and hassle), and uses camera capture to speed up your laser engraving preparation.
The impressive camera capture feature automatically uploads a picture of the material to Snapmaker Luban software as a canvas. You can import and directly edit a picture on the canvas, and then engrave it with just a simple click.
However, as a 3-in-1 machine, it isn't as effective as a standalone laser engraver. But, it also 3D prints. and CNC carves to a high standard, so if you're looking for a jack-of-all-trades machine that can also do light metal engraving, this one is for you.
In terms of 3D printing, the Snapmaker 2.0 Modular 3-in-1 boasts auto-leveling, filament runout recovery, and power loss recovery. The machine also has a CNC module with an ER11 collet for precise and consistent results, with a spindle speed of between 6,000 and 12,000 RPM.
This machine is very well built and durable, with a repeatability of 0.005mm, so it produces consistent results whether you're engraving metal, 3D printing, or CNC carving. The Snapmaker Luban software is suitable for all three applications, and both the machine and the software are modular, so you can customize them as you wish. You can also read my full review and test of the Snapmaker 2.0 laser engraver and cutter, as well as my review of the Snapmaker 10W high-power add-on.
Top 3 in 1 Pick
We earn a commission if you make a purchase, at no additional cost to you.
---
Professional Metal Laser Engravers for Small Businesses
5. xTool P2 – Best Desktop CO2 Laser Engraver For Metal Projects
Working area: 600 x 308 mm (24″ x 12″)
Laser type: CO2
Power: 55W
Pros
Highest-power 55W laser in its price range.
Ideal for engraving metal objects, and cylindrical shapes with the rotary.
Fast 600mm/s max speed.
Cons
Metal materials are expensive in the xTool store. It's best to buy from elsewhere.
It's the fastest desktop metal laser engraver in its price range. No other CO2 or diode laser can mark metals as fast as the xTool P2, which vector engraves metal at 600mm/s. This is ideal for small businesses looking to get through many projects quickly to sell.
The batch processing features were the most impressive feature during my testing for my xTool P2 review. If you align your design on one metal object in your working area, and click the "Smart Fill" button, XCS software will automatically align your design with any other objects in exactly the same way.
This is a huge time-saver, especially with intricate, precise metal jewelry where perfect alignment can take time.
You can see an example I tried on two reflective metal stainless steel necklace dogtags below:
The P2 can create darker etchings or just lightly frost the surface – perfect for jewelry, knives, trophies, and custom metal parts.
Dual auto-focus cameras make setup easy, and if you have any uneven surface metal parts, or curved surfaces like spoons, the curved surface engraving features automatically adjust to this so your design comes out perfectly and doesn't distort.
This is possible as the cameras act as depth sensors, and create a similar style 3D mesh to a 3D scanner, and then the laser can adjust the design based on the height at each part of your workpiece. For more information, here's my video on how this works with the xTool P2:
For professional-quality metal engraving, the xTool P2's 55W CO2 laser has the power to mark coated metals such as stainless steel, aluminum, brass, and more.
The large 24″ x 12″ work area accommodates oversized plates or batches of smaller pieces, though if you're engraving metal jewelry, you may not need something so large.
The xTool P2 comes with 2.5" of max height, so I recommend getting the riser base accessory, along with the RA2 rotary for engraving metal beakers, flasks, and other cylindrical metal objects.
The riser base gives you a maximum 8.5" height so you'll be able to rotary engrave anything you want, as well as laser cut large material sheets if you're also planning on acrylic or wood projects.
Though the spot size is larger than for example the xTool D1 Pro (the P2 has 0.15×0.2mm), this is still very precise. For example, here's a couple of slate coasters I tried where you can see just how precise and intricate the laser was able to mark:
Overall, I think it's the best desktop CO2 laser right now, and the best CO2 pick for stainless steel and aluminum engraving.
Batch processing features help streamline engraving multiple metal tags, plates, or parts in a single session. And the advanced software automatically adjusts for curved surfaces.
---
6. Ten-High Fiber Laser Engraving Machine for Metal – Excellent CNC Metal Laser Engraver for Businesses
Pros
Powerful metal laser engraver.
Can be used for a variety of different metals including stainless steel.
Extremely precise.
The marking is noticeably clear, firm, and permanent.
Cons
Too advanced for beginners.
This is a very powerful metal laser engraver that's an excellent choice for professional metal workers.
You can use the Ten-High Fiber Laser Engraving Machine with a variety of different metals including stainless steel. It's also suitable for working with some non-metallic materials, including aluminum oxide, electroplating material, and industrial ceramics.
Thanks to the high-grade fiber laser equipped with an optical insulator, this metal laser cutter is also ideal for working with gold, silver, copper, and aluminum. You can regulate by frequency and energy for working with different metals.
This laser engraving machine for metal is extremely precise. In fact, its marking speed is 3-5 times faster than regular YAG and DP semiconductor engravers. You can also control the marking depth for improved accuracy.
The marking is noticeably clear, firm, and permanent. This is due to the minimum spot diameter of up to 0.1mm, meaning it can be used for micro painting, bar codes, and trademark marketing.
The operating table and the integrated design structure makes for comfortable and convenient operation, so this machine is nice to work with. The optical path of the laser also has a new sealing system that prevents optical pollution.
---
7. LYXC Hybrid Metal Laser Cutter & Engraver – Best for Industrial Production
Price: $15,199 — Available on Amazon here
Laser Power: 180W RECI W8 head for laser cutting, as well as an 80W RECI W2 head for laser engraving
Work Area: 1300 x 900 mm
Laser Type: CO2
Pros
Hybrid machine with a laser head for cutting and engraving.
Very powerful laser cutter and engraver.
Great for an industrial setting.
If you're looking for an industrial metal laser engraver that can perform high volume production while maintaining high quality, the LYXC hybrid laser cutter is certainly worth a look.
This is a hybrid machine because it has a 180W RECI W8 head for laser cutting, as well as an 80W RECI W2 head for laser engraving, so it can be used for a wide range of tasks.
This is a very powerful laser cutter and engraver, capable of engraving stainless steel sheets up to 1.5. It's also suitable for working with a variety of non-metal materials, including wood, Plexiglas, bamboo, crystal, leather, and ceramics. It can cut these, as well as carbon steel sheets, up to 1.8mm.
You can use this machine in a wide variety of different industries. For example, it's suitable for sheet metal processing, automobile manufacturing, manufacturing electrical equipment and electronics, advertising, lighting hardware, display equipment and even spaceflight.
This industrial laser engraver comes with free technical support, including software and video training. It's compatible with popular software solutions like AutoCAD and CorelDraw.
---
How Metal Laser Engraving Works
Metal laser engravers work by projecting highly concentrated laser beams onto metal surfaces. The laser essentially vaporizes the metal surface, leaving a permanent crevice. This requires a lot of energy – a vaporization temperature of 2,327 degrees is needed to engrave aluminum, for example – so laser engravers are powerful tools.
However, there are less drastic ways of marking metal with a laser, allowing for more affordable laser engravers to be of use.
Laser marking and etching are two other uses (more info on the differences further on). For a clear, deep engraving, you'll need a more powerful CO2 or fiber laser engraving machine, but for light marking of metal, we recommend lasers in the $400-700 price range that have been proven to work, but at lower quality and power.
Metal Laser Engraving Uses
More powerful metal laser engravers can work on all sorts of different metals, from aluminum and steel to magnesium and lead.
Laser engravers are important tools for many industries for:
Barcodes
Serial numbers
Logos
Tracking numbers
These products can range from everything from machines, hardware, and automobile parts, to measuring tools and medical devices
Laser Etching vs Laser Engraving vs Laser Marking Metal
Metal Laser Etching
Laser etching changes the metal's surface color via a very thin surface depth change — usually no more than 0.02mm. The laser melts a very small amount of the surface material, or reacts to the metal's surface, leaving a raised area that contrasts with the untouched material. Metals like stainless steel, aluminum, and copper and commonly laser etched.
There are specialist sprays for laser etching materials, such as CerMark marking solution, designed especially for creating black marks on metals that contrast for barcodes, serial numbers, logos, and other uses. Laser etching metals also has applications in precious metal jewelry.
Etching is the easiest metal laser engraving process for hobbyist home laser engravers, and makers have found ways to etch using mustard, vinegar, and other homemade solutions.
Metal Laser Marking
Laser marking involves oxidizing material underneath the material's surface to turn the marked areas black and contrast with the rest of the metal. While engraving and etching affect the material's surface, laser marking affects only below-surface areas, so the material's texture remains unaffected.
Like etching, laser marking is used for logos, but is also used for medical parts and in the automotive industry.
Metal Laser Engraving
Engraving metals typically involves cutting up to a 0.125" deep recess physically cut into during the engraving process. This is the deepest cut of the three processes and creates a contrasting design that is useful for logos and traceability.
High-quality professional metal laser engravers can work quicker than markers or etchers, and are often used for processing stainless steel parts, as well as with alloys and other metals.
Which Metals Can You Laser Engrave?
Aluminum
Aluminum can be engraved and etched using CO2 or fiber engraving machines for clean results. The laser exposes the bright substrate of the material, with black anodized aluminum producing the most contrasting results.
Aluminum is used for crankcases, crankcase covers, and automobile aesthetic body parts, as well as custom business supplies like branded pens, flasks, metal business cards, and more. We also have a guide to laser engraving anodized aluminum.
Stainless Steel
Laser marking stainless steel creates high contrasts, and it can also be laser engraved. Stainless steel 316 and 306 are most common types. Stainless steel is a popular metal for budget laser engravers, and we've previously shown videos from makers who have marked stainless steel with engravers such as the Ortur Laser Master 2 Pro.
Stainless steel engraving is used for aesthetic parts, fuel tanks, railings, and suspensions. You can even create color markings on stainless steel with a color laser marking machine. If the differences aren't clear, we've also written on the difference between laser marking, etching and engraving.
Steel
Steel can also be laser engraved, though its toughness makes it far more difficult, requiring longer engraving times to create adequate surface contrast.
Though, compromising color/contrast of the engraving can lead to faster engraving speeds. Generally, higher engraving speeds create white marks, and slow speeds mark it black.
Brass and Copper
Fiber lasers can mark and engrave on metals like brass and copper, with uses in musical instruments, jewelry, plumbing, tubing and pipes, nuts and bolts, and many electronics.
Copper is a soft metal that conducts heat well, and isn't too difficult to engrave. You can etch brass and create dark marks due to its low melting point and high thermal and electric conductivity.
You can read more about copper and brass engraving here.
Titanium
Titanium can be marked, etched and engraved. Frequently used in jewelry, laser engraving services let you engrave a name, date, fingerprint, symbol, or any other sentimental design onto jewelry via metal laser engraving.
Fiber lasers can engrave on titanium sheets for uses such as in attractive metal sign creation for small businesses, with a good example shown below:
Gold & Silver — Laser Engraving Precious Metals
Yes, you can even laser engrave gold. Laser engraving has sentimental uses in precious metal engraving for jewelry, such as gold, platinum or silver jewelry.
This jeweler has even laser engraved a QR code into gold that takes you directly to their YouTube channel. You also lose so little of the material during engraving that even on expensive metals like gold, the weight lost to engraving is insignificant.
Types of Laser Engraver For Metal
CO2 Lasers
CO2 metal laser engraving machines use a gaseous mix of CO2 which undergoes electrical treatment to produce the laser beam.
These machines use a roughly 10.6-micron CO2 laser beam wavelength, and can also engrave other non-metal materials such as woods, plastics, leather, and more. They can't cut metals (unless you have an extremely powerful 150W+ industrial machine), but they can engrave metals like anodized aluminum and other coated metals.
Fiber Lasers
Fiber laser engraving machines have a smaller 1.06-micron wavelength. They're generally considrered faster than CO2 lasers, and with fiberoptic cables can intensify the laser beam's strength for a more effective use of their power. Fiber lasers' high power, small wavelengths and small focal diameters make them well suited to engraving metal.
50W laser engravers are considered high-power fiber laser marking machines. They're also reliable, with long service lives.
Crystal / Diode Lasers
Crystal lasers can be considered similar to fiber lasers, and also belong to the same class of solid-state lasers. They're often used in affordable laser engravers like the Ortur Laser Master range, and are ideal for plastics, woods, ceramics — and can engrave metals if coated. They use diodes to engrave, and their light weight and small size make them ideal for desktop engraving.
Metal Laser Engraver & Cutter Alternatives
As well as engraving and cutting metals with a laser, you can also opt for a CNC router or milling machine.
You can read our guides for these below:
Other laser buyer's guides:
Other laser guides: