Most laser cutters can cut leather, but in this article I'll explain the specifics behind picking the best laser engraver for leather, and which to avoid.
Overall, for a diode laser, I recommend the xTool D1 Pro. It's the best diode laser out right now, and I personally got the 20W one but the 10W standard version is still great.
I also recommend getting the RA2 Pro rotary for another $280 because you can earn much more selling leather-covered flasks and other rounded leather items, as well as non-leather projects like glassware.
If you prefer a CO2 laser, the xTool P2 has overtaken the Glowforge Pro in my mind, and is my top recommendation in this category. The same rotary from the D1 Pro works with this, and you can buy this, the riser base, and conveyor feeder attachment, and it's still cheaper than the Glowforge Pro!
Best Laser Cutter for Leather – Full Round-Up
Why Use a Laser Cutter for Leather Cutting?
Anyone who's ever tried to pierce an extra hole in their belt will know that leather's toughness makes it a tricky material to work with. It's particularly difficult to cut by hand, and while you could use a blade cutting machine, a quality laser cutter provides cleaner cuts at higher speeds.
Best Laser Engravers for Leather Reviewed
xTool D1 Pro – Intuitive & High Quality Diode Laser Engraver
Pros
Really impressive.
The laser's build quality makes it an excellent option for cutting leather.
Sturdy and durable.
Various accessories can be purchased.
Cons
Not the most powerful in terms of wattage.
The xTool D1 Pro is a really impressive machine that's undoubtedly one of the best laser engraving machines on the market.
Although it's not the most powerful in terms of wattage, available in 10W and 20W (I chose to buy the 20W version for myself), the laser's build quality makes it an excellent option for cutting leather.
It uses dual compressed laser beams with an ultra-fine compressed spot of 0.06×0.08mm. This, coupled with the 0.01mm processing accuracy that's achieved by the super-sturdy all-metal frame and high-quality linear motion components, makes the D1 Pro impressive for the price.
The impressive frame also makes this leather laser engraver very durable, with a 3x longer lifetime than other engravers (especially CO2 lasers which have frequent replacing of the CO2 tubes). The working area is a generous 430x390mm, and with the capability of engraving up to 400mm/s, it's one of the fastest machines out there.
Though, 400mm/s is the maximum, rather than the speed you should generally engrave at.
xTool offers various accessories for the D1 Pro, including a rotary module that's ideal for working on rounded objects, such as flasks with a leather cover. It even has an infrared laser head available, which is ideal if you want to branch out into metal laser engraving.
Another benefit of using the D1 Pro is XCS software, which is optimized for xTool lasers. I use it for my xTool P2 as it has batch processing, but it's also a great user-friendly software for beginners. You can also use Lightburn, which I prefer overall.
Best diode pick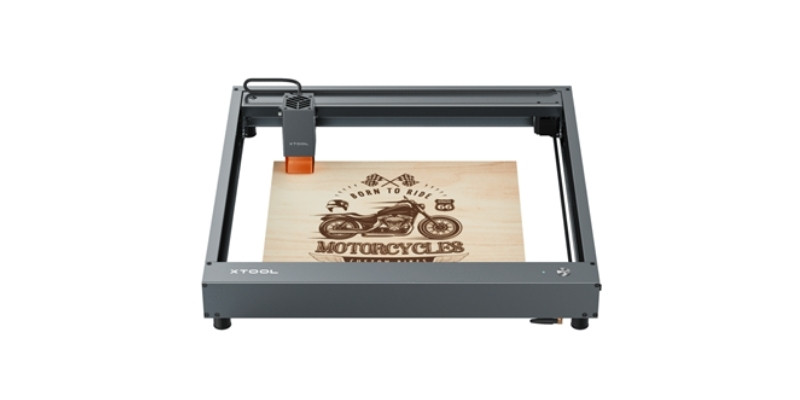 We earn a commission if you make a purchase, at no additional cost to you.
---
xTool P2 – Best CO2 Laser For Laser Cutting
Pros
Batch processing: automatically align on multiple leather designs at once.
55W power: cuts through leather easily and quickly.
Cons
Expensive: you might not need this power if you just want to do fun leather projects at home.
For a faster leather laser cutting experience, I highly recommend the xTool P2.
It's a powerful 55W CO2 laser that cuts through leather far faster than any diode laser will, and I used some spare leather patches to try out some interesting keyring designs, as well as some laser engravings.
The best feature for leather laser cutting, especially if you're a small business, is the Smart Fill feature which basically lets you batch process leather cuts and engravings.
All you do is click "Smart Fill" once you've lined one design up, and it'll automatically center the design on all the other designs in your build area, using the xTool P2's dual 16MP cameras and depth sensors.
Here's an example I recorded:
Then here are the first tests with engraving leather:
And I also tested out laser cutting and engraving to create a test keyring or other model. These sell really well on Etsy. You can see it below:
The default settings worked great, and you could batch run projects like these very quickly and make good money. The P2 is so much faster at these cutting jobs, especially for thicker leather, as well as acrylics and woods (it can cut up to 20mm in a single pass), that you'll easily earn back your investment from the extra business you do.
I highly recommend it, and I think it's the best desktop CO2 laser out right now – better than the Glowforge Pro and the Gweike.
And, if you already have a D1 Pro and the rotary, the same rotary works perfectly with the P2. Just remember, you'll need the riser base attachment to get the 8.5″ of material height for most rotary projects!
| Mode | Processing Power(%) | Speed(mm/s) | Lines per (cm) | Pass | Bitmap mode |
| --- | --- | --- | --- | --- | --- |
| Score | 7 | 160 | – | 1 | – |
| Vector engrave | 12 | 600 | 100 | 1 | Jarvis |
| Bitmap engrave | 10 | 400 | 100 | 1 | Jarvis |
| Laser cut | 100 | 30 | – | 1 | – |
xTool P2 leather laser engraving and cutting settings.
Best Desktop CO2 Laser
xTool P2 CO2 Laser Cutter and Cutting Machine
Simple the best CO2 desktop laser right now. You can buy this, the rotary, riser base, and the automatic conveyor feeder, and it's still cheaper than a Glowforge Pro.
It's more powerful than competing lasers at 55W, can cut 20mm thick wood in a single pass, and the batch processing and curved surface engraving open up new possibilities for your business.
Pros:
Large processing area

Powerful 55W laser cuts 20mm thick material in a single pass

16MP dual cameras autofocus for easy project preparation

Curved surface engraving in XCS

Batch processing features
Cons:
Can't use all features in Lightburn (but XCS software is really good now)

Mirrors/lenses may be out of focus from transport and require fixing
xTool Store here
We earn a commission if you make a purchase, at no additional cost to you.
---
Ortur Laser Master 3
Pros
Can cut and engrave intricately around borders and other awkward areas, which ideal for intricate leather engraving.
Fast and consistent diode laser.
Offers a range of useful accessories.
Cons
Not as powerful as CO2 lasers, or the 20W version of the xTool D1 Pro.
I own both the Ortur LM3 and xTool D1 Pro, and while I narrowly prefer the xTool, the Ortur has some key aspects which you may prefer.
While it's not the most powerful out there at 10W, its high-quality construction means it's still a suitable leather laser cutter. It compresses two laser beams through light-combing lenses to produce a super fine 0.05×0.1mm spot output. It can cut 12mm wood and 10mm acrylic in a single pass, and the results are similarly impressive on leather.
This translates to a cutting accuracy of 0.01mm, so you can cut and engrave intricately around borders and other awkward areas. So, as well as using it to cut leather, you can also engrave impressive designs onto leather with this machine, as shown by users. The Laser Master 3 is also among the fastest lasers on the market, with cutting speeds of up to 20,000 mm/min.
It can be controlled via WiFi, USB, SD card, and the Ortur Explorer App, so you can choose your preferred method and operate it offline and online from various devices. The Ortur Explore App even has an easy and professional mode, depending on how experienced you are.
Ortur offers a range of useful accessories for the Laser Master 3, including a rotary engraver and a Z axis height adjuster that provides more flexibility regarding the height of projects you can work on.
Ortur sell multiple different rotary options, but I bought the YRR 2.0, which is a DIY kit that took me around an hour to assemble.
Ortur's YRR roller rotary 2.0 is lower quality than xTool's rotary chuck, but it's a $200 cheaper, so it's your choice whether you prefer quality or saving money. I haven't used it to engrave any rounded leather products, but I've engraved on wood, card, and other standard sellable products.
Finally, this laser cutter for leather has seven safety features, including a safety lock, active and sloping position protection, exposure duration limitation, emergency stop, and a current control system. If you want to learn more, my Laser Master 3 review provides a more in-depth look.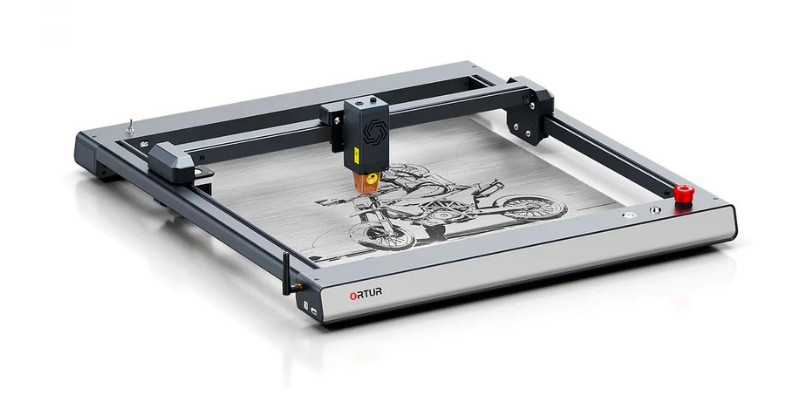 We earn a commission if you make a purchase, at no additional cost to you.
---
OMTech K40 Laser – Affordable 40W CO2 Laser for Leather Cutting
Pros
Powerful and very compact.
A great budget option.
Packs a punch for a small laser.
Cons
The work area isn't great.
K40 is a general term applied to powerful 40W CO2 lasers that are very compact, come in enclosed cases for easy home use, and are affordable.
The wattage is ideal for cutting leather, which is a heat-resistant and tough material, in a single pass. If you were to use a laser with a lower wattage, it would require more passes.
Of course, there are cheap laser cutters out there, but for a 40W laser this price is certainly on the low side. For reference, it's even cheaper than some premium 10W diode lasers. So, it's great if you're looking for a budget option for laser cutting that's still efficient, as the 40W laser is the perfect power for the job.
There are many K40 lasers out there, but the OMTech K40 is our choice as it's manufactured by a well-known and reliable brand that also make a host of more industrial and expensive CO2 lasers.
It packs a punch for such a small laser, allowing you to cut 3mm leather, wood, acrylic, and fabric in a single pass and at speeds of up to 35cm/s.
The working area isn't the largest, but it's a good option if space is at a premium and you only want to work on small leather projects. One of the great things is that, unlike most diode laser cutters, it comes with an enclosure. So, it's very safe and saves you from having to splash out on a separate enclosure, which are often at least $200 – a cost many don't factor in when buying a diode laser engraver for leather.
You can still monitor projects through the viewing window, which is tinted to protect your eyes. There's also an ammeter for monitoring current, a ceramic tube to help you troubleshoot any projects during operation, and an efficient cooling system that directs debris away from the engraving service and improves the cutter's efficiency.
Another benefit is the LCD control panel, which allows you to control your laser engraver offline without needing a computer.
Overall, this is a really solid option if you're looking for a solid, powerful, no-frills laser cutter at a decent price.
---
Glowforge Pro – Premium Choice for Laser Leather Cutting
Pros
Premium.
Powerful and is perfect for cutting and engraving leather.
Designed as an all-in-one solution for beginners, hobbyists, and business owners.
Has some fantastic features.
If you're looking for a truly premium laser cutter for leather, then make sure you check out the Glowforge Pro. It certainly doesn't come cheap, but this is one of the most impressive machines on the market.
This doesn't look like your regular laser cutter due to coming in an enclosed case – in fact, it's marketed as a 'laser printer' and looks like such. At the heart of this impressive machine is a powerful 45W laser, so it's perfect for cutting and engraving leather.
What really sets the Glowforge Pro apart from other lasers of equal power, though, is its intuitiveness. Designed as an all-in-one solution for beginners, hobbyists, and business owners, it has some fantastic features, like live camera previews of your work that you simply don't get with other lasers.
You can also operate using a tablet or phone, whereas many other laser cutters are only compatible with desktop laser cutting software. This is thanks to Glowforge's eponymous software, which is easy to learn and available as a mobile app.
Perhaps the most unique feature, though, is its working area. You can work on leather up to 19.5" wide, but thanks to the Pro Passthrough slot, there's no limit on the length of your workpieces.
Glowforge machines are some of the best supported out there, with great customer service and an extensive range of tutorials and learning resources to help you make the most out of your laser cutter.
Alternatively, the standard Glowforge Basic, and Glowforge Plus, are two more affordable options to consider. They both use 40W lasers, so they're still suitable for cutting leather, although they don't support materials of unlimited length.
Glowforge Pro
Glowforge are the easiest to use lasers for home business owners looking to create cool projects and sell them on Etsy or other stores and make money.
We earn a commission if you make a purchase, at no additional cost to you.
---
How to Choose the Best Laser Cutter for Leather
Laser Power & Speed
Power is arguably the most important consideration when it comes to picking a laser engraver for any job, as it determines the materials you can work with, how deep you can cut, and how fast.
As leather is a tough material and a good resistor of heat, the more power your laser has, the easier it will cut. 30W or 40W lasers are ideal, although you can still cut leather with 20W and even 10W lasers – it's just going to take more passes.
Also, bear in mind that the speeds of different laser engravers can vary a lot. The type of leather you're using, its thickness, and how deep you want to cut or engrave will also impact this.
| Laser | Laser Power |
| --- | --- |
| xTool D1 Pro | 5W, 10, 20W, 40W available |
| Ortur Laser Master 3 | 10W |
| OMTech K40 Laser | 40W |
| Glowforge Pro | 45W |
Software
Some laser cutters for leather, such as the Glowforge and xTool D1 Pro, come with their own custom software optimized for the machines (Glowforge's is cloud-based, though, which complicates things).
In contrast, others don't have this and use third-party software like Lightburn (paid) or LaserGRBL (free and open-source).
There can be pros and cons to both. Custom software from top brands are often very intuitive and are easier for beginners to learn. Some, like the Glowforge software, are also available as mobile apps.
Separate software like Lightburn and LaserGRBL can have steeper learning curves, although some also have more advanced functions. You need to pay for top programs like Lightburn, while LaserGRBL is available for free.
| Laser | Software |
| --- | --- |
| xTool D1 Pro | XCS software |
| Ortur Laser Master 3 | LaserGRBL and Lightburn |
| OMTech K40 Laser | Coreldraw, Laser draw, or Shenzhouyi (included) |
| Glowforge Pro | Web-based software |
Working area
Different laser cutters often have different working areas. Often this is only a matter of an inch or two, but there are some exceptions, namely the Glowforge Pro.
Thanks to the passthrough feature, there's no limit on the length of materials you can use, so it's a lot more flexible than your standard laser cutters which are typically constrained to working on materials of certain dimensions. This makes the Glowforge particularly useful for making long and large leather products, such as belts and bags.
| Laser | Working Area |
| --- | --- |
| xTool D1 Pro | 430x390mm |
| Ortur Laser Master 3 | 400x400mm |
| OMTech K40 Laser | 200x300mm |
| Glowforge Pro | 19.5"x∞ |
Usability
It's important to consider how easy a laser is to set up and use, especially if you're a beginner. Connecting rotary modules with LaserGRBL and Lightburn for engraving leather is not simple, especially if you've never done it before (Snapmaker Luban is surprisingly simple, FYI).
Brands like xTool and Glowforge have their own apps that are designed to allow you to easily operate your laser without complex software.
So, these are somewhat more intuitive than the likes of the OMTech K40, which don't offer any similar functionality.
Glowforge are known for making the most user-friendly and beginner-friendly lasers, but they're also amongst the most expensive – though for selling higher-priced leather goods they can be worth it.
Budget
Laser cutters can vary in price, from a couple hundred dollars to over $5,000, so it's essential to know exactly what you need to ensure you get good value.
For example, the Glowforge Pro is very expensive, but it's extremely intuitive and can cut leather in a single pass. In contrast, the likes of the D1 Pro and Laser Master 3 will require more time and finer tuning to cut leather accurately, but they cost around 10x less.
So, we recommend factoring in how much leather you want to cut, how fast you need to do it, and other factors like your experience level to help you find a suitable cutter within your budget.
| Laser | Working Area |
| --- | --- |
| xTool D1 Pro | $699 |
| Ortur Laser Master 3 | $699 |
| OMTech K40 Laser | $479 |
| Glowforge Pro | $6,995 |
What Leather Projects Can You Make with a Laser Cutter?
A lot depends on the size of your laser cutter, but with the right machine, there's a whole world of possibilities. For example, you can use a laser cutter to make leather wallets, jewelry like leather bracelets, belts, home crafts and decorations, cases, and much more.
As well as being used to cut leather, you can also engrave leather with a laser. Etching and engraving leather produces debossing effects, and if used correctly, creates clean color contrasts, so you can add patterns, designs, and more to leather pieces.
With larger laser cutters, you can even process leather for bigger projects, such as if you want to make your own leather bags.
FAQs
What laser will cut leather?
Most lasers, including diode and CO2 lasers, will cut leather, although you want at least 10W power. A 40W laser is ideal – anything under will likely require multiple passes to cut leather.
How much laser power does it take to cut leather?
40W is the ideal laser power to cut leather in a single pass, due to it being a tough and heat-resistant material. You can also cut leather with 10W, 20W, and 30W lasers, but it will require more passes.
Does Glowforge work on leather?
Yes, all Glowforge models are capable of cutting leather, although the 45W Glowforge Pro is the best option for this.
Related Articles: