The Best Ender 3 Laser Engraver Upgrades (V2, Pro, S1)

At CNCSourced, we're a team from across the world, united by our passion for everything CNC, laser cutting, and more! We try to publish at least once per week, and we're always up for talking anything DIY and making! Altogether we've written over 150 technical guides, from how to wire stepper motors, to brand-new ways to CNC carve granite with $5. You can read more about us on our about page.
In this guide, we look at the best Ender 3 laser engraver modules you can buy, explain how to install a laser onto your Ender 3, and examine the pros and cons of upgrading your Ender 3 into a laser engraver.
I've personally owned an original Ender 3, and more recently tested and reviewed the Ender 3 V2 Neo, and the Ender 3 S1 Pro, and I have included which Ender 3 models each laser attachment is compatible with.
Best Ender 3 Laser Engraver Kits – Full Round-Up
Can The Ender 3 Laser Engrave?
Yes, by using the Creality laser engraver for Ender 3, you can engrave soft materials like wood, acrylic, and aluminum.
Best Ender 3 Laser Engraver Kits
Ender 3, 3 Pro, 3 V2 Laser Module 
First up is Creality's most affordable laser add-on for the Ender 3, 3 Pro, 3 V2, and other models, including the Ender 5 series. 
As a 0.5W diode laser, this module is fairly weak compared to specialized laser engravers (which typically have at least 5W power) and is only suitable for engraving soft materials like leather, acrylic, and wood. 
However, it's a very budget-friendly option and is easy to use. You can simply attach it to the toolhead using the magnetic clips and get started within minutes.
Our Ender 3 V2 laser engraver review found that the magnets on the laser are strong but brittle, and can become damaged over continue use.
If you want to use the Ender 3 laser engraver for metal etching, bear in mind it can only perform shallow etchings on some metals like aluminum, and isn't suitable for working with steel or other hard metals.
We earn a commission if you make a purchase, at no additional cost to you.
---
Ender 3 S1 & S1 Plus Laser Engraver 
Creality offers a separate laser module for the Ender 3 S1 and S1 Plus modules that is slightly more powerful than their standard engraver, with 1.6W power rather than 0.5W.
This isn't particularly powerful as far as laser engravers go, but it provides slightly faster and deeper etching than the 0.5W module. It can engrave acrylic, wood, bamboo, card, and fabric, but you still can't engrave metal with this Ender 3 S1 laser engraver.
Some people say you can't really cut anything with a 1.6W (or 5W) laser, but I have personally cut thin wood with 1.6W, 5W, and 10W lasers I own. It'll take you a fair few passes though, and it isn't as fast as a more powerful 20W laser.
It is, however, intuitive to use, allowing you to adjust and fix the focus of the laser easily. It's also a very safe laser engraving module, with updated eye protection and a built-in air filter that purifies smoke and filters dust.
The laser has an effective heat dissipation system that allows it to work continuously. It has a long service life of over 10,000 hours, which is pretty competitive compared to other engravers (like CO2 laser tubes).
It's very easy to attach and get up and running – you just need to install it onto the fixing plate using the included screw and plug in the power cord. If you're using an S1 or S1 Pro you'll also need to download the Creality laser firmware, although the S1 Plus firmware includes this. 
We earn a commission if you make a purchase, at no additional cost to you.
---
Updated Ender 3 Laser Upgrade Module
This is a more expensive option but is also more widely compatible. As well as being suited to the aforementioned models, it works as an Ender 3 V2 Neo engraver and is compatible with the original Neo, Max Neo, the CR-10, CR-10 Mini, and the Ender-2 Pro. 
Notably, this module is significantly more powerful than the previous two we reviewed, with 5W power – the same as entry-level diode lasers like the Ortur LM2 sported. This broadens the materials you can work with as it can etch metal spray surfaces and treated metals like matte stainless steel and anodized aluminum, and cut thin softwoods.
It's also slightly more precise, with a 0.06mm laser spot that can achieve finer engraving. Another benefit is that as well as using it online, you can also use this module offline by inserting a TF card with g-code into your Ender machine, so you don't even need a computer to operate it.
You can convert your Ender 3 to a laser engraver with this module in a matter of minutes, and you can easily adjust calibration using the dials on it.
Overall, we'd recommend this module over the other two for most users due to its wide compatibility, increased power, and the fact it's still affordable.
We earn a commission if you make a purchase, at no additional cost to you.
---
10W Creality Ender 3 Laser Engraver
This 10W engraver is the most powerful module made by Creality and is more in-line with that you'd get if you purchased a standalone laser engraving machine, like the xTool D1 Pro 10W, or Ortur Laser Master 3.
It's compatible with the same wide range of machines as the 5W module and works with the same materials. However, the doubled 10W laser power means considerably faster and deeper engraving and cutting. 
For example, according to Creality, this module can cut 12mm balsa wood in a single pass. In comparison, the 5W module cuts 5mm balsa, while the 1.6W module cuts just 0.05mm on the same material. 
It has the same 0.06mm spot size as the 5W for precise engraving, and it can also be used offline with one-button control. It's also super easy to attach and install, and with some Ender 3 models, you don't even need to update the firmware.
We earn a commission if you make a purchase, at no additional cost to you.
---
Endurance Laser 
Endurance Lasers produce a variety of different laser engravers that are compatible with most 3D printers, including Ender 3 models.
There are various lasers available on the Endurance website, ranging from 4W to 20W, so some offer significantly more power than those available from Creality.
Ender also offers infrared and fiber lasers, whereas all of Creality's are diode lasers. Infrared and fiber lasers have shorter wavelengths and are more concentrated, which makes them much more suitable for metal engraving and working on steel, silver, gold, and other metals.
However, Ender's lasers are more expensive than Creality's, and also more difficult to attach to your Ender 3. This Endurance guide to adding its lasers to an Ender 3 or 3 Pro details the steps needed, which include switching the motherboard and mount.
Endurance lasers are worth considering if you have some experience with laser engraving and are looking for a powerful module to add to your Ender 3. However, they're probably not the best option for beginners.
Pros and Cons of Ender 3 Laser Engravers – are they worth it?
It's important to consider the pros and cons of using an Ender 3 laser cutter. Let's start by looking at the benefits.
Pros: Low cost and convenience
The main advantages are the low cost and convenience. Creality's Ender laser engraver modules are very affordable, and the Ender 3 models themselves are also priced fairly. This means you can have a dual-purpose machine that's more affordable than many standalone 3D printers and laser engravers.
There's also the convenience of being able to easily install the laser modules within 15 minutes. This saves you the cost, effort, and space of having to purchase a separate engraving machine and is a good option for beginners who are starting out in laser engraving.
Cons
The drawback of using an Ender 3 laser engraver kit is that the laser modules are less powerful than those used in most specialized engraver machines. This results in slower and less-fine cutting and means you can only really perform basic projects on soft materials like acrylic and wood – the Ender 3 lasers aren't suitable for engraving metal.
So, the Ender 3 laser engravers are worth considering if you are primarily interested in 3D printing but want to try out laser engraving and work on basic projects. However, if you're looking for a powerful, faster laser that can work with metals and is suitable for more demanding projects, you're best off with a specialized laser engraving machine.
How do you turn an Ender 3 into a laser engraver?
You can easily turn an Ender 3 into a laser engraver with a Creality laser module attachment. All you need to do is swap the 3D printing head with the laser module, plug in the power cord, download the firmware and you're good to go.
Buying Guide – Things to consider when choosing an Ender 3 Laser Engraver
Power
This is probably the most important factor to consider when searching for the best laser engraver for Ender. A laser engraver's power is measured in Watts (W) and determines the materials you can work with, the engraving and cutting depths you can achieve, and the speed at which you can work. 
Creality's Ender 3 laser engravers are available in many power variations, from 0.5W to 10W, and you can get even more power if you use a third-party laser, like an Endurance one. However, the more power, the more money it's going to cost, so bear this in mind.
What projects you want to make
As we've touched on earlier, different Ender 3 lasers have different capabilities. The weaker 0.5W and 1.6W modules are best suited to basic crafts and working with materials like card and leather, or engraving acrylic and wood. 
If you want to make projects that involve a lot of cutting rather than just engraving, going for a more powerful 10W model is going to make your life much easier. Similarly, this is the minimum power you want for engraving metals with your Ender 3 laser engraver.
Compatibility of your choice with Ender 3 
Finally, you need to make sure you find a laser that works with your specific Ender 3 model. For example, if you're looking for an Ender 3 S1 Pro laser engraver, then unfortunately Creality's 0.5W laser isn't compatible.
If you want to use a laser from a separate brand like Endurance, bear in mind that this is likely going to be more complicated and take longer to attach to your Ender 3.
Specialist Laser Alternatives to the Ender 3 
If you think you need more power than what the Creality Ender 3 laser engraver provides, here are a couple of alternatives to check out.
Creality Standalone Lasers
Creality actually offers two standalone laser engraving machines that come as full kits rather than just an attachment for your Ender 3. The 5W laser engraver costs $199, while the 10W kit will set you back $493.
They both use the same 5W and 10W lasers we've reviewed further up and are pretty similar aside from their power differences. Both are made of high quality, all aluminum frames which are really sturdy, and have dual stepper motors for fast movement and engraving speeds of up to 10,000mm/min.
The benefits these provide over using your Ender 3 laser engraving are great stability, larger engraving areas, and the benefit of not having to switch modules when you want to 3D print.
We earn a commission if you make a purchase, at no additional cost to you.
---
xTool D1 Pro
The xTool D1 Pro is one of the best laser engravers on the market. Available in 10W and 20W, this machine uses dual compressed laser beams with an ultra-fine spot of 0.08×0.06mm and a moving accuracy of 0.01mm, so it makes for extremely crisp and clean engraving.
Its all-metal frame is super sturdy, the linear motion is second to one, and xTool has its own laser engraving software which is really intuitive and suitable for both beginners and experienced engravers.
Another great thing about this machine is that xTool also offers a separate infrared laser head for it. Infrared lasers are far more suitable for metal engraving than diodes due to their shorter wavelengths, allowing you to work on materials like untreated stainless steel, gold, and silver. 
xTool also offers a rotary module which is ideal for working on circular objects. Coupled with the infrared laser, these make the D1 Pro one of the best jewelry laser engravers you can.
---
Ortur Laser Master 3
Ortur is one of the biggest manufacturers of home laser engraving machines and the Laser Master 3 is among its most popular models.
This 10W laser engraver is one of the fastest on the market, with engraving speeds of up to 20,000mm/min. It also offers extremely precise engraving, with an incredibly fine 0.05×0.1mm compressed spot that provides amazing results across a wide variety of materials, including metals like aluminum.
The Laser Master 3 also really stands out for its usability. You can use it via WiFi, USB, or offline with an SD card, and you can control it using Ortur's intuitive mobile app. There's also a wide variety of accessories available, including a rotary module and height adjuster, to take your engraving to the next level.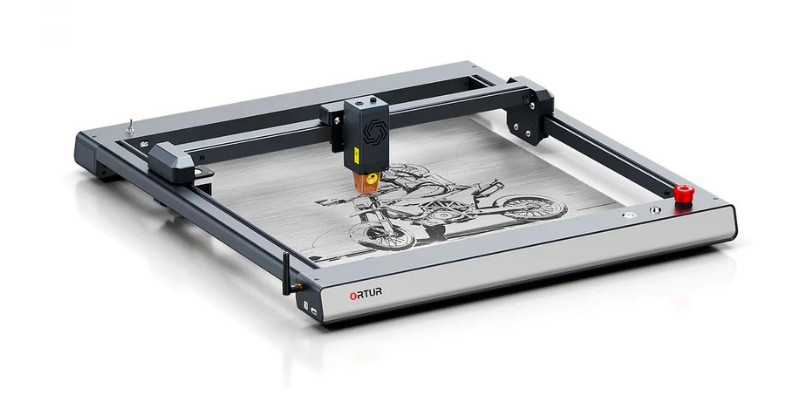 We earn a commission if you make a purchase, at no additional cost to you.
---
FAQs
What materials can the Creality laser engraver cut?
The Creality Ender 3 laser engraving can cut thin, soft materials like paper, acrylic, leather, and some wood, and it can also etch soft metals like aluminum.
Can you add a laser engraver to the Ender 5?
Yes, you can purchase an Ender 5 laser engraver from the Creality website.
Is there an Ender 3 Pro laser engraver?
Yes, this is available from the Creality store and can also be used as an Ender 3 v2 laser engraver.
Is there Ender 3 laser engraving software?
Creality recommends using Lightburn and LaserGRBL for laser engraving on the Ender 3.
Related Articles: