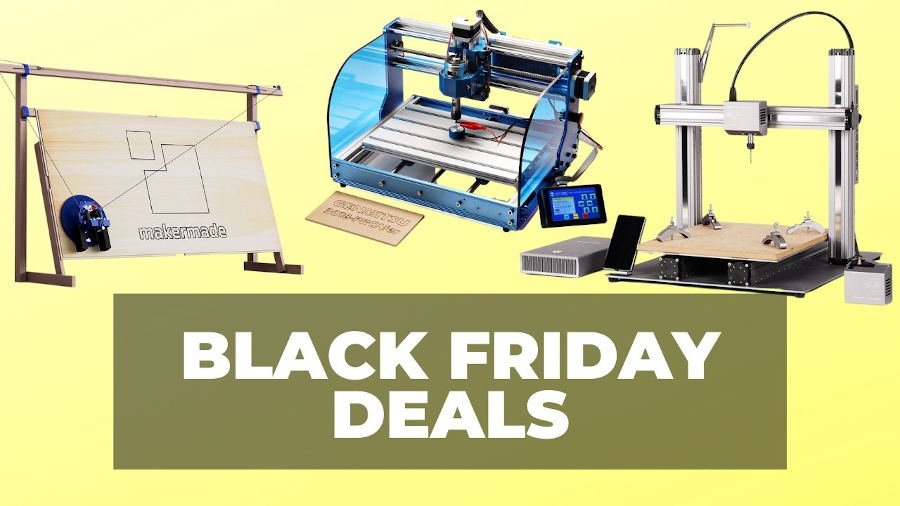 Here's a list of all the major CNC router and CNC machine 2023 Black Friday deals, and links to their insane range of discounted offers.
We also have an article covering the best laser cutter and engraver 2023 Black Friday deals.
CNCSourced is reader-supported. When you buy through links on our site, we may earn an affiliate commission. Learn more
Amazon
Access all of Amazon's CNC machine deals here
Amazon is the world's largest seller of affordable and accessible CNC machines.
Key deals:
Sainsmart
Access all of Sainsmart's Black Friday deals here
Sainsmart holds one of the largest selections of 3D printers, CNC machines, and engravers on the market, and focuses on putting the power back into the maker's hands.
Sainsmart's Black Friday deals will run from Nov 17 to Nov 28 PST.
Flash Sales on Nov 24 & Nov 27 @ 8 am PST
Key deals:
Matterhackers
Access all of Matterhackers Black Friday deals here
Matterhackers are one of the world's biggest 3D printer, CNC router, and filament resellers.
Key deals:
Click this link and use code SNOW_MANY_DEALS during checkout! Offer ends 11/27/2023.
Snapmaker
Snapmaker may be home to the popular 3-in-1 3D printer, but this machine has garnered worldwide attention for its laser cutting and engraving capabilities. They have up to 40% off for Black Friday!
Highlights:
Save up to $900.
Two 6-hour Flash Sale on Nov 24.
Discounts on machines, modules, and more.
For more details about the Black Friday Sale, please click here.
Key deals:
MakerMade
40% off! Just click this this link, and use code BLACKFRIDAY!
Key deals:
OpenBuilds
Black Friday page: View all the OpenBuilds deals here
Key OpenBuilds Black Friday Deals