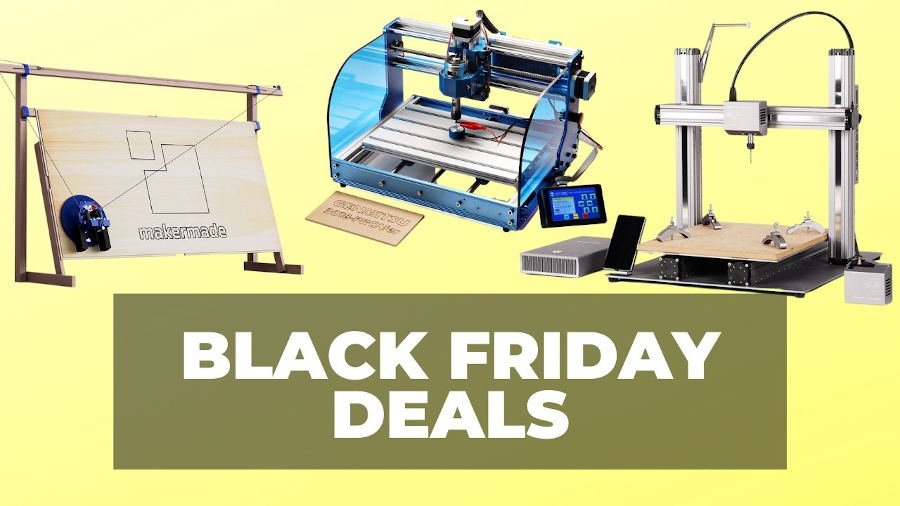 It's that time of year again when most of our sense goes out the window in support of some of the best deals of the year. When dealing with $1000+ machines, it's foolish not to take advantage of the annual Black Friday mania, and this year CNC is making its mark.
From entry-level to professional-grade cutters, routers, and engravers, here is a list of all the major store's 2021 Black Friday deals, and links to their insane range of discounted offers.
We also have an article covering the best laser cutter and engraver 2022 Black Friday deals.
CNCSourced is reader-supported. When you buy through links on our site, we may earn an affiliate commission. Learn more
Amazon
Amazon is the world's largest seller of affordable and accessible CNC machines.
Key deals:
Sainsmart
You can use our exclusive discount code for an additional 30% off some products too: EBF30A.
Sainsmart holds one of the largest selections of 3D printers, CNC machines, and engravers on the market, and focuses on putting the power back into the maker's hands.
Key deals:
Matterhackers
Matterhackers are one of the world's biggest 3D printer, CNC router, and filament resellers.
You'll need to click any of the links you're interested in, and enter code BESTDEALS to get access to these.
Key deals:
Snapmaker
We have an exclusive discount code for an EXTRA 5% off ALL Snapmaker products – including pre-orders!
Just click any of the links below, and use code BFAFF5 at checkout.
Snapmaker may be home to the popular 3-in-1 3D printer, but this machine has garnered worldwide attention for its laser cutting and engraving capabilities. They have up to 40% off for Black Friday!
Key deals:
MakerMade
Key deals: