Laser cutters and laser engravers are similar machines that can cut or engrave images or shapes into tough materials. Industrial laser cutters can cut even the toughest metals like stainless steel and nickel, whereas more affordable laser cutters, such as DIY laser cutter kits, can cut wood, acrylics and other softer materials.
Invented back in the early 1960s as CO2 lasers that could cut soft woods like MDF as well as acrylics, affordable laser cutter kits starting at just a few hundred dollars can cut accurate wooden parts for DIY projects.
BUDGET OPTION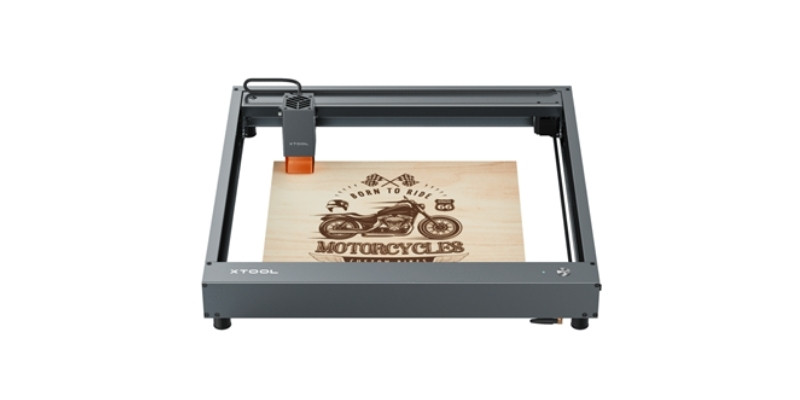 xTool D1 Pro
The best diode laser around – and best under $1000
High-quality steel build for smooth laser movement
10W power (with 5W and 20W options) and 400mm/s speed
Available at:
PREMIUM PICK
Glowforge Pro
The crème de la crème of laser engraving & cutting
Innovative "proofgrade" materials
Handles large-scale projects
Available at:
Having tested many of the best laser cutters and engravers, we created our recommendations for the best laser cutting machines in each price range, for each use, and more. We also link to some of our detailed reviews, such as machines like the Snapmaker 2.0, Ortur Laser Master 2 Pro, and more.
CNCSourced is reader-supported. When you buy through links on our site, we may earn an affiliate commission. Learn more
The Best Laser Cutters & Laser Engravers 2022 – Reviews
1. Atomstack A5 20W — cheapest home laser cutter
Most CNC laser machines in the lower price ranges don't come with a laser protector on the laser head (another that does is the Ortur Laser Master 2 Pro), which filters the large majority of UV light away to protect your eyes. Atomstack says this allows you and your friends to be in proximity to the laser engraver while it works without goggles, making it perhaps the best home laser cutter if you're on a budget.
For the low price, it's an effective laser engraving machine — with a high-performance 20W laser head that engraves, as well as cutting up to 1/8th of an inch wood and acrylic depths.
It's super easy to build, with a sturdy metal frame that you can fully assemble in just 10-20 minutes, and features auto focus modes to save you hassle or human error. The 50% smaller focal spot makes for precise engraving (up to 0.01mm precision) as well as relatively powerful cutting — though if you want to cut thicker woods, or generally tougher materials, go with a more powerful laser cutter.
It's versatile and you can use it with many of the popular laser software such as LaserGRBL and Lightburn, and overall it's one of the most popular and best value low-cost laser engravers around.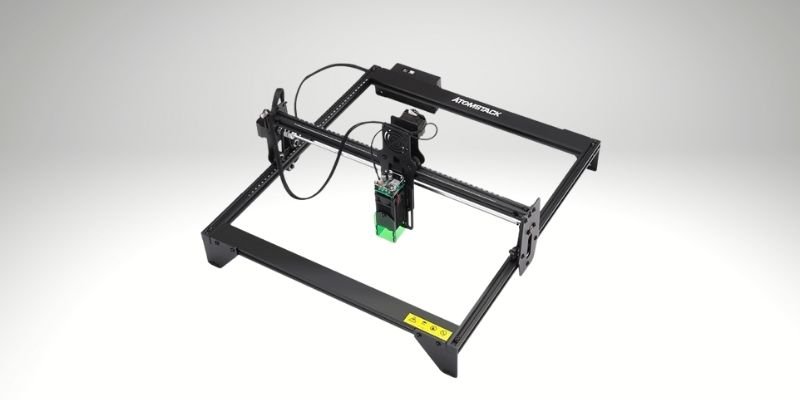 ---
2. Ortur Laser Master 2 / 2 Pro — best laser cutter for beginners (engraving and cutting)
The Ortur Laser Master range has become known as the most versatile, effective and best diode laser engraver range around, with tradespeople using it to engrave leather products, CNC hobbyists using it for wood engraving and cutting, and many other uses.
Depending on the power you need for your next project, you can pick between the 7W, 15W and 20W laser cutter options, and for the power it's actually very light, weighing around 4kg in total.
We built our Ortur Laser Master 2 in around 45 minutes, and even beginners shouldn't have too much trouble — it's designed to be accessible for the less DIY-inclined, and hobbyist makers will really appreciate how simple Ortur have made the assembly process. It comes mostly assembled, you just need to attach the main parts like the four sides, laser head and a few screws.
It's powerful, and made really great looking contrasting images on the woods we tested with it. And if you want an even better laser engraving experience, go for the Ortur Laser Master 2 Pro, for a couple hundred dollars extra. Overall, we recommend is as the best laser cutter for beginners, and one of the best consumer laser cutters and engravers around.
Still not convinced? Read our review of the Ortur Laser Master 2
Or, check out our review of the Ortur Laser Master 2 Pro
---
3. xTool D1 10W – Best Diode Laser & Best Laser Under $1000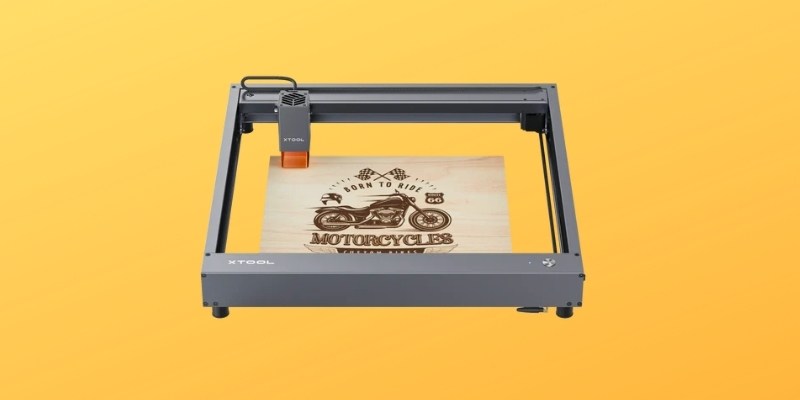 The xTool D1 10W is the best diode laser in our opinion, along with the new Ortur Laser Master 3. Depending on your priorities, they basically go head to head, with a better-quality steel frame on the xTool, versus a cheap rotary roller and better safety and connectivity on the Ortur.
The xTool D1 10W uses dual 5W lasers to create the end result of 10W power, in the same way that the Ortur LM3, and Snapmaker's 10W laser add-on, also do.
But with the xTool you get more choice: if you don't need 10W power, you can buy a 5W version for $200 less and stick to mostly engraving, or get the souped up 20W version for cutting 0.6mm or thicker basswood or acrylic sheets in a single pass.
Other variations available include:
The work area is larger than the Ortur too, but only by around 5%. But, you can buy an extension kit that takes your work area up to an incredible 936 x 432 mm for enormous engravings.
It's accurate (0.01mm precision, 0.08 x 0.06 mm spot size), reliable with the sturdy frame and steel wheels and rods and protected belts, and safe. The software that comes with the xTool is also really user-friendly, and better than the likes of Snapmaker Luban in our opinion, but you can also use it with LightBurn instead. There's the Laserbox iOS app for connecting via iPad or similar device.
In our opinion, this is a top buy for a diode laser under $1,000, and ideal for fun projects, cutting acrylic or wood, and for running a small Etsy business engraving signs or images, as well as cutting coasters, jewelry, or other fun projects.
---
4. Ortur Laser Master 3
We've tested all 3 of the recent Ortur lasers: the LM2, 2 Pro, and now the Ortur Laser Master 3 — and they've all been great.
The xTool D1 has been released since the Ortur LM2 Pro however, with a more powerful 10W laser and better build quality, so the pressure was on Ortur to leapfrog xTool with the Laser Master 3.
To this end, Ortur have done well. Both products are very similar and have slight advantages over each other: the xTool has a slightly larger build volume and an extension kit option, but the Ortur has a cheaper rotary kit (though it's a roller vs the higher-quality chuck on the xTool D1) and can reach 20,000mm/min speeds, whereas the xTool only reaches 10,000mm/min – though the xTool D1 Pro can reach 24,000mm/min.
If you have around $700 to spend (and it could reach $1000 with accessories for air assist, enclosures, aluminum honeycomb tables, and rotary add-ons) then these two are your top picks.
Whether you prefer the cheaper rotary add-on, slightly larger work area, slightly better build quality of the xTool, or more accessible emergency stop button on the Ortur, both will be able to fulfill all your basic diode laser engraving needs.
Read the full review: Ortur Laser Master 3 review
The comparison: xTool D1 Pro vs Ortur LM3
---
5. Orion Motor Tech 40W CO2 Laser Engraver & Cutter
A highly rated and low-cost laser engraver, the Orion Motor Tech 40W laser cutter offers a decent 300 x 200 mm engraving area for the price, and can cut between 2-3mm depth, depending on the material.
It's a versatile yet cheap laser cutter, able to cut and engrave plastic, leather, and rubber as well as wood, and has a number of optional upgrades to improve its cutting performance.
Compared to other cutters like the VEVOR 40W it's very fast for the price, with up to 80mm/s cutting speed. This makes it perfect for beginners and hobbyists looking for a lower cost entry-level laser engraving machine, as well as a specialist laser cutter for casual woodworking projects that makers of all skill levels will enjoy.
Other OMTech options include:
---
6. Snapmaker 2.0 — with 10W laser cutter add-on
Bigger, better, and even more popular than the original Snapmaker, the Snapmaker 2.0 raised almost $8 million on Kickstarter when it was first crowdfunded, and is now one of the most popular laser engravers and 3D printer & CNC all-in-one machines around.
It comes in three sizes depending on how large you want to get with your CNC projects or laser cutter projects, and can be changed into any one of the three possible tool heads in just a few minutes. Having tried out and tested the largest model, the Snapmaker 2.0 A350, we highly recommend it as a laser engraver and cutter — that can also 3D print and CNC carve.
Read our full review: we tested the Snapmaker 2.0 CNC and laser cutter/engraver
Read more: the best laser engraver and rotary module combos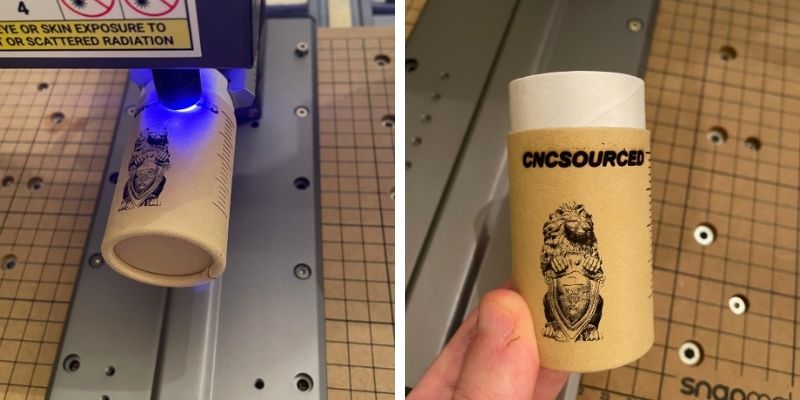 For your money, you get the standard laser engraver that can create stunning imagery and contract images on materials like wood, acrylic, leather and other fabrics. It's accurate — improved on the original — and you can seamlessly calibrate the laser using the built-in camera calibration.
The default Snapmaker 2.0 works as a basic laser cutter for softer, thinner woods. We managed to cut the wooden gift box shown below using the default laser toolhead. But for tougher material cutting, we recommend purchasing Snapmaker's new 10W powerful laser add-on. You can also buy an enclosure which filters the laser light out, as well as any fumes.
The CNC toolhead works with walnut and PCB woods, carbon fiber, acrylics and some hardwoods. It's faster and more efficient than the Snapmaker Original, and coupled with the larger build volume means you can get through larger projects quicker than ever before. We used the 4-axis rotary module add-on, turning the laser engraver and CNC carving modules into a 4-axis turning lathe, and managed to carve out some beautiful looking pieces, as well as engraving a cylindrical gift box.
3D printer part prints standard filaments like PLA, ABS and TPU. You can print remotely via WiFi as well as using the USB port, and the touchscreen makes the Snapmaker 2.0 easy and efficient to navigate and print with. If you run out of filament mid-print, the filament detector will automatically pause your print so it doesn't get ruined, so you can then insert another spool and keep going.
Overall, it's a great all-in-one laser cutter option that can handle all your basic CNC and 3D printing needs in one versatile package, and we highly recommend it.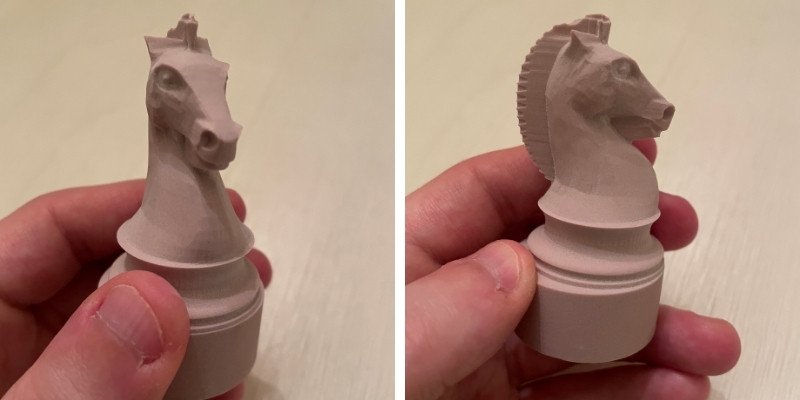 ---
7. Ten-High CO2 40W 110V laser engraving cutting machine
A powerful and specialized machine, the Ten-high 40W laser engraver and cutter is one of the best laser cutters for the price. Featuring a large 300 x 400 mm laser engraving area it can handle even larger projects, and engraves quickly at up to 500mm/s, cutting at up to 30mm/s.
This new laser cutter model by Ten-High features upgraded rotary axis for better engraving on rounded and circular workpieces and less size restrictions, as well as an improved double door.
The machine's digital display makes monitoring progress and temperature easy and convenient, and it comes with their software for a full cutting and engraving workflow.
The powerful 40W CO2 laser can cut depths up to 4mm in acrylic, 3mm in software woods like cork, and up to 2mm in hardwoods. However, it can't engrave metal, requiring a far more powerful and industrial laser cutter.
Overall, it's a very good laser cutter and engraver, suited to all but metal cutting needs.
---
8. BobsCNC Evo 3 / Evo 4 Cutters & Engravers
Not technically a laser cutter, but an accomplished cutter of wood nonetheless. Instead, the BobsCNC machines are DIY CNC routers that cut wood using strong rail systems that accurately control the X and Y axes.
As well as being a natural CNC router, you can buy add-on cuts such as these that turn your Evo 3 or 4 into a powerful 7W laser. This added versatility, for example for engraving a design on a wooden part you have CNC carved, turns your Evo 4 into an all-in-one manufacturing kit akin to the Snapmaker 2.0 — just with more powerful CNC and laser toolheads.
Both the BobsCNC Evolution 3 and 4 have the same specs, the only real difference is the sizes they can cut: 24" x 24" for the Evo 4 vs 18" x 16" for the E3. Both have fantastic up to 0.002-0.004" repeatability and accuracy, though the Evo 4 has a sturdier metal frame which can make for more precise cutting.
Rather than image files typically used with laser engravers and cutters, these CNC cutters and engravers instead use their custom software to generate G-codes for cutting and engraving.
Though it does not excel in soft material engraving, such as on vinyl or other thin and easily breakable materials, for accurate and deep cutting, these CNC engravers and cutters are highly rated, precise and durable.
---
9. Flux Beamo
As the fun-sized budget option in Flux's range of laser cutters and engravers, the Beamo is one of the most portable yet feature-heavy machines on this list.
Flux sacrificed nothing to bring you this sleek and compact design, continuing to provide high-end features like autofocusing, an HD camera, and software integration with the top names in the game like Autodesk, Adobe, and CorelDraw.
The Beamo is also compatible with versatile upgrades like a rotary module and hybrid laser technology which lets you cut and engrave even faster and deeper. Smart integrations like the drag-and-drop feature in Beam Studio and wireless connectivity truly give this machine a unique experience.
This machine was definitely built for the creative geniuses at heart, that want a portable but versatile option to bring their designs to light.
---
10. FSL Muse Core
The FSL Muse Core is a DIYer's delight because of its fantastic customizability.
The standard version comes with a 40w laser tube that cuts up to ¼ inch of material, a removable honeycomb bed, modern LCD touchscreen control, and the powerful and user-friendly RetinaEngrave v3.0 software.
However, it's the upgradable accessories that make this machine a beast. With an optional 45w laser tube, Intel RealSense 3D camera, and motorized autofocus, this mid-range hobbyist laser cutter suddenly becomes a top-of-line model packed with automated features that promise to streamline your workflow.
These upgrades don't come cheap, so this is only for serious hobbyists or small businesses that will really take advantage of all the high-level specs this machine has to offer.
---
11. Glowforge Plus
Glowforge's mid-range Plus model includes a powerful 45W CO2 laser and water cooling, air compressing and filtering features for safe and effective cutting and engraving.
Ideal for business use as well as home prosumers and in schools, the Plus can cut and engrave wood, leather, acrylic, glass, and even anodized aluminum and titanium. Depending on the material used, the Glowforge Plus laser cutter can cut 10-12mm depths, and engraves twice as fast as the entry-level Glowforge Basic.
The cameras let you preview your work live and offer autofocusing, and can be operated and monitored simply using Glowforge's free and web-based browser laser cutting software. Mac users needn't worry as the Plus is Mac-compatible.
---
12. Glowforge Pro — Unlimited Size Laser Cutter
Glowforge's most remarkable machine, the Glowforge Pro, sells itself as a 3D laser printer as it can print out enormous, cut objects perfect for furniture, signage and a host of other uses.
Featuring a "passthrough slot", you can potentially cut unlimited length parts on the Pro. Several-meter-long wooden parts can be created, as they can keep passing through the laser cutter as it cuts or engraves. Rather than having to cut dozens of smaller pieces for a large wooden or other project, the Glowforge Pro does it all in one!
Additionally, the Pro engraves up to 3x faster than the Basic, and cuts 20% faster for a more efficient workflow. The camera can live preview your project, and the Pro also features improved cooling systems so you won't have any issues with overheating no matter how much you use it.
Optionally, you can buy Glowforge's Air Filter upgrade for an additional $995.
Read more: the best Glowforge alternatives
---
What is Laser Cutting?
Laser cutting is the process of intensifying light beams using optical amplification to create high-powered lasers, which are then used to cut or engrave the desired materials. Controlled by a motor system in the machine, the laser will cut and engrave your desired design or pattern. The machine knows how to manipulate the laser because it's instructed by the design software you use to create the image.
The results are sharp and precise and are created in the nth of the time it would take using traditional methods.
As far as what laser cutting and engraving can be used for, the possibilities are endless. Personalize leather wallets, streamline furniture constructions, and even engrave your own logo onto a cup! Laser cutters work on dozens of materials, giving you plenty of ideas to accomplish.
What Can Laser Machines Cut?
The real question is what can't these machines cut, and this all depends on how powerful your machine is.
Most low-cost laser cutters and engravers will only work with soft materials like leather, softwood, paper, fabric, and rubber, while more expensive options will also handle harder materials like glass, stone, acrylic, and metal.
In general, here is an overview of what common materials can be cut and engraved (though this depends on your laser cutting machine):
| | | |
| --- | --- | --- |
| | CUT | ENGRAVE |
| Leather | ✅ | ✅ |
| Acrylic/Plexiglass | ✅ | ✅ |
| Paper | ✅ | ✅ |
| Cork | ✅ | ✅ |
| Fabric | ✅ | ✅ |
| Cardboard | ✅ | ✅ |
| Wood | ✅ | ✅ |
| Aluminum | ✅ | ✅ |
| Glass | ✅ | ✅ |
| Stainless Steel | ❌ | ✅ |
| Stone | ❌ | ✅ |
| Ceramic | ❌ | ✅ |
| Bone | ❌ | ✅ |
Types of Laser Machines
There are three main types of lasers that you'll encounter during your searches, these are fiber, CO2, and crystal lasers.
CO2 lasers, or gas lasers, are one of the more common types seen for at-home and small business use. It works by running electricity through a gas-filled tube, which is usually a mixture of gases like CO2, nitrogen, and helium. There are mirrors on each end of the tube, one reflective and one partially reflective, that let light through for the beam.
CO2 lasers range from 25 to 100 w tubes and are best for non-metallic materials. So wood, acrylics, leather, textiles, and glass all do well with a CO2 laser.
Crystal laser cutting on the other hand works by generating beams from nd:YAG (neodymium-doped yttrium aluminum garnet) and nd:YVO (neodymium-doped yttrium ortho-vanadate) crystals. These high-powered lasers are reserved for industrial use and work best with coated and non-coated metals and plastics.
And lastly, fiber laser cutters use fiberglass to amplify a "seed laser", and belong to a class called "solid-state lasers" alongside nd:YAG. Fiber lasers work well with metals and offer a more stable and energy-efficient alternative to crystal lasers. They can be used at home and for small businesses for metal laser cutting.
Laser Cutters vs Laser Engravers
Both techniques use custom models or designs to create accurate parts and models. Most laser cutting machines can do both, depending on the laser's power and depths it can cut. There are however a few subtle differences between the two:
Laser Cutters: laser cutters use powerful lasers to cut entire pieces off your workpiece to create your final model. These cutters typically use vector files to accurately cut your chosen part, shaving chips off and smoothly separating these areas off in a process of subtractive manufacturing. Laser cutters typically use CO2 lasers, and even cheap laser cutters can cut quickly through acrylics, plastics and wood.
Laser Engravers: rather than cutting all the way through the material, laser engraving machines engrave an image, logo or graphic on top of your chosen material. Engraving is often used for branding products or signage, but can also be used to engrave entire greyscale artwork onto wood. This is done via image files such as jpg, svg, png or ai files, using methods such as grid engraving where the laser moves horizontally, line by line, removing certain depths of material to create a contrasting and readable image. Engravers use short focal length lasers with fine spot sizes for accurate engraving.
Laser marking is also a process wherein rather than engraving or cutting, physical contrasting marks are made on the material by heating it to separate elements that show up to the naked eye, without making any indentations.
Advantages of Laser Cutters vs CNC Mills
Laser cutters are very precise and accurate and can cut and engrave very quickly. For the same power, they're usually cheaper than CNC routers, and can cut a variety of materials.