Large-format laser cutters are essential for working larger projects like signs and furniture.
In this guide, I'll review the best large laser cutters and engravers. I'll look at various options for different budgets, ranging from beginner machines under $500, to professional large laser cutters for business owners.
Working Area:

810x460mm (extends to 810x1030mm)
Working Area:
810x460mm (extends to 810x1030mm)
09/29/2023 01:11 pm GMT
Best Large Laser Cutters & Engravers – Full Round-Up
Best Large Laser Cutters & Engravers
Neje Master 3 Max and Extension Kit – Cheaper Large Laser Cutter
Pros
Very cheap compared to other large laser cutters
Can double the engraving size with extension kit
Choose between two different laser modules
Mobile app for designing and operating the laser
Cons
Lacks the power and precision of more expensive models
Doesn't come with an enclosure
The Neje Master 3 Max is one of the most affordable large-format laser cutter machines, offering excellent value. The base kit has an 810 x 460 mm working area, around double that of standard desktop laser engravers.
Yet, it's cheaper than many other smaller engravers, such as the Ortur Laser Master 3 and LaserPecker 2 Pro. You can even further increase the size with the extension kit, pushing the working area up to 810 x 1030 mm!
You can choose between two different 10W laser diode modules when you buy:
The first choice is the A40640, which compresses two beams into one for a super fine compressed 0.04 x 0.06 mm spot size, and an equivalent optical power of 20W. This module has variable focus, so you can use the short focus for carving dense materials like MDF and stone, and the long focus with a better field depth for cutting wood.
The other option is the E40 module, which is also a dual-beam diode laser but with a fixed focus. This is designed for more intricate etching and is great for laser cutting leather and other materials like glass with detailed designs.
While it's great for the price, bear in mind the Master 3 Max can't match more expensive models in terms of quality. For example, it has a max engraving resolution of 338 dpi with the E40 module, while some premium models (which we review below) have 1000 dpi and higher.
Neje provides its own software for controlling the Master 3 Max, and it's also available as a mobile app, allowing you to design and operate your laser from your iPhone or Android. You can also use it with Lightburn and LaserGRBL, which are the two most popular laser engraving software.
We earn a commission if you make a purchase, at no additional cost to you.
---
xTool D1 Pro with Extension Kit – Best Budget Pick
Pros
930 x 430mm working area for under $1,000
Efficient 10W, 20W, and 40W laser modules
Cut 10mm wood and 5mm acrylic in a single pass
Up to 400mm/s engraving speed
Customizable with infrared module available
Add risers for increased engraving height
Cons
Not as powerful as other large format laser engravers
In my opinion, the xTool D1 Pro is the best hobbyist laser engraver, and best diode laser out right now. While the base 430 x 390 mm working area isn't huge, you can increase this to 930 x 430 mm with the extension kit.
This makes it one of the bigger diode laser engravers, and still an afforable choice at under $1000 total. For reference, there are many other smaller laser engravers that cost significantly more, and while the Neje Master 3 Max is cheaper, the D1 Pro is a much higher-quality machine with far better build quality.
Available with a 5W, 10W, 20W or a 40W laser module, the D1 Pro uses dual compression technology that combines two laser beams into one for a concentrated output with an ultra-fine compression spot of 0.08 x 0.06mm.
The result is the 10W having the same effective power as a regular 15W module. This allows you to engrave up to 10mm wood and 5mm acrylic in a single pass while maintaining up to 0.01mm precision and speeds of up to 400mm/s.
So, it's a great large wood engraving machine for working on projects like furniture, signs, and even surfboards. I personally opted for the 20W version, which I've tested and reviewed on this site.
You can even go further by adding xTool risers to the D1 Pro, which allows you to work on taller objects. The risers cost $19.99, and increase the engraving height up to 140mm, ideal for projects like skateboards and thick wood for furniture. These are especially helpful when I'm rotary engraving metal flasks and beakers.
It's also very customizable, with xTool offering a variety of other accessories, perhaps the most notable being the infrared module.
Infrared lasers have a 1064nm wavelength which makes them ideal for metal engraving – something diode lasers struggle with. While infrared lasers are most typically associated with small and intricate jewelry engraving, the infrared laser head is also great for engraving large metal projects, such as wall art and portraits.
Another accessory is the xTool rotary module, which allows you to work on cylindrical objects. So, this is perfect for engraving long cylindrical objects, like a baseball bat or metal flask.
Best diode pick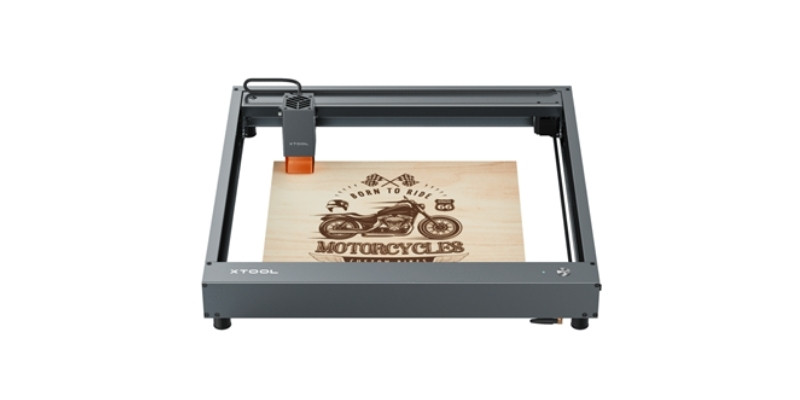 We earn a commission if you make a purchase, at no additional cost to you.
xTool D1 Pro Extension Kit
Accessories for the xTool D1 and D1 Pro 5W/10W/20W Laser Engraver. It expands the laser engraving area to 36.85 x 17 inches for longer laser engraving and cutting. Made from superior quality aluminum alloy.
We earn a commission if you make a purchase, at no additional cost to you.
---
Gweike Cloud 50W – High Power for a Good Price
Pros
Powerful 50W CO2 laser
Cut 15mm wood in a single pass
Engrave at up to 600mm/s
5MP camera for previews and image extract
Cons
Not as precise as some others
Can't extend the working area
The Gweike Cloud 50W is a mid-range large area laser engraver that's great value for money. It offers the same working area and power as many more expensive machines.
Often presented as a cheaper alternative to the popular Glowforge machines (which we cover further down), the Gweike Cloud 50W has some really impressive specs for the price.
For starters, it uses a powerful 50W CO2 laser. CO2 lasers are more powerful than the diodes used in the likes of the Neje Master 3 Max and D1 Pro, and the 50W power allows you to engrave at a seriously impressive speed of up to 600mm/s.
This makes it around 3x faster than a standard laser engraver. It also allows cutting wood up to 15mm in a single pass – 5mm more than D1 Pro, for reference.
One of its most impressive features is the 5MP camera for live previews and image extraction. With the camera, you can precisely locate the position you want to engrave the design on the material, monitor it in real-time, and directly cut or engrave the designs.
In terms of software, Gweike offers its own beginner-friendly browser-based software, as well as a more comprehensive downloadable program. It's also compatible with Lightburn.
---
FSL Muse Titan – Extremely Precise 3D Engraving with Browser-Based Software
Pros
Huge working area
Extremely precise 3D camera for high-resolution engraving
7" LCD touchscreen
Browser-based software
Available in 75W, 90W, or 100W
Rotary attachment available
Removable floor and pass-through slots
Cons
Not compatible with third-party software
The FSL Muse Titan is a true beast of a machine. With a huge 48" x 24" working area, it's one of the biggest and baddest laser engravers on the market.
Its significantly larger working area compared to the three machines we've reviewed so far makes it better for seriously big projects – for example, you can use it as a large glass laser engraver for working on long and wide glassware projects.
It also packs a serious punch, being available with a 75W, 90W, or 100W CO2 laser module.
Perhaps its most notable feature, aside from its massive size and power, is the Intel RealSense 3D camera. Whereas many similar laser cutters use a 2D camera, the Muse's 3D camera can precisely map millions of 3D data points, making it perfect for engraving curved and warped surfaces, rather than just flat 2D workpieces.
This makes it an extremely accurate engraver with an engraving resolution of up to 1,000 dpi, so it's great for intricate projects like laser etched portraits and precise brand logos.
Another unique feature is that, unlike many other laser cutters, the Muse Titan is paired with a browser-based software, Full Spectrum Laser's RetinaEngrave 3.0.
The software allows you to design and operate your laser without needing to download anything, and you don't even need an internet connection. It's hosted on the machine's local web server, so you can need to input your machine's IP address into a browser.
It's an easy-to-use program with powerful features, such as advanced vectory trajectory algorithms for achieving super-smooth cuts. However, bear in mind that, unlike other laser cutters, you can't pair the Muse Titan with third-party software like Lightburn or LaserGRBL.
There's also the option to add a rotary attachment to this large laser engraver, something you can't do with some other machines like the Glowforge.
As well as offering a huge working area, the FSL Muse Titan has a unique removable floor, as well as four-way passthrough slots, so you can actually work on materials that are larger than the standard dimensions. Overall, this is a really solid option for anyone looking to use a large laser cutter for full-size sheet laser cutting.
---
Glowforge Pro – Beginner-friendly Option with Unlimited Cutting Length
Pros
Unlimited cutting length with Pro Passthrough feature
Very user-friendly and easy to set up
Intuitive and simple software that's also available as an app
Live camera previews of your work
Glowforge provides custom engraving materials
Cons
Expensive considering the laser specs
Not very customizable
Software is browser-based only
The Glowforge Pro is designed for hobbyists and small businesses, and is one of the most beginner-friendly laser cutters around – a "Plug'n'Play" laser you can get started with right away.
One of the best features for large laser cutting projects is the Pro Passthrough slot. This lets you cut materials of unlimited length, making it one of the top large scale laser cutters for long projects.
For example, the Glowforge Pro is ideal for making lots of laser engraved signs or advertisement boards.
Glowforge provides its own custom software, which is highly intuitive and has some great features. For example, you can drag-and-drop designs with the live camera preview, and even control your laser from your mobile (the app is available for iOS and Android).
The software is very beginner-friendly, with specialized functions for using the Pro Passthrough slot, and is one of the reasons Glowforge machines are so popular amongst hobbyists. Although, like the Muse Titan, Glowforge machines aren't compatible with third-party software. It's also browser-based only, so if you don't have WiFi in your workshop, you're in trouble.
Glowforge also offers its own range of laser engraving materials, called Proofgrade Materials. These are specially formulated to produce the best results with a Glowforge machine, and your Glowforge is able to recognize the Proofgrade Materials and automatically set the ideal settings.
The Glowforge Pro uses a 45W CO2 laser, which can cut up to 0.25" in a single pass and with 0.025mm accuracy.
While the specs aren't the most impressive on the market, what you're really paying for with the Glowforge Pro is a super user-friendly plug-and-play machine with intuitive software and unlimited cutting length.
Bear in mind that there are two cheaper versions of the Glowforge, the Basic and Plus, but neither of these have the Pro Passthrough feature that makes the Pro ideal for large-scale cutting and engraving.
Glowforge Pro
Glowforge are the easiest to use lasers for home business owners looking to create cool projects and sell them on Etsy or other stores and make money.
We earn a commission if you make a purchase, at no additional cost to you.
---
OMTech AF4063 150W
Pros
Huge working area
Passthrough doors allow you to work on material larger than table size
Extremely powerful 150W CO2 laser
400mm/s cutting and 600mm/s engraving
12,000 hours laser tube life
Intuitive digital controller
Cons
Expensive and requires very large workshop space
The most expensive and most powerful machine on our list by some distance, the OMTech AF4063 150W is one of the best large laser cutters for professionals and business owners.
Its overall dimensions are 86.8" x 60.6" x 37", so it's a hefty machine requiring serious space in your workshop.
You're not even limited to the stated working space, though, thanks to the four-way passthrough doors. With front-to-back doors measuring 66" x 3" and side-to-side doors measuring 42" x 3/4", you can work on materials that are larger than the table size.
Aside from its huge size, it uses a very powerful 150W CO2 laser, capable of reaching seriously impressive cutting speeds of 400mm/s and 600mm/s for engraving, ideal for high-production rate environments. It's also precise down to 0.01mm.
It can cut and engrave all sorts of materials, including hard woods, acrylic, granite, marble, tile, and much more, with ease. It's also a very effective metal engraver if you're working with aluminum, stainless steel, or titanium.
Another aspect that makes the AF4063 one of the best laser engravers for business owners is that the laser tube has a tool life of around 12,000 hours, which is 2,000 hours more than the lifespan of a regular laser tube.
We also like the number of intuitive features that OMTech has incorporated into this large laser cutter. For example, the Ruida digital controller provides complete control over the laser as well as project framing and file viewing, so you don't even need a computer to run the machine.
On top of that, there's a secondary LCD display panel that displays the electronic current in real-time along with the auto-judge fault, allowing you to monitor these and prevent any potential issues.
Another impressive feature is the motorized autofocus workbed, with an autofocus pen that senses the correct focal distance and adjusts the Z-axis accordingly for the perfect height.
Unlike most of the other brands we've reviewed in this guide, OMTech doesn't provide its own laser cutting software and recommends using Lightburn with the AF4063.
---
Buying Guide – Factors to consider when buying a larger laser cutter
Does size affect accuracy?
Size does not have a direct impact on accuracy in laser engraving if all other components are the same. If you took two machines with the same laser module and frame construction but with different sizes, they'd produce the same precision.
For example, the OMTech AF4063 is significantly larger than the D1 Pro, but both achieve 0.01mm accuracy.
However, if you have a small compact machine with an industrial-grade metal frame and compare it to a larger machine with a flimsier construction, then accuracy could be reduced.
The laser module itself also has a significant impact on precision.
For example, the Gweike Cloud 50W is less precise than the xTool D1 Pro, only able to achieve an engraving accuracy of 0.025mm compared to the D1 Pro's 0.01mm.
This is because while the Gweike Cloud has a really impressive frame, it uses a regular single beam 50W CO2 module. In contrast, the D1 Pro uses a more unique laser module that combines and focuses two separate beams for an ultra-fine compressed spot.
So, make sure to take these factors into consideration when looking for a large bed laser cutter.
Size & applications
The word 'large' is somewhat subjective when it comes to laser engravers. To some, an 800 x 400mm working area like the Neje Master 3 Max is large, while others would only consider seriously heft machines like the FSL Muse Titan and OMTech AF4063 worthy of this label.
So, it's important to decide exactly how big of a laser engraver you need, as not only does this have a significant impact on price, but also on the kind of products you can work on.
For example, with a machine like the Master 3 Max or D1 Pro, you can work on things like medium-size signs, home decorations, skateboards, laptops, and so on.
However, if you want to work on bigger things like large advertisement boards, windows, tables, benches, surfboards, or large metal sheets, you need to go for a larger option like the FSL or OMTech models.
| Laser | Working Area |
| --- | --- |
| Neje Master 3 Max and Extension Kit | 810x460mm (extends to 810x1030mm) |
| xTool D1 Pro with Extension Kit | 930x430mm with extension |
| Gweike Cloud 50W | 510x300mm |
| FSL Muse Titan | 1219 x 610mm |
| Glowforge Pro | 508 x ∞ mm |
| OMTech AF4063 150W | 1016 x 1600 mm |
Power
The power of large laser cutters varies widely, from the relatively modest 20W laser of the xTool D1 Pro to the much more powerful 150W CO2 laser of the OMTech AF4063.
This is important, as a laser's power has a significant impact on how deep and fast you can cut in a single pass. For example, the OMTech AF4063 will cut the same materials much deeper in a single pass than the D1 Pro or Master 3 Max.
However, power has a major impact on price, so it's key to understand how much you need.
| Laser | Power |
| --- | --- |
| Neje Master 3 Max and Extension Kit | 10W |
| xTool D1 Pro with Extension Kit | 5W, 10W, 20W or 40W |
| Gweike Cloud 50W | 50W |
| FSL Muse Titan | 75W, 90W, or 100W |
| Glowforge Pro | 45W |
| OMTech AF4063 150W | 150W |
Ease of use
There are several factors that go into determining a laser's ease of use. One of the main ones is the set-up: some machines like the Gweike Cloud and Glowforge are plug-and-play and can be up and running in 20 minutes. Others like DIY laser kits require a more lengthy and complex assembly process.
You also need to consider a laser cutter's size and how practical it is to move it around and store it. For example, for the FLS Muse Titan or OMTech AF4063, you need space in your workshop to store it, or be able to keep it safe outside and protected from the elements.
Finally, consider how easy the software and hardware is to operate. The likes of xTool, Gweike Cloud, Full Spectrum Lasers, and Glowforge all provide their own programs for designing and operating, but these all have different features and user interfaces.
Bear in mind that while some machines like the D1 Pro can also be used with third-party programs like Lightburn and LaserGRBL, others like the Muse Titan and Glowforge Pro can't.
Price
Simply put, larger lasers are, on average, a lot more expensive than smaller ones. This is also partly because if they're built for larger projects and tougher work, they'll use more powerful components, such as higher-wattage CO2 laser modules.
You can still get large laser cutters on a budget – the Neje Master 3 Max with its extension being the best example, as it provides a 810x1030mm working area for under $1,000.
On the other hand, you have the OMTech AF4063, which costs over 8x more and is not only much larger but also significantly more powerful.
So, the key to finding the best value large engraving machine for your budget is to have a clear understanding of what projects you want to make and how quickly you want to make them, and then determine what specs you need.
| Laser | Power |
| --- | --- |
| Neje Master 3 Max and Extension Kit | $699 |
| xTool D1 Pro with Extension Kit | $699 ($199 for extension kit) |
| Gweike Cloud 50W | $3,399 |
| FSL Muse Titan | $6,495 |
| Glowforge Pro | $6,995 |
| OMTech AF4063 150W | $8,099 |
FAQs:
What is the largest laser cutter? 
The OMTech AF4063 is one of the largest laser cutters on the market, offering a whopping 40" x 63" working area. 
How big can a laser cutter cut? 
Some laser cutters, such as the OMTech AF4063, can have cutting areas as large as 40" x 63", which is ideal for large-scale projects like sign cutting and advertisement boards.