Every small business owner wants to be able to personalize their crafts and sell their wares. Not only can it help attract a variety of new clients looking for unique gifts and one-of-a-kind pieces, but you can also convey your values, design style, and personality on your products.
The best laser cutter for small businesses is a small investment that can go a long way. They usually pay for themselves within a short time as customers can't find the products you are making anywhere else, and open your small business or home shop up to a new level of personalization. 
BUDGET PICK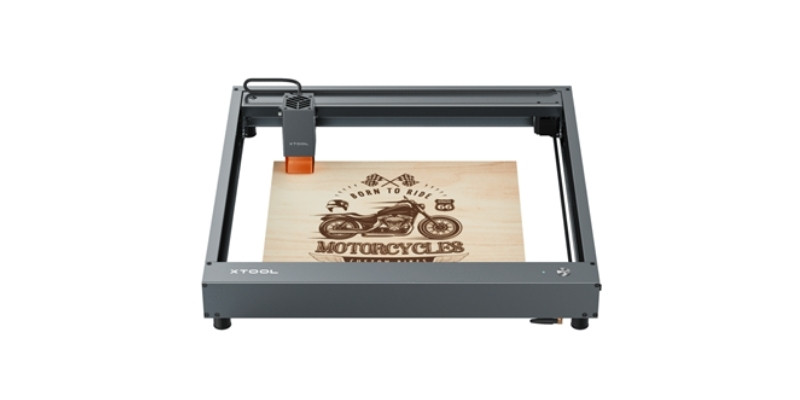 xTool D1 Pro
The best diode laser around – and best under $1000
High-quality steel build for smooth laser movement
10W power (with 5W and 20W options) and 400mm/s speed for fast engraving of sellable goods
Available at:
PREMIUM PICK
Glowforge Pro
The crème de la crème of laser engraving & cutting
Powerful CO2 laser cuts thicker materials, quickly, for a more productive and profitable small business
Ideal for starting an Etsy business or other small business
Available at:
They're super versatile — they can be used to engrave stationery for promotion, keepsakes such as photo albums, and even etch glass to sell as a corporate paperweight gift.
You don't even have to spend a lot to get quality laser cutters nowadays. For under $1,000, you can buy a laser cutter capable of cutting through wood, plastic, stone, leather, and even metal in some cases. We recommend both sub-$600 laser cutters, as well as more industrial lasers.
To help you make an informed decision, we have created a list of the best laser cutters for small businesses based on the numerous laser cutters and engravers we have tested. We've highlighted where they stand out and struggle, to help you make the right decision for your needs.
TOP PICKS
The Best Laser Cutters For Small Businesses
CNCSourced is reader-supported. When you buy through links on our site, we may earn an affiliate commission. Learn more
xTool D1 Pro – Best Diode Laser for Small Business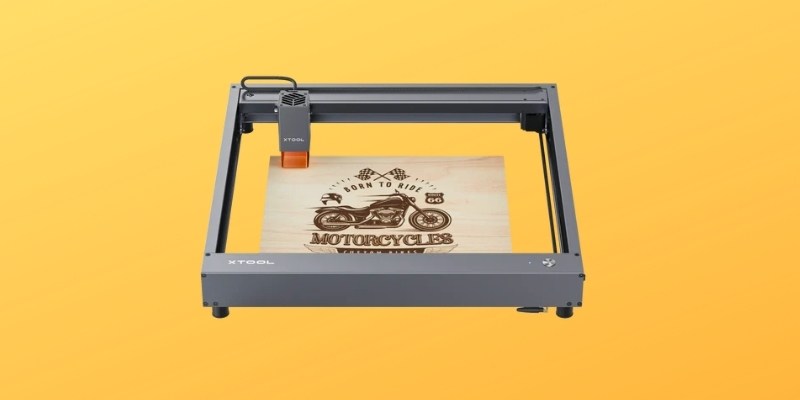 Built with a sturdy metal frame and with steel rods and wheels for smooth laser movement, the xTool D1 Pro is one of the best lasers for the price, with mid-range professional features and accuracy in a lower-priced diode laser.
Makeblock, who make the xTool D1 range, also produce CO2 lasers, so they've infused the D1 Pro lasers with the same quality and feel as they do with their more industrial lasers.
For basic business projects it's perfect: the 10W laser can cut 0.6mm basswood in a single pass, can cut acrylic sheets, it can engrave coated metals such as stainless steel and anodized aluminum (proof below), and with the rotary roller you can engrave best-selling goods like beakers, bottles, glasses and mugs. It even supports color metal engraving!
If you want to just engrave, consider saving your money by buying the lower-power 5W version, or if you want to cut thicker acrylic or basswood sheets, upgrade to the 20W D1 Pro, which is currently available for pre-order.
Other variations available include:
xTool D1 Pro alternatives
I purchased the 20W over the 10W, because I'm a power-crazed fanatic. The results are noticeable: you can cut thicker, and cut faster, which will earn you money getting through more jobs. For example, here's a half-inch thick piece of wood we cut during our review:
Read more: xTool D1 Pro 20W review and hands-on test
It's accurate and smooth when engraving (0.01mm precision, 0.08 x 0.06 mm spot size) for any detailed contrasting portraits on basswood or other similar materials. It's also safe, with an easy-to-press emergency stop button, and safety features that automatically stop if the machine this tipped or jogged, or if it detects fire.
The software that comes with the xTool is also really user-friendly, and better than the likes of Snapmaker Luban in our opinion, but you can also use it with LightBurn instead. There's also the Laserbox iOS app for connecting via iPad or similar device.
In our opinion, this is a top buy for a diode laser under $1,000, and ideal for testing the waters with your laser cutting small business selling engraved signs or images, as well as cutting coasters, jewelry, or other fun projects.
Get the RA2 Pro rotary add-on for easy money-making engraving metal beakers and the like.
Best Diode Laser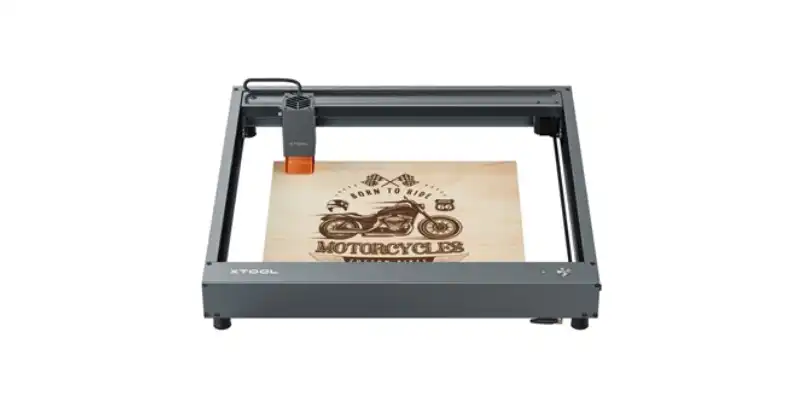 ---
Ortur Laser Master 2 Pro – Cheap yet effective laser cutter for home shops and small businesses
Pros
Great value
Large 400 x 400 work area
Quick assembly — you can build it from scratch in under 45 mins
Cons
15W version might not be powerful enough 
Clear instructions and ease of use make the Ortur Laser Master 2 Pro the go-to laser engraver for many hobby enthusiasts. It provides a gentle introduction into the world of self-assembled laser engravers for small businesses as it can be built in just an hour, so you can get engraving right away and create custom crafts for an Etsy shop or in-house production.
What you are left with is a machine that offers a generous 400 x 400 working area. A home jewelry business can make the most of this, as it is plenty enough for engraving laser-cut personalization on necklaces, or custom coasters, name tags, keychains, and more.
Read our full review: we tested the Ortur Laser Master 2 Pro
However, this probably isn't enough to engrave large wall signs, so for the slightly bigger crafts, something a little bigger will be better suited. Though, smaller signs shouldn't be a problem, and almost all standard homemade crafts are fine.
Although it isn't dangerous, the cable that connects the laser head and the motherboard does hang loosely along the top of the machine. To prevent this from getting caught you can use the zip ties it ships with to separate the cables and prevent this annoyance, though it doesn't happen often anyway.
The level of detail you can get from this laser engraver is impressive. Offering 300 dpi resolution, once you've manually focused the laser diode you'll be ready to engrave with extraordinary precision. This can be put to good use with several materials. For many small businesses, this combination of versatility and precision is ideal, especially for such an affordable price tag.
The Ortur Laser Master 2 Pro boasts a 20W tool head that is more than enough for most personalized engraving. For any more intensive projects we advise you to opt for the 20W version as 15W is limiting, especially when it comes to cutting. Speaking of, it can cut wood board, black acrylic, leather, stainless steel, paperboard, powder-coated metal, and more. You can even go for the rotary module for 360-degree engraving.
The low price makes it an attractive option that won't put a dent in your small business. Sure, you don't get remote control or air filtration, but that is to be expected at this lower price range.
Great Value for Money
---
Ortur Laser Master 3
The Ortur Laser Master 3 builds on the Laser Master 2 and 2 Pro's success, doubling the power to 10W and improving the chassis to a sturdily built metal frame.
Most interestingly for small business owners, the Laser Master 3 breaks speed records, with speeds of up to 20,000mm/min possible. This drastically cuts down on time required to engrave a portrait or similar project, so if your business relies on quick production, this could be perfect.
Another major selling point for business owners is safety. The emergency stop is easy to use and clear (more so than the xTool D1), and you can turn the Ortur LM3 off with a turnkey so that it isn't accidentally turned on.
The RA2 rotary roller is one of the cheapest rotary attachment add-ons for a laser you can buy. It costs $99 (sometimes $79 during a sale), and takes around 45 minutes to build, allowing you to laser engrave metal beakers and flasks, glasses, mugs, and many other rounded objects that sell amazingly well on Etsy.
It's fast, safe, and has a large 400 x 400 mm work area for even the largest cuts and engravings, so it's an ideal laser for a small business under $1,000.
Great Budget Laser w/ Low-Cost Rotary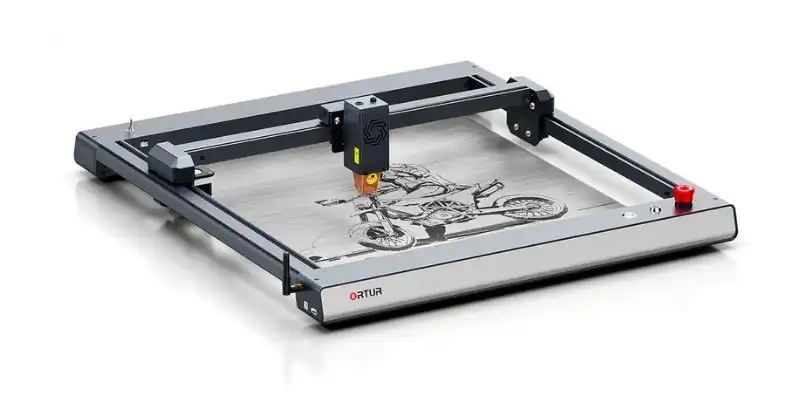 ---
OMTech 40W CO2 Laser Cutter
Pros
Solid metal construction
Works with a variety of materials
Comes pre-assembled
Cons
Work area might be restrictive for some
With 40W of power and an attractive price point, OMTech has created a worthy entry point for anyone looking for a laser cutter for small businesses.
Its solid metal construction is pre-assembled and feels stable. There is a decent weight to it despite there being a few plastic parts — helping provide accurate cuts. 
The 320 x 200 mm work area is fine for small crafts, and will be ideal for engraving family memories on photo frames that fit. Other well-suited smaller include engraving and cutting jewelry. Put it this way, you're not going to start using it with cutting boards any time soon — it just doesn't have the work area capacity.
Cutting speed always depends on the material and its thickness, but it will mostly work in a single pass. The OMTech 40W laser can be used to cut wood, paper, leather, cardboard, and acrylic, which covers a lot of bases for most small businesses. 
The internal fan helps with ventilation and pushes smoke out of a port to the back. Flexible tubing is included, making it easy to vent it out of a nearby window so your workshop will be safer. You're not going to get external fan-like machines that are triple the price, but the internal fan is sufficient for most needs.
We like the laser pointer, which helps to make prints accurate. This is especially important when using a laser cutter to personalize things like photo albums where getting the measurements and placement is key, otherwise you may end up with a lot of products you can't use. 
The laser pointer saves money on an integrated camera and allows you to line up your materials in advance. For the low price point, you are getting plenty of value.
---
Glowforge Basic – Great for more professional small business laser cutter projects
Pros
Generous cutting area
Compatible with Glowforge's Proofgrade materials
Drag-and-drop sizing
Intuitive and simple web app simplifies your workflow
Cons
Might be a bit pricey for some
The Glowforge Basic is Glowforge's basic model, coming in at a lower price than Glowforge's other two laser cutters. The main difference between this and the Glowforge Pro is the 40W laser included in the basic and the 45W of the Pro. To upgrade to Glowforge's most powerful laser cutter, you will have to jump from $2,495 for this model, to almost $6,000. 
With the appearance of a home printer, its 8.3" x 38" x 21-inch frame fits nicely onto a countertop or in a craft space so your laser cutter for home business doesn't have to take over the house.
It can take pieces of 450 mm x 500 mm material, making it one of the larger laser cutters for a home business. This gets you closer to being able to cut and engrave large custom signs in wood and acrylic. The cutting area measures 280 mm x 495, which is far more generous than many competing laser cutters, even those at a higher price point.
To the rear of the Glowforge, there is an exhaust vent. This connects to a duct tube which is included. Said tube will need to be pointed out of a window unless you can fork out an additional $995 for the compact filter for safe exhaustion.
We find the Glowforge web app to be a valuable resource for setting up the laser for cutting. Getting the measurements and sizing for different projects is as simple as dragging and dropping, so it is user-friendly if this is your first laser cutter.
To help you maintain accuracy when cutting that custom bottle opener or keepsake, there is a camera under the lid. This gives a wide view of the workspace, making it easier to monitor your ongoing projects.  It's also compatible with Glowforge's range of Proofgrade materials. These offer a range of advantages, including an attached QR code that automatically identifies the correct laser cutter settings for the material.
The Glowforge Basic is one of the best laser cutters for any small business that wants a more reliable machine that can work faster and more accurately than the budget options.
Glowforge Basic
Glowforge are the easiest to use lasers for home business owners looking to create cool projects and sell them on Etsy or other stores and make money.
Glowforge here
We earn a commission if you make a purchase, at no additional cost to you.
---
Snapmaker 2.0 – Laser cutter for small business that also CNC cuts and 3D prints
This is a laser cutter for small businesses that can do it all. On top of 3D printing, and laser cutting and engraving, it can also CNC carve wood, epoxy, and more. There are 3 models available that cater to different budgets: the A150 is $1,199, the A250 is $1,499, and the A350 costs $1,799 — the only differences between them are their build area sizes, and you require different sized enclosures for smaller models, with the 4-axis rotary attachment only available for the A250 and A350.
It's easy to assemble (we built it from scratch in around an hour) and use, with Snapmaker Luban software aimlessly to seamlessly switch between laser cutting, CNC and 3D printing — all in one program.
The versatility is going to open up plenty of projects for any small business as it can be switched from the 3D printer head to the laser head or the CNC router in a matter of minutes and just four screws (you'll also need to change the work bed).
Read the full review: we tested the Snapmaker 2.0 CNC and laser toolheads
As a laser cutter, the standard laser toolhead is relatively powerful, and was able to cut through the 1.5mm-thick wood as shown in the box above. However, you can also buy Snapmaker's new high-power 10W laser add-on for a more powerful laser cutter that works far quicker and can cut much thicker (up to 8mm) material.
As well as laser cutting, it engraves very accurately, and we were very impressed with the results. We used the 4-axis rotary module add-on, which basically turns your laser into a 360-degree lathe-style machine. Using a cylinder gift box, we engraved a variety of designs and were impressed with the contract, but this could also be used for cutting and CNC carving.
Overall, as a 3-in-1 machine it's a great laser cutter to have for your small business. Not only can it cut your best designs to sell or for providing business services, but you can also use it to 3D print and CNC should you need it — and it only takes up the space of one machine.
Pros 
3-in-1 laser cutter with 3D printer and CNC router
Popular and extremely highly rated — it raised $8.5M on Kickstarter to become the most-funded technology project of all time
Different work area size options depending on the size your business needs
Many different material options
Cons
Top 3 in 1 Pick
---
Glowforge Plus – Best Overall
Pros
Very powerful laser
Quick setup
Advanced features
Hand drawing function
Cons
Not as fast as the Glowforge Pro
The Glowforge Plus is a CO2 laser cutter that boasts a 40W laser capable of cutting through 0.5 inches of hardwood, and has numerous features to write home about.
The most notable is the software. It allows you directly import your drawings for cutting or engraving onto the material. This means those craft projects are highly customizable, and you can take on just about any commission.
The Glowforge Plus scans the drawing and gets to work, engraving directly onto the material. If you are the artistic type, this will be a major plus point. This means you can turn any drawing, sketch, or handwritten note into a piece of art that will have customers coming back for more.
The $3,995 price is a costly commitment for most small business owners, but this is a high spec machine with a wide range of applications that expands your capabilities.
It has a print area of 11 x 19.5 inches, meaning it can take on numerous projects such as engraving printed models and photo albums for personalized presents.
As a small business owner, time is money, which is why the 30-minute setup time is appealing, as is the easy application, onboard cameras for a live preview, and autofocus technology that helps make precise cuts.
Best Laser Cutter for Wood and Metal
Glowforge Plus
Glowforge are the easiest to use lasers for home business owners looking to create cool projects and sell them on Etsy or other stores and make money .
Dynamism here
Glowforge here
We earn a commission if you make a purchase, at no additional cost to you.
---
Glowforge Pro – Best Over $5,000
Pros
Can cut unlimited length materials
Cuts fast
Very advanced high-spec features
Cons
The priciest laser cutter for small business we recommend
An elite laser cutter capable of opening up a plethora of opportunities for any small business, the Glowforge Pro can do it all.
What it boasts that other models do not is a large feeder that can take materials measuring longer than the standard 19.5 x 11 inches that you expect from cheaper Glowforge models. This means you can print on those custom door signs and make products that other businesses without a Glowforge Pro cannot.
The 19.5-inch width is still the limit, but there is a lot you can do with the length. Because it engraves the materials by burning them, the four-inch exhaust and duct hose is a vital inclusion. This means those fumes can be ventilated safely out of the window. Alternatively, you can upgrade to a $995 compact filter.
It shares many of the same features as the Plus model such as hand drawing capability but what sets it apart is its speed. Because of the 45W CO2 laser, it can engrave 150% faster than the Glowforge Plus. Those extra 5 watts can make all the difference when the orders are stacking up.
It allows you to make etchings with photos to make a photo album cover stand out, and this can be done via the easy-to-use software on the app. The Glowforge website provides plenty of useful information on how to prepare photos. This is especially useful when it comes to sharpening the image on that wooden board.
Most User-Friendly Pick For Home Businesses
Glowforge Pro
Glowforge are the easiest to use lasers for home business owners looking to create cool projects and sell them on Etsy or other stores and make money.
Glowforge here
Dynamism here
We earn a commission if you make a purchase, at no additional cost to you.
Read more: our top cheap Glowforge alternatives