Laser engravers come in a variety of different shapes, sizes, and prices. If you're a beginner or are simply working on a tight budget, then you'll want to find a cheap laser engraver that still offers decent quality and good value for money. 
We've done the hard work for you by bringing together the best cheap laser engravers right here on this page. We'll first take a look at what to expect with a cheap laser cutter or engraver and what kind of projects you can take on, and then we'll review the best budget laser engravers on the market.
UNDER $500 OPTION
Ortur Laser Master 2 Pro
One of the best 5W lasers around
Large 400x400mm work area and great precision
Available at:
PREMIUM PICK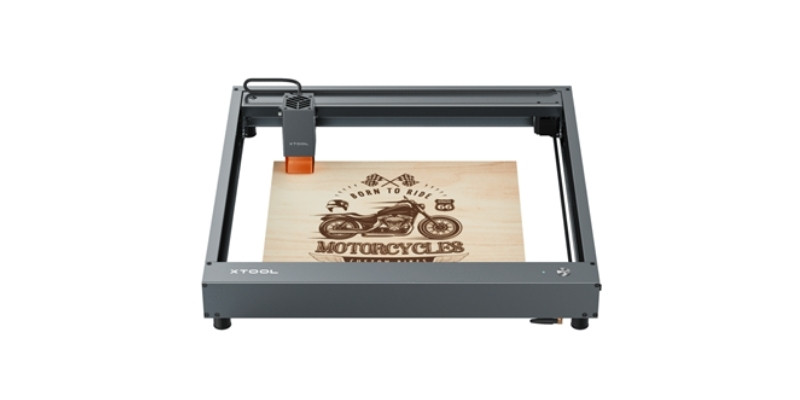 xTool D1 Pro
The best diode laser around – and best under $700
High-quality steel build for smooth laser movement
10W power (also 5W & 20W options) & 400mm/s speed
Available at:
Note: this article covers only cheap laser engravers and cutters under $1000. For all price ranges, read our best laser cutter and engraver buyer's guide.
TOP PICKS
The Best Cheap Laser Engravers (and Cutters!)
What to Expect From a Cheap Laser Engraver
When you hear the word "cheap", it's often hard not to immediately associate it with low quality. And that's understandable — often going for cheap products can lead to disappointing results. However, if you're careful in your choosing, you can get a lot of bang for your buck with a cheap laser engraver.
In fact, there are many affordable laser engravers that offer very high-quality cutting and engraving. So, what exactly qualifies as a cheap laser engraver? You probably want to stay away from anything that costs under $100 — it'll probably be more hassle than fun — so we classify cheap laser engravers as those in the $150 to $600 range. 
$600 may not sound cheap, but when you consider that there are industrial laser cutters that go for over $20,000, it's certainly on the more affordable side.
Differences between a cheap laser engraver vs a premium option
So, how does a cheap fiber laser engraver differ from more expensive ones? One of the main differences is size. Most cheap laser engravers are desktop machines designed to easily fit in a home or small workshop and have relatively small working areas, so you'd struggle to work on something like a large advertisement board.
In contrast, there are much larger, industrial machines with significantly larger cutting areas for industrial production. Not only this, but more expensive machines typically have more accurate, powerful, and faster cutting lasers.
If you want to cut through even softwoods of any kind of thickness, with these lower-cost laser engravers it may take several, slow passes of the laser — eating into your productivity. But if you just plan to engraver everyday fun items, make some money selling your crafts, or create custom gifts for your friends, these cheap laser engraving machines work fantastically.
Another difference is that virtually all cheap laser engraver machines come as kits, meaning you need to put them together yourself, whereas professional ones generally come fully built. Luckily, most manufacturers provide detailed instructions and often video guides to help you easily get your cheap fiber laser cutter up and running.
The Best Cheap Laser Engraver Machines Under $500
Now let's take a look at the best budget laser engravers, starting with the cheapest.
CNCSourced is reader-supported. When you buy through links on our site, we may earn an affiliate commission. Learn more
Neje Master 2 – Cheapest Laser Engraver 
The Neje Master 2 is one of the most affordable laser engravers on the market, but it's still a high-quality machine that's perfect for beginners. 
This is a very small, compact laser engraver, so it easily fits in your house and is very portable. It has a 110x120mm engraving area that can be used to cut and carve a variety of different materials, such as wood, MDF, and leather. Despite the low cost, it offers high-performance cutting with 0.01mm precision.
Not only can you use it as a desktop laser engraver, but it can also operate as a handheld laser cutter, and it claims to offer the same accuracy and high-speed cutting in both formats. It's also super easy to adjust the focus by simply rotating the laser module. 
The Neje Master 2 is also a very safe machine, another factor that makes it ideal for novice laser engravers. For example, the machine will automatically stop working if it's accidentally touched or shifted, which prevents your work from being ruined and the laser cutting from being damaged. 
Another highlight of this cheap DIY laser cutter is that you can easily control it through your phone using the Neje app, although bear in mind it's only compatible with Neje software and not the likes of Lightburn.
The Neje Master 2 actually comes in four different sizes. The price we've quoted above is for the smallest – 110x120mm – but it also comes in 170x170mm, 255x440mm, and 460x810mm.
---
LifBetter Laser Engraver – Large Engraving Area for Low Price
One of the best ways to make sure you're making a sensible purchase when it comes to cheap laser cutters is by looking at what other people say about a particular machine. In the case of the LifBetter Laser Engraver, the reviews are overwhelmingly positive, with a 4.5-star rating on Amazon — one of the highest-rated budget laser engraver machines around.
Its usability is far from the only benefit, though. One of the most impressive aspects of this machine is the 410x400mm working area. For reference, this is almost 12 times the size of the smallest version of the Neje Master 2 and is even larger than many more expensive cutters, so you get to work on larger projects at a cheaper price.
Despite the low price, this is a very well-designed laser engraver, made up of a light acrylic and aluminum frame, with aluminum alloy guide rails and rubber pulleys, for impressive stability and durability. 
Safety should always be a top priority for any laser engraver, especially if you're a beginner, and the LifBetter model delivers in that regard. It has a newly upgraded eye protection system so that you can safely engrave over long periods. 
Finally, this cheap desktop laser cutter is operated using LifBetter's own software, which is super user-friendly and means you can easily control it from your phone via the LifBetter app. Unfortunately, this means you can't use LightBurn if you're a big fan of that, but overall its an adequate cheaper version of the Ortur Laser Master 2 — if you want to save some money.
---
Twotrees TT-5.5S – Cheap Laser Cutter with 0.8mm Spot Compression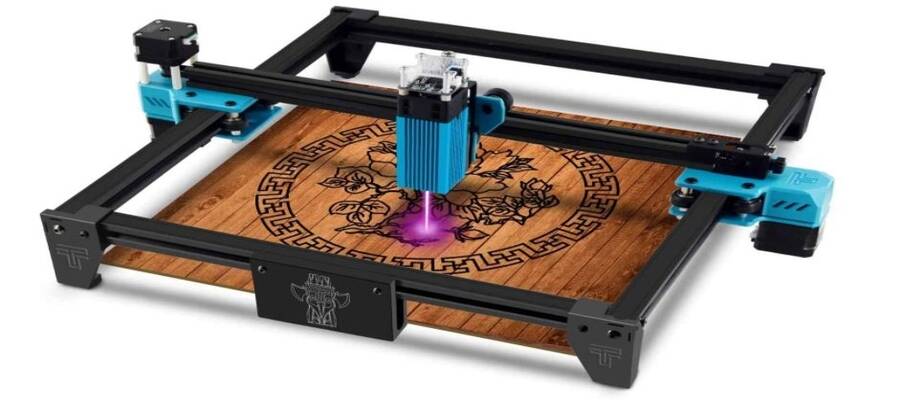 The Twotrees TT-5.5S is another one of the cheapest laser engraving machines that offers really good carving quality despite its low price. 
The highlight of this budget laser engraver is the 0.08mm spot compression laser. While others often use 0.16mm or 0.23mm spot lasers, the more concentrated energy it can provide via the smaller spot size makes for faster, more accurate and efficient cutting.
Thanks to this, you can work on a variety of different metals with great results. For example, you can cut wood boards with 3mm to 8mm thickness and achieve engraving depths of 0.5mm to 3mm. 
You can even engrave on 304 stainless steel without any blackening, and Twotrees claims that this machine can engrave matte stainless steel up to ten times faster than over similarly priced machines.
Another plus to this cheap laser cutter is the silent motherboard which ensures smooth movement and that there's no noise during engraving. 
In terms of operating software, Windows users can use this desktop laser engraver with the free LaserGRBL, which is one of the most popular engraving software among hobbyists. Alternatively, you can use the paid Lightburn software, which is even better. Lightburn is the recommended software for Mac users.
Twotrees also offers two cheaper models – the TT5.5 and the TT2.5 – but due to its high quality and being under $300, the TT5.5S represents the best value for money. 
Read our review of the TTS-55
---
Atomstack A5 Pro Laser Engraver – Best laser engraver under $500
The Atomstack A5 Pro laser engraver is easily one of the best value laser engravers on the market.
It's a super sturdy machine with an all-metal structure with an anodized coating that makes it very robust and durable. Not only does this help extend this cheap laser cutter's tool life, but it also improves the engraving accuracy.
This machine uses a fixed focus laser, so there's no need to manually adjust it yourself, which helps reduce human error and speed up the cutting process. It has a thin laser spot that provides plenty of power to accurately engrave materials like stainless steel, wood, bamboo,  acrylic, PCB and more. 
The A5 Pro is built with your safety in mind. It has a laser protective cover that filters 97% of the UV light, so you can use it safely without even needing to buy or wear goggles. 
It's also super easy to assemble this cheap laser engraver for metal, as you can get it built and start cutting within 20 minutes. There are some really helpful videos on the Atomstack website if you need any extra help.
Read more: the best laser engravers for metal.
You can use this engraver with a variety of popular software, including Lightburn and LaserGRBL.
Not only is the Atomstack A5 Pro one of the cheapest laser engravers out there, but it's also one of the most popular among users, with others users across the world praising its easy assembly, cutting accuracy, and value for money.
---
Anycubic Mega Pro – Cheap Laser Cutter & 3D Printer 2-in-1
The Anycubic Mega Pro is one of the most unique cheap laser engravers out there, as it's actually mainly a 3D printer, but with a laser module attachment. It's not the only machine out there that offers this dual functionality, but it's certainly the cheapest.
Read more: the best laser engraver 3D printer hybrids
This is a super-usable machine, which uses the typical 3-axis printer design but with the laser module added onto the 3D printing head. It takes less than a minute to swap between the two functions, and the laser engraving quality is better than you may expect, offering high precision, high-speed cutting.
In terms of printing, the TMC2208 drive makes for smooth, quiet working, while Anycubic claims its upgraded large leveling knobs save more than 60% of leveling time. There's also the double gear extruder that provides smooth feeding and reduces the chance of jamming.
Just to be clear, if you're solely interested in laser engraving, you're probably better off with a dedicated machine. But if you're also after a 3D printer and are on a budget, you really can't go wrong with the Mega Pro. Plus, thanks to the modular design, this is one of the easiest laser cutters to assemble. 
There are three different versions of the Anycubic Mega Machine. The Pro is the middle range machine, with there also being the Mega S for $249.99 and the Mega X for $459.99.
---
Ortur Laser Master 2 Pro – Overall Best Cheap Laser Engraver
The Ortur Laser Master 2 Pro won't be within every hobbyist's budget, but it's definitely the best cheap laser engraver on the market. It is in our opinion however the best low-cost laser engraver around, and if you understandably don't want to spend $549 on a laser machine, we recommend picking up the standard Ortur Laser Master 2 (link below), or the Atomstack A5.
This machine is a recent upgrade on Ortur's popular Laser Master 2 and has some fantastic new features. It's faster, more accurate, more efficient and safer, providing a really smooth user experience overall.
The Ortur Laser Master 2 Pro has a mechanical structure that's designed for optimal speed and stability. Not only does this help improve the accuracy and efficiency of your laser engraving jobs, but it also means the machine has a longer service life.
It offers extremely smooth, delicate engraving with very high precision, thanks to the latest OLM-PRO-V10 motherboard and 0.08mm laser module. This also means you can cut thicker objects quicker than other cheap laser cutter modules. In fact, Ortur claims the Master 2 Pro allows you to complete projects in around half the time it'd take with a 0.23mm engraver.
Read more: we tested the Ortur Laser Master 2 Pro
This home laser engraver is also extremely safe to use, even if you're a beginner. It has an upgraded 24V circuit system that provides more power with lower currents for improved safety, while functions like flame detection and emergency stop help prevent any potential issues. 
The automatic stop feature comes into effect when the machine is displaced or tilted, if the machine or computer crashes, and if the machine is turned on but there's no movement for a while.
Another great thing about the Ortur Laser Master 2 Pro is that it offers a 400x400mm engraving area, which allows you to work on larger projects than most other budget cutters.
---
xTool D1 Pro 10W – Best Cheap Laser Engraver Under $1000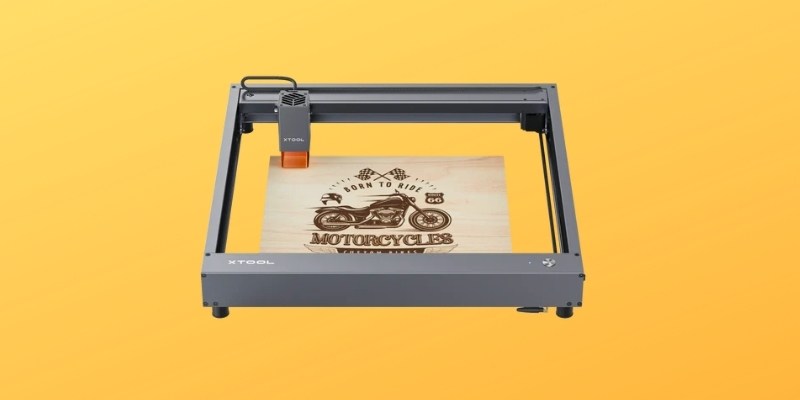 The xTool D1 10W is the best diode laser under $1,000, so if you're able to spend that kind of money, go for either the xTool, or the equally fantastic Ortur Laser Master 3.
I personally bought the upgraded 20W version for a few hundred dollars more, but I'm going to compare the 10W version because if you're on a budget, this is still absolutely great!
They're very similar in performance: same 10W dual laser power, very similar work area sizes, similar safety settings, both allow for WiFi connectivity and control via an iOS or Android app.
But, to separate the two, the xTool is more sturdily built with steel rods and wheels and protected belts, whereas the Ortur LM3, while still well-built (a big improvement on the previous Ortur LM2 Pro) doesn't protect the belts. The xTool is also slightly larger, and can be extended to 936 x 432 mm with the extension kit.
But, the Ortur has a cheaper rotary roller ($99 vs $279, though the xTool chuck is better overall), has a more clear emergency stop button, a more accessible mobile app, and arguably slightly better safety features on the Ortur.
For saving money, you can instead opt for the 5W version:
It's super accurate and smooth when cutting or engraving (0.01mm precision, 0.08 x 0.06 mm laser spot size), and if you don't want to spend $60 on LightBurn, xTool's software has a great UI and it's surprisingly fluid and beginner-friendly.
Overall, if you have the money to spend, either the xTool, or the Ortur LM3, are your best bets. It's ideal for fun projects, cutting acrylic or wood, and for running a small Etsy business engraving signs or images, as well as cutting coasters, jewelry, or other fun projects.
Read more: xTool D1 Pro review
Best Diode Laser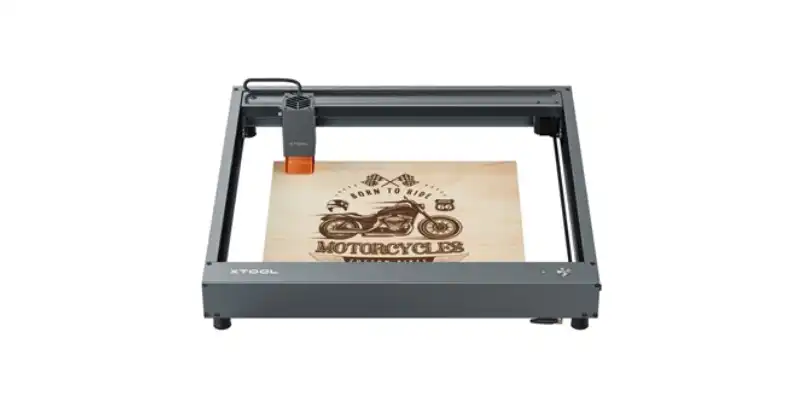 ---
What materials can you engrave with a cheap laser engraver?
With a laser engraver in this price range, you can still achieve powerful, highly precise markings on a huge range of different materials. These may include:
Wood
Plastics
PCB
Aluminum
Bamboo
Leather
Cardboard
Paper
Ceramic
Pebbles
Certain types of stainless steel.
This makes cheap laser cutters suitable for a wide range of different projects. They're most commonly used for creating home decorations, small signs, and advertisements, and for personalized items.