So, you want a cheap laser engraver for wood, or for cutting thin acrylic sheets? And you really don't want to break the bank?
No problem, I've rounded up the best affordable laser engravers in every price range, including under $300, $500, and $1000. I've even ranked the best low-cost CO2 laser — but if you're a newbie, avoid this as it's more complex.
My top pick, even if it isn't as cheap as some others, is still the xTool D1 Pro. It's got the best build quality and cut the thickest material in my hands-on test.
If you want to save money you can get the 5W version instead of the default 10W (I personally bought the 20W version though).
If you're on a real tight budget, then I recommend the Neje 3 or Neje 3 Pro, or the Ortur LM2 Pro S2, though they're phasing it out for the OLM3 right now.
Laser Power:

10W (20W version available)
Best Under $700
Laser Power:
10W (20W version available)
Note: this article covers only cheap laser engravers and cutters under $1000. For all price ranges, read our best laser cutter and engraver buyer's guide.
The Best Cheap Laser Engraver Machines Under $300
Now let's take a look at the best budget laser engravers, starting with the cheapest.
CNCSourced is reader-supported. When you buy through links on our site, we may earn an affiliate commission. Learn more
Neje 3 / 3 Pro – Cheapest Laser Engraver (That's Still Worth It)
Power: 5.5-7.5w
Work Area: Original: 170 × 170 mm, Pro: 400 x 410mm and extends to 400x1040mm
Pros
Many laser head module options with various capabilities
Relatively fast engraver for the price
Smallest spot size for high energy concentration
Cons
The 3 and 3 Plus versions have cantilever design – so not sturdy
Difficult to order online
Previous Neje models have been the best laser engraver under 200 bucks. In the new line of Neje, there are four Neje 3 lasers, ranging from under $300 to about $700. We're discussing the cheapest one here.
The basic version, Neje 3, has a cantilever design style. They've managed to eliminate a lot of the body frame with that style to keep the price low. However, such a design is not sturdy, and while the better versions (Neje 3 Pro and 3 Max) have an improved gantry design, they're more expensive.
Neje 3 has many laser head modules. They are mostly 5.5W (though the Neje 3 Max has an 11W laser). The 5.5W lasers have various spot sizes and focal lengths, giving them differing capabilities with various materials.
However, the best choice for beginners is the N30820 module, which is appropriate for general purposes.
Other laser module options are faster engravers, some are better for metals, and some can cut thicker material. One excellent upgrade option is to get the A40640 module with a fantastic 0.04 × 0.06 mm spot size with excellent abilities for the price. It can cut thick and is excellent at engraving steel, coated metal, stones, and more.
Neje's software choices are plentiful. You can run it with Neje win software, LaserGRBL, and Lightburn. It's also compatible with Android, iOS, and macOS.
On the other hand, Neje has several drawbacks. For one thing, it's mostly in the DIY direction, with documentation in its wiki but little support beyond this. Ortur and xTool lasers are more beginner-friendly and easy to assemble – especially xTool.
On Amazon, most stores have only one or two Neje models, so you may struggle to find the specific version you want. The more advanced versions like the 3 Max also get more expensive, and more in line with competitors like xTool and Ortur.
---
Twotrees TTS-55 – Top Pick Under $300
Work area: 300×300mm
Laser power: 5.5W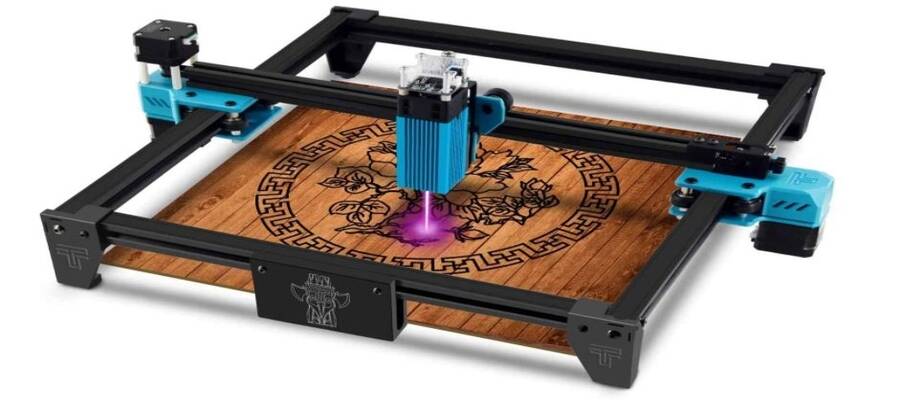 Pros
Good work area
Dual Y-axis – smooth movement
Performed well in our hands-on test
Cons
Very slow
Not as sturdy as xTool
The Twotrees TTS-55 is one of the cheapest laser engraving machines that still offers really good carving quality.
Two Trees goes into technical details to claim that this laser has an exceptional spot size and transmits more concentrated energy. However, while the spot size is good (0.08mm), it's not better than other lasers in its class. You'll see most lasers on this list have similar spot sizes.
Though, it cuts well for a 5.5W laser. For example, you can cut wood boards with 3mm to 8mm thickness and achieve engraving depths of 0.5mm to 3mm.
You can even engrave on 304 stainless steel, and Twotrees claims that this machine can engrave matte stainless steel up to ten times faster than over similarly priced machines.
But, is that true? Well, this laser machine engraves steel at 25mm/s. Yes, that is faster than many lasers in this price range. Still, speed is a major weakness for this laser and others with similar prices. To put that in perspective, xTool D1 5W can engrave steel at 80mm/s.
Plus, Neje 3 with a similar price can engrave on some materials faster than TTS-55 (though not on steel). It also has a much faster axis speed than TTS-55. So, while the speed is fine for its price range, it's still nothing special overall. It worked well on every project I tried though, and it's a good cheap engraving option.
Another plus is the silent motherboard which ensures smooth movement and that there's no noise during engraving.
In terms of operating software, Windows users can use this desktop laser engraver with the free LaserGRBL, which is one of the most popular engraving software among hobbyists. Alternatively, you can use the paid Lightburn software, which is even better. Lightburn is the recommended software for Mac users.
Twotrees also offers a 20W laser for $700, but due to its high quality and being under $300, the TTS-55 represents the best value for money. You can read my full review of the TTS-55 for the full info.
---
Atomstack A5 Pro – Consistent and Reliable
Work area: 410×400mm
Laser power: 40W
Pros
Comes with excellent eye protection – no need for goggles
If you upgrade to the Pro+, it has an improved laser beam
Cons
Very slow
Fixed focus at a high range
The Atomstack A5 Pro laser engraver is easily one of the best laser engravers under $300. If you spend a little more, you can also get the upgraded A5 Pro+ with a more efficient laser beam.
It's a super sturdy machine with an all-metal structure with an anodized coating that makes it very robust and durable.
This machine uses a fixed focus laser, so there's no need to manually adjust it yourself, which helps reduce human error and speed up the cutting process. It has a thin laser spot that provides plenty of power to accurately engrave materials like stainless steel, wood, bamboo, acrylic, PCB and more. The Pro+ version has an even higher energy concentration, but it costs more and is one of the best affordable laser cutters for the price.
The A5 Pro is built with your safety in mind. It has a laser protective cover that filters 97% of the UV light, so you can use it safely without even needing to buy or wear goggles.
It's also super easy to assemble this cheap laser engraver for metal, as you can get it built and start cutting within 20 minutes. There are some really helpful videos on the Atomstack website if you need any extra help.
You can use this engraver with a variety of popular software, including Lightburn and LaserGRBL.
Not only is the Atomstack A5 Pro one of the cheapest laser engravers out there, but it's also one of the most popular among users, with others users across the world praising its easy assembly, cutting accuracy, and value for money.
---
Best Laser Engravers Under $500
If you have $700, I recommend going for the xTool D1 Pro, but for $500 this is your best option.
Ortur Laser Master 2 Pro S2
Work area: 400×400mm
Laser power: 10W
Pros
Powerful 10W laser
Small spot size – can cut thick
Faster than lower priced lasers
Cons
If you're going to spend this much, just pay the extra $100 and get the xTool D1 Pro. It's the best.
The Ortur Laser Master 2 Pro is an excellent budget laser cutting machine, and one of the best laser engravers under $500.
This machine is a recent upgrade on Ortur's popular Laser Master 2 and has some fantastic new features. It's faster, more accurate, more efficient and safer, providing a really smooth user experience overall. Though, there is now also the Ortur Laser Master 3, which I have also tested.
The Ortur Laser Master 2 Pro has a mechanical structure that's designed for optimal speed and stability. Not only does this help improve the accuracy and efficiency of your laser engraving jobs, but it also means the machine has a longer service life.
It offers extremely smooth, delicate engraving with very high precision, thanks to the latest OLM-PRO-V10 motherboard and the laser module's excellent spot size (which is as effective as 0.07mm).
This also means you can cut thicker objects quicker than other cheap laser cutter modules. In fact, Ortur claims the Master 2 Pro allows you to complete projects in around half the time it'd take with a 0.23mm engraver. You can read my full Ortur Laser Master 2 Pro review for a deeper dive.
This home laser engraver is also extremely safe to use, even if you're a beginner. It has an upgraded 24V circuit system that provides more power with lower currents for improved safety, while functions like flame detection and emergency stop help prevent any potential issues.
The automatic stop feature comes into effect when the machine is displaced or tilted, if the machine or computer crashes, and if the machine is turned on but there's no movement for a while.
Another great thing about the Ortur Laser Master 2 Pro is that it offers a 400x400mm engraving area, which allows you to work on larger projects than most other budget cutters. It's your choice whether you go for the 2 Pro or spend the extra $150 on the OLM3, but having owned both, they're both great low-cost lasers.
---
Best Laser Engravers Under $1000
Here's my top pick overall, and if you have the money to spend, I recommend it the most.
xTool D1 Pro 10W – Best Cheap Laser Engraver Under $1000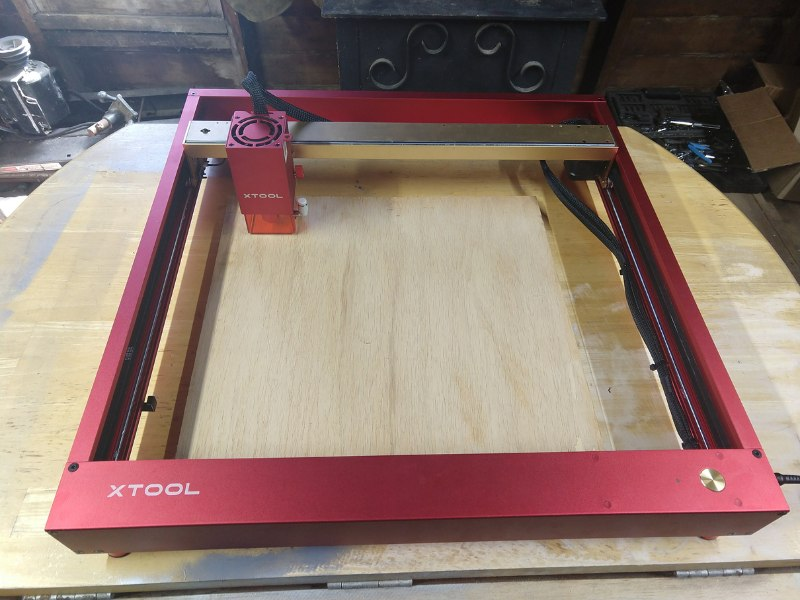 Pros
Best build quality, with protected belts and premium steel wheels for the belts.
Fastest engraving speed of 400mm/s for shading images at lower power
Large work area
Small spot size for precise projects
Cons
Higher price than some 10W lasers
I personally bought the upgraded 20W version for a few hundred dollars more, but I'm going to compare the 10W version because if you're on a budget, the 10W model is perfect.
The xTool D1 10W is the best diode laser under $1,000, so if you're able to spend that kind of money, go for either the xTool. In my opinion it's better than the next best option, the Ortur Laser Master 3.
The Ortur and xTool are very similar in performance: same 10W dual laser power, very similar work area sizes, similar safety settings, both allow for WiFi connectivity and control via an iOS or Android app.
But, to separate the two, the xTool D1 Pro is more sturdily built with steel rods and wheels and protected belts, whereas the Ortur LM3, while still well-built (a big improvement on the previous Ortur LM2 Pro) doesn't protect the belts. The xTool is also slightly larger, and can be extended to 936 x 432 mm with the extension kit.
But, the Ortur has a cheaper rotary roller ($99 vs $279, though the xTool chuck is better overall), has a more clear emergency stop button, a more accessible mobile app, and arguably slightly better safety features on the Ortur.
Though, just because the rotary is cheaper, doesn't mean it's better. I much prefer my RA2 rotary from the xTool store, than the YRR 2.0 roller from the Ortur store.
For saving money, you can instead opt for the 5W version:
It's super accurate and smooth when cutting or engraving (0.01mm precision, 0.08 x 0.06 mm laser spot size), and if you don't want to spend $60 on LightBurn, xTool's software has a great UI and it's surprisingly fluid and beginner-friendly.
Overall, if you have the money to spend, the xTool is your best bet. It's ideal for fun projects, cutting acrylic or wood, and for running a small Etsy business engraving signs or images, as well as cutting coasters, jewelry, or other fun projects. You can also read my full xTool D1 Pro review for a deeper dive.
Best diode pick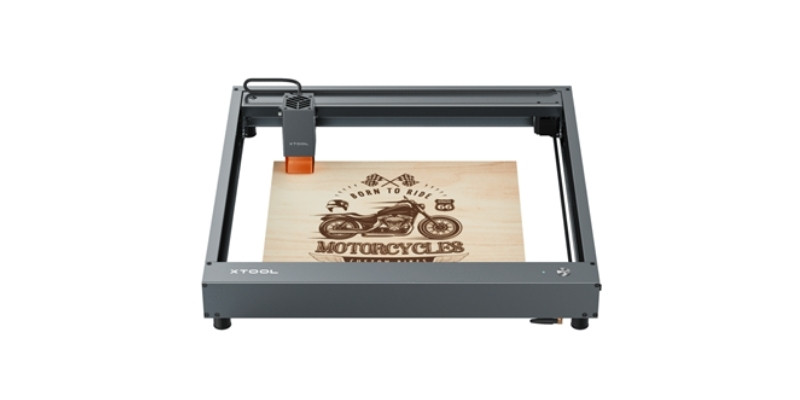 ---
Best Cheap CO2 Laser
Here's our top pick if you're looking to cut clear acrylic or thicker material and need a CO2 laser where a diode just won't cut it.
OMTech 40W – Best Budget CO2 Laser Cutter
Working area: 200 x 300 mm
Power output: 40W
Pros
The most affordable CO2 laser
Widest material compatibility on this list
High power and speed for the price
Fastest laser on the list
Enclosed laser: safer
Cons
Small work area
Not beginner-friendly
Needs upgrade for compatibility with Lightburn and 24V devices
The OMTech 40W is the best budget CO2 laser cutter, and the only CO2 laser engraver under $1000 we recommend.
So, if you're looking to cut clear acrylic, engrave glass, cut rubber, or work with more fabrics or stone, it's the best pick for these. Diode lasers simply will struggle. It's also the fastest laser on this list.
But, the obvious catch is that the machine is small, and the work area is 8" by 12". So, while it costs the same as a 10W diode laser, and it's more powerful, you sacrifice a fair amount of working area. You won't be able to cut and engrave large acrylic or wooden signs, for example.
Also, to keep the price down, OMTech didn't put their best foot forward on all aspects of this machine. For example, the machine is not compatible with Lightburn and rotary as it ships.
However, OMTech has built a more expensive motherboard for this machine that runs on smoothieware and is compatible with Lightburn, rotary, and 24V modules. You can optionally upgrade it after purchase for about $160.
Overall, this laser is not as beginner-friendly as other lasers we've discussed, but a great purchase.
---
What to Expect From a Cheap Laser Engraver
You can get a lot of bang for your buck from about $200 to $1000. But what can you expect from them, and what will you sacrifice?
In general, budget lasers are excellent for:
Engraving at medium speeds
Cutting thin material sheets at low speeds
Cutting relatively thick softwood
Most cheap lasers are diode lasers, but we also recommend one great low-cost CO2 laser.
You can expect about 5W of laser power in the $300 range, 10W for about $500, and 20W for about $1000. Smaller cantilever lasers are typically in the $250 range, with more generous 400 x 400 mm working areas costing around $500. Generally, expect to engrave at about 100mm/s with these lasers.
These lasers have upgrade options if you decide to improve them later, like extension kits, enclosures, air pumps, and even rotary add-ons to engrave cylindrical objects.
These diode lasers can cut various wood, cardboard, very thin leather, and black (or colored) acrylic. You can also engrave wood, leather, paper, colored acrylic, steel, and anodized aluminum.
But, engraving glass and clear acrylic is difficult. They also can't cut other metals, glass, clear acrylic, rubber, foam, and plastics.
However, if you go for the CO2 laser for about $500 (OMTech 40W), you gain in more material compatibility and laser power, but sacrifice work area. You'll get a small enclosed desktop laser that can work on materials about the size of an A4 paper and can cut clear acrylic up to 5mm thick.
Differences between cheap vs professional lasers
So, how does a cheap laser engraver differ from more expensive ones?
Laser Type: cheap laser engravers are often diode lasers, while premium laser engravers are either CO2 or fiber lasers.
Assembly: cheap lasers usually come as kits, but professional lasers come pre-built.
Size: larger lasers are typically more expensive.
Laser Power: expect 5-10W of optical power for under $1000, while professional laser engravers may be between 50w to 120w. This means thinner materials, requiring more passes, and slower speeds.
Speed: due to their low power, budget laser engravers are slower. They usually engrave at about 100mm/s, while better lasers can engrave at 500mm/s.
Resolution: Cheap laser engravers usually print lower than 380 dpi (with a few exceptions), but advanced laser engravers often go as high as 1000 dpi and sometimes even 2K dpi.
Important Factors to Consider When Buying a Cheap Laser Engraver
Optical Power
Optical power (or laser power or output power) is the most important factor when buying your cheap laser. Higher power is better, but more expensive.
Cheap diode lasers generally have either 5W or 10W power, though xTool sell a 20W version of the xTool D1 Pro, which I own and think is great.
Generally, 5W diode lasers cost around $350, and 10W diode lasers typically cost about $600. 20W diode lasers cost above $800.
| Laser Engraving Machine | Power (W) |
| --- | --- |
| Neje 3 / 3 Pro | 5.5-7.5w |
| Twotrees TTS-55 | 5.5W |
| Atomstack A5 Pro | 40W |
| Ortur Laser Master 2 Pro S2 | 10W |
| xTool D1 Pro | 5W, 10W, 20W, or 40W |
| OMTech 40W | 40W |
Ease of Use and Software
If you're a beginner and on a budget, you don't want complex, expensive software. Most software have their own custom software tools, like xTool and XCS, but are also compatible with other software like Lightburn and LaserGRBL.
Also, check whether the laser has a mobile app and WiFi connection. Easy assembly and YouTube instruction videos will also help you set up the machine faster.
| Laser Engraving Machine | Assembly Time | Software Support |
| --- | --- | --- |
| Neje 3 / 3 Pro | Around 1 hour | LightBurn, LaserGRBL, or NEJE software |
| Twotrees TTS-55 | Less than 1 hour | LaserGRBL or LightBurn |
| Atomstack A5 Pro | Less than 30 minutes | LaserGRBL or LightBurn |
| Ortur Laser Master 2 Pro S2 | 1-2 hours | LightBurn, LaserGRBL, or Laser Explorer |
| xTool D1 Pro | Less than 30 minutes | xTool Creative Space |
| OMTech 40W | Around 1 hour | LightBurn, CorelDRAW, EZCAD, and more |
Diode vs CO2
Most cheap lasers are diode lasers, with the only budget CO2 laser cutter available being the K40 range by brands like OMTech. However, I do NOT recommend a K40 if you're new to laser cutting, stick with a diode and learn that first.
But, if you need to work on clear acrylic or glass (that diode lasers struggle with), or want faster production, you can consider it. But, remember that the K40's small 300 x 210 mm work area restricts what projects you can make. And it's really just not a beginner-friendly laser engraver like some of the options we've picked.
Work Area
A larger work area allows you to work on larger projects, obviously. So, decide on your budget, then prioritize in this order: laser power, work area, and ease of use.
| Laser Engraving Machine | Work Area (mm) |
| --- | --- |
| Neje 3 / 3 Pro | Original: 170 x 170, Pro: 400 x 410mm and extends to 400x1040mm |
| Twotrees TTS-55 | 300 x 300 |
| Atomstack A5 Pro | 410 x 400 |
| Ortur Laser Master 2 Pro S2 | 400 x 400 |
| xTool D1 Pro | 432 x 406 |
| OMTech 40W | 200 x 300 |
What's Not Important When Buying a Low-Cost Laser
You'll get a lot of info thrown at you when buying a laser, and sometimes it's difficult to determine what's important.
I recommend not focusing on these factors much:
Overall Power: some manufacturers will tell you the overall power, and try to make it look like that's the output power. For example, some brands like TwoTrees and Atomstack sell 20W, 30W, 40W diode lasers, but they aren't actually. That's just how much power the laser consumes – not how much it outputs. xTool sell a legitimately 20W laser (that I own), but these are some of the most powerful diode lasers around.
Speed: if you see expressions like "speeds up to …" or "top speed is …", often these numbers are inaccurate. Don't expect a laser that can work quickly and to a high standard in the $200-300 range – it's not realistic unfortunately.
Spot size: this is actually pretty vital, but the lasers on our list have been handpicked and all have good spot sizes. So, only consider this factor when choosing a laser outside this list.
Focal length: it doesn't matter as much as the factors we discussed. Also, whether the laser has fixed focus or adjustable focus won't affect you much. It's not that these factors don't matter, but that they're not nearly as important as optical power, for instance.
How much does a decent laser engraver cost?
Decent size and accuracy lasers can be as cheap as $300. If you add half-inch wood-cutting, below-average engraving speed, and a good work area, there are good options for about $1000.
Above $2200, you can get very fast CO2 laser engraving, deep and fast cutting, enclosed industrial style laser, high resolution, pass-through doors, tall Z-axis, rotary, autofocus, auto lift, 3D camera scanner, sensors, and more. If you exclude just the 3D camera, you can get all of these as cheap as $4500.
What software is best for budget laser engravers?
Many budget laser engravers are compatible with LaserGRBL, which is free. Lightburn is the best paid software you can get, which is compatible with most budget laser engravers. Although it's not free, it's worth the price at $60 for a license.
Can you make money with a cheap laser cutter?
Yes, you can deliver engravings with a cheap laser too. But, you'll be far less productive, because a more expensive laser may do the same job 7-10 times faster (and thus make more money).
However, since you won't have many orders when you just start up anyway, you can test the waters with the cheaper laser engraver first and upgrade if you need to.
What materials can you engrave with a cheap laser engraver?
Cheap lasers are often diode lasers, which can engrave some of the best woods for laser engraving & cutting, MDF, colored acrylic, leather, cardboard, corrugated paper, painted metal, steel, anodized aluminum, some plastics, and some ceramics and stones.
However, a cheap CO2 laser (like OMTech 40W) can also engrave clear acrylic, glass, more stones, rubber, bones, and generally more non-metals.
With a laser engraver in this sub-$500 price range, you can still achieve powerful, highly precise markings on a huge range of different materials. These may include:
Wood
Plastics
PCB
Aluminum
Bamboo
Leather
Cardboard
Paper
Ceramic
Pebbles
Certain types of stainless steel.
This makes cheap laser cutters suitable for a wide range of different projects. They're most commonly used for creating home decorations, small signs, and advertisements, and for personalized items.
FAQs
Do cheap laser engravers work?
Yes, cheap lasers work and can still engrave accurately. However, they are much slower, can't cut as thick material, and can't use high resolution. Cheap lasers are also not enclosed, making them less safe and less effective, though some brands like xTool offer enclosures that you can purchase for your budget laser engraver.
What can a 5 watt laser engrave?
A 5W laser can engrave wood, bamboo, MDF, painted metals, photosensitive stamp, anodized aluminum, steel (extremely shallow engraving), nylon, some fabrics, paper, cardboard, corrugated boards, colored acrylic, jade, canvas, and leather. Although 5W lasers are not appropriate for glass and clear acrylic, there are tricks such as painting the acrylic black that can help get some results.
Other laser buying guides:
Other laser guides: