20+ Cool xTool Project Ideas (That Sell Well!)

At CNCSourced, we're a team from across the world, united by our passion for everything CNC, laser cutting, and more! We try to publish at least once per week, and we're always up for talking anything DIY and making! Altogether we've written over 150 technical guides, from how to wire stepper motors, to brand-new ways to CNC carve granite with $5. You can read more about us on our about page.
xTool laser cutters are perfect for cutting and engraving wood and acrylic projects. As for metal, the xTool D1 Pro 10W can engrave on coated metals, and the xTool P2 can engrave on metals even better as it's a powerful CO2 laser.
I own both the xTool D1 Pro 20W, and the xTool P2, and I've made some really cool projects, that have also sold really well online. So, here's some of the coolest xTool laser projects you can make for your side-hustle or for gifts.
Some of the examples I've added do cost money. But if you're on a tight budget, you can check out my article on the best places to find free laser cut files.
Awesome xTool Projects – Full Round-Up
Best diode pick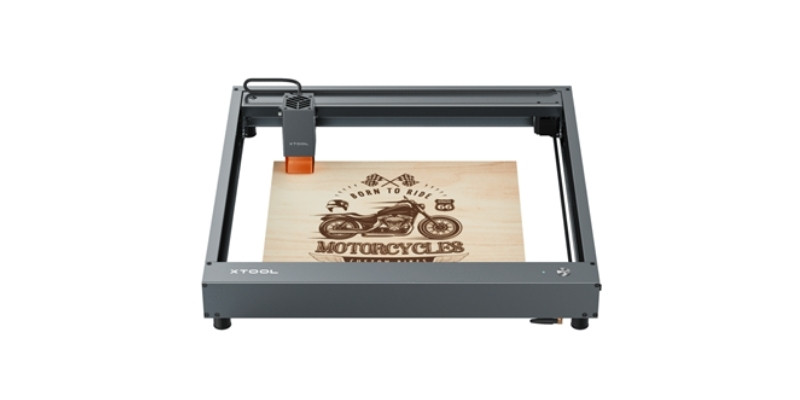 We earn a commission if you make a purchase, at no additional cost to you.
Bookmarks Projects for xTool
For our tests, I tried making My Hero Academia and Celtic knot bookmarks which turned out really well!
All in all, bookmarks are fun to create and even make for a great gift to any book lover in your life. They're also quick and easy to make, and sell well if you can find a niche audience online.
Here's some other xTool project ideas for bookmarks:
Leaves and Flowers
Nature motifs are popular for bringing a little bit of the great outdoors to the comfort of your home. Making bookmarks that look like leaves and flowers is a cinch with an xTool, and they look great too.
These bookmarks are perfect as gifts and are especially useful for people who like to read more than one book at a time.
Christmas Bookmarks
Speaking of gifts, homemade Christmas presents is a great way to give thoughtful presents while taking a little of the often jarring commercialism out of the holidays.
These Christmas bookmarks are great laser cut examples of such gifts to spread some Christmas cheer to your book-loving friends. This makes the gift of a good book even better and much more meaningful.
All-In-One Bookmarks
For more year-round bookmarks you can make with your xTool, this selection of insightful and comforting bookmarks are definitely worth saving.
The creative images and nice messages engraved into the bookmarks are a delight to see every time you reopen your current or favorite read, and there are enough to choose from that you can have a new experience with every book.
The pro-literature phrases and sayings on many of these bookmarks also make them an ideal gift for little ones you want to inspire to read more.
---
Coasters Designs for xTool
Coasters are another ideal xTool project for the same reason as bookmarks.
When making your own coasters with your xTool, just be sure the engraving doesn't go too deep. Intricate designs can create a spillage risk if the surface isn't sufficiently flat.
Just like with bookmarks, I actually made a few coasters with the xTool while reviewing it for CNCSourced. The Mandala patterns turned out particularly well.
Here's some other coaster designs you can make and sell:
Slate Coasters
Because the xTool can engrave slate, you can make some excellent rock coasters with just a few simple steps. It can't cut through slate though, so you'll need to buy the right shaped base pre-cut.
These coasters are more weather resistant than wood, and so are perfect for patios, barbeques, and even outdoor excursions like camping, as these clever and funny coasters show.
To make your own rock coasters, you can follow these detailed instructions laid out by xTool themselves. Or, you can read our article on the best laser engravers for slate, which also contains a guide to getting the best result when engraving custom slate designs.
Floppy Disk Coasters
It may be tempting to pass these over lest you risk showing your age, but you can't deny these floppy disk coasters are a pretty cool blast from the past and make for some amusing coffee table additions.
Coffee Coasters
Coffee-themed coasters have been a household staple for generations. They're quirky, they fit into any collection, and they can be quite fun.
This selection of eight different coffee coasters would make a great addition to any kitchen, and are perfect to break out for afternoon guests. They're also easy to design yourself, and you can either sell the SVG or DXF files, or laser cut these and sell them to local artisanal cafes.
---
Puzzles
xTool laser accuracies make them ideal for laser cutting your very own puzzles.
The best way to make money with these is to find a passionate niche and create your own designs. It's really easy to take a custom image or drawing and using a tool to automatically make it into a puzzle. Then it's easy to sell the puzzle file online, and sell the final laser cut product online or locally.
R2D2
This wooden R2D2 puzzle is one of my personal favorites, and looks amazing with just a little careful painting.
Wooden Horse
This wooden horse puzzle is particularly cool to look at and is deceptively easy to construct because of its interchangeable pieces. It also allows you to reconstruct it in any shape for use as a creative centerpiece.
The same goes for this festive puzzle, which you can put together however you like as a nice centerpiece for your dining table while your serving up Christmas dinner.
The xTool is also great for making 3D puzzles like this animal collection or this 1910 Grand Prix car. Each 3D puzzle makes for a delightful pastime to be enjoyed either alone or as a fun activity with the family.
---
xTool Metal Engraving Project Ideas
If you use the infrared laser head accessory that xTool sell as an extra for around $160, you can much more effectively engrave metal designs.
Combine this with the RA2 rotary module, and you can engrave on rounded surfaces like beakers, flasks and mugs. It costs around $279. These are some of the best-selling and most profitable projects from my experience!
Flasks
Personalized flasks are a great project for marking special occasions and are ripe for funny wording too. Just about anything you can engrave in wood can be engraved on a stainless steel flask with the infrared laser head. Because the xTool can engrave leather too, it's not limited to metal-only flasks.
Zippo Lighters
Zippo lighters are also great for custom engraving. Anyone who owns or knows someone who owns a Zippo will tell you, getting them engraved is a fantastic way to make it more yours, and is much cheaper than getting it done in the shop.
Jewelry and Tags
Laser engraving metal jewelry is also a cinch and makes for some unique wearables you can show off anywhere. If you've got a furry friend, you can also engrave their tags in case they get lost.
For a more meaningful xTool project, there's nothing more special than engraving signs and plaques in metal to commemorate the life or service of a loved one. Making these memorial plaques more personal with laser engraving gives a newer, more special meaning than simple words.
Above all, it feels a lot nicer to make something that special yourself instead of paying to have a stranger do it.
---
Decorative xTool Projects
While practical projects like bookmarks and coasters are useful, there's something to be said for making creative and inspiring things with which you can decorate your home.
Most of these will require using different color materials or paints to look their best, but if you don't mind using a little elbow grease, then you'll agree the end results are worth it. If you like these, you might also want to read my full feature story on some of the most creative laser cutter artists in the world!
Wall Art
Laser cutters are perfect for making wall art decorations. There are so many examples out there, so here's my personal favorite.
The Love cut is a really nice two-piece romantic installment perfect for any living space or bedroom. What I like the most about it isn't the passion that clearly went into it, but instead that it can be modified to resemble you and your partner's silhouette's instead.
Of course, such a design change will involve some creativity and design skills, but if you're up to it or otherwise willing to learn, then this piece of exquisite wall art is perfect for making with your xTool.
Laser Cut Animals
These simple 3D insects and arachnids are like particularly simplified 3D puzzles that we've seen above. The minimalist design make for subtle but welcome decorative items for any bookshelf, mantlepiece, or desk.
For a more complex and challenging project, you can try your hand at cutting and painting these amazing 3D forest animal statuettes would make a welcome mantlepiece decoration for any home. My personal favorite is the fox, but of course you can always make a little family out of whichever animal takes your fancy even if you don't want to make each one.
Sasquatch
One of the coolest decorative xTool projects I came across is this sasquatch. The 7-layer design paints an entire woodland scene within the body of the infamous bigfoot in a mysterious yet beautiful way that's sure to catch the eye of any visitor.
If you like this design, then you can always tweak it slightly to add to its already imaginative form. Personally, I'd love to see one for day and one for night, both representing the beauty of the natural world in any given frozen moment in time.
Calendar
Ending this list with one of the more complex but useful xTool projects on this list, and one of my absolute favorites, is this calendar.
The simple circle design leaves enough space that you can use laser engraving to etch whatever pattern or image you like around its frame, and the day, month, and dates can be done in any font you like to suit the aesthetic of your home or even just match your personal tastes.
The best thing about this kind of calendar is that each wheel is moved and adjusted individually, meaning it can be used for any given year without the need to update or customize it further than you like.
A Common Question: 10W or 20W xTool for a Side-Hustle?
My short answer: I recommend getting the 20W xTool D1 Pro. I personally went for the 20W, and it cuts wood much faster, and can cut thicker wood, which makes all the difference for some of the projects I make.
The 20W doesn't cut or engrave any materials the 10W can't, but it takes fewer passes to do so. The 20W diode laser can also cut up to 3x faster than the 10W.
This makes it better suited for business owners who need high productivity and turnover. For more information on the xTool D1 Pro 20W, feel free to check out my complete xTool review, and I have also written an in-depth comparison between the xTool D1 Pro 5W, 10W, and 20W lasers. There's also a 40W laser head now which I discuss in that article, but it's another $1100 and at that level I recommend getting a CO2 laser.
Speaking of CO2 lasers, the xTool P2 is also great – it's the best mix of power and advanced features for the price. Better than Glowforge and OMTech and Gweike. My full review is coming very soon!
Best diode pick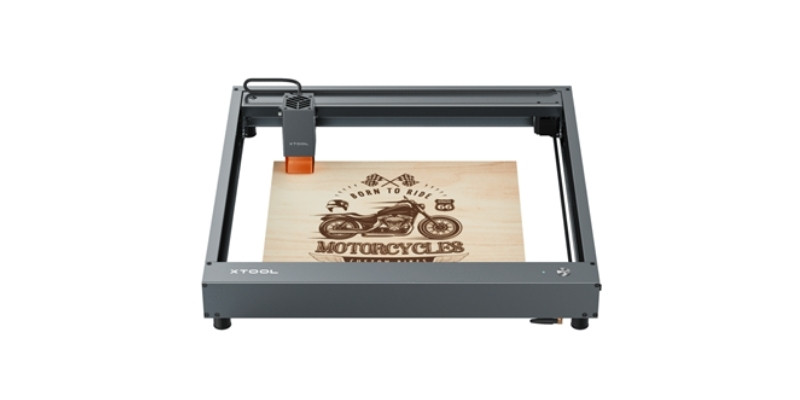 We earn a commission if you make a purchase, at no additional cost to you.
Can you make money with an xTool laser?
Yes, you can absolutely use your xTool projects to make money. Just be sure that any designs you're looking to sell are either owned by you or the license owner has given expressed permission to sell their designs.
You also need to make sure you don't infringe on any copyrighted images or IPs. But if you're careful to make sure your xTool projects are yours, or you at least have the right to sell, then you're all good to go!
Related articles: