Slate rock is one of the best materials for making money online selling your laser engraved coasters.
Trust me, I've personally bought slate coasters from local department stores, as well as Amazon, for $1 each and then sold custom laser designs for $7+. The best part is they take just a few minutes to complete, as long as you're not doing colored engravings or airbrushing.
In short, I personally recommend the xTool D1 Pro as the best diode laser for slate engraving, as it can quickly engrave accurate designs without breaking the bank.
You can also opt for a CO2 laser for even faster slate design engraving for your business, in which case I recommend the xTool F1. I use my F1 at 4000mm/s speeds and it engraves nicely, creating detailed designed in minutes.
Working Area:

110x110mm, 150x150mm, 175x175mm

Laser type:

Diode (infrared add-on available)
Best Laser For Craft Shows
Best Diode Pick
Laser type:
Diode (infrared add-on available)
Best Fiber Pick
Working Area:
110x110mm, 150x150mm, 175x175mm
12/03/2023 07:41 pm GMT
In this article, I'll also explain how to laser engrave slate, and what to look for when picking a slate engraving machine that's best for you.
The Best Slate Lasers – Reviews
xTool F1 – best portable laser engraver for slate
Working area size: 115x115mm
Laser power: 10W & 2W
Laser type: diode and infrared
Weight: 4.6kg
Engravable materials: wood, acrylic, leather, rubber, card, plastic, glass, stone, ceramic metals
If you run a slate laser engraving business and are looking for a portable machine to wow people at trade shows, the xTool F1 is my number one pick.
This intuitive, lightweight engraver is not only super portable, but also engraves at up to 4,000 mm/s and with 0.00199mm precision for fast and accurate work.
It has dual 10W diode and 2W infrared modules for maximum material versatility. I tested both on different slate coasters, and the infrared module was better overall for slate engraving.
Here how I did my test:
I tried out engraving slate with the module in my xTool F1 review and made up a basic design in xTool's XCS software, which I found easy to do.
I used the infrared module to etch a coffee design and the diode to etch text, with the infrared module etching deeper and achieving a cleaner, whiter, result that better contrasts the slate color. (Other users have also found similar results.)
That being said, the diode laser still produced decent results at decent speeds, but with the infrared laser you can work on highly detailed designs, like personalized portraits (perfect for craft shows), at fantastic speeds. The infrared laser is also amazing for engraving on metal jewelry, which is another big hit at local trade shows I've been to.
You're limited to a 115 x 115mm working area with this mini engraver however. This is fine for single slate coasters, though you can increase this to 400x115mm with the xTool Slide Extension, and engrave 3 slate coasters at a time so it's fairly automated.
Best Laser For Craft Shows
xTool F1 Portable IR and Diode Laser Engraver
It's portable and easy to carry to craft and trade shows, and it's the best laser for on-demand custom laser engraving overall. No laser matches its 4000mm/s speed, and the IR laser makes metal engraving a breeze. I highly recommend the xTool F1.
Pros:
Super fast

Portable - weighs 10lbs

Versatile - diode and IR laser
Cons:
Small working area

High price
Buy now at xTool here
Our Review
We earn a commission if you make a purchase, at no additional cost to you.
---
xTool D1 Pro – Best Diode Laser Engraver for Slate
Working area: 430x400mm
Laser type: Diode (infrared add-on available)
Power: 5W/10W/20W
Pros
Engrave up to 400mm/s
Precise down to 0.01mm
High efficiency and output diode laser
Infrared module available
Cons
Lacks the power of CO2 lasers
Whereas the OMTech 50W uses a CO2 laser, the xTool D1 Pro is a diode laser engraver. While diodes can be effective at engraving slate, they are weaker than CO2 lasers, so keep this in mind if you also want to cut thicker wood that CO2 lasers are better suited for.
But for other projects, the D1 Pro is ideal, and it's my favorite laser under $1000. Often also touted as one of the best laser engravers for leather and other materials, its high-quality diode lasers are also great for engraving slate.
It's available in 5W, 10W, and 20W options, and there's also a separate 40W accessory you can buy. I personally decided to buy the 20W version, and you can read my xTool 20W D1 Pro review here. I was very impressed by it.
On top of that, it has an ultra-fine compressed spot of 0.08 x 0.06 mm, whereas other lower-quality lasers typically have around 0.15 x 0.15 mm.
This allows the D1 Pro to be precise down to 0.01mm (like the more expensive OMTech 50W). And, with the capability to engrave at up to 400mm/s, it's one of the fastest laser engravers in this price range — though you can't engrave slate at these speeds.
I also like that you can buy slate slabs from the xTool store. I bought a set of four for under $20. It's not cheap, and you can probably find this cheaper elsewhere, but it's convenient and the slate is good quality. I will add photos once I have laser engraved using both my xTool D1 Pro and xTool P2, and compare the results on slate.
xTool offers its own XCS software, which is intuitive and specifically designed for beginners. If you have the xTool P2 then it's essential as it gives you access to the rounded surface engraving, but even if you're just doing rotary engraving on the D1 Pro, I recommend using XCS. For normal engraving, I just use Lightburn though.
Best diode pick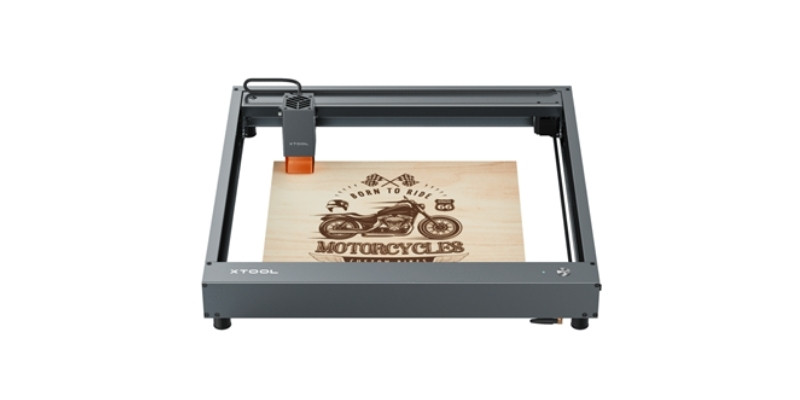 ---
xTool P2 – My Top Pick For Slate Engraving Overall
Pros
Works fast on slate – up to 500mm/s.
It's just so so good!
Batch processing options for automatically aligning your designs on multiple slate coasters at once (if you can make the dark shade show up on the camera).
Cons
Slate coasters are expensive on the xTool store, so get them from a local store or Amazon for 3x cheaper.
Larger spot size than the D1 Pro.
It's not cheap, but I think the xTool P2 is the best desktop laser out right now. I've used it to laser engrave slate coasters in just a couple of minutes (basic designs could be under a minute), and it can create detailed engravings and also score the slate material for different looks.
I've engraved badges, animal designs, and other designs I wanted to sell online with the xTool P2, and it's been great every time.
Unfortunately, because of the dark shade of the slate rock material, you can't use the P2's batch processing features, unless you use a sheet of clear acrylic or another way of showing the dark material up for the camera to tell apart.
Here's a bird design using the recommended 12% power at 400mm/s settings:
I personally wanted a deeper, more contrasting engraving. So for this next design, I tried it at 18% power and 300mm/s speed settings, and I prefer how this came out:
You can see the differences with them side-by-side here:
The batch processing feature automatically aligns your design up on all the other workpieces, so you could automatically set up 8 or 12 coasters for selling online with your designs, saving you time and making you more money.
Given that you can buy slate rock coasters for as little as $1 each online, and easily sell them for $7+, the xTool P2 is a money-making machine.
I've also laser cut clear acrylic, thick 20mm basswood in a single pass, engraved on metals, leather, and much more. It's better than the Gweike Cloud, OMTech Polar, and Glowforge Pro in my opinion, and it's my favorite laser I own. You can read more in my full xTool P2 review.
The only downside is the larger spot size than my xTool D1 Pro 20W, so for any very precise engraving I'd probably use that, or my Ortur Laser Master 3 instead. But this is honestly barely noticeable, and all my precise slate designs come out great on the xTool P2!
I've pasted the recommended slate laser engraving settings below.
| Engraving Type | Power (%) | Speed (mm/s) |
| --- | --- | --- |
| Scoring | 15 | 160 |
| Vector engraving | 12 | 500 |
| Bitmap engraving | 12 | 400 |
xTool P2 slate settings
---
OMTech 50W – Cheaper CO2 Option
Working area: 300 x 500 mm
Laser type: CO2
Power: 50W
Pros
4500 dpi engraving with 0.01mm accuracy
Engrave up to 600mm/s with a powerful CO2 laser
Intuitive controller for offline engraving
Comes with an enclosure with a viewing window
Intuitive features like red dot guidance
Cons
No software included
The OMTech 50W is our pick for the overall best slate laser engraving machine, being an intuitive engraver that packs a real punch for what is a pretty low price.
With a 50W CO2 laser, this machine can produce seriously impressive engraving speeds of 600mm/s, making it one of the quickest hobbyist engravers. For cutting, it can reach 400mm/s, which is also very competitive.
It's super precise, with a positioning accuracy of 0.01mm. Its max engraving resolution is 4500 dpi, which is also fantastic.
For reference, some even more expensive machines have a max dpi of 1000, making the OMTech 50W more suitable for detailed laser etching portraits – one of the most common uses for slate.
Aside from its power and speed, this machine also offers several intuitive features that make for a pleasant user experience. For example, it comes with a Ruida digital controller that you to control the laser head and settings manually. There's also red dot guidance, which indicates engraving points and marks the laser's path to help you set up jobs easily and efficiently.
Unlike most diode lasers for slate, the OMTech 50W comes within a safe enclosure with a viewing window for monitoring your work. It also has a built-in air assist that rapidly clears debris and heat from the surface of your workpiece for cleaner and more precise engraving.
Whereas some laser brands provide their own software, OMTech doesn't, so you'll need to use a third-party program like Lightburn or LaserGRBL.
Best CO2 pick
---
JPT Fiber Laser Engraver Machine – Best Fiber Laser Engraver for Slate
Working area: 110x110mm, 150x150mm, 175x175mm
Laser type: Fiber
Power: 50W
Pros
Extremely fast with up to 7m/s marking speed
Precise down to 0.002mm
Designed for professionals and business owners
Two year warranty
250mm cutting thickness
EZCAD license included
Cons
Not very beginner-friendly
Fiber lasers are the most powerful of all laser types and considerably faster, more efficient, and more precise than diodes and CO2 lasers.
Most have a wavelength of 1064nm, which is absorbed by reflective metals and makes them the best jewelry laser machines, as well as ideal for slate. However, they're also very expensive – and typically only used in professional and industrial settings.
However, if you're engraving lots of slate as part of a business and need to keep up with high production rates, a fiber laser may be worth the investment. For a high-quality yet relatively affordable option, we recommend the JPT 50W Fiber Laser Engraver.
This machine can achieve a genuinely stunning precision engraving of 0.002mm. For reference, the D1 Pro and OMTech 50W – two of the most accurate hobbyist engravers – are only precise down to 0.01mm.
It's also incredibly fast and capable of engraving at speeds of up to 7m/s, or 7,000mm/s – over ten times the speed of the OMTech 50W.
These features allow you to achieve fantastic results while reducing the chance of errors and maintaining efficiency. It can cut material up to 250mm thick, so it can easily handle even the thickest slate tiles.
This machine is available in three sizes, so you can save some cash by going for one of the smaller versions.
JPT provides a license to the EZCAD software, which is a control program specifically designed for fiber lasers.
Best fiber pick
---
Atomstack S20 Pro – Powerful Diode Laser for Deep, Thick Slate Engraving
Working area: 400x400mm
Laser type: Diode
Power: 20W
Pros
Strong diode laser for deep cutting
Good for creating thick engraving lines
Can be used offline or with mobile app
Built-in air assist for cleaner engraving
Cons
Not as precise as some other machines
The Atomstack S20 Pro is a machine designed to provide superior power than your standard diode laser engraver.
Manufacturers typically don't give precise details on slate, but we can use the details they do give to provide an idea of an engraver's power. Atomstack states that the S20 Pro is capable of cutting 15mm wood and 8mm acrylic in a single pass, making it one of the best laser cutters for acrylic.
For reference, that's significantly more than the D1 Pro, so the S20 Pro will effectively engrave slate deeper than most other diode lasers. This is possible because the machine combines four 6W laser beams for a highly efficient effective output of 20W, making it more concentrated than a regular 20W diode laser.
While some other affordable diode laser engravers don't come with an air assist included, the S20 Pro does, ensuring cleaner and more efficient engraving. Also, as this air assist uses dual pumps instead of one, Atomstack claims it's up to twice as efficient as regular assists.
It has a 0.08 x 0.01 mm compressed spot size, which is less fine than the likes of the D1 Pro, but that's not necessarily a bad thing. A large spot will create thicker, more contrasting engravings in a single pass, so the S20 Pro is ideal for engraving larger text onto a slate coaster, for example, but you may want a more precise machine for intricate etchings.
This machine supports offline engraving thanks to the terminal control panel, so you can operate it without a computer. There's also the Atomstack app, which allows you to conveniently design and control the engraver from a smartphone or tablet.
---
Glowforge Pro – Most User-Friendly Option
Working area: 457x508mm
Laser type: CO2
Power: 45W
Pros
Powerful 45W CO2 laser with fast cutting
Plug-and-play for easy assembly
Safe to use in the home
Built-in camera for live previews
Intuitive app for controlling the laser
Cons
Doesn't provide any design software
Glowforge markets its laser engravers as '3D laser printers', and they certainly look the part, with one of the sleekest, safest, and most user-friendly designs on the market.
Widely considered among the best wood laser engravers, these machines come safely enclosed with a case and are designed for home use, schools, and small businesses. They're plug-and-play, so they're one of the most straightforward laser machines to get set up.
There are three models – the Glowforge Basic, Plus, and Pro – which all have the same working area (11"x19.5"), but the Pro is the fastest and most powerful, so we think it's one of the best laser engravers for slate. It also has a pass-through slot for longer length slate engraving – but since coasters are pretty small, it doesn't really affect much here.
The Glowforge Pro uses a 45W CO2 laser and can cut 3x as fast as the Basic and twice as fast as the Plus. As one of the most popular home laser engravers, Glowforge has a wide community, and there's an in-depth discussion on slate engraving on the Glowforge forum that can be helpful for determining the ideal settings for what you want to engrave.
It's also a highly intuitive machine, with a built-in camera for live previews, a user-friendly app for controlling the machine, and thousands of ready-to-use designs in the Glowforge Catalog. Although, if you want to design from scratch, you need to use a separate software and then import your files into the Glowforge app.
The Glowforge Basic and Plus both use 40W CO2 lasers, so they're still pretty powerful and decent options for slate engraving if you're looking to save some cash.
Glowforge Pro
Glowforge are the easiest to use lasers for home business owners looking to create cool projects and sell them on Etsy or other stores and make money.
Glowforge here
Dynamism here
We earn a commission if you make a purchase, at no additional cost to you.
---
Flux Beamo 30W – Best Value CO2 Pick
Working area: 300x210mm
Laser type: CO2
Power: 30W
Pros
Very small and compact CO2 laser
Decent power within the small size
Comes within safety enclosure
1,000 DPI engraving resolution
Built-in HD camera
Custom software and mobile app
Cons
Limits you to small projects
The Beamo is marketed by Flux as the world's smallest CO2 laser engraver. Measuring just 615 x 445 x 177 mm and weighing 22kg, it's a great option for anyone looking for a compact CO2 laser that can easily fit in a home workshop.
This is particularly useful if you're primarily engraving small products like slate coasters, as the Beamo is a lot more space-efficient than larger desktop machines like the D1 Pro. The Beamo provides a working area of 300 x 210 x 45 mm, which is still plenty of room for most slate projects.
Within the Beamo is a 30W CO2 laser that's capable of cutting 300mm/s and up to 5mm in a single pass.
So, while it doesn't quite offer the same power as some of the other slate laser engraving machines on this list, it's still decent given its small size and relatively low price. It can also achieve a resolution of 1,000 dpi, making it great for intricate laser-etched portraits on slate.
This laser engraver also boasts some impressively intuitive features, such as the built-in HD camera that allows you to accurately preview your work before engraving. It's also super easy for beginners to use and you can easily engrave hand-drawn designs by taking a picture and then uploading it to the Beam Studio software.
On top of the desktop software, Flux also offers Beamo Go, a mobile app available for iOS and Android that allows for easy engraving from the palm of your hand.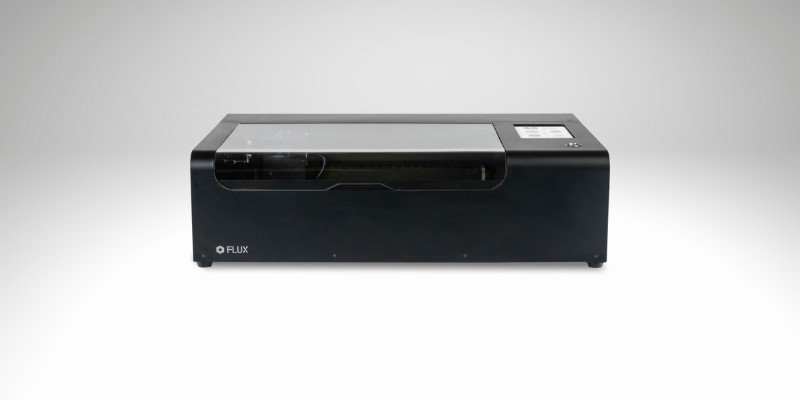 ---
Buying Guide – Things to consider when choosing a laser engraver for slate
Price
A slate engraving machine can cost under $1,000, or well over $5,000, depending on the type of laser, its power, speed, precision, software, and usability.
The real key to finding the laser that provides the best value for your budget is to understand what slate projects you want to make and how quickly, and then find a machine that provides the required specs.
| Laser | Price |
| --- | --- |
| OMTech 50W | $2,099 |
| xTool D1 Pro | $699 |
| JPT Fiber Laser Engraver Machine | $6,199 |
| Atomstack S20 Pro | $1,099 |
| Glowforge Pro | $6,995 |
| Flux Beamo 30W | $2,195 |
| xTool F1 | $1,799 |
Power and speed
As a stone, slate is tougher than many other commonly engraved materials like wood and plastic. You can still engrave slate with low power diode lasers, but what makes a great glass laser engraver may not be as effective with slate, for example. This is why most online shops who sell engraved slate coasters use CO2 lasers, which are more powerful than diodes.
A laser's power impacts how deep and fast you can cut. For example, a 50W CO2 laser like the OMTech 50W can cut deeper in a single pass than a 30W one like the Beamo.
As most laser brands usually don't provide the optimal settings for cutting different materials with their machines, you need to do some test runs to work it out for yourself. However, you can also check community forums and other sites to see what other users say.
For example, one Reddit user found the xTool recommended settings for stone coasters weren't optimal for slate engraving, so they used maximum speed and power and got some stunning results in the process. Just bear in mind that using the max settings will cause the laser tube to decay quicker.
| Laser | Power |
| --- | --- |
| OMTech 50W | 50W |
| xTool D1 Pro | 5W, 10W, 20W, 40W available |
| JPT Fiber Laser Engraver Machine | 5W, 10W, 20W available |
| Atomstack S20 Pro | 20W |
| Glowforge Pro | 45W |
| Flux Beamo 30W | 30W |
| xTool F1 | 10W & 2W |
Precision
Precision is always important when laser engraving, but because slate is often used for detailed laser portraits, it becomes even more essential.
For example, while the D1 Pro and OMTech can achieve 0.01mm precision, the JPT fiber laser is accurate down to 0.002mm.
It's also important to consider a laser engraver's resolution, which is measured in dots per inch (dpi), particularly for laser portraits on slate. If you're laser etching a photo onto slate, the OMTech 50W's 4,500 dpi will typically provide a better result than the Beamo's 1,000 dpi laser.
Laser type
There are four types of lasers used in engraving machines – diode, CO2, infrared, and fiber. Diodes are the weakest, CO2 lasers are a step up, while infrared and fiber lasers are the most powerful and expensive.
As both diodes and CO2 lasers can make effective slate engravers, most people don't need to splash out on an infrared or fiber laser. The most likely exception is if you have a business that produces a lot of products, in which case you may want to consider one. For example, the speed and precision of the JPT 50W fiber laser simply blow diode and CO2 machines out of the water.
An alternative is to go for a machine like the xTool D1 Pro, which uses a diode laser as standard, but offers an infrared module you can upgrade to. This gives you more flexibility while keeping the price low, and also widens the scope of materials you can work with in general, as infrareds are perfect for engraving ferrous metals as well as slate.
| Laser | Laser Type |
| --- | --- |
| OMTech 50W | CO2 |
| xTool D1 Pro | Diode |
| JPT Fiber Laser Engraver Machine | Fiber |
| Atomstack S20 Pro | Diode |
| Glowforge Pro | CO2 |
| Flux Beamo 30W | CO2 |
| xTool F1 | Infrared and Diode |
Size & Working Area
The working area has a big impact on a laser engraver's price, and typically people look for engravers that provide more room. However, as most laser engraved slate projects are typically pretty small, you may want to consider saving some money and space on a more compact machine.
On the flip side, having a small working area does mean you're more limited should you ever want to switch to working on different materials for laser projects later down the line, so bear this in mind.
| Laser | Working Area |
| --- | --- |
| OMTech 50W | 300 x 500 mm |
| xTool D1 Pro | 430x400mm |
| JPT Fiber Laser Engraver Machine | 110x110mm, 150x150mm, 175x175mm |
| Atomstack S20 Pro | 400x400mm |
| Glowforge Pro | 457x508mm |
| Flux Beamo 30W | 300x210mm |
| xTool F1 | 115x115mm |
Ease of use
It's always nice to have an easy-to-use laser engraver, but it's particularly important to consider if you're a newbie engraving slate for the first time. Some machines excel over others in this regard.
Take the Glowforge, for example. This has gained popularity among novices for its simple plug-and-play assembly that takes minutes, its intuitive live camera previews, and the fact that you can easily control the machine from a mobile app.
Other slate engravers, like the OMTech 50W and JPT Fiber Laser Engraver, are typically aimed at more experienced users and, as such, do away with some of the more beginner-friendly features.
| Laser | Assembly Time |
| --- | --- |
| OMTech 50W | About an hour |
| xTool D1 Pro | Over 30 minutes |
| JPT Fiber Laser Engraver Machine | Comes pre-assembled |
| Atomstack S20 Pro | 30 minutes |
| Glowforge Pro | About an hour |
| Flux Beamo 30W | Pre-assembled |
| xTool F1 | Pre-assembled |
Overview of Laser Engraving Slate
Can you Laser Engrave on Slate?
Yes. Slate is commonly laser engraved to produce products like coasters and laser-etched portraits.
Is Slate Easy to Laser Engrave?
Engraving slate is relatively simple, and most lasers can make at least shallow etchings. However, CO2 lasers produce better results on slate than diodes, and fiber lasers are even better than CO2 ones.
How do you Laser Engrave Slate?
To get the best results when laser engraving slate, start by converting your image to a negative and ensuring it's set up only to black and white, as slate only engraves one color.
You should then add a finish to your slate before engraving, to avoid it soaking into the raw stone if you do it after. After that, you can engrave the slate and clean it with soapy water when you're done.
What Settings Should I use to Laser Engrave Slate?
This depends on your laser engraver and what kind of design you want to produce. The following are Youtuber The Edge of Tech's ideal settings for engraving slate with a 10W diode laser (the Ortur Laser Master 2):
If you're using a more powerful 50W CO2 laser, for example, you could use less power (say 20%) and higher speed settings like 400-600mm/s, depending on your machine's capabilities. Using low power will help your laser tube last longer.
FAQ:
What do you spray on slate before engraving? 
You spray a finish onto slate before engraving, which boosts its aesthetic appearance and makes it more durable.
How do you clean slate after laser engraving? 
You can simply clean slate with soap and water after laser engraving. 
What is the difference between etched and engraved slate?
When using a laser to work on slate, etching is making very shallow lines into a material's surface, while engraving refers to deeper indents into the material. Laser etching and engraving are both used to create contrast when using slate for vector images and portraits, although engraving alone is typically used for simpler raster designs like text.