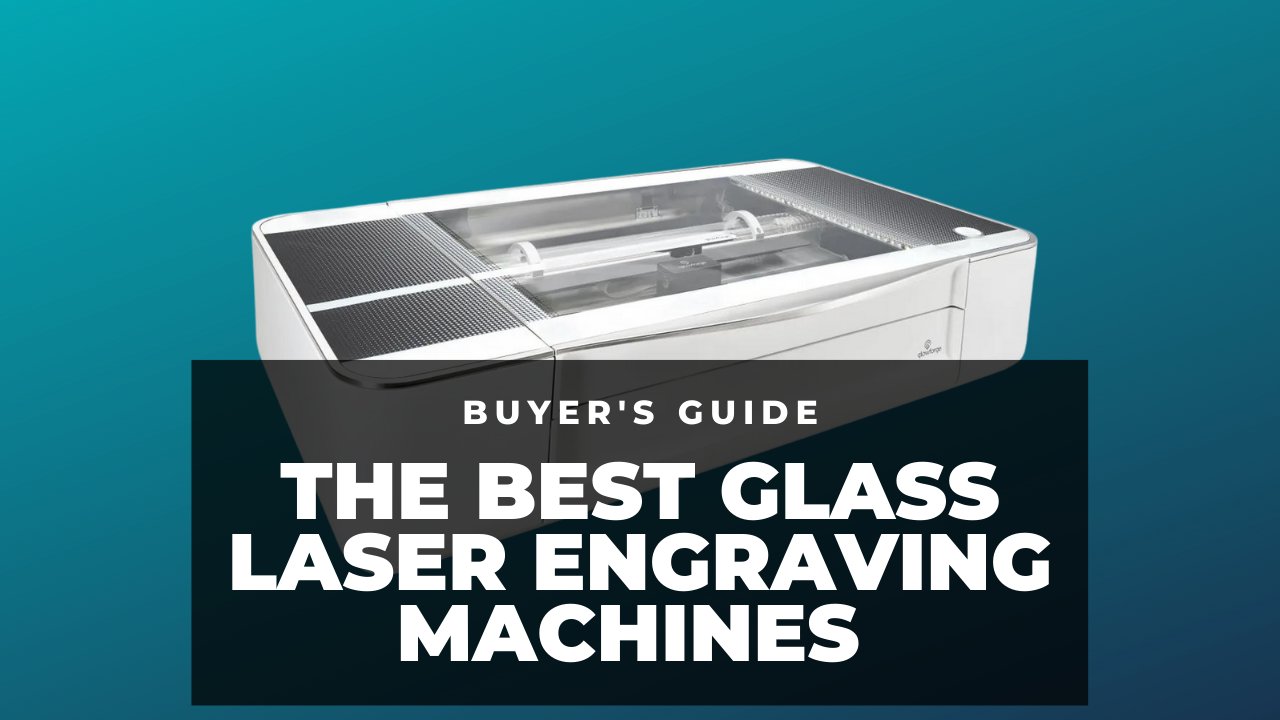 The best glass laser cutters and engravers work very differently to wood or acrylic – you'll need to paint or spray your glass with a diode laser to get an engraving effect, whereas CO2 lasers are much easier to use.
That being said, if you want a low-cost diode laser for glass engraving, I recommend the xTool D1 Pro. It's my favorite laser in my workshop, and I think it's the best diode laser out right now – especially for the price.
For a CO2 glass laser cutter, you can technically go for a cheap K40, but I don't recommend it. It's too small to get tumblers or glass bottles in, and I recommend spending more to get a laser like the xTool P2, which in my opinion is the best desktop CO2 laser right now.
In this buyer's guide, I'll explain exactly what laser engraving glass is and how it works (for both diode and CO2 lasers), I'll run through the best laser cutters for glassware, and explain the key factors to consider when buying (hint: it's NOT power or speed).
What's the Best Laser Engraver for Glass?
Best Glass Engraving Machines
CNCSourced is reader-supported. When you buy through links on our site, we may earn an affiliate commission. Learn more
xTool D1 Pro: Best Diode Laser For Glass
Pros
The best diode laser in the price range (in our opinion)
Rotary and risers: for engraving glass cups and bottles
Extension kit option: increases work area to 936 x 432 mm
Compatible with Lightburn
Cons
Diode laser: so you'll have to paint the glass before engraving, and you'll get worst grayscale glass engraving results
xTool D1 is an excellent diode laser ideal for low-cost glass laser engraving. It's very well-built, with a sturdy metal chassis making for controlled movement and great precision, and with protected belts (other lasers like my Ortur Laser Master 3 don't have protected belts).
You can get it with a 5W, 10W, 20W, and a brand-new 40W laser head – so take your pick based on how much power you need. xTool also offer two laser head choices: infrared and blue. I personally own and have tested the 20W xTool D1 Pro, and I think it's the best diode laser around right now.
However, if you're buying, consider that being a diode laser, xTool D1 is not great for a glass engraving business since you can't directly laser engrave glass – you'll need to paint or spray it first.
My xTool P2 is better suited to glass engraving, as it's a CO2 laser. But, you can still laser engrave glass with the xTool D1 Pro, you just need to be clever with painting and preparing the glass.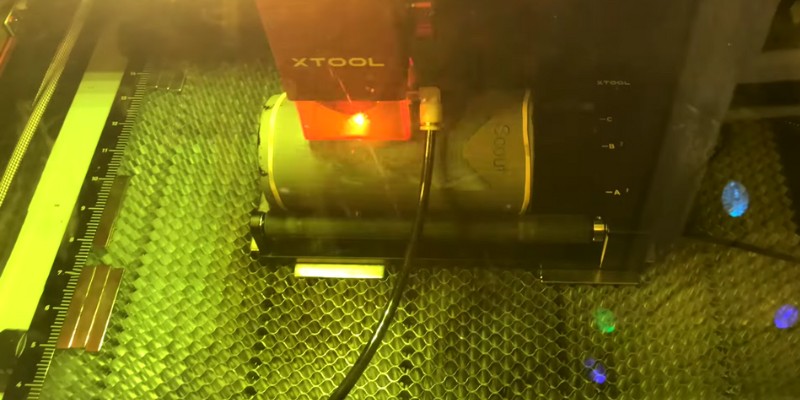 Another plus is its cheap risers and rotary add-on. While not as cheap as Ortur's YRR rotary (which is a DIY kit, taking a while to build and generally more annoying), xTool's RA2 rotary chuck is sturdier and better built, and lets you hold glass pitchers, wine glasses, cups, and bottles in place to engrave them. If you're unsure as to which power version to go for, I've compared them all in our xTool D1 Pro 5W vs 10W vs 20W article.
Best diode pick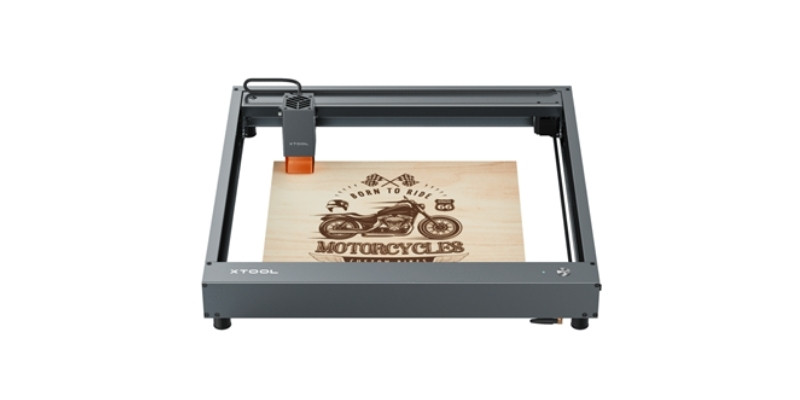 ---
NEJE Master 3 – Budget Pick
Pros
Various work area options: including large-scape option
Very affordable
Cons
Diode laser, so have to paint glass – not great for grayscale engraving
Low power (compared to xTool D1 Pro)
NEJE is a name quickly growing in the laser engraving space for its insane affordability, and it's that exact reason why it's on our list today.
By all accounts, the NEJE 3 Plus is a fantastic machine. You can order it in various sizes and working areas with 110mm×120mm, 170mm×170mm, and 460mm×810mm options.
It has a very narrow beam, which can engrave precise designs on wood, leather, rubber, and loads of other soft materials… just not glass, at least in the traditional sense.
The NEJE 3 uses a diode laser, and for those new to the game, diode lasers can't cut or process glass as the laser beam just goes through it, like pouring water through a strainer. Therefore, in order to use it for glass engraving, you'll have to use film-coated glass or paint the glass black before engraving, then use paint thinner to clean it afterward.
Now, this is a turn-off for experienced hobbyists or professionals with strict deadlines, products, and operations they're trying to achieve, however, if you're new to laser engraving, then this is the perfect machine to beat the learning curve.
Once you're more experienced and have more money to invest, I recommend buying a more expensive glass laser cutter and engraver, but this is the best solution for new users looking to explore the space. If you're on a budget, this is one of the best laser engravers under $500.
You can see this machine engraving glass in this video:
As you can see, laser settings of about 80% power and about 10mm/sec yield good results.
Hot tip: The darker the paint the better the result when glass laser engraving with a diode laser.
Budget-Friendly Laser Engraver For Glass
---
xTool P2 – Best CO2 Laser For Glass Etching
Pros
Comfortably engraves glass at 300mm/s.
Faster engraving than other CO2 lasers like Glowforge Pro (and it's also cheaper)
Low-cost rotary glass engraving with RA2 rotary pro add-on.
Cons
Need the riser base accessory for rotary engraving taller glasses.
I personally think the xTool P2 is the best desktop CO2 laser right now based on my hands-on testing, including for glass engraving.
No other laser gets you 55W power, such large working area, advanced features, and precision for the price. I also found the low-cost $279 RA2 rotary add-on was ideal for engraving on glass vases, bowls, cups, and more.
Though, you may not even need the rotary for some curved surfaces, such as glass bowls. The xTool P2 uses dual 16MP cameras which can detect different heights and depths across the glass workpiece, and create a 3D mesh (similar to how a 3D scanner works).
Then, the laser adapts your design across this curved surface so that it comes out perfectly, without distorting. I haven't tried this on a glass bowl yet, but I've tried this on wooden bowls and spoons, for example this spoon below:
Here's my video guide on how to engrave on these curved surfaces with the xTool P2:
The power and accuracy means you can get that crystal-style glass engraving on glass, though I recommend buying the riser base accessory if you want to do rotary engraving, as this will give you more height – up to 8.5". Without this, you'll be limited in the size of glasses you can etch into.
If you're engraving a bunch of glass coasters at the same time, the P2 also has built-in batch processing features within the XCS software. This means that if you align the laser on one glass workpiece, and click the "Smart Fill" button, it'll automatically align across all other workpieces the cameras detect, in the exact same way.
For small business owners looking to create a lot of branded products quickly, this is a huge bonus. You can see how it works below:
Even with the riser base, RA2 rotary pro, and the automatic conveyor feeder, the xTool P2 is still cheaper than the Glowforge Pro. (though the feeder isn't really important for glass engraving; it's more for really long wooden sheets).
And overall, I highly recommend it if you're looking for a CO2 laser for your small business. Not only does it work well with glass, but it can cut 20mm acrylic and wood in a single pass, and etches well on metal.
---
OMTech 40W – Cheapest CO2 Glass Laser Cutter
Pros
One of the most affordable CO2 lasers
High power and speed for the price
Cheap rotary add-on (about $110)
LCD and water temperature
Cons
Small work area
Doesn't support Lightburn
Slower than higher priced CO2 lasers (and generally not as capable)
The OMTech 40 W is arguably the most popular budget-friendly CO2 laser cutter on the market, especially since OMTech, Orion Motor Tech's American branch, came on to the scene and started issuing the quality insurance buyers were looking for.
Coming in a compact desktop size, the 40 W is also a popular entry-level glass engraver with its 40 W laser tube, which packs a serious punch for its smaller design. Some have been able to push up to high speeds of 300-400 mm/s when engraving.
What makes this machine the ideal budget buy is the sheer amount of capabilities you get, as well as upgrade options. If you're still a relatively new business or engraver, the standard buy of this machine is more than enough to carry you into production with its user-friendly interface and safe design that you can set up anywhere.
However, once you start picking up speed there are excellent add-ons like air-assist, an adjustable bed, and an enhanced control board that make those massive workflow differences when upping production.
You'll get a taste of high-end features, without losing money on gimmicky features or excessive attachments that don't make a real impact unless you're experienced and know they make a difference in your projects.
OMTech 40W CO2 Laser Engraver K40
This machine is likely the most sought-after entry-level CO2 laser cutter on the market, and because of its 40 W laser tube, it's also a popular entry-level glass engraver.
Amazon here
We earn a commission if you make a purchase, at no additional cost to you.
---
FLUX Beamo – Best Laser Engraver For Glass Cups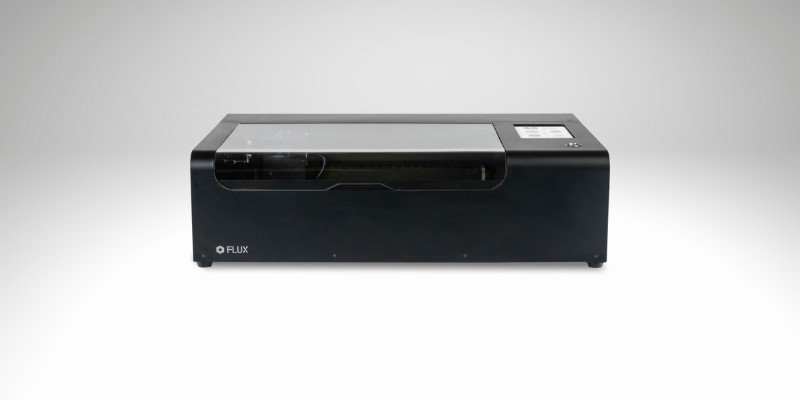 Pros
HD camera
User-friendly UI
High beam quality
High-resolution
Cons
Good ventilation is required
Limited work area
Limited Z-clearance – not ideal for cups and bottles
The OMTech may fit on your desk, but nothing compares to the sleek and ergonomic design of the Flux Beamo. Weighing less than 50lbs, it sports a modern metal build that blends sleekly into your work environment.
Flux prioritize accessibility, featuring intuitive in-app design and editing – which also sends images directly to your machine for engraving – wireless integration, and an HD camera that lets you get in on the action and see exactly how your design will come out. You can even hand-draw designs and scan them into the app for engraving.
The main selling point is the rotary module, however, that turns it into a 4 axis laser engraver. With 4 axes, you can laser engrave glass cups and tubes that will give you access to the personalized gift market as well as branding – businesses love swag with their name on it. For more on rotary lasers, you can read our article on the best laser engravers with rotary attachments.
Continuing to add versatility, you also get Beam Studio's seamless integration with powerful laser software like Adobe, Sketch, AutoCAD, and Coral Draw, and its ability to laser engrave slate, cement, stone, acrylic, and wood.
They also have the Beambox and Beambox Pro for those in love with the brand but want an extra bit of oomph in their laser engraver.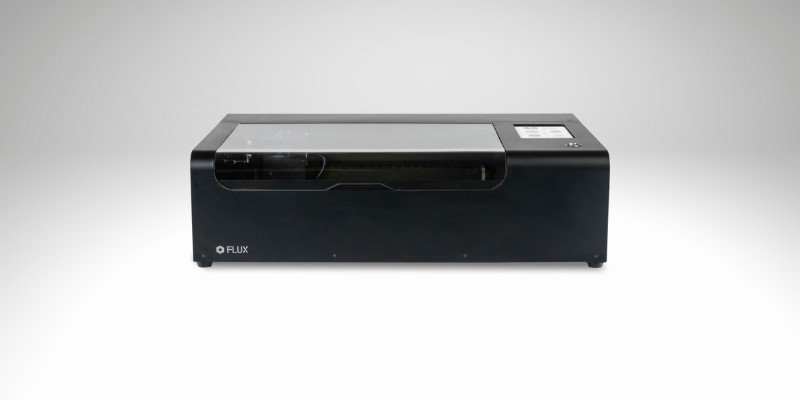 ---
Ten-High CO2 Engraving Machine – Best Industrial Glass Laser Engraver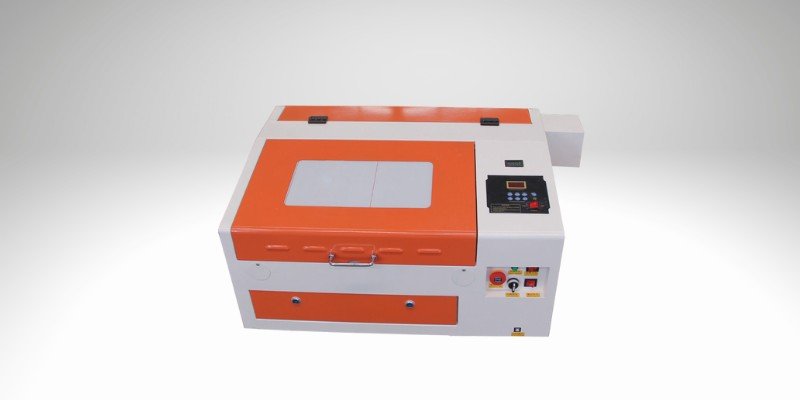 Pros
High power: 40-60W options
Large working area: Enough room for engraving glasses and bottles
Blazing fast speed: up to 500mm/sec
Affordable: considering the power and working area you get
Cons
Not compatible with Lightburn
No camera or autofocus
With the Ten High CO2 engraving machine, you enter industrial laser engraving and cutting.
It stands out with unique features, including CorelLASER, a plugin used with CorelDRAW for creating and laser engraving designs. (It also includes Seal Design Software LaserDRW as an alternative to CorelDraw.) Overall, this offers a streamlined experience with the machine and drawing software being linked.
Like with the Flux Beamo, there is the option of rotary axis integration, and the machine's interface is already set up to support it, which is particularly useful since it's a mechanical interface rather than digital.
But unlike the smaller Flux Beamo, this machine accommodates materials as tall as 150mm. This makes it one of the best laser engravers for glassware since it's roomy enough for placing pitchers, bottles, and cups. So, if you're intending to laser engrave larger glass objects, this is a better pick for you.
Also, the speed is excellent: up to 500mm/sec. You can also increase your engraving speed if you get the 60W version, though if you don't need the power and speed, the 40W is still excellent.
The Ten High is more technical than others on our list, and you'll need to be hands-on with a lot of the machine's functions like speed, power, amperages, and red dot position, whereas others at this price point are automated or have specific settings. However, that's what makes this such an excellent high-powered glass laser engraving machine for experienced makers.
Ten High abandons frill and really hones in on the aspects that matter, like precision, stability, and power, securing its spot as one of the best industrial glass laser engravers.
---
Glowforge Basic
Pros
Easy to set up: Glowforge lasers are known for their accessibility
Straightforward software
Camera and autofocus
Big community: great for both for sharing ideas, and getting troubleshooting help
Cons
Can't engrave bottles and cups (no rotary)
Slower than Glowforge Plus
No 3rd party software, and it's also browser-based so there's no offline options
The Basic is Glowforge's budget option. Glass engraving is a tricky process, and when you find a trusted brand like Glowforge that is so easy to set up and use for small businesses engraving glass objects, you stick with it.
As a 40W CO2 laser, it won't struggle with engraving glass. The Basic has a fresh minimalist design that sits beautifully on your worktop and offers user-friendly features like full autofocus, dual cameras, and cross-platform compatibility.
The most intuitive aspect of this brand by far though is its use of Proofgrade materials. These are materials sourced and encoded by Glowforge itself that are then scanned by your laser engraver to find out the exact settings required for optimal glass engraving.
Imagine sending over your design to the engraver and it immediately knowing what settings to use to engrave that image perfectly. It takes away a lot of the guesswork and trial and error you'd likely experience otherwise, saving you time on projects – perfect for hitting those tight deadlines.
As a class 1 laser, this machine is safe to use for everyone, regardless of your skill level, however, we recommend this model for the true artisans (and even their more expensive ones for features like a pass-through system), who will get this most out of these high-end features.
Glowforge Basic
Glowforge are the easiest to use lasers for home business owners looking to create cool projects and sell them on Etsy or other stores and make money.
Glowforge here
We earn a commission if you make a purchase, at no additional cost to you.
---
OMTech 80 W – Large Size Laser Cutter For Glassware
Pros
High power: powerful 80W laser for fast glassware laser engraving
Large work area: 500 x 700 mm is larger than most competitors
Good value: it's far from cheap, but for the specs, it's very affordable
4-way pass through doors to engrave unlimited lengths of glass
Over 9" of lift table with optional auto lift – roomy enough for all glassware
Supports Lightburn
Autofocus
Cons
Not a desktop laser: it weighs 287 pounds. Far from portable, and made for small businesses and shops in workshops
The 80 W is from OMTech's mid-range series, unlike the 40W K40 laser which is from their desktop range. This machine oozes power and is for those working on large glass projects – and a lot of them.
This is highlighted by its 80W laser tube that cuts up to a whopping 9mm deep, and four-way pass-through system, which has openings on the sides, front, and rear of the machine. This lets you to work on projects longer and wider than the machine itself. The 80W power also means you can engrave even tougher materials than glass, including brick, marble, and granite.
This is by far one of the strongest at-home laser engravers you can buy and is best for growing businesses – literally. With its pass-through system, you can grow the size of the projects you want to take on and expand the range of projects you can hit, conquering your previously untouched markets.
It's compatible with CorelDraw and LightBurn, two of the most popular design software. However, this is an industrial-level machine, so you are required to complete some safety requirements before using it. Overall, it's one of the best laser engravers for glass and metal.
---
Factors to Consider When Buying the Laser Engraver for Glassware
Laser Type
This depends on your needs: if you're just doing the occasional fun glass project at home, etching glass with a diode laser is fine. If you're buying a laser for a glass engraving business, then only go for a CO2 laser. CO2 lasers can engrave glass, and high-power CO2 lasers can even cut glass.
However, if you already have a diode laser, you can experiment with glass engraving by first, putting black paint on the glass and washing it off afterward – and then decide if you want to buy a CO2 laser from there.
| Laser Machine | Laser Type |
| --- | --- |
| xTool D1 Pro | Diode |
| NEJE Master 3 | Diode |
| OMTech 40W | CO2 |
| FLUX Beamo | CO2 |
| Ten-High CO2 Engraving Machine | CO2 |
| Glowforge Basic | CO2 |
| OMTech 80 W | CO2 |
Z-Axis and Rotary
If you're only engraving glass sheets, then you don't need a rotary. But, if you want to engrave wine glasses, bottles, pitchers, and cups, then you'll need one.
But a rotary is not enough. You'll also need a laser with enough room under its Z-axis to place cups and bottles. For example, the OMTech 80W and Ten High CO2 lasers can accommodate glassware, while Flux Beamo and OMTech 40W are still too low to engrave larger bottles and pitchers, despite having rotary add-ons. And Glowforge lasers notoriously have no rotary attachment as there's not enough z-height.
Finally, if the Z-axis has motorized movement (auto lift), you don't have to adjust it manually.
| Laser Machine | Rotary Attachment |
| --- | --- |
| xTool D1 Pro | Yes |
| NEJE Master 3 | Yes |
| OMTech 40W | Yes |
| FLUX Beamo | Yes |
| Ten-High CO2 Engraving Machine | Includes rotary axis |
| Glowforge Basic | No |
| OMTech 80 W | Yes |
Work Area
The work area limits the size of glass sheets you can engrave. You only need a work area as big as your projects.
Some lasers also have pass-through doors that allow you to insert long glass sheets for engraving, such as the OMTech 80W and Glowforge Pro.
| Laser Machine | Work Area |
| --- | --- |
| xTool D1 Pro | 432 x 406 mm |
| NEJE Master 3 | From 170mm×170mm to 460mm×810mm |
| OMTech 40W | 203 x 304mm |
| FLUX Beamo | 300mm x 210mm |
| Ten-High CO2 Engraving Machine | 400 x 300mm |
| Glowforge Basic | 280 x 480 mm |
| OMTech 80 W | 500mm x 700mm |
Cost
Your projects affect the laser you choose for the work area, z-height, whether you need a rotary, and your laser type. But once you know your requirements, price is the main factor in picking the best laser cutter for glass.
Glass laser engraving machine prices start at around $500 for the cheapest CO2 lasers. However, a larger CO2 laser with a roomier work area for larger and taller glass projects starts at around $3000. From there, you can get more expensive machines with more advanced features.
| Laser Machine | Price |
| --- | --- |
| xTool D1 Pro | $699 |
| NEJE Master 3 | $499 |
| OMTech 40W | $479 |
| FLUX Beamo | $2,299 |
| Ten-High CO2 Engraving Machine | Starts at $1,919 |
| Glowforge Basic | $3,995 |
| OMTech 80 W | $3,699 |
Speed and Power
This factor is not as important for glass engraving as for other types of material engraving. For example, we'd put power on top of the list for cutting wood, but for glass engraving, it's a lesser factor.
For diode lasers, higher power is just better. But for glass engraving with a CO2 laser, higher power only affects your production rate if it can engrave at higher speeds – otherwise, you won't use all of the laser power.
| Laser Machine | Max Engraving Speed | Power Options |
| --- | --- | --- |
| xTool D1 Pro | 400 mm/s | 5W, 10W, 20W, 40W |
| NEJE Master 3 | Unknown | 5.5W |
| OMTech 40W | 255 mm/s | 40W |
| FLUX Beamo | 300 mm/s | 30W |
| Ten-High CO2 Engraving Machine | 500 mm/s | 40W, 50W, 60W |
| Glowforge Basic | Unknown | 40W |
| OMTech 80 W | 500 mm/s | 80W |
Ease of Use
A laser with a camera and autofocus helps you a lot when engraving glass, letting you easily position your design on the material.
Also, if you're adding a rotary, the laser controller settings for the rotary motor come into play. Some laser controllers are easier to work with than others.
Finally, easy-to-use software and compatibility with multiple software can enhance your laser experience. Glowforge's browser-based app is easy to use for setting up glass projects, but it's online only. Not all lasers are compatible with Lightburn, so if you're well-versed in it, opt for a compatible laser – and for example, the OMTech K40 40W is not compatible with Lightburn.
| Laser Machine | Assembly Time |
| --- | --- |
| xTool D1 Pro | 30 minutes |
| NEJE Master 3 | 1 hour |
| OMTech 40W | Around an hour |
| FLUX Beamo | Pre-assembled |
| Ten-High CO2 Engraving Machine | Pre-assembled |
| Glowforge Basic | Less than an hour |
| OMTech 80 W | Around an hour |
Versatility
You'll most certainly use your laser to cut or engrave other materials as well. So, a laser with more capabilities and material compatibility will also help you there.
So, while if you're only using it for glassware laser projects, you can prioritize just these factors, but I also implore you to consider any other projects you're likely to make, especially if you're running a small shop, or an Etsy store.
Buy a glass laser cutter that also works on signs if you plan to make these, or that can effectively laser engrave yeti cups made of stainless steel or anodized aluminum, as well as glass tumblers.
How to Laser Engrave Glass
Laser engraving glass is different from engraving other materials like wood. When you engrave wood, you get the engraving effect because the laser removes a small portion of the material, but when engraving glass, it's because the laser causes small cracks in the glass.
So, the glass surface does not evaporate like other materials do, even though some of the trapped air escapes from the glass surface, cracking it.
CO2 lasers are best for engraving glass since their beam interacts well with glass. This is why we recommend using a CO2 laser if you're planning on serious glass projects for your business. However, you can also engrave glass with a diode laser by painting the glass black, but it's a more complex and slower process.
How to laser engrave glass with a CO2 laser
To engrave glass with a CO2 laser, do the following:
Use wet paper towels or dishwashing liquid to keep the glass from getting too hot.
Use a lower dpi. Depending on the laser and settings, the dpi can be between 300 and 600. A higher dpi results in the engraving cracks invading each other and decreasing the quality, and even increasing the chances of breaking the glass.
Use a grayscale matrix between 70% to 80%. If you go any higher, you run the risk of overheating some areas.
How to laser engrave glass with a diode laser
To engrave glass with a diode laser, do the following:
Clean the glass.
Paint the glass.
Set up your project (one-color designs are better than grayscale).
Use the appropriate laser settings.
After engraving, wash the glass with paint solvent to remove the paint.
Laser Engraving vs Laser Etching Glass
It's important to note that there is a difference between laser engraved glass and laser-etched glass.
Engraving is used to vaporize only a portion of material. Cut depth usually sits at around 0.02″ and 0.125″ for thicker materials, and the space left behind from the laser beam is the design. With engraving, you feel where it's been cut and can physically feel the absence of material.
Alternatively, with etching, you don't cut the material, but rather remove it. Only going about 0.001″ deep, when laser etching you remove only the topmost layer, which is still enough to show designs.
On a technical level, laser engraving is a physical process where you cut out the material, however, etching, which is a subgroup of engraving, is labeled a chemical process. Both have gone on to become successful techniques of adding personal touches to glass.
FAQs
What is the difference between laser engraving and etching glass?
Technically, lasers neither engrave nor etch the glass. Lasers mark glass by leaving shatter marks that give it a frosty white look. In contrast, lasers engrave other materials by evaporating portions from the material surface (physical change) and etch materials by momentary surface melting (chemical). True glass etching is achieved by chemically marking glass with acid, not direct lasering.
Is it hard to laser engrave glass?
It's easy to laser engrave glass with a CO2 laser, but more difficult to do with a diode laser since you need to paint the glass and wash it off after engraving. It's also more difficult to engrave rounded objects like cups and bottles, as you'll need to set up a rotary to do this.
Which is better, etching or engraving glass?
You can't etch glass with lasers (though there are many other glass etching techniques like acid etching). But you can laser engrave glass to create frosty white marks. It will be fast and gives an appealing frosty look.
You may also like: