Glass laser engraving has been adopted across the board. Businesses, designers, hobbyists, and manufacturers have all used this sophisticated technology to elevate their glassware.
Not only that, but they've effectively created newer and better products while still maintaining expert craftsmanship.
Whether you're new to glass laser engraving or are onto your third or fourth machine, we have all the information you need.
So, check out our buyer's guide to find out what laser engraving is, how it works on glass, and what to consider when evaluating which is the best laser engraver for you.
Quick Navigation – Glass laser engravers buyer guide
Best Glass Engraving Machines
CNCSourced is reader-supported. When you buy through links on our site, we may earn an affiliate commission. Learn more
1. NEJE Master 2S Plus – Best Entry-Level Glass Engraving Machine
NEJE is a name quickly growing in the laser engraving space for its insane affordability, and it's that exact reason why it's on our list today.
By all accounts, the NEJE Master 2S Plus is a fantastic machine. It boasts a huge cutting area of 420mm x 255mm, despite its low price point, and engraves precise designs on wood, leather, rubber, and loads of other soft materials… just not glass, at least in the traditional sense.
The NEJE Master 2S Plus uses a diode laser, and for those new to the game, diode lasers can't cut or process transparent materials, the laser just goes through it. Like pouring water through a strainer. Therefore, in order to use the Master 2S Plus for glass engraving, you'll have to use film-coated glass or paint the glass black before engraving, then use paint thinner to clean it afterward.
You can see an example here from TechyDIY's in-depth Ortur Master Pro review at 25 minutes 38 seconds in:
Now, this is a turn-off for experienced hobbyists or professionals that have strict deadlines, products, and operations they're trying to achieve, however, if you're new to laser engraving, then this is the perfect machine to beat the learning curve.  
When learning a new hobby – and the skills that come with it – it's best to have trial and error on something inexpensive. Plus, since the Master 2S Plus is so versatile, you'll also have the chance to mess around with other types of materials.
Once you're more established you should buy a more expensive glass laser cutter and engraver, but this is the best solution for new users looking to explore the space.
Hot tip: The darker the paint the better the result when glass laser engraving with a diode laser.
Budget-Friendly Laser Engraver For Acrylic
---
2. OMTech 40 W – Most Affordable Glass Laser Engraving Machine
The OMTech 40 W is arguably the most popular budget-friendly CO2 laser cutter on the market, especially since OMTech, Orion Motor Tech's American branch, came on to the scene and started issuing the quality insurance buyers were looking for. 
Coming in a compact desktop size, the 40 W is also a popular entry-level glass engraver with its 40 W laser tube, which packs a serious punch for its smaller design. Some have been able to push up to high speeds of 300-400 mm/s when engraving.
What makes this machine the ideal budget buy is the sheer amount of capabilities you get, as well as upgrade options. If you're still a relatively new business or engraver, the standard buy of this machine is more than enough to carry you into production with its user-friendly interface and safe design that you can set up anywhere.
However, once you start picking up speed there are excellent add-ons like air-assist, an adjustable bed, and an enhanced control board that make those massive workflow differences when upping production.
You'll get a taste of high-end features, without losing money on gimmicky features or excessive attachments that don't make a real impact unless you're experienced and know they make a difference in your projects.
---
3. FLUX Beamo – Best Glass Cup Laser Engraver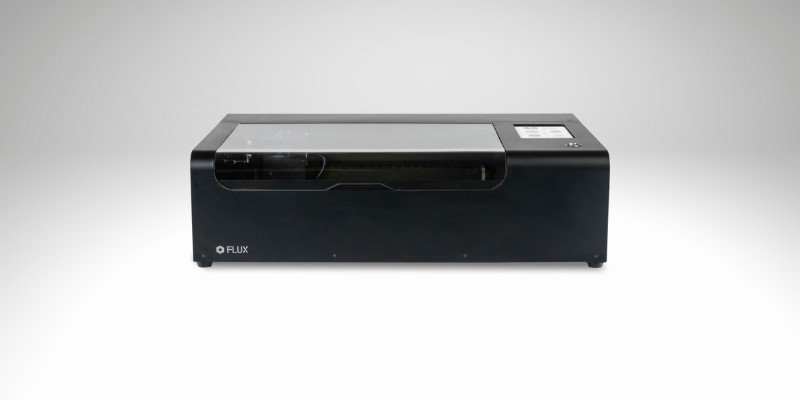 The OMTech may fit on your desk, but nothing compares to the sleek and ergonomic design of the Flux Beamo. Weighing less than 50lbs, it sports a modern metal build that blends beautifully into your work environment.
Flux emphasized accessibility, featuring intuitive in-app design and editing – which also sends images directly to your machine for engraving – wireless integration, and an HD camera that lets you get in on the action and see exactly how your design will come out. You can even hand-draw designs and scan them into the app for engraving.
The main selling point is the rotary module, however, that turns it into a 4 axis laser engraver. With 4 axes, you can laser engrave glass cups and tubes that will give you access to the personalized gift market as well as branding – businesses love swag with their name on it.
Read more: the best laser engravers with rotary attachments
Continuing to add versatility, you also get Beam Studio's seamless integration with powerful software like Adobe, Sketch, AutoCAD, and Coral Draw, and its ability to engrave cement, stone, acrylic, and wood.
They also have the Beambox and Beambox Pro for those in love with the brand but want an extra bit of oomph in their laser engraver.
Budget 30W CO2 Laser
---
4. Ten-High CO2 Engraving Machine – Best Industrial Glass Laser Engraver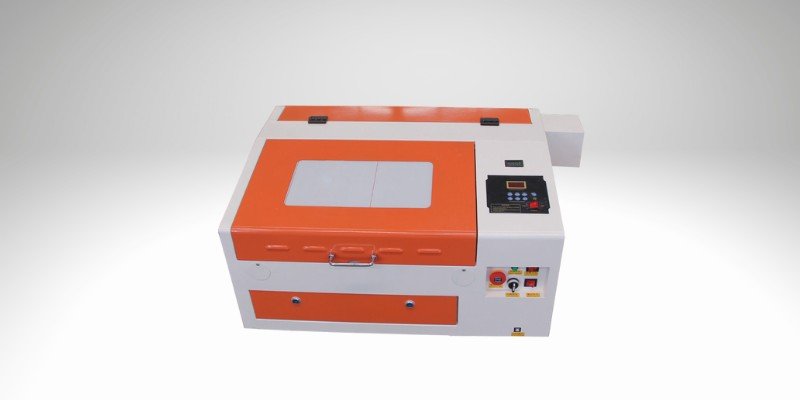 With the Ten High CO2 engraving machine, you enter industrial laser engraving and cutting. This is an absolute hunk of machinery that stands out from the crowd with its orange and white design.
It also stands out with unique features, including the CorelLASER, which is a plugin used with CorelDRAW that allows you to create and use laser engraving designs. It includes Seal Design Software LaserDRW as an alternative to CorelDraw as well. Overall, this offers a streamlined experience with the machine and drawing software being linked.
Like with the Flux Beamo, there is the option of rotary axis integration, and the machine's interface is already set up to support it, which is particularly useful since it's a mechanical interface rather than digital.
The Ten High is more technical than others on our list, and you'll need to be hands-on with a lot of the machine's functions like speed, power, amperages, and red dot position, whereas others at this price point are automated or have specific settings. However, that's what makes this such a fun high-powered machine for experienced engravers who miss getting their hands dirty and experimenting.
Ten High abandons frill and really hones in on the aspects that matter, like precision, stability, and power, securing its spot as one of the best industrial glass laser engravers.
---
5. Glowforge Basic – Best Overall
Engraving area: 280 x 480 mm
Believe it or not, this is Glowforge's budget option for its laser engravers, but even with the steep prices it's hard not to go ahead and list every Glowforge model on this list. Glass engraving is a tricky process, and when you find a trusted brand like Glowforge that has mind-boggling features, you stick with it.
Regardless, the Basic comes bearing the meat of the features seen in these machines, namely that it engraves glass. The Basic has a fresh minimalist design that sits beautifully on your worktop and offers user-friendly features like full autofocus, dual cameras, and cross-platform compatibility.
Those with established work processes will benefit from the cross-platform compatibility, as this will integrate easily into your working setup.
The most intuitive aspect of this brand by far though is its use of proofgrade materials. These are materials sourced and encoded by Glowforge itself that are then scanned by your laser engraver to find out the exact settings required for optimal glass engraving. Imagine sending over your design to the engraver and it immediately knowing what settings to use to engrave that image perfectly. It takes away a lot of the guesswork and trial and error you'd likely experience otherwise, saving you time on projects – perfect for hitting those tight deadlines.
As a class 1 laser, this machine is safe to use for everyone, regardless of your skill level, however, we recommend this model for the true artisans (and even their more expensive ones for features like a pass-through system), who will get this most out of these high-end features.
Glowforge Basic
Glowforge are the easiest to use lasers for home business owners looking to create cool projects and sell them on Etsy or other stores and make money.
Glowforge here
We earn a commission if you make a purchase, at no additional cost to you.
---
6. OMTech 80 W – Heavy Duty Laser Engraver
The 80 W is from OMTech's mid-range series, unlike the 40 W which is from their desktop range. This machine oozes power and is for those working on large projects and a lot of them.
This is highlighted by its 80 W laser tube that cuts up to a whopping 9mm deep, and four-way pass-through system, which has openings on the sides, front, and rear of the machine allowing you to work on projects longer and wider than the machine itself. You also get to engrave tough materials like brick, marble, and granite, alongside glass.
This is by far one of the strongest at-home laser engravers you can buy and is best for growing businesses – literally. With its pass-through system, you can grow the size of the projects you want to take on and expand the range of projects you can hit, conquering your previously untouched markets.
It's compatible with CorelDraw and LightBurn, two of the most popular design software. This is an industrial-level machine, so you are required to complete some safety requirements before using it.
---
Pros of Glass Laser Engravers
Fast and safe glass engravings
Precise designs
Standardized products
Enhanced workflow
Cons
Big upfront cost
Potentially costly maintenance
Learning curve
How To Laser Engrave Glass
Laser engraving and etching glass is a remarkable procedure that almost feels wrong. At first thought, it seems obvious that glass would break or shatter when attempting to shoot a laser at it, but instead we're faced with a sort of controlled chipping of the surface.
This is because glass is made of silicon. When glass is transformed into an end product, like a cup or panel, it traps in air and moisture. It's this air and moisture that react to the laser, not the silicon, and it expands from the heat of the laser resulting in a controlled fracturing of the surface that allows us to create beautiful designs.
The laser itself is a beam of light magnified using lenses to achieve a high-temperature beam used to vaporize the material, in this case glass, and engrave or cut the desired pattern.
The end results are gorgeous designs and the perfect way to emboss glass with logos, pictures, numbers, and other significant personal touches.
Laser Engraving vs Laser Etching Glass
It's important to note that there is a difference between laser engraved glass and laser-etched glass.
Engraving is used to vaporize only a portion of material. Cut depth usually sits at around 0.02″ and 0.125″ for thicker materials, and the space left behind from the laser beam is the design. With engraving, you feel where it's been cut and can physically feel the absence of material.
Alternatively, with etching, you don't cut the material, but rather remove it. Only going about 0.001″ deep, when laser etching you remove only the topmost layer, which is still enough to show designs.
On a technical level, laser engraving is a physical process where you cut out the material, however, etching, which is a subgroup of engraving, is labeled a chemical process. Both have gone on to become successful techniques of adding personal touches to glass.
What to Look For in a Glass Laser Engraver
When shopping for a glass laser engraver, there are a few things you need to consider when buying.
What software is it compatible with? Many laser engravers come with their own design software, like the Beam Studio software. However, if you're an experienced glass engraver, odds are you've found the software for you, whether that be Light Burn, AutoCAD, or Adobe. If that's the case, check to make sure the machine you buy is compatible with your software of choice.
What materials does it support? We're all here for glass engravers, but it doesn't hurt to get extras, especially since it's included! Wood, acrylic, and leather are common materials that have thrive with the innovation of laser cutting and engraving, so pick a machine that supports your materials of interest.
Consider the size. Do you want a laser engraver that sits on your table, or one that comes with its own stand? Desktop machines have taken the limelight recently, since their portable nature lets users fit the machine into tight spaces, and ensure their ability to sit near ventilation, but bigger machines often have larger work areas.
The need for speed. Glass is fragile, so when it comes to controlled chipping, you need absolute control, and that control comes with high speeds. Engraving already works faster than cutting for most machines, so achieving fast precise cuts shouldn't be an issue.
You may also like: