Laser engravers are the best machines for personalizing tumblers, yeti cups, mugs, and flasks. They sell amazingly well online, so upgrading to a rotary laser is one of the best investments you can make for your side-hustle or laser business.
Personally, I recommend the xTool D1 Pro with RA2 Rotary Attachment as the best diode laser for tumbler engraving.
The laser itself is great, and it pairs well with the easy-to-use rotary attachment. It also works well when I engrave cups, mugs, and metal beakers.
If speed and portability are your main considerations, the LaserPecker 2 Pro excels, offering the fastest engraving speed under $1,000 and a compact, mobile design. For those prioritizing power and versatility, the Atomstack X20 Pro is a standout choice, featuring a potent 20W diode laser, a selection of rotary modules, and a built-in air system for enhanced engraving efficiency.
For CO2 lasers, I recommend the xTool P2 as the best CO2 laser for engraving tumblers and other cylindrical objects. It's the most powerful and fastest laser in its price range, and the RA2 rotary, and riser base attachments, make rotary engraving really simple.
In this guide, I share my hands-on experience with the best laser engravers for tumblers. I'll compare key factors such as rotary attachment options, price considerations, and speed and power trade-offs – so you can easily decide which engraver is best for your projects.
After that, we'll take a look at the methods I use to get the best results on my rotary engraving products, so you can skip some of the common beginner mistakes.
Best Laser Engravers for Tumblers – Reviewed
xTool D1 Pro with Rotary Attachment – Best for Beginners
Pros
High quality, multi-functional chuck rotary
Powerful and fast diode laser
Customizable with infrared laser available
Great precision
Easy to set up and use
Cons
Standard laser can only etch coated metals
The xTool D1 Pro is one of the most impressive laser engravers under $1000, and it's ideal for all sorts of projects, including engraving tumblers.
I bought the 20W version of the D1 Pro, but there are also 5W, 10W, and a separate 40W laser head you can add on to any of the laser power options.
It doesn't come with the RA2 Pro rotary accessory, so you'll need to pay the extra $280 for this. But, it's a lot better quality than my Ortur rotary roller, so you do get more stability for the money.
The xTool RA2 Pro is a super sturdy jaw chuck rotary that's perfect for working with cylinders and spheres. It's compatible with 90% of daily-use cylindrical objects, including most tumblers, glasses, mugs, and much more. The only concern is very tall spheres or glasses that might not fit, but this is rare. All standard flasks and bottles and tumblers are no issue.
You can adjust the RA2 to be a chuck rotary, a roller rotary, a sphere-engraving module, and a ring-engraving stud – so it's extremely versatile for different projects.
One of the most impressive things about the xTool D1 Pro and RA2 Pro is how fast you can laser engrave tumblers. You also get great accuracy, thanks to the precision stepper motor on the chuck rotary that has a minimum angle of 45°.
The RA2 Pro is super durable thanks to its corrosion-proof anodized aluminum coating. It's also really easy to set up and use thanks to the modular, plug-and-play design with easy adjustment supports for altering the module's height and diameter. The total diameter range is 0-100mm, which is similar to other attachments I mention.
In terms of the D1 Pro itself, this impressive machine comes with either a powerful 10W or 20W diode laser, both of which have a super fine compressed spot of 0.08×0.06mm. I bought the 20W version, and it's excellent – you can also read my full xTool D1 Pro 20W review.
It's also really well-made and stable, with a motion accuracy of 0.01mm and, therefore, precise engraving. It engraves at up to 400mm/s, faster than the Ortur Laser Master 3, although we review some faster machines further down.
There are ways to work on anodized metals like aluminum, and stainless steel, with the D1 Pro, for laser engraving flasks and thermal mugs, as well as tumblers – but you'll need to coat the product with a coating spray.
If you want to engrave directly onto stainless steel and other metals, one of the D1 Pro upgrades offered by xTool is an infrared laser module, which is perfect for metal etching. This is a nice option to have, and most laser engravers don't offer this upgrade.
In my opinion, it's the best beginner laser engraver for cups and tumblers. Even if you feel the whole package is too expensive, the RA2 rotary attachment is compatible with many other laser engravers, so you can pair it with a cheaper laser if you wish. It's also compatible with my xTool P2, so I can use it for more powerful CO2 projects!
Best diode pick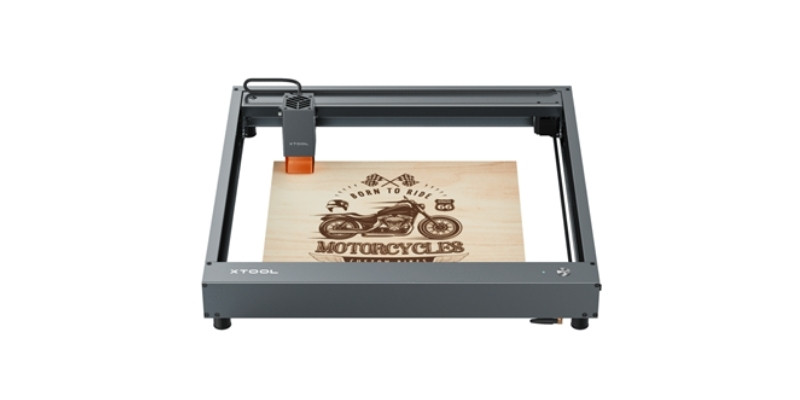 We earn a commission if you make a purchase, at no additional cost to you.
---
LaserPecker 2 Pro – Fastest Laser Engraver for Tumblers Under $1,000
Pros
Extremely fast
Compact, handheld, and portable
Comes with rotary mobile built-in
Adjustable head for multi-angle engraving
Engrave designs directly from camera roll
Cons
Laser is only 5W
Small working area
The LaserPecker 2 Pro has a built-in rotary: ideal for an all-in-one laser tumbler engraving machine.
There are pros and cons to this:
On the one hand, it's super easy to use with no extra assembly required, and you save money not needing to purchase a rotary separately. It's a high-quality and stable roller rotary that supports full 360° engraving.
On the other hand, you can't use any other rotary attachment with it, so you don't get quite the same level of versatility that the xTool RA2 Pro rotary offers, for example.
The LaserPecker 2 Pro is still a seriously impressive tumbler and cup laser engraver. For starters, it has an incredible max engraving speed of up to 600mm/s – that's a whole 200mm/s faster than the D1 Pro, even though they're around the same price if you add the rotary attachment and the D1 Pro prices together.
On the other hand, its 5W laser doesn't pack quite the same punch as the D1 Pro's 10W or 20W options, which reduces the depth you can engrave on a single pass, and the thickness of materials you can cut. For the price, 5W is really poor – I get that it's not supposed to be a heavy-duty laser, and more a useful portable laser, but still, you can get 5W for under $200 nowadays.
Another benefit is its intuitive construction, which allows it to be a super compact handheld laser – rather than a bulkier desktop one. It even has a rechargeable power bank, which is ideal if you're looking for a portable laser engraver.
It's also extremely precise, with a dual optical lens and an ultra-fine 0.05mm compressed laser spot, finer than the D1 Pro's, and many other cheaper lasers. This produces fantastic results on a wide variety of materials, including coated stainless steel and aluminum, although it's not suitable for engraving directly onto ferrous metals.
However, the LaserPecker 2 Pro has just 100 x 196 mm working area – which may not be enough for some tumblers, cups, and glasses. This is its major downfall – while great as a handheld, portable laser, it is simply too small for serious engraving projects, affecting its use as a small business laser engraver.
You can also easily adjust the height of the machine, and adjust the laser head's angle for multi-angle engraving, something most standard lasers struggle with.
Finally, LaserPecker offers its own app for its engravers, available on iOS and Android, for easily engraving designs directly from your camera roll. This is perfect for creating personalized tumblers for family members and friends.
Overall, it's great, apart from the limited working area and low power, and for that reason I chose the xTool D1 Pro over it.
---
Atomstack X20 Pro – Powerful Metal Engraver with Choice of Rotary Modules
Pros
One of few diode lasers capable of ferrous metal engraving
Built-in air system
Choice of two rotary modules
Chuck rotary has three jaw sets and offers angular engraving
Mobile app control
Cons
Larger compressed spot than D1 Pro and LaserPecker 2 Pro
Atomstack is one of the top laser engraving brands with a variety of different machines, and we rank the X20 Pro as its best laser engraver for tumblers.
This machine uses a powerful 20W diode laser and offers a 400 x 400mm working area. It has a compressed spot size of 0.08 x 0.1mm, which is decent – but not quite as fine as the D1 Pro or the LaserPecker 2 Pro.
However, does pack plenty of power (more so than the LaserPecker Pro 2) and is able to cut and engrave metal up to 0.05mm, which is useful if you're looking for a laser engraver for Yeti Cups and other stainless steel tumblers and flasks.
This power largely comes from the fact that it uses four separate lasers (Atomstack claims it's the world's first quad-core diode laser) compressed with optical mirrors for a highly concentrated output. Its power is further boosted by the X20 Pro's built-in air assist kit.
You have two options for picking an Atomstack rotary attachment to go with the X20 Pro – the R3 Roller or the R1 Chuck Rotary.
The roller rotary costs around $167.20, has an adjustment-free timing belt, has eight diameter adjustment levels ranging from 4mm to 100mm, and has a support column for engraving irregular cylindrical bodies, such as goblets. It's very stable and requires no assembly: you can just plug it into your engraver and get started.
The Atomstack chuck rotary is a bit more expensive at $217.16. It's super sturdy thanks to its aluminum alloy structure, comes with three sets of jaws for engraving different-shaped objects, can be adjusted by 180° for angular engraving, and has a wide diameter range of 4mm-200mm.
It's another great option for engraving cylindrical objects, but I still opted for the 20W version of the xTool D1 Pro.
---
xTool P2 – Best CO2 Laser Engraver For Tumblers
The xTool P2 is the best CO2 laser for tumblers in its price range, along with the RA2 rotary attachment, and the riser base attachment which gives you 8.5" maximum height for rotary engraving.
As a 55W CO2 laser, it's faster to engrave – and also means you can cut 20mm thick wood and acrylic in a single pass, if you also plan to do laser cutting.
It's also ideal for tumblers, and any glass, wood or metal cylindrical projects you plan to engrave, whereas diode lasers just aren't as effective – especially on metal.
The rotary is easy to use with XCS software, and the riser base is also easy to assemble and use. I assembled the rotary in under 15 minutes, and the riser base took around half an hour.
There are also batch processing tools that'll save you time if you're a small business, and curved surface engraving features for engraving on uneven surfaces without distorting your design.
Here's a curved wooden spoon I engraved using my xTool's curved surface features:
Here's how the batch processing works:
Overall, I think it's the best desktop CO2 laser right now, and a fantastic option for engraving tumblers, mugs and other cylindrical objects.
---
OMTech 50W – Budget CO2 Pick
Pros
Powerful 50W CO2 laser
Very sturdy chuck rotary
Comes with enclosure
600mm/s engraving speed
Good value
Cons
Not as intuitive as some other laser engravers
CO2 lasers are more complex than diodes
If you're a small business owner who sells laser engraved tumblers, you'll want a reliable, powerful, and fast machine capable of demanding work. If so, the OMTech 50W is one of the best premium options out there.
The reason for the higher price is that it uses a CO2 laser, rather than a diode. CO2 lasers are more powerful and, on top of that, this machine uses a 50W laser, so it really packs a punch.
For reference, the Glowforge Pro is one of the most popular home business laser engravers and uses a 45W CO2 laser, but costs over three times as much as the OMTech 50W. So, while it may seem expensive, you're actually getting great power at a pretty decent price.
This machine boasts a 300 x 500 mm engraving area, which is more than enough for tumblers, cups, and flasks. It's capable of very impressive 600mm/s speeds, so it's a really efficient option for high-production business engraving at scale.
It also has a range of other features: a digital display and control panel for easily monitoring and adjusting the power and speed settings, as well as for viewing files and project framing.
Unlike the diode engravers we reviewed above (and most others under $1,000), the OMTech 50W comes secured within an enclosure. While obviously you have to enclose a CO2 laser, with the aforementioned diode lasers, you have to shell out $100-300 on an enclosure to achieve the same result. The enclosure has a transparent viewing window and efficient ventilation and cooling systems.
For laser engraving tumblers, you can pair it with OMTech's four wheel rotary axis. This is a 360° chuck rotary that's also compatible with other OMTech lasers up to 100W.
It's a really solid bit of kit that can hold objects 5cm to 35.5cm long, and 1-12.7cm in diameter, so it's pretty versatile. It uses a two-phase stepper motor with a closed-loop feedback system control to ensure stable motion, along with two durable rubber rings to prevent the object from slipping.
On top of that, this rotary axis has a precision-engineered tool stack that provides smooth and noise-free rotation, and it's really easy to set up – just connect the 4-pin cable to your laser engraver.
If you like the look of this combo but not so much the price, you can get solid power while saving some cash by going for an OMTech 40W laser and roller rotary.
Best CO2 pick
We earn a commission if you make a purchase, at no additional cost to you.
---
Cloudray QS-30 LiteMarker – Best Fiber Laser For Tumblers
Pros
Fiber laser
Perfect for engraving ferrous metals
Incredible 5000mm/s engraving speed
Multiple professional rotary attachments available
While the OMTech 50W is a solid option for small home business owners, if you're laser engraving tumblers as part of a larger operation, the Cloudray QS-30 LiteMarker is a professional solution.
What sets this machine apart from the others on our list is that it uses a fiber laser, which are generally more powerful and precise than diode and CO2 lasers. It's the reason the price is so high, but it also produces the best results.
One of the key aspects of a fiber laser is its 1064nm wavelength (diodes typically have lower wavelengths, while they're higher in CO2 lasers). This is the optimal wavelength for engraving reflective metals; it's far more suitable for engraving steel tumblers and flasks than other laser types, as well as all sorts of other metal etching projects. This makes it a highly effective Yeti Cup engraving machine.
Not only that, but fiber lasers deliver unparalleled speed – the 5000mm/s max engraving speed of the QS-30 LiteMaker simply blows the other lasers we've reviewed out of the water.
Another benefit is durability. While the LaserPecker 2 Pro and other diode lasers typically last for around 10,000 hours, this laser offers 10x that with a 100,000-hour lifespan, a more reliable investment for businesses.
The QS-30 comes with a Cloudray D80 rotary module included. This is a very impressive three-jaw chuck rotary that offers great stability, smooth and accurate rotation, low noise, and low friction. Cloudray also offers a variety of other chuck and roller rotaries that you can choose from.
We earn a commission if you make a purchase, at no additional cost to you.
---
Things to Consider: when buying a laser engraver for tumblers and yeti cups
Rotary attachment
When looking for a tumbler engraving machine, your laser's rotary attachment is just as important as the laser itself. While some machines like the LaserPecker 2 Pro come with a rotary included, many don't, so you may need to choose carefully to find the right option.
The first thing to do is decide whether you want to use a roller rotary or a chuck rotary. Both are suitable, although chuck rotaries can offer more stability, although it's more dependent on the quality of the module itself. A cheap chuck rotary can be worse than a more expensive roller one, for example.
Rotary attachments also differ in terms of their size and what size products they can support, their stability and build quality, and their versatility. For example, xTool's RA2 Pro can be used as a chuck rotary, roller rotary, spherical rotary, and for ring engraving, so it's more flexible than most others.
Price
Prices can vary widely, from budget options under $1,000, to professional solutions that can cost 5x more. To help you get the right value, it's important to decide beforehand exactly what types of cups, flasks, and tumblers you want to engrave – and go from there.
For example, if you're a beginner or a hobbyist who wants to create personalized tumblers for fun, cheaper diode lasers like the xTool D1 Pro or LaserPecker 2 Pro are great lasers that can also be used for loads of other projects.
On the other hand, if you're a business owner looking to produce lots of laser-engraved tumblers with high speed, top precision, and top reliability, it's worth considering more powerful CO2 or fibers lasers like the OMTech 50W or QS-30 LiteMaker, that are more suited to intensive use, such as engraving slate. Check out our article on the best slate laser engravers.
Speed & power
The speed of lasers varies a fair bit depending on the type and price. High-quality diode and CO2 lasers typically have max engraving speeds of around 400mm/s-600mm/s. This is fairly fast and certainly a solid option for hobbyists and even small home business owners.
If you have a larger business and need the fastest speeds available, you'll want to consider a fiber laser engraver. These offer significantly faster engraving speeds: the QS-30 LiteMaker, engraves almost 10x as fast as the OMTech 50W and LaserPecker 2 Pro. Of course, it's also a lot more expensive, so it depends on whether the increased speed justifies the price to you.
Power closely relates to speed but also cutting depth in a single pas, and quality. Simply put, the more powerful your laser, the faster, deeper, and cleaner it can engrave. High-quality 5W and 10W lasers can be used for tumbler engraving, but more power can provide more efficient and overall better engraving capabilities.
How to Laser Engrave a Tumbler?
Here's a quick guide for would-be small businesses looking to engrave tumblers. Most of the info also applies for other rounded objects like mugs, flasks, and beakers.
1. Prepare the design
The first step to laser engraving a tumbler is to create your design. You need laser engraving software to do this: Lightburn is among the most popular paid options (and I personally prefer it), while LaserGRBL is a widely used free software.
2. Set up the tumbler
Once you have your design ready, it's time to set up your tumbler ready for engraving.
To do this, you need a laser with a rotary attachment, which is used for engraving cylindrical and spherical objects. Some lasers come with rotary attachments included, although many brands sell them as separate accessories.
The rotary attachment securely holds the tumbler in place while rotating it in the desired direction.
You can use either a chuck rotary or a roller rotary for engraving tumblers:
Chucks will generally provide more stability but are also more expensive.
Roller rotaries are suitable for tumbler laser engraving, but you're best off avoiding the really cheap ones (we highlight quality options in this article).
3. Focus the laser
With your tumbler in place, it's now time to adjust and focus your laser. First, adjust the height and position of the laser module if necessary, and then focus your laser according to the material you're engraving, and the result you want.
4. Start engraving
Once the above steps are done, you can begin engraving. Depending on your laser and setup, you can do this using a controller, a control panel on the machine, or through your software or mobile app.
5. Finish the tumbler
Now you can remove the tumbler, clear away any dust or debris, and make any finishing touches. If you used a marking spray at all, you can wipe this away with a cloth and water.
Tips for Best Results:
Here's a quick checklist to get the best results from your tumbler laser engraving:
Proof your design first to ensure proper spelling, spacing, etc.
Clean the tumbler surface before engraving.
Apply painter's tape to areas you don't want engraved.
Use simple fonts and designs, and avoid tiny details.
Use low engraving speeds and multiple passes for deeper etching on metals.
Allow time for gases and fumes to dissipate before removing the tumbler from the engraver.
Hand wash the tumbler gently to keep the engraved design looking its best. Avoid using the dishwasher.
FAQs
Can you laser engrave stainless steel tumblers? 
Yes, if you have a powerful enough fiber laser and a suitable chuck rotary, you can laser engrave steel tumblers. You can also engrave stainless steel tumblers with diode or CO2 lasers, but you'll need to use a coating spray.
Are laser-engraved tumblers dishwasher safe?
If the tumbler you've engraved is dishwasher safe, laser engraving won't affect this. If you're buying a pre-engraved tumbler, the description usually states whether it's dishwasher safe.
Can you laser engrave Yeti Cups? 
Yes, you can laser engrave Yeti cups. You'll just need a powerful laser capable of engraving stainless steel (unless you use a coating spray), and a secure chuck rotary to hold and rotate the Yeti Cup.