A rotary attachment adds 4th axis rotational functionality to your laser engraver so you to work on a wider range of projects and geometries. However, with there being many different engravers and attachments out there, you need to choose carefully to ensure you find the right laser engraver with rotary attachments for you.
To help you out, this guide covers everything there is to know about rotary laser engraver machines. First, we'll explain what they are, how they work, and what you can do with them. Then we'll review the best laser engravers with rotary attachments on the market, detailing all the important factors you need to consider before making a purchase.
What are the best laser engraver rotary attachment combos?
Having tested a number of laser engravers, including the Ortur Laser Master 2 and Laser Master 2 Pro, as well as the Snapmaker 2.0 with its 4-axis rotary add-on, we recommend the following as our top pick in each price range:
What is a Laser Engraver with Rotary Attachment?
A standard hobbyist laser engraver comes with 3 axes – the X, Y, and Z axes. These enable the laser to move left-to-right, front-to-back, and up-and-down, respectively. This is fine if you're working on flat 2D pieces of material — such as wall decorations or signs — but if you want to work in 3D with 360-degree functionality, you need a 4th axis.
You can engrave in 4 axes by adding a rotary roller attachment to your machine. This adds a rotational movement around the Y-axis, meaning it essentially operates in the same way as a CNC lathe. The 4th axis means you can engrave cylindrical items such as glasses, mugs, bottles, and vases, vastly increasing the range of projects you can work on.
The best rotary rollers are adjustable, so you can quickly and easily engrave differently sized objects at different angles. Whether you're a hobbyist or a small business owner, the right module can be a valuable addition to your laser engraving setup.
1. Atomstack A5 Pro + Atomstack R3 Rotary Roller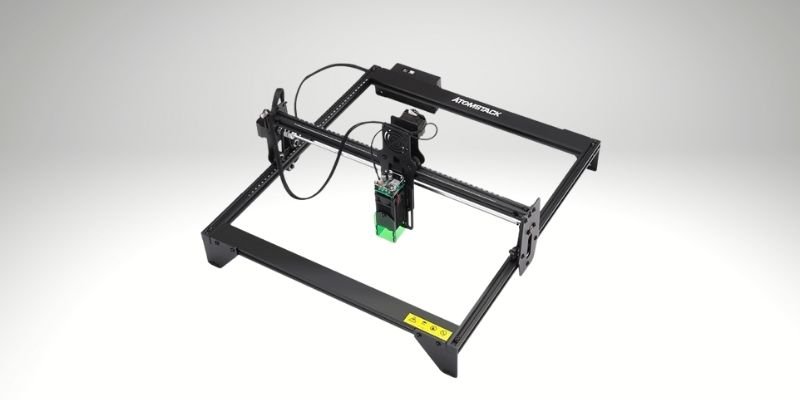 Atomstack A5 Pro
The Atomstack A5 Pro is a popular laser engraver that can be upgraded to 4th axis functionality with the Atomstack R3 Rotary Laser Roller.
This machine is one of the best out there in terms of value for money. For starters, it's really well built with an all-metal structure and anodized coating, so it's extremely sturdy, robust and durable, offering precise engraving and long tool life.
The fixed focus laser means you don't need to manually adjust it, improving consistency by reducing human error. It uses an ultra-fine compression laser, which allows you to accurately carve a variety of materials, including stainless steel and ceramic.
The Atomstack A5 Pro is also a very safe machine that's ideal for hobbyists, with a protective cover that filters 97% of the UV light, meaning you don't need to wear goggles while engraving.
Atomstack R3 Rotary Laser Roller
The Atomstack R3 Rotary Laser Roller is similarly impressive and is really simple to use, as it comes pre-installed so you can get started right away after unpacking.
There are eight angle adjustment options and you can choose from a wide range of engraving diameter sizes, from 4mm to 100mm, so it's a really versatile attachment suitable for a wide variety of different projects. 
It's also very well made, with a closed design in which the motor is not exposed, so it's safe even for beginners to use. The all-metal structure makes it very stable and durable, while the coaxial design means there's no need to adjust the belt, improving accuracy.
Another benefit of going for this laser engraver with rotary attachment is the large 410x400mm working area, which provides plenty of room for working with larger cylindrical objects.
The Atomstack R3 rotary attachment is also somewhat of a universal laser engraver rotary attachment as it can be used with machines from several other manufacturers. These include popular laser engravers such as:
2. FoxAlien Reizer + R42 Rotary Laser Engraver Attachment
The R42 Rotary Roller Engraver is made by FoxAlien and is compatible with several of its machines, including:
FoxAlien Reizer
These are all quality laser engravers, but our recommendation is the Reizer combination, as it's a really impressive low-cost hobbyist laser engraver. It comes highly recommended, garnering positive reviews worldwide for its easy assembly, clean cuts, and usability.
The Reizer uses a 20W laser with a precise 0.2×0.15mm dot and laser beam compression technology that FoxAlien claims increases efficiency by 80%-100%. You can adjust the laser power from S0 to S1000, allowing you to work on a wide variety of materials — from cardboard and MDF to plywood and stainless steel.
It's also a really speedy laser engraver with rotary attachment able to engrave at 20,000mm/min, powered by the 32-bit control board. This board also ensures smooth and stable working, improving precision and engraving consistency.
R42 Rotary Jig
The R42 rotary jig for laser engraver machines comes fully assembled and has easy wiring, so you can get up and running within minutes. It has a NEMA-17 stepper motor and can be easily adjusted for working with different size objects, and it's also capable of holding long objects if you relocate the screw position.
Another nice feature is that this rotary laser engraver comes with a bracket to support wine glasses and similar objects, making it easier to work with these kinds of products.
If you're looking for a higher-quality option, you can also go for the FoxAlien 4040 XE with the R42 rotary axis attachment, which will set you back around $1,150 in total. This machine has more powerful and efficient NEMA-23 motors, as well as an LCD touchscreen control panel that can operate as an offline controller.
3. Ortur Laser Master 2 Pro + Ortur Laser Rotary Roller
Another great option if you're looking for a laser engraver with rotary attachment is the Ortur Laser Master 2 Pro with the Ortur Laser Rotary Roller. 
You can use this rotary roller with Ortur's cheaper models like the original Laser Master and Laser Master 2, but having tested both the Laser Master 2, and the Laser Master 2 Pro, it's the Laser Master 2 Pro that offers the highest quality engraving.
It uses a 0.08×0.15mm light spot, which is smaller than the 0.23×0.23mm that's standard for many similarly priced machines, resulting in higher accuracy and the ability to easily cut thicker materials. For example, it can cut 3mm plywood and 6mm pine board with no issues whatsoever.
Ortur claims its compressed light spot allows you to engrave objects in half the time it takes with lower quality machines. Another benefit is the well-designed mechanical structure that's optimized for fast cutting and stability while providing a long service life. The OLM-PRO-V10 motherboard ensures smooth engraving, while the Ortur 1.5 firmware enables cutting speeds up to 10,000mm/min.
This is also a really secure machine that's one of the safest laser engravers on the market. It has an automatic stop function that kicks in if the machine is knocked, if the transmission fails, or if the motor hasn't moved for a while, helping keep you, your machine and your workpiece safe.
There's also an emergency stop button you can use to manually halt working, and the upgraded 24V circuit system means it packs high power into a lower current for increased safety.
Another great thing about the Laser Master 2 Pro is that it has a modular design that makes it really simple to assemble, even if it's your first time building a laser engraving machine. 
The Ortur rotary laser engraver attachment is also super easy to use, has seven different gear positions for width adjustment, and is made of aluminum, steel plating, and acrylic for optimum durability.
4. Snapmaker 2.0 A350T + Snapmaker 2.0 Rotary Laser Engraver Bundle 
Snapmaker 2.0 A250 or A350
The Snapmaker 2.0 with its rotary bundle package is the most expensive combination on our list by some distance, but it's a really fantastic laser engraver with rotary attachment that offers very high engraving quality.
This machine is one of the most unique on the market, as far from being a mere laser engraver it's in fact a 3-in-1 3D printer, CNC router, and laser engraver.
Read the full review: we tested the Snapmaker 2.0 with 4-axis rotary module
It's easy to use, as the autofocus feature means the optimal laser height is selected automatically without you having to manually test different heights. There's also the impressive camera capture, which automatically takes a picture of your material and uploads it to the Snapmaker Luban software for you to work on, and you can then engrave the final design with a single click.
Snapmaker 4-Axis Rotary Module
The Snapmaker rotary module is one of the best we've seen. It has a 100:1 speed reducer that converts the power to a lower output speed, allowing the 3-jaw chuck to rotate with a  0.1° minimum angle. This means you can work on uneven surfaces with increased accuracy.
It offers very fast rotary sculpting, thanks to the precise 360° continuous rotation with a maximum angular speed of 45° per second. You can easily adjust the rotation precision control between 0.2, 1, and 5° on the touchscreen control panel. 
The rotary laser engraver module applies to both the CNC carving and laser engraving functions of the Snapmaker 2.0, so you can easily work on 3D projects using both methods within a single tool. It only takes a few minutes — four screws plus the different print bed — to change each toolhead out, and excels in laser engraving, cutting, CNC carving and 3D printing.
Snapmaker's Luban CAD and CAM software is well suited to 4-axis functionality, with 4-axis linkage support that allows each axis to move simultaneously for full control.
There are two different versions of the Snapmaker 2.0 – the price we've quoted is for the A350 which offers the largest build volume of 320x350x300mm. You can save around $300 by going for the smaller A250 with a build volume of 230x250x235mm.
Buying a Rotary Attachment Module for your Laser Engraver
So, how do you go about finding the right laser engraver with rotary attachment for you?
Firstly, it's important to know that while there are laser engravers that come complete with 4 axis functionality, these are generally more expensive, professional machines. Most budget laser engravers come with 3 axes as standard and are compatible with 4th axis rotary attachments that are sold separately.
Some manufacturers have rotary attachments designed specifically to fit their own machines. However, many rotary rollers are compatible with a variety of machines from different manufacturers, so there's no reason you can't mix and match so long as you do your research.
So, firstly you need to find a high-quality laser engraver, considering the usual aspects like laser quality and spot size, safety features, engraving speed, durability, usability, working area, and so on. 
In terms of the rotary laser engraver module, you should look at factors like the number of angle adjustments, the diameter adjustment options, and durability. You should also consider how easy it is to set up and use, especially if you're a beginner, as while some come preassembled, others don't.
If you enjoyed this article:
Sign up to our email list and get the latest CNC news, buyer's guides and giveaways direct to your inbox: