Most people associate CNC with industrial, room-sized CNC machines costing tens of thousands of dollars and used for only the largest projects. However, CNC routers, especially DIY CNC routers you can assemble yourself at home, offer bitesize and affordable alternatives that hobbyists can experiment with.
Rather than cutting metals like CNC mills, these DIY CNC routers use less powerful routers as spindles to cut wood, as well as soft aluminum, plastics, foams, and sometimes glass.
These DIY CNC machines offer great precision and repeatability, offering key advantages in both speed and accuracy over cutting wood by panel saw or boring machine. One-off projects can be created just as effectively as creating 100 identical parts, with fantastic repeatability and no human error.
As a result, they've seen wide use among professionals and hobbyists across wooden frame, furniture, interior, engineering, panel and other wooden manufacturing, as well as in the cabinet making, boatmaking, engraving, signage, engineering and musical instrument industries.
BUDGET OPTION
Sainsmart 3018 PROVer
Reliable DIY CNC router kit for under $350
Excellent choice for beginners
Simple to set up and get started with
Available at:
PREMIUM PICK
Inventables X-Carve
Option to build kit from scratch
Premium features & free Easel Pro subscription
Available at:
Our top recommendations:
Types of DIY CNC Router Kits
There are two main types of CNC kits: pre-built commercial kits you just assemble, and completely custom DIY builds that you may need to source the parts for yourself. Naturally, these have very different skill levels — most DIY router kits you can buy can be built in a few hours, and many in just an hour. Completely custom kits can take days, require far higher skill levels to assemble and troubleshoot, and can take time to source all the parts for your custom build.
We've included a range of DIY CNC routers you can buy, as well as some buildable CNC router projects you can make from scratch, though they mostly require a 3D printer to print many of the parts.
Even within this, there are multiple types of CNC kits. When discussing CNC kits most people naturally assume you mean a CNC router, but in fact, there are CNC plasma tables, CNC milling machines, and even 3D printer kits that fall under the CNC umbrella.
The best DIY CNC router kits
There are a number of fantastic DIY CNC routers around now, with great precision, consistency and durability, with ever-expanding compatible materials on increasingly powerful yet affordable routers.
Here are a few that we highly recommend, with links to where they can be purchased at the best price.
CNCSourced is reader-supported. When you buy through links on our site, we may earn an affiliate commission. Learn more
Sainsmart Genmitsu 3018 PRO — Great low cost DIY CNC router
One of the best DIY CNC routers under $300, Sainsmart's 3018 PRO offers a large build area capable of cutting even large wood projects, and anchored down effectively with its strong aluminum frame.
Beyond just wood however, this versatile CNC router kit can cut a variety of plastics, soft aluminum, acrylics, PVC, and PCBs – making it a great one-stop-shop for all your soft material cutting needs. As a DIY CNC router, it'll take a few hours to assemble, though Sainsmart excels with their in-depth guides and active customer service to help you in the event that you run into any trouble.
The CNC router uses the open-source GRBL software running on Arduino to control movements, and you can control your Sainsmart Genmitsu 3018 PRO offline with their offline controller that comes with the kit. The latest version features an upgraded adapter for safer longer use performance.
Overall, it's a great cheap CNC router kit for both beginners and experienced hobbyists for all your creative crafting projects.
Top Budget Pick
Genmitsu CNC 3018-PRO Router Kit
The 3018 PRO from Sainsmart has a sizable build surface that can handle even large wood projects and is efficiently fastened down thanks to its sturdy aluminum frame. 
Amazon here
Sainsmart here
We earn a commission if you make a purchase, at no additional cost to you.
12/10/2022 01:42 am GMT
---
Mysweety DIY CNC 3018-Pro — 2 in 1 DIY CNC Router Kit with laser engraver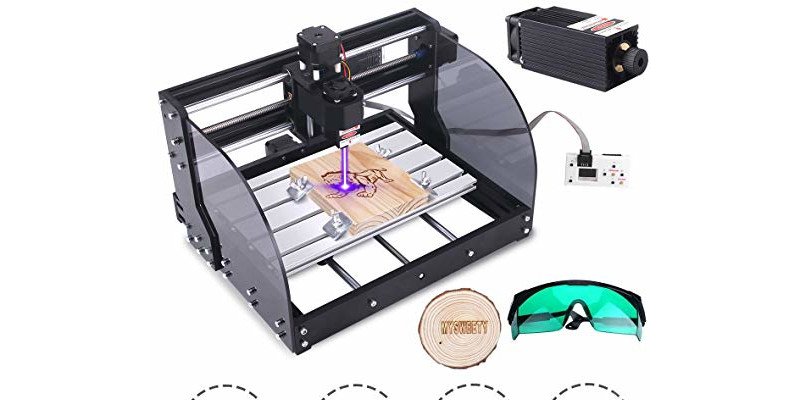 A 3-axis DIY CNC router featuring a powerful spindle as well as a 5.5-watt laser engraving module, this versatile CNC router kit is perfect for wood carving and engraving. Hobbyists looking for a versatile machine that does both to a decent standard will enjoy the variety of options Mysweety's machine offers.
The 2-in-1 spindle can handle soft aluminum, plastics, acrylics, PCBs and also claims to be able to carve ceramic/stone, giving you a wide range of choices for your CNC router projects. However, being a cheap CNC DIY router designed for your desktop, it cannot handle tougher metals like stainless steel, iron or silver. As a kit you'll need to assemble it yourself, though if you do run into any problems you can contact Mysweety's support team who will try to help.
Featuring a powerful control board and 775 spindle motor, it can spin at over 10,000 RPM and can handle more powerful spindles without much issue. The offline controller can store 1GB worth of files and G-codes for future offline use, a real help in situations where connecting to a computer can be difficult.
With the kit you get the router, as well as the offline controller remote, 10 different router bits for varying projects and uses, and all the plates and extrusion rods you'll need. It's another great DIY CNC router for beginners. Some however might prefer a purely carving CNC router kit, and be dissuaded by the machine's multiple capabilities.
Best 3018 CNC Machine for Small Businesses
MYSWEETY 2 in 1 7000mW CNC 3018 Pro Engraver Machine
This adaptable CNC router kit, a 3-axis DIY CNC router with a strong spindle and a 5.5-watt laser engraving module, is ideal for engraving and carving wood. 
Amazon here
We earn a commission if you make a purchase, at no additional cost to you.
12/09/2022 11:02 pm GMT
---
Sainsmart Genmitsu 3018 PROver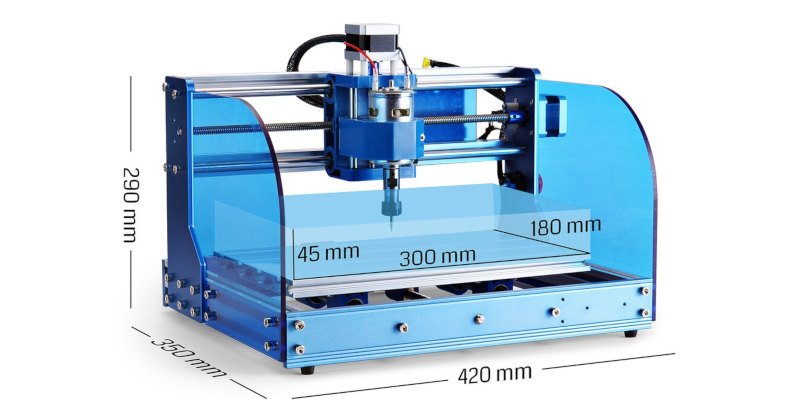 An excellent CNC router kit for beginners, the Sainsmart Genmitsu 3018 PROver is the more premium version to the standard 3018 Pro. Simple to operate, the 3018 PROver makes a great DIY router for those who want a stress-free machine to ascend the CNC learning curve.
Durable and fairly low cost, hobbyists and beginners won't mind that it doesn't pack the power that some more premium CNC routers do, instead offering a low-risk entry into DIY CNC and letting you iron out any mistakes in your first projects without denting your wallet too much.
The ergonomic 1.8-inch display screen makes it easy to instruct the machine without needing a PC, and the aluminium body offers great stability for a low-cost CNC router. The 775 motor spindle spins up to 10,000 RPM, so everyone from hobbyists to engineers, crafters and woodworkers will find the 3018 PROver a great addition to their workshops.
Budget Pick For Aluminum
---
Maslow CNC Kit
Maslow CNC first burst onto the scene when they launched their Kickstarter campaign in 2017 for a huge CNC router under $500. The project was a huge success, raising $317,547 and ushering in the first generation of Maslow CNC routers.
Maslow CNC's Jumpstart Kit includes their basic Maslow kit, as well as a pre-made sled and router bit to jump right into your favorite CNC projects. The 18-inch custom sled speeds up your CNC process, as well as improving movement and accelerating build time. It is worth noting however that this kit does not include the wooden frame.
It's absolutely massive, with up to 4 x 8 foot dimensions. At these sizes even the largest woodworking projects are made simple, as you can produce one larger part rather than splitting it up into several pieces.
Being an open-source DIY CNC router, you're free to modify, experiment and tinker however you'd like, and shape your own CNC adventure wherever your creativity takes you. Though you're free to create anything you wish, MaslowCNC includes a flash drive with some free projects you may want to try out, as well as the CNC software.
If you have any problems during setup, you can contact customer support who will help with any issues. Many Maslow CNC users highlight its usefulness in sign making and similar industries.
Cheapest 4x8 CNC Router
---
BobsCNC Evolution 4 — High quality and reliable DIY CNC router kits
Evo 4 price: $1,200 – Available on Amazon here
Build area: Evo 4: 24″ x 24″ x 3.3″ / Evo 3: 18″ x 16″ x 3.3″
Repeatability: up to 0.002″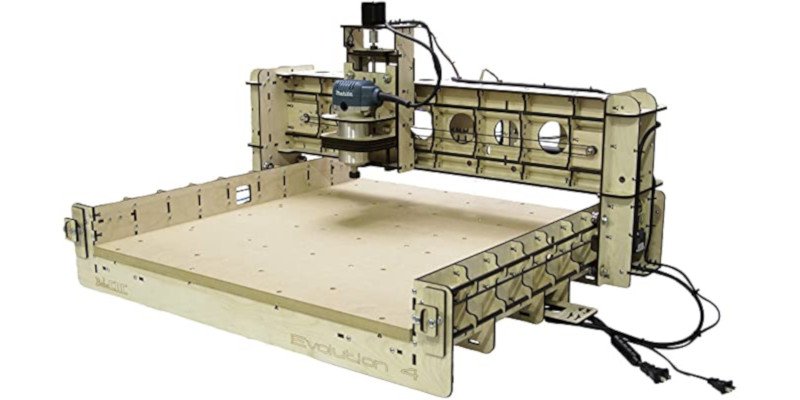 A premium, supremely reliable and powerful DIY CNC router, the Evolution 4 is BobsCNC's latest router, with almost identical specs to the Evo 3 but with a larger 24" x 24" build area.
Founded by 4 lifelong friends – including namesake Bob – BobsCNC exudes strong community values and state their intent on their website to create products that foster great friendships between clients, customers and users.
Both DIY routers have an immensely precise 0.002"-0.004" repeatability for accurate projects, able to handle even the toughest projects requiring intricate and precise cuts. The rigid birch plywood frame provides much-needed stability, though it may take a while to assemble – at least a number of hours. BobsCNC however provides excellent and detailed guides on their YouTube channel which will make building your DIY CNC router a breeze.
The Evo 3 has a smaller build area, at 18" x 16", with both machines able to reach 3.3" depth on the Z-axis. Both machines can use the widely used GRBL software, but you can also use more premium software options like VCarve if you are willing to pay more. There are also a number of useful upgrades you for both machines depending on your CNC goals.
Overall, for a higher price both the BobsCNC Evo 3 and Evo 4 offer great precision, durability and are reliable DIY CNC routers for even your most ambitious CNC projects.
Cheapest CNC Wood Router
BobsCNC Quantum CNC Router Kit
The Evolution series of machines, which stand out for their laser-cut wooden frames and somewhat unusual designs, with the Evo 4 being the best in the line, are possibly the most well-known products from BobsCNC.
Amazon here
We earn a commission if you make a purchase, at no additional cost to you.
12/09/2022 07:42 pm GMT
---
MakerMade M2
MakerMade have upgraded the original Maslow CNC kit for 2022, overhauling many of the features we know and loved from the first edition of the 4×8 CNC kit and making them even better.
It's still an enormous 4 by 8 foot CNC kit, but features a host of upgrades (and an optional laser cutter attachment add-on ?) to an all-metal Z-axis, new steel frame that helps with deflection and improves reliability, 40-inch speed per minute, and built-in dust collection to save you hassle. 
With 1mm accuracy despite the huge size, it's fantastic for large-scale CNC projects for both hobbyists, small businesses, and anyone looking to sell their wares. You can cut hardwoods, acrylics, Nylon, aluminum sheets and much more, and overall the upgrades make the MakerMade M2 worth the increased price as compared with the original Maslow CNC.
---
Carbide 3D Shapeoko 4 XL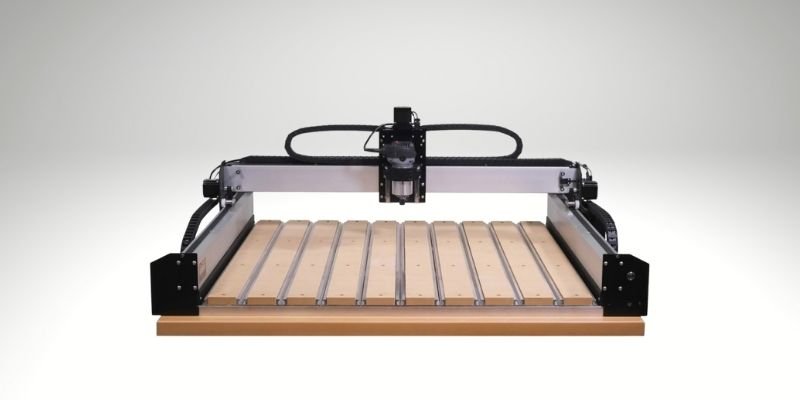 Popular with hobbyists, small businesses, and more — the Shapeoko and Pro machines by Carbide are great for makers looking to monetize their creativity and sell their wares.
It comes in a variety of sizes, but we picked the Shapeoko 4 XL as it fits into the happy medium with its large work area and still affordable price tag. If you're really keen on performance you can upgrade to the Shapeoko Pro, but otherwise this should function well enough for your day-to-day CNC needs.
The Shapeoko models come with dust collection via Carbide's Sweepy V2 made up of 6 fiber-reinforced nylon clamps, and while the Pro comes with their Hybrid Table, this can also be added to the Shapeoko 4. Overall, it's a customizable, effective and powerful DIY CNC router that has proven very popular with the community.
Best CNC Carving Machine for DIYers
---
Snapmaker 2.0 — Amazing CNC Kit for Carving, Laser Engraving & 3D Printing
The Snapmaker 2.0 is unlike any other CNC kit we've listed. It's effectively 3 types of CNC kit in one: it works as a standard CNC router, but also has a 3D printer, and a laser engraver.
We tested the largest of the three sizes available, the Snapmaker A350, and were very impressed with the accuracy and precision of the CNC carving toolhead. We also have the 4-axis rotary module add-on, which costs an extra $649, turning the Snapmaker 2.0 into a 4-axis router and allowing for 360-degree carving, which we feel is well worth the price.
You can see a couple of the chess pieces we carved below.
Read our full review: we tested the Snapmaker 2.0 CNC carver and laser engraver
The CNC carving module is ideal for creating 2.5D and 3D wood carving designs, and has been overhauled compared to the Snapmaker Original. It's now faster, and even the smallest of the three size models offers a larger work area (the largest-sized A350 offers 350 x 350 mm work area).
It can cut carbon fiber sheets for making custom drone frames, PCBs, and standard wood designs. You can even upgrade to 4 axis CNC router by purchasing Snapmaker's rotary axis add-on for even more precision and geometric options with your CNC, which we also used to laser engrave on cylinder gift boxes.
It also functions as a 3D printer, capable of 3D printing hobbyist filaments like PLA, ABS, flexibles like TPU, and wood-filled filaments. There's also a laser engraver and cutter for engraving wood, fabrics, leather, etching onto acrylics, and more. We 3D printed intricate small prints, and larger vases, and were impressed with the print quality.
Beyond a standard DIY CNC router kit, this is an entire CNC workshop. The 3 toolheads can create almost anything between them, and you can quickly switch out one for another to maximize your making potential. While not completely customizable as a CNC router, this kit gives you so many options for creating CNC and other projects in one machine.
Top 3 in 1 Pick
---
Inventables X-Carve
The 1000mm X-Carve comes as a ready-to-build kit, or a more customizable base which you can augment and upgrade if you're looking for a completely custom DIY CNC router. 
It includes a powerful DeWalt 611 router and comes with 3 years of Easel Pro software so you can get started right away, as well as everything you'd expect in a CNC router kit in this price range, like dust collection, clamps, and z-probes. 
The two options — buy it as a ready-to-build kit, or completely custom — make it one of the most DIY CNC kits around: you really can modify this however you like. You also get a very large work area of 750 x 750 mm, which, while not 4×8 foot as with the Maslow or MakerMade kits, is large for a router kit that sits on a table. You should have no issue making signs, reasonably sized furniture, and other crafting wood projects.
CNC Pick For Cutting Thicker Wood
---
Build your own DIY CNC router kits
MPCNC – Mostly Printed CNC Machine Kit
The MPCNC, by V1 Engineering, is a much more basic-looking CNC kit than many others, but offers fantastic results at a far lower price point than most other options. Naturally, you'll need a 3D printer for the printed parts, but if not, you can buy the printed parts for $165 (it costs around $35 in just under 2kg of PLA to print them yourself).
The basic MPCNC leaves a lot of potential for confident makers: you can add different elements and turn it into a laser cutter with a bit of work, or into a mini plasma cutter — V1 Engineering even say it can be a vinyl cutter. 
If you 3D print the parts yourself the cost runs into around $418, and over $500 if you buy the printed parts. Considering it can potentially be a plasma steel cutter — $500 is an extraordinary bargain.
Root 4 by Root CNC
A much larger-scale DIY CNC machine kit, the Root 4 is the newest and largest kit, with a 1204 x 1190 mm work area, and with 158 mm Z travel. If you don't need such a large work area you can instead opt for the Root 4 Lite, designed to be much cheaper to build (Root CNC say under £500), it's also 3D printable at home and you can build it with standard off-the-shelf parts.
The Root 4 is notably improved over the previous Root 3. The inspiration came for the creator's upcoming wedding, and the need to therefore create cool wedding stuff! Despite the size however, even reasonably sized 3D printers like the Ender 3 should be able to print the parts — as long as you've got around 200 x 200 mm XY build volume.
It natively supports ball screws, rather than potentially hassle-inducing belts, which is generally good for keeping your CNC router stable and reliable over the long term. But, it'll cost a fair amount to build — perhaps as much as an X-Carve or Shapeoko.
Things to think about when buying a DIY CNC router
Your Time — How much time do you feel you can dedicate to building your machine (to decide whether to buy an easier kit or build from scratch), as well as how much time you feel you can devote to any future DIY CNC projects and skills you may need to acquire. Is it worth learning on a pre-bought kit before going fully custom?
Your Skill Level — How good are your technical skills with both building and using a CNC machine? Can you troubleshoot even the most technical problems with ease, or will you struggle with novice tasks? This will affect how much freedom you should grant yourself with building a machine from scratch vs buying a kit.
Your Preferred Projects — What do you want to make? And what will you need to make it, for example a budget, which parts you'll need to source, and routers and spindles.