9 Great Ideas For CNC Projects That Sell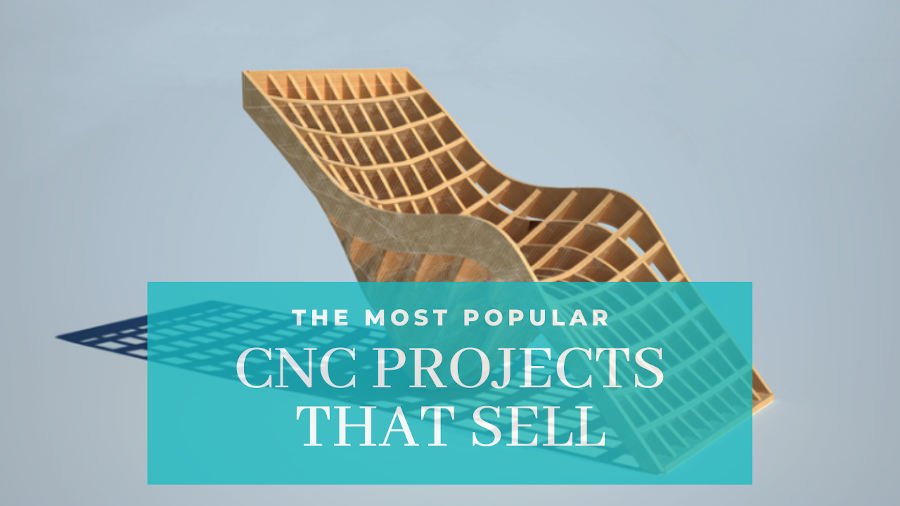 At CNCSourced, we're a team from across the world, united by our passion for everything CNC, laser cutting, and more! We try to publish at least once per week, and we're always up for talking anything DIY and making! Altogether we've written over 150 technical guides, from how to wire stepper motors, to brand-new ways to CNC carve granite with $5. You can read more about us on our about page.
Who out there hasn't dreamt of getting paid to do what they love? For a lot of hobbyists, making profits from a pastime is the dream. Because of this, many a DIY fanatic has considered making CNC router projects that sell well online.
Many consumers are looking for unique, homemade things to make their everyday surrounding stand out in a world where online consumerism and fads have left many décors feeling far too familiar.
So, whether you've got some leftover materials from your last big project, or just want to turn your CNC router into a money-making machine, there are plenty of options out there for cool CNC projects that can turn a decent profit.
Sites like Etsy and eBay make for a very easy make-to-sell process that anyone with a CNC router can use to sell their homemade wares. Pinterest, Instagram, and Twitter are amongst some of the few free sites to market, advertise, and sell on.
This means that anyone with a CNC router will only need to pay for the materials and files before making money from their creations.
CNC Signs — Some of the best CNC projects that sell
As almost anyone with a CNC router knows, signs are one of the first things any of us look to make. They're cool, they're fun to make, and they can be as creative as you like. But signs for various purposes are a great CNC project that sells well online.
Small businesses need to stand out more and more these days. To do that, small business owners are always looking for unique and well-crafted signs to hook prospective buyers. This is where CNC machining comes in, as creativity and good woodworking is a must for these signs.
From small welcome signs for front porches to larger signs for shops and bars, there's never a shortage of demand.
Regardless of what CNC projects you're wanting to sell, signs for homes and businesses should be one of your first considerations. Not only is it an excellent way to make some extra cash, it's also a source of pride that comes as you see your creations being enjoyed publicly.
---
CNC Furniture – Not Just For Show
As well as decorations and knickknacks, furniture are some of the most popular and best ideas for CNC project that sell.
CNC furniture can range from simple shelves and desks, to chairs and tables. They can be decorated and carved into whatever kind of shape or design you – or your customer – likes. If you aren't comfortable designing things from scratch, there are plenty of CNC furniture plans for sale online, as well as a selection of websites hosting free DXF files.
The best thing about making furniture is just how easy it is to sell. People are always looking to furnish a new home or revamp their old décor, and quality CNC furniture is always in high demand. Even if you're a beginner, most CNC furniture plans will follow the same basic structure.
Furniture comes in all types, and all of those types come in different shapes and sizes. When using furniture as a CNC project to sell, you can either find your specialty and stick to it, or experiment and have a wide variety for your customers to choose from.
---
CNC Maps – A Top-Down Views Adding to Your Bottom Line
Cartography is an art form that has taken something of a back seat in our modern days of satellite photos and pre-made posters. However, mapmaking is a CNC project ideas that sells well to those looking for a new and wonderful wall decoration.
The designs can be as simple or complicated as you like, from simple one-layer maps to detailed topographical landscapes of mountain ranges and deserts. These designs can be kept minimalist or painted to accurately portray any stretch of land.
Small boroughs, cities, countries, entire continents, or even the whole world — there are a lot of people willing to pay well to recreate their favorite places as wall hangings or tabletop designs.
If you're confident in your workmanship and creativity, fantastical cartographers like Dewi Hargreaves have shown that writers and readers of fantasy are always willing to pay for exclusive recreations of their favorite fictional places.
Faithful reimaginings of places like Middle Earth. Hyrule, or Tamriel as CNC router projects are very profitable if you have the know-how.
---
CNC Doll Houses and Miniature Buildings – Homes Inside Homes
Doll houses have been a staple of the playroom since time immemorial, and are very popular CNC router projects today.
As well as making great gifts, doll houses are a CNC router project that can really sell due to their customizability. While stencils for pre-designed houses are easy to find, creative engineers can design and reconstruct houses from movies, TV, and real life!
Beyond doll houses, there's a good market out there for miniatures. Mini versions of current or childhood houses are a popular decoration for anyone proud of their homes.
The detailing may take a lot of work, but those willing to roll up their sleeves will find these commissioned CNC projects selling quite well.
Making miniature houses as CNC projects to sell can even be modified for different purposes like bookshelves or bottle holders that practically sell themselves.
---
Desktop Book Holder – Simple yet popular CNC projects to sell
From home offices to cubicles, everyone likes to personalize their work spaces to show off a little bit more of their personality. But this doesn't mean everybody wants the same old knick-knacks or ornaments by their desks.
The desktop book holder has seen so much popularity as a CNC router project for selling that its template can be found online to make yourself to sell on.
With such a simple, easily modifiable design, they can be made to order, or in bulk to be sold however you like.
More and more people are opting to work from home for a variety of reasons, and these kinds of CNC projects will sell for as long as this trend continues.
---
Seasonal Decorations – CNC's Greetings!
Most CNC projects that sell make people feel they have something unique and truly special, and when it comes to seasonal events like Thanksgiving and Christmas, there's always a subtle (or maybe not-so-subtle) competitive undertone to how we decorate our homes.
Because of this festive one-upmanship, there are a lot of people who want to decorate their homes with unique, personally crafted decorations to really show off how serious they are to neighbors, Thanksgiving dinner guests, trick-or-treaters, or any special occasion guests.
The best part about making seasonal decorations with your CNC router to sell, is that the business can be as consistent as you like. A good pre-order system and some careful marketing can turn it into a year-round gig, or you could just open up shop to earn some extra money for the holidays.
---
CNC Coasters – Put 'Em Under the Glass
Coasters are a necessity for any well-kept home, and like all must-haves, there is always a demand for even the smallest pieces to include that unique and personal touch.
Coasters are a good choice for anyone looking for a CNC wood project that sells well. They require such little material that their profit margins are great for those who just have some extra wood lying around that they want to turn into some quick cash.
Personalized coasters can be carved by hand, or with an engraving instrument like the X-Carve CNC machine, and they can take no time at all if you have the right tools and skillset. More intricate designs or words can also be added to fit a customer's needs.
Coasters are also the kind of thing people like to have extras of, especially people who love hosting dinner parties and get-togethers.
Handmade and/or one-of-a-kind decorations are always a special talking piece for hosts, especially practical and noticeable ones. Because of this, coasters are always in good demand.
---
Bathtub Trays – Soak Up Success
We all like to relax in our own ways. Some read a book, some browse their devices, and some like a nice drink. What do all these things have in common? They can all be done in the bath.
Something of an older brother to coasters, bathtub trays are a useful little shelf that go across the bathtub to hold drinks, books, candles, or anything else you might want to have in the bath but keep out of the water.
Bathtub trays are a good example of a CNC wood project that sells because they're the kind of thing that people never know how much they want until they see one.
While they may just be simple planks of wood, devices like an X-Carve CNC machine, with their ability to carve intricate detailing, can be used to turn them into personalized pieces with cool little touches that add an extra bit of convenience to an evening soak.
---
CNC Coin and Key Trays – All in One Place
Coin and key trays are common household ornaments, normally found in the hallway. They're simple, they look good, and they tidy up some clutter.
Much like coasters, coin trays are a simple CNC project that sells due to their customizability and their prominence as household ornaments.
Common shapes include states and countries, but almost any shape can work. This makes them great to-order CNC projects that you can sell from your home.
---
Other project articles: