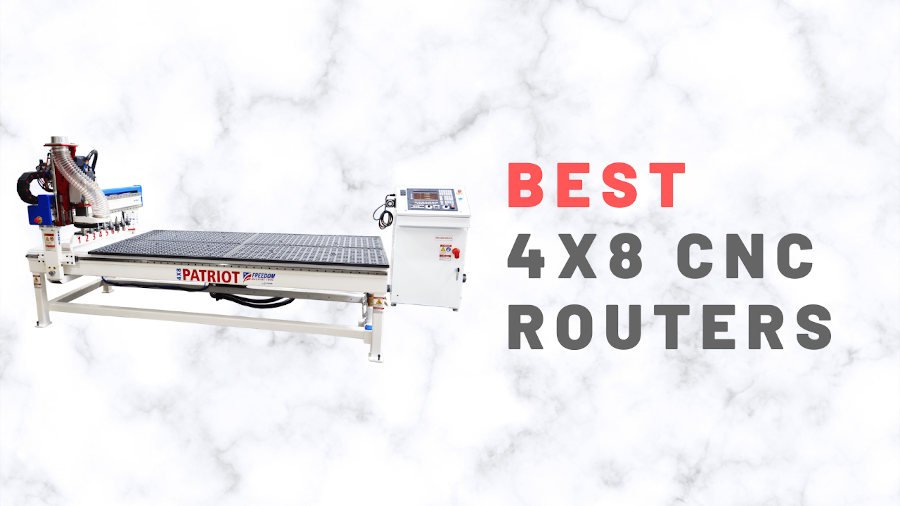 If you're a hobbyist or professional looking to buy a 4×8 CNC router, finding the right machine can feel like finding a needle in a haystack. There are so many options out there, all with different specifications and price ranges, so we've done the research to ensure you pick the best 4 x 8 router for you.
Accuracy:

Not as accurate as MakerMade M2

Accuracy:

More accurate due to superior electronics and z-axis

Software Compatibility:

Compatible with Groundcontrol, Webcontrol, and Makerverse

Software Compatibility:

Compatible with Makerverse software only

Upgrade:

Upgrade kit available for users to upgrade from Maslow to M2
Budget Pick
Accuracy:
Not as accurate as MakerMade M2
Software Compatibility:
Compatible with Groundcontrol, Webcontrol, and Makerverse
Upgrade:
Upgrade kit available for users to upgrade from Maslow to M2
Premium Pick
Accuracy:
More accurate due to superior electronics and z-axis
Software Compatibility:
Compatible with Makerverse software only
09/29/2023 12:56 pm GMT
Important factors to consider include the machine's working area, spindle, controller, compatible software, safety mechanisms and durability. Of course, you'll also want to pay close attention to the price.
In this guide, we'll reveal the very best 4×8 CNC routers available right now. We'll start with the cheapest 4×8 CNC machine available right now and then work our way up to the best CNC machine for professional use, so that you have all the information you need to pick out your perfect router.
CNCSourced is reader-supported. When you buy through links on our site, we may earn an affiliate commission. Learn more
The Best 4×8 CNC Routers
Industrial-standard machines can cost upwards of $40,000, so you need to look carefully to find a good deal. Luckily, now there's a mix of various cheap 4×8 CNC routers suitable for home use.
---
Best 4×8 CNCs – Reviews
Maslow CNC – Cheapest 4×8 CNC Router
Rigidity: Poor
Software: GroundControl, WebControl, Makerverse
Spindle: Router (to be purchased separately)
Cut Speed: about 1000 mm/min
Pros
Standing design: occupies a small area
Extremely affordable
Helpful community: Maslow has an open-source community to collaborate with other users and share your creations.
Cons
Can't cut tough or thick materials
Slow, less accurate, and less suited to long jobs as compared with higher-quality, more expensive CNCs
Chain sled system: possible chain wraps
Needs a frame for mounting
Z-axis is poor
If you're looking for a DIY 4×8 CNC router machine on a budget, you can't go wrong with Maslow's. This machine is much, much cheaper than most 4×8 routers.
The reason behind this machine's low price is that it's developed by Maslow, a community-driven, open-source project. Maslow's goal is to "make large format CNC technology available to everyone".
Since Maslow is so cheap, it's excellent for beginners and hobbyists. The Maslow website displays a variety of projects that have been made using the machine, ranging from chairs and desks to intricate ornaments, sheds, and even a boat! The machine is suitable for use with wood and a range of other flat materials, such as plywood, hard plastics and MDF laminate.
One of the best things about this DIY router is that Maslow has an open-source community in which you can collaborate with other users and share your creations. Their "Community Garden" contains a library of exciting projects created with the Maslow 4×8 router, complete with instructions and tips. There's even a Community Marketplace where you can sell your projects and buy other Maslow users' creations!
The Maslow CNC is pretty straightforward to assemble using the instructions, so it's a good choice for newbies.
However, Maslow CNC has several disadvantages.
The less crucial issues include that you have to build a frame for it, and you also have to watch its chains while working since they may wrap (especially near the top of the sheet). You'll also have to assemble and calibrate it, and deal with its not-so-great Z-axis.
But, Maslow isn't right for professionals owing to more serious reasons.
First of all, the chain system is only suitable for hobby use – not for any serious CNC machining that requires precision and machine rigidity. It's also not appropriate for cutting tough materials (like metals), or thick materials.
There are several factors that contribute to Maslow's poor accuracy. One stems from the firmware having to solve unorthodox kinematic equations due to Maslow's peculiar design. The result is a 1mm error over several feet of travel.
Another downside for more serious users is that Maslow is slow. You can cut wood with Maslow at about 1000 mm/min, which is too slow for serious production, but certainly enough for hobbyists and some woodworkers.
Overall, Maslow is excellent for what it is. It's accurate enough for most hobby and woodworking needs, and the most affordable option for the size.
We earn a commission if you make a purchase, at no additional cost to you.
---
MakerMade M2 CNC Kit — best 4×8 CNC router overall
Pros
Affordable for hobby or casual use
Standing design – takes up a very small area
Wall brackets: easier to mount than Maslow CNC
Springs have better tension than Maslow's bungee cords
Cons
Can't cut tough or thick materials
As with the Maslow, it's slow, less accurate than more professional 4×8 CNCs, and isn't suited for long jobs
The MakerMade M2 picks up where the Maslow left off, upgrading it in almost every area, yet it's still a very affordable CNC.
It has the same fundamental issues as the Maslow, like low speeds, low rigidity, and low precision, making it suitable for the same audience: hobbyists looking for a budget CNC machine for 4×8 plywood sheets. But, the improvements make it easier to use.
It retains the excellent 4 by 8 foot CNC cutting range and stellar 1mm accuracy — and there is also a laser cutter and engraver kit as an optional paid upgrade, making it even more versatile.
It has an improved controller with somewhat easier calibration, however, it's compatible only with the Makerverse software.
Other improvements over Maslow include the wall mount brackets, which relieve you of making a free-standing frame, the sled, and the Z-axis. Also, it uses springs (as opposed to Maslow's bungee cords) to lower the chances of chain wraps.
The enormous CNC cutting size makes it suitable for both simple business CNC uses as well as a hobbyist machine for home CNC projects. You can switch out the drill/mill bit between 1/8th of an inch and half an inch, for either precise or larger cuts. And, if you have any issues, get in touch with MakerMade's America-based team who will gladly try to help solve your issue.
In short, MakerMade M2 is an improved Maslow for hobbyists and simple woodworking needs.
---
ZenBot 4896 4×8 CNC Router – Best For Wood
Price: $3,399
Build volume: 4×8 foot
Rigidity: Weak – but still good for hobbyists
Software: Mach3
Spindle: Optional (router or 1.5kw spindle)
Pros
Affordable CNC considering its capability
Relatively rigid for the weight (much more rigid than the Maslow for example)
Much better linear mechanisms than preceding items on the list
Powerful stepper motors
Protective brushes on rails
Cons
Not steel – not as rigid as more expensive options
Drive system not as high-quality as more expensive options
ZenBot's 4×8 CNC router is an impressive machine designed for hobbyists and professionals. This large CNC router allows you to cut a full 4×8 sheet of material with excellent precision and is suitable for inlays, 3D carvings, engraving, and PCBs.
This is a rugged CNC router that weighs 400 pounds and is constructed with extremely durable high-density polyethylene with optional steel supports (for an extra $1099), so it's able to tackle tough wood projects as well as non-ferrous metals and plastics.
This ruggedness and durability make it a good choice for first-time users looking to get into carving. The machine is also used by small businesses, schools, and universities around the world.
The ZenBot 4×8 CNC router has plenty of useful features, such as strip brushes on the X and Y axis to keep the rails clean and smooth, and much better linear mechanisms than the 4×8 CNCs covered above (linear rails with appropriate varying sizes depending on the axis).
Featuring a gantry and steel linear rails, this is the first machine so far on our ranking that looks and feels like a real CNC. This means that it can tackle thicker materials and higher speeds, and is more accurate than the machines we've introduced so far.
The machine's material choice (HDPE) is clever. It's great for this price and usage (but obviously not as advanced as steel). The drive system is also on the low end of 4×8 CNCs: you get a belt system plus stepper motors. However, the stepper motors are powerful and can tackle much more than the CNCs mentioned above.
Another thing to note is ZenBot's controller is compatible with Mach3. As a result however, add an extra $175 to the cost for purchasing Mach3.
There are a range of customizable add-ons available with this 4×8 CNC machine. You can choose from four different spindle mounts, and you can add on a steel stand and threaded inserts for table fastening for an extra $999 and $99 respectively.
---
StyleCNC 4×8 CNC Router – Budget Under $10000
Price: $3,980
Rigidity: Better than average – good for entry-level routing
Software: hand-held controller (DSP)
Spindle: 3kW (4HP) – water-cooled
Cut Speed: up to 10,000 mm/min
Pros
Cast iron frame (better than cheaper machines)
Powerful spindle
Vacuum table
Hand-held controller (better than Zenbot's Mach 3)
Fast for the price (rapid speed about 600 IPM)
Cons
Drive system not as advanced as more expensive options
StyleCNC's 4×8 CNC may be more expensive than the Zenbot, but because it offers so much, I actually consider it very affordable overall.
First of all, it's much more robust and rigid than the Zenbot. It's made from steel, with a robust design that fights bending forces well.
The spindle is also powerful enough for small businesses. It's a 3kW water-cooled spindle, that you can cut thick wood and even some metals with.
Another great factor is that it has a vacuum table, so it can grip the material so you don't need to clamp it down.
Most vacuum tables alonecost more than the entire StyleCNC machine, so this really does offer great value for the price.
Another plus is the DSP controller. It can control the machine without tying down your computer. The handheld controller also has many functions, like jogging and defining work-zero.
However, the drive system is still on the entry-level side. It's excellent for woodworkers, but not advanced enough for large productions and businesses.
---
Laguna Swift 4×8 CNC Router – Best Full-Sheet CNC Under $20000
Price: $14,495
Rigidity: Strong
Software: Handheld controller (DSP)
Spindle: 2.2kW (3HP) spindle – water-cooled
Pros
Rack and pinion drive (higher accuracy and robustness)
The table is specifically designed with MDF pads and T-slots to securely hold down any pieces you're working on.
One-piece welded gantry makes it very rigid
Handheld controller
Very fast
Cons
Ordering a vacuum table costs over $4000
4th axis requires controller upgrade
The Laguna Swift 4×8 is one of the best commercial CNCs under $20K. It's a mid-range router that's a great match of affordability and quality, and also comes as a 5×10 CNC version.
Laguna is well known for producing some of the highest quality CNC machines on the market, and the Swift is a great example of that.
Like the StyleCNC, the Laguna Swift also comes with a DSP controller. This lets you run the machine without a controller, jog it, and even set feeds and speeds.
However, an improvement on this machine is its double helical rack drive system. It's the first machine on our list featuring this, and all high-end CNC routers have rack and pinion drives on the X and Y axes. This makes the machine more accurate, fast, and reliable.
Another benefit is the high speed. It can cut at higher feed rates and increase the tool life. Also, the spindle can match the high feed rate (6000-24000 RPM). The spindle has 3HP and is water-cooled so that you can use it for long hours, and you can even choose to buy more powerful spindles to use with it.
Another useful feature is that the table is specifically designed with MDF pads and T-slots to securely hold down any pieces you're working on. The Laguna 4×8 CNC router comes with a 3HP spindle that is liquid-cooled, making it a durable machine capable of running for many hours.
However, it doesn't have a vacuum table (though it's not strictly necessary). But, you can still get the 4-zone vacuum table if you're willing to spend about $4000. Also, you'll have to buy a vacuum pump from Laguna if you need the vacuum table.
Laguna also offers optional training via Zoom if you need help getting your foot through the door.
There is also a 4-axis rotary option available. Laguna also offers a Swift Multi-Tool 4×8 table with the Laguna Vision System, and a Tangential Knife system that starts from $53,820.
---
ShopBot PRSalpha 4×8 CNC Router – High Volume, High Speed Cutting
Price: $20,344
Rigidity: Above average
Software: ShopBot Control
Spindle: Optional (1.5kW, 3kW, 3.8kW options)
Cut Speed: Up to 15,000 mm/min
Pros
Almost faster than a Laguna with similar price – cuts up to 600 IPM
Excellent accessories including high-quality vacuum systems
Cons
No handhheld controller (therefore needs a computer)
Not as rigid as the Laguna 4×8 CNC
Price doesn't include spindle and other accessories
Like Laguna, ShopBot is a company with a great reputation for making excellent 4×8 CNC routers at fair prices. One of its flagship models is the PRSalpha 4×8 CNC router, which delivers high performance, high volume and high-speed cutting and engraving.
It doesn't look as impressive as Laguna CNCs, but it's cheaper than the Laguna with similar speeds available.
Though, Laguna makes many more advanced machines and their design and quality are generally better. That's why a Laguna Swift looks more professional than the ShopBot PRSalpha.
However, this ShopBot's rapid speed is 1800 IPM, which is faster than the Laguna Swift (but not faster than more advanced Lagunas). However, at 600 IPM, the actual cutting speed is not faster than Laguna Swift.
But overall, you'll certainly work fast with the ShopBot.
However, one disadvantage is that Shopbot's PRSalpha doesn't have a DSP controller. You'll have to run it with the ShopBot Control Software from your computer.
There are some really useful other features, such as the fast, closed-loop Vextra alphaStep motors fitted with low-backlash, tapered-hob gear heads on each axis, with the alphaStep system monitoring shaft positions to maintain synchronicity between signal and motion.
There are a range of add-ons available, such as a 10HP single-phase regen blower and an air drill head. You also get 10 modules of recorded basic training, great for becoming an expert, and the machine is very easy to configure and re-configure, learn and use.
---
Maverick 4×8 – Large Format CNC Router for Cabinet Makers
Price: $36,490
Rigidity: Rigid
Software: Arty CNC control
Spindle: 4.5kW (6HP) – air-cooled
Cut Speed: up to 15,000 mm/min
Pros
Vertical table for making woodworking joinery or door drills
Comes with rotary
Powerful spindle
Cons
Simple motion system for such a high price (stepper motors)
Mostly a wood CNC – not great with aluminum
Mostly a wood CNC – not great with aluminum
Created by Legacy, the Maverick 4×8 router doesn't come cheap, but it's one of the best CNC machines on the market and is a great choice for small-scale cabinet makers. The machine comes fully assembled and tested, with an all-steel frame and user-friendly controller, and is just packed with special features.
Maverick's design allows you to fasten parts vertically at the end of the table to drill door hinges and make joineries. This is especially useful for cabinet makers. It also comes with a 79" rotary for creating art and decorative items.
Therefore, this CNC targets small-scale cabinet makers that bore the panel sides using the machine's vertical table. But, you need to know that there is a lot of manual labor in this method because the setup is entirely manual.
If you're a large-scale cabinet maker, consider a CNC that has auto loading, auto sweeping, ATC, and above all, a dual spindle that can automatically bore the panels for you (hint: the Laguna 6D at $150,000 can do all of that).
But, for the price, Maverick is offering cabinet makers a manual solution that works.
Its drive system is also pretty robust with rack and pinions on the X and Y axes, and powerful Nema 34 stepper motors that can cut up to 600 IPM. However, you can still find other CNCs with servo motors at similar prices.
The spindle is very powerful at 6HP, but it's air-cooled. Although the air-cooled spindle has several advantages over the water-cooled spindle, it's noisier and not as good for long usage due to poorer heat dissipation. However, air-cooled spindles are common for woodworking.
Also, many other CNCs from much more well-known brands are available at these prices. For example, you can get a Laguna with a tangential knife.
Laguna SmartShop 2 Pro – Best 4×8 CNC Router Overall
Price: $53,995
Rigidity: Extremely strong
Software: Syntec robot controller
Spindle: 9kW (12HP) air-cooled
Cut Speed: up to 15,000 mm/min
Pros
Excellent servo system
Powerful 12HP spindle
Very rigid
Automatic tool changer
Can handle non-ferrous metals
Cons
Added cost for the vacuum
Laguna SmartShop 2 Pro is the best 4×8 CNC router for professionals overall, in my opinion.
It's the only CNC on our list with closed-loop servo control, and uses high-quality servos with gearboxes that ensure very high-quality and accurate cuts.
It's also pretty fast. Its rapid speed is 1800 IPM, so I expect it to cut wood sheets up to 900 IPM.
SmartShop 2 Pro also has a monstrous 12HP spindle that can turn between 6000 and 24000 RPM. It comes with an automatic tool changer, and is air-cooled. Thanks to its rigidity and powerful spindle, you can also comfortable handle aluminum and other nonferrous metals.
The one-piece steel gantry means it's very rigid. It also has robust drive systems on all axes.
The table has a professional design for adding a vacuum, but you'll have to buy the vacuum separately from Laguna, which obviously adds to the total cost you'll have to spend.
---
Buying Guide – Factors to consider when buying
There are specific factors to assess when hunting for the best large CNC machines. Here are the most important factors:
Rigidity
The most important factor in buying a CNC router is rigidity. Poor CNC rigidity is the dominant issue in cheap 4×8 CNCs, and generally the more rigid the CNC, the more expensive it is (at least up to $10,000). Rigidity is also one of the two factors for determining compatible materials for machining (the other being the spindle).
CNC rigidity depends on the design and frame materials. For example, steel and cast iron are more rigid than HDPE, and HDPE is still better than wood.
Gantry designs are more rigid than the mounted design of cheap 4×8 CNCs like the Maslow and MakerMade M2. And within gantry designs, one-piece welded gantries are better than multiple screwed gantry parts.
Assembly, Squaring, and Calibration
Another factor is whether the 4×8 CNC comes pre-assembled.
Due to their large size, some CNC manufacturers break the parts down – so you'll have to assemble them, or pay their technicians to do it.
Assembly can be super simple with just a few screws, while some machines can take days to build. This is more troublesome if it also requires squaring the gantry.
Most professional CNCs are shipped with a squared gantry. However, some cheap CNCs require you to square the gantry yourself. That takes expertise, and if not done right, will greatly lower your CNC accuracy. I've also written more about squaring the gantry to improve CNC accuracy.
Also, calibrating some machines takes more effort (like Maslow), while others are much easier to calibrate.
Drive Mechanism
The drive system plays a vital role in CNC accuracy, power, and speed on large 4 by 8 foot CNCs. Chain drive is the cheapest option (used in the Maslow and MakerMade M2).
Belt drive is better, but various forms of rack and pinion are the best for the X and Y axes.
It's worth noting that ball screws can't be used in 4×8 CNC routers on the X and Y axes. However, they are excellent choices for the Z-axis.
Drive Motors and Motion System
The motion system is a key factor in CNC accuracy and speed, heavily affects the price tag.
The simplest and least expensive system is stepper motors. Going one level up, we arrive at closed-loop steppers. They have encoders and are not compatible with low-end controllers.
Finally, the most expensive system found in high-end industrial CNCs is closed-loop servo systems. For example, Fanuc's closed-loop motion control is the leading technology in the game. It's impossible to find such systems in CNCs under $50,000, and only the Laguna SmartShop 2 Pro in this guide features this.
Spindle vs Router
Low-end 4×8 CNCs have routers. They are noisy but cost-effective, but can't work non-stop.
Therefore, all serious CNCs use spindles instead, which can run continuously. You can read more in my article on spindles vs routers.
Spindle Power
Higher spindle power means you can cut thicker sheets and make wider cuts at higher speeds. So, the spindle power also depends on the CNC speed.
I suggest using this formula for 4×8 CNCs: HP = CNC cutting speed / 100.
However, there is no point in high spindle power if the CNC has rigidity issues.
Spindle Cooling and Tool Change
Spindles differ in cooling method and tool changing systems. There are other spindle categorizations too, but we'll focus on these aspects for now.
Spindles are either air-cooled or water-cooled. If you want to operate your CNC for very long hours, a water-cooled spindle is generally better (although there are instances where air-cooled spindles are better).
Also, some spindles can change the tools (inserts) automatically. That reduces setup time and allows the machine to automatically use various tools for roughing, finishing, engraving, rounding, and more.
Some 4×8 CNCs also allow you to buy automatic tool change (ATC) as an add-on. You can't find ATC in cheap spindles. So, if you want ATC, prepare to see that on the CNC's price tag.
Vacuum Table
A vacuum table makes the CNC much easier to use. It reduces setup time, error, and collisions since you don't have to clamp down the stock on a vacuum table. It's also the perfect solution for jobs that involve shaping the edges.
Several full-sheet CNCs on this list have either optional vacuum table add-ons, or come with them – so this is worth considering.
However, vacuum tables have several disadvantages. They are expensive and require a lot of power (often, they consume even more power than the spindle). So, prepare to pay the upfront cost, as well as the long-term operating costs to run it.
Number of Axes
Since you'll mostly cut large sheets with a 4×8 CNC, a 3-axis machine usually is enough. However, if you also want to create decorative or other items out of dowels, you'll benefit from a 4th axis, while 5-axis machines can make the most complicated shapes and patterns.
Controller
The controller is the brain of the CNC and affects many CNC aspects. It affects the motion control, number of axes, rotary compatibility, user interface, speed, and more. It also affects the CNC software, so we'll focus on the controller from the software stance, next.
Software
I'm not talking CAD and CAM, but the CNC control software, which is how you interact with the machine. Cheap 4×8 CNCs usually use GRBL variants or Mach 3, while more advanced CNCs use other software.
A RichAuto DSP controller is a better option for 3-axis machines. It allows you to control the machine without a computer – you just import the file via USB and run the machine.
Specialist CNCs
There are specialist CNCs for various jobs. For example, there are CNCs that automatically load the stock into the machine and unload it after finishing the job for faster production. Some CNCs are specifically designed for cabinet-makers. They have features like automated boring and drilling for door hinges and joinery.
These machines cost over $150,000 and may not be a wise investment for all.
Price
Since 4×8 CNCs cost between $350 and $300,000, the price is a big determinant of the CNC choice.
When all you need is to cut a 4×8 sheet down for woodworking, 1mm accuracy is enough for the cut parts, you can get away with slow speeds, and you only use the CNC for limited hours during the day, then even a $500 CNC like Maslow is enough for you.
But, if you need more, the CNC cost depends on how large your production is. We've introduced several entry-level CNCs between $4,000 and $10,000.
If you have a production line and your CNC runs 8 hours or more daily, you'll need a more serious machine that costs between $14,000 and $200,000 depending on whether your business is small-scale or large-scale.
If you're buying an expensive machine, financing options can be helpful, so check for that also.
What Can You Do With a 4×8 CNC Router?
You can make a lot of things with a 4×8 CNC, from cabinets to doors, furniture, signage, and more.
Since many wood and MDF sheets are 4×8 feet, you can directly cut various parts out of the sheet with a full-sheet CNC router.
Here are some of the things you can do:
Cabinets: 4×8 CNCs are extensively used in cabinet-making. They can cut the walls, doors, and tops directly, and create patterns if needed.
Doors: doors are large and require accurate cuts. An 8×4 CNC machine can cut the doors, and create the patterns on them.
Furniture: building furniture involves cutting many parts. A 4×8 plywood CNC machine is the best tool for this since it minimizes material waste, and cuts the parts fast and accurately out of the sheet. You can build tables, chairs, nightstands, TV stands, dog houses, and more.
Signage: you can make large (and small) signs. It can engrave, emboss, and round the edges of wooden signs (and even ACP signs). There are also other signage uses, and for more info we've also written about the best CNCs for signage.
Wooden kitchen sets: making wooden dinnerware, trays, and other kitchen sets.
Arts and decor: you can make wall decorative projects, kitchen and living room decorative items, clocks, and more.
FAQs
How Much Does a 4×8 CNC Router Cost?
The cheapest 4×8 CNCs start at around $500, but the most advanced 4×8 CNC routers can cost up to $250,000. The cheapest 4×8 CNCs include the Maslow CNC ($549) and MakerMade M2 ($1199), but they do not have a gantry, whereas a 4×8 CNC with a steel gantry starts at $4000.
A 4×8 CNC with a blazing high-speed accurate servo control costs around $40,000. These machines also have powerful liquid-cooled spindles with tool changers.
5-axis 4×8 CNCs with tall Z clearance, powerful spindles, automatic tool changers, and a state-of-the-art control system can go for $200,000 or more.
Included in the cost of a 4×8 CNC router machine is a frame bed, drive system, servo system, computer, spindle, and controller, along with optional extras such as extension kits and tool heads. More expensive entry-level options will come with premium features like a 4th axis rotary table, but industrial level machines come with ingenious specs like automatic tool changing.
Which Manufacturers Make the Best 4×8 CNC Machines?
The companies that make the best low-cost 4×8 CNC machines are Maslow and MakerMade, and they are the best under $2000. However, for more industrial 4×8 CNC machines, Laguna stand out, but cost between $13,000 and $235,000.
Laguna's Swift series has economical 4×8 CNCs, while the SmartShop series are high-quality and expensive machines. Laguna SmartShop Elite and Excel machines make the deepest cuts at the fastest speeds with the highest accuracy for super-busy production lines.
How Much HP Spindle for 4×8 CNC?
The ideal 4×8 CNC spindle horsepower differs from normal CNCs: for 4×8 CNCs, the CNC speed is the best determinant of required spindle horsepower. However, other factors, such as the machine's rigidity, maximum speed, and material, are also important.
Since 4×8 CNCs cut materials that don't require substantially different cutting forces (wood, plastic, MDF, but not metals), we can focus on rigidity and CNC speed. Meanwhile, manufacturers offer a CNC speed that the machine's rigidity can handle. So, CNC speed presents valuable clues to spindle power.
This is the formula we recommend for figuring out which spindle horsepower to use:
HP = CNC speed / 100
This formula is a reasonable estimate for spindle powers in this speed range of 4×8 CNCs, as long as the CNC doesn't have significant rigidity problems. However, the spindle horsepower also depends on your machine's rigidity, cutting depth, cutting width, and the materials you cut.
Therefore, you may need to modify the formula result since the situation is different for cheaper and lower-speed CNCs.
If you have a high-speed servo system that can move at 600 IPM (inches per minute, or 15240 mm/min), I'd recommend about 6 HP. However, you need a 12 HP spindle to use the full capabilities of a 4×8 CNC that can move at 1200 IPM (30480 mm/min).
The CNC speed (IPM) refers to the speed the CNC can move while not cutting. So, look up your 4×8 CNC's speed, and choose proportionately.
On the one hand, you should get a more robust spindle than the above proportions for slower and cheaper CNCs, if you don't have rigidity issues. But, on the other hand, the following points explain the reason for this approach:
Firstly, it's best not to cut these materials too slowly with slow 4×8 CNCs. For example, a high-end CNC with 600 IPM speed may cut plywood at 300 IPM. That's 50% of the CNC speed. However, with a CNC that provides 100 IPM of speed, it may be best to cut at 70 IPM. This is 70% of the CNC speed.
Therefore, the ratio of maximum feed rate to maximum CNC speed is higher for cheaper CNCs. At the same time, it should increase the spindle horsepower to keep up.
Secondly, you may use thicker endmills with slower CNCs to increase the tool life. This increases the width of the cut and your spindle power requirement. (As we mentioned, spindle power also depends on the width of the cut).
On the other hand, you don't need higher horsepower if the CNC has rigidity problems. Instead, you should use lower speeds if you have rigidity issues, which dramatically drops spindle power requirements.
Therefore, use the formula above as a first estimate for spindle horsepower. Then, get a more powerful spindle than the formula result for slower CNCs. First, test your CNC's rigidity since rigidity issues drop the spindle power requirement.
Which Size Spindle for a 4×8 CNC?
To find the right spindle size for your 4×8 CNC, determine your spindle horsepower using the HP = CNC speed/100 formula. Then, look up the spindle brand's chart for the horsepower they offer in each size. Higher power spindles generally come in larger sizes.
The standard spindle sizes are 32mm, 35mm, 41mm, and 50mm. Your necessary horsepower may be available in two sizes. Generally, larger sizes cool more efficiently. Therefore, buying the larger size is best if your spindle frame holder allows it.
Which KW Spindle for 4×8 CNC?
The spindle power (KW) depends on several factors, including the material, the machine's sturdiness, and speed. However, for 4×8 CNCs, the CNC speed is the single best evidence for the spindle power (KW).
For example, a 1.5KW spindle is enough for a 4×8 CNC that can move at 200 IPM (5080 mm/min), while a 4.5KW spindle fits a 4×8 CNC that can move at 600 IPM (15240 mm/min).
How Long Does It Take To CNC a 4×8 Panel?
How long it takes to CNC cut a 4×8 panel depends on the feed rate, the stepover, the endmill, and the job. For example, roughing a 4×8 panel with a powerful CNC at 15000 mm/min with a 2" endmill with 95% stepover takes under 3 minutes. However, the same job can take 20 minutes with a less robust CNC.
What Can You Do With a 4×8 CNC Router?
4×8 CNCs are excellent for making cabinets, table tops, and doors. 4×8 foot is the standard size of plywood, MDF, and other material sheets, so you can directly cut plywood sheets on a 4×8 CNC router. Also, when creating furniture, a guitar, or wooden paraphernalia, you can create a bill of materials (BOM) and directly cut the different parts out of a 4×8 sheet.
How Accurate Are 4×8 CNC Routers?
High-end 4×8 CNC routers with accurate servo systems have a 0.01-0.02 mm accuracy in various cuts, while cheap 4×8 CNCs are far less accurate – often between 0.05 and 0.5 mm (0.002"-0.02").
Cheaper 4×8 CNC routers are often not as accurate as the manufacturers' numbers. This is because the manufacturer states the positioning accuracy, while in reality, the 4×8 CNC accuracy is affected by the machine's rigidity, backlash, runout, and control system.
Related articles: