If you're a hobbyist or professional looking to buy a 4×8 CNC router, finding the right machine can feel like finding a needle in a haystack. There are so many options out there, all with different specifications and price ranges, so we've done the research to ensure you pick the best 4 x 8 router for you.
BUDGET OPTION
Maslow CNC
High-quality, user-friendly design
Open-source community garden for design inspiration
Excellent choice for beginners
Available at:
PREMIUM PICK
MakerMade M2
Cuts 40 inches per minute
New upgraded version with key improvements
Optional laser engraving kit add-on
Available at:
Important factors to consider include the machine's working area, spindle, controller, compatible software, safety mechanisms and durability. Of course, you'll also want to pay close attention to the price.
In this guide, we'll reveal the very best 4×8 CNC routers available right now. We'll start with the cheapest 4×8 CNC machine available right now and then work our way up to the best CNC machine for professional use, so that you have all the information you need to pick out your perfect router.
CNCSourced is reader-supported. When you buy through links on our site, we may earn an affiliate commission. Learn more
The Best 4×8 CNC Routers
Industrial-standard machines can cost upwards of $40,000, so you need to look carefully to find a good deal. Luckily, now there's a mix of various cheap 4×8 CNC routers suitable for home use.
Alternatives to 4×8 CNC Routers:
---
Best 4×8 CNCs – Reviews
Maslow CNC – Cheapest 4×8 CNC Router 
If you're looking for a high-quality 4×8 CNC router machine on a budget, you can't go wrong with Maslow's. This machine is much, much cheaper than most 4×8 routers.
The reason behind this machine's low price is that it's developed by Maslow, a community-driven, open-source project. Maslow's goal is to "make large format CNC technology available to everyone".
While it may be cheap, the Maslow 4×8 CNC router is still a high-quality, powerful machine that's easy to use, even for beginners. The Maslow website displays a variety of projects that have been made using the machine, ranging from chairs and desks to intricate ornaments, sheds, and even a boat! The machine is suitable for use with wood and a range of other flat materials, such as plywood, hard plastics and MDF laminate.
One of the best things about this 4×8 router is that Maslow has an open-source community in which you can collaborate with other users and share your creations. Their "Community Garden" contains a library of exciting projects created with the Maslow 4×8 router, complete with instructions and tips. There's even a Community Marketplace where you can sell your projects and buy other Maslow users' creations!
The Maslow CNC is pretty straightforward to assemble using the instructions, so it's a good choice for newbies. Useful features include adjustable cut depth and z-axis functionality.
Cheapest 4x8 CNC Router
---
MakerMade M2 CNC Kit — best 4×8 CNC router overall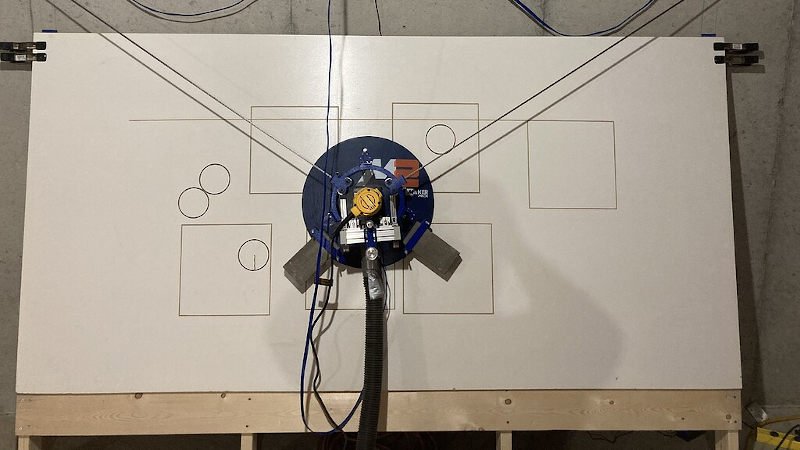 The MakerMade M2 picks up where the Maslow left off, upgrading it in almost every capacity and bringing it into 2022 as the best 4×8 CNC router around.
It retains the excellent 4 by 8 foot CNC cutting range and stellar 1mm accuracy — and there are also plans to introduce a laser cutter and engraver kit as an optional paid upgrade, making it even more versatile.
It cuts at 40 inches per minute, has built-in dust collection, and has a range of other upgrades for improved reliability and power. The Maker Made M2 can cut hardwoods with ease, as well as nylon, acrylics, plywood and thin aluminum sheets — if you're looking for a metal CNC machine.
The enormous CNC cutting size makes it suitable for both business CNC uses as well as a hobbyist machine for home CNC projects. You can switch out the drill/mill bit between 1/8th of an inch and half an inch, for either precise or larger cuts. And, if you have any issues, get in touch with MakerMade's America-based team who will gladly try to help solve your issue.
---
BobsCNC KL744 with Extension Kit – Durability on a Budget
Price: $2,875.00 + Extension kit with table $1,003.00
Build volume: 4×8 foot with extension kit, 4×4 foot without
Hot off the press as a 4×4 Baltic birch dream, BobsCNC KL744 comes with an optional extension kit that supersizes this fantastic entry-level router.
BobsCNC is very much a mom-and-pop styled company, with users praising the genuine support they receive not only from their customer service but also from the community this company has built.
Along with awesome support, you can expect extreme durability from the KL744. With an SG25U supported rail system and reinforced steel T5x15 Bell-Everman belt system, use your router with confidence knowing it will produce stunning outcomes.
There are a few setbacks, however.
First, it's not the fastest machine and doesn't suit the high demands of commercial use. Second, since the drive system is on the belt drive – as opposed to the rack and pinion – accuracy can be affected. Third, $2,875 sounds like a steal for a CNC router, but an extra $1000+ for the extension kit is steep.
That said, it's still a far more affordable option than others on this list, and there's no doubt in our minds that this wouldn't make for an excellent robust option for home projects.
Read more: the best 4×4 CNC routers
---
ZenBot 4896 4×8 CNC Router – Affordable Yet Highly Customizeable
Price: $3,399
Build volume: 4×8 foot
ZenBot's 4×8 CNC router is an impressive machine designed for hobbyists and professionals. This large CNC router allows you to cut a full 4×8 sheet of material with excellent precision and is suitable for inlays, 3D carvings, engraving, and PCBs.
This is a rugged CNC router that weighs 400 pounds and is constructed with extremely durable high-density polyethylene with steel supports, so it's able to tackle tough wood projects as well as non-ferrous metals and plastics. This ruggedness and durability make it a good choice for first-time users looking to get into carving. The machine is also used by small businesses, schools, and universities around the world.
The ZenBot 4×8 CNC router has plenty of useful features, such as strip brushes on the X and Y axis to keep the rails clean and smooth, as well as a 20mm hardened linear rail with recirculating ball linear bearings on the Z-axis. It also boasts a linear motion system with ball bearings preloaded on 1.75″ steel tubing on the short axis and 3″ square steel tubing on the long axis for extremely smooth motion.
There are a range of customizable add-ons available with this 4×8 CNC machine. You can choose from four different spindle mounts, and you can add on a steel stand and threaded inserts for table fastening for an extra $999 and $99 respectively. There are also several purchase options for compatible software – the Mach 3 Control Software costs $175 and turns your PC into a CNC controller, while you can also bag a variety of Vectric CAD/CAM software from $149 to $1,995.
---
StyleCNC 4×8 CNC Router – Budget CNC Router with High Precision
Price: $3,980
Build volume: 4×8 foot
The StyleCNC 4X8 CNC router is another budget-friendly yet impressive machine. Like the ZenBot model, this machine is another highly robust, durable router thanks to its cast-iron frame, meaning it's very stable and has minimum vibration.
This router is also extremely precise. It uses a Hiwin linear guide and a rolling ball screw from Taiwan TBI, allowing you to engrave with high accuracy. This makes the machine a great choice for hobbyists and small businesses looking to craft a wide range of products, from furniture, decorations to signs and fine jewelry. The StyleCNC website displays examples of the intricate carvings that are possible with this machine, proving it's great for both small and large projects.
You can use a range of CAD and CAM software with this machine, including TYPE3, Artcam, Artcut, and CASmate. It also features NK105 DSP Handle controlling, making for fast, convenient data transformation and an intuitive user interface. It also has a handy vacuum pump that absorbs materials automatically.
---
Laguna Swift 4×8 CNC Router – Mid-range Router with Liquid-cooled Spindle
Price: $13,645
Build volume: 4×8 foot
The Laguna Swift 4×8 is a mid-range router that's a great match of affordability and quality. Laguna is well known for producing some of the highest quality CNC machines on the market, and the Swift is a great example of that.
One of the best things about this machine is that it has a 7.5" gantry clearance offering great freedom in the types of projects you want to work on. To ensure the best possible cuts, the gantry is secured by a welded all-steel, one-piece frame. The machine also comes with a handheld controller, giving you the freedom to be at the machine to closely watch, adjust and program your parts.
Another useful feature is that the table is specifically designed with MDF pads and T-slots to securely hold down any pieces you're working on. The Laguna 4×8 CNC router comes with a 3HP spindle that is liquid-cooled, making it a durable machine capable of running for many hours.
There is a 4-axis rotary option available with this CNC machine. Laguna also offers a Swift Multi-Tool 4×8 table with the Laguna Vision System and a Tangential Knife system that starts from $53,820. The company's website offers useful resources like a blog and videos to help you develop your skills.
---
ShopBot PRSalpha 4×8 CNC Router – High Volume, High Speed Cutting
Price: $20,344
Build volume: 4×8 foot
Like Laguna, ShopBot is a company with a great reputation for making excellent 4×8 CNC routers at fair prices. One of its flagship models is the PRSalpha 4×8 CNC router, which delivers high performance, high volume and high-speed cutting and engraving.
The PRSalpha series of machines is ShopBot's toughest and most sophisticated gantry-based CNC routers, and have enough production capability for a three-shift factory. This machine uses advanced technology to deliver rapid transit speeds of 1800" per minute and cutting speeds of up to 600" per minute.
There are some really useful other features, such as the fast, closed-loop Vextra alphaStep motors fitted with low-backlash, tapered-hob gear heads on each axis, with the alphaStep system monitoring shaft positions to maintain synchronicity between signal and motion. The machine also comes with the ShopBot Control System to run your CNC and powerful design software to create your projects.
There are a range of add-ons available, such as a 10HP single-phase regen blower and an air drill head. You also get 10 modules of recorded basic training, great for becoming an expert, and the machine is very easy to configure and re-configure, learn and use.
---
Maverick 4×8 – Best High End 4×8 Router for Professionals
Price: $36,490
Build volume: 4×8 foot CNC router
Created by Legacy, the 2020 Maverick 4×8 router doesn't come cheap, but it's one of the best CNC machines on the market and is a great choice for professionals and small businesses. The machine comes fully assembled and tested, with an all-steel frame and user-friendly controller, and is just packed with special features.
For example, the 2020 Maverick 4×8 features three workstations that can do turning, flatwork, and joinery, maximizing your work potential. It also features an air-cooled, 4-kilowatt ATC spindle that you can run all day long. Simply load the part and tools, press go and you can then walk away. This powerful spindle allows you to use larger tools and make fast, deep cuts for increased productivity.
Other useful features include the Smart-Tool touchpad that measures each tool as it's used for very fast, easy tool setups, an advanced dust extraction feature, and a vacuum system that provides a simple, fast way to hold down your sheet goods. The machine also comes with Legacy's exclusive Conversational CAM turning software.
If you want a taste of what's capable with the 2020 Maverick 4×8 router, Legacy's website showcases a range of projects created using the machine, from an intricate model of the Star Wars Millennium Falcon to highly impressive cabinets and doors. Their website also contains some useful training materials, including webinars, to help you get started with the machine.
There are several pricing options, and none of them are cheap. The manual tool change version comes with 6 HP, 24K RPM and 1+ tool capacity is the cheapest, while you can pay more for the automatic tool change machine that has 6 HP, 24 RPM, and 6+ tool capacity.
---
Alternatives to 4×8 CNC Routers
It's easy to succumb to the power and capabilities of 4×8 CNC routers. After all, they're supersized machines that make light work of industrial projects, however, you don't always have to go big to get power.
Smaller sizes like 2×2, 4×4, and desktop routers are powerful alternatives that are great for machining at home without taking up too much space and promise to deliver the same effectiveness and quality.
BobsCNC Evo 4 – Cheap & Great for Complex Projects
The BobsCNC Evo 4 isn't technically a 4×8 router, but you can easily produce the same results and we've included it as a desktop alternative to larger machines, offering high quality at a low price. To produce 4×8 foot CNC-machined parts, you just need to cut the first 24″ and then move the workpiece and cut the next 24″.
The BobsCNC Evolution 4 — an upgrade on the company's older E4 CNC router — has a rigid plywood frame, and offers 0.002"-0.004" repeatability. The Evo 4 has a 610x610x85 mm cutting area, uses a Nema 17 stepper motor, an SG20U rail system and uses the GRBL1.1 firmware on the Arduino Uno.
Cheapest CNC Wood Router
BobsCNC Quantum CNC Router Kit
The Evolution series of machines, which stand out for their laser-cut wooden frames and somewhat unusual designs, with the Evo 4 being the best in the line, are possibly the most well-known products from BobsCNC.
Amazon here
We earn a commission if you make a purchase, at no additional cost to you.
12/09/2022 07:42 pm GMT
This router has some really useful features, such as adjustable eccentric spacers to keep the bearings tight against the rails. Another benefit of this 4×8 foot router is that it has a TR8 Acme Rod mounted with an ACME Nut on the Z-axis to speed up Z-travel jobs. You don't need to lubricate the Z-drive either, thanks to the presence of a Derlin Acme nut. Router mounts and an integrated belt-tensioner make for low wobble and smooth spatial movements.
The Evo 4 is a self-assemble DIY CNC router kit, but it's easy to set up and is a good option for beginners. Another useful part of purchasing a BobsCNC machine that you can take advantage of the 'how to'  videos and product features on the company's YouTube channel.
---
4×8 CNC Router Buyer's Guide
Knowing what options are available on the market is only half the battle when it comes to buying a CNC router – the other half is figuring out what to pick.
Here are a few aspects you should consider to help you decide which machine is best for you.
Skill level
First, consider your familiarity with the machine. If you're new to using CNC routers, especially large ones like the 4×8, opt for more affordable entry-level options, even if you're trying to start a side-hustle or business.
All machines come with a learning curve and the last thing you need as a new owner is to potentially harm yourself or the machine by choosing one outside of your comfort level.
Size
4×8 is a solid size for a CNC router, but sometimes you need a little flexibility when it comes to your projects.
Think about what size sheets you'll be working with and whether or not you need a router with upgradable options to support materials like 5×10 sheets.
Speed
This factor is going to matter highly if you're buying a CNC router for commercial reasons.
There's travel speed and cutting speed – so how fast it travels the axes and how fast it cuts through the material. If you work with tight deadlines and higher production KPIs, then you'll want an option with both fast travel and cutting speed to maintain efficiency.
However, if you're focusing on home use then you can get away with slower and more affordable options.
Community and Support
Customer service is great, but nothing beats the support and help from peers and other users working on similar projects.
Brands with bustling communities not only provide opportunities for communal wisdom, but they pave the way for innovative open-source projects and the chance to really expand and elevate your craft.
4×8 CNC Router FAQ's
Related articles: