CNC routers come in all shapes and sizes, from small benchtop machines to large industrial machines. One size is 4×4 CNC routers, which means the router is 4 foot by 4 foot. This larger size is ideal for small businesses, industry professionals and serious hobbyists looking to create larger CNC projects.
But how do you find the best 4×4 CNC router for you?
In this guide, we list some of the best 4×4 CNC machines around. We'll take a close look at the specs and features on each machine so that you can easily pick out the right one for you.
We earn a commission if you make a purchase, at no additional cost to you.
Before we get into our list of the best 4×4 CNC routers, however, let's take a closer look at what they are, how they're different to other CNC routers, and what they're used for.
In a rush? Here's the fast version
Best 4×4:
Great alternatives:
A Closer Look at 4×4 CNC Routers
When it comes to buying a CNC router, arguably the most important factor to consider is your work area size. After all, you need to have a large enough machine to create your business' products or hobbyist projects.
A 4ft x 4ft CNC router is fairly large in comparison to many other machines. For example, many hobbyists and beginner CNC enthusiasts choose to go for desktop machines, which are very small and can easily fit in your home or working studio. Desktop CNC machines come in different dimensions, such as 300mm x 180mm — called 3018 CNC machines — or 600mm x 400mm: 6040 machines.
You can pick up these smaller machines for a couple of hundred dollars and they're the ideal size for small home projects. In contrast, a much larger 4×4 CNC router table will set you back several thousands of dollars.
The larger size of 4×4 CNC routers means they're widely used by small businesses and in industrial production. For example, the larger size means they're much better suited to carpenters making things like doors and cabinets, and advertising companies making large signs.
4×4 isn't the largest size a CNC router can come in. 4×8 CNC routers are also popular, while there are even larger machines used in high intensity industrial production. But with a 4×4 machine, you can create a wide range of projects working with a variety of materials like wood, plastics and metals.
We also have a buyer's guide for 4×8 CNC routers
Best 4×4 CNC routers
Inventables X-Carve Pro 4×4 – Best 4×4 CNC For Small Business
Price: $10,475 — Available at Matterhackers here
Software: Easel Pro (Free 3-year subscription) but also compatible with Fusion 360 and other commonly used software
We earn a commission if you make a purchase, at no additional cost to you.
Pros
Designed for speed, accuracy, and precision.
Simple setup.
Cons
Bit too advanced for beginners.
X-Carve Pro is the upgraded version of Inventables' standard X-Carve, and in our opinion is the best 4×4 CNC router in the $10,000 price range. 
It's designed for speed, accuracy and precision, and despite being 4×4 feet, can cut full 4×8' sheets, just with the 4-foot limit on width, and 4-inch depth limitations. This is due to the Tiling features in Easel Pro (it comes with a free 3-year subscription), which is specially designed for the X-Carve Pro 4×4 and 2×4 versions for cutting 4×8 sheets.
Easel Pro is an all-in-one CNC software, and if you have other CNC routers in your workshop, it's also optimized for over 30 other types — but if you prefer, you can still use AutoCAD, Fusion 360, Solidworks, or other CAD CAM software with the X-Carve 2×4.
The Inventables X-Carve 4×4 features a 1.5kW, 2hp air-cooled spindle and pre-programmed VFD, offering 8000 to 24000 RPM and 0.001" accuracy. The 25mm ballscrews and linear guides make for unmatched rigidity and durability — it is quite rightly sold as "industrial-grade CNC at small-business prices."
You have both the 2×4 or 4×4 CNC option — you'll pay just under $9,000 for the 2×4, or just over $10,000 for the 4×4, but both with the Tiling Mode features can cut full 4×8 sheets.
Inventables have made efforts to make setup as simple as possible, and you can get started in under 2 hours with the X-Carve 4×4 CNC. The new dust shoe also improves dust and debris collection during work. 
When you buy via Matterhackers, the full bundle comes with controller and cables, separate control with pause, resume and reset button controls, a z-probe, e-stop, v-bit with 0.25" shank, a clamp set, dust control system comprising a dust show and hose arm, a planning bit, and a 0.25" high-speed 2-flute uncut bit.
The X-Carve 4×4 CNC router can cut:
Woods: plywood, hardwoods, softwoods, MDF
Plastics: HDPE, Polycarbonate, acrylic, Corian, Delrin
Metals: aluminum, brass, copper
---
BobsCNC KL744 4×4 CNC Router – Best Cheap 4×4 CNC Router Kit
Pros
High-quality and affordable.
Well-designed frame.
Very accurate with 0.002″ to 0.004″ repeatability.
Cons
Not the best for milling precise parts.
BobsCNC is well known in the CNC world for creating high quality yet affordable routers, and the KL744 is a great choice if you're looking for a cheap 4×4 CNC router machine.
The KL744 is made of 12mm Baltic Birch, and the well-designed frame offers plenty of durability. It also has 3/8" stress proof steel rails that make it durable and reliable for the long term. If the 4×4 foot area isn't enough for you, you can even extend it to 4×8 with a purchasable extension kit.
It uses a Makita RT0701C spindle with Nema 23 servo closed drive motors which offer plenty of power for working with a wide range of materials, including plastics, acrylic, MDF, wood and metals.
The Bobs CNC KL744 4×4 CNC router table is also very accurate with 0.002" to 0.004" repeatability, making it suitable for a wide range of different projects in both hobbyist and professional settings. You can seamlessly use it with standard GRBL v1.1 software and the intuitive Uno controller.
Hobbyists and professionals alike will also gain by being granted access into the BobsCNC community upon purchase, where you can discuss projects with other users and get design ideas, among other benefits.
Zenbot 4848 4×4 CNC Router Kit- Offers High Precision & Durability
Pros
One of the cheapest 4×4 CNC machines available.
Quality machine for small businesses.
Extremely precise.
Cons
There are no major flaws for this machine.
The Zenbot 4848 CNC router is one of the cheapest 4×4 CNC machines available. However, while it's on the lower scale of the price range, it's still a quality machine that's ideal for small businesses.
Made from strong HDPE (high density polyethylene) with a Baltic Birch 1/2" prefinished plywood top and steel supports, the Zenbot 4848 is durable and reliable over the long term, offering high performance even in demanding projects. 
This is an extremely precise 4×4 CNC router that can perform accurate engraving, inlays, 3D carvings and PCBs. The high accuracy combined with the machine's ruggedness makes it ideal for tackling tough woodworking projects as well as for working with non-ferrous metals. It also works well with plastics and is widely used for sign making.
With these features, it can be used both by professionals as well as advanced hobbyists. The router is also used for educational purposes in high schools and universities for prototyping designs. Every machine is assembled and tested before being partially broken down for shipping, so it's really easy to assemble and start working.
Another nice feature of this DIY 4×4 CNC router is the linear motion system with ball bearings preloaded on 1.75" steel tubing on the X axis and 2" square tubing on the Y axis. This provides extremely smooth motion and zero slop. Overall, it's another great option if you're looking for a powerful yet low cost 4×4 CNC router, made by a reputable manufacturer.
StyleCNC 4×4 CNC Router Kit
Pros
Stable and durable.
Comes with a TBI motion linear guide and a very precise TBI rolling ball screw.
Can be used for a wide range of projects.
StyleCNC is a well-reputed and popular brand in the CNC space, and their CNC 4×4 router table is considered one of the best around. In fact, the StyleCNC 4×4 CNC Router has a 4.9 rating out of 5 from over 100 votes on their website.
This machine can be used for a huge range of different projects, including woodwork, flatbed carving, sign making, arts and crafts, and jewelry making, to name just a few.
It's extremely stable and durable, thanks to the well-built cast iron frame and integrally welded lathe bed. This ensures high rigidity as the machine works and a long service time, so you're certainly getting value for money.
The StyleCNC 4×4 router also has a TBI motion linear guide and a very precise TBI rolling ball screw to ensure accurate cutting and engraving. The water cooling brushless spindle offers plenty of cutting strength over long term mass processing while also being low noise.
You can use the StyleCNC 4×4 router machine with a variety of top CAD and CAM software, including TYPE3, Artcam, CASmate and Artcut.
EagleTec 4×4 CNC Router – Overall Best 4×4 CNC Router Kit
Pros
Ideal for professionals and business owners.
Can be used with a wide variety of materials.
The EagleTec EA-1212SV 4×4 CNC Router is a really high quality machine that's ideal for professionals and business owners.
It is widely used in the sign-making industry and the artworks field, as well as for wood and plastic working, 3D cutting, carpentry, wall panels and even speaker making. You can use the EagleTec 4×4 CNC router table with a wide variety of different materials, such as wood, acrylic, MDF, HDPE, PVC, acrylics and as a metal CNC machine with metals like brass, copper and aluminum.
This professional CNC machine comes with equipment including an original Italian HSD electronic spindle, PMI high precision linear guides, and Schneider electronics. These help ensure high performance and longevity.
One of the most notable features is that it has a rack and pinion design on the X and Y axes, as well as a dual motor drive on the Y axis. This means the machine offers higher speeds and more power than routers that use a ball screw drive.
It also has a PVC based vacuum adsorption table with an embedded aluminum T-slot, which means material sheets can be held via a vacuum as well as the clamp for improved usability. There's also the intuitive Richauto DSP controller which makes this CNC router very user-friendly, even for beginners.
Other Great CNC Routers that aren't 4×4 foot
If you weren't quite sold on any of the 4×4 CNC routers on our list, or are considering either a smaller or even larger router, then check out these top alternatives.
After all, you can use the recommended routers below to complete virtually all the projects you can use a 4×4 router for, and they have some fantastic features that make them worth checking out.
In fact, there are even some advantages that come with going with a 4×8 router. For example, it provides you with a greater working range for a wider variety of projects, and it could save you having to upgrade in the future. Below we've picked out an affordable 4×8 router that you can get for the same price or even cheaper than a 4×4 CNC router table.
We've also picked out a high quality but smaller router in case you don't need the extra space of a 4×4.
MakerMade Maslow 4×8 CNC Router – Best Cheap Large CNC Router Table
Pros
Incredibly cheap.
Great for beginners or those on a budget.
Wide variety of projects on the Maslow website.
The MakerMade Maslow 4×8 CNC Router is well known for how incredibly cheap it is in comparison to other large CNC machines.
The reason this machine it's so affordable is because it's produced as part of the community driven, open source Maslow project which aims to "make large format CNC technology available to everyone".
If you're a beginner or are working on a budget, you won't find a better option for a large CNC router. While the Maslow 4×8 is very cheap and easy to use, it's still a high quality machine. It's powerful, accurate and durable, with useful features like adjustable cutting depth and z-axis functionality.
You can check out the wide variety of projects completed with this machine on the Maslow website to get an idea of its capabilities. These include small projects like desks, chairs, ornaments and decorations, as well as large and ambitious ones such as a wet bar and even a boat!
As this machine is produced as part of an open source community, you can engage with other users to share creations and tips. You can even buy other users' creations and sell your own via the Community Marketplace.
We earn a commission if you make a purchase, at no additional cost to you.
---
BobsCNC Evo 4 – Best Smaller CNC Router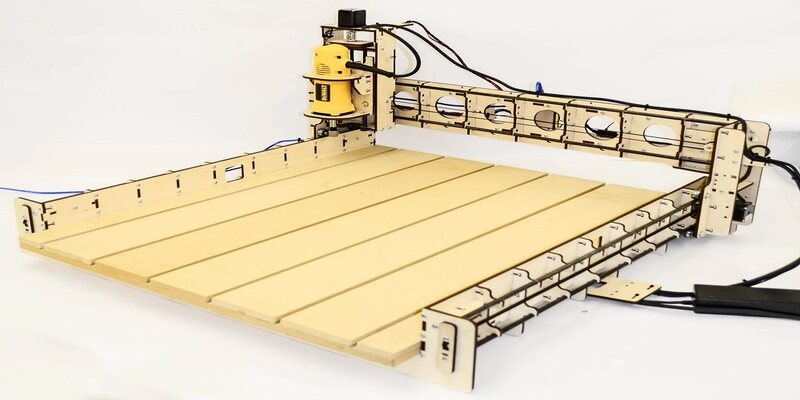 Pros
Affordable and powerful.
Stable and durable machine.
Great features are available.
Cons
2×2 machine so will take slightly longer to use than a 4×4 CNC machine.
If you've read our guide and decided you don't need all the space of a 4×4 router, or if they're slightly out of your budget, a 2×2 CNC router is a good alternative that still offers decent working space. 
The BobsCNC Evo 4 is our recommended 2×2 CNC router as it's affordable yet powerful, accurate and durable. You can still create most of the same projects as you can with a 4×4 CNC machine, but it may just take slightly longer using a smaller router.
This CNC is a super stable machine with 0.0002-0.0004" repeatability, thanks to the laser-cut wood frame and SG20U supported rail system. The use of wood in the frame rather than metal also means it's a lot quiter than many other routers. However, you can still work on a wide range of materials including soft metals like aluminum. 
There are some great features that set this apart from other 2×2 routers. For example, it has adjustable eccentric spacers for keeping the bearings tight to the rails, as well as a TR8 Acme Rod on the Z-axis to improve Z-travel speed. The Derlin Acme nut also means you don't need to lubricate the Z-drive.
This router is also very user-friendly and ideal for hobbyists. It's really simple to set up, uses the intuitive Arduino software, and there are over 100 videos on the BobsCNC YouTube channel for free training.
BobsCNC Quantum CNC Router Kit
The Evolution series of machines, which stand out for their laser-cut wooden frames and somewhat unusual designs, with the Evo 4 being the best in the line, are possibly the most well-known products from BobsCNC.
We earn a commission if you make a purchase, at no additional cost to you.