Many CNC enthusiasts use both CNC routers and laser engravers, so why not get a machine that can do both?
While the best CNC router and laser combos are not particularly widespread, they are a great way to maximize the bang for your buck and save on space in compact home workshops.
If you tend to work on large designs, I recommend the MakerMade M2 and its huge work area, while cylindrical products will require a rotary roller like the Sainsmart Genmitsu 3018 PROver offers as an add-on.
In this guide, I'll cover everything I've learned from my hands-on tests with the best CNC router and laser combos and the market. We'll assess who they're best for, as well as any hidden details you need to know, so you can make an informed purchase.
Best CNC Router + Laser Combo – Full Round-Up
3 in 1 Pick - 3D Printer, CNC & Laser!
09/29/2023 12:26 pm GMT
Best CNC Router Laser Combos – Reviews
Sainsmart Genmitsu 3018 PROVer V2
Pros
Great budget option
Quick and easy to assemble
Several laser options available from Sainsmart
Can add an air assist via control boards
Cons
Fairly small working area
Limited to 5W and 10W lasers
Another CNC router plus laser combination to consider is Sainsmart's recently released Genmitsu 3018 PROVer 2. This is an upgraded version of the brand's hugely popular 3018 PROVer machine.
This model has several improvements compared with the previous version. Perhaps the main highlight is the redesigned control board, which has more ports and includes an air assistance pump port.
This lets you add an air assist to your laser, something you can't do with the standard PROVer. An air assist helps by rapidly clearing debris and fumes away as your laser works, helping to achieve clear cuts without blemishes. Sainsmart also offers an air assist kit for around $90.
The PROVer 2 comes with more preassembled parts than the original, reducing assembly time from around an hour to just 20 minutes. It also boasts a new, easy-to-start touch probe to help you save on setup time.
For the laser add-on, Sainsmart offers several laser modules that are compatible with the PROVer V2:
The difference between the two 5.5W modules is that the compressed one has a more concentrated output, allowing it to cut 4mm plywood in one pass as opposed to 3mm on the fixed focus module. It also has a more compressed 0.1 x 0.1 mm spot size for more precise engraving. The 10W module offers a lot more power and has an ultra-fine spot size of 0.08 x 0.05 mm.
Another really interesting aspect of this setup is that Sainsmart also offers a laser rotary roller for around $50. This preassembled part acts as a fourth axis and allows you to engrave circular and cylindrical objects, so it's ideal if you want to laser engrave tumblers, cups, mugs, and flasks, as well as other projects like rolling pins.
Overall, due to its upgrades on the original 3018 PROVer and the fact that it's not that much more expensive, I've ranked the V2 as the best budget CNC router and laser combo.
It's a good option for smaller projects like coasts, phone cases, and small decorations, and can achieve highly precise engravings. Although, if you're working on more demanding projects, you may be better off considering a more powerful option like the X-Carve.
If you're looking for similar specs but a larger working area, you can also check out the 4030 PROVer XL. This has a larger working area of 400x300x110mm and is compatible with the 5.5W fixed focus module and a 5.5W compressed laser designed for the 4030.
We earn a commission if you make a purchase, at no additional cost to you.
---
MakerMade M2 – Best CNC Router and Laser Combo for Large Working Area
Pros
Large size.
Great value for money.
Wall-mounted, so won't take up too much space.
Cons
The laser module isn't included, so it will cost you extra.
The two machines we've covered so far have both been desktop size for small home workshops, but MakerMade 2 in 1 isn't.
This is a much larger 4x8ft CNC laser router, so it's ideal for working on much larger projects. You can even view the range of Maslow CNC projects other owners have created.
So instead of working on hand-size workpieces, with this machine, you can use the CNC router to cut wood for furniture and doors and then use the laser engraver to add fine details – as just one example.
The MakerMade offers exceptional value for money, as most other similarly sized CNC machines are much more expensive.
The reason it's so affordable is because MakerMade is a community-driven startup that's focused on making high-quality CNC tools available at a much more affordable price than other manufacturers.
This is a wall-mounted CNC router, which means it won't take up a huge amount of floor space like any other 4×8 CNC machine would. It's highly accurate with a variance of 1mm, so it's a really reliable machine for working on large projects.
The laser module is sold separately but it's made by MakerMade specifically for the M2 and fits seamlessly into the router clamp, so you can easily switch between modules within minutes.
It's a very precise and reliable laser and has a built-in fan to help achieve optimum performance and efficiency.
| Feature | MakerMade M2 |
| --- | --- |
| Working area | Large (4x8ft) |
| Material Compatibility | Best for wood |
| Ease of use | Wall-mounted, easy to switch modules |
---
Snapmaker 2.0 – Top Quality 3 in 1 CNC Machine & Laser
Pros
Triples up as a 3D printer.
Extremely intuitive and easy to use.
Adjustable speeds to work with a variety of materials.
Comes with free software.
The Snapmaker 2.0 isn't just the best CNC router and laser combo on the market, t also triples up as a 3D printer!
This is one of the very few machines that's built specifically for multi-purpose CNC work, rather than the laser module being an afterthought. As a result it's really intuitive to use, and you can just tell a lot of thought as gone into how you use it.
This CNC router and laser combo comes in three different sizes, so you can choose the one that best suits your budget and needs.
The A150 is 160x160x145mm
The A250 is 230x250x235mm
The A350 is 320x350x330mm
I personally bought the Snapmaker 2.0 A350, as well as the rotary roller. With this attachment, I can engrave rounded objects with the laser, and cut 3D object with the CNC carver.
Here's some CNC and laser projects I made:
One of the best things about the Snapmaker 2.0, and which separates it from the other machines we've reviewed, is its modular design. Not only does this make it super easy to put together, but it also opens up a lot of possibilities for simple upgrades and customization.
The CNC carving module uses an ER11 collet and has high concentricity for precise and consistent results.
It supports spindle speeds from 6,000 to 12,000RPM, so you can work on a variety of different materials and adjust the speed depending on your project. It also has an MDF platform to help ensure stable and precise carving.
The laser engraving module is similarly stable and precise, with a repeatability of 0.005mm. I also bought the 10W high-power laser add-on, which lets you cut thicker wood, as well as acrylic sheets.
It's also very intuitive, as the autofocus means the optimal laser height is selected automatically, making your job easier and removing the risk of human error that comes with manual adjustment.
I also like the camera capture feature, which automatically takes a picture of your workpiece material and uploads it to the Luban software as a canvas.
You can then import images onto the canvas for easy editing, and the machine will then engrave them according to your finished design.
Overall, it's my top recommendation as the best CNC router and laser combo. This is because it is designed specifically as a 3-in-1 machine, not with a last-minute laser engraving add-on.
Or, if you have the budget, the newer Snapmaker Artisan is an upgraded and larger version, but it is far more expensive.
| Feature | Snapmaker 2.0 |
| --- | --- |
| Working area | Three sizes across models: 160 x 160 mm, 230 x 250 mm, 320×350 mm |
| Material Compatibility | Adjustable speeds to work with a variety of materials |
| Ease of use | Extremely intuitive and easy to use; comes with free software |
Top 3 in 1 Pick
We earn a commission if you make a purchase, at no additional cost to you.
---
BobsCNC Evo 4 + JTechPhotonics Laser Module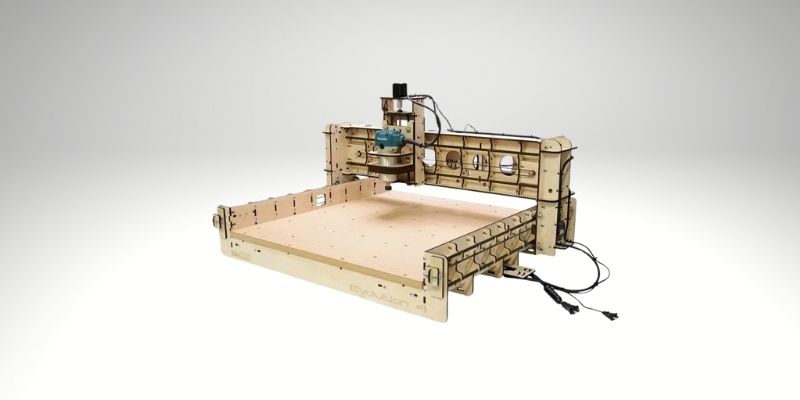 Pros
Very stable thanks to its wooden frame and an SG20U-supported rail system.
Comes with everything you need to get started like safety goggles, a fan, etc.
Multiple power options.
Cons
The laser module must be purchased separately.
The BobsCNC Evo 4 is a very popular CNC router that's compatible with a laser engraving module made by JTechPhotonics.
This is a medium-size machine with a working area of 610x610x85, so it's great for projects like signs, advertisement boards, and home decorations.
It's widely known for its stability, with a rigid, laser cut wooden frame and an SG20U-supported rail system, which results in an incredibly low repeatability of 0.05mm to 1mm.
You can upgrade the Evo 4 using the JTechPhotonics laser module kit specifically made for this CNC router.
It has everything you need to get started, including a laser shroud, safety goggles, a fan, mounting screws, and 10ft extension cables. Plus, it fits seamlessly into the standard BobsCNC spindle mount that comes with the Evo 4.
What we really like about the laser module is how you can customize it to precisely suit your needs.
You can choose from three power options – 2.8W, 4.2W and 7W – and you can also upgrade to a magnetic shroud for improved safety and a high res lens for increased precision.
The most expensive kit will set you back $734.96.
The laser module is also compatible with the smaller and less expensive BobsCNC Evo 3, which can save you a few hundred dollars.
This certainly isn't a cheap option, but you get a medium-sized working area, a top-quality hobbyist router, and a really good laser module, so this is a great option for more serious hobbyists.
| Feature | BobsCNC Evo 4 + JTechPhotonics Laser Module |
| --- | --- |
| Working area | 610 x 610 mm |
| Material compatibility | Wood, plastic, soft metals, foam, and more |
| Ease of use | Requires some technical knowledge and skill |
BobsCNC Quantum CNC Router Kit
The Evolution series of machines, which stand out for their laser-cut wooden frames and somewhat unusual designs, with the Evo 4 being the best in the line, are possibly the most well-known products from BobsCNC.
We earn a commission if you make a purchase, at no additional cost to you.
---
Inventables X-Carve
Price: $2,299 for the X-Carve, $359.99-$1,349.99 for the laser add-on — Available at Matterhackers here
Working area: 29.5" x 29.5" x 4.5"
Laser power: 2.8W to 24W
Pros
The largest hobbyist CNC router that can be paired with a laser
Free 3-year Easel Pro subscription
Powerful 24W laser option (as well as four other power choices)
Highly stable and powerful router for CNC work
Cons
Can be a very expensive option
Laser modules only available from third party sites
Inventables' X-Carve is one of the most popular hobbyist CNC routers on the market, and while Inventables doesn't offer an in-house laser attachment, JTechPhotonics sells a module that you can pair with the X-Carve.
This is one of the priciest options out there but also one of the biggest, offering a total working area of 29.5" x 29.5" x 4.5".
The X-Carve comes with a Makita RT0701C router included. The kit is very well made and, unlike wood CNCs like the BobsCNC Quantum, is made with an aluminum frame, which provides excellent stability. 
One of the main benefits of choosing the X-Carve is that it comes with a free 3-year subscription to Inventables' Easel Pro software, which is widely regarded as one of the best and most user-friendly CNC software.
You can use Easel Pro for laser engraving with a few tweaks. As explained in an Inventables blog post, you can create laser designs in Easel, but you then need to modify the g-code using a separate program, such as LaserGRBL. Once modified, you can import your g-code back into Easel and use it to run the laser.  
Not only is this CNC router laser combo one of the biggest, but it's also super powerful. Beyond the X-Carve's power as a CNC router, you can equip it with the 24W laser offered by JTechPhotonics, for single-pass thick wood laser cutting.
24W is also much more suitable for laser engraving soft metals like aluminum – something you'll struggle with if you have a 5W or 7W laser. This option also comes with an air assist nozzle, but you'll need to buy a pump separately.
Alternatively, the JTechPhotonics kit is also available with 14W, 7W, 4.2, and 2.8W lasers.
You will also need to buy either the X-Carve front mounting kit or the dust boot mounting kit from JTechPhotonics, with both costing up to $40.
The difference is:
The front mounting kit is sturdier and has less loss of working area but requires you to remove the bottom boot part of the Inventables dust boot.
The dust boot mount doesn't require anything to be removed, but is less sturdy and takes up more room.
The size and power of the X-Carve, combined with the various laser options from JTechPhotonics, make it ideal for working on larger, more demanding projects. Whether you want to make furniture, large portraits and decorations, signs, or even guitars, this is a really versatile option. 
We earn a commission if you make a purchase, at no additional cost to you.
---
Snapmaker Artisan
Price: $2,799
Working area: 400 x 400 x 400mm
Laser power: 10W (can upgrade to 20W or 40W)
Pros
Bigger and more powerful than the Snapmaker 2.0
Choose between 10W, 20W, and powerful 40W laser
3-in-1 software makes it easy to switch between CNC and laser 
Cons
Very expensive, particularly if adding the 20W or 40W lasers
In addition to the Snapmaker 2.0, the Snapmaker Artisan is also worth considering if you're looking for a multi-functional machine. Like the 2.0, this is a 3-in-1 3D printer, laser, and CNC, but it has some key differences. 
For starters, the Artisan is around $1,000 more expensive, largely due to it having a significantly larger build volume of 400 x 400 x 400 mm. This makes it substantially larger than even the biggest A350F Snapmaker 2.0 model.
It comes with a 10W laser as standard, whereas the 2.0 has 1.6W as standard and requires you to buy the 10W module separately if you want more power. The Artisan also has 4x the CNC power – 200W compared to 50W.
Other upgrades include improved linear guide rails, an enclosure that comes included, and a Quick Swap screwless system that makes it much quicker to switch between the different modules.
Like the 2.0, the Artisan is one of the most intuitive CNC plus laser combos, boasting a 7" touchscreen with an improved UI, which makes setting up and monitoring your work easier than with machines like the Genmitsu PROVer V2. For example, you can input material thickness and the machine will then automatically adjust the focus of the laser.
I still love using my Snapmaker 2.0, and the touchscreen and UI are some of the best features. The Artisan further builds on this.
If you want more laser power, Snapmaker now offers both 20W and 40W laser modules that are compatible with the Artisan series but not the Snapmaker 2.0. The 40W option offers far more power than any other router and laser combo I've come across. 
The 20W can cut 3mm plywood at twice the speed of the 10W, and the 40W can cut at twice the speed of the 20W. The 40W can cut 15mm in a single pass (compared to 5mm with the 10) and at speeds of up to 20mm/s, so it's perfect if you're doing more cutting than engraving or working with thick materials. Its increased power also makes it more suitable for working with aluminum and other non-ferrous metals.
Both the 20W and 40W modules come with smart air assist technology built-in, which you can control with the Luban software. The software also has over 1,000 ready-to-use laser design templates, and its 3-in-1 functionality means you don't have to use multiple programs like with other CNC router and laser setups.
There are also two rotary rollers available, although these are a lot more expensive than the Sainsmart rotary, at $279 and $399.
Snapmaker has also announced a 2W 1064nm laser, which is the ideal wavelength for engraving ferrous and non-ferrous metals, so that's something to look out for. Lasers like the xTool F1, and LaserPecker range, use 2W IR lasers for fast metal engraving.
---
What is a CNC Router and Laser Combo?
A CNC router and laser combo machine does what it says on the tin – offer both CNC router and laser engraving capabilities in a single setup.
These machines weren't really a thing in the not-so-distant past, but the ever-increasing spread of affordable hobbyist CNC machines has seen some manufacturers offer machines that kill two birds with one stone.
After all, CNC routers and laser engravers are among the most popular machines among hobbyists.
Some combo machines come as a complete setup with both a router module and a laser module built into a single setup. Others are CNC machines by nature but are compatible with separate laser attachments.
The former are typically easier to use but are also more expensive.
Benefits of a CNC Router and Laser Engraver Combo
So, why would you want a CNC router and laser engraver combo? Well, there are two main reasons – efficiency and price.
Regarding the former, having two modules in a single machine simply makes it easier to work on projects which require both.
Say you want to create a model with a CNC router and then laser engrave it with details, such as a chess piece, or if you want to personalize it using a laser, like a phone case, mug, or a piece of metal art (if the laser is powerful enough to engrave metal).
If you can do it with one machine instead of two, it makes the entire job easier and saves you a lot of space, which is often important in hobbyist workshops.
Going for a CNC router and laser combo can also be a lot cheaper than buying two separate machines.
That's not to say there aren't expensive, premium options out there. But machines like the Mysweety 2 in 1, which we review below, can be bought for around half the price it would cost to buy a router and laser engraver separately.
The only real downside is the lack of choice, as there are currently only a handful of machines on the market.
Serious hobbyists and professionals may be best off choosing two separate machines that offer exactly what you need, but for beginners or the space-conscious hobbyist, a CNC router and laser engraver combo can be a really useful tool.
Now, let's take a look at the best.
FAQs
Does a CNC router use a laser?
No. CNC routers use metal bits and tools to cut materials. However, certain CNC routers, such as the Gemitsu 3018 PROVer and X-Carve, can be paired with a laser module for added functionality.
Is a CNC router better than a laser?
CNC routers and lasers generally have different functions; routers are primarily for cutting and can cut a wider variety of materials more efficiently, while lasers are more for engraving and etching. Some machines can support both router and laser modules.
Can I add the laser to my CNC?
You can add a laser to some CNC routers, such as the Gemitsu 3018 PROVer, BobsCNC Quantum, X-Carve, and the MakerMade M2. Some machines, like the Snapmaker 2.0 and MySweety 2-in-1, come with both router and laser functionality included as standard.
Is a CO2 laser better than a CNC router?
A CO2 laser can be more precise than a router, and it also supports engraving as well as etching. However, they're a lot more expensive – you can buy a 2.75×2.75 ft CNC router like the Shapeoko 4 XL for around the same price of a CO2 laser that's less than half the size.
---
You may also be interested in: