Wood carving may have been around for centuries, but this cutting-edge technology is fresh and ready to optimize your wood carving experience.
Wood CNC machines offer precision and speed when it comes to woodworking, but what exactly are they?
In the most technical sense, computer numerical control (CNC) machines are electro-mechanical devices you use to manipulate machine shop tools, like drills and lathes, via programming inputs. The tool will sit above the working area, moving along the X, Y, and Z axes, carving the wood into the desired shape.
Essentially, it's an automated milling machine that uses tools to create what you want through digital instructions, making it a programmable CNC wood carver.
With the wealth of machines available though, navigating the market is tricky. That's why we've created this list of the best CNC wood cutting machines on the market. We'll start by taking a deeper look at how the technology works and how it's used for woodworking, then cover the advantages of using a CNC wood machine, and finally review the top models to see which one is best suited for you.
BUDGET OPTION
BobsCNC Evo 4
Reliable CNC wood router for $1,000
Great support network for beginners
Great documentation, community, and simple assembly
Available at:
PREMIUM PICK
Inventables X-Carve
Designed for small businesses looking to make money
Premium features & free Easel Pro subscription
Available at:
The Advantages and Drawbacks of CNC Wood Routers
Advantages:
CNC wood cutting machines help cut down on production time and errors, offer rapid prototyping, and can create near-identical products every single time.
Helps save you money and time.
Adds versatility to your portfolio by engraving and carving plastics, metals, stones, acrylics, and much more.
Suitable for everyone and all skill levels, professionals and hobbyists alike.
Drawbacks:
Large upfront cost and potentially costly repairs if you don't keep up with maintenance.
Leftover dust isn't only messy but can affect the machine if it's not protected correctly.
Doesn't require as many people to handle the machine, so if you're a business owner it could mean letting go of employees, which can also be a benefit. 
CNCSourced is reader-supported. When you buy through links on our site, we may earn an affiliate commission. Learn more
The Best CNC Wood Routers Available
1. BobsCNC Evo 4: Cheapest CNC Wood Router
Pros
Generous cutting area.
High accuracy.
Good customer service along with great customer feedback.
Cons
No option to customize your kit.
First on our list is the BobsCNC Evo 4, their latest Evolution CNC router.
Released in April 2020, this CNC wood router offers a unique design and is made out of birchwood. It offers a generous cutting area of 610 x 610 x 85 mm in a fun-sized 838 x 994 x 530 mm machine footprint.
BobsCNC prides themselves on their philosophy of producing "great products" and "great relationships". While producing top-of-the-range machinery is their goal, they truly value the importance of their relationship with their customers.
So much so that BobsCNC is routinely applauded for their amazing customer service, and even developed the Evo 4 based on customer feedback to make the ultimate consumer CNC wood carving machine.
In terms of advancements made in the new Evo 4, they were able to boost performance time by adopting the Acme rod, as opposed to using a threaded rod on the Z-axis. This also means there's no need to lubricate the Z-drive because of the Delrin Acme nut.
BobsCNC also upgraded to adjustable eccentric spacers, a torsion box gantry, and an integrated belt-tightener. All of which help streamline workflow and optimize performance. They also created router mounts for scaling back noise and speed-variability, and it comes standard with the Makita RT0701C router.
There isn't an option to customize your kit, but you can opt-in or out of the one-piece spoilboard with inserts that helps make assembly easier. You can also design your own if you want to save an extra $80.
Overall, this is a fantastic option for professionals and hobbyists alike, and those who prioritize customer service and want to stick to the more budget-friendly side of the market.  
BobsCNC Quantum CNC Router Kit
The Evolution series of machines, which stand out for their laser-cut wooden frames and somewhat unusual designs, with the Evo 4 being the best in the line, are possibly the most well-known products from BobsCNC.
We earn a commission if you make a purchase, at no additional cost to you.
---
2. Carbide 3D Shapeoko 4: Best Wood CNC Carving Machine for DIYers
Pros
Can have it set up and working in a matter of hours.
Carbide 3D has invested in every aspect of wood CNC projects, making the integration between the machine and software seamless.
Great for any skill level.
Cons
No dust collection plate.
Carbide 3D's Shapeoko 4 CNC Router's sleekness immediately catches the eye, and you can have it set up and working in a matter of a few hours.
The Shapeoko 4 is ultimately the lovechild of Shapeoko 3 and the Shapeoko Pro, giving you Pro performance at a massive discount.
What's unique about Carbide 3D is that they have invested in every aspect of wood CNC projects. From electronics, hardware, and software, to even machining their own parts, Carbide 3D has developed every working part of this kit. Not only does that mean integration between the machine and software is seamless, but it makes for better-streamlined support when dealing with any issues.
The full pipeline support has been in the making for years when in 2014 Shapeoko joined Carbide 3D to bring us the complete CAD and CNC integration we see today.
The Shapeoko 4 comes in three sizes: standard, XL, and XXL, each increasing by about ~$300 in cost. The standard size, however, comes with a cutting area of 17.5″ x 17.5″ x 4″, and footprint of 33″ x 24″ x 19″.
What you can expect from the Shapeoko 4 is stronger V-wheels, increasing strength and rigidity from the previous model, new robust V3 electronics that are more resistant to electromagnetic interference and static discharge, a thicker router mount, and fully supported Y extrusions. 
The real pride of this router though is the optional Hybrid table that gives you unlimited potential for work holding options. This with the included Sweepy 65mm V2 dust boot, and you could want for nothing else.
This option is an excellent choice for all skill levels, but the DIY community that has backed this machine since its days on Kickstarter gives it a special place in the hearts of experienced hobbyists.
Best CNC Carving Machine for DIYers
We earn a commission if you make a purchase, at no additional cost to you.
---
For more DIY kits: check out our guide on the top DIY CNC Routers
3. Inventables X-Carve: Most Customizable Wood CNC Router
Pros
Easily useable by those with little or no CNC or CAD experience.
Offers great customizability.
Large cutting area.
Cons
The setup process may be difficult for some beginners.
Inventables X-Carve has carved its way into the homes of many as a CNC wood carving machine.
Founded in 2002, and arguably Carbide3D Shapeoko's main competitor, Inventables focused on creating an environment that fuelled creativity and prioritized support, and that's seen in the projects on the website, the large assortment of accessories, and open-source capabilities.
Inventables claims that the X-Carve is easily useable by those with little or no CNC or CAD experience and has implemented its own CAD program called Easel that you can master and begin cutting 3D designs in no time.
There are two versions of the X-Carve, the standard, and the Pro. The Pro being bigger and stronger.
The main selling point of this CNC wood carving router is its customizability. As a scalable open-source CNC kit, you have the option of modifying it however you see fit, and you can choose between building your own kit or buying the standard package. You'll get open-source access to full designs, BOM, and instructional documentation, so you can build it how you like. You can even extend the machine further with makerslide extrusions.
It comes with a DeWalt 611 spindle, integrated motion control that houses the power supply, mainboard, and an emergency stop. It's also added the NEMW 23 stepper motors for all X, Y, and Z axes.
The basic X-Carve size sits at 1250 x 1000mm with a cutting area of 750mm x 750mm x 65mm, so this is slightly larger than some other options on this list.
The easy learning curve makes this machine suitable for new casual users, but its custom capabilities make it an amazing option for professionals.
CNC Pick For Cutting Thicker Wood
We earn a commission if you make a purchase, at no additional cost to you.
---
4. Axiom Iconic Series: Great CNC Wood Carving Machine
Price: Starting at $4,000
Materials: Wood, Plastics, Soft Metals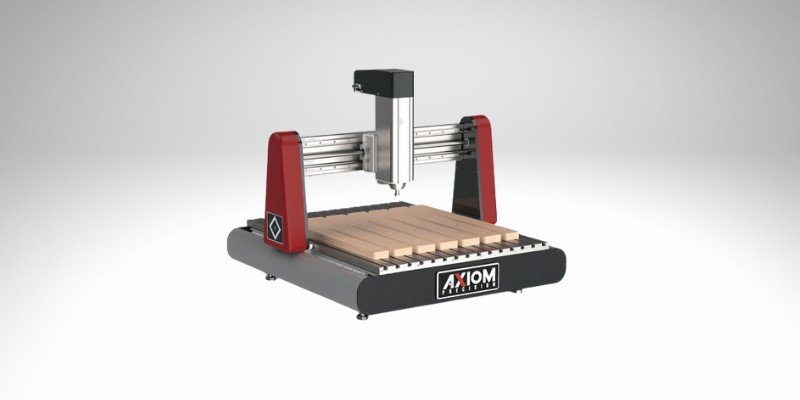 Pros
Design is specifically targeted at first-time CNC users.
Over 20 available accessories available like a laser kit, dust collector, and LED lamp kit.
The ratio of the cutting area and machine footprint is minimal, so you're not having to deal with a lot of dead space.
Cons
Expensive for an entry-level CNC router.
Axiom's Iconic Series promises to be the next leading entry-level CNC router, with its new design specifically targeted at first-time CNC users. Partnered with a video library and comprehensive manual, this model promises to drastically shorten the learning curve.
The Iconic Series represents the cheapest installment out of Axiom's three available models. The Iconic series itself has three sizes available ranging from 24" x 24" to 24" x 48", and each comes with prismatic guides, ball screws, and an intuitive DSP pendant controller, which is typically reserved for larger machines.
At the checkout, you'll notice over 20 available accessories you can add to your cart to help make this machine unique to your needs, like a laser kit, dust collectors, and LED lamp kit.
What's great about this wood CNC cutting machine is the ratio of the cutting area and machine footprint is minimal, so you're not having to deal with a lot of dead space. There's also the choice to operate this machine PC-free and cut down on space even more with its USB port transfers.
Other features include a high-quality steel stand that is rust and corrosion-resistant, a generous toolbox, and proximity switches with magnetic capability.
Alongside their video library and manual, you also get access to lifetime technical support and the CNC woodworking training program Axiom offers.
All in all, we think the company said it best, and that this is an ideal beginner's CNC wood router. Its rigidity promises to handle the pitfalls of learning seamlessly, and the amount of learning resources is unbeatable.
---
5. BobsCNC KL744: Powerful Wood CNC Machine For Carving & Engraving Woodworking
Price: Starting at $2,875
Materials: Plastics and Wood
Pros
Loads of space to test your intricate designs.
Great for users of any skill level and profession.
Comes with many great safety features.
Cons
The setup is tedious.
While the previous BobsCNC was all about precision and workflow, the KL744 is truly a wood CNC machine, and not only because it's entirely constructed from 12-mm 9-ply Baltic birch plywood.
With a cutting area of 48" x 48" x 5", you have loads of space to test your intricate designs, as it specializes in engraving and carving rather than milling precise parts. Think of it as a more creative model, that rivals that of high-end machines.
The setup is tedious, but that's the only complex part, and once it's up and running you'll be pleased by the smooth workflow. Plus, you'll have BobsCNC's renowned customer support by your side.
This model has the SG25U supported rail system, meaning better performance and better output.
The addition of the NEMA 23 Servo motor Closed Loop Quadrature Encoder and Hall Effect Home Switches make it easier to manage and adds serious brownie points for better health and safety.
There's also the drag chain wire management to help prevent wires from getting tangled, which is another health and safety bonus. And it uses the dual 48 VDC power supply, which is great for lessening energy consumption. 
The kit comes with the Makita RT071C router and supports a self-squaring gantry system.
This is easily an option for CNC users of all skill levels and professions, but its complex assembly and engraving ability make it a better choice for professionals and hobbyists specializing in wooden engravings and carvings.
---
6. ZMorph Fab: Most Versatile Wood CNC Machine
Pros
Supports 3D printing, CNC milling, and laser cutting and engraving.
Supports over 50 materials and 5 told heads.
Carefully designed with new users in mind.
Cons
Stick with a standard CNC machine if you're not interested in 3D printing and laser cutting/engraving.
The ZMorph Fab is the black sheep of this list, but the sheer ingenuity of this machine's design made it an irresistible addition.
What sets the ZMorph Fab apart from the others on this list is that it's actually a multifunctioning 3D printer. Along with supporting 3D printing, this machine supports CNC milling and laser cutting and engraving.
You'd think that supporting so many settings would limit the potential of what each setting could do, but in reality, this machine supports over 50 materials and 5 tool heads. It also comes with a smart tool head detection system, so it knows what setting to switch to the moment it's attached.
You can pick and choose what settings you want, like if you want all three or just 3D printing and CNC milling, however, the standard package comes with only 3D printing.
The machine has a build area of 235 x 250 x 85 mm and comes with new and improved aluminum worktables and rigidity to protect electronics from dust leftover.
Similar to others on this list, this machine was carefully designed with new users in mind, so if you're new and interested in trying out laser cutting and engraving, CNC, and 3D printing, then this is an opportunity you can't miss!
Most Versatile Wood CNC Machine
We earn a commission if you make a purchase, at no additional cost to you.
---
How Are CNC Wood Machines Used for Woodworking?
CNC is one of the two main methods of developing prototypes through digital software, with the other being 3D printing. Except instead of producing the material, CNC carves and processes materials like wood, plastics, and metals.
It does this by using Computer-Aided Manufacturing (CAM) or Computer-Aided Design (CAD), where you'll map out what you want, and then send the design to the machine to create.
Where you'd typically start carving or engraving by hand, a drill or lathe suspended above the material takes your place and is controlled by the machine to follow the input design.
Designs can range anywhere from engraving intricate patterns to carving out precise parts.
What makes these machines, more specifically CNC wood routers, different from CNC mills is that CNC wood routers will work around the material and work on three axes. CNC milling machines move the workpiece itself and on a linear axis.
Older versions of these machines were large and clunky, but new models are sleek and compact, even coming in desktop versions that sit on your desk and deliver the same astounding results.
The software user experience has also been improved, so whether you're a new user or a professional, you'll feel comfortable working with the computer-aided technology.
Other articles you may be interested in: