Aluminum is a very widely used material across many industries, and you need a good metal CNC machine for aluminum to cut it. 
Aluminum's strength-to-weight ratio makes it ideal for the transport industry, where it's used in cars, trains, and planes. It also has an aesthetic appeal and its production process is more environmentally friendly than alternative metals such as steel. 
It's also commonly used by hobbyists due to its versatility, and it can be used for almost anything, from model aircraft to useful household objects and even aluminum art. 
Whether you're a hobbyist or a professional, you need to find the right machine to cut your aluminum. The best option is a CNC (computer numerical control) machine, such as a router or mill, which cut materials according to the instructions sent to them by CNC software. CNC routers can cut soft metals like aluminum, while CNC mills can also cut harder metals. 
To help you out, we've picked out our favorite CNC routers for aluminum machining. We've picked both low-cost, beginner-friendly options, as well as some more expensive machines that are suitable for professional use.
CNCSourced is reader-supported. When you buy through links on our site, we may earn an affiliate commission. Learn more
Cenoz Upgrade 3018 Pro – Cheapest Metal CNC Machine for Aluminum  
If you're looking for the cheapest CNC metal machine that still offers good quality, you can't go wrong with the Cenoz Upgrade 3018 Pro. 
This is an ideal entry-level metal CNC machine for simple cutting and engraving aluminum and other soft metals. It's very easy to assemble and you can get up and running in just 20 minutes.
That doesn't mean the Cenoz 3018 Pro isn't also suitable for experienced users seeking a budget option. For example, it comes with both manual and computer control, so you can choose to manually work the X, Y, and Z axes without connecting to a computer.  
It also has the intelligent GRBL 3 axis control board, offering great cutting control. The board is compatible with Windows and Linux operating systems. 
This CNC machine for wood and metal also comes with an integrated driver chip, a fixed heat sink, and an external fan. It's also sturdy enough to complete a wide variety of small-scale projects. So while it's not packed with advanced features, it's a great option for low-cost CNC cutting. 
Sainsmart Genmitsu 3018 PROver – Best Budget CNC Machine for Aluminum 
Released in 2020, the Genmitsu 3018 PROver is the latest model in Sainsmart's 3018 Desktop CNC DIY Kit series and is an upgrade on the 3018 Pro. 
This is a small, user-friendly CNC metal machine that's perfect for hobbyists as well as professionals for woodworking, engineering, and jewelry-making. It's a pre-assembled machine, so you can get set up and working in 15 minutes – perfect for beginners.  
While this is a computer numerical control machine, it also has a 1.8" inch display that clearly displays readouts and allows you to manually control the router without using a computer. It also has an easy-access emergency stop control so that you can immediately shut down the machine if needed. 
The PROver is also a very strong and sturdy mini metal CNC machine, with an all-aluminum body and a sharp oxide-blue finish. This provides great stability and allows you to work with a wide range of materials, including soft metals like aluminum, plastics and wood. The machine has acrylic safety baffles to help contain dust and stop flying pieces of cutaway. 
Another nice aspect of this machine is that it uses powerful Toshiba TB6S109 motors, which are silent and have increased life and performance power. There are also added Optocoouplers to eliminate signal noise and help protect the mainboard from hard stops without risking damage. 
Finally, this Genmitsu metal CNC machine is based on the open-source GRBL v1.1 CNC software. 
Vevor 3020 – Extremely Durable Metal CNC Machine 
The Vevor 3020 is a very robust, versatile and powerful CNC router that can cut aluminum, plastics, acrylics, PVCs, PCBs, wood, and other mild materials. 
One of the standout aspects of this CNC metal machine is its durability. It has an aluminum work table made up of 6061 aluminum alloy and 6063 industrial aluminum, complete with an aluminum backing plate, making for a very sturdy machine. 
The Vevor 3020 also has an aluminum dust-proof plate that's effective in preventing chips and waste from clinging to the surface, for longer reliability and easy cleaning. 
This is a 3-axis CNC metal machine with three chrome-plated hard shafts as sliding units and 1202 trapezoidal screws as driving units. This makes for highly accurate, efficient engraving with little noise. 
Each of the three axes are equipped with a 57 two-phase stepper motor for easy movement. These are reliably connected by external couplings, providing high torque cutting. The spindle motor knobs can be used to make small positional adjustments for increased precision. 
This metal CNC machine also has great compatibility, as it uses the USB mechanism instead of the traditional disk mode, meaning it works with a variety of CNC software. 
This is a small CNC machine for metal, with a table area of 300mm x 200mm, that's ideal for serious hobbyists and professionals working in small workshops. It's capable of cutting up to 50mm deep. 
BobsCNC Evo 4 – Best CNC Machine for Aluminum with Wooden Frame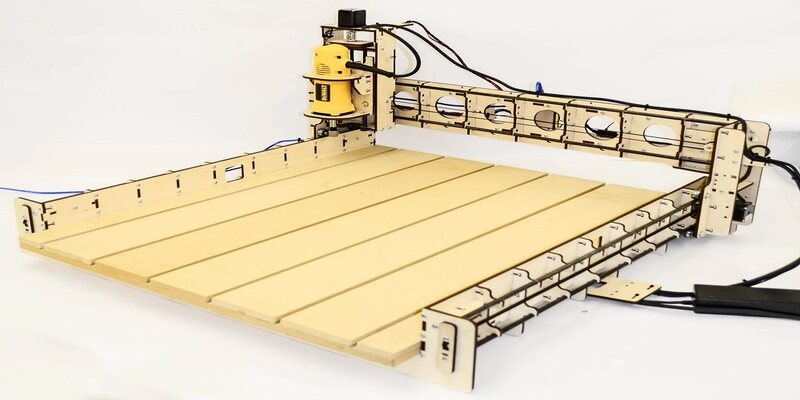 The Evo 4 is slightly different from the other CNC routers on this list, as it has a larger frame constructed of laser-cut wood, rather than metal.  
This means it's a very stable machine, with 0.0002-0.0004" repeatability, with an SG20U-supported rail system for increased robustness. 
The wooden frame also means it's a lot less noisy than models that use metal frames. However, while it's made of wood, it's still a powerful machine capable of cutting a variety of materials, including aluminum.  
The Bobs CNC Evo 4 is also a really user-friendly machine that's perfect for hobbyists, largely due to the home switches on the different axes that provide great control. It also has easy-to-follow setup instructions, and there's also the BobsCNC YouTube video with over 100 helpful videos. 
This CNC metal machine also has a TR8 Acme Rod on the Z-axis to help speed up Z-travel. There's also no need to lubricate the Z-drive due to the Derlin Acme nut.  
Other useful features include adjustable eccentric spacers that keep the bearings tight to the rails, and a torsion box gantry that provides a faster cutting speed by reducing linear and torsional deflection. 
The Evo 4 is designed to use GRBL 1.1 firmware with the popular Arduino CNC software. 
Taig 5019DSLS Micro Mill – Small CNC Metal Milling Machine for Cutting Aluminum & Hard Metals 
This Taig machine differs from most other machines on this list in that it's a CNC mill rather than a router. This means that it can cut hard metals such as steel and titanium as well as soft metals like aluminum.  
The 5019DLSL Micro Mill is a good choice for both hobbyists and professionals due to its small size, precise and powerful cutter, and the fact it's easy to use. The 'DLSL' in this CNC mill's name comes from the fact that it features Advanced Sync Lock Servo control.  
This technology uses a control algorithm that locks the encoder feedback pulse signal stream with the command pulse signal steam, so that the command velocity and position are always followed. This allows a standard open-loop stepper motor system to become a true closed-loop servo system. 
The Taig Micro Mill's 200 oz-in stepper motors reach rapid traverse speeds of 100 inches/minute. This, combined with the machine's High Motor Torque, provides plenty of cutting power. In fact, tests show the machine produces a single 1/8" depth slot cut in mild steel with a 1/8" end mill, which is very impressive. 
Another benefit of using this CNC metal cutting machine is that it's made up of a precision-engineered steel and aluminum structure with adjustable brass gibs, so it's incredibly robust. On top of that, the individual moving components are composed of steel and anodized aluminum to ensure it performs reliably in demanding conditions. 
MillRight CNC Power Route XL – Large CNC Metal Machine with High Torque 
While most the CNC routers on this list are DIY desktop machines designed for use by hobbyists and small businesses, the MillRight Power Route XL is a different beast. This is a large, powerful CNC metal machine designed for use in industrial settings.  
This CNC mill is 69" wide, 66" deep, 49" high, and weighs around 450 pounds. It has a working area of 49.5" x 49.5" x 5", which is considerably larger than desktop routers and means it can be used for a much wider range of projects. 
As well as aluminum and other software metals, the Power Route XL can cut wood, plastic, foam, carbon fiber, and circuit boards, so it's a really versatile machine. It can even make occasional light cuts in hard metals. 
This is by far MillRight's largest and most precise machine, with material removal rates of up to 15 times higher than its other machines.  
It's also an incredibly robust CNC mill, due to its heavy-duty construction. In addition to its high precision, it has a high drive torque system for incredibly cutting power. 
The Power Route XL comes pre-assembled, which each machine also tested before shipping to ensure it works. MillRight provides free technical support with each purchase, and there is also an active user forum where you can discuss the machine with other users. 
CNC Supra Vertical Knee Mill – Professional CNC Metal Milling Machine for Cutting Aluminum 
The CNC Supra Vertical is another CNC mill, meaning it can cut hard metals like steel as well as aluminum. Whereas the Taig Micro Mill is designed for small projects and is better for hobbyists, this mill is best suited to more industrial environments. 
While it may be aimed at advanced users, this is still a very user-friendly CNC metal machine with a simple setup process.  
The controls are also very intuitive with simple turnkey operation. It has automation technology to help with complex projects, while there's also the option to operate manually. 
As you'd expect from a mill in this price range, it's incredibly strong and robust, with a cast-iron frame. It has full 3 axis movement, with a quill drive Z-axis for high accuracy. 
This CNC machine for aluminum is suited for both small and large companies. For smaller businesses, it's a much cheaper alternative than outsourcing machining, while larger companies can benefit from high-quality, fast and efficient cuts without spending tens of thousands of dollars. 
Laguna Swift 4×8 CNC Router – Best Industrial 4×8 CNC Router 
The Laguna brand is well known in the CNC world for its high-quality machines, and the Swift 4×8 is perfect if you're looking for a large router to use in an industrial setting. 
Whereas most the other machines we've reviewed in this guide are desktop routers, meaning they're suited for small-scale projects, the Laguna Swift is a 4×8 router that offers a much larger working area for cutting aluminum. 
This metal CNC router has some really great features that make it a popular option. For example, it has 7.5" gantry clearance, so you can use it for a huge range of different projects. There's a welded all-steel frame securing the gantry to ensure extremely high-quality cuts. 
The Laguna Swift is very robust and sturdy, as the table features MDF pads and T-slots that securely hold your working materials. At the same time, it uses the same motion control as larger CNC metal machines, providing excellent edge finishes. 
Another bonus is that the 3 horse-power spindle is liquid-cooled, so the metal CNC machine for aluminum can withstand long hours in demanding working environments. 
If you're new to working with this kind of CNC metal engraving machine, the Laguna website has a blog and videos you can use to develop your knowledge. The Swift also comes with a hand-held controller that makes it easy to use.
If you enjoyed this article:
Sign up to our email list and get the latest CNC news, buyer's guides and giveaways direct to your inbox: