Aluminum is a very widely used material across many industries, and you need a good metal CNC machine for aluminum to cut it. 
Aluminum's strength-to-weight ratio makes it ideal for the transport industry, where it's used in cars, trains, and planes. It also has an aesthetic appeal and its production process is more environmentally friendly than alternative metals such as steel. 
It's also commonly used by hobbyists due to its versatility, and it can be used for almost anything, from model aircraft to useful household objects and even aluminum art. 
Whether you're a hobbyist or a professional, you need to find the right machine to cut your aluminum. The best option is a CNC (computer numerical control) machine, such as a router or mill, which cut materials according to the instructions sent to them by CNC software. CNC routers can cut soft metals like aluminum, while CNC mills can also cut harder metals. 
To help you out, we've picked out our favorite CNC routers for aluminum machining. We've picked both low-cost, beginner-friendly options, as well as some more expensive machines that are suitable for professional use.
TL;DR: Here's a quick view of our top machines!
CNCSourced is reader-supported. When you buy through links on our site, we may earn an affiliate commission. Learn more
Sainsmart Genmitsu 3018 PROver / Pro – Best Budget CNC Machine for Aluminum
Sainsmart's Gentmisu 3018 Pro and PROVer range are some of the most popular of Arduino-powered low-cost desktop CNC mills. While they're primarily designed for wood and acrylic carving, they can also be used for copper PCB board cutting and soft aluminum cutting — as long as you don't want to cut too deep.
Upgraded on the original 3018 Pro, the PROVer comes almost fully pre-assembled, cutting assembly time from a few hours with the 3018 Pro, to just 15 minutes. This is perhaps if you're a beginner, or busy, so you can get making almost immediately.
The PROver is also a very strong and sturdy mini metal CNC machine, with an all-aluminum body and a sharp oxide-blue finish. This provides great stability and allows you to work with a wide range of materials, including soft metals like aluminum, plastics and wood. The sides are reinforced with acrylic panels to prevent any chips from flying off, both good for health and safety, and keeping your workspace cleaner.
The PROVer comes with a default 1/8″ ER-11 collet, which you can upgrade, for example to a 1/4″ ER-11. However, be wary of the strain this adds to the less powerful spindle, and the resulting effects it could have on its lifespan.
With the 3018 PROVer you also get an optional laser engraver module, which is handy if you fancy engraving and save space in your work area, as well as money, with two machines in one. Sainsmart machines are almost endlessly upgradeable, so you can tweak it to make it yours. We recommend buying the end mill kit available here.
While not ideal for aluminum (in fact, it's far from it), if you're playing around with a couple small aluminum pieces for your own fun, the Sainsmart 3018 PROVer can work. But, if you're more serious about CNC carving metal like aluminum, consider going for a more professional metal CNC cutter.
The full recommended settings for CNC cutting aluminum can be found in this video:
BobsCNC Evo 4 – Best CNC Machine for Aluminum with Wooden Frame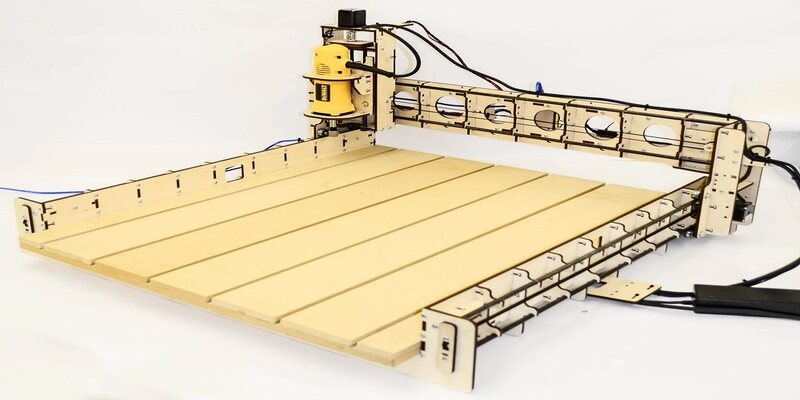 The Evo 4 is slightly different from the other CNC routers on this list, as it has a larger frame constructed of laser-cut wood, rather than metal.
This means it's a very stable machine, with 0.0002-0.0004" repeatability, with an SG20U-supported rail system for increased robustness. 
The wooden frame also means it's a lot less noisy than models that use metal frames. However, while it's made of wood, it's still a powerful machine capable of cutting a variety of materials, including aluminum.
However, while you can cut aluminum on the BobsCNC E4, you need to be aware of the E4's limitations. The BobsCNC team themselves recommend that you'll get better results on a specialized, more rigid CNC mill with more weight to it.
So while for the price it's an effective metal CNC router, if you want to CNC cut aluminum for a small business money-maker, you'll want a Shapeoko or X-Carve. These are more effective metal CNC cutting machines, though they'll cost more. But, if you just cannot afford that — though the X-Carve supports a monthly payment scheme (more on this further down) — the BobsCNC is a serviceable option for half the price, though it is better for wood and other lighter and softer material cutting.
The BobsCNC team recommend buying a bit designed for cutting aluminum with a high helix angle, the fewest flutes possible to support a slower feed rate, using compressed air to keep the bit cool, and cutting shallow enough to not break the bit. If you don't effectively optimize for CNC cutting aluminum with the BobsCNC, you run the risk of wrecking your machine — so there's a skill level you need to evaluate whether you have.
You can watch the full video with their recommendations here:
The Bobs CNC Evo 4 is also a really user-friendly machine that's perfect for hobbyists, largely due to the home switches on the different axes that provide great control. It also has easy-to-follow setup instructions, and there's also the BobsCNC YouTube video with over 100 helpful videos.
This CNC metal machine also has a TR8 Acme Rod on the Z-axis to help speed up Z-travel. There's also no need to lubricate the Z-drive due to the Derlin Acme nut.  
Other useful features include adjustable eccentric spacers that keep the bearings tight to the rails, and a torsion box gantry that provides a faster cutting speed by reducing linear and torsional deflection. The Evo 4 is designed to use GRBL 1.1 firmware with the popular Arduino CNC software.
Overall, it's an effective metal CNC cutter, and with the large 24″ x 24″ work area, you can carve large metal signs and other profitable projects. But, if you can afford to, we recommend the following two aluminum CNC routers for small businesses:
Inventables X-Carve 1000mm — Great CNC Router for Aluminum
Inventables manufacture the X-Carve range, some of the highest-quality desktop CNC mills around, opening up options for CNC milling large aluminum sheets with its large work area.
On Inventables' material list for the X-Carve, they list 6061 aluminum as a cuttable material. Users of the X-Carve 1000mm metal CNC mill have used it without any Z-axis upgrades to cut aluminum without much issue.
For your money, you get quality parts and a reliable machine that requires little maintenance and upkeep — perfect as a CNC machine for small business. The DeWalt 611 spindle and mount, 1,000 mm wasteboard, dust control system, and carving bit super pack make for effective carving and cutting. The wide, thick-walled gantry aids consistent carving, as do the molded belt clips and other features.
As well as aluminum, this metal CNC mill cuts and carves PCBs, as well as standard softer materials like MDF, foam, cork, acrylic, and much more. It's a small business hero, and can cut up to 4.5-inches deep for accurate and beautiful 2.5D carving for signs and topographical map projects, and a variety of other popular designs.
Inventables have an older video of an X-Carve model CNC milling aluminum to make an LED ring for a spindle here:
MillRight CNC Power Route XL – Large CNC Metal Machine with High Torque 
While most the CNC routers on this list are DIY desktop machines designed for use by hobbyists and small businesses, the MillRight Power Route XL is a different beast. This is a large, powerful CNC metal machine designed for use in industrial settings.  
This CNC mill is 69" wide, 66" deep, 49" high, and weighs around 450 pounds. It has a working area of 49.5" x 49.5" x 5", which is considerably larger than desktop routers and means it can be used for a much wider range of projects. 
As well as aluminum and other software metals, the Power Route XL can cut wood, plastic, foam, carbon fiber, and circuit boards, so it's a really versatile machine. It can even make occasional light cuts in hard metals. 
This is by far MillRight's largest and most precise machine, with material removal rates of up to 15 times higher than its other machines.  
It's also an incredibly robust CNC mill, due to its heavy-duty construction. In addition to its high precision, it has a high drive torque system for incredibly cutting power. 
The Power Route XL comes pre-assembled, which each machine also tested before shipping to ensure it works. MillRight provides free technical support with each purchase, and there is also an active user forum where you can discuss the machine with other users. 
Laguna Swift 4×8 CNC Router – Great Industrial Metal CNC Router 
The Laguna brand is well known in the CNC world for its high-quality machines, and the Swift 4×8 is perfect if you're looking for a large router to use in an industrial setting. 
Whereas most the other machines we've reviewed in this guide are desktop routers, meaning they're suited for small-scale projects, the Laguna Swift is a 4×8 router that offers a much larger working area for cutting aluminum. 
This metal CNC router has some really great features that make it a popular option. For example, it has 7.5" gantry clearance, so you can use it for a huge range of different projects. There's a welded all-steel frame securing the gantry to ensure extremely high-quality cuts. 
The Laguna Swift is very robust and sturdy, as the table features MDF pads and T-slots that securely hold your working materials. At the same time, it uses the same motion control as larger CNC metal machines, providing excellent edge finishes. 
Another bonus is that the 3 horse-power spindle is liquid-cooled, so the metal CNC machine for aluminum can withstand long hours in demanding working environments. 
If you're new to working with this kind of CNC metal engraving machine, the Laguna website has a blog and videos you can use to develop your knowledge. The Swift also comes with a hand-held controller that makes it easy to use.
If you enjoyed this article:
Sign up to our email list and get the latest CNC news, buyer's guides and giveaways direct to your inbox: