If you've ever looked into purchasing a CNC machine online, you may have noticed that certain models have the number '3018' in their name. This is often something that beginners are unsure about. If you've ever found yourself wondering "what exactly is a CNC 3018 machine?", then you've come to the right place.
12/10/2022 01:42 am GMT
In this guide, we reveal all you need to know about CNC 3018 machines. We'll explore what they are, what they do, how they differ to other CNC machines, and what they're used for. We'll then reveal the best CNC 3018 machines that you can purchase for yourself today.
For those in a rush, here's a quick view of our guide
What is a CNC 3018 machine? 
The 3018 that you so commonly see attached to the name of CNC machines is simply a reference to the size of the machine. 3018 CNC machines have dimensions of 300mm x 180mm. Most of the time when you see a CNC machine with numbers in its model number, it's due to the same reason. 
As you can imagine, 300mm x 180mm is an ideal size for a CNC engraver that can fit on a desktop or benchtop. This is why you see more CNC 3018s than other machines, like 2418s and 1610s. They're also very good value — you can purchase many different 3018 CNC machines online for around $200 — and we recommend our top choices in this article.
The majority of CNC 3018 machines, and particularly the cheaper ones, use metal cutters mounted in a spindle to work on materials. However, if you spend a bit more you can get a CNC 3018 laser machine. These can offer more accurate engraving than other CNC routers, and lasers can also be used on a wider variety of materials.
CNC 3018 Capabilities  
There are numerous jobs that can be performed by a CNC 3018 machine, and most models can perform multiple functions. Here's a few of the functions 3018 CNC machines can perform:
| | |
| --- | --- |
| Milling | Milling is where a machine uses rotary cutters to remove material from a workpiece, by mounting a cutter in a spindle and then cutting the material at different angles as it moves along the axes.  |
| Engraving | Engraving uses the same process as milling, but it specifically only cuts small depths to engrave things like decorations and signs. Some CNC 3018 machines use lasers for engraving rather than spindle cutters.  |
| Drilling | CNC drilling machines use rotating cutting tips to drill holes in a workpiece.  |
| Cutting | This is the most basic CNC 3018 machine function and is simply the cutting of materials like wood, plastics and soft metals into workable shapes.  |
Most CNC 3018 machines can work with a wide range of different materials. Wood, plastic, acrylic, PCV, PCB, MDF, soft metals like copper and aluminum – the list goes on. The only major exception when it comes to most CNC 3018 machines is hard metals – you'll need a dedicated metal cutting CNC machine to work with materials like steel.
3018 CNC Router Applications 
3018 CNC machines are used for a whole variety of different jobs, both by professionals and hobbyists. Due to the range of functions they can perform and the variety of materials they can work with, they're valuable tools across a whole range of industries.
CNC 3018 machines are commonly used commercially by carpenters as they can perform the functions of several different tools. For example, with a 3018 CNC router a carpenter can perform functions that would otherwise require separate machines, such as a panel saw, a boring machine and a spindle molder.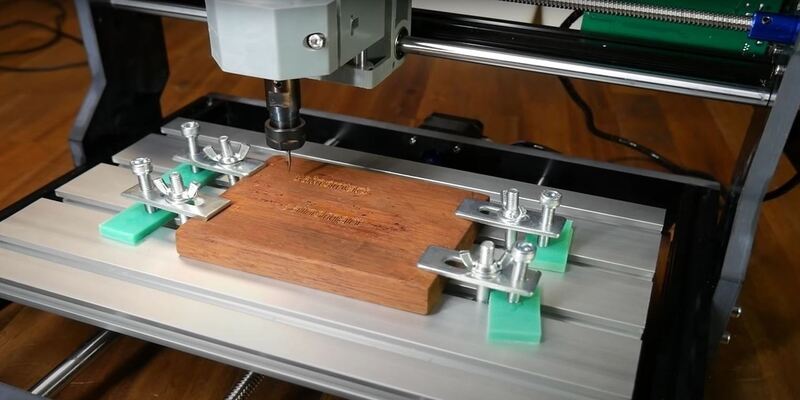 CNC 3018 machines are also widely used across the furniture industry, the mold industry, and the handicrafts industry. One of the most common uses is for creating signs in the advertising industry.
We also have a guide to CNC furniture you can make
As CNC 3018 machines are fairly cheap and widely available, they are also commonly used by hobbyists for home CNC projects. Whether it's for making home decorations or for more practical uses, these low cost routers offer a whole range of possibilities.
The Best CNC 3018 Machines 
Now we've given you the rundown on what CNC 3018 machines are and how they work, let's take a look at the best CNC 3018 machines on the market. 
Vevor CNC – Best Cheap CNC 3018 Router 
If you're working on a budget, the Vevor CNC is a really affordable machine that still offers high quality carving, milling and engraving. 
For starters, the aluminum and bakelite frame make this 3018 CNC machine super sturdy and durable. It's also really user-friendly, as you don't need to position the components – something that also improves work accuracy and stability. 
This is a really high performance rotor, thanks to the three 42 stepper motors, T8 screw rod driving units, and a 775 24V spindle motor with a rotational speed of 10000r/min. These provide plenty of power for working with a wide range of different materials, from plastic and acrylics to wood and soft metals like aluminum. 
This CNC 3018 router is compatible with Windows, macOS and Linux operating systems, so virtually anyone can use it. You can connect to your computer via a USB. The router uses the open source GRBL 3018 CNC software and runs on Arduino for controlling movement when you work on 3018 CNC projects.
Best Cheap CNC 3018 Router
Vevor CNC 3018 Router Machine with GRBL Offline Control
The Vevor CNC is a very cost-effective device that provides excellent engraving, milling, and carving. You can engrave PVC, PCB, wood, leather. Working area: 300 x 180 x 45mm.
Amazon here
We earn a commission if you make a purchase, at no additional cost to you.
12/09/2022 10:37 pm GMT
---
Cenoz Upgrade 3018 Pro – Affordable CNC 3018 Pro Machine 
If you're looking for the cheapest CNC metal machine that still offers good quality, you can't go wrong with the Cenoz Upgrade 3018 Pro. 
This is really user-friendly machine that's perfect for beginners and students. You can cut a great variety of different materials, such as plastics, PCB, PCV, wood, acrylics and aluminum.  
It comes with both manual and computer control, so you can manually operate the axes if you like. We really like the intelligent GRBL 3 axis control board, as it provides great control and accuracy when working with the router. 
Other useful features include an integrated driver chip, a fixed heat sink and an external fan which helps keep the machine cool and improve working life. 
If you're wondering what the "Pro" means, it simply shows that this model is an upgrade on the original Cenoz 3018 CNC machine. This is something that's common among CNC routers, like the one below. 
You can use the Cenoz Upgrade 3018 Pro with Windows and Linux computers. 
---
Sainsmart Genmitsu CNC 3018 PRO Router
The Sainsmart Genmitsu 3018 PRO is easily one of the most popular 3018 CNC machines out there.  
When you check out the specs and features, it's easy to see why. For example, it's a very versatile machine with a 1.8-inch effective engraving depth, so you can cut all types of plastics, acrylics, woods, soft metals and more.
It has fantastic stability thanks to the 4cm base height and sturdily constructed metal frame. The Gemitsu 3018 also offers plenty of accuracy and powerful with a 750 motor spindle with 10,000 RPM.
This is a very safe 3018 Pro CNC machine, as the upgraded power adapter has over voltage protection, over current protection and short circuit protection.
You can use this machine with the high quality GRBL software which runs on Arduino. This software is well known for its dependability and simplicity, so it's a great choice for beginners and hobbyists. It also includes the CARVECO Maker CAM design software. 
This is an Amazon-recommended product and has hundreds of positive reviews from happy customers. We also like that you can easily upgrade to a 3040 router by getting the Genmitsu 3040 Y axis extension kit in case you find yourself needing more room for your projects.
Top Budget Pick
Genmitsu CNC 3018-PRO Router Kit
The 3018 PRO from Sainsmart has a sizable build surface that can handle even large wood projects and is efficiently fastened down thanks to its sturdy aluminum frame. 
Amazon here
Sainsmart here
We earn a commission if you make a purchase, at no additional cost to you.
12/10/2022 01:42 am GMT
---
TopDirect 2 in 1 CNC 3018 Pro – Cheap CNC Router with Laser Engraver 
The standout feature of the TopDirect 2 in 1 CNC 3018 Pro – and the reason it's called "2 in 1" – is that it has both a spindle motor and a 7000mW laser head.  
As it has a laser engraver as well as a router spindle, you can use it on an even wider range of materials. For example, as well as the standard woods and plastics, it can be used on bamboo, ivory, leather, ceramic, and metal surface painting.
You can control this machine offline without a computer if you want to operate it manually. This means you don't need to download any files. Alternatively, you can run it with GRBL software.
The TopDirect 2 in 1 offers high engraving power with impressive accuracy. We like that it has an aircraft aluminum heatsink with a cooling fan which ensures it can work continuously over long periods. 
This CNC 3018 Pro machine is perfect if you're looking for extra safety, as it has a protective design with 5mm acrylic baffles on both sides. 
You need to build this DIY CNC router yourself, but the instructions are really helpful, so you shouldn't have any issues getting started. 
---
Mysweety 2 in 1 Pro CNC Router – Best 3018 CNC Machine for Small Businesses 
The Mysweety CNC 3018 Pro engraving machine is a slightly more expensive router that has some great features for milling and engraving.
This is another 2 in 1 CNC 3018 Pro machine that boasts both a spindle cutter and a laser for more precise engraving. This means you can work on a wide variety of materials and projects than you can with cheaper routers.  
One of the best things about it is that you can use it offline without having to connect to the computer. It comes with an SD card to write into the root directory G code, meaning you don't need to download any files. You can manually adjust the location of the three axes, manually open or close the spindle, and manually open or close the cooling fan. 
This DIY CNC 3018 is super easy to assemble and use, so you don't need to be an expert. It's very compact with an aluminum profile and 4cm base height, so it's both stable and durable. 
Although it's one of the more expensive CNC 3018 router machines, we think its advanced features make it ideal for small business owners. 
Best 3018 CNC Machine for Small Businesses
MYSWEETY 2 in 1 7000mW CNC 3018 Pro Engraver Machine
This adaptable CNC router kit, a 3-axis DIY CNC router with a strong spindle and a 5.5-watt laser engraving module, is ideal for engraving and carving wood. 
Amazon here
We earn a commission if you make a purchase, at no additional cost to you.
12/09/2022 11:02 pm GMT
---
Related articles: