If you're looking for an affordable CNC router for your home, there's no shortage of options available – but how do you know which is the best budget CNC router for you?
For beginners, I'd recommend the Sainsmart 3018 Pro. This versatile router is an incredible value, offering enough engraving depth and work area for the vast majority of hobbyists for under $300.
If you've got a slightly larger budget, check the upgraded older brother – the Sainsmart 3018 PROVer – for improved usability and safety features.
And users working on larger projects should check out BobsCNC Evo 4 with its giant 24″ x 24″ work area. It's an ideal pick if you plan on starting a CNC business and want something you can grow into.
BUDGET OPTION
Sainsmart 3018 Pro
Reliable CNC for under $300
Packed with useful features
Available at:
TOP PICK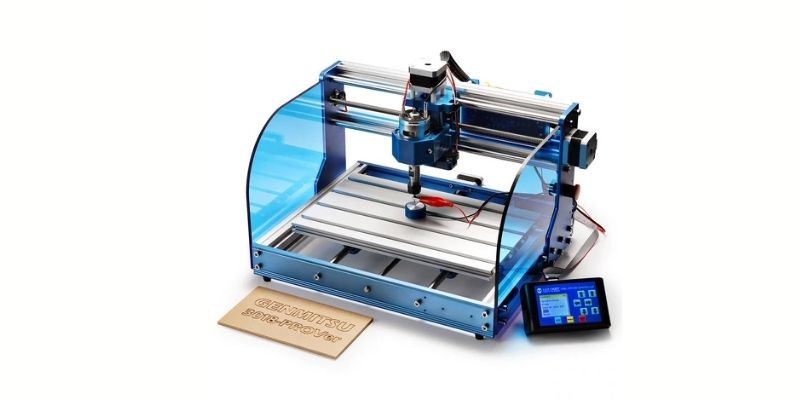 Sainsmart 3018 PROVer
Pre-assembled to get started quicker
Acrylic enclosure prevents mess
Great low-cost desktop CNC router
Available at:
PREMIUM PICK
BobsCNC Evo 4
Great community & company support
Upgradeable spindle & laser option
Available at:
There are several factors to consider when it comes to
In this guide, I'll compare my hands-on experience with these routers across all the important factors: the router's working area, specs, compatible materials, safety features, ease of use, and control options.
Perhaps most importantly, you'll also want to find a CNC router that suits your budget – while some are available for under $200, others cost thousands of dollars.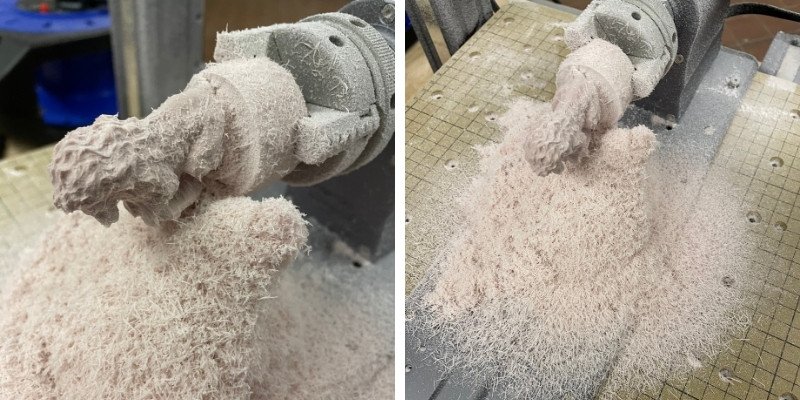 In this guide, we'll help you find a CNC router machine that covers everything you need it for without overspending.
Which CNC Router Should I Buy?
It depends on your budget and needs. Here are our recommendations based on price range and size:
Here's our full list the best machines:
| CNC Router | Cutting Area | Assembly Time | Price | Available At: |
| --- | --- | --- | --- | --- |
| Sainsmart Genmitsu 3018 Pro | 300 x 180 x 45 mm | 2 hours | $249 | Sainsmart Store here |
| Sainsmart 3018 PROver | 260 x 155 x 35 mm | 15 minutes | $359 | Sainsmart Store here |
| Maslow CNC | 4 x 8 foot | Up to a day | $599 | Amazon here |
| Sainsmart Genmitsu PROVerXL 4030 | 400 x 300 x 110 mm | <1 hour | $999 | Sainsmart Store here |
| BobsCNC Evo 4 | 24″ x 24″ | A couple of hours | $1,230 | Amazon here |
| MakerMade M2 CNC | 4 x 8 foot (and 3.8-inch depth) | 5 hours – 2 days (depending on skill level) | $1,199 | Amazon here |
| Snapmaker 2.0 | depends on model (from 150x150mm to 350x350mm) | 60-80 minutes | $1,199-$1,799 | Snapmaker Store here |
| Inventables X-Carve 1000mm | 29.5 x 29.5 x 4.5 inches | Up to 8 hours | $2,299 | Matterhackers here |
The Best CNC Routers & Cheap CNC Machines
Now we've explained what they are, let's take a look at the best machines available to buy right now in our CNC router reviews.
Our list starts with the best cheap CNC routers and moves through to the mid-range options, so you can easily pick the one that best suits your budget.
We also have a guide explaining how much does a CNC cost for various CNC machines.
CNCSourced is reader-supported. When you buy through links on our site, we may earn an affiliate commission. Learn more
Sainsmart Genmitsu 3018 Pro – Cheap CNC Router with Great Durability
Cutting area: 300 x 180 x 45 mm
Assembly Time: 2 hours
Software: GRBL 1.1 software
Material Compatibility: woods, plastics, acrylics, PVCs, soft aluminum, and PCBs
Pros
Great for beginners.
Great customer service and documentation to help you get started.
Has an engraving depth of 1.8″ and is a versatile router.
Plentiful work area.
Cons
No major drawbacks, a great router for the price.
Sainsmart's Genmitsu 3018 Pro is a small CNC router you can easily set up at home that's great for beginners. Sainsmart have made a name for themselves in the low-cost CNC space by bridging the accessibility gap: making easy-to-use starter CNC kits with great customer service and documentation to help you get started.
This best-selling home CNC router has an engraving depth of 1.8" and is a versatile router that's compatible with woods, plastics, acrylics, PVCs, soft aluminum, and PCBs, so it can be used for a wide range of projects. You can do a fair amount with the 45mm depth, and the ability to carve into materials as tough as soft aluminum really opens up your options for such a low price. The 300×180 work area is plentiful, and it comes with an offline controller that can be upgraded to a laser engraver.
The machine's body is crafted from aluminum, making it stable and durable — key to a high-quality CNC project. The machine also has added Optocouplers that give the mainboard extra protection for increased longevity.
The Genmitsu 3018 Pro is powered by industry-standard GRBL software and runs on Arduino. This powerful, open-source software is dependable and simple, and there are plenty of support resources available. The router uses quieter Toshiba TB6S109 drivers — so there's no annoying din like with older CNC machines.
However, you do need to spend an hour or so building the kit from scratch — so if this type of build intimidates you, spend an extra $100 and go for the 3018 PROVer that comes almost ready to go, which we discuss further on in this article.
You don't have to break the bank to get your hands on the Genmitsu 3018 Pro – you can purchase the hobby CNC router from $250. This also includes a 3-month subscription to Carveco Maker, a powerful yet easy-to-use CNC software that's designed for small businesses and hobbyists looking to take their first steps into CNC.
Genmitsu CNC 3018-PRO Router Kit
The 3018 PRO from Sainsmart has a sizable build surface that can handle even large wood projects and is efficiently fastened down thanks to its sturdy aluminum frame.
Amazon here
Sainsmart here
We earn a commission if you make a purchase, at no additional cost to you.
09/29/2023 04:16 pm GMT
---
Sainsmart Genmitsu 3018 PROVer – CNC Router Machine with Excellent Safety Features
Build area: 260 x 155 x 35 mm
Assembly Time: 15 minutes
Software: GRBL 1.1 software
Material Compatibility: PCV, PCB, Acrylics, MDF, Bakelite, Leather, Carbon fiber, Graphite, Vinyl, Plexiglass, and bamboo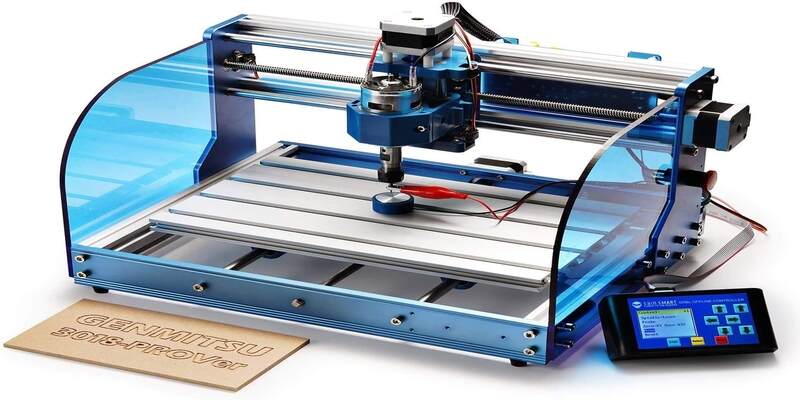 Pros
Ready to go in about 15 minutes.
A huge leap in terms of usability and safety over its predecessor.
Has an easy-to-access emergency stop control that immediately shuts down your machine.
Sturdy and has a quality build.
Cons
Smaller than the Sainsmart Genmitsu 3018 pro.
This CNC engraving machine, released in 2020, is an upgrade on the Sainsmart Genmitsu 3018 Pro and is the latest version of the company's hobby CNC router series. Forget hour-plus build times, the 3018 PROVer has you ready to go in just 15 minutes.
While this machine uses the same GRBL 1.1 software, Arduino platform, Toshiba TB6S109 drivers, and added Optocouplers as its predecessor, it makes huge leaps in terms of usability and safety. You can even use Sainsmart's version of Mach3 if you're used to that. The 1.8" display clearly displays readouts and provides manual control of your mill without using a computer. This offline controller can also be used to home the tool head.
The 3018 PROVer also has an easy-to-access emergency stop control that immediately shuts down the machine if your project ever gets out of control. Other improved safety features include hard stops and limit switches.
The 3018 PROVer has a decent workspace of 260 x 155 x 35mm — though this is actually slightly smaller than its little brother, the 3018 Pro. While some might consider it a mini CNC router, this is offset by the all-aluminum chassis for overall sturdier and better quality build. The acrylic panels on the sides help contain dust spread and prevent any material chips flying off. The router uses a 775 motor 10,000 RPM spindle, has a maximum power of 120W, and uses an ER-11 collet drill bit.
Like the 3018 Pro, it comes with a three-month subscription to Carveco Maker subscription. This CNC router machine comes semi-assembled and it should take you no longer than 15 minutes to get up and running, making it a fantastic user-friendly benchtop CNC router. In addition, you can also add a laser engraver to the machine, though this costs extra.
We earn a commission if you make a purchase, at no additional cost to you.
---
Maslow CNC – Cheapest 4×8 CNC
Pros
Highly precise and efficient.
Designed to be cheap to ship and affordable to buy.
Good community showcasing projects online.
Easy to assemble.
Cons
The wooden frame needs to be purchased separately.
The Maslow CNC is a highly precise and efficient CNC router machine developed by Maslow, a community-driven, open-source project that aims to make large CNC machines available to everyone.
Despite being designed to be cheap to ship and affordable to buy, this powerful and easy-to-use machine really is one of the best 4×8 CNC routers out there. The Maslow community garden is a great source of inspiration, showcasing incredible projects like chairs, sheds, ornaments, desks, and even a boat made using the Maslow CNC.
Read more:
As well as offering the wood CNC router, Maslow's open-source community is a fantastic place for collaboration and sharing your creations. The Community Garden is a library of Maslow users' creations complete with instructions that detail how to create a wide range of CNC router projects — so when you buy a Maslow CNC, you not only get the affordable CNC router, but also access to a community of likeminded makers. You can even buy other users' creations via the Community Marketplace!
The machine itself is fairly easy to assemble using the assembly manual. It has an adjustable cut depth, as well as useful features like z-axis functionality. The Maslow CNC wood carving machine is durable enough to cut out forms from a wide range of materials, including hard plastics, plywood, and MDF laminate.
There are various purchase options – with bundle options that come with extras like a free upcut bit and a pre-made sled. There are also a wide variety of accessories available to buy from Maslow-verified retailers.
We earn a commission if you make a purchase, at no additional cost to you.
---
Sainsmart Genmitsu PROVerXL 4030 – Great Hobby CNC Router for Mid-range Use
Pros
Larger build volume than other 3018 CNC routers.
Accessible and easy to assemble.
Very upgradeable.
Cons
Some beginners find it difficult to use.
If you want something more powerful than the entry-level 3018 CNC routers, but not so premium as the Shapeoko or X-Carve, the Sainsmart Genmitsu PROVerXL 4030 is a great middle-ground choice.
The build volume is much larger than 3018 CNC routers, and the 110mm z-axis depth means you can create great depth and contrast in signs and other creations you can make for yourself, or sell.
Sainsmart are known for accessible, easy-to-assemble CNC kits, which rings true with the PROVerXL 4030. It's very beginner friendly, but with the power and size for experienced and advanced makers to create complex projects from a variety of materials, including aluminum, wood, MDF, plastics, foam, vinyl, and more.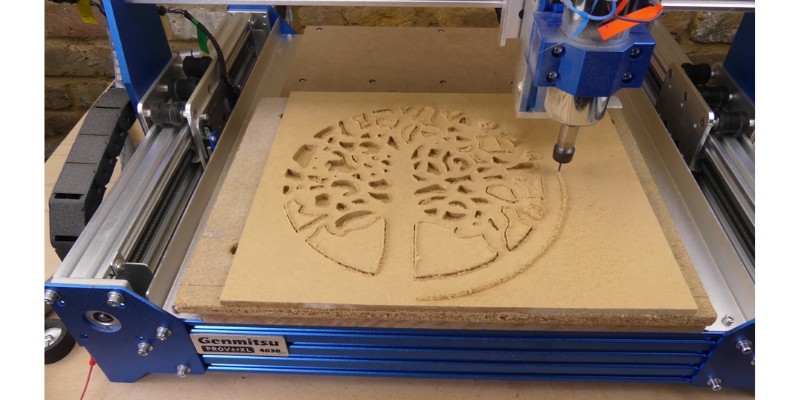 You can even upgrade it further, with upgrade kits such as the 6060 extension kit and 6060 aluminum spoilboard, and a laser module. The base CNC router is already powerful and large however, and should suit most day-to-day CNC projects with the powerful spindle and newly redesigned control box and drive system.
Overall, it's a great mid-range CNC router, and comes with a 3-month subscription to Carveco Maker software to help you get started, though you can also use Easel, Candle, or another alternative.
Check out our full Sainsmart 4030 ProverXL review to learn more.
---
BobsCNC Evo 4 – High Quality CNC Machine for Complex Projects
Cutting area: 24″ x 24″
Assembly Time: A couple of hours
Software: Arduino Uno
Material Compatibility: Light-strength wood or hard plastic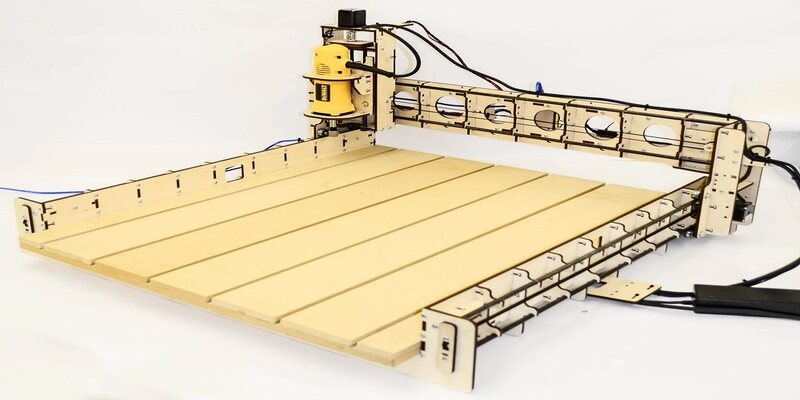 Pros
One of the best CNC routers on the market.
Easy to get going with in-depth instructions.
Has laser cutter add-ons available.
Cons
More expensive than some of the cheaper options on our list (although the price is justified).
The BobsCNC Evo 4 is widely regarded as one of the best CNC routers on the market and is the product of its founders' decades of engineering experience. This distinctive machine is made up of a rigid plywood frame offering 0.002"-0.004" (0.1-0.05mm) repeatability. The Evo 4 is an upgrade on the company's older E4 CNC router.
Decades of insight, deep CNC and prototyping knowledge, and a love of creation goes into every router BobsCNC put out, and you can see it reflected across their website and throughout their products. We recommend the Evolution 4 for most hobbyists, though BobsCNC also offer an Evo 3, which is almost identical in specs, except that it's notably smaller in size.
The Evo 4 has a 610 x 610 x 85 mm cutting area, is supported by an SG20U rail system, and is powered by a Nema 17 Stepper motor. It's designed to use GRBL1.1 firmware on the Arduino Uno.
It also has a GT2 belt drive on X and Y-axis, a TR8 Acme Rod mounted with an ACME Nut on the Z-axis to speed up Z-travel jobs, and home switches on all axes. Thanks to the presence of a Derlin Acme nut, there's no need to lubricate the Z-drive. It can be used to work on light-strength wood or hard plastic.
Other upgrades on the previous E4 model include adjustable eccentric spacers to keep the bearings tight against the rails, router mounts for quieter, speed-variable routers, and an integrated belt-tensioner to simplify belt-tightening. All these features make for excellent, consistent connection of the screw to a motor, low wobble, and smooth spatial movements.
The Evo 4 comes as a self-assemble DIY CNC router kit, but it's relatively easy to get going using the provided in-depth instructions. You can also take advantage of the BobsCNC YouTube channel, which features over 100 videos, including product features and 'how to' videos.
This desktop CNC router is more expensive than some of cheaper CNC router options, but it's a very high-quality machine that more than justifies the price. It can be configured with one of two spindle options, plus wasteboard and software. A Makita RT0701C Variable Speed Router also comes included in the kit, and there are third-party sellers online that sell a laser cutter add-on.
BobsCNC Quantum CNC Router Kit
The Evolution series of machines, which stand out for their laser-cut wooden frames and somewhat unusual designs, with the Evo 4 being the best in the line, are possibly the most well-known products from BobsCNC.
We earn a commission if you make a purchase, at no additional cost to you.
---
MakerMade M2 CNC Kit
Cutting area: 4 x 8 foot (and 3.8-inch depth)
Assembly Time: 5 hours – 2 days (depending on skill level)
Software: Makerverse
Material Compatibility: Hardwoods, Plywood, Acrylics, Nylon, thin aluminum sheets, and a variety of other materials
Pros
Fantastic cutting range.
Built-in customizable dust collection.
Can happily cut hardwoods.
Good customer service to help you out.
Cons
Need to provide a spindle for yourself.
The Maker Made M2 is the new and upgraded version of the original Maslow CNC. Modernized and upgraded for 2023, the Maker Made M2 still offers the fantastic 4 x 8 foot cutting range, as well as excellent 1mm accuracy, as well as a laser engraver upgrade kit.
For the extra money, you get an all-metal Z-axis, 40-inch cutting speed per minute, and built-in customizable dust collection for a generally more effective and reliable CNC cutting experience with less hassle.
You can happily cut hardwoods, plywood, acrylics, Nylon, thin aluminum sheets and a variety of other materials with the Maker Made M2, making it a great versatile CNC machine for a range of both hobbyist CNC projects, and some commercial CNC uses — talented makers have used it to create incredible CNC signs, chairs and furniture, and a range of other fantastic creations.
It's compatible with drill or mill bits between 1/8 and 1/2 inches, and if you do run into any problems at any point during your CNC machining experience, simply get in touch with Maker Made's US-based customer service who will try and help.
---
Snapmaker 2.0 — CNC Router & Laser Cutter / 3D printer hybrid
Price: $1,199 – $1,799 — Best price on Snapmaker Official Store here / Amazon here
Build area: depends on model (from 150x150mm to 350x350mm)
Assembly Time: 60-80 minutes
Software: Snapmaker Luban
Material Compatibility: Hardwood, PCB, acrylic, POM, carbon fiber sheet, and many more materials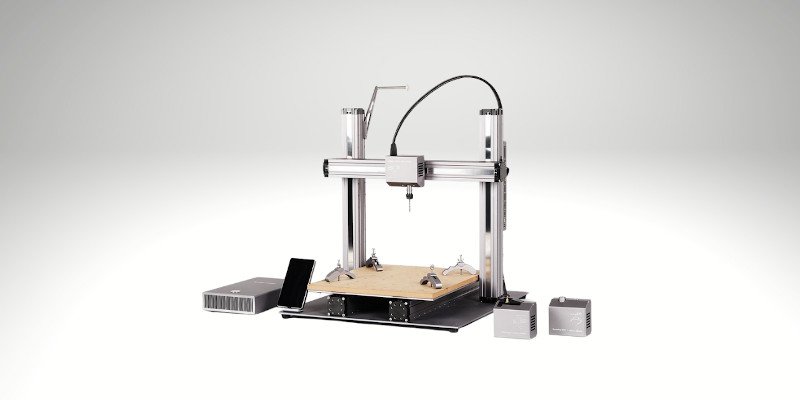 Pros
Impressive accuracy.
Rotary module add-on to turn your Snapmaker into a 4-axis CNC router.
A CNC router, as well as a 3D printer and laser cutter.
Cons
Not as customizable as a standard CNC router.
Considered the best CNC router hybrid 3D printer laser cutter on the market, I recommend the Snapmaker 2.0 if you want a jack-of-all-trades CNC router.
I've tested the Snapmaker 2.0 and was impressed with the accuracy of the CNC carver, especially with the straight groove v-bit for use with the 4-axis rotary module add-on.
As well as a standard 2D/2.5D carver, the rotary module add-on turns your Snapmaker into a 4-axis CNC router able to carve 360-degree details into material blocks.
The results were even better than I expected, and you can see the smooth surface finish on the knight chess piece I tried below:
The CNC toolhead can be quickly swapped in and out, and can carve designs on walnut, PCB, acrylic, carbon fiber sheets if you're looking to make DIY drones, and some hardwoods.
It uses a standard ER11 collet for fast and efficient CNC carving and can use 0.5mm to 6.35mm bits, and the Snapmaker 2.0 comes with an MDF wasteboard so you can get going straight away, and keep your bed from getting damaged.
It also has a 3D printer tool head, which comfortable prints ABS and PLA, as well as wood, and flexibles like TPU.
The laser engraver etches your favorite designs onto leather, wood, or acrylic — together, this makes the Snapmaker 2.0 the ultimate all-in-one CNC router.
It connects easily via WiFi or you can use an SD card, and overall, if you're looking for a less specialized CNC machine and want something that can do it all for your home projects, or for starting a business — the Snapmaker 2.0 is the one for you.
Top 3 in 1 Pick
We earn a commission if you make a purchase, at no additional cost to you.
---
Inventables X-Carve 1000mm – Excellent CNC Router for Business Manufacturing
Price: $2,599 — Available on Matterhackers here
Cutting area: 29.5 x 29.5 x 4.5 inches
Assembly Time: Around 16 hours
Software: Comes with 3-year subscription to Easel Pro
Material Compatibility: Aluminum, as well as Wood, MDF, PCBs, Foam, Cork, Acrylic, and more
Pros
Easy, robust, and affordable.
A wide gantry for more consistent parts.
Inventables website showcases a wide range of complex projects that have been created with the machine.
Cons
Some beginners will find the setup to be difficult.
The Inventables website claims that the X-Carve is the "easiest, most robust, affordable CNC machine on the planet", and it's certainly up there with the very best. This high-end CNC router table is great for both beginners and professionals, as you can use the supplied 3-year Easel Pro software subscription to design projects in minutes without a steep learning curve.
This CNC router offers a 29.5 x 29.5 x 4.5-inch work area with a total footprint of 1250 x 1000 x 350 mm. It uses a DeWalt 611 spindle and mount, a 1,000mm wasteboard, a carving bit super pack, and the X-Carve dust control system — quality parts. A wide gantry with thick walls and fewer ribs makes for more consistent carving, and you can benefit from the combination of licking hardware, molded belt clips and permanent pulleys.
You can cut and carve aluminum, as well as wood, MDF, PCBs, foam, cork, acrylic, and more. We mean it when we say carve, too, as the X-Carve's 4.5-inch z-axis depth allows for effective 2.5D part carving, ideal for creating smaller prototypes or signs with contrasting depth lettering or other design patterns to sell.
The X-Carve kit comes with the X-Controller, which features four powerful stepper drivers and a heat sink to support long, precise carves, ports to keep wires in, and an emergency stop button. There is also the option to purchase a laser engraving upgrade kit.
Easel Pro allows you to design, import, and carve from a single program. The software is very user-friendly — there's no need to learn complicated CAD or CAM programs. It has custom design tools, file import options, interactive apps and advanced business features, so it's very versatile, and each project has a shareable link so that you can share and collaborate with the community.
The Inventables website showcases a wide range of complex projects that have been created with the machine. It's a great CNC machine for guitars, chairs, plant stands, signs, and more.
The X-Carve CNC router table bundle comes with everything you need to start carving, though it will set you back $2,599, so it won't be within everyone's budget range. While it may be pricey, this is an extremely high-quality machine that's ideal if you're looking to launch your home business, making it a great CNC router for sale that'll make your entrepreneurial dreams come true.
We earn a commission if you make a purchase, at no additional cost to you.
---
What is a CNC Router?
CNC (computer numerical control) routers, also known as CNC routers, are used on wood for CNC carving and other hard materials, such as plastics, into a certain shape. As the name suggests, they are controlled by computers and usually mount a handheld CNC router as a spindle.
Toolpaths are controlled by computer numerical control, a technique that was until recently mostly restricted to the manufacturing industry, making for highly accurate and efficient carving. Many CNC machines also come with an offline control option.
CNC machines are compatible with CNC software, which can be either free or paid for. You can design your projects using CAD software (or the full experience with CAD CAM software), prepare the file, then use the CNC machine to easily your design to life.
They typically use 3 axes (though you can get with 4, 5 , or even 6 axes CNC routers!) to carve objects. 4 axis CNC routers add the ability to turn the material block while cutting, similar to a lathe, so you can create cylindrical models such as chess pieces and other character models.
What Can a CNC Router Do?
CNC routers allow you to create a huge variety of different objects and structures, from simple chairs and desks to entire sheds and boats, with pinpoint precision. They can perform the tasks of panel saws, spindle molders, boring machines and many other carpentry shop machines, and they can also cut joinery such as mortises and tenons.
They are similar to the large, industrial CNC milling machines that are used for professional prototyping and part manufacturing, but with a lower-cost gantry system that makes them ideal for hobbyists and beginners looking to take their first steps into making.
Other things you can make with a CNC router include signs, custom clocks, storage and holders, furniture, musical instruments — you name it, you can probably make it. Read our article on the coolest and most useful CNC projects you can make for more.
You can then either post-process the project, or use other types of CNC machines like laser engravers to add precise detailing or custom features, such as a customer's name if being sold.
CNC routers are also sometimes used for prototyping, in a similar way to 3D printers. You can read more about the topic in our CNC prototyping guide.
How to Make Money with a CNC Router
Many higher-end machines are sold as business equipment you can use to start your business and make a profit from. They work quickly (important for creating more sellable models per day), precisely, and can cut and carve a range of materials for your store.
Coasters, signs, and other popular gifts are always a great choice to make.
For more information, we recommend you read our articles on CNC projects that sell.
How to Build a CNC Router?
You can divide DIY CNC kits into two main types: open-source, homemade designs you can build yourself from scratch if you're willing to source all the parts yourself, or commercially-made kits with professional documentation that cost more, but offer convenience and peace of mind.
For kits you can build from scratch, there is the MPCNC (Mostly Printed CNC), a 3D printable CNC kit, as well as a range of other projects.
The second category comprises machines like the Maslow, MakerMade, Vevor, Mysweety, and Sainsmart ranges — low-cost kits that ship as parts you assemble yourself in a couple of hours. If you're not an expert, we recommend going with these easy-to-assemble brands for the best DIY CNC routers.
How Deep Can a CNC Router Cut?
It depends on the machine. For example, the cheapest CNC router machine on our list, the Sainsmart Genmitsu 3018 Pro, can cut 45mm deep on compatible materials. But the Inventables X-Carve, a higher-end machine, has a z-axis range of 4.5 inches — much deeper.
The machine's Z-axis will generally show you how deep the CNC router can cut.
For more related topics, here are some articles we recommend: