In this article, I review the Sainsmart Genmitsu 4030 PROVerXL, a CNC router designed as a larger alternative to Sainsmart's popular 3018 Genmitsu machines.
If you're looking for a hobbyist CNC router, the vast amount of choice available these days can make deciding on the right machine a bit of a challenge.
So to provide a helping hand, I'm putting my experience of working with many different routers to good use, by reviewing popular machines and revealing their pros and cons.
Review Summary
THE REVIEW
Sainsmart Genmitsu 4030 PROVerXL
Very stable and durable router
Module design that's easily upgradeable
Offline controller sold separately
Available at:
Sainsmart is best known for its 3018 series of CNC routers, the most recent being the 3018 PROVer.
These are among the most popular hobbyist desktop routers due to their great value for money, good stability, range of upgrades, and offline control – among other features.
Having reviewed the 4030 PROVerXL, which retails for around ~$1,030, I found this router offers all that's great about its smaller predecessors, but with the added benefit of a larger working area.
That's not the only upgrade, though. With an improved control box and drive system, a higher-powered spindle, and a variety of upgrade options, this is probably Sainsmart's most impressive router yet.
For the full picture, this Sainsmart 4030 PROVerXL review explains every aspect of this CNC router in detail, including the build, spindle, software, controller, linear motion, and more.
CNCSourced is reader-supported. When you buy through links on our site, we may earn an affiliate commission. Learn more
Size & Working Area
The main selling point of the 4030 PROVerXL is the significantly larger working area it offers compared to Sainsmart's better-known 3018 machines.
While the smaller models have a cutting area of 300x180x45mm, with the 4030 you get 400x300x110mm worth of space, which is a big upgrade.
While this is still on the smaller side when compared to many other routers, it's great for the casual hobbyist or beginner looking for a slightly larger working area than what 3018 machines offer.
The entire footprint of the 4030 PROVerXL is 641×755.5x580mm and it weighs 57lb, so it's still compact enough to easily fit in most home workshops (where space is at a premium), and light enough to be relatively easy to move around.
57lbs is around 25kg if you're non-American, which while no small load, is still movable – especially if you've got help.
Build & Stability
Like its predecessors, the 4030 PROVerXL has an all-aluminum frame that offers exceptional sturdiness, durability, and stability, which helps you achieve accurate cutting.
The frame is really well constructed and overall is very impressive. The kit comes with an MDF spoil board and four clamps you can use to safely secure your workpieces.
What makes the 4030's build unique in comparison to other Genmitsu models, though, is the rigid C-beam structure.
This has been implemented to make it easier to configure different size spindle clamps and to add working area extensions, which we'll look at in more detail further down this review.
Another difference between this router and the 3018 PROVer is that there are no acrylic safety baffles on the 4030, so bear in mind it's going to be a bit messy and you should wear goggles while operating it.
However, you can purchase a dust shoe for $56 that has high dust removal efficiency for safer and cleaner machining.
Spindle
This CNC router comes with a 300W spindle preinstalled.
It's a well-made spindle that's manufactured by Sainsmart and is resistant to overheating. It has a maximum speed of up to 12,000 RPM, providing plenty of power for cutting a wide variety of soft materials.
This is actually a significant upgrade to the 3018 PROVer, which uses a 775 spindle with a max RPM of 10,000.
The higher RPM of the 4030 PROVerXL means more powerful and smoother cutting, with a really impressive cutting speed of up to 2,000mm/min.
The kit actually also comes with an additional aluminum router mount. It's compatible with the DeWalt DWP611 which you can pick up for $159, a more powerful router that makes it easier to cut harder materials, as I explain below.
Compatible Materials
Thanks to its sturdy frame and powerful spindle, the 4030 PROVerXL is suitable for cutting a wide variety of soft materials. These include wood, plastic, foam, MDF, vinyl, and composites.
It's also possible to cut aluminum and other soft metals with this benchtop CNC router.
However, bear in mind that as this machine is not specifically designed for metal milling, you're going to need to have the right conditions in order to effectively cut metals.
For example, one user who tried milling aluminum with the 4030 said they found it slow and difficult without lubrication.
The solution they came up with was it make their own recirculating system with a peristaltic pump, which they said made up the process much easier.
Another option is to add the DeWalt DWP611 router to the 4030 PROVerXL. This is a 1.25HP router with an RPM range of 16,000 to 27,000, so it's much better suited to precise and fast aluminum cutting.
To get an idea of the smooth cutting and precision the 4030 PROVerXL offers with different materials, this video shows it in action and wood and acrylic, while another user shows you can even make inlays with it, something that's not usually possible with affordable CNC routers.
Axis Motion
This CNC router uses a lead screw mechanism to drive movement on the axes.
There's a dual drive screw on the Y axis and an optical axis driver on the Z axis, which provides more stability than the traditional v slot screws used on many other budget CNC routers.
Another benefit of the optical endstop axes is that it prevents them from crashing together, and also makes it easy to auto-home your machine.
Whereas the 3018 series of Gemitsu routers move the workbed instead of the gantry, the 4030 has a fixed workbed and the gantry moves along the new C-beam frame.
Controller & Electronics
The CNC controller used in this desktop router is an Arduino board with GRBL 1.1 firmware (note that you shouldn't upgrade the firmware, overwise the board will no longer work).
The controller has actually undergone a sleek redesign, with it now safely encased within a box that has easy access buttons for booting up, controlling motor speed, pausing work, and making emergency stops.
It has also neatly organized cable management that makes clean up nice and simple.
One downside I came across when conducting my Genmitsu 4030 PROVerXL review is that, unlike the 3018 PROVer, this model doesn't come with an offline controller included in the kit.
You can still buy one separately for around $51, so it's not particularly expensive, but I was a bit surprised to see that Sainsmart decided to not include it with the kit.
I'd recommend going for the offline controller if you decide to purchase this machine though.
All you need to do is insert an SD card with your g code then you can easily jog the machine and turn the spindle on and off without needing a PC.
It also means your work won't be ruined if your PC were to crash. Plus, it's actually a bit of an upgrade on the previous 3018 offline controller, with a larger 2.4" display.
The 4030 uses Nema 23 stepper motors with Toshiba TB6S560 drivers.
There are quality high torque motors that are used in many good hobbyist routers, and they're engineered to minimize vibration and noise, so it's good to see Sainsmart add these into its 4030 machine.
The Y axis has two stepper motors to move the gantry smoothly, a feature typically only seen in more expensive routers.
Software
As the 4030 PROVerXL's control board is based on GRBL 1.1, you can use it with a wide variety of different GRBL-based software.
The machine actually comes with a free three-month subscription to Carveco Maker, a popular CAD/CAM software that can be used to create designs and then convert them into g code.
There's also the option to go for a 12-month Carveco Maker subscription when you buy the 4030 for an extra $152. After your subscription is up it costs $15 per month to keep using Carveco Maker.
Carveco Maker can't be used to send g code to your machine or control it – for that you need a separate control software like GRBL Candle or GRBL Control. We take an in-depth look at the top programs in our CNC software guide.
While there's a version of the 3018 PROVer that's compatible with the professional Mach3 software, unfortunately, this isn't the case with the 4030.
Upgradability
If you read my Sainsmart Genmitsu 3018 Pro review, you'll find that one of the aspects I liked most was the variety of easy upgrades available, and it's a similar story with the 4030 PROVerXL.
One of the most interesting upgrades available for this machine is the 6060 Y axis extension kit, which you can buy on the Sainsmart website for $355.
This turns your working area into a 600x600mm space, or 2ft by 2ft, so you get a significantly bigger area.
Plus, thanks to the modular design of the Genmitsu 4030, it's easy to add and remove the extension kit for when you want to work on different-sized projects.
Another upgrade you can make is to add a laser module, something that's always been popular among users of 3018 series machines.
Sainsmart has made a laser module specifically for the 4030 that you can pick up for around $130.
It's a powerful fixed-focused laser with a working life of 10,000 hours that turns your 4030 PROVerXL into an effective engraving machine for wood, aluminum, plastic, and other soft materials.
Assembly
One of the things that makes Sainsmart's 3018 Genmitsu machines so popular with beginners is how easy they are to put together, and even though the 4030 is a lot bigger, I found that it's the same story with this router.
It has a modular design in which the three axes all come preassembled along with the wiring, so all you need to do is put everything together – something which can be done in as little as 15 minutes.
The kit comes with a detailed instruction manual that explains everything really clearly, so this is definitely one of the simplest routers I've ever put together.
If you need a visual guide, I recommend checking one of the many YouTube videos available that show the 4030 PROVerXL build process, such as this one.
Customer Support
The Sainsmart customer support is decent, if not quite at the level of other manufacturers I've reviewed, such as BobsCNC and MakerMade. The service is still definitely acceptable, though – they have a 4.9 star rating on Trustpilot, for example.
If you need to get in touch you can fill out a contact form and someone will get back to you, though the website doesn't display a contact phone number like the aforementioned brands do.
One resource which is very helpful is the Sainsmart Wiki, which has guides, video tutorials, product comparison tables, and more.
Another nice thing is that the popularity of Sainsmart machines has led there to be a large and active community surrounding the brand, with a Facebook group with more than 20,000 members and various other forums online.
The Verdict
I was impressed by the Sainsmart Genmitsu 4030 PROVerXL and would definitely recommend it for beginners and casual hobbyists looking for a medium-size CNC router.
The name suggests it's just a larger version of the 3018 PROVer, but that's not the case.
Sure, the increased size is the biggest selling point, but Sainsmart has also made some impressive other upgrades. These include an improved control board, a more powerful drive mechanism, and a faster spindle.
Not every aspect is an improvement, though, such as now having to buy the offline controller separately.
But the above mentioned upgrades, alongside the impressive upgradeability, mean that overall it's a positive verdict.
If you want to get your hands on the Genmitsu 4030 PROVerXL, you can purchase it today through the Sainsmart website or on Amazon.
THE REVIEW
Sainsmart Genmitsu 4030 PROVerXL
Very stable and durable router
Module design that's easily upgradeable
Offline controller sold separately
Available at:
Sainsmart Genmitsu PROVerXL 4030 Alternatives
Want to explore some other top CNC routers before making your decision? Here are a couple of my favorite alternatives to the Genmitsu 4030 PROVerXL.
Sainsmart Genmitsu 3018 PROVer
As we've already touched on, the 3018 PROVer and 4030 PROVer are similar machines in terms of the components, stability, and accuracy, with the main difference being the size.
However, another big difference is the price, with the 4030 model costing almost three times as much as the 3018 PROVer.
So, if you like the look of the Genmitsu machines but are working on a smaller budget, the 3018 PROVer is the next best thing.
We earn a commission if you make a purchase, at no additional cost to you.
Read more: our full 3018 PROVer CNC review
---
BobsCNC Evo 4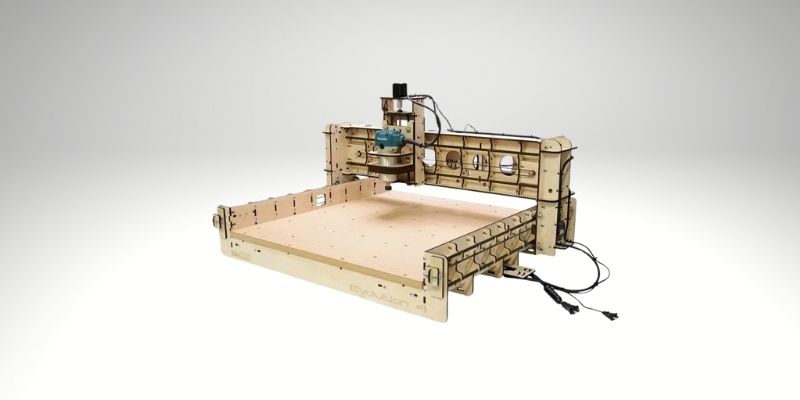 If you're looking for an even larger working area than the 4030 PROVer provides, I recommend checking out the BobsCNC Evolution 4, which you can read all about in my BobsCNC Evo 4 review.
To summarise, though, this machine offers a 610x610x85mm workspace at only a slightly higher price than the 4030 PROVer.
One of the main differences is that this router is made of wood rather than metal in order to keep the price low, but under the right settings can still achieve very accurate cutting with a repeatability of just 0.0002-0.00042".
BobsCNC Quantum CNC Router Kit
The Evolution series of machines, which stand out for their laser-cut wooden frames and somewhat unusual designs, with the Evo 4 being the best in the line, are possibly the most well-known products from BobsCNC.
We earn a commission if you make a purchase, at no additional cost to you.
---
Carbide 3D Nomad 3
I mentioned that the 4030 PROVerXL can cut aluminum under the right settings, but that even then it's not designed for cutting metals.
If that's what you're looking for, the Carbide Nomad 3 is a fantastic machine.
This is a very compact and small desktop mill that's perfect for cutting both soft and hard metals. It's super easy to assemble, is incredibly sturdy thanks to the industrial-grade frame, and comes with a great software package, so I recommend any budding metal cutter to check it out.
Specs
Frame size: 641×755.5x580mm
Engraving area: 400x330x110mm
Weight: 57lb
Frame material: aluminum
Spindle: 300W
Max spindle speed: 12,000RPM
Stepper motor: Nema 23
Supported OS: Windows XP, Windows 7, Windows 8, Windows 10, Linux, Mac OS
Power supply: 600W
Collet: ER11
Control: Online & offline (offline module sold separate)
Software: GRBL (comes with three month Carveco Maker subscription)
Connectivity: USB
We earn a commission if you make a purchase, at no additional cost to you.
---
Other articles you may be interested in: