On this page, I review the MakerMade M2, a large 4×8 CNC router at one of the most affordable prices you'll find for the size.
Anyone who's got experience using CNC machines knows it can be tricky finding the right one – you never quite know what you're going to get until you get your machine up and running.
That's why I've decided to put my many years of experience with CNC mills and routers to good use, by reviewing machines to give you an idea of whether or not they're right for you.
CNCSourced is reader-supported. When you buy through links on our site, we may earn an affiliate commission. Learn more
MakerMade M2 Review Summary
THE REVIEW
MakerMade M2 CNC
Very large working area for low price
Wall-mounted to reduce the need of a large space
My MakerMade M2 review found that this is certainly an interesting CNC machine that offers several benefits – namely a huge working area at a lower price than any other machine.
There are downsides, though, such as the need to build a frame and buy a router, neither of which come in included.
It's hard to really look at these as genuine faults, though, as they're necessary in order to keep the price so low. So, the M2 is one of those machines that's great for people who are going to make the most of what it offers, but it's not going to suit everyone.
For a more detailed look at the benefits and limitations of the MakerMade M2, make sure to keep reading.
We'll take a deep dive into every aspect of the machine, and if you feel it's not for you once we're done, we take a look at some top alternative routers at the bottom of this page.
Size & Working Area
There's no doubt that the working area is the standout aspect of the MakerMade M2.
It provides a massive 4ft x 8ft workspace, so you can work on much larger projects than you can do with most other hobbyist machines.
For example, this router is popularly used for making large signs and advertisement boards, as well as furniture like cabinets, but it can also be used for more intricate projects like guitars.
Now, there are plenty of 4ft x 8ft routers out there, but the M2 is by far the most affordable.
Most go for thousands and routers of this size are generally reserved for professional settings. The reason the M2 is so affordable is because MakerMade's vision is to make high-quality CNC machining available at more economical prices.
The first machine it produced in this vein was the Maslow CNC, another 4×8 router that was developed as part of a Kickstarter campaign in 2016. The M2 is the upgraded version of the original Maslow.
Build & Stability
The first thing you realize when you look at the M2 is that it looks very different from most other CNC machines.
This is because it's a wall-mounted router, which is ideal as it allows hobbyists to fit a 4×8 working area into small home workshops that otherwise wouldn't be able to accommodate such a large machine.
So whereas you typically lay a workpiece flat when you use a CNC router, you need to set up the M2 upright and at a slight angle.
It's a pretty basic design that's built for optimum affordability – in MakerMade's own words, this machine is for "weekend warriors, side hustlers, and scrappy business owners".
Unfortunately, one downside is that the M2 kit does not come with a frame.
This means you either need to build one or buy one if you find a suitable frame, although most people choose the former option.
You'll need wood and hardware, and probably a couple of days to get it done if you don't have any experience with woodworking. There are various guides on how to assemble a frame available on the MakerMade website, and we take a closer look at the process further down.
Spindle
Unlike most CNC machines, the MakerMade M2 doesn't come with a router or spindle, though it does come with a 71mm router clamp.
You can add a router to your package when you purchase the machine, specifically a 71mm Bosch Colt 1HP PR20EVSK-RT router which costs around $104.
We earn a commission if you make a purchase, at no additional cost to you.
Alternatively, MakerMade lists DeWalt 611 1.25HP and the Makita 1.25HP as recommended routers for the M2.
Popular Budget Router for Woodworking
We earn a commission if you make a purchase, at no additional cost to you.
It also offers a 91mm router clamp for the machine, for which it recommends the Ridgig 2HP, DeWalt 816 2.25HP, and Bosch 2.25HP routers. As the M2 accommodates smaller routers then than Maslow, it's a lot quieter, particularly on lower-speed settings.
The router needs to be attached to the "sled", which also supports the Z axis.
The sled is made of plywood and has metal hardware and metal stud mounts for the frame. It weighs around 23lb when fully assembled.
There are parallel rails on the sled to hold the Z axis as well as a universal dust collector port, so you can connect it to any standard dust collector.
You'll also find two velcro straps on it – these are for attaching something weighing between 8-10lb to help move the sled and keep the router bit in place while cutting. Most people use bricks or free weights for this purpose.
Compatible Materials
This 4ft x 8ft CNC router is best suited to cutting and engraving soft materials, particularly wood.
You can also use it with a wide range of other materials, such as plastics like acrylic, foam, and soft metals like aluminum.
However, as is the case with many hobbyist CNC routers, the M2 is not an ideal solution for aluminum cutting, or for use with other soft metals like copper and brass.
It is possible to cut these materials using the M2, but it's going to be a fairly slow process and you may struggle to achieve high precision.
There are some users who have achieved respectable results when using the M2 to machine aluminum sheets, though. You're just going to take several steps and be extra careful in order to do so, such as carefully anchoring the subject material, selecting the right bit, and cleaning the sled between cuts.
Check out our guide to CNC machines for aluminum if you're looking for an effective way to cut soft metals.
Axis Motion
As you may have come to expect having read the preceding paragraphs, the M2 has a pretty unique linear motion system.
On this CNC machine, the sled and router are moved on the X and Y axis by chains that are driven by DC motors and sprocket wheels, which are attached to the top of the frame.
The motors are low torque, but there is a gearbox to help increase the torque.
The standard kit comes with an 11" inch chain which is suitable for mini and standard frames, as explained on the M2 resources page. You'll also get a tension bungee spring to prevent loosening.
If you want to construct an XL frame, you need to buy a 15" chain separately.
The Z axis is an extruded aluminum frame that's driven by a lead screw and linear guides, which are in turn driven through a 0.01mm resolution belt by a stepper motor.
The router height is adjusted by the g code, with a maximum 3.8" of Z axis travel. However, as some people have pointed out, the extruded frame means you can extend the Z axis by drilling some additional extruded aluminum onto it.
Overall, the M2 can achieve a maximum cutting accuracy of 0.005", which is very precise, and a cutting speed of 40 inches per minute.
Electronics
The M2 is based on an Arduino control board that uses GRBL 1.1 firmware, called the M2 DUE Board.
It's a pretty impressive board, particularly when compared to the Maslow 1.2 board used in the M2's predecessor.
For starters, it's significantly faster – up to 40% so.
It also makes for improved cutting precision, simplified calibration, and an onboard memory bank that means you don't need to constantly calibrate the machine. It also allows you to automatically resume cutting where you left off in case of connection loss, which is always really helpful.
Control
This CNC machine isn't compatible with offline control, so you can only operate by using GRBL-based software to send g code to the Arduino board.
You need to connect it to your PC via the micro USB port, and the kit comes with a USB to micro USB cable for this purpose.
Software
MakerMade has created its own CNC control software, Makerverse, which you can use to control the M2.
It's completely free and open source, and the software is based on the GRBL software CNCjs, having been modified to suit the unique specifications of the M2.
This program is built with the beginner in mind, so it's very user-friendly and is a good introduction to CNC control software. There are some really useful features, such as the ability to automatically calibrate the router and jogging keys you can use to move the router.
It's available on Mac, Windows, and Raspberry Pi, and while it's browser-based, you can use it without an internet connection.
Note that you cannot use Makerverse to create designs or convert them to g code – it's just used for sending g code to your CNC machine and controlling it.
So, you'll need a separate software for the other jobs – Easel is a popular option among some M2 users.
Upgradability
The unique build of the MakerMade M2 means it's not as easily upgradable as your standard CNC router or mill.
However, one upgrade you can make is by adding a laser module kit.
We earn a commission if you make a purchase, at no additional cost to you.
The kit is available through the MakerMade website and is manufactured by J Tech Photonics, which has also made laser extensions for other popular CNC routers like the Bobs CNC Evo 4.
It's available in both 71mm and 91mm versions and both cost around $449.
MakerMade recommends using LightBurn software to operate the laser, and it provides guides on how to install the software, assemble and laser, and calibrate it on its laser resources page.
You can use it to engrave virtually all soft materials, including aluminum and even harder metals like stainless steel.
Assembly
As we've already touched on, assembling the M2 isn't as quick or straightforward as it is with other, smaller CNC routers.
This is mainly due to the fact that you need to build a frame.
It's really tricky to say how long this takes as it's different for each person – if you're an experienced woodworker you can probably get it done in four or five hours, but if you're not it could take a day or two.
You also need to connect the DC motors and power adaptors to the controller board and install the software, but this is more simple and can be done in an hour or two.
It'll take some time to assemble the Z axis and integrate it with the sled.
You need to be particularly careful when calibrating the Z axis, as this will have a big impact on the accuracy you can achieve with the machine.
Make sure you read through the M2 assembly guide and calibration guide to ensure you set up your machine in the best way. There are also helpful videos on the MakerMade YouTube channel.
Customer Support
One thing you can be sure of if you buy the M2 is that you'll benefit from great customer support.
You can get in touch by filling out a contact form, emailing [email protected], or calling 888-696-0913.
There's also an extensive support page where you'll find many resources, including FAQs and past discussions on issues. There are even weekly Q and A sessions with the MakerMade founder and CEO, Patrick Kinnamon.
The M2 also comes with both a one-year warranty and 30-day return policy, which not all CNC manufacturers offer.
In addition to the great customer support, I also really like the strong community aspect of MakerMade machines.
This started with the Maslow, a "community-driven open source project", and while MakerMade now has a more professional, business-like feel, you still get the same community aspect.
Read more: Maslow CNC review
There's a community forum page with links to various forums focused on CNC, laser cutting, 3D printing, and software, where you can discuss topics with various hobbyists.
A more unique aspect is the community marketplace, which is currently undergoing an update, but when it's back up and running allows you to sell your own projects and purchase other users'.
There are still some free projects available on the marketplace page to help you get started with the M2.
The Verdict
The MakerMade M2 is certainly one of the more unique machines on the market.
While it won't suit everyone, it can certainly be a useful addition to your workshop provided you use it in the right way and are aware of its quirks.
Of course, the highlight is certainly the huge 4ft x 8ft working area which you get for significantly less money than with virtually any other 4×8 CNC machine on the market.
That's not the only benefit, though.
The wall-mounted build means it doesn't take up loads of space, the electronics are impressive, and MakerMade offers quality customer service alongside a great user community.
There are downsides, too – namely the requirement to build a frame and buy a separate router.
This doesn't make it a bad machine, just one that will suit only certain people, namely hobbyists and small business owners looking for a large workspace at an economical price.
If you like the sound of the M2, you can pick it up from Amazon today for just $1,198.
THE REVIEW
MakerMade M2 CNC
Alternatives
Not quite sold on the MakerMade M2? Here are a couple of other top CNC routers that tick some boxes the M2 doesn't.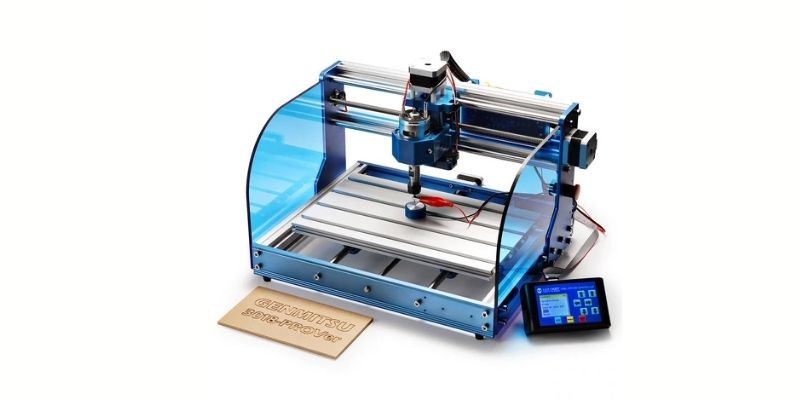 The Sainsmart Genmitsu 3018 PROVer is one of the most popular hobbyist CNC routers on the market, and while it's a lot smaller than the M2, it's a really solid machine.
It's a 3018 router, meaning you get a workspace of 300x180x45mm, so it's super compact and ideal for home workshops.
The PROVer offers fantastic stability thanks to its aluminum frame, solid electronic components, and a great offline controller. It's also super easy to put together and is a really beginner-friendly machine when it comes to adding upgrades.
We earn a commission if you make a purchase, at no additional cost to you.
Read more: Sainsmart Genmitsu CNC 3018 PROVer review
---
BobsCNC Evo 4
The BobsCNC Evolution 4 is another machine that makes some sacrifices to provide a large working area – 2ft by 2ft – at a low price.
This router has a wooden frame rather than metal, which helps keep the price low.
While this does result in slightly less stability and durability, this can be kept so minimal that it has essentially no effect, as we've covered in our BobsCNC Evo 4 review.
Overall, this is a great choice if you need a decent working space but want a full router kit that's easier to assemble than the M2.
BobsCNC Quantum CNC Router Kit
The Evolution series of machines, which stand out for their laser-cut wooden frames and somewhat unusual designs, with the Evo 4 being the best in the line, are possibly the most well-known products from BobsCNC.
We earn a commission if you make a purchase, at no additional cost to you.
Read more: BobsCNC Evo 4 Review & Specs
FAQs
Specs
Engraving area: 4ft x 8ft x 3.8"
Weight: 47lb
Frame material: wood
Spindle: Bought separately (supports 71mm & 91mm clamps)
Max cutting speed: 40ipm
Max accuracy: 0.005"
Motors: stepper & geared
Supported OS: Windows, Mac, Linux
Power supply: 100-240V
Collet: 1/8" – 1/2"
Control: Online
Software: GRBL
Connectivity: micro USB
Other articles you may be interested in: