This is a review of the Sainsmart Genmitsu 3018 PROVer, a 3 axis CNC router that's the direct upgrade on Sainsmart's popular Genmitsu 3018 PRO router.
There are more hobbyist CNC routers available these days than ever before, which is great as it gives you lots of choices, but it also means finding the right router for you can be tricky.
I've been working with CNC routers for many years and have used both good and not-so-good machines, so to give you a hand, I've carried out an in-depth Sainsmart Genmitsu 3018 PROVer review to reveal its strengths and weaknesses.
CNCSourced is reader-supported. When you buy through links on our site, we may earn an affiliate commission. Learn more
Sainsmart Genmitsu CNC 3018 PROVer Review Summary
THE REVIEW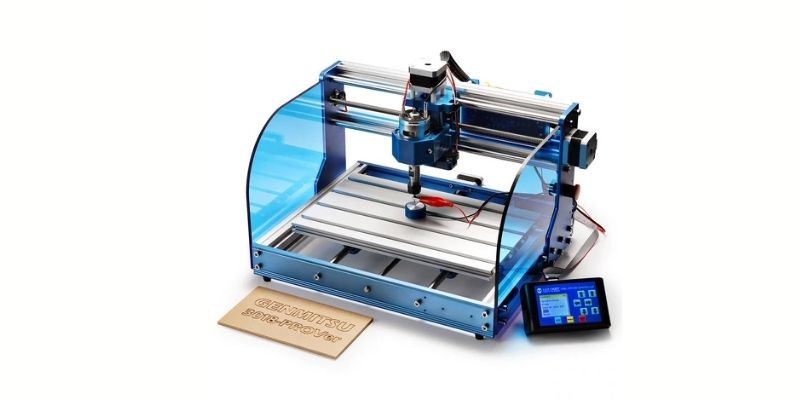 Sainsmart Genmitsu 3018 PROVer
Very stable all-aluminum frame
Intuitive offline controller
Limit switches & emergency stop
More expensive than other 3018 routers
This is one of the most popular and highly rated hobbyist CNC routers, with a 4.3 star rating on Amazon. Having conducted a thorough Genmitsu 3018 PROVer review, it's easy to see why.
The router, which retails for $349, builds on what made its predecessor so popular with many improvements and more advanced features. With great stability, power, performance, and usability, this is one of the most impressive hobbyist routers I've ever reviewed.
If you're wondering whether the Sainsmart Genmitsu 3018 PROVer is right for you, this review covers everything you need to know. We'll examine its stability, precision, usability, durability, electronics, control, compatible software, and more.
Continue reading to learn about what the Genmitsu 3018 PROVer does well and what its limitations are.
Size & Working Area
This router has a working area of 300x180x45mm – which is where the '3018' comes from.
This means it's best suited to small hobbyist work; some of the most popular projects are making small home decorations out of wood and plastics.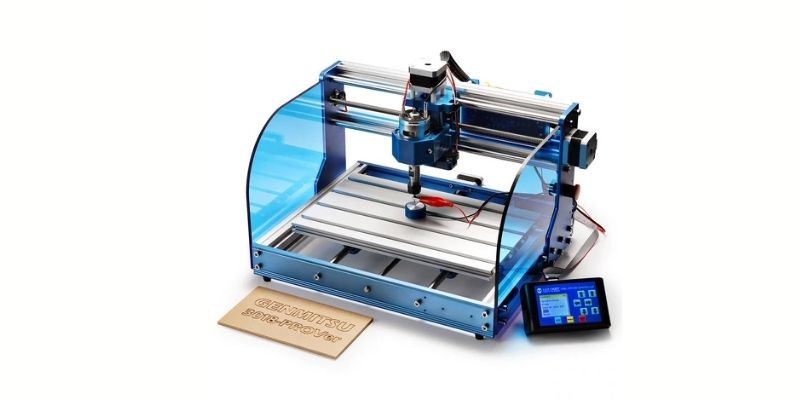 The whole frame is 400x330x240mm, so it's the perfect size for placing on a desktop or benchtop in your home workshop.
It weighs 21.6lb, which makes it around 6lb heavier than the 3018 PRO due in part to the added safety baffles, but it's still light enough to make it easy to move.
Build & Stability
One of the best things about the Sainsmart Genmitsu 3018 PROVer is that it's a very stable and robust router that offers highly accurate cutting.
It has a full aluminum frame, rather than the part aluminum, part plastic frame of its predecessor, making it super sturdy with no vibration.
The rubber feet on the bottom provide added help by absorbing vibrations for more stable machining.
As other users have pointed out, the rubber feet also prevent the router from damaging your desk or benchtop. The Z axis components are made of high-strength ABS, which is a really durable material that adds to the stability of the PROVer.
Another great aspect of this CNC router is the acrylic safety baffles on each side.
Not only do these provide a safety barrier by preventing chips from being flung outwards, but they also help contain dust and make cleaning up much easier.
Spindle
Like its predecessor, the Genmitsu 3018 PROVer CNC router kit uses Sainsmart's own 775 spindle which features in most routers from the manufacturer.
This spindle can work at speeds of up to 10,000RPM, so it's easily able to cut softer materials such as plastics and wood.
There's a 24mm mount on the Z axis for mounting a spindle, so if you want to swap or upgrade the CNC spindle, make sure you use one that's the right size.
The 3018 PROVer kit comes with a pre-attached extension rod with an ER11 collet, as well as 10 bits with a 20-degree cutting angle, 3.175mm diameter, and 0.1mm tip.
You can use bits with a diameter between 0.5 and 7mm with this spindle.
Compatible Materials
This router is best suited to cutting soft materials, most commonly wood and plastic but also:
PCV
PCB
Acrylics
MDF
Bakelite
Leather
Carbon fiber
Graphite
Vinyl
Plexiglass
Bamboo
You can use it to cut soft metals such as aluminum, brass, and copper, but it's going to be time-consuming and you're not going to get a great result using the standard 775 spindle.
Luckily, there's an easy solution to this in the form of the Genmitsu GS-775M spindle.
This is a powerful spindle made by Sainsmart that's a 'drop in' spindle for the 3018 PRO and 3018 PROVer, meaning you can easily swap it in without any modifications.
With the GS-775M, you can reach 20,000RPM, so you can achieve much cleaner and more precise aluminum cutting. You can pick up the upgraded spindle for this aluminum cutting machine for around $40.
Another option is to add the Genmitsu aluminum spindle holder for about $100, which will help to reduce noise and vibration while working on aluminum for more precise, faster metal cutting.
However, this has a 52mm spindle mount, so you'll need to pair it with a different spindle.
Axis Motion
Like the 3018 PRO, the linear motion in the PROVer is driven by lead screws on each axis.
Whereas the majority move the gantry to move the Y axis, the PROVer moves the work bed. Lead screws are known for being prone to backlash, but for hobbyist engraving projects it's not enough to have any real effect on your work.
Electronics
The Genmitsu 3018 PROVer runs on an Arduino controller board that uses GRBL 1.1F, the most widely used firmware on 3018 routers.
This board is actually very popular among CNC enthusiasts who build their own DIY machines from scratch, which shows that it's a reliable option.
It uses Toshiba TB6S109 drivers, which are more powerful, durable, and silent than the drivers used on many other budget routers – this is one of the main differences between the 3018 PROVer and the 3018 PRO.
These are coupled with added Optocouplers that help eliminate signal noise and protect the control board from hard stops and damage, making this router a great choicer for longer, more demanding hobbyist projects.
The PROVer also has limit switches and an emergency stop button, something the Pro doesn't.
This is good for beginners it means stepper motors won't burn out if the g code tries to push the machine too hard. As other experienced router users have pointed out, this is a huge help until you have a solid understanding of homing and virtual limits.
Control
If you're looking for a cheap CNC router with a smart offline control system, the Genmitsu 3018 PROVer comes up trumps in this regard.
There's a 1.8" touch screen on the offline Sainsmart controller that displays readouts and provides complete manual control over the router, as you can control each axis using the buttons.
If anything goes wrong, you can push the emergency stop button to immediately shut the router down.
If you want to use the offline controller, all you need to do is put the g code you want to run onto an SD card, insert it into the controller, and you're good to go.
As this allows you to operate the router without a PC, it also means your work won't be put at risk by a potential computer crash. So, you can carry out router work in a smoother, more efficient way without the risk of damaging your machine or workpiece.
Software
The Gemitsu 3018 PROVer's firmware is GRBL 1.1 – the latest version on GRBL – which runs on an Arduino board.
This means you can use any GRBL-based control software to operate the router. It comes set up with GRBL CANDLE – check out our guide to CNC software to learn about alternative programs.
In terms of CAD/CAM software, you get a three-month subscription for Carveco Maker for free when you purchase a 3018 PROVer. After the three months are up, it's $15 a month to continue using Carveco Maker.
If you prefer to use free CAD/CAM software, FreeCAD, Inkscape, Easel, and Fusion 360 are all popular options.
It's worth mentioning that there is also a version of the Genmitsu 3018 PROVer that comes with Mach3 compatibility.
It's essentially the same machine, except that it can be used with the highly popular, professional-level Mach3 software, which is typically only compatible with higher-end CNC routers.
Upgradability
One of the things I was most impressed by when conducting my Sainsmart Genmitsu 3018 Pro review was the various upgrades that were possible with that router, and how easy it was to upgrade.
So, I was also very pleased when I discovered that it's the same story as the 3018 PROVer.
One of the most popular upgrades for this machine is the PROVer laser module, which will set you back around $163.
It's a fixed focus laser that's ideal for making really precise engravings, and as it's fixed focused the light spot is smaller than with adjustable focus modules, making it more powerful.
For example, Sainsmart says that this laser module can cut 3mm linden wood in one pass, something that's not possible with adjustable ones.
It's also a really durable laser – you can use it for eight hours continuously without any light decay, and the total tool life is approximately 10,000 hours.
Another useful upgrade is the Sainsmart Y axis extension kit.
This kit, which costs around $61, converts the 3018 into a 3040 CNC router by increasing the Y axis movement to 370mm and the travel on the same axis to 320mm, allowing you to machine larger workpieces.
There are also various accessories available from Sainsmart, such as a Z probe that makes it easier to zero the Z axis.
Assembly
Another thing I really like is how easy the Genmitsu 3018 PROVer is to put together.
This is a DIY router that you need to assemble yourself, but the fact that the parts come preassembled means you can get up and running in just 20 to 30 minutes.
In comparison, some less user-friendly routers, including the 3018 PRO, can take as long as two hours to put together. The kit comes with detailed instructions, and you can get more help via the Sainsmart Wiki.
Customer Support
It's always recommended to go with manufacturers that offer a decent level of customer service, whether you're a beginner or experienced, and Sainsmart falls into that category.
There are loads of useful resources on the Sainsmart Wiki, ranging from guides and video tutorials to comparison tables of different products, so you can find most of the information you need there.
If you need to get in touch with customer support, you can fill out the contact form on the Sainsmart site, and the team is super helpful.
In fact, with a 4.9 rating on Trustpilot, they certainly outrank most other producers of cheap CNC machines when it comes to customer support.
There's also an active community on Facebook with over 20,000 members where you can discuss all-things-Genmitsu.
The Verdict
Having conducted this Sainsmart Genmitsu 3018 PROVer review, I've no doubt that this is one of the finest hobbyist routers on the market.
It offers practically everything you could ask for in a CNC router.
The all-aluminum frame makes it really stable so the machine can achieve accurate cutting, while the internal electronics provide plenty of power for high-performance machining.
With the ability to easily add a laser module and a Y axis extension, it also gives you the scope to widen your work. Not to mention it's a really intuitive router that's super simple to put together.
This is definitely the best CNC router under $500 I've come across, and it's perfect for beginners and casual hobbyists. Plus, with the option of a Mach3 compatible version, it also has plenty to offer more experienced CNC enthusiasts.
If you think the Sainsmart Genmitsu 3018 PROVer is the CNC router for you, you can easily buy it today from Amazon.
THE REVIEW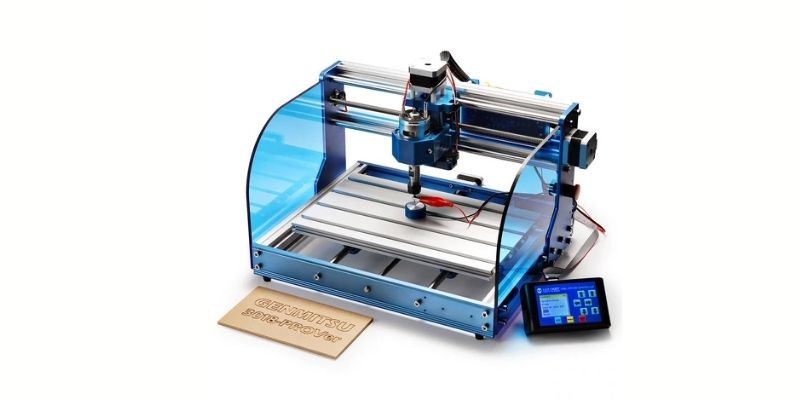 Sainsmart Genmitsu 3018 PROVer
Sainsmart Genmitsu 3018 PROVer Alternatives
The Genmitsu 3018 PROVer machine is a great hobbyist router, but that doesn't mean it suits everyone down to the ground.
Here are some other great CNC routers to check out if you're looking for something different.
There's no doubt the 3018 PROVer is a big improvement on the original 3018 PRO, but if you're looking for a more affordable router that still offers decent quality, the latter is a good choice.
The frame is part aluminum and part plastic but still offers good stability, and the 3018 PRO offers many of the features that make the PROVer so good, including easy upgradability, a smart offline control module, and great value for money.
Read more: Sainsmart 3018 Pro vs 3018 PROver
There are very few downsides to the Genmitsu 3018 PROVer in comparison to similar machines, but one limitation is the small working area.
If you want a significantly larger working area without spending thousands, the MakerMade Maslow CNC is certainly one to consider.
This wall-mounted router offers a huge 4×8 working area at the most affordable price on the market, due to MakerMade's commitment to making high-level CNC work available to everyone.
Read more: Maslow CNC review
BobsCNC Evo 4
The BobsCNC Evo 4 is one of the most popular CNC routers on the market and is a great choice if you need a larger engraving area, thanks to the 610x610x85mm workspace.
That's not the only benefit of this router, though – it's known for its fantastic stability, thanks in part due to the all-wood, laser-cut frame.
The repeatability is just 0.0002-0.0004", so you can achieve really precise cutting and engraving with this machine.
Read more: BobsCNC Evo 4 review
Specs
Frame size: 400x330x240mm
Engraving area: 300x180x45mm
Weight: 21.6lb
Frame material: aluminum
Z axis component material: ABS
Spindle: 775 motor, 24V
Max spindle speed: 10,000RPM
Stepper motor: 1.3A, 12V, 0.25 Nm torque
Supported OS: Windows XP, Windows 7, Windows 8, Windows 10, Linux, Mac OS
Rated power: 60W
Max power: 120W
Power supply: 24V/4A
Collet: ER11
Bits: 20 degree, 0.1mm tip, 3.175mm diameter
Control: Online & offline
Software: GRBL (comes with Candle & three-month Carveco Maker subscription)
Connectivity: USB
Other articles you may be interested in: