Deciding on the best router for your CNC machine can be tough, not least due to the vast amount of options out there. There are also many factors to consider, from speed range and power to size and price. 
In this article, we review the best routers for CNC machines to help you find the right model. We'll take a look at routers for different applications, routers designed to work with different materials, and models from various price ranges, and we also have a buying guide breaking down the factors to consider when picking a router for your CNC needs.
TOP PICKS
Best Router for CNC – Review
CNCSourced is reader-supported. When you buy through links on our site, we may earn an affiliate commission. Learn more
Carbide Compact Router – Cheapest Router for CNC Machines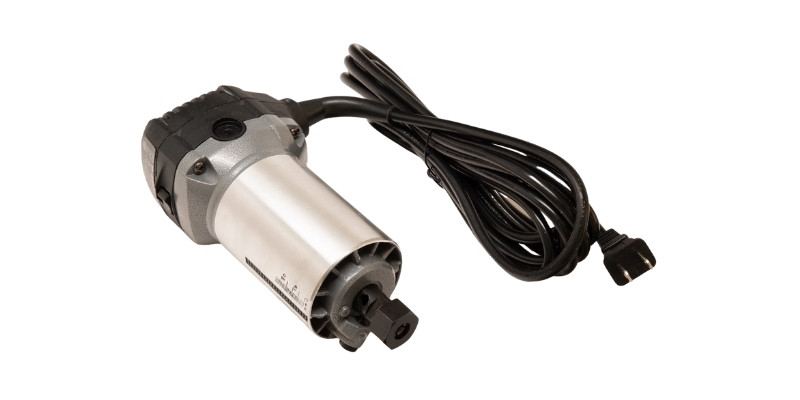 If you're looking for a cheap, no-thrills router for your CNC machine, the Carbide Compact Router is a solid and reliable choice.
This router is compatible with Carbide's Shapeoko 4 – one of the most popular CNC routers – but also any CNC machine that has a 65mm spindle mount, making it a good choice for portable router woodworking.
As the name suggests, this router strips away all the non-essentials and includes only what you need to get started with basic CNC work. Specifically, you get the router, a collet wrench, a 1/4 factory collet, two sets of replacement brushes, and Carbide's Precision Collet Set, which includes 1/4" and 1/8" collets.
This router is actually the only one on our list that accepts 1/8" collets. So whereas routers that have 1/4" collets can only be paired with bits ranging from 0.236-0.276" in diameter, with a Carbide Compact Router you can use finer tools with diameters ranging from 0.118" to 0.157". This is great if you need very fine router bits for intricate carving. 
Despite being one of the cheaper routers for CNC machines on the market, the Carbide Compact Router boasts an impressive speed range of 12,000 RPM to 30,000 RPM. The high range is ideal for cutting soft materials quickly, while the lower range means this router can also be used for aluminum cutting. 
The 1-1/4 horsepower rating is standard for a router in this price range and provides enough power for effectively cutting soft materials, woods, and non-ferrous metals. Overall, this is a good piece of kit that provides particularly good value for money. It even comes with a very long 12ft power cord, giving you plenty of freedom when it comes to positioning your CNC.
Cheapest Router for CNC Machines
---
Makita RT0701C – Best Affordable Router for Aluminum Cutting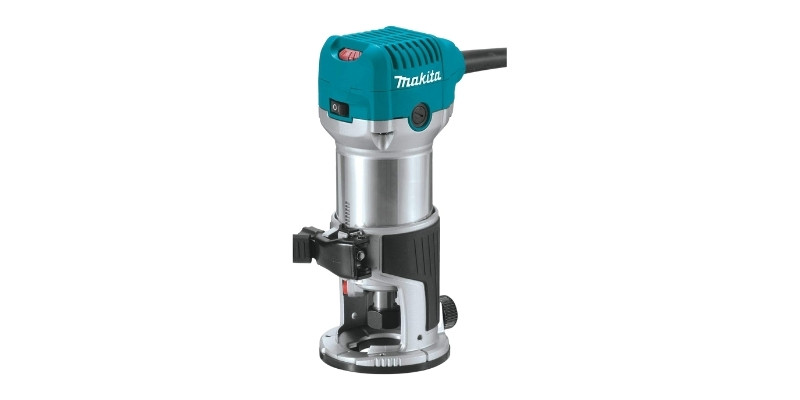 The Makita RT0701C is among the most popular CNC routers out there and is one of the most commonly found ones in CNC routers that come with a router included, and with good reason. 
This router is a great option if you want quality functionality without breaking the bank. It has a speed range of 10,000-30,000 RPM with six different speed settings: 10000, 12000, 17000, 22000, 27000, and 30000 RPM.
The wide speed range means it's suitable for working on a wide variety of different soft materials, such as plastics, wood, and non-ferrous metals like aluminum (which the lower RPM ranges are particularly useful for). The electric speed control keeps the speed constant to help ensure your projects run without any hiccups.
While it is possible to cut hard metals like steel with this router using the right settings and plenty of lubrication, it's not ideal. Check out the last router on our list for a superior tool for ferrous metal carving.
Made of heavy-duty aluminum, the router offers fantastic durability while still being light enough to use with NEMA 17 stepper motors as well as NEMA 23 motors – the ones most commonly found in hobbyist CNC machines.
The RT0701C also has some nice features designed to improve usability. For example, the body is slim and ergonomically designed for increased comfort if using the router by hand, and the soft start feature helps prevent any jerking during startup. Another nice feature is the smooth rack and pinion adjustment system that helps you set precise settings.
1/4 collets are compatible with this router for CNC, meaning you can use router bits with a shank diameter between 0.236" and 0.276". You need a CNC machine with a 65mm mount to pair with the RT0701C.
It's hugely popular with makers and DIY CNC fans, with over reviews across Amazon, maintaining an average 4.8 rating. You also get a 30-day return period and one-year warranty with this router, just in case you're not happy with it.
Best Affordable Router for Aluminum Cutting
---
Bosch PR20EVS – Best for Fast Cutting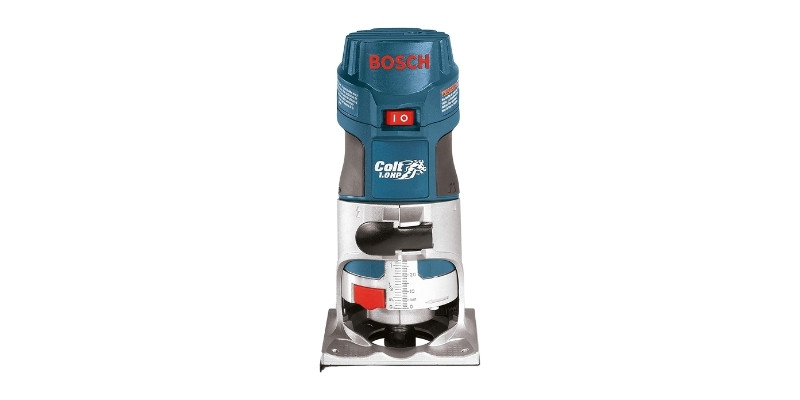 The Bosch PR20EVS is notable for its very high maximum RPM of 35,000, which is one of the highest speeds of all routers for CNC machines.
RPM has a big effect on two of the most important parts of CNC working – the materials you can work with and the speed with which you can complete projects.
While the minimum 16,000 RPM and low HP of this Bosch CNC router means it's not suitable for aluminum cutting, its maximum range means that it can greatly increase the speed you complete projects at when working with soft and light materials like plastics or soft woods. So, it can greatly improve your CNC's efficiency. 
On the other hand, bear in mind that this is a fairly low-power router that's not ideal for demanding projects or working with hard materials like metals. 
The PR20EVS is slightly larger than the Makita RT0701C and you need a 95mm mount in order to pair it with your CNC machine. This router takes 1/4" collets, while the 10ft long power cord is generous and gives you plenty of room to work around your CNC.
It also has some of the key features found in the best routers for CNC machines, including a soft start circuitry and constant response circuitry that maintains consistent RPM for cleaner cutting. The body is made of rigid aluminum that offers great durability and reliability. 
Like most of the other routers on this list, this Bosch CNC spindle comes with a one-year warranty as well as a 30-day return policy.
Best for Fast Cutting
---
Dewalt DWP611 – Popular Budget Router for Woodworking 
Another popular router widely used in hobbyist and small business setups is the Dewalt DWP611. Dewalt is one of the biggest American router brands and this is its most affordable model. 
In some ways, such as HP, collet size soft start function, and aluminum body, THE DWP611 is very similar to the Makita RT0701C, but there are some key differences. For starters, the DWP611 has a more limited variable speed range of 16,000-27,000 RPM.
This means that while the DWP611 is a fantastic woodworking CNC router, it's not suitable for cutting metals. However, it has a variety of useful features and functions that make it a great router in its own right. 
For example, the dual LEDs and clear sub-base help improve visibility while in operation, so you can better monitor your work. Another nice feature of this Dewalt CNC router is the D-shaped sub-base, which provides fantastic stability and flatness when running edge profiles. The soft starting motor has full time electronic feedback, ensuring constant motor speed while cutting.
Dewalt is slightly more generous than some other CNC brands when it comes to returns and warranties, allowing you 90 days to return the DWP611 and providing a 3 year warranty. This is a big plus as it provides you with three times as long warranty cover than you get with most other routers.
This is another router with extremely positive user reviews and a 4.8 star rating on Amazon. While the fundamentals don't stand out in comparison to its competitors, this is a fantastic woodworking router for CNC with some unique and innovative features.
Popular Budget Router for Woodworking
---
Bosch 1617EVS – Best Router for CNC for Metal Cutting
The second Bosch entry on our list, the 1617EVS is one of the German manufacturer's most popular routers. What primarily sets it apart from the two we've covered so far is the considerably larger 2.5 horsepower.
This, along with the very low 8,000 minimum RPM, makes the 1617EVS ideal for cutting both soft metals like aluminum and hard ones such as steel very efficiently and accurately.
It isn't just intended for metal cutting, though. With a maximum RPM of 26,000 coupled with the high HP, this router cuts through hardwood and plywood incredibly smoothly, making it an all-round excellent router for CNC machines.
Another advantage of using the 1617EVS is that larger, more powerful routers such as this are compatible with 1/2" collets as well as 1/4" ones. This allows you to use stronger and thicker bits that are more suitable for metal cutting and are considerably more durable than thinner bits. The router itself is also very durable, thanks to impressive aluminum construction.
There are some other nice features that make the Bosch 1617EVS one of the best routers for CNC machines. These include the constant response circuitry that helps to stabilize start-up torque for smooth starts, as well as the microfine bit-adjustment system that makes it easy to achieve fast and accurate bit adjustment.
Bear in that at 6" wide and weighing 11lb, this is a heavy-duty metal router that requires a larger and heavier CNC machine than the likes of the Makita RT0701C and Dewalt DWP611.
Best Router for CNC for Metal Cutting
---
What to Consider When Buying a Router for Your CNC – A Buying Guide
Small differences between routers can have a big effect on your work – here are the key factors to consider to ensure you choose the best router for your CNC machine.
Speed range 
One of the most important factors to look for when buying a router for your CNC is the speed range, measured in revolutions per minute (RPM). The speed range has a big impact on your router's effectiveness at cutting various materials.
For example, low RPMs are better for cutting metals like aluminum. So a router with a low speed range of 10,000 RPM, such as the Makita RT0701C, is going to be a better choice than one with a higher limit like the Dewalt DWP611.
The speed range also, of course, affects how fast you can complete projects. Most routers have a max RPM of at least 25,000 RPM, but if you're working with soft materials and want to speed things up, you may want to consider one with 30,000+ RPM.
Power 
The horsepower of your router determines its strength and suitability for cutting stronger materials. Higher horsepower helps maintain high torque at low RPMs, which is needed for cutting metals. 
Put simply, the higher the HP of your router, the cleaner it'll cut harder materials, and the more durability it'll have during challenging work.
Size & Compatibility
Routers come in various sizes, and many are designed for both manual and CNC use, so you need to make sure your router is going to fit your machine. To do this, check the width of your router is compatible with the mount of your CNC machine.
Also bear the weight of a router in mind. Heavier routers, such as the Bosch 1617EVS, will require heavier CNCs with powerful, high torque stepper motors in order to work effectively. 
Collet Size
Another factor to consider is the collet size, which determines the range of bits you can use with your router. Most low-to-medium power routers accept 1/4" collets, meaning you can use bits with diameters ranging from 0.236" and 0.276".
However, some larger, more powerful routers like the Bosch 1617EVS take both 1/4" and 1/2" collets. This allows you to use wider, thicker bits that are more suited to cutting hard metals like steel. 
On the other hand, routers that accept 1/8" collets, such as the Carbide Compact, allow you to use finer bits which are useful when working on more intricate projects.
Usability 
The above are the fundamentals to consider, but you should also bear usability in mind. This doesn't come into play quite as much as if you are using a router manually, but small features, such as the Dewalt DWP611's base LEDs, can greatly help to improve your experience and therefore your work.
Durability
Finally, it's important to consider a router's durability, particularly if you're using it for long, demanding work. Most routers use aluminum cases to protect the motors and generally offer good durability, but that doesn't mean they're all as well made as each other. 
It's always recommended to read user reviews and forums to get an idea of just how much tooling life you can get out of a router for CNC machines.
It's also worth checking warranty periods – for example, Dewalt offers a three year warranty whereas most other router brands offer just one year.
FAQs
What is the best router for CNC machines?
It's important to consider several factors when looking for a router for CNC machines, including HP, speed range, and collet size. To help you out, our guide reviews the best routers for CNC work on the market, including the Makita RT0701C and Dewalt DWP611.
Related Posts: