A bit is one of the most important parts of a CNC router – but the wide variety of different shapes, sizes, and functionality can mean it's difficult to know where to start
It's a decision you'll want to get right – the best CNC router bits will seriously improve the quality of your projects and the lifespan of your equipment.
I'd recommend the Mcwdoit 40 Piece End Mill Bits Set as the best router bit set for beginners, balancing precise cutting ability, resistance to wear and tear, and material versatility for an affordable price.
On the other hand, the Binstak 1/4" Wood Bit is a top pick for woodworking-specific applications. Its steel body, sharp carbide tip, and heat-resistant Teflon coating make it well-suited for tasks like trimming, slotting, and planing. Alternatively, the Silivn Engraving Bits set is an excellent option for beginners interested in engraving and lettering.
In this guide, I'll walk you through my hands-on experience with the best CNC router bits so you can make a confident choice.
We'll touch on exactly how CNC router bits work, the key differences between types, and what type of job each is best for.
Recommended CNC Router Bit Sets
Recommending a CNC router bit isn't particularly straightforward, as there are so many different options for different projects, so everyone's buying process is different. But here are some good CNC router bit sets to help you get started:
Mcwdoit 40 Piece End Mill Bits Set – Best beginner CNC router bit set
Pros
Great for beginners looking for an affordable set.
Offers precise cutting and good resistance to wear and tear.
Comes with four different types of bits, with 10 pieces of each.
Cons
Not suited for professionals.
The Mcwdoit 40 piece set is great if you're a beginner looking for an affordable bit set that can be used for a wide variety of different applications.
These are 40 1/8" end mills made of ultra-fine and very strong tungsten steel, offering precise cutting and good resistance to wear and tear.
There are four different types of bits in the set, with 10 pieces of each. These are ball nose bit 2 flute, flat nose spiral bit 2 flute, nano blue coat, and titanium coat router bits. You can use the bits of a range of different materials, including wood, plastic fiber, carbon fiber, aluminum, PCB, mold, and more. Each bit has a length of 38mm and a diameter of 3.175mm.
This set has a 4.5-star rating on Amazon from over 600 ratings and is popular among users.
Excellent Beginner CNC Router Bit Set
---
Binstak 1/4" Wood Bit – Good CNC router bit for wood & MDF
Pros
One of the best CNC router bits for wood.
A versatile tool that's really useful for carpentry.
Steel body and a sharp carbide tip for accurate, durable engraving.
Cons
Performance could be a bit better.
This is, without doubt, one of the best CNC router bits for wood. Not only can you use it on a CNC router, but you can also use it on handheld and portable table-mounted routers, so it's a versatile tool that's really useful for carpentry.
It has a steel body and a sharp carbide tip for accurate, durable engraving. One of the best things about this bit is that it has a Teflon coating, which is heat resistant and can help reduce resin build-up for easier cleaning. This bit is designed for heavy-duty use and has a long tool life, so it can handle demanding jobs.
The Binstak 1/4" wood bit is also a very versatile tool as you can use it for trimming, slotting, grooving, wood slab flattening, resurfacing, and for planing top surfaces.
As well as for wood, this is also a contender for the best CNC router bit for cutting MDF, and you can also use it on laminate, particleboard, plywood, and acrylic.
This is another bit with loads of great reviews on Amazon, so you can be sure you're getting a quality product for a great price.
---
Silivn Engraving Bits – Best V-bit set for beginners
Pros
Beginner-friendly set.
Can be used for both 2D and 3D engraving.
High-quality bits and are easy to use.
Another beginner-friendly set, the Silivin engraving bits kit consists of four 2 flute tools for different jobs. These are a 15-degree v-bit, a 20-degree v-bit, a 60-degree v-bit, and a 90-degree v-bit, so it's a great choice if you want to get into engraving and lettering and experiment with different levels of detail.
You can use these CNC bits for both 2D and 3D carving, and the sharp points of these well-made bits allow for precise working. The CNC router bits are made of tungsten steel, so they're strong and resistant. Each bit also comes with independent storage so they won't fall into each other and risk damage while you store them.
These are one of the highest-rated CNC router bit sets on Amazon, with a 4.5-star rating from over 180 reviews. Users say the bits are of high quality, easy to use, and also praise Silvin's customer service.
What are CNC Router Bits?
A CNC router bit is the tool that's used to remove material from the workpiece. So a bit determines everything from the depth of the cut and the quality of the cut to the type of material you can engrave. If you're not using the right bit, chances are you're not going to get the end result you're after.
There are loads of different types of bits for different projects, but they can be broadly distinguished into two categories – drilling bits and milling bits. Drilling bits drive directly into the material to make holes, whereas milling bits cut laterally to remove material from the surface of a workpiece rather than going right through it. This is the bit you'll need if you're carving and engraving.
There are a few different terms you should familiarize yourself with to help you navigate the CNC router bit market – let's take a look:
Feed & speed rates
Firstly there's feed rate and speed rate. The former is how fast a bit moves laterally through a material and is typically measured in inches per minute or feet per minute. Speed rate is the speed of the spindle and is measured in revolutions per minute (RPM).
Chip load
Then there's chip load, which refers to the size of the pieces of material a bit removes from a workpiece with each revolution. This is important as if you don't have a bit with the right chip load, your work will not be as accurate. Ideally you want bits with larger chip loads, as smaller chips are not removed as quickly which generates heat, risking damage to your bit and resulting in less precise cuts.
Flutes
Another term is flute, which is the cutting edge of a CNC router bit. More flutes means a stronger bit and faster cutting, but it also means less space for chip flow, so they need a faster feed rate to avoid overheating. Most CNC engraving bits have one, two or three flutes. More flutes typically leaves a smoother cut, while CNC bits with less flutes remove more material per cut and need a slower feed rate.
There are two main types of flutes:
Straight flutes are where the cutting edge is parallel to the body (also known as the shank) of the bit – these are typically cheaper than spiral flutes and are mostly used for working on wood and plastics. With a straight flute, material doesn't get extracted from the cut.
Spiral flutes have the cutting edges in a helix around the bit and removes chips during cutting. These flutes can be used on soft metals like aluminum as well as wood and plastics.
CNC Bit Ends
There are also many different types of bit ends, which are the tip of the bit. These include the likes of ball nose, V-bit, fishtail, and so on. Different bit ends are best suited to different applications.
For example, ballnose CNC bits are best for large 3D carving, and you can get tapered ballnose bits for more intricate carving. V-bits are widely used for detailed sign making and come in different angles – 30 degrees, 60 degrees, and 90 degrees. The lower the degree, the more intricate engraving you can achieve.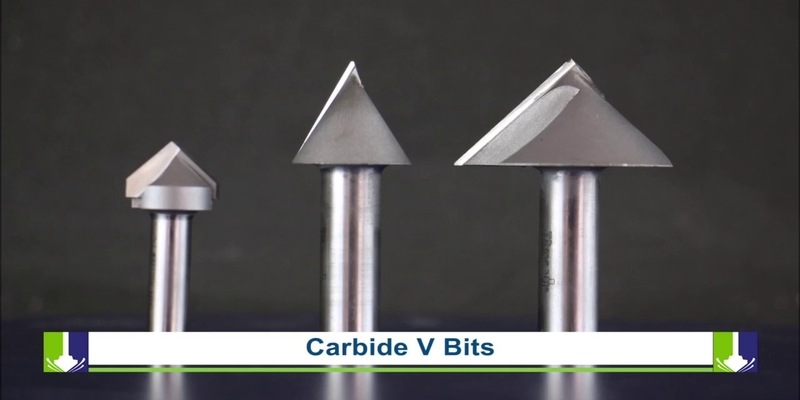 Bit Materials
Not only do you need to carefully consider the shape of the bit you're using, but you also need to choose one that's made of the right material for your job. There are a range of different materials that CNC router bits are made of, the most common being high-speed steel, solid carbide, carbide-tipped steel, tungsten carbide, and polycrystalline diamond.
Each of these materials has its benefits and limitations. High-speed steel (HSS) is very resistant to wear and heat damage and these are considered the best CNC router bits for foam cutting, but have a shorter tool life compared to carbide CNC router bits, which are very popular but more expensive for high-quality bits.
Tungsten carbide CNC bits are made by binding tungsten carbide with cobalt and are extremely strong and durable, while polycrystalline diamond router bits are even harder and wear-resistant, but are also the most costly.
Cut Types
We've already touched on how spiral flute CNC bits differ from straight flute bits, but it's not as simple as just picking the first bit you see. You need to carefully consider the cutting direction when it comes to looking for a spiral flute bit.
There are three main variations:
Up cut bits
Down cut bits
Compression cut bits
Up cut CNC router bits
As the name suggests, an up cut pulls chips up during cutting. This is the most common type of bit and is ideal for clearing chips as you cut to prevent overheating. As they cut upwards, the workpiece will need to be held down securely.
Down cut
Down cut CNC router bits are the opposite, where the chips and material are pressed back into the cut. This type of bit is best for cutting thin and flexible materials and for carving and engraving rather than drilling holes, which up cut bits are better for. Bear in mind that while you can achieve a clean surface cut with a down cut bit, you need to be careful not to fray the underside of your material.
Compression cut CNC router bits
Last but not least, there are compression cut CNC bits, which are a hybrid of up cut and down cut bits. This is because the body of the bit is a down cutter while the tip is an upcutter, so the top of a workpiece is held down while the bottom is pulled up, resulting in clean cuts on both sides and reducing the risk of chipping. These are the most costly types of bits and are best for working with materials like plywood and laminates.
How to Find the Best CNC Router Bits
Choosing a CNC router bit isn't always straightforward, with hundreds if not thousands of options to choose from. With that in mind, here are some tips on what to look for to help you make the right choice, whether you're looking for CNC router bits for woods or other materials.
Project type – While there are lots of intricacies to CNC bits, there are some basic general rules you can follow to help find a suitable one for your CNC project and machine. One flute bits are best for speed over quality, while two flute bits are the opposite. Spiral bits are ideal for precise cutting with limited horsepower, up cut bits are best for removing chips fast while slotting or grooving, and down cut bits are good for leaving a nice finish on thin materials. If you're working with woods, plywood, composites or particleboard, you want a spiral or straight bit.
Material – You need to pay attention to both the material the bit is made of and the material you're working with. For example, tungsten carbide compression CNC router bits are best recommended for composites and plywood. Most manufacturers will detail what materials their bits are compatible with.
Length & diameter – CNC router bits with larger diameters are preferable as they offer more rigidity and longer tool life. Similarly, longer bits are easier to bend and break than shorter bits, so you should always try to go for the shortest bit and avoid extra-long CNC router bits. A general rule is that the cutting length should be no larger than four times the diameter.
Price – There are cheap CNC router bit sets you can pick up for under $20, and there are also single CNC router bits that cost hundreds. If you're a beginner, we recommend starting off with cheap ones as you learn, as you don't want to spend loads on one of the best CNC router bits just for it to break due to inexperience.
We also published a piece about the fundamental CNC router accessories that will impact your project production this year.
---
Read more: