Glowforge laser cutters are great if you want an easy, accessible machine that offers reasonable power. But, the best Glowforge alternatives I'll list below do an even better job, and at a lower price.
The main issue with Glowforge lasers is they are very expensive for the features.
My top pick for the best alternative to the Glowforge Pro is the xTool P2. It's more powerful, faster, and has more premium features such as curved surface engraving, and batch processing features.
It's also much cheaper. You can buy the base P2, the RA2 rotary, the riser base for 8.5″ max material height, and the conveyor feeder for automatically feeding up to 118-inch sheets, and it'll STILL cost less than the base Glowforge Pro.
Same 40W power, half the price
I've tested more than half a dozen laser cutters and engravers over the last few years and identified the handful that truly stack up to Glowforge – ranging from the unbeatable value-for-money xTool D1 Pro, to the superior overall xTool P2.
In this guide, I'll compare my hands-on experience with each of the best Glowforge alternatives, and how they compare across all the important factors so you can make the right choice for your needs and budget.
The Best Glowforge Alternatives
CNCSourced is reader-supported. When you buy through links on our site, we may earn an affiliate commission. Learn more
xTool P2 – Best Glowforge alternative overall
Price: Check at xTool here
Working area: 600 x 308 mm
Rotary attachment: Yes
Laser type: CO2
Power: 55W
Max engraving speed: 600mm/s
Compatible software: XCS, Lightburn
Pros
More powerful than all Glowforge lasers, at a lower price.
Rotary attachment for $279.
Curved surface engraving, and batch processing features.
Cons
Lower dpi than Glowforge Pro.
| | xTool P2 | Glowforge Pro |
| --- | --- | --- |
| Power | 55W | 45W |
| Rotary? | Yes | No |
| Max Speed | 600mm/s | Approx 200-300mm/s |
| Pass-through Slot? | Yes | Yes |
| Accessories | Rotary, riser base, air purifier, fire safety accessories | Air filter |
| Software | XCS and Lightburn, available offline | Glowforge cloud software, only available online |
Based on my hands-on experience with the xTool P2, I think it is the best desktop CO2 laser cutter, and is better than the Glowforge Pro.
First, power. The xTool P2 has 55W power, and can cut 20mm acrylic in a single pass, whereas the Glowforge Pro maxes out at 45W power.
Then, speed. The P2 can engrave wood, acrylic and slate at up to 600mm/s, whereas the Glowforge Pro's speed isn't specifically named, but is around 200-300mm/s.
Both have pass-through slots, with the xTool P2 having an optional conveyor feeder accessory which lets you put 118-inch long workpieces through for cutting huge pieces.
The xTool P2 also has a rotary, and a riser base attachment which gives you up to 8.5″ max height. The Glowforge Pro has no rotary. For me, I like to laser engrave tumblers, flasks, and other rounded objects, and they sell really well online. The lack of a rotary is a big issue for me.
The xTool P2 also has curved surface features, letting you engrave perfect designs without distortion on spoons, bowls, and other uneven objects. This is a game-changing new laser cutting feature.
You can see how it works in my video here:
There's also the Smart Fill batch processing feaure that auto-aligns your design perfectly on all the items you're cutting or engraving.
XCS software is intuitive and easy to use, and it's also available offline, unlike Glowforge which is all in the cloud. This protects you from an internet outage, and means the software can't be taken offline, leaving you with an unusable brick.
However, the Glowforge wins out in dpi, operating at 1355dpi versus the xTool P2's 1000dpi.
Overall, I think the xTool P2 is the best CO2 laser in it's price range right now.
Even with the riser base accessory, RA2 Pro rotary, and the conveyor feeder, it's STILL cheaper than the base Glowforge Pro. To me, it's a no-brainer to go with the xTool P2.
Best Desktop CO2 Laser
xTool P2 CO2 Laser Cutter and Cutting Machine
Simple the best CO2 desktop laser right now. You can buy this, the rotary, riser base, and the automatic conveyor feeder, and it's still cheaper than a Glowforge Pro.
It's more powerful than competing lasers at 55W, can cut 20mm thick wood in a single pass, and the batch processing and curved surface engraving open up new possibilities for your business.
Pros:
Large processing area

Powerful 55W laser cuts 20mm thick material in a single pass

16MP dual cameras autofocus for easy project preparation

Curved surface engraving in XCS

Batch processing features
Cons:
Can't use all features in Lightburn (but XCS software is really good now)

Mirrors/lenses may be out of focus from transport and require fixing
xTool Store here
Our Review
We earn a commission if you make a purchase, at no additional cost to you.
---
OMTech K40 40W – Cheapest Glowforge Alternative
Pros
World's cheapest CO2 laser.
Packs a punch with 40W CO2 power for engraving into coated metals.
Easily import Inkscape-designed SVGs and edit and prepare them for engraving or cutting.
Optional upgrades are available.
Cons
Small working area.
No touchscreen.
The world's cheapest CO2 laser, the OMTech 40W cuts on costs by being manufactured in China – OMTech being the US-based offshoot from Chinese manufacturer Orion Motor Tech.
It's so cheap, despite not being a diode laser, and still packs a punch with 40W CO2 power for engraving into coated metals, as well as standard acrylics and other materials.
The main factor you sacrifice is the size of materials you can cut and engrave. With just a 12×8″ working area, you can't work with large signs, cutting boards, and other wide or tall projects, but you can cut and engrave coasters, fun festival-focused Halloween or Christmas ornaments and decorations, and other fun projects.
There's no touchscreen, a feature on more premium machines. But, the K40 Whisperer software is adequate, and you can easily import Inkscape-designed SVGs (or from Illustrator or anywhere else) and edit and prepare them for engraving or cutting.
However, K40 Whisperer can't manage JPG files, so you'll need to import those into Inkscape first and export them in a compatible format. If you're a die-hard Lightburn fan then it is possible to upgrade the K40 laser to use this software, but you will need to upgrade the board – which also enables you to remotely adjust laser power and other functions.
Once your files are prepared, the OMTech 40W can raster engrave at 300-400mm/s, whereas Glowforge are rather protective of publicly publishing their models' speeds, but it's estimated at under 250mm/s by Glowforge owners.
For such a cheap machine it's reliable and durable, and if you run into any problems, OMTech offer a 2-year warranty on the machine, and a year on the consumables. At a fraction of the cost of the Glowforge, it's only marginally less powerful (5W less than the Pro).
There are optional upgrades you can purchase, such as a chiller water reservoir and cooler, an upgradeable air assist, and board (e.g. a laser board by a company like Cohesion3D). OMTech offer a variety of machines with varying power to suit your needs, so if you want to go harder, opt instead for the bigger 50W version – though it'll set you back upwards of $2,000.
Overall, if you want near-Glowforge-level power, but at 10% of the price, go for the OMTech 40W. But, be aware of the accessibility, productivity, and size sacrifices you make as a result.
OMTech 40W CO2 Laser Engraver K40
This machine is likely the most sought-after entry-level CO2 laser cutter on the market, and because of its 40 W laser tube, it's also a popular entry-level glass engraver.
Amazon here
We earn a commission if you make a purchase, at no additional cost to you.
---
xTool D1 Pro 10W – Best Diode Laser Alternative
Price: $699 — Available at xTool here
Work area: 432 x 406 mm
Rotary Attachment? Yes Available at xTool here
Laser power: 10W (5W, 20W, and 40W also available)
Compatible Software: xTool Creative Space, Lightburn
Max Engraving Speed: 400mm/s
Pros
The best diode laser cutter around.
Rotary is high quality and costs under $300.
Large work area, with $160 extension kit to become even larger.
Can engrave metal more effectively with the infrared laser add-on.
Cons
Less power than Glowforge: though xTool sell a 40W laser head accessory for $1100, I would still prefer a 40W CO2 laser.
The best diode laser cutter around, the xTool is made by Makeblock, who also produce CO2 lasers like the P2 and Laserbox, and have built the D1 Pro with the same know-how as they build their more powerful CO2 lasers with.
Unlike the Glowforge models, the xTool D1 has an easily accessible rotary add-on, called the RA2 rotary for under $300, so all in for both the rotary and laser, you're paying just $1,000 – thousands less than even the lowest-cost Glowforge laser.
You obviously lose out on power however, but if your goals are as a small business to cut acrylic into sellable projects, to cut 0.6mm basswood, or do standard engravings, the xTool has everything you need to get started and prove your business model works before scaling up. With the rotary, and the infrared laser add-on, you can engrave metal flasks which are best-sellers online from my experience.
The 20W version is also available:
I personally have bought a 20W version of the xTool D1 Pro, and while it isn't 40W or CO2 powered, it can still cut through thick wood. For example, here is a 0.5-inch thick piece of wood it easily cut for a project I designed:
You can also read my full xTool D1 Pro review.
The work area is large, too, at 17″ x 16″, and you can even purchase the extension kit to 936 x 432 mm. And if you're anxious about the open-air engraving, you can also purchase an enclosure to keep everything locked in.
It's accurate (0.01mm precision, 0.08 x 0.06 mm spot size), has good built-in safety features, and the software is fully downloadable and offline – unlike Glowforge's. You can also use it with third-party software like LightBurn.
Overall, if you're not fussed about power and are newer and have less intense demands of your laser, the xTool is your best option for under $1000 for a diode laser. I also liked the Ortur Laser Master 3 and I also own this, but I recommend the xTool over it overall for a diode laser.
Best diode pick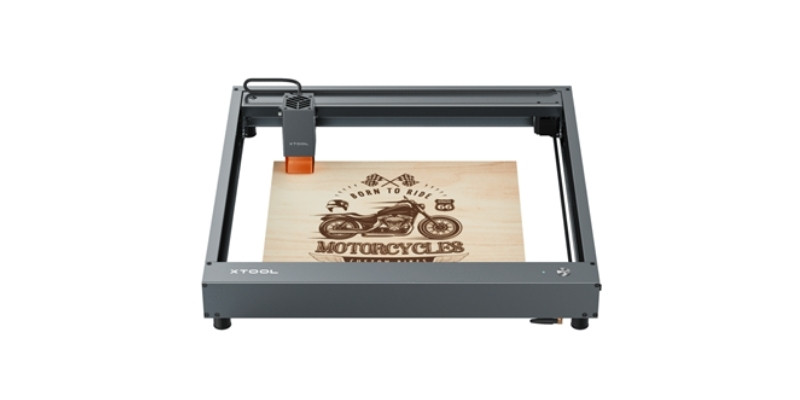 ---
FSL Muse 3D – Doesn't Rely on WiFi
Price: $3,499 — Available at Matterhackers here
Working area: 20″ x 12″ / 508 x 305 mm
Rotary Attachment? Yes
Power: 40W
Best Compatible Software: Retina Engrave v3.0
Pros
A fierce competitor to Glowforge.
The RetinaEngrave software can be used offline.
Similar power to Glowforge.
Has rotary attachment upgradability.
Cons
Has external water cooling, unlike Glowforge's easier built-in cooling.
Full Spectrum Laser's Muse is a popular Glowforge alternative and a fierce competitor in the laser cutting scene. They both offer 45W power (well, the Muse is 40W by default but you can buy it with a 45W upgrade for $250 extra), but the Muse sells at half the price of the Glowforge Pro.
A main difference between Muse vs Glowforge is their philosophy in software. We prefer Muse's offline strategy: their RetinaEngrave software can be used offline, making it much more versatile than Glowforge's solely browser-based software, though it's also browser-based and works with all major browsers like Chrome, Safari, Firefox and Edge.
It's not a download though, which adds a small amount of complexity. Instead, your Muse laser runs its own web server which hosts the Retina Engrave software, which you then point your browser to the Muse's IP address to open RE3 on a LAN connection. For a fuller explanation, check out this forum thread here.
Muse also has an easy-to-use LCD screen (Glowforge doesn't) for moving between projects, a usable camera akin to Glowforge's (arguably easier to use, too), and has a rotary attachment option for those looking to engrave rounded or curved materials (Glowforge doesn't). Like Glowforge the Muse laser cutter is compatible with Windows, Mac and Linux users.
A main difference is Muse opts for external water cooling, whereas Glowforge's cooling is built-in. This makes the Glowforge easier to position and store than the FSL Muse.
So if you're looking for a laser cutter with similar power to Glowforge (1000dpi, 45W), but has rotary attachment upgradability, is half the price, and intuitive, offline software, the Muse is a great Glowforge alternative.
3D Wood Laser Cutter
---
OMTech 55W – More Power, Lower Price
Pros
Larger work area than most in its price range.
Can cut deeper than Glowforge.
Has a rotary device add-on, unlike Glowforge.
Faster than Glowforge.
Cons
Doesn't feature unlimited lengths like Glowforge.
OMTech's low-cost K40 40W laser made our list as the cheapest Glowforge alternative, but for a more like-for-like alternative specs-wise, we have the OMTech 55W.
It doesn't feature unlimited lengths like the Glowforge Pro, but the 24" x 16" working area is larger than most in its price range, and is more than enough for cutting large signs or topographical maps.
It can also cut deeper, with an estimated 0.63" max cutting thickness according to OMTech, versus Glowforge's 0.25" maximum cut depth. Beyond actual cut depth, you get far more z-depth with the OMTech 55W, at 10" vs the Glowforge Pro's 2".
If you want to rotary engrave, the Glowforge can't satisfy you, leaving the OMTech the only game in town (though most of our other Glowforge Pro alternatives on this list have these add-ons). The rotary device add-on costs just under $300, and there's a few other handy add-ons also available like the 5200 water chiller for $500.
OMTech stress both the speed differences between their 55W laser cutter and the 45W Glowforge Pro, and the image resolution differences. For speed, OMTech claim a 600mm/s max engraving speed vs Glowforge's estimated 200-250mm/s, and a far significant 400mm/s cutting speed. The 2540 dpi image resolution vs around 1000 dpi for the Glowforge is significant, though both are still considered high quality.
High Power 55W CO2 Laser
---
FLUX Beamo – An Affordable Glowforge Alternative
Price: $2,195 — Available at Matterhackers here
Work area: 300 x 210 mm
Rotary Attachment? Yes
Laser Power: 30W
Best Compatible Software: Beamo Studio
Max Engraving Speed: 300mm/s
Pros
One of the smallest professional-grade lasers out there.
Easy to get started.
Has a rotary add-on for round objects.
Its software, Beam studio is often updated and developed.
Cons
May set fire to wood if settings are not properly optimized.
Rocking a 30W CO2 laser as compared with the Glowforge Pro's 45W, the FLUX Beamo is a bitesize, lite version for makers who want a powerful CO2 laser, but want to pay a lot less and who don't require 45W of power.
It's also ideal as a Glowforge alternative for makers without much space in their workshop, in a school, or anywhere else where space is key, encompassing just 615 x 445 x 165 mm – it's one of the smallest professional-grade lasers out there. This does however limit working area to just 300 x 210 mm.
It's easy to get started, with the Flux Beamo coming in a single box that's nearly fully installed. All you need to do is set up the exhaust hose and a few other simple parts. Whereas often to save money you're forced to accept a more difficult and length assembly process – such as with kit 3D printers vs commercial options – you retain the Flux Beamo's simple and intuitive assembly at this lower price.
Unlike the Glowforge lasers, the Flux Beamo has a rotary add-on for round objects: tumblers, bottle or other curved materials are no problem. It's also just generally a breeze to use: the touchscreen simplifies your workflow, it connects seamlessly via WiFi as well as via Ethernet, and Beam Studio is really intuitive to get to grips with.
Beam Studio works with Mac, Windows and Linux, is actively updated and developed, and comes with a range of different material presets to save you any experimentation, as well as tools for creating custom shapes, as well as SVG and other file format importing, and raster engraving options.
Flux's 4-layer filter, Beam Air, is an optional add-on for a safer and more pleasant workspace with less noise. While it doesn't come with the Beamo by default, it's a premium extra with a HEPA filter and three higher-level layers that stack on it. It's sleekly designed and features an adjustable knob to control air ventilation. However, it doesn't come cheap, at $699.
Despite the lower power, the Flux Beamo stakes its case as an effective Glowforge alternative, able to cut through 4mm plywood in one single pass, and 8mm if you run two passes.
However, at these larger thicknesses, it will begin to struggle, and may set fire to the wood if you haven't optimized your settings enough – as some users have reported. Nevertheless, the power is sufficient to engrave contrasting shades into glass, acrylic, and other transparent materials, and it's built for safety: it doesn't turn on or start until the transparent lid is sealed, and has a range of other safety features.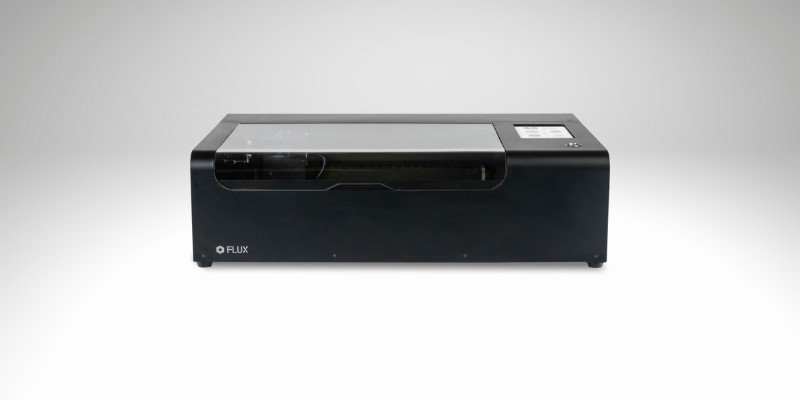 ---
Inventables X-Carve – Best for Deep Cuts and Large Projects
Work area: 29.5″ x 29.5″ x 4.5″
Price: $2,299 – Available at Matterhackers here
Rotary Attachment? No
Best Compatible Software: Easel Pro (Comes with 3-year subscription)
Pros
Great for cutting through thicker plywood, acrylic, or even soft metals.
Comes with a 3-year subscription to Easel Pro.
A powerful machine.
Cons
Not as accurate as a laser cutter.
Takes a long time to assemble.
Lasers are great for engraving contrast and for detailed images, and when used for cutting, provided you've got your settings right, offer a clean cut without burned edges or rough surface finishes. However, they can't cut thick materials – for example, the Glowforge Pro only cuts up to 0.25" deep.
If you want to cut through thicker plywood, acrylic, or even soft metals, a CNC router could be a better option instead. For mid-range CNC routers for small businesses, it doesn't get much better than the X-Carve. It can easily handle 2-inch cuts of woods and acrylic, and works quickly for producing larger numbers of sellable crafts. The X-Carve Pro is even faster, and can cut furniture like chairs in a fraction of the time.
The downside compared with the Glowforge and other high-powered lasers is you lose some accuracy. Cuts are slightly rougher – though still very good – so if you're fine with engraving and thin cuts, the Glowforge is still the way to go. But, for thicker materials, as well as for CNC milling aluminum, go for the X-Carve.
The X-Carve comes with a 3-year subscription of Easel Pro, Inventables' easy-to-use, cloud-based CNC software relatively similar to Glowforge's own software. It's great for beginners (and they even have an Easel 101 set of courses to learn) but also requires an internet connection.
It also takes a long time to assemble – hours on hours. So, while you can almost plug'n'play with the Glowforge, the X-Carve is more technical and complex to put together. If you opt for the X-Carve bundle, you get the new Makita router, stepper motors, dust collection, and the upgraded z-axis – everything you need for one of the most powerful CNC routers for the money. It's a powerful machine, and if you're looking for power over accuracy, consider switching from lasers to CNC.
Read more: Glowforge vs X Carve compared head-to-head
---
Thunder Laser Nova 24 – The Industrial Choice
Price: $7,400
Work area: 600 x 400 mm
Rotary Attachment? Yes
Laser Power: 40W or 60W
Compatible Software: Lightburn, RDWorks, and LaserMaker
Max Engraving Speed: 2000mm/s
Pros
A great durable, industrial laser for your business.
Thunder Laser machines are compatible with Lightburn, unlike Glowforge.
Can be adjusted downwards for these taller parts without issue.
Can work at 1000mm/s, making it an effective business machine.
Cons
More expensive than Glowforge.
For a large, premium option instead of the Glowforge Pro, Thunder Laser manufactures a number of professional laser cutters, ranging from the lowest-cost Nova 24 Lite and Nova 24 machines, up to higher-priced premium industrial lasers.
It's more expensive than the Glowforge Pro, but if you're looking for a durable, industrial laser for your business, the Nova 24 is ideal. The 60W power and large 600 x 400 mm working area with infinite length if you keep the pass-through door open mean you'll be able to cut and engrave almost any material you desire, no matter the size or toughness.
Unlike Glowforge's online laser software, Thunder Laser machines are compatible with Lightburn, and each machine comes with a license. Using Lightburn ensures you own the IP for any designs you use (a concern with the Glowforge workflow), and you can use it offline.
A major limitation of Glowforge laser cutters is the little z-depth movement, so you can't engrave tall objects, such as bowls, figurines, pots, and other ornaments or tall furniture. The Nova 24's tray can be adjusted downwards for these taller parts without issue. It also comes with a CW5200 water cooler, air assist compressor, flexible ducting, and more.
For business use, speed is key – it's directly related to how much money you can make. The Thunder Laser Nova 24 can work at 1000mm/s, making it an effective business machine. It's safely enclosed and has a well-designed exhaust tube system to prevent any of the CO2 laser gases from reaching you.
It's expensive and complex, but if you're looking to scale up your business, Thunder Laser laser machines are ideal. If you run into any trouble there are a variety of helpful Facebook groups such as this and this group, and Thunder Laser offer 6 different models — the Nova 24 the cheapest — that you can compare and determine which is best for you.
The video below explains one customer's view on Thunder Laser and how they better match up against Glowforge lasers:
---
Snapmaker 2.0 A350T – CNC, Laser and 3D Printer Combo
Pros
Can buy a rotary attachment module for engraving rounded surfaces.
Can be used as a CNC router, laser engraver, and 3D printer.
Can engrave anodized aluminum, and comfortably cut large acrylic sheets and basswood in minutes.
Cons
For small businesses looking to engrave and cut their designs, it won't be able to match your required speeds and productivity
The Snapmaker 2.0 has an optional 10W high-power laser you can buy, or if you buy the new Snapmaker Artisan, it comes with this by default. This can cut 8mm wood and acrylic, and I was really impressed when I tested it. I've previously tested the Snapmaker 2.0 A350 here, and used the standard 1.6W laser to cut thin woods, but this new laser head builds on that significantly.
It can engrave on anodized aluminum (wI engraved a lion head in just a 45-second job), comfortably cut large acrylic sheets and basswood in minutes, and you can buy the rotary attachment module for engraving rounded surfaces – we had a blast engraving cylinder gift boxes with our logo and other fun designs.
However, you wouldn't buy the Snapmaker if you're just looking for a laser. Instead, the Snapmaker 2.0's selling point is that with just 4 screws you can switch out the laser head for the CNC module or 3D printer extruder, and either carve wood or acrylic designs with the various bits that come with it for the CNC toolhead, or 3D print PLA, ABS and other materials with the 3D printer toolhead.
I've 3D printed benchy tests, a big pikachu model, a vase, and more with the extruder toolhead and were impressed with the results.
All these functions in one make the Snapmaker 2.0 the best Glowforge alternative for hobbyists looking for a 3-in-1 machine for using as a fun home machine, or to produce may types of simple objects for a side-hustle or small business.
However, for small businesses looking to engrave and cut their designs, it won't be able to match your required speeds and productivity. But as an all-in-one machine for having fun with 3D printing, laser engraving and cutting, and CNC cutting, or even testing out your business in all three of these mediums, it's ideal. Snapmaker are always releasing more options too, with a dual extruder option also rumored to be coming soon.
Read more: Glowforge vs Snapmaker – compared head-to-head
Top 3 in 1 Pick
---
What is Glowforge Not Good For?
Glowforge's Apple-like design, sleek surfaces, and slick marketing campaigns have turned creatives and makers all over the world into Glowforge devotees.
And there's many reasons why: they're accessible and intuitive, work well generally, and turn your home or workshop into a one-stop shop for an Etsy store or similar – most people pay their machine cost off within a few months if they've got enough creative ideas for their wares.
With lasers becoming affordable enough for most businesses to be able to afford one, these accessible, Plug'n'Play lasers are great. If you're after a simple laser that's a joy to use, and you can accept the sacrifice in specs you might gain by switching to an alternative, go for a Glowforge Pro, Plus, or Basic.
However, there are some key reasons why you should ask the question of what is a Glowforge not good for and work out if the Glowforge is worth it for you:
Price
The Glowforge Pro is $5,995, a very large expense — and simply too much money for most people to sensibly set aside for a speculative business investment, or for a hobby.
The lowest-cost Glowforge model, the Glowforge Basic, starts at $2,499 but doesn't offer the same size, infinite-length cutting, or power of the Pro. Our Glowforge alternatives offer better power at lower prices, such as the OMTech 40W or 55W.
You also need to consider your ongoing costs such as for materials and replacement parts. While high quality and convenient, Glowforge's Proofgrade materials are priced as such.
| Laser Engraver | Price |
| --- | --- |
| Glowforge Pro | $6,995 |
| OMTech K40 | $549 |
| xTool D1 Pro | $699 |
| FSL Muse 3D | $3,499 |
| OMTech 55W | $699 |
| FLUX Beamo | $2,195 |
| Inventables X-Carve | $2,299 |
| Thunder Laser Nova 24 | $7,400 |
| Snapmaker 2.0 A350T | $1,799 |
Cutting depth
For engraving and thin cutting, the Glowforge Pro and other models offer fantastic accuracy and repeatability. However, those who want to cut 0.5-inch or thicker plywood and similar materials will be frustrated with the 0.25-inch cutting depth.
We've picked Glowforge laser cutter alternatives with deeper cutting power, as well as a CNC router – the Inventables X-Carve – for those eager to cut thicker wood and acrylic, as well as light aluminum.
Some better choices for deeper cuts are the
| Laser Engraver | Cutting Depth |
| --- | --- |
| Glowforge Pro | 0.25 inches |
| Inventables X-Carve | 2 inches |
| OMTech 55W | 0.63 inches |
| xTool D1 Pro 10W | 0.59 inches |
Power Overkill
For more casual makers looking to go deeper than tip their toes into laser engraving, the Glowforge doesn't make sense.
Beginners simply don't need the 40-45W CO2 laser power Glowforge's models offer, and should go for a lower-power budget choice like the Ortur LM2 Pro.
Even if you still want a professional-grade laser, the Flux Beamo is plenty powerful for the vast majority of engraving projects and will save you a few thousand dollars.
(Anyway – if power is what you're after, you can get the OMTech 55W for cheaper than a Glowforge)
| Laser Engraver | Power |
| --- | --- |
| Glowforge Pro | 40 – 45W |
| Ortur LM2 Pro | 10W |
| Flux Beamo | 30W |
Reliance on Wifi and Cloud-based Software
Glowforge Print uses the cloud, so if you don't have an internet connection that reaches wherever your machine sits, you're stuffed. You can't download the app and use it offline, so you're really a prisoner to your WiFi connection.
What's more, many Glowforge users complain about the slow server times from sending your job, to the job executing. Understanding users' frustrations, Glowforge brought out a fix – but it wasn't the fix the customers wanted.
In fact, their solution was to offer a $50/month Glowforge Premium software, which gave users priority in the cloud queue to submit their projects. While this also comes with a wide commercially-licensed vector graphics library and some other really cool features like font tools, shape and outline tools, and unlimited storage, charging people to gain the same level of productivity you could get from an offline, downloadable software feels steep.
On top of that, there's the fact that if Glowforge were to go out of business, and the software was to cease being updated, you could in theory be left with a $6,000 useless brick of a machine that can't be accessed or controlled. While Glowforge appears in healthy straits, many well-to-do companies have suddenly disappeared over the years, and the lack of downloadable, offline support adds risk to your choice.
We picked Glowforge alternatives that use laser software like Lightburn that you can download and run, and that offer lifetime access once you've paid your one-off fee.
No Rotary Module Add-on
While not everyone wants to do 4-axis engraving of curved materials, it's a useful option to have in your laser engraving arsenal.
Unfortunately, none of Glowforge's three models have rotary axis compatibility.
If you want to engrave curved surfaces, then don't buy the Glowforge, and consider one of the laser cutters to buy instead of the Glowforge Pro, such as the FSL Muse, OMTech options, Snapmaker 2.0 with the rotary add-on, or the Flux Beamo.
| Laser Engraver | Rotary Attachment |
| --- | --- |
| Glowforge Pro | No |
| OMTech K40 | Yes |
| xTool D1 Pro | Yes |
| FSL Muse 3D | Yes |
| OMTech 55W | Yes |
| FLUX Beamo | Yes |
| Inventables X-Carve | No |
| Thunder Laser Nova 24 | Yes |
| Snapmaker 2.0 A350T | Yes |
Short, Difficult-to-fit Exhaust Hose
Many Glowforge owners complain about the short exhaust hose that's difficult to fit, and can often slip off during a project, which nobody wants to happen when there's fumes about.
There are solutions, such as this exhaust port extension which can be 3D printed or bought cheaply. However, the ideal Glowforge replacement wouldn't have this issue to begin with.
Very Loud
This isn't a huge deal for most, as you need to kind of expect a certain level of noise if you're planning on lasering materials. Plus, if you've ever owned a CNC router, and to a lesser extent, a 3D printer, you'll know how loud that carving woods in particular on a router can be.
Nevertheless, the Glowforge Pro is noisy. So opt for a quieter Glowforge alternative if you plan to run it near your living space.
Not Particularly Fast
While sleek, relatively powerful, and easy to use if you're newer to laser cutting and engraving, Glowforge machines aren't exactly speed demons.
Glowforge don't reveal the exact speeds each of their machines offer, choosing instead to list the Glowforge Pro's speed relative to the Glowforge Basic.
However, curious Glowforge users have taken to the forums to experiment and post their results, and generally it's considered one of the slowest CO2 lasers available. This is in contrast with lasers such as Thunder Laser's Nova 35, which can run 5x as fast.
If you're running a business on Etsy or your own store, the slower cutting speed of a Glowforge can really be a bottleneck on how quickly you can produce products, and how much money you can make.
| Laser Engraver | Max Engraving Speed |
| --- | --- |
| Glowforge Pro | Not listed |
| OMTech K40 | 255 mm/s |
| xTool D1 Pro | 400 mm/s |
| FSL Muse 3D | Not listed |
| OMTech 55W | 600 mm/s |
| FLUX Beamo | 300 mm/s |
| Inventables X-Carve | Not listed |
| Thunder Laser Nova 24 | 2000 mm/s |
| Snapmaker 2.0 A350T | Not listed |
Reasons To Buy a Glowforge Laser Cutter
Large Cutting Area
Glowforge machines, especially the Glowforge Pro with its infinite-length 3D laser printing, offer large working areas on the X and Y axes – despite fitting snugly on most workshop desktops. All you need is a nearby window to vent out of.
This will be more than enough, unless you plan on doing enormous 24" cutting and engraving, in which case you'll need an industrial laser cutter-sized machine.
High-quality and Workflow-optimized Proofgrade Materials
While they're priced to reflect this, Glowforge's material range offers high-quality acrylics, woods, and more to get started with. They each come with a unique QR code that automatically optimizes your Glowforge for working with the material, and the material sheets are evenly cut for a high-quality job.
Some will argue that this is Glowforge's attempt to trap you in the 2D printer style of business model of getting you hooked on ink cartridges and trapping you within their ecosystem, but frankly Glowforges themselves aren't cheap like an inkjet printer loss-leader, and you can use your own third-party or custom-cut materials with your 3D laser printer if you don't want to use theirs.
However, the materials are often sold out, and businesses looking to maximize profit margins will be better off sourcing cheaper materials elsewhere.
Built-in Camera, and Thousands of Free Designs (Including Major IP)
It's easy to laser your own custom hand-draw your designs using your Glowforge's built-in camera. But you can even go one further, with Glowforge Premium's design library with almost unlimited free designs.
What's more, Glowforge have teamed up to offer designs such as Star Wars designs within the app, that you can use commercially.
You can buy the Glowforge Pro here.
Large Community
Glowforge's marketing strategy is definitely the best in the game, and despite the price, thousands of makers all over the world have pulled the trigger on one of their laser machines.
As a result, there are thriving communities on Glowforge's forums, on YouTube, and various subreddits including Glowforge's own subreddit with over 7,000 members. Such communities are rarely available across the best Glowforgae alternatives, which is worth keeping in mind.
Other articles you may be interested in: