Laser cutters open up a whole world of possibilities. From decorations, signs, and artwork to furniture and household utensils, there's an endless amount of exciting projects to try your hand at. However, before you start cutting or engraving, you need laser cut files.
If you're new to laser cutting, these files are the design templates of your project and are needed to send the right instructions to your laser cutter. You can also download free laser engraving files — which are actually easy to generate yourself — with differing tones that create contrast and image depth.
Where to Find Free Laser Cut Files (and Laser Engraving Files)
Skilled graphic designers often create their own laser engraver templates, but if you don't have that kind of experience, then you'll need a ready-made template to base your work on. Luckily, there are thousands of files out there covering just about every design and project you can think of, so there really is something for everyone.
However, finding the right laser engraver designs for you isn't necessarily straightforward. There are numerous websites out there dedicated to providing files, but they're not all one and the same.
For example, some websites provide thousands of files completely free, some provide both free and paid files, while others only offer paid files. Similarly, the type of file formats on offer – DXF, STL, AI, SVG, EPS, CDR and so on – often vary from site to site. 
Fear not, however, as we're here to see you through. We've trawled through the many websites offering free laser cut files and have picked out the very best right here. We detail the types of files on offer, whether they're free or paid, and the formats available at each site, so you can easily find the right files for you.
Laser Ready Templates – Excellent for Free and Paid Laser Cut Files
Laser Ready Templates is easily one of the best websites out there for downloading free laser cut designs. 
This site actually contains a mix of free and paid files, but there are always loads reduced to zero cost, so there are plenty of options on offer. The free template section changes from week to week, meaning there are always some exciting new templates up for grabs.
Unlike many other similar sites, Laser Ready Templates more resembles an online shop, and there are various tabs so you can easily see free files, on sale files, and new arrivals with a single click.
In terms of the files on offer, there's plenty of choice. You can pick from 3D models, animal and nature files, event celebration files, stencils and patterns, signs, trophies, toys, storage boxes, and more, so chances are you'll find something that suits you.
What we like most about Laser Ready Templates is that it offers something different from most other laser cut templates sites. For example, it runs a monthly competition where you get the chance to win $100 worth of credits to spend on the site.
All you need to do is send in a picture of a project you created with one of the site's designs and then whoever's project gets the most likes on the Laser Ready Templates social media profiles is the winner!
Another nice aspect of this site is that you can read user reviews of different files to get an idea of how well they turn out when put into practice.
DXF Downloads – Earn Points for Uploading Your Designs
DXF Downloads is a free laser cut files site with a twist. This is because it works on a point-based system, where you gain points by uploading your own designs and can then spend your points on downloading other users' files. 
The point system doesn't apply to all files on the site – there are over 1,000 that you can download straight away for free and without creating an account. There are some great free download laser engraver files in this category, including a fishing tackle box, a dollhouse, and a tiger wall decoration, to name just a few.
However, there's a range of more complex files that you can download with points. You earn 100 points for registering, 20 points every day you visit the site, and then the amount of points you get for your designs depends on how complex they are and are decided by the site's moderators.
There are files for a wide range of different designs and projects, such as animal and plant models, toys, vases, decorations, and even furniture and doors.
If you're not into designing your own laser cut files, you can still join in by purchasing points. It's half a cent per point, so it's really affordable.
The file types on DXF Downloads are DXF, CDR, EPS and AI zipped to 2D vectors, and STL files zipped to 3D models.
Ponoko – Great Range of Free Laser Cut SVG Files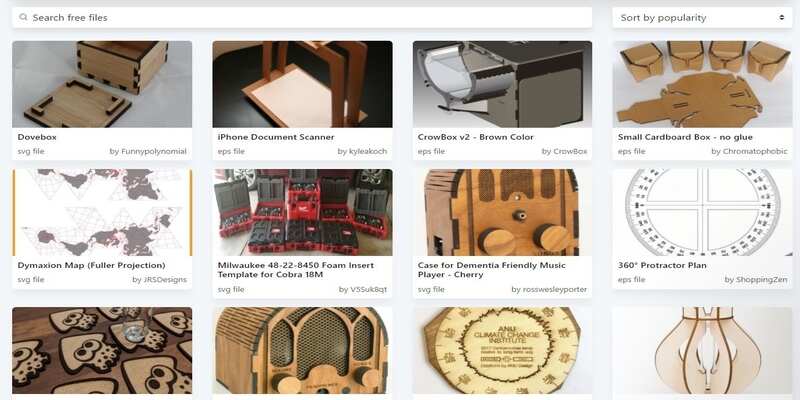 Ponoko.com contains a vast library of laser engrave files covering all types of different designs and laser projects. The best part? Every file is completely free to use! All you need to do to access them is create an account. 
All the free laser cutter files on this site are uploaded by other hobbyists, so there's a real community feel to it. 
There's also a fantastic range of different files to choose from. There are decorative and ornamental files for projects like coasters, Christmas decorations, and vases.
Then there are a variety of files for more practical uses, such as a tablet stand, a music player case and even an iPhone document scanner.
You can search the hundreds of files on Ponoko by name, and there are also various sorting options. You can sort by popularity, by name (so that the files appear in alphabetical order), and by file type, so that EPS files appear at the top, followed by PDF files, and free laser cut SVG files. 
3axis.co – Over 10,000 Free Laser Cut Files
Like Ponoko, 3axis.co provides a wide range of completely free laser cut files, and you don't even need to create an account to download them.
What separates 3axis.co from many other free laser engraver files sites, though, is the vast amount of files on offer – more than 10,000!
You don't need to endlessly scroll through page after page to find a file that suits you, though. This is because all the files are sorted into different categories, of which there are more than 500!
The categories are super specific, so whether you're looking for a file for a dollhouse, a candle holder, a notebook cover, animal art or anything else, chances are you'll find it on this free laser cutter files site.
We also like that the site is regularly updated with files that reflect current trends, such as laser cut Squid Game figurines and files designed to celebrate events like Christmas and New Year for the present year.
The majority of the free laser engraving files on 3axis.co come in CDR format, although a wide variety of different formats are also available on the site, including DXF files for laser cutting, as well as DWG and AI files.
Craftmanspace – Very Detailed Patterns for Laser Cutting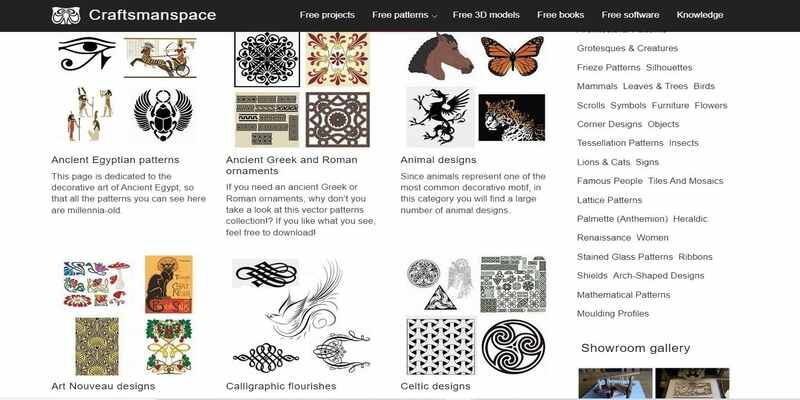 We like Craftmanspace as it's more unique than a lot of other free laser cut file websites out there.
There's a hint in the name – Craftmanspace states that it's aimed at craftsmen, graphic designers and architects, rather than just the standard hobbyist or novice.
At this site, it's all about intricate patterns. The collection is really impressive and is split into different categories, spanning Ancient Egypt, Ancient Greek and Roman, medieval, calligraphic, art nouveau, classical, oriental, Islamic and more.
When you check the files out, it's clear that they're a lot more detailed and complex than the more basic files found on many other sites. There's also a selection of vectorized illustration files to choose from.
While these laser cut designs are some of the most beautiful we've come across, they're all completely free!
Craftmanspace doesn't just offer free laser cut files, though. It also offers several free technical ebooks covering topics including art and crafts, woodworking and metalworking, which are great for expanding your knowledge in these areas. 
As well as laser cut templates, Craftmanspace also offers files for a variety of offer CNC projects, such as for making furniture, animal housing, and scale models. 
DXF for CNC – Buy & Sell Laser Cut Designs
DXF for CNC is one of the sites that offer more high-quality and expensive DXF laser cut templates as well as free ones. 
There's still a wide selection of free DXF files for laser cutting, though – over 600 in fact. These are mostly nice but relatively basic files for decorations, item personalization, and arts and crafts. 
There's plenty of variety on offer in the paid files section, including relatively basic files for things like typography fonts or country outlines that you can buy for just a few dollars.
On the other hand, there are more complex and unique files that cost a fair bit more but aren't available for free anywhere else. One of our favorites is a laser cut file for football helmets with each team's NFL logo, which costs $35.99, and another cool design is a set of abstract prints for doors, screens and fences that'll set you back $59.99.
The categories on this free laser engraver files website span animals, automobiles, home decoration, landscapes, sports, seasonal events and more, so there's plenty to explore. 
You'll find that are regularly many laser engraver designs on sale at DXF for CNC, so you can often grab files at a reduced price.
There are also various bundle packages available, including the ability to purchase all of the site's files for $749.99. While this may sound like a lot, it'd actually save you a lot compared to if you bought them individually, and is definitely worth considering if you run a laser cutting business.
DXF for CNC is also different from most of the other sites on our list as it allows you to sell your own laser engraver templates, which is a nice bonus.
Trotect – Free Laser Cut Files with Detailed Instructions
Trotect is a popular manufacturer of laser cutters and offers a range of several hundred free sample files on its website.
There's some really interesting project files up for grabs here, such as a puzzle, gift tags, neon signs, necklace charms, magnets, a laptop bag, a rocking chair and even protective COVID masks. 
What we really like about Trotect, though, is just how much detail it goes into when explaining the process for cutting each type of free laser cut file it offers.
Trotect showcases pictures of the projects created with each file and explains the machine used, the material type and size, and then provides detailed step-by-step instructions on the cutting process, including how to import or create the file, the cutting process and then assembling the end product. 
So if you're a beginner looking for an easy introduction to laser cutting, the Trotect free laser cut designs are a really great way to start.
Trotect is also the most professional-looking free laser cut file we've come across, which makes sense considering it's an actual manufacturer.
Vectors Art – Categorizes by File Format
Vectors Art is another site dedicated to offering free laser engraver files for a wide range of different projects. 
Alongside the more simple patterns and designs that are standard at most similar sites, Vectors Art offers a good amount of more practical files for things like lanterns, LED lights, headlamps, and more. So if you're looking to put a unique and personal touch to your home, this is a great place to look for ideas.
What we also love about Vectors Art is that, unlike many other sites, it sorts all its files by format. So if you want free DXF files for laser cutting, simply click the DXF tab and you can check out what's on offer.
The other file format categories are CDR, AI, PDF, and EPS, so Vectors Art makes it easier than other sites to search for specific laser engraver files formats.