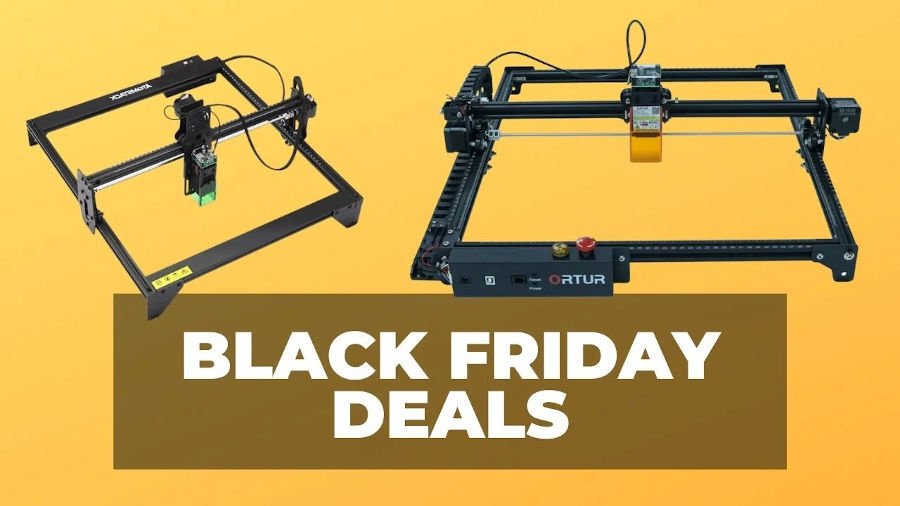 CNC machines alike are making the rounds this year participating in the ever-exciting Black Friday madness, and Black Friday laser cutter and engraver deals aren't holding back!
With hundreds of dollars in savings from major players like Glowforge, Snapmaker, and Ortur, you can't afford to miss out on this year's event.
To save you some time – and eye strain – we've compiled a list of the best deals on offer from major retailers and manufacturers, as well as links to the best laser cutter and engraver deals of 2022.
We also have an article covering the best 2022 CNC Black Friday deals.
CNCSourced is reader-supported. When you buy through links on our site, we may earn an affiliate commission. Learn more
xTool Black Friday Deals
If you're a keen CNCSourced reader you'll know that we think xTool make the best diode laser engravers around.
If you haven't bought one, xTool have some of the biggest Black Friday sales going across laser engravers and cutters.
Between Nov 15 and Dec 1, get up to 50% OFF – you can see all xTool's deals here with no code required.
Unlock Bonus Savings Base on the deals, no code needed:
$399≤Orders<$999: Extra $20 OFF
$999≤Orders<$1699: Extra $50 OFF
$1699≤Orders<$2699: Extra $100 OFF
$2699<Orders: Extra $200 OFF
And click here for all the key deals with bonus savings:
Amazon
Amazon is the world's largest seller of affordable tech, and have a wide range of laser cutters and engraver Black Friday deals.
Ortur Black Friday Deals
We have an exclusive deal ONLY for readers of CNCSourced.
If you click the link below, and use code 80FORCNC, you get $80 off an Ortur Laser Master 3!
Glowforge Black Friday Deals
Glowforge make some of the most popular desktop lasers for small businesses in the world.
Their Holiday Magic Bundle gets you $1000 worth of FREE extras when you purchase a Glowforge Pro!
This includes:
Free shipping
$500 proofgrade material gift card
9 months Glowforge Premium subscription
Creality Black Friday Deals
Access all of Creality's Black Friday discounts here
Creality is a low-cost 3D printer manufacturer specializing in FDM and resin printers, as well as 3D software research and design however, they also have laser engraver products.
Key deals:
Snapmaker Black Friday Deals
Snapmaker may be home to the popular 3-in-1 3D printer, but this machine has garnered worldwide attention for its laser cutting and engraving capabilities. They have up to 40% off for Black Friday!
Key deals:
Gweike Cloud Black Friday Deals
Gweike Cloud make CO2 lasers somewhat similar in appearance to Glowforge. They have two major deals on for Black Friday laser cutters:
Sainsmart Black Friday Deals
Sainsmart sell laser cutters, as well as CNCs and other DIY tools.
MatterHackers Laser Cutter Black Friday Deals
Access all of MatterHackers' Black Friday discounts here
MatterHackers is one of the world's leading suppliers of all things CNC, including top-of-the-range laser cutting and engraving machines.
Key deals:
We will update this when the MatterHackers deals are announced.
Madethebest
Access all of Madethebest's Ortur Black Friday discounts here
Madethebest sells lasers manufactured by some of the most powerful, and affordable, laser cutter and engraver companies in production.
Where To Buy A Laser Engraver?
We've added the best deals for buying the best laser engraver for your particular needs. We will continue to refresh this page with deals for lasers every Black Friday, so bookmark this if you think you'll be looking for a laser next Black Friday sale.