CNC lathes are widely used for machining wood and metal, however, finding the best CNC lathe can be tricky.  
Firstly, you need to find a CNC lathe that fits in with your budget. Lathes can vary greatly in price, from a few thousand dollars to tens of thousands, so you need to find a machine that represents good value.  
You also need to find a CNC lathe machine that has your desired features and applications. For example, you may be looking for a benchtop lathe with variable speed control or an industrial lathe with multispindle action. 
Our recommendations: the best CNC lathe machines
Here are our top alternatives:
What is a CNC Lathe?
CNC lathes are similar to other CNC machines, such as routers and mills, although there are several key differences. 
The main thing that distinguishes lathes from other machines is that in lathes, the material is clamped and rotated by the main spindle. As it rotates, the cutting tool is mounted and moved in various axes, cutting chips off the material.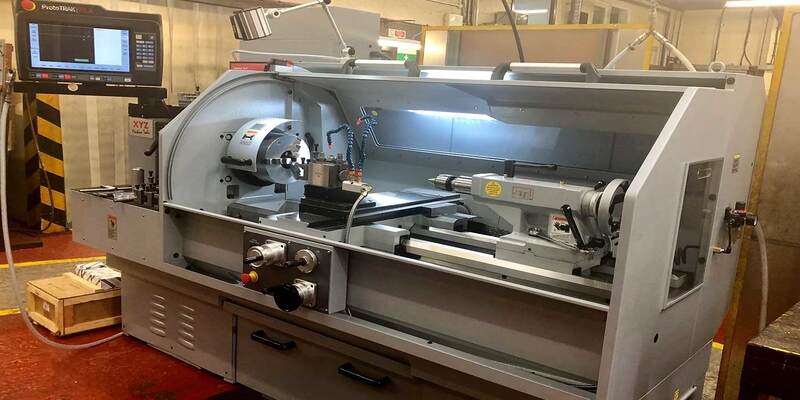 The action of cutting material on a lathe is known as "turning", and lathes are sometimes referred to as turning machines. 
Because of the geometry of lathes, they are most commonly used for machining parts that have symmetry around an axis that can be clamped in the spindle. Examples include pipes and shafts. 
The CNC stands for computer numerical control. This means that the lathe is controlled by computer software which sends g-code to the machine. The code directs the machine and determines how it cuts.  
CNC lathes are used for machining parts across a wide range of industries, and they are much more efficient than other methods such as multispindles. The last few decades have also seen more and more cheap CNC lathes become available, meaning they are now widely accessible to hobbyists as well. 
CNCSourced is reader-supported. When you buy through links on our site, we may earn an affiliate commission. Learn more
The Best CNC Lathes
To help you find the right lathe for you, we've reviewed the best CNC turning machines for 2022. We've picked some of the highest-rated CNC lathe machines in every price range to help you find an appropriate machine based on your goals.
TAIG 4029 DSLS Full CNC Lathe – Entry Level CNC Lathe
Leading CNC machine manufacturer TAIG brings us yet another excellent entry-level CNC tool.
You can see their fantastic beginner CNC mill here, but for now, we want to draw attention to the 4029 CNC lathe. Comprised of a 5C headstock, ball screws, and a DSLS closed-loop control system, this machine emphasizes the delivery of accurate results.
This model is similar to the 4019 in that it uses an ER16 for the jaw chuck. Meaning it only grips at 3 to 4 points, which can affect precision, but is arguably combatted by using other accuracy-focused components like ball screws instead of lead.  
The real high point though is the DSLS system, which is ideal for working on sophisticated pieces. What this system does is detect missing steps from the motor and correct them preventing possible damage.
One thing to note is this lathe does not have a tailstock, so it's not for those looking to work on large projects. However, those working on smaller pieces will enjoy the 4.5" diameter, or 6.5" when you extend the headstock with risers.
This desktop lathe is smaller than the others on this list, and therefore shouldn't be pushed up to high speeds as the vibration will affect the overall integrity of the work, but for those new to CNC lathing, you won't find a more efficient and accurate CNC lathe at this price.
Baileigh PL-1236E-DRO – Excellent Mid-Range CNC Lathe Machine 
The Baileigh PL-1263E-DRO is a mid-range machine that guarantees high-quality turning. 
An upgrade on Baileigh's original PL-1236E model, this machine has numerous added benefits, including an industrial-grade digital readout system for improved efficiency.  
This is also an easy-to-use machine, which is powered by 220v single phase and allows you to choose the voltage that best suits your needs. The various voltage options and integrated digital readout make this CNC lathe particularly well suited to garages, schools, and small fabricators.  
The lathe has a simple gear system that allows for easy turning, taping, and polishing. There are nine speeds to choose from, from 70 to 1400 RPM.  
Another notable aspect of this machine is that all ways are ground and hardened to ensure longevity and precision. They also have adjustable gibs to ensure they slide freely with no binding. 
Other nice features include three and four jaw checks, a foot brake, a coolant system, a steady rest, and a halogen work light. 
Genos L25011 – Industrial CNC Lathe Machine with Compact Footprint 
It's far from cheap, but the Genos L25011 is an excellent machine for industrial CNC lathing. This machine is made by Okuma, which is one of the biggest names in the CNC lathe industry, so you can be sure it's of excellent quality.  
For example, it has an integral main spindle that produces incredibly powerful and precise CNC machining. As a one-saddle lathe, this is stronger and smaller than many other lathes on the market, so it's very efficient.  
It can also be used to easily cut and turn a variety of exotic materials. This is a very advanced horizontal lathe with a compact footprint. 
Another impressive feature is the thermo-friendly construction. It includes a thermo active stabilizer which automatically compensates thermal effects to maintain tight tolerances. 
This is also a user-friendly lathe, thanks to the separate cooling tank for quick servicing, easy spindle access to reduce operator work burden, and reduced chip accumulation. It also has a friendly user interface with a library of apps for easy setup and operation. 
Mazak QT-Compact 300MY – Professional CNC Lathe with Integrated Spindle 
Price: Available upon quote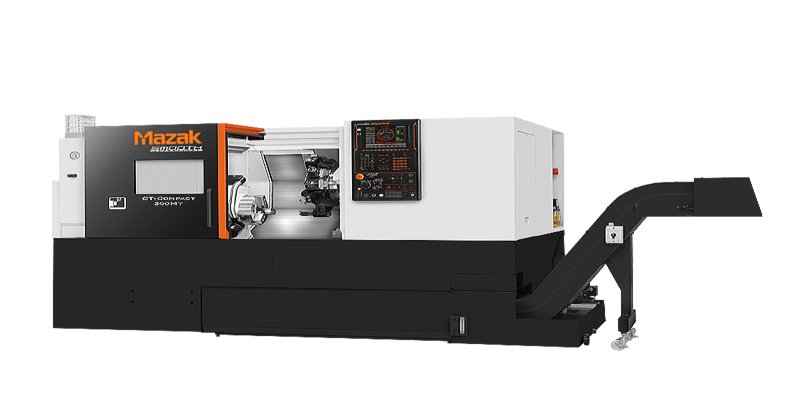 Mazak is another big name in the world of CNC lathes and offers a huge range of machines for different persons. The 300MY is the best model from the QT-Compact Series, which contains entry-level, compact and cost-effective machines for industrial work. 
Like with Okuma's Genos L25011, the 300MY boasts an integrated high rigidity spindle for improved performance and accuracy. No gears or belts are used, meaning there is less vibration generated during the process. 
This machine is also incredibly versatile – as well as turning, it offers milling, Y-axis and second spindle capability. This is thanks to the C-axis indexing in 0.001-degree increments, along with rotary tools mounted on the turret. 
The 300MY CNC lathe machine also ensures high accuracy, thanks to the high rigidity linear roller guides and direct coupled servo motors on all linear axes. 
Finally, this lathe has the added benefit of the Mazak SmoothC. This is a highly advanced control panel that delivers an improved user experience and faster machining times. 
Haas ST 10Y – Best CNC Lathe for Industrial Use 
Price: Available upon quote 
Haas machines are widely regarded as the gold standard when it comes to CNC lathes, and the ST 10Y is a great example of this.  
This machine is designed to provide flexibility, rigidity, and high thermal stability. With an extra small footprint, high RPM, and rapid speeds, it's perfect for high-volume, high-production environments. 
This Haas CNC lathe is also ideal for machining complex parts, due to its small footprint, amazing rigidity, and generous travel. The video below shows a prop shaft being turned between centers. As you can see, the machine achieves a mirror finish without having to slow down, despite a nearly 10:1 length to diameter ratio! 
One of the standout features of the ST 10Y is the finishing sub spindle, which is fully synchronized with the main spindle. This provides effortless in-cycle part handoff and allows you to finish the first and second-op sides of your part in a single setup. 
Other important specs are the 6000 RPM, the 12-station bolt-on turret, and the 30-gallon coolant tank. In terms of usability, there is a control touch screen and remote monitoring via HaasConnect. 
These machines don't come cheap – each Haas model costs tens of thousands of dollars. But if you're looking for unbeatable quality in an industrial setting, you can't go wrong with the ST 10Y.
Alternatives to CNC Lathes
Now that we've seen a range of industry-favorite CNC lathes, we want to provide an overview of more affordable options.
While CNC lathes definitely hold their own in commercial spaces, that kind of power (and price) isn't always necessary for at-home lathing. If you're starting a new hobby or side business, then motorized benchtop lathes are a fantastic alternative to their CNC counterparts.
SHOP FOX W1704 1/3-Horsepower Benchtop Lathe – Affordable Benchtop Lathe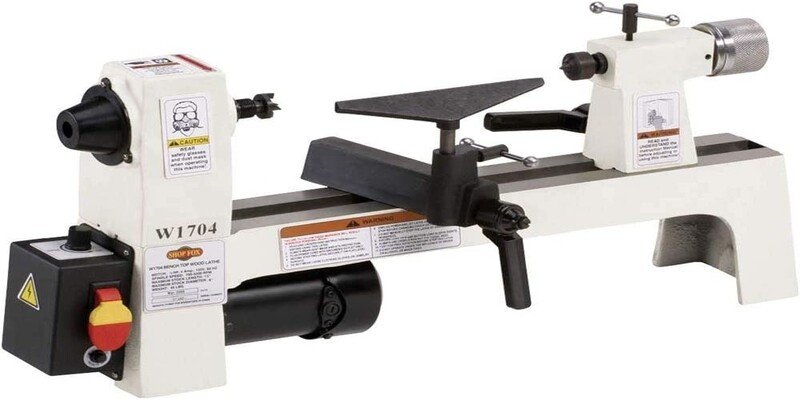 The Shop Fox W1704 benchtop lathe is an affordable yet high-quality option. This DIY lathe is ideal for hobbyists and small businesses.  
One of its best features is the ability to control the speed simply by turning the control knob. This unlimited control of the speed variability makes the lathe incredibly easy to control for both beginners and experienced users.  
With a cast iron construction, this small lathe is also very sturdy and reliable. It's also incredibly quiet, another aspect that makes it particularly suitable for home use.  
While it's one of the more affordable lathes out there, it still packs an impressive 1/3 horsepower engine that's made from quality materials. This lathe machine also boasts two excellent tool rests, a 13-inch distance between centers, and an 8-inch swing over the bed. 
Another impressive aspect of this mill is the 5 3/4 inch faceplate. This threads onto the headstock spindle for non-spindle turning, allowing you to make items that can't be supported from the tailstock. 
One thing to note is that like other small machines, this lathe is best suited to turning small pieces rather than larger projects. 
Z ZELUS Metal Lathe 600W 8 x 14Inch Mini Lathe – Best Mini Lathe 
The Z Zelus 8×14 mini lathe is another affordable option that offers high-quality turning. This lathe has a wide variety of applications, including industry and teaching settings, home and vehicle maintenance, and scientific research units. 
Like some of the other lathes we've profiled, the Z Zelus offers infinitely variable speed control. You can adjust from the low spindle speed of 50 RPM all the way up to the max 2500 RPM.  
You can forward and reverse in all speeds, and you can operate the lathe either manually or using the adjustable auto feed rate.  
Another benefit of this desktop lathe is the high accuracy 3-jaw chuck, which has been tested thousands of times to ensure precision. The spindle is supported by precision tapered roller bearings, providing a spindle accuracy of within 0.01mm. 
The bed of this mini lathe machine is made with high-grade iron, making it reliable and durable. The machine is also equipped with metal gears, so it's water-resistant and provides more accurate rotation than some other machines. 
The Z Zelus has 600 W DC motor power, with 14 inches between centers and an 8-inch swing over bed. 
Grizzly G0602 10″ x 22″ Benchtop Metal Lathe – Benchtop Lathe with Great Durability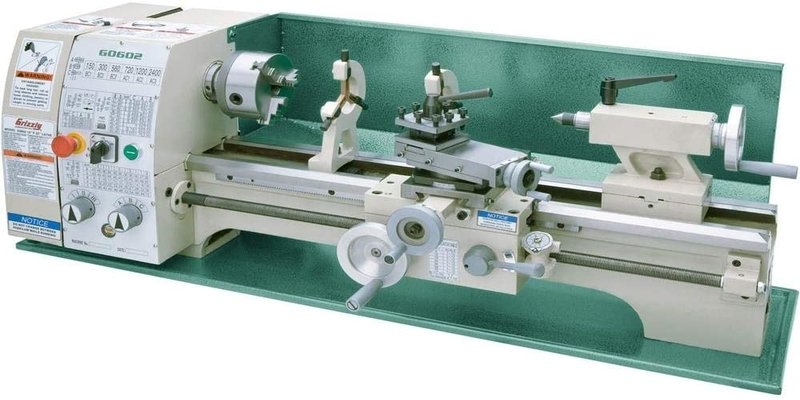 This is an exceptional benchtop lathe that's the perfect mix of powerful performance and high functionality. The Grizzly G0602 is packed with interesting features that help it stand out from the crowd.  
For example, it has a gearbox that allows you to select from six different speeds, from 150 RPM up to 2400 RPM. This allows you to easily and precisely choose the speed required depending on the material and project you're working on.  
In terms of durability, this metal lathe has a hardened and ground V-way bed, guaranteeing excellent support and longevity. It's constructed on top-quality materials and ensures at least 2 years of optimal operation.  
This metal lathe also comes with a full-featured carriage and apron assemblies, making for extremely accurate cutting.  
The 1 horsepower motor provides plenty of power, while the 1-inch bore means the lathe can turn some critical metals such as cobalt and lithium. Other useful features include the 5 inch 3-jaw chuck with two sets of jaws and the 8-inch faceplate. 
Although it provides plenty of power and durability, the Grizzly G0602 is still small enough to be easily movable. Its relatively low price also makes it a viable option for hobbyists as well as professionals. 
FAQ's About CNC Lathes