In this guide, I recommend best large-format CNC routers, mills, and lathes. I'll review machines in a variety of different sizes, all the way from 4040 to 4×8 CNCs, and across every price range.
What is a Large Format CNC Machine?
A large CNC is typically considered to be a CNC machine with a 2ft x 2ft working area and above, with some full-size sheet CNCs coming in at 4×8 foot working areas (though some 4×4 CNCs can also cut full sheets).
How Much Does a Large CNC Machine cost?
The price of a large CNC machine can range from under $500 in the case of the Maslow to well over $5,000 and even $10,000 for high quality industrial models.
Best Large Format CNCs
Best 4040 CNC
4040 CNCs have a working area of 400x400mm and are on the lower end of the scale of large format machines. They're a good and affordable option for hobbyists who want a decent working area but don't have room for a larger machine.
Sainsmart Genmitsu 4040 CNC Router
Working area: 15.7" x 15.7" x 3.31"
Pros
Quick and easy to assemble
Impressive steel frame with leadscrew motion
Up to 104mm Z-axis clearance
Customizable and upgradeable
Secure locking foot design
Cons
Spindle is only 0.1HP
Sainsmart is one of the most popular hobbyist CNC manufacturers, and the Genmitsu 4040 is a great option if you're looking for some extra working room.
It's a very well-made machine, with steel tubes comprising the X and Y axis, and a leadscrew mechanism to drive them. The steel axes are more durable than the aluminum ones often found in smaller, cheaper CNCs, while the leadscrew motion provides smoother movement and better accuracy than belt drives.
While all 4040 CNCs have the same X and Y axis dimensions, the Z axis varies. The Genmitsu 4040 provides 84mm of Z-axis clearance as standard, but you can also increase it by up to 20mm using the secure locking foot to clamp the router onto a workbench. This versatility is key, letting you work on objects of varying heights.
We also like the customizability this large format CNC router provides. It has a control board that supports adding a 4th axis, an offline controller, and even a laser module, so it's a really flexible piece of kit.
Unlike some bigger CNCs, the Genmitsu 4040 is also quick and easy to put together. All the parts come preassembled, so you can get it up and running in around 20 mins.
---
2×4 CNCs
2ftx4ft is one of the most popular sizes people go for when looking for a large CNC router, and as such there are a few top machines to choose from in this size range. For a full round-up, we have a full article on the best 2×4 CNCs.
Inventables X-Carve – Mid-Range Option with Great Software
Working area: 29.5" x 29.5" x 4.5"
Spindle Speed: 10,000-30,000 RPM
Pros
Fantastic Easel Pro software included
Makita spindle included
Passthrough supports material 37" wide
Upgrade kit for belt drive and motors available
Can add 2" onto cutting height with Z-axis upgrade kit
Cons
Belt drive instead of lead or ballscrews
Inventables' X-Carve is widely regarded as one of the best CNC routers for hobbyists. While it has a 29.5" x 29.5" working area as standard, you can work on materials that measure up to 37" wide.
One of the best things about the X-Carve is that you get a free subscription to Inventables' software, Easel Pro. It's considered one of the best and most beginner-friendly CAD/CAM programs on the market, with intelligent features such as the ability to automatically generate efficient and accurate toolpaths in 2D and 3D.
You get a Makita RT0701C included in the X-Carve package, which is nice, because you often have to purchase one separately when buying a CNC kit.
This spindle has 1.25HP and works at 10,000-30,000 RPM, stronger and faster than the Genmitsu 4040's spindle. It's suitable for a wide range of materials, from plastics and wood to soft metals like aluminum.
The X-Carve also comes with a dust control system included, which again is something many other large-scale CNC machines don't. This machine is precise down to 0.001", which makes it one of the most accurate 2×4 CNC routers.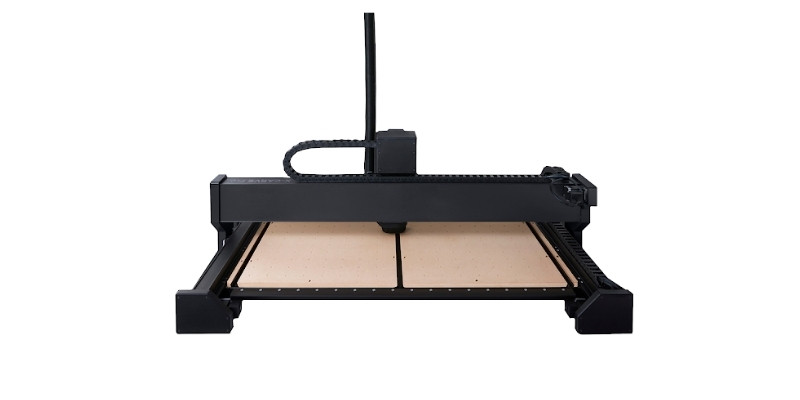 ---
Carbide 3D Shapeoko 5 Pro – Overall Best 2×4 CNC Machine
Working area: 29.5" x 29.5" x 4.5"
Pros
Very powerful and sturdy machine for tracking demanding jobs
Can hold 80mm spindle
BitSetter makes it easy to run jobs with multiple tools
Shiftable gantry for joinery work
Also available in smaller and larger sizes
Cons
Spindle not included
Carbide 3D's Shapeoko range is one of the X-Carve's main rivals, with the 5 Pro being its biggest and baddest model.
This is a powerful piece of kit designed for tackling demanding woodworking projects as well as aluminum milling. It has an HDZ Z-axis with a 1610 ballscrew that lifts a heavy 80mm spindle for tracking hard materials.
It also uses 16mm ballscrews on the X and Y axis, which are preferable over leadscrews for their smoother and faster movement, maintaining accuracy while moving at high speeds.
This large CNC wood router also has several intuitive features that make it a pleasure to use. These include the BitSetter for easy tool changes without needing to manually re-zero, LED lighting under that gantry for easily monitoring your work, and a shiftable gantry that you can move forward by 3.2" for joinery work.
The Shapeoko 5 Pro is also available in two other sizes – 2ftx2ft and 4ftx4ft. If you want to save some cash, you can also check out the Shapeoko 4 and Pro ranges, which are available in various sizes.
Carbide 3D provides its own software package, Carbide Create, for designing, and Carbide Motion for CNC control. These are decent, but not quite at the same level of usability as Easel Pro.
---
BobsCNC Quantum Max – Cheap 2×4 CNC
Working area: 24" x 50.5 " x 3.8"
Pros
Very cheap for a large CNC
Impressive repeatability given the wooden frame
Makita router included
Active user community
Cons
Lower quality movement and less power than metal CNCs
BobsCNC is a popular brand that's known for making affordable CNC machines built from wood, which helps keep its prices down. The Quantum Max is the evolution of the company's famous Evolution series (no pun intended).
Considerably cheaper than both the X-Carve and Shapeoko, the Quantum Max is a solid option for anyone looking for an inexpensive CNC machine for large wood cutting. While a wooden CNC can't achieve the same level of stability or precision as a metal frame, the Quantum Max still reaches repeatability as low as 0.002"-0.004".
It uses a belt drive system, which doesn't provide as smooth motion as the lead and ballscrews seen in most other big CNCs, but is another factor than helps keep the cost down.
One nice benefit is that you get a Makita RT0701C included, which saves you from having to buy one separately. BobsCNC also has a fairly large and active user community, which is nice for hobbyists and you can download other users' design files for free.
BobsCNC Quantum CNC Router Kit
The Evolution series of machines, which stand out for their laser-cut wooden frames and somewhat unusual designs, with the Evo 4 being the best in the line, are possibly the most well-known products from BobsCNC.
Amazon here
We earn a commission if you make a purchase, at no additional cost to you.
12/03/2023 03:41 pm GMT
---
4×4 CNCs
X-Carve Pro 4×4
Working area: 24" x 50.5" x 3.8"
Pros
Extremely precise & sturdy
Free Easel Pro subscription included
Vacuum and dust collection system
2HP spindle
Cons
Limited choice in spindles
It's hard to look past the X-Carve Pro as the best 4×4 CNC router due to its mix of power, reliability, and usability.
The Pro is a supersized version that keeps all the great things about the smaller X-Carve while adding some more benefits (aside from just the increased working area). For example, it's significantly more accurate, being precise down to 0.0005" compared to the X-Carve's 0.001".
This is thanks to improved components like the 25mm ballscrews on each axis, and significantly thicker aluminum gantry.
You also get a 2HP VDF spindle included, which packs more of a punch. Although, bear in mind that the X-Carve Pro is programmed to work with this spindle, so it's a bit tricky to swap out for another.
Aside from that, the X-Carve Pro is a real contender for the title of best large CNC router and has virtually no major faults, helping to justify the hefty price tag.
---
4×8 CNCs
4ftx8ft is one of the most popular sizes for large CNC machines, and as such, there are more models to pick from than in other size ranges. Let's take a look at the best 4×8 CNC routers for different budgets.
Maslow CNC – Cheapest Pick
Pros
The cheapest large CNC on the market
Completely open source so can be bought from scratch or purchased with full kit
Many free design files available
Upright frame makes it space-efficient
Cons
Less precise than other larger CNCs
The Maslow CNC is the cheapest large-format CNC machine on the market. It was born out of the open-source Maslow project's aim to make large CNC technology available to the average hobbyist.
It took some creativity to get the price so low. In fact, the Maslow is very different from a regular desktop CNC machine – it's suspended upright on a wooden frame, with the router tool housed in a 'sled' suspended on a chain system. The sled moves along the chain with the help of gravity and cuts along the way.
So while it's the cheapest, the Maslow CNC isn't the easiest. You can buy the DIY large CNC router kit, but you need to build the frame yourself, and the machine and its Makerverse software take some getting used to.
However, if you're looking for the most affordable entry into full-size CNC cutting, it can't be beaten. Plus, as it uses an upright frame, it doesn't take up as much room as a hefty 4×8 CNC table would, and it's also much lighter than all-metal models.
The Maslow is primarily used for wood cutting and has been used to create all sorts of different projects, as shown in the Community Garden, from chairs and tables to wooden models and even boats. The great thing is that you can download and use many of the design files for free, thanks to Maslow's large user community.
---
MakerMade M2 – Mid-Range 4×8 CNC
Pros
Very cheap compared to other large CNCs
Quicker and more powerful than the Maslow
Can add a laser engraving module
Cons
Still lacks the speed and accuracy of metal machines
The MakerMade M2 is an upgrade on the Maslow CNC, and a higher quality and more professional option that's not open source.
The great thing about the M2 is that it still represents fantastic value for a large wood CNC machine, yet offers significantly more power and usability than the original Maslow. It uses an upgraded control board, allowing it to cut up to 40% faster (up to 40 ipm).
While it retains its predecessor's wooden frame, it also adds a new all-metal Z-axis for greater control and precision (although bear in mind it's still not a match for all-metal machines).
Another interesting feature that really separates the MakerMade M2 from many other larger CNC machines is that you can add a laser engraving module designed especially for the machine's sled.
This greatly widens the scope of the M2, allowing you to perform precise engravings as well as cutting and carving. This provides a much larger working area than most laser engravers, so it's a really interesting upgrade to consider – especially if you want to both cut and engrave signs using the laser add-on.
---
StyleCNC 4×8 Router – Premium Option
Working area: 51" x 98.7" x 8"
Pros
Extremely sturdy metal frame
Fourth rotary axis
Very fast and precise
4HP spindle included
Cons
Expensive with large footprint
While the Maslow and MakerMade M2 are more aimed at hobbyists looking for a large CNC on a budget, the StyleCNC 4×8 is very much a professional machine aimed at business owners.
Whereas the aforementioned two use wooden frames, this machine has an all-metal construction for considerably more stability and accuracy.
Another factor that sets the StyleCNC 4×8 apart is that it has a fourth rotary axis. This allows you to work on 3D objects, rather than just on flat work surfaces like some other large CNCs limit you to.
It comes with a 4HP spindle, which provides a lot more power than the spindles you can with many other large CNCs. It has an RPM range of up to 24,000, with the machine capable of cutting at up to 984 ipm, which is seriously quick. It's also very precise, with a repositioning accuracy of down to 0.03mm.
The StyleCNC 4×8 comes with an industrial-grade RichAuto A11 DSP control system which can be used offline, so you don't even need a computer to operate the machine. However, it doesn't come with any software included (StyleCNC recommends using Type3, Ucancam, or Artcam).
---
Best Large Format CNC Mill
AvidCNC Benchtop PRO2424
Working area: 24" x 24" x 9"
Pros
Dual ballscrews on each axis for excellent stiffness
Very rigid and stable frame
Fast with up to 300 ipm cutting speed
Precise down to 0.025mm
Cons
Spindle or stepper motors not included in standard package
While large CNC routers can cut wood and other soft materials, you'll need a mill for large-format metalworking, and I think the AvidCNC Benchtop PRO2424 is the best option for this.
This is a great aluminum cutting machine that's also effective on other non-ferrous metals such as stainless steel. The PRO2424 provides 24" of travel along both the X and Y axis, and up to 9" of travel on the Z axis.
It uses precision dual ballscrews on both sides of the gantry, which provide exceptional stiffness and overall better motion than machines that only use a single screw on each axis.
It's also fast, capable of reaching speeds of up to 300 ipm, and is accurate down to 0.025mm, making it a very reliable and high-performance machine that's a great CNC for small business owners.
---
Best Large CNC Lathe
Tormach 8L CNC Lathe
Pros
Can cut titanium and other ferrous metals
Intuitive controller with user-friendly PathPilot software
1.5HP spindle with 180-5,000 RPM range
Extremely sturdy and reliable
Supports 4-axis machining
If you're looking for a lathe to machine large cylindrical parts and similar projects, the Tormach 8L is a top choice.
This is a professional-grade machine designed for small workshops that provides 4.5" of travel on the X axis and either 10" or 16" on the Z axis, depending on whether you're using the tailstock or not (tailstocks are commonly used to help improve precision by securing the free end of a workpiece during machining). It can support workpieces with a maximum diameter of 8".
The Tormach 8L has the widest material-cutting scope of all the large CNCs on our list, capable of cutting tough metals like titanium as well as softer materials. It comes with a 1.5HP spindle with up to 5,000 RPM and low ranges down to 180 RPM for carving and turning the toughest materials.
It's a hefty machine, with a total footprint of 50"x26" and an all-metal construction weighing 838lb, so you need a suitable space and table to host it on. It does, however, comes preassembled in an enclosure, so it's easy to setup, and has a viewing window so you can safely monitor your work.
---
Buying Guide – Factors to consider
Size
There's no one-size-fits-all definition for what is considered a large CNCs – what one person considers large can be different from another. Generally, anything from 4040 upwards can be considered large, but there's still a huge difference between a 4040 machine and a 4×8 CNC.
The size largely determines what kind of projects you can make. For example, a 4040 CNC is fine for medium-size products like small-ish coffee tables, wooden models, or decorations, but a 4×4 or 4×8 CNC is going to be needed for processing large furniture like tables and doors.
| CNC Machine | Working Area |
| --- | --- |
| Sainsmart Genmitsu 4040 CNC Router | 15.7"x15.7"x3.31" |
| Inventables X-Carve | 29.5" x 29.5" x 4.5" |
| Carbide 3D Shapeoko 5 Pro | 29.5" x 29.5" x 4.5" |
| BobsCNC Quantum Max | 24" x 50.5 " x 3.8" |
| X-Carve Pro 4×4 | 24" x 50.5" x 3.8" |
| Maslow CNC | 4' x 8' |
| MakerMade M2 | 48" x 96" |
| StyleCNC 4×8 Router | 51" x 98.7" x 8" |
| AvidCNC Benchtop PRO2424 | 24" x 24" x 9" |
| Tormach 8L CNC Lathe | 4.5" x 16" |
Precision
Precision is always important, but you need to be particularly careful when shopping for a big CNC machine. This is because as the tool has further to travel in larger CNCs, there's a risk of losing accuracy if the build quality isn't up to scratch – in the same way that larger 3D printers can lose accuracy as they get larger if the gantry isn't well built.
This is why you often ballscrews used in large CNCs, rather than the belt drives or leadscrews common in cheaper, smaller ones.
The frame construction is also important: heavier, all-metal machines are more sturdy and therefore provide better precision. This is why cheaper wood-based CNCs like the MakerMade M2 and BobsCNC models are less precise.
Speed
The speed of a large CNC machine for wood can vary greatly depending on the quality of the frame, its motors and other components, as well as the power it generates.
For example, the MakerMade M2 can reach a relatively modest speed of 40ipm, while more professional machines like the Benchtop Pro 2424 and StyleCNC 4×8 can reach 300ipm and over 900ipm, respectively.
A CNC's machine is one of the biggest determinant factors on its price, so while hobbyists may prefer to go with a slower machine to cut costs, professionals need faster CNCs to deal with higher production rates.
Price
The price of a large milling machine is dependent upon the above factors but also on others, such as usability, quality of software, and how long it takes to set the machine up.
For example, the Maslow costs a fraction of the StyleCNC 4×8 despite being the same size, but for the low price you have to make some sacrifices on speed, accuracy, the materials and depths you can cut, and usability.
So, to find a large CNC that provides good value to you, you need a solid picture of what kind of work you want to do, and then use this to decide the specs you need.
For example, a beginner looking to create home projects on the weekend may prefer a cheap option like the Maslow or M2, while professionals and business owners will need the increased speed and convenience of more premium machines like the StyleCNC 4×8 or X-Carve Pro.
| CNC Machine | Price |
| --- | --- |
| Sainsmart Genmitsu 4040 CNC Router | $649.99 |
| Inventables X-Carve | $2,047 |
| Carbide 3D Shapeoko 5 Pro | $3,500 |
| BobsCNC Quantum Max | $1,580 |
| X-Carve Pro 4×4 | $8,495 for 4x2ft / $9,995 for 4x4ft |
| Maslow CNC | $549.99 |
| MakerMade M2 | $1,198 |
| StyleCNC 4×8 Router | $5,680 |
| AvidCNC Benchtop PRO2424 | $3,950 |
| Tormach 8L CNC Lathe | $8,510 |
Maintenance
Another point to consider is how easy (and costly) your CNC is going to be to maintain. Naturally, larger replacement parts for a 4×8 CNC will typically cost more than those for a 4040.
It's also important to bear in mind that large format CNCs are typically designed for higher production environments and therefore use more powerful and expensive components.
For example, replacing the StyleCNC 4×8 router's 4HP spindle will cost more than replacing a Makita RT0701C spindle on a machine like the X-Carve or Quantum Max.