This is a review of the BobsCNC Evolution 4, one of the best-known and popular hobbyist CNC routers.
Coming from a woodworking and metalworking background, I've experienced my fair share of different routers.
If I've learned anything, it's that you need to be super careful when making a purchase to ensure you get the right machine for you. That's why I've conducted this BobsCNC Evo 4 review, so you can easily judge whether this router has the features you need.
CNCSourced is reader-supported. When you buy through links on our site, we may earn an affiliate commission. Learn more
BobsCNC Evo 4 Review Summary
THE REVIEW
BobsCNC Evo 4
More affordable than metal routers
Enough stability for most hobbyist work
Variable speed spindle with six settings
Excellent customer support
Upragadable to laser and extended working area
Wooden frame flexes more than aluminum routers
The BobsCNC Evolution 4, which costs $1,230, is a really highly rated router among many hobbyists.
It has a 4.5-star rating on Amazon from over 200 global reviews and having reviewed it, I can confirm it's certainly a good router.
My review found it offers a really high level of stability for a router in this price range, has powerful electronics, and boasts a good spindle with a decent variable speed range.
There are some faults, but for the money, you can't argue with what you get.
If you'd like to learn more about the Evolution 4, this review has got everything you need to know.
We'll take a close look at every aspect you need to consider when making a purchase, so you'll be able to make an informed decision once you've finished reading. Let's get to it.
Size & Working Area
The BobsCNC Evo 4 is ideal if you need a hobbyist router with a larger working area than that offered by smaller machines like 3018 routers.
This router has a 2ftx2ft workspace, so you have plenty of room for working on medium size projects.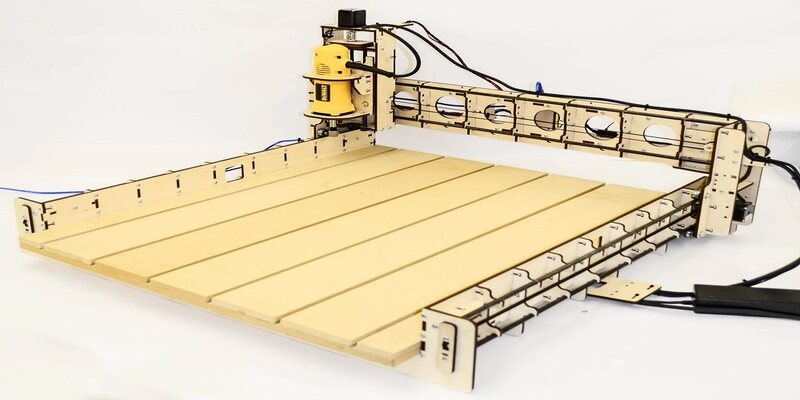 The total size is 32"x39"x21", so it's not as compact as smaller routers.
It's still a benchtop machine, but make sure you have a suitable amount of space to accommodate the machine. It weighs around 47lb.
Build & Stability
One of the most unique and impressive aspects of the Evolution 4 is its construction.
Whereas most other CNC routers are made of metal, or metal and plastic in the case of cheaper models, the Evo 4 is made of wood.
To be specific, it's made of laser cut baltic birch plywood.
The strength and durability of baltic birch plywood are well known, and the Evolution 4 is a stable and sturdy machine that offers accurate cutting.
However, there are pros and cons to the baltic birch frame.
On the downside, it flexes more than the metal frames of other routers, which are typically made of aluminum.
On the plus side, it still offers enough stability for most hobbyist work and it means you get a large working area at a much lower price than if you were to buy a metal router of the same size.
Plus, you can keep the flexing really low as long as the feeds and speeds are kept within the right range, so a lot of the time it should have minimal impact, if any. The repeatability of the Evo 4 is just 0.002" to 0.004", so it still offers very high precision provided it's used in the correct way.
As other reviewers have pointed out, due to its slight compromising of quality for lower cost, the wooden frame of the BobsCNC makes it an entry-level router.
Spindle
The Evolution 4 kit comes with a 1.25HP Makita RT0701C variable speed router.
One of the main benefits of this spindle is the range of speed settings you can pick from – there are six settings ranging from 10,000 to 30,000RPM.
This means the spindle is more than capable of handling soft materials and allows you to cut wood and plastics in a very precise, fast, and efficient way.
The spindle has a lightweight aluminum construction, weighing about 4lb.
I also found that it has dual insulation, meaning it offers good dust protection, which is always important in woodworking.
Compatible Materials
You can use this BobsCNC router to cut, carve, and engrave a range of soft materials, including wood, plastic, acrylic, leather, PVC, PCB, and foam.
On the downside, if you want to cut soft metals like aluminum, the Evo 4 isn't the best choice.
It's not that it's impossible, but it will take a long time to cut aluminum and the surface finish won't be great due to the vibration given off by the machine. As other people have pointed out, the machine simply isn't rigid enough for cutting metal.
If you're looking for a machine that can do this better than the Evolution 4, check out our top recommendations for CNC routers that can cut aluminum.
Axis Motion
The X and Y axis of the Evo 4 are moved by a GT2 belt drive and an SG20U supported rail system.
The belt drive is fast and offers a good level of torque, however, as belt drives don't respond well to rapid acceleration, it's advisable to increase speed slowly.
Another notable feature is the Acme rods and Acme nuts on the Z axis.
These were added as an upgrade on the router's predecessor, the E4, which used threat screws that resulted in wobble.
Not only do the Acme components help reduce wobble, but they also result in a faster Z axis travel, so the bit comes down to the workpiece significantly faster. In fact, the Evolution 4 is capable of cutting at twice the speed of the E4.
Electronics
At the heart of the Evolution 4 runs on an Arduino Uno control board with GRBL 1.1F firmware.
You need to connect the board to a computer in order to run g code on the router. Both the controller and power supply are smartly placed on the back of the machine so that it doesn't get in the way.
It powers the four NEMA 17 stepper motors, which have 76 oz-in of holding torque.
This helps them achieve a maximum jog speed of 200" p/m, and a cutting speed of up to 100" p/m. Another useful feature is the homing switches on each axis, which make it simple to home the device.
Control
The BobsCNC Evolution 4 kit doesn't have an offline controller, so you can only control it using the Arduino Uno microcontroller.
Some hobbyists prefer to transfer g code into an offline controller and manually control their routers, as it reduces the risk of a PC crash compromising your work, so bear in mind this isn't possible with the Evo 4.
Software
You can use any CNC control software that's based on GRBL to operate the Evolution 4.
This includes free GRBL control software like GRBL Controller and UGS, as well as paid options like bCNC.
You also need to choose CAD and CAM software for designing your projects and converting them into g code that you can send to the router.
Again, there are many options to choose from – you can read about the best in our guide to CAD/CAM software. BobsCNC also gives you chance to purchase subscriptions to the following software when buying the Evolution 4:
EstlCAM – $59
VCarve Desktop – $349
Alibre Workshop – $399
VCarve Pro – $699
Aspire – $1,995
Upgradability
If you like the look of the BobsCNC Evolution 4 but need a slightly larger working area, make sure you consider the extension kit that's made by BobsCNC specifically for this router.
It'll set you back $379, but in return your machine will go from a 2ftx2ft to a 2ftx4ft, giving you a significantly larger working area. Specifically, it extends the X axis from 26.5" to 50.5".
This extension kit does require a bit of assembly, but it's relatively straightforward so long as you follow the instructions in the manual that comes with it. To make it easier, it's recommended to cover the extension pieces in lacquer and sand them down to remove rough edges.
Another interesting upgrade option is the laser module made by J Tech Photonics.
This is made specifically for the Evo 4 and Evo 3 and is an all-in-one laser and mounting. The standard package costs $364.96, but it can go up to $734.96 depending on the features you choose.
For example, you can choose to add a magnetic shroud for improved safety, pick between three different power options, and add a high-resolution lens that will create a higher resolution spot.
Assembly
Something you should beware of before ordering a BobsCNC Evolution 4 is that the assembly time is a fair bit longer than some other hobbyist routers.
Although assembly time will vary depending on your experience, on average it takes around a day to put together. Some users have said it's taken them a day and a half due to being extra cautious and sealing all the wood.
For reference, smaller CNC machines like 3018s or 3040s typically take a couple of hours to put together.
The instructions provided by BobsCNC are really clear and helpful, and there are various YouTube videos to help with assembly, but this is a DIY CNC router that does require a little patience.
Customer Support
Without a doubt, BobsCNC offers some of the best customer services I've seen of any CNC manufacturer, if not the best.
The company was formed by four friends (one being Bob) back in 2015 and you get that feeling when you need support – they really care about their customers and the level of service is better than that given by most larger brands.
They even offer free shipping to the lower 48 US states!
If you need support, you can fill in a contact form on the BobsCNC website, email them directly at [email protected], or for technical support call (417) 213-8291.
Support hours are 8am to 8pm CST. I contacted the company both via email and telephone, and in each case found the team to be very friendly, responsive, and a pleasure to deal with.
Another thing that makes BobsCNC machines like the Evo 4 so popular is the active user community.
There are several different Facebook groups, including one dedicated to the Evolution series, a Pinterest page, an Instagram, and a Youtube channel. In the community, you can seek advice from other users, get feedback and inspiration for projects, and share your creations with fellow CNC enthusiasts.
The Verdict
There's no doubt in my mind that the BobsCNC Evolution 4 is a good CNC router; after all, it is one of the most popular on the market.
This is largely due to the level of stability you get for a lower price than with metal routers, the impressive variable speed router, and the generous working size of the router.
I'm also a fan of the numerous upgrade options, particularly the ability to add a laser module and increase the X axis, although bear in mind these additions don't come cheap.
That's not to say the router is without its faults, though.
While the wooden frame reduces the cost, it also leads to increased flexing in comparison to routers with metal frames. Some people will also be put off by the fact that there's no offline control.
Overall, though, the pros outweigh the cons. If you're looking for a large router at an affordable price, from a trusted company that boasts an active user community, the Evo 4 is certainly worth considering.
Want to buy an Evolution 4 for yourself? You can pick one up from Amazon for $1,230, with all orders shipped within four working days.
THE REVIEW
BobsCNC E4
More affordable than metal routers
Enough stability for most hobbyist work
Variable speed spindle with six settings
Excellent customer support
Upragadable to laser and extended working area
Wooden frame flexes more than aluminum routers
BobsCNC Evo 4 Alternatives
If you'd like to check out some other CNC routers, these are some of our favorite hobbyist machines.
The Sainsmart Genmitsu 3018 PROver is our number one recommendation if you're looking for a smaller, cheaper alternative to the Evo 4.
It has a working area of 300x180x45mm and is less than half the size of the Evolution 4 overall, so it's perfect for small home workshops.
It offers really good value for money, with a super sturdy aluminum frame, an intuitive offline control module, powerful electronics, and various upgrade options, including the ability to add a laser module.
Read more: Sainsmart 3018 PROver review
Maslow CNC – large 4×8 alternative
Part of the attraction to the Evo 4 is the generous working space, but the MakerMade Maslow CNC offers an even larger area for around half the price.
This is because MakerMade, the manufacturer, aims to make CNC kits more affordable and accessible to the average hobbyist.
The Maslow is a wall-mounted router with a 4ftx8ft working area, and while it's not as high a quality as the Evolution 4, it's by far the cheapest 4×8 CNC router.
Read more: Maslow CNC review
BobsCNC KL733 – premium BobsCNC alternative
If you like the look of BobsCNC machines but want to see what else the company has to offer, the KL7 series is its other main offering.
These are larger, higher-quality routers with more advanced features, like a steel-reinforced Bell-Everman belt system for improved stability.
The KL733 has a 3ftx3ft working area, while the KL744 is 4ftx4ft. Both can be bought with a table, which makes them more suitable for larger, more demanding projects, and they're good options for small business owners.
BobsCNC Evo 4 Specs
Frame size: 32"x39"x21"
Engraving area: 610x610x85mm
Weight: 47lb
Frame material: baltic birch plywood
Spindle: 1.25HP Makita RT0701C
Max spindle speed: 30,000RPM
Stepper motor: NEMA 17
Supported OS: Windows, Mac, Linux
Rated power: 110W
Power supply: 12 VDC 8 amps
Collet: 1/4"
Control: Online
Software: GRBL
Connectivity: USB
Other articles you may be interested in: