When it comes to buying a CNC machine, one of the most important things is to make sure you choose a machine that's the right size for what you want to do. From small desktop routers to large industrial machines, there are plenty of sizes to choose from, one is 2×4. So, is a 2×4 CNC router kit right for you? 
This guide is designed to help you answer that question. We explain what 2×4 CNC machines are, what applications they're best suited for, and what benefits they have over other machines. Then, we review some of the best 2×4 CNC routers that you can buy today. 
What is a 2×4 CNC Router? 
A 2×4 CNC router is simply a router that measures 2ft by 4ft, meaning it's 2ft wide and 4ft long. CNC machines come in a wide range of different sizes, and 2×4 is a mid-to-large size router. While it's smaller than lots of industrial machines, it's also a fair bit bigger than many hobbyist machines.
Other common large-scale CNC router sizes include:
And some common small CNC router sizes include:
For example, many CNC beginners and casual hobbyists go for small benchtop machines like 3018 CNC routers, which have a 300 x 180 mm work area. These are affordable machines that can be picked up for a few hundred dollars, and are best for small projects.
In contrast, a 2×4 router gives you a lot more room to work with, meaning you can work on larger projects. For example, if you're in the business of making signs or advertisement boards, a 2×4 CNC router is probably be going to more of more use to you than a smaller 3018 or 6040 CNC machine. 
Sign making is just one of many uses of 2×4 CNC routers, though. Their relatively large size means they're also commonly used in carpentry for the making of things like furniture and cabinets. Other uses include mold making, stone processing, metal fabrication, cutting plate production and the making of indoor decorations. 
2×4 isn't a hugely common size when it comes to CNC routers. There are a few machines out there, but you don't have as much choice as you do with other size routers. Plus, a 2×4 CNC router kit will set you back several thousand dollars, so it's important to make sure you need a definitely 2×4 instead of a different size machine before you splash out. 
Of course, you may find you need a larger working space, such as 4ft x 4ft. We'll take a look at some alternative size CNC machines after we've reviewed the best 2×4 models in case you want to explore some different options 
The Best 2×4 CNC Routers Ranked 
Without further ado, here are the best 2×4 CNC router kits on the market, starting with the cheapest model before moving on to the best solutions for businesses and industry. 
StyleCNC 2×4 CNC Router Kit – Most affordable option 
StyleCNC is a highly prolific manufacturer of routers, mills, laser engravers, and more, and it produces machines in virtually every size, including its 2×4 CNC router kit. 
The good thing when you buy from StyleCNC is that you know you're getting a well-made, durable machine made by an experienced company. This is true for its 2×4 kit, which has a cast-iron structure for maximum robustness and stability.  
This is also an extremely precise machine, with a high-quality ball screw and linear guide for stable operation, high accuracy and low vibration across the X, Y, and Z-axis. There's also the Taiwan TBI screw on the Z-axis for increased precision and smoother transmission. 
The water cooling spindle helps extend the working life of the 2×4 CNC router and also allows it to achieve high-performance levels over extended working times.  
It uses the upgraded Mach4 motion control software which is renowned for being highly intuitive and responsive. The StyleCNC 2×4 is also compatible with a range of different CAD and CAM software, such as Type3, Artcam, and Ucancam. 
You can use this machine to work on a wide variety of different materials, including wood, rubber, MDF, PVC, PCB, acrylic, glass, copper, brass, and aluminum, so it's really versatile and can be used for lots of different applications. 
Axiom AR8 Pro V5 – Quality industrial 2×4 CNC router kit 
Axiom is a well-known producer of high-end CNC machines, which is reflected in its prices. The Axiom AR8 Pro V5 is considered one of the best 2×4 kits out there, though, so you do get value for your money.  
This machine uses 48V stepper motors with high holding torque, so it offers high performance, extremely precise machining. There's also a 3HP electro-spindle with an integrated cooling system for quiet yet powerful and efficient working. 
It has a robust steel frame and an interlocking aluminum table with precision ball screws for maximum durability, while the integrated MDF spoil boards provide exacting precision. 
One of the nice things about purchasing this 2×4 CNC router kit is that you can also choose from a wide range of add ons, such as a pendant protector, hold-down clamps, and a dust shoe. This makes it a good option if you're a business owner looking for an industrial solution that you can customize according to your needs. 
Another highlight is that the machine also offers 4 axis capability and is prewired to accept the optional rotary kit, so you can add that on to achieve more complex and flexible CNC machining.  
While it's an industrial machine, the Pro V5 is still simple to use. You don't even need to attach it to your computer, as you can just use a USB stick to transfer your file to the handheld controller. The controller is a RichAuto B18, which is powerful yet lightweight and user-friendly. 
Powermatic PM-2X4SPK – Premium 2×4 CNC router kit 
The Powermatch PM-2X4SPK is another premium 2×4 CNC router kit which is designed for businesses and serious professionals.  
This machine has an extruded aluminum table that provides a large and extremely stable working service, along with integrated T-slots so that you can position hold down clamps in any position on the router.  
There are also flexible nylon track chains to prevent stress to cables, while the included dust shoe helps keep the working surface clean and the MDF spoil board protects the table from damage. 
In terms of precision, the high torque stepper motors provide fast and accurate yet quiet movement. There are integrated casters for increased mobility, while the linear guideways with recirculating ball bearings help ensure accurate tool bit positioning. 
You can control this machine using the handheld controller which comes with an 8-foot cable, so you can observe your progress from a safe distance and numerous positions.  
One of the best features is the touch-off puck which allows you to re-zero the Z-axis with just the push of a button for maximum usability.  
This model also comes with an enclosure for the 2×4 CNC router made of welded steel and with a built-in toolbox for storage. 
Best 2×4 CNC Router Alternatives 
If you've read our guide and now think you may need a different size machine, here are the top alternatives to 2×4 CNC routers. 
BobsCNC Evo 4 – Top 2×2 CNC Router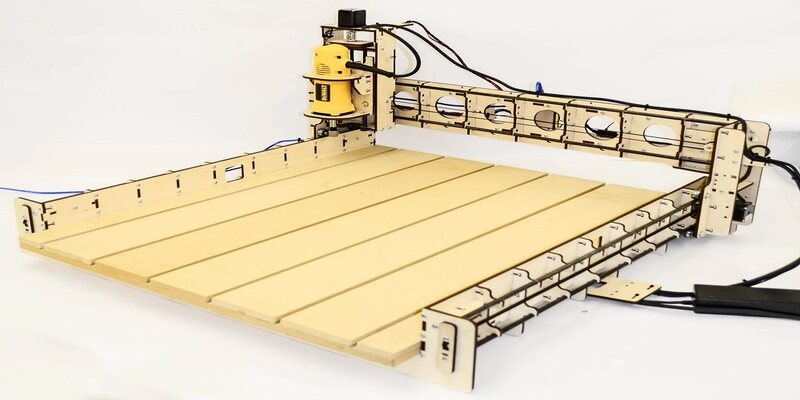 The BobsCNC Evo 4 is a slightly smaller machine measuring 2ft by 2ft and is easily one of the best options if you're looking for a CNC router of that size. Bobs CNC is a very popular brand among hobbyists, with its Evolution series being the highlight.  
These machines are well known for their unique design and laser-cut wood framing, which, along with the SG20U supported rail system, helps the Evo 4 be incredibly stable with 0.0002-0.0004" repeatability. The wood frame also offers quieter machining than you get with metal routers.  
You can work on a wide range of different materials, from wood and plastic to aluminum, so it's suitable for loads of different applications. The Evo 4 is also designed to be suitable for beginners and is simple to set up and use with the Arduino CNC software. The BobsCNC Youtube channel also has more than 100 videos to help you learn and develop your skills. 
The Evo 4 is also worth considering if you'd like a 2×4 working area but don't have the budget, as you can still work on most of the same projects with a 2×2 router, it'll just take you longer. 
Overall this is a highly accurate, durable and versatile machine that's ideal if you're looking for a user-friendly router that offers a large working area at a low price.  
MakerMade Maslow 4×8 CNC Router – Cheapest Large CNC Router Table 
The MakerMade Maslow 4×8 CNC Router is a fair bit bigger than a 2×4 CNC router kit, but the reason we're recommending it is that it's by far the cheapest large CNC machine out there.  
Costing just a fraction of other similar-size routers, the reason it's so cheap is that it's produced by Maslow, which is an open-source, community-driven project. Maslow's ambition is to "make large format CNC technology available to everyone." 
Sure, you don't get quite the same quality as you do with commercial CNC machines, but it's fantastic value for money if you're a hobbyist and even a small business owner.
The Maslow is still a precise and durable machine that's simple to use, and it has some nice features including z-axis functionality. You can also adjust the cutting depth for working on different projects. 
As this machine is open-source, there's a very active user community surrounding it. This means you can interact with other users to discuss projects, share tips, and so on. 
There's even a community marketplace on which you can sell your own creations and buy other users'. The Maslow website showcases some of the projects CNC enthusiasts have made with this machine, from functional desks and chairs to intricate ornaments. Some even created a full-size boat using this large CNC router!
You can also upgrade to the newer MakerMade M2
If you enjoyed this article:
Sign up to our email list and get the latest CNC news, buyer's guides and giveaways direct to your inbox: