The Inventables X Carve is one of the most popular hobbyist CNC routers on the market, but that doesn't mean that it's right for everyone.
Whether you're looking for a larger working area, a more powerful control board, or better linear motion, it's always worth exploring alternatives before splurging over $2,000 to kit out your home workshop.
As a budget-friendly X Carve alternative for beginners, I recommend the BobsCNC Evo 4. Its wood frame keeps costs low while ensuring quality and precision. It offers a near-equivalent work area to the X Carve, but at almost half the price.
For a premium choice, I prefer the Shapeoko 4. It's a robust, larger machine that's easy to assemble and excels in precision and aluminum cutting. Despite its higher price, the Shapeoko 4's enhanced capabilities make it a solid investment.
I've been working with CNC machines for many years, from routers and mills to laser cutters. During that time, I've tried and tested many models, including the X Carve and numerous other popular hobbyist routers.
So let's take a closer look at the 5 best X Carve competitors I've found – comparing them across important factors like price, material compatibility and size – so you can make the right choice without overspending
The Best X Carve Alternatives
BUDGET PICK
BobsCNC Evo 4
Available at:
PREMIUM PICK
Shapeoko 4
Available at:
---
Shapeoko 4 – Best Inventables X Carve Alternative
Like the X Carve, the Shapeoko 4 (the latest in Carbide 3D's Shapeoko series) is an extremely popular CNC router among hobbyists.
Although there are some similarities between the two, when I tested them against one another in my X Carve vs Shapeoko 4 review, I found the Shapeoko to be the better machine overall.
Let's start with the similarities, namely the controllers and linear motion in both machines.
They each use Arduino boards with GRBL firmware, which is common among hobbyist CNCs but not as high quality as the Builbotics controller seen in the Onefinity CNC series.
The Shapeoko 4 is available in three different sizes in contrast to the X Carve being available in just one.
The Shapeoko 4 XXL is the most similar in size but its 33"x33"x4" provides a larger working area, while the Standard and XL size options mean you have more freedom in choosing the right machine for your budget and workshop space.
They also both use belt drive systems to move the X and Y axes, with lead screws on the Z axis.
So, little to separate them so far, although the significantly wider belt drives of the Shapeoko 4 ensure better belt tension and therefore more precise, stable motion.
Both these CNC routers are built with aluminum extrusions, but the extrusions on the Shapeoko 4 XXL are significantly larger and heavier.
To be precise, the Shapeoko's extrusions measure 85x55x5mm in contrast to the X Carve's 40x40x3mm, with the added weight making the former considerably more stable.
This makes the Shapeoko 4 a more effective aluminum cutting machine than the X Carve.
The X Carve can be used to cut soft metals, but the Shapeoko 4 is the better option in this regard. This is exemplified by the many aluminum cutting videos on Carbide 3D's YouTube channel, such as this one.
Not only that, but the Shapeoko CNC router has been shown to cut wood up to as twice as fast as the X Carve.
Due to the Shapeoko 4 parts coming preassembled, whereas the X Carve kit comes only partially assembled, it's also easier to get up and running. Both are very similar in terms of upgradability, with laser engraver modules, Z axis upgrades, and extension kits available for each router.
The Shapeoko 4 doesn't beat the X Carve in every regard; the latter's Easel 3 software is superior to Carbide 3D's Carbide Create and Carbide Motion package, and once set up it's one of the most user-friendly CNC routers you can buy. Both have larger active user communities.
The X Carve also comes with a Makita router included, whereas Shapeoko users need to order a Makita or Carbide compact router separately.
But if you're looking for a sturdier, bigger alternative that's better at cutting metal, the Shapeoko 4 offers just that for only a slightly higher price.
Read more: Shapeoko 4 vs X Carve — compared
Onefinity CNC Woodworker X-35 – Cheaper X Carve Alternative
Having tested several popular CNC routers against the X Carve, I believe the Onefinity CNC Woodworker X-35 is one of the best X-Carve alternatives around.
There are several areas in which the Onefinity offers significantly higher quality than the X Carve – here are the main ones:
It uses a ball screw mechanism that's superior to the X Carve's belt drive and Z axis lead screw
The Onefinity CNC's Buildbotics controller is significantly better than the X Carve's standard GRBL board
You get a slightly larger working area with the Onefinity CNC
The Onefinity is made of steel and offers more stability, rigidity, and durability
It is much easier and quicker to assemble than the X Carve
The Onefinity CNC range of machines is still relatively new and not yet as popular as the X Carve, but as you can see from my summary, they're seriously impressive.
It's actually the same Onefinity CNC machine available in four different sizes, ranging from a small desktop machine to a large 4ft x 2.6ft. You can read more about this in my Onefinity CNC review.
In contrast, the X Carve comes in just one size.
It's the Woodworker X-35 that's the closest to the X Carve, offering a 32"x32" working area in contrast to the X Carve's 29.5"x29.".
There are only a few inches in it, but most hobbyists prefer to get the extra space when looking at CNC routers of a similar size and price range.
So, not only does the Woodworker X-35 offer a larger cutting area than the X Carve, but with the Onefinity CNC machines you get more choice in terms of the size you go for.
This will suit many people, as some beginners prefer to go for a smaller machine to start with, while more experienced hobbyists may prefer larger routers.
Whereas the X Carve is made of an aluminum frame and offers decent stability, the Onefinity is constructed using hollow steel shafts.
The higher strength of steel means it offers increased sturdiness and rigidity, while the hollow shafts help minimize flexing and vibrations. This makes the Onefinity an incredibly stable, and therefore precise, machine.
One thing that many people question about the X Carve is its metal cutting ability.
While you can cut soft metals like aluminum with it, it's not regarded as an ideal machine for this purpose. In contrast, the Onefinity CNC is widely referenced as a quality metal cutter, and people have even used it to cut thin steel.
Another area in which there's a clear gap in quality between these two routers is the electronics, specifically the controller.
Whereas the X Carve uses a standard Arduino board with GRBL firmware, similar to many other affordable CNC routers, the Onefinity CNC uses a Buildbotics controller.
This powerful controller uses a Raspberry Pi board, so you don't need to use a PC to run the Onefinity.
There's the option to add an 8" touchscreen display and even a "joypad" styled on an Xbox controller, which provides an incredibly intuitive CNC experience.
Now, this isn't to say the Onefinity CNC is better than the X Carve in every way.
For example, with the X Carve you get a 3-year license for Easel Pro, a powerful, user-friendly all-in-one CNC software with CAD, CAM, and motion control functions. All you get with the Onefinity CNC is a basic control software preprogrammed onto the Builbotics controller.
However, software is always something you can get separately. In my view, the significantly better mechanical and electrical components make it worth spending the extra money on the Onefinity.
While we're on price, it's worth noting that the Onefinity base kit with the Buildbotics controller actually costs less than the X Carve, which retails for $2,047, so this router also represents fantastic value for money.
Read more: our Onefinity CNC review
BobsCNC Evo 4 — woodworking CNC X Carve alternative
Price: $1,230 — Available on Amazon here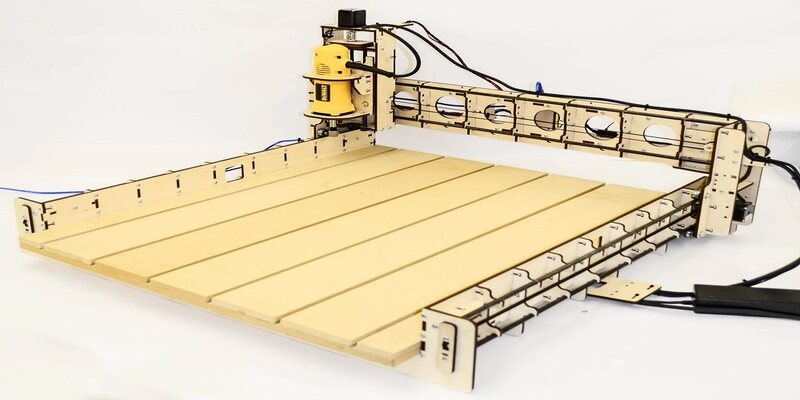 If you're looking for cheaper alternatives to the X Carve, the BobsCNC Evolution 4 is one of the best out there.
It's still a hobbyist CNC router designed primarily for woodworking and cutting other soft metals like plastics and foam. However, the Evo 4 is one of the more unique routers on the market due to its all-wood frame, whereas most other similar machines are made of aluminum.
This is an intentional move by the manufacturers to allow them to offer a high-quality, medium-sized CNC router at a significantly lower price.
The working area of 24"x24" is only a bit smaller than the X Carve and still allows you plenty of room for small and medium-size projects, while the $1,230 price tag is almost half that of the X Carve's.
Of course, a wooden frame does not offer as much sturdiness as a metal one, but thanks to the smart and quality design of the Evo 4, the repeatability is kept very low; from just 0.002" to 0.004".
So, if used correctly, it's still a really sturdy machine that can achieve highly precise cutting.
It's similar to the X Carve in terms of linear motion, with a belt drive on the X and Y axes and an Acme lead screw on the Z axis, alongside an SG20U supported rail system for improved rigidity.
X Carve offers a higher range of quality upgrades and accessories than those available for the Evo 4, but there is still a laser module available for the latter, and the BobsCNC comes with a wasteboard included.
The Evo 4 doesn't come with software included, so the X Carve certainly has the upper hand in this regard.
Is the BobsCNC Evo 4 a better CNC router than the X Carve? No; it's always going to be very difficult for a wooden machine to outperform a metal one.
However, BobsCNC has come up with a very good machine that performs better than you'd expect a wooden router to do, so if you're looking to save around $800, it's certainly a viable alternative.
Read more: BobsCNC E4 review
Ooznest Workbee Z1+
Price: $1,922 for 30"x30" model
The CNC routers I've looked at so far have had some pretty distinct advantages over the X Carve; the Onefinity and Shapeoko 4 in terms of quality, and the BobsCNC Evo 4 in terms of price.
With the Ooznest Workbee Z1+, the differences are more subtle. This isn't a case of presenting a superior machine to the X Carve, but rather highlighting one that offers certain things the X Carve doesn't, while also lacking in some areas.
So, which one you prefer is ultimately down to your priorities.
Similar to the Onefinity and Shapeoko 4, the Z1+ is available in six different sizes, ranging from 10"x10" to 50"x50".
The most similar in size to the X Carve is the 30"x30" model, which affords a very slightly bigger cutting area than the X Carve.
However, the ability to choose from six sizes is really nice, and the price differences are minimal; only around $100 between each size. Although bear in mind Ooznest Workbee machines are shipped from the UK, so shipping costs will be higher if you're in the US.
One fairly subtle difference between these two machines is the frame construction.
While the X Carve is made of extruded aluminum, the Z1+ is constructed using anodized aluminum, making it slightly steadier, more rigid, and more durable.
This makes the Z1+ more suitable for cutting aluminum and other non-ferrous metals, something the X Carve isn't ideal for. As various Z1+ users have noted, it's very effective at achieving clean and precise cuts in aluminum.
Another area in which the Workbee Z1+ has the edge is in terms of the controller.
This routers' Duet 2 controller with RepRap firmware is superior to the X Carve's GRBL controller. It has a powerful Atmel processor for smoother, higher performance machining, super quiet stepper motors, and advanced features such as up to 7 axis control.
Whereas the X Carve requires USB connection, the Z1+ requires either ethernet or WiFi.
While ethernet connection is not a priority for many hobbyists, the ability to connect wirelessly is a big plus. On the other side, some people will prefer to use a USB connection so as to not be so reliant on a strong internet connection.
In terms of upgradability and accessories, the X Carve offers higher quality options overall, with the ability to add a laser module a big plus.
Ooznest does offer an enclosure for the Z1+ though, which reduces noise, prevents mess, and improves safety, something you'd need to build yourself if you wanted one for the X Carve.
Avid CNC CRP4824 or Benchtop PRO 2424
Price:
$3,095 for CRP4824
$3,950 for Benchtop PRO 2424
The four CNC routers I've covered so far are very much hobbyist machines, although the likes of the Onefinity CNC and Shapeoko 4 are good enough for small, home business production.
However, if you're looking for a more professional, industrial-grade alternative, I recommend checking out an Avid CNC router.
Avid CNC makes a wide range of professional CNC machines, and I think there are two that are valid alternatives to the X Carve.
The first is the CRP4824, a 2×4 CNC router kit. The reason I've highlighted this particular Avic CNC model is because you get a very high-quality router that offers a significantly larger working area than the X Carve, but for just around $1,000 more.
This machine is perfect if you want to take your work to the next level and start working on larger products or at faster, more demanding production rates.
One thing you can be sure of with Avid CNC machines is that they're excellently made and incredibly sturdy, and this is exactly the case with the CRP4824.
It's made of heavy-duty aluminum with steel plates for fantastic stability, while the dual drive rack and pinion on the Y axis, rack and pinion drive on the X axis, and 5 start Acme lead screw drive on the Z axis makes for a very smooth, high-quality linear motion.
If you're looking for a machine that's more similar in size, the Benchtop PRO 2424 is certainly worth checking out.
This CNC router is almost twice the price of the X Carve, but it simply offers much better quality cutting than your standard hobbyist machine.
For example, it has precision ballscrews on each axis and dual drive ballscrews on each side of the gantry.
These provide top-notch stiffness and all the power you need for cutting aluminum and soft metals with great precision and good speed, as well as the usual suspects like plastics, wood, and so on.
If you like the sound of the Benchtop PRO, the Benchtop Standard is available for just $2,175.
Both models are also available with a 2ft by 3ft working area. This version is missing some of the high quality components on the PRO, such as the dual drive ballscrews, but it's still a superior machine to the X Carve in terms of stability and cutting quality.
Just bear in mind that these Avid CNC machines are not as user-friendly as the X Carve, which is specifically designed for beginners and amateur hobbyists. I wouldn't recommend these to first-timers.
These routers also don't come with any CAD or CAM software kits included.
However, if you have decent experience with CNC routers and are looking for an upgrade on the X Carve and similar hobbyist machines like the Shapeoko 4, or if you're thinking seriously about a business using your router, these more affordable Avid CNC machines are a great place to start.
Things to Consider When Choosing an X Carve Alternative
Price
In terms of price, the BobsCNC Evo 4 offers the most value for your dollar at just $1,230 – and this robust wooden machine delivers surprising precision and reliability for its price point.
At the top end, the Avid CNC CRP4824 or Benchtop PRO 2424 starts at $3,095 and $3,950 respectively, aimed at professional or industrial-grade work.
X Care Alternatives Price Comparison
Material Compatability
When it comes to material compatibility, the Onefinity CNC confidently cuts through soft metals, and has even been used to cut thin steel.
The Shapeoko 4 also outperforms many others in cutting aluminum.
On the other hand, if your primary material is wood or other soft materials, the BobsCNC Evo 4 or Ooznest Workbee Z1+ should serve you well.
Work Area
If workspace is your top concern, the Shapeoko 4 and Onefinity CNC Woodworker X-35 offer multiple sizes, with Shapeoko 4 XXL providing a massive 33"x33"x4" workspace.
Avid CNC also delivers larger work areas with their CRP4824 and Benchtop Pro models, stepping up to professional-grade scales.
X Care Alternatives Work Area Comparison
Speed
For speed, the Shapeoko 4 excels, cutting wood up to twice as fast as many of its counterparts. It combines swift action with precision thanks to its significantly wider belt drives.
On the professional side, Avid CNC's machines offer even higher performance and faster production rates.
The Best Alternative to the X Carve
In conclusion, while there are several viable X Carve alternatives that will suit different people for different reasons, the overall best like-for-like alternative to the X Carve is the Shapeoko 4. It's better suited to professional and home workshop use – especially if you plan to start a business with your CNC router – and in the same price range.
If you want to save money, the BobsCNC Evo 4 is a very capable wood CNC router. And there's also the Onefinity CNC range, with great stability, precision, controller, size, assembly, and linear motion, and it's arguably superior metal cutting. It's even cheaper than the X Carve!
If you like the sound of the Onefinity CNC Woodworker X-35, or one of the other models from this range of routers, you can order one today through the Onefinity website.
BUDGET PICK
BobsCNC Evo 4
Available at:
PROFESSIONAL PICK
Shapeoko 4
Available at:
FAQs
For more related topics, here are some articles we recommend: