Whether you're using a router, mill, lathe, plasma cutter, or laser cutter, a CNC controller is a vital component of any CNC machine. The controller converts your g-code into the instructions the CNC machine uses to mill your final piece.
CNC controllers are also one of, if not the most complex part of a CNC machine. This can make choosing the best controller for you somewhat tricky, particularly if you're a beginner.
That's why we've created this ultimate guide to CNC controllers. We cover everything you need to know, including the different types of CNC controllers and how they work. We'll then finish by taking a look at some of the finest hobbyist controllers on the market that you can buy today.
01/31/2023 12:30 am GMT
What is a CNC Controller?
A CNC controller can be thought of as the "brain" of a CNC machine and forms the link between your computer system and your CNC machine's mechanical components. It uses g-code to send the necessary signals to your machine's motors for it to perform tasks, whether that be drilling, cutting, engraving, or anything else. 
There are two main components to a CNC controller – the physical control board itself and the software it runs on. Different controllers are built on different CNC software; sometimes a controller manufacturer's proprietary software and other times third-party software.
CNC controllers were typically only used in industrial settings until around a decade ago, but recent years have seen many of the features of industrial controllers become available to hobbyists, too.
Industrial controllers are known as OEM controllers and are very expensive, typically used in high production settings with CNC machines manufactured by the likes of Haas, Fanuc, and Mazuk. 
Types of CNC Controllers
In terms of hobbyist CNC controllers, there are various options to choose from. Firstly, there are PC-based controllers based on software like Mach3, LinuxCNC, and FlashCut that are designed to turn regular computers into CNC controllers. 
Read more: the best CNC control software
Previously, these controllers were based on breakout boards that you'd connect to your PC via the parallel port. However, with parallel ports now close to obsolete, they are now based on motion control boards known as motion controllers. 
Motion controllers connect to your PC via USB or ethernet cable rather than the parallel port, with numerous benefits. For starters, it means more stable pulse generation and therefore smoother performance. 
It also removes the danger of spikes in current, which can damage your PC, as the computer is isolated from the CNC control board. Other benefits include being able to run other programs on your PC while the controller is in operation, and being able to run software like Mach3 on 64-bit computers, whereas on a breakout board it can only be used on 32-bit machines.
Another option is to go for what's known as a microcontroller. These are self-contained CNC controllers in which everything is fit onto a small circuit board and don't require an external computer. These are known as "plug and play" devices.
There are also CNC retrofit controllers, which are used to convert manual machines into CNC ones and to replace existing CNC systems with newer, more powerful ones. 
The type of controller you go for depends on various factors, including your preferred software, the number of axes you need to run, and the type of CNC machine you're pairing it with. Price can also vary widely depending on the quality of controllers and the performance levels they offer. 
The Best CNC Controllers
Now let's take a look at some top CNC controllers you can easily purchase today. We'll look at both motion controllers and standalone microcontrollers based on a variety of different software, starting with the most affordable.
CNCTOPBAOS 3 Axis GRBL CNC Controller Board – Cheap Option for Hobbyists
GRBL is a free, no-nonsense, open-source CNC control program built for Arduino boards that's been popular in the hobbyist community for many years. Whereas some programs are compatible with all types of CNC machines, this CNC controller software is designed to operate routers and mills.
The CNCTOPBAOS GRBL control board is a cheap yet decent board that is a great option for budget hobbyist work, whether that be creating home decorations, woodworking, metalworking, or any other project you can work on with routers and mills. This CNC motion controller supports 3 axis functionality and uses an Arduino Nano chip. 
It uses an integrated stepper motor drive with short circuit protection and aluminum alloy for heat dissipation, to help achieve optimal performance and protect the board from damage during long-term use. 
This Arduino CNC controller board can support up to 20,000 RPM spindle speeds so you can work on projects quickly. It's popular among users with a 4.4-star rating on Amazon, with people commenting on its smooth performance and ease of use.
Budget Pick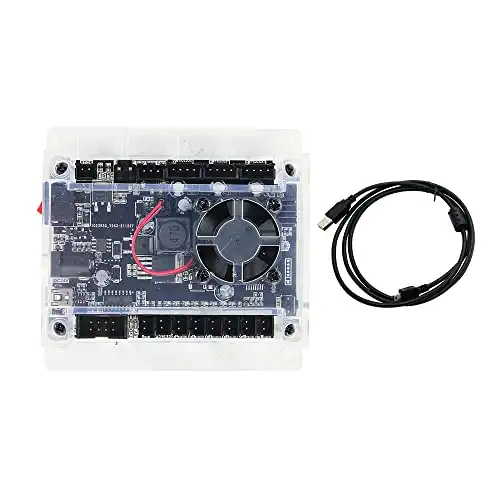 ---
Fafeicy Mach3 Motion Controller – Affordable Mach3 Motion Control Board
Mach3 is one of the most popular CNC control programs among hobbyists. It's actually now ArtSoft's older CNC controller software having since been followed by Mach4, but it remains the go-to choice for many CNC enthusiasts.
It has a rich variety of features including a fully customizable interface, visual g-code display, and "mini programs" called wizards that can be written by anybody to streamline the performance of routine operations without requiring pre-written g-code.
If you're looking for an affordable motion controller to use with this program, the Fafeicy Mach3 CNC controller board is a great option. One of the best things about this controller is the variety of functions it supports, including automatic tool probing, emergency input, and a limit switch. 
This motion control board supports 4-axis linkage, meaning you can use it to control both 3-axis and 4-axis CNC machines, so it's suitable for virtually any hobbyist project. Both the software and controller are also compatible with almost any type of CNC machine. The maximum step pulse frequency is 100KHz, which is optimal for engraving. 
It's always a good idea to check out what other users say about a product, especially with something as intricate as a CNC controller, and people have given this Fafeicy a firm thumbs up with a 4.8-star rating on Amazon.
---
Mesa 7176E – Best LinuxCNC Control Board 
Price: $199 for controller
$0 for software
If you're a fan of LinuxCNC, the Mesa 7176E is an excellent motion control board for running this software. The board is connected to your PC via an ethernet cable and can control stepper and servo motors on up to 5 axes.
This is a powerful and efficient CNC controller kit that allows you to use LinuxCNC without connecting a breakout board to a parallel port, providing more I/O points (48 in this case) as well as a spindle encoder interface that provides feedback and alerts you to issues, among other benefits. 
If you're not familiar with LinuxCNC, it's one of the most popular CNC control programs alongside Mach3 and Mach4. Unlike those two, however, it's completely free and open-source.
It can be used to control CNC lathes, CNC mills, 3D printers, plasma cutters, laser cutters, and more. The program is highly popular for its flexibility, robustness, reliability, powerful performance, and active user community, though it does have a relatively steep learning curve.
---
WixHC Mach4 Controller – Great USB Mach4 Control Board
Price: $260 for controller
From $200 for software
Mach4 is a significant upgrade on Mach3; in fact, it's more a full rewrite rather than an upgrade, containing less than 1% of its predecessor's code.
While Mach3 is still a decent option for simple hobbyist operations (which is what it was designed for), Mach4 is designed to be much more flexible and suitable for use with large files. It offers more speed, power, and industrial-style controls for all types of machines, from lathes and routers to plasma cutters and 3D printers. 
The WixHC Mach4 controller is a great way to run this control program. It supports up to 6 axis functionality and offers up to 2000KHz step pulse frequency, which provides extremely stable performance and plenty of power to accurately perform demanding and continuous CNC projects. The metal casing also shields external interference signals for improved reliability. 
It has some useful features like an LED that indicates the status of the USB connection and it's also hot-swappable, meaning it can be connected and disconnected without shutting down your computer.
While the Faifecy CNC router controller we've reviewed above is an ideal option for simple hobbyist projects, this WixHC controller is much better suited to serious hobbyists, professionals, and to control CNC machines for small business owners. 
---
Centroid Acorn – Best CNC Controller for Retrofitting
Centroid's Acorn is a very powerful and reliable CNC motion controller that offers industrial-level controls at a hobbyist price and can be used with all types of CNC machines. It offers an ethernet connection to computer systems. 
This is one of the most popular controllers for retrofitted CNC machines, and Centroid offers a full retrofitting service, from installation to training. The benefit of retrofitting is that it can save you a lot of money in comparison to buying a new CNC machine – more than 50% according to Centroid.
The Centroid Acorn has a Beaglebone green motion control CPU at its core. This is an open-source, single-board computer similar to the Raspberry Pi which means you don't need to have a powerful computer to perform complex CNC operations.
This CNC controller kit uses Centroid's own Acorn CNC12 software which is optimized for retrofitting, is regularly updated, and doesn't require any additional cost for the base version, which is limited to 50kb g-code files. That is enough capacity for most hobbyist projects, but if you need more you can purchase the Pro version.
Another bonus of choosing this controller is the level of support that comes with it, with an active user community and phone support offered by Centroid. 
Premium 4 Axis Pick
---
Buildbotics CNC Controller – Best Raspberry Pi CNC Controller
The Buildbotics CNC controller is a great choice if you're looking for a self-contained CNC control box that allows you to operate your machine without an external computer or Mach3 or LinuxCNC. 
This controller is based on a Raspberry Pi 3, which is a tiny and compact yet powerful microcomputer built on a single board. The Pi 3 is connected to an ATxmega192a3u microcontroller. The Pi 3 sends the g-code signals to the microcontroller which then controls the movement of your CNC machine components. 
Another benefit of this controller is that, unlike many others, it has stepper motor drivers included. Not only does this save you the cost of having to buy them separately, but it also makes it much quicker and easier to get started with than other controllers, particularly for newbies. 
You can access the web interface of this controller on any device via WiFi or ethernet, and you can even hook it up to a monitor, mouse, and keyboard.
The Buildbotics all in one CNC controller offers 4 axis functionality and is suitable for all CNC projects. It has a PWM port for connecting lower-powered spindles used on machines like engravers, as well as an RS485 port for connecting more powerful air and water-cooled spindles for jobs like cutting and milling.
It's also important to note that this CNC controller is fully open source, which means bugs are fixed and the program is updated regularly, so it can offer optimal performance for considerably longer than other controllers. 
---
MassoG3 – Overall Best CNC Controller for Lathes, Routers, Mills & Plasma
The MassoG3 is one of the most expensive controllers on the market, but with good reason. It offers exceptionally high-quality CNC control and is ideal for both serious hobbyists and professionals for work like making furniture with mills and routers or metal fabrication with plasma cutters.
What sets the MassG3 apart from many cheaper CNC controller kits is that it offers different controllers for different machines – one for routers and mills, one for lathes, and one for plasma cutters. As each controller is specifically optimized for the compatible machine type, they offer significantly higher performance than other control boards.
This is a fully integrated plug-and-play controller that can be used without a computer. It has WiFi connectivity and uses Masso's own proprietary MassoG3 software. Benefits include a simple layout, a tool path display that lets you see your job in real-time, direct spindle control, and four USB ports for connecting accessories like a keyboard and mouse without needing a USB hub.
This Masso CNC controller is also available in a touchscreen version that comes with a fully integrated LED touchscreen and provides an unrivaled user experience.
Other articles you may be interested in: