Mills come in all shapes and sizes, but if you're a hobbyist working with limited space, you probably want a benchtop milling machine that you can easily fit in your home workshop.
We often discuss CNC mills and routers on this site, but in this article we're instead discussing manual desktop milling machines for DIY projects and professional use.
There's no shortage of mini milling machines out there, so to help you pick out the best benchtop mill for you, we've reviewed the top models right here in this guide. Firstly, however, let's take a look at what benchtop mills are used for and what you can get with different budgets.
TOP PICKS
Best Benchtop Milling Machines
What are Benchtop Milling Machines Used For?
From jewelry and models to electronics and tools, a mill allows you to create essentially anything that can be achieved by shaping materials. Benchtop mills are most commonly used with metals, but can also be used with wood. This not only makes mini mills a great tool for hobbyists, but also a valuable asset to small business owners. 
Benchtop mills, also known as mini mills or mill/drills, were used almost exclusively in industrial settings until fairly recently. But, with new lower-cost desktop milling machines becoming available, everyday hobbyists now have more options when creating DIY home projects.
They vary a lot in price, and none are exactly cheap. The more affordable machines can be bought for under $500, while on the other hand there are many that go for thousands; tens of thousands in the case of some industrial mini-mills. 
The quality you get is largely based on how much you spend. That's not to say that you can't bag a decent benchtop mill for under $500, but that you should carefully consider your particular needs and DIY goals before making a purchase. 
More expensive mills typically offer more power, accuracy, speed, less vibration, better stability, improved durability, and larger working tables, so bear this in mind.
Desktop Milling Machine Reviews
Proxxon 37110 Micro Mill – Cheapest Benchtop Milling Machine
The Proxxon 37100 is a really decent little mill and one of the most affordable on the market. It's an entry-level benchtop milling machine that's ideal for beginners. 
It also offers great stability thanks to the cast iron base, while the vertical column and compound are both made of treated, high-quality aluminum for better durability. The headstock is made of die-cast aluminum and houses a 24-pole balanced motor, which retains stability even while milling at high speeds. 
This is a very user-friendly tabletop mill, with both axes fitted with adjustable dovetail slides and hand wheels with adjustable scales where one revolution is equal to 1mm. The milling speed can be adjusted from 5,000 to 20,000 RPM, so you can easily alter it based on the material you're working with.
Our mill/drill machine reviews found this is one of the smallest and lightweight benchtop milling machines on the market, weighing just over 18 pounds, so it's portable and ideal if space is an issue.
Cheapest Benchtop Milling Machine
---
Klutch Mini Milling Machine – High Quality Hobbyist Mini Mill
The Klutch Mini Milling Machine is another popular mini mill that offers high quality at a relatively affordable price.
It's a cast iron machine that runs without vibration, making for really smooth, precise milling. The Klutch Mini also offers plenty of strength for demanding projects, such as making tools like hammers or spanners out of thick stainless steel. This is thanks to the 1/2 HP, 110V variable speed motor and 2-speed gearbox that generates 350W power. 
We also like that the milling head and column can be tilted left or right by 45 degrees for increased versatility, making it easier to work on materials from different angles within a single fixture. 
This benchtop mill is highly-rated – many makers online praise its sturdiness and compactness, as well as its high performance for hobbyist projects.
Overall, we think this is the best beginner milling machine due to its reliability and ease of use, as well as its high quality despite the affordable price.
High Quality Hobbyist Mini Mill
---
OTMT OT2213 – Impressive, Simple Feeding System
The OTMT 0T2213 mini mill is a small, compact benchtop milling machine with 1/2 HP and a 3.5" x 15" work table.
This benchtop milling machine has some great features that make it a useful addition to your workspace. For example, the head tilts 45 degrees from left to right, offering versatility and improved control for highly accurate cutting, milling, and engraving on your DIY projects. 
Other benefits are the fine and coarse feed for milling, as well as the dial with easy-to-read increments of 0.0001" which makes finding the perfect setting simple.
There are two different speed ranges: 0 to 1100 RPM and 1100 to 2500 RPM, which is an impressive maximum for a mini mill in this price range. The variable speed control allows you to easily adjust speeds while working with different materials of different thickness.
So, for example, you can quickly and easily set the machine to 2,400 RPM for cutting 6mm thick stainless steel, and then switch to 700 RPM for cutting 20mm thick stainless steel.
---
Grizzly Industrial G0727 – Best Benchtop Mill 
If you're a beginner looking to get into milling and only have a small workspace, look no further than Grizzly Industrial's G0727. This is a small 5" x 8" mini mill that can fit right onto your benchtop! It's also one of the most affordable mills on the market.  
This mill works both horizontally and vertically, so it's a versatile and flexible machine that can be used for a range of different projects. Also, there's very little setup time due to the simple conversion to horizontal and vertical operations.  
Another nice feature of this home milling machine is that the DC motor provides variable spindle speeds for matching material, tooling and finish. This benchtop mill uses a 1/2 HP, 110 V single-phase motor with an R-8 spindle taper. 
The G0727 has a 45-degree L/R head tilt, a maximum spindle to table distance of 6-1/2", a longitudinal table travel of 11-7/8" and a cross table travel of 3-11/16", with a table size of 4-3/4" x 18-1/3". 
Other benefits of this hobby mill include dovetail ways for improved accuracy, a heavy cast iron construction and compact design mounts for robustness, and three-axis control, all of which combine to give great precision and versatility. 
---
Bolton Tools BF20VL Variable Speed Mill – Powerful Mill for Home Use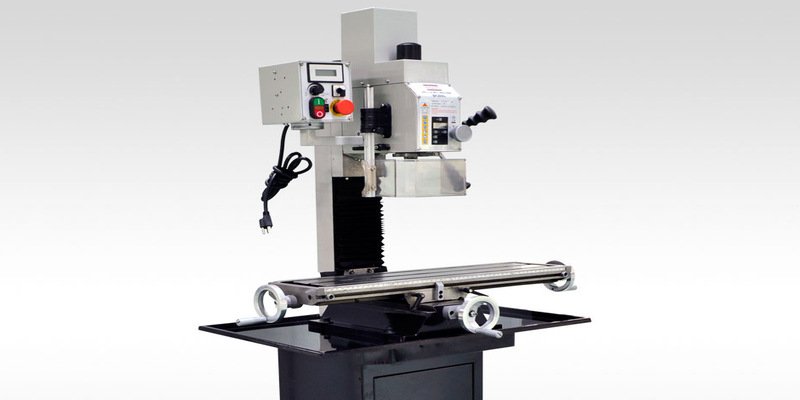 Bolton Tools is well known for providing high-quality mills at low prices, and the BF20VL is a great example of that.  
This 7″x 27.5" variable speed benchtop milling machine is perfect for small machines. It boasts a sturdy dovetail column, so it's an extremely robust machine. The mill also has a digital read-out for both the RPM and spindle quill travel. 
This mill comes with a 6 7/8" x 18 7/8" travel on the table. The all-gear drive spindle is driven by 1HP motor that provides plenty of power for cutting a wide variety of different materials.  
Another useful feature of this mini mill is its 90-degree head tilt, which allows you to carry out functions like drilling holes through a block at an angle without the need for an angle vise. 
The BF20VL's small size and relatively low price make it one of the best budget mill machines for beginners. There are also a range of optional accessories that Bolton Tools sell that will enhance your milling experience. 
---
Shop Fox M1111 – Excellent 1HP Milling Machine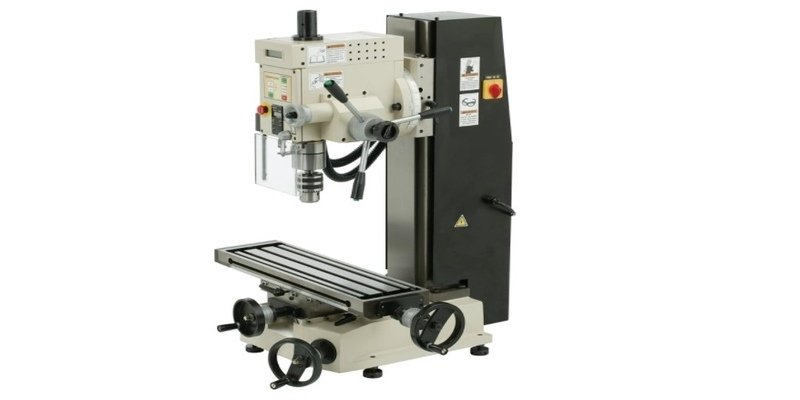 If you're looking for a mid-range mini mill that offers power, accuracy, and versatility, the Shop Fox M1111 is a great choice. 
This benchtop milling machine offers 12 different speed options from 1,000 to 1,750 RPM  allowing you to precisely pick the right speed for different jobs. It also offers 1HP in contrast to the 1/2 HP of the many cheaper machines. This enables you to tackle more demanding projects such as those that use stronger metals like steel rather than lighter materials like aluminum, like for making clamps, vises, and other practical tools.
The M1111 also has some nice features to improve efficiency and usability. For example, it has a quick tilt headstock for easy horizontal milling, and the headstock can be tilted by 90 degrees, so it's considerably more flexible than most more affordable benchtop mills.
There's also a backlit digital tachometer on this tabletop milling machine that allows you easily monitor the precise spindle speed. Push button speed control also makes adjusting speeds super simple. 
Another highlight is the 5.75" x 15.5" cast iron work table. It's very sturdy and stable, while the hand wheel and fully geared lift system allow you to easily lower and lift the table by up to 14.75". 
---
Taig 5019DSLS Micro Mill – Best Small Mill for Steel Cutting 
Don't be fooled by the small size of this Taig Tools machine – the 5019DSLS micro mill is a powerful mill that certainly packs a punch and is perfect for beginners. 
One of the most impressive parts of this home milling machine is the Advanced Digital Syn Lock Servo (DSLS) control, which uses the latest microcontroller chip technology.  
This is coupled with new 200 oz-in stepper motors that reach rapid traverse speeds of 100 inches/minute with High Motor Torque, with a step resolution of 0.00125 inches, providing both precise and robust cutting. Taig Tools has carried out capability tests showing a single pass that showed a single pass 1/8" depth slot cut in mild steel with a 1/8" end mill.    
This desktop mill has a precision-engineered steel and aluminum structural design, so it's very sturdy. Each moving component is made of steel and hard anodized aluminum, and the machine features adjustable brass gibs to ensure it will last a long time. 
So if you're looking for a desktop milling machine that provides exceptional steel cutting and high motor torque for a low price, the 5019DSLS is a great choice. 
---
Jet JMD-18 – 2HP Benchtop Mill/Drill Machine with Large Table
The Jet JMD-10 is one of the more expensive options out there, but its exceptional quality means it's certainly value for money and is a contender for the title of best benchtop milling machine.
For starters, it offers 2 HP, our benchtop mill reviews found it's four times as powerful as the Klutch Mini and many other cheaper mini mills, allowing you to work on hard metals like steel with much more ease. 
Another big benefit of the Jet JMD is the large worktable, measuring 9.5" x 32.25". This provides more than double the working space of the cheaper benchtop milling machines we've reviewed, so you can work on a wider variety of projects with less maneuvering. 
There are 12 speed settings ranging from 150 to 3,000, so there's plenty of versatility for different projects, while the cast iron column offers fantastic stability and durability. We also like that it has some pretty innovative features, such as the integrated work lamp. 
The JMD-18 is also an intuitive mill built with usability in mind, with simple controls and an easily readable internal depth gauge.
---
Supra Vertical Knee – Best Benchtop Milling Machine for Intuitive Controls 
This mill, created by CNC Masters, is an upper-range machine that's powerful enough to keep industrial millers happy while also being user-friendly.
You can use the Supra Vertical straight out of the box, with a simple setup process and intuitive controls that are easy to get the hang of. This is a versatile mill and can be used for a wide range of projects, from engraving to ceramic production. 
This is also a very strong and robust mill, made entirely out of cast iron. One nice feature is that as well as using automation technology for the machining of complex parts, this milling machine can also be operated manually by using the hand wheels of the axis.  
The Supra Vertical has full 3-axis movement with a max travel of 34" x 11.5" on the X and Y axes, while the Z axis is quill driven for high precision. 
There are various packages available that come with different add-ons, so you can pick the package that best suits your budget. 
---
Bridgeport Series 1 Standard Knee Mill – Best for Large Businesses
The Bridgeport Series 1 Standard is an impressive benchtop mill that its creator Hardinge claims is "the most popular milling, drilling and boring machine in the market", and with over 370,000 of the machines built, there's certainly some substance behind the claim. 
This Bridgeport mill is favored by many professionals and business owners due to its high levels of accuracy, reliability and versatility. 
It has some really useful features, such as the innovative airflow cooling design. This eliminates the need for external fans, which prevents expansion from heat build-up and prolongs bearing life. 
Other benefits of the Bridgeport Series 1 are its one-shot lubrication so you can easily keep your machine lubricated and the SystemChrome-plated ways and gibs for increased robustness. 
Regarding the specs, this 3D milling machine is 87" high with a large 9" x 49" worktable. It has a Power Quill Feed 3 drilling capacity of 3/8" and a manual drilling capacity of 2 Cl/min. The milling machine also has a very wide high speed range of 500 – 4,200 RPM and a low speed range of 60 – 500 RPM, along with 3HP, so it packs plenty of power. 
There are a full range of accessories available from the Hardinge website so that you can customize your Bridgeport mill as you wish. 
Related Posts: