If you're looking to craft and personalize your own jewelry, a laser engraver is one of the cheapest, simplest, yet most precise ways to do it. However, there are hundreds of models on the market, so it's essential to choose carefully and pick the best jewelry laser engraver for you.
Working Area:

110x110mm, 150x150mm, or 175x175mm
Top Fiber Laser Pick
Working Area:
110x110mm, 150x150mm, or 175x175mm
03/31/2023 03:30 am GMT
We've reviewed the top jewelry laser engravers to give you a nod in the right direction. As well as comparing the best jewelry laser etchers, I've also included supporting information on the difference between diode, fiber, and CO2 lasers for jewelry engraving, recommended the best option in every price range, and added some FAQs related to jewelry engraving and starting a jewelry business.
Best Jewelry Laser Engraver – Full Round-Up
Can You Laser Engrave Jewelry? 
Yes, it's possible to engrave rings, bracelets, necklace pendants, and any other type of jewelry. However, the types of jewelry metals you can engrave vary greatly depending on the type and power of your laser.
What Machine Do You Need To Laser Engrave Jewelry? 
Every different type of laser engraver: diode lasers, CO2 lasers, infrared lasers, and fiber lasers, can all engrave jewelry to an extent – but fiber lasers are best for metal jewelry engraving.
Diode lasers for jewelry engraving
Diode lasers are the least powerful type and are most commonly used for engraving and cutting materials like wood, leather, and acrylic.
For metal jewelry engraving, you can etch metal like stainless steel with stronger diode lasers, but it's weaker, less precise, and takes far longer than CO2 or fiber lasers.
Diodes aren't suitable for engraving highly reflective metals like gold, and most are only suitable for treated metals like coated stainless steel or anodized aluminum. But if you just plan to engrave on anodized aluminum keyrings and other projects, diode lasers work fine. I've engraved a bunch of anodized aluminum projects with my Snapmaker's 10W laser module, and on my xTool D1 Pro 20W.
CO2 lasers for jewelry laser engraving
CO2 lasers are more powerful than diodes. However, they're mostly restricted to the same types of metals, though they can also engrave brass. They're still not suitable for working on reflective metals like gold. 
Infrared lasers
Infrared lasers provide a more suitable alternative to both diodes and CO2 lasers due to their 1064nm wavelength, which is better absorbed by metals. Infrared lasers can engrave almost any type of metal, including silver, gold, and platinum. 
Fiber laser jewelry engraving
The most powerful laser type and best for metal jewelry engraving is a fiber laser. These are also the most expensive but offer the fastest, most powerful, and most precise performance. You can engrave all metals used in jewelry with a fiber laser.
Best Jewelry Laser Engraving Machines Reviewed 
xTool D1 Pro – Best Diode Laser Engraver for Jewelry with Infrared Attachment 
Pros
Powerful diode laser that can etch stainless steel
Infrared attachment available for engraving other metals
Extremely stable and precise 
Offers its own software
Fast engraving speeds
Rotary add-on available 
Connects via WiFi, USB, and TF card
Cons
Infrared and rotary modules make it expensive
The xTool D1 Pro is probably the best engraving jewelry machine that doesn't use a fiber laser. The base machine uses a 10W laser (I bought the 20W version however, and there's a 5W version), but thanks to its power and refinement, it's suitable for etching and engraving metals like stainless steel.
With an industrial grade, all-metal design, 0.08×0.06mm ultra-fine compressed laser spot, a motion accuracy of up to 0.01mm, and dual laser technology that combines two beams into one, the D1 Pro can precisely engrave stainless steel without the metal even needing coating.
This jewelry engraver also boasts engraving speeds of up to 10,000 mm/min, making it much faster than many cheaper diode lasers.
The xTool D1 Pro is highly configurable and has many add-ons and accessories, the most important for jewelry designers being the infrared laser attachment (costing $559). This is a 120W laser with a 0.03mm spot that allows you accurately engrave virtually any type of material and is perfect if you're looking to start your own jewelry crafting business. 
Another useful add-on to consider is the RA2 Pro rotary attachment. This is ideal for engraving 360° on rounded objects, ideal when engraving jewelry like bangles.
Other accessories to consider include the air assist for minimizing burn marks during engraving, the xTool enclosure for safer engraving, and the extension that boosts your working area to 936x432mm.
xTool offers its own laser software, XCS, which is highly intuitive and optimized for the D1 Pro. Alternatively, it's also compatible with the most popular laser engraving software like Lightburn.
The D1 Pro is also a very intuitive and safe laser engraver ideal for beginners, thanks to its easy laser focus adjustment, flame detection and limit switches, and the ability to transfer data using WiFi, a USB cable, or a TF card for offline use. I personally recommend it, and you can read my full xTool D1 Pro review for more.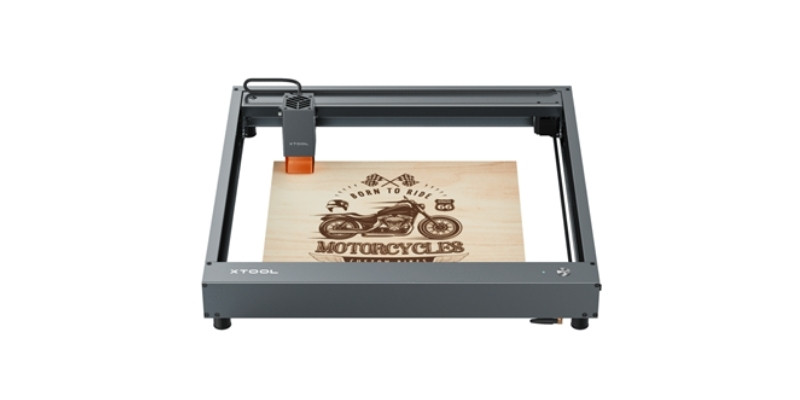 We earn a commission if you make a purchase, at no additional cost to you.
---
Atomstack S20 Pro – Great Alternative
Pros
High quality laser 
Can laser engrave color on metal surfaces
Intuitive and safe
Control via mobile app and offline
Rotary attachment available
All-aluminum structure
Fast engraving for the price
Cons
Can't engrave gold or silver
If you're looking for a high quality but affordable laser jewelry engraver, we recommend the Atomstack S20 Pro.
Atomstack is one of the best-known hobbyist laser engraver manufacturers, so you know you're getting a reliable machine and great support. It uses a 20W laser with a 0.08×0.1mm compressed spot, which is good for the price range – even if it's not as fine as the D1 Pro.
It can engrave metals like anodized aluminum and stainless steel up to depths 0.05mm, so you can etch metal surfaces. If you want to create jewelry out of materials like wood and acrylic, you can achieve faster and deeper engravings.
You can also use the S20 Pro to produce different colored effects on metal surfaces, as the laser will produce vibrant colors when coming into contact with metals. You can control this by adjusting the laser power and line interval. For example, 25% with a 0.01 interval produces a lilac color, while 30% power with a 0.04 interval gives a blue color effect.
It has a fully aluminum structure to give it great stability, and like all Atomstack machines, the engraver is very safe and intuitive to use. The dual-pump air assist kit rapidly removes smoke and dust, while the panoramic filter glass cover protects your eyes from the laser.
You can use it both online and offline thanks to the terminal control panel, which means you don't need a computer. Atomstack even offers its own iOS and Android mobile app for a highly intuitive way to control your engraver.
Finally, there are numerous accessories available to improve your jewelry engraving experience with the S20 Pro, including a rotary engraver.
---
JPT Fiber Laser Engraver – Best Fiber Jewelry Laser Engraving Machine
Pros
Choose from three different laser powers
Available in three different sizes
Can engrave all types of metal
Up to 7,000 mm/s marking speed
Up to 1mm engraving depth
Very sturdy and reliable 
Great support
Cons
Expensive 
Only supports USB connection
It doesn't come cheap, but the JPT fiber laser engraver offers fantastic quality and is ideal for professional jewelry makers and business owners.
One of the things I like about it is that it's available in different configurations. Depending on your preference, you can choose between 20W, 30W, and 50W lasers as well as three working areas (110x110mm, 150x150mm, and 175x175mm), depending on the size of jewelry or number of pieces you want to engrave in one job.
Each configuration is suitable for jewelry engraving, although the more powerful lasers achieve deeper and faster engravings. For example, the 20W has an engraving depth of 0.2mm, the 30W 0.4mm, and the 50W 1mm. 
Another benefit is that the JPT fiber laser engraver offers a rotary fixture with an 80mm diameter which is specifically designed for working on small, circular items like rings and bracelets.
Fiber lasers can have a variety of different wavelengths, but JPT's fiber laser has a wavelength of 1064nm, which is perfect for metal engraving. It's also capable of impressive marking speeds of up to 7,000 mm/s, and is overall one of the best commercially available jewelry laser cutters.
This model is also highly precise, with less than 1% typical distortion, largely due to its super steady, all-metal construction and high-efficiency, air-spaced design.
It's important to ensure you find a reliable fiber laser engraving when the price is so high and the JPT is one of the most trusted among consumers, and a great reputation for excellent tech support.
Top Fiber Laser Pick
We earn a commission if you make a purchase, at no additional cost to you.
---
Buying Guide – Things to consider when choosing a jewelry laser engraver
Laser power
Laser power is measured in watts (W) and the more powerful your laser, the faster, deeper, and more precisely you can engrave. You can engrave some metals with a 10W laser, but usually, at least 20W is preferable. 
For example, you'd need to go over the same etching several times with a 10W laser to achieve the same depth you get with a 20W laser. Just bear in mind that laser power has a big impact on the price you pay for an engraver.
Laser wavelength
Wavelength is important because higher wavelengths have higher reflectivity – for example, CO2 lasers with 10.6um wavelength have 99% reflectivity. This reduces their suitability for metal engraving and renders them useless for working on metals like gold that have highly reflective surfaces.
Low-wavelength lasers like infrared and fiber lasers are much more suitable. All infrared lasers have a wavelength of 1064nm and so do many fiber lasers (although fiber laser wavelengths can be changed depending on the doped material used, with some having up to 2000nm).
Engraving area
As most jewelry pieces are fairly small you don't need a massive working area, but it's still important to consider (especially as larger working areas can also improve usability for beginners). For example, the cheapest SFX JPT fiber laser model has a small area of 110x110m, whereas the D1 Pro's area is around four times larger.
Many laser engraver manufacturers also provide optional extension kits for their products if you'd like a larger working area.
Precision
Precision is another point when looking for the best laser engraver for jewelry and is closely related to the spot size, which refers to how fine the laser beam is.
Fiber lasers are the most precise due to their fine beams, followed by infrared lasers, and then CO2 and diode lasers. For example, the Atomstack S20 Pro has a laser spot of 0.08×0.1mm, while the xTool infrared module has a much finer spot of 0.03×0.03mm, making it accurate down to 0.001mm.
Usability & Safety
As well as the core laser specs, it's essential to consider the ease of use and safety features of a metal engraving machine for jewelry. If you're a beginner, you may want to go for a model like the S20 Pro from well-known brands like Atomstack, as these often provide the best documentation and support.
Atomstak also provides its own mobile app for an easy solution to setting up and operating your engraver, which is more beginner-friendly than learning software like Lightburn.
In terms of safety, looking for laser engravers that offer eye protection, efficient cooling and particle removal, limit switches, and emergency stop buttons. The likes of xTool and Atomstak also offer enclosures for their machines that you can buy separately for increased safety.
Cost
The best machines for jewelry making aren't cheap, and prices can vary a lot between different laser engravers, so it's important to know exactly what to look for to help you get the best value.
Start by determining what kind of jewelry and metals you want to work on and how fast you need to work; ie are you just a hobbyist or do you run a small business and therefore need more efficient production rates? Then you can determine which type of laser you need and go about looking for a machine that best fits your requirements.
Where Can You Sell Laser Engraved Jewelry?
Etsy is the most popular place to sell laser engraved jewelry online, but there are also other websites such as Aftcra and Artfire.
What are the best metals for laser engraving jewelry?
This largely depends on the type of laser you're using. Diode and CO2 lasers are only suitable for a few metals, such as stainless steel and anodized aluminum, but infrared and fiber lasers can engrave virtually any, including gold, silver, and platinum,
What Jewelry Can You Laser Engrave?
You can laser engrave rings, bracelets, pendants, and more, but the materials you can work with depend on your laser type and power. CO2 and diode lasers are only suitable for etching metals like anodized aluminum and stainless steel, while you need an infrared or fiber laser engraver for working on metals like gold and silver.
How Much Does a Jewelry Laser Engraver Cost?
The price of jewelry engravers can range anywhere from a couple of hundred dollars for cheap diode lasers to over $5,000 for fiber laser engravers.
Can You Laser Cut Jewelry?
It's possible to laser cut jewelry, but if you want to cut metal rather than just engrave it, you'd need an extremely powerful fiber laser, or a very powerful CO2 laser – and these are expensive machines not often in home workshops.
FAQs
What is the best laser engraver to use for jewelry?
We rank the xTool D1 Pro as the best diode and infrared jewelry engraver, and the SFX JPT as the best laser cutter for jewelry that uses a fiber laser.
What laser engraver is best suited for gold and silver jewelry?
Engraving silver and gold is best done using an infrared or a fiber laser jewelry engraving machine. We recommend the xTool D1 Pro for the former and the SFX JPT for the latter.
Related Articles: