When it comes to buying a laser cutter, many people prefer DIY options rather than preassembled machines. This is often because DIY machines are cheaper, but many CNC enthusiasts also enjoy the challenge of building their own machine. But how do you find the best DIY laser cutter kit for you?
This guide covers everything there is to know about DIY laser cutters and engravers. We'll explain the different types, their benefits, and how they work. We first let you know how you can build your own laser cutter or engraver, with links to some DIY projects, and then we'll review the best DIY laser engraver kits on the market.
How to Build Your Own Homemade Laser Cutter or Engraver
As the name suggests, a DIY laser cutter is a CNC machine that you build yourself, rather than buying a preassembled, ready-to-use machine. DIY laser cutters can be unassembled kits that you order online and then put together yourself, or they can be built completely from scratch by sourcing each individual part separately.
DIY laser kits you can buy
For DIY laser engraver kits, there's a variety available online that contain all the parts you need — you just need to assemble the machine for yourself. The main reason that people go with these DIY cutters is that they're generally cheaper than buying a desktop laser cutter that's ready to go, as it obviously saves the manufacturers time and the parts can be transported more compactly.
Completely homemade laser cutters and engravers
On the other hand, there are DIY laser cutters that serious CNC hobbyists build completely from scratch by buying each part from different places and then putting them all together. This is a pretty complex task and requires a lot of knowledge of how laser cutters work — and a lot of experience using them.
With this type of DIY cutter, it's often as much a passion project as it is a way of saving money. Not only do lots of hobbyists enjoy the challenge of building a machine from scratch, but it also means you choose your part quality. These cutters are obviously a lot more customizable, which is another reason why DIY machines are so popular in the CNC community. Want to make an enormous laser cutter? As long as you've got the skills and you can afford the parts, you're all set!
There are many examples of built-from-scratch laser cutters available on the web. For example, a hobbyist under the username MichielD99 has posted on Instructables a detailed guide of how they created a DIY CO2 laser cutter as a cheap alternative to preassembled machines, while there's a vast collection of homemade DIY cutters showcased on OpenBuilds. 
Software 
Whether you're doing DIY metal engraving or DIY wood engraving, you need to use a laser software package to control your DIY laser cutter. Luckily, there are several good open source options you can use for free, the most popular being LaserGRBL. This is widely used for both DIY laser engraver kits and by people assembling machines completely from scratch.
Alternatively, LightBurn and Mach3 are popular paid software that most DIY laser etching machines are compatible with. Some DIY laser engraver kits also come with offline controllers that enable you to use them without having to connect to a computer. 
The Best DIY Laser Cutters to Buy 
Now, let's review the best DIY CNC laser cutter kits that you can buy online and then assemble and customize at home. 
MathRose A5 Laser Engraver – Budget DIY Laser Cutter
Starting with the most affordable option, the MathRose A5 is a budget and user-friendly DIY laser engraver kit that's a good choice for beginners looking to get into building CNC machines. 
One of the main reasons is due to the modular design which makes it very easy to assemble, repair, replace and update the various parts. In fact, you can build this machine in just 10 to 20 minutes. 
The MathRose uses a powerful A5 laser module to provide accurate engraving of a variety of materials, from wood and leather to glass and plastics. The laser has a life span of 10,000 hours, so it's very long-lasting even if you're using it continuously on demanding projects. 
It's also an auto-focusing laser, so there's no need to manually focus and risk making it less precise. The working area is large, measuring 410x400mm, and there are precise line scales on the X and Y axes so you can easily measure your workpieces. 
This DIY laser cutting machine has a 4-star rating on Amazon, which is decent despite not being the highest. Many users have praised the good packaging and clear instructions that make it easy to assemble the machine, even if you're inexperienced. 
Ortur Master Laser 2 / 2 Pro — Great Value for Money 
If you're looking for an affordable but durable, safe. versatile and high-quality DIY laser engraver, the Ortur Master Laser 2 is a great choice. 
This machine is particularly well suited to beginners due to its high safety levels. In fact, it employs a triple safety protection system.  
These include active position protection where the machine shuts down if it gets bumped, a laser beam safety guard where the laser turns off if the USB connection fails, and an exposure duration detection limitation that stops the laser beam if there's no movement on the stepper motors. 
This DIY laser engraver kit uses advanced 32bits Ortur firmware which is extremely precise and easy to use. It also provides a power range of S0 to S1000; much larger than the S0 to S255 range of 8bit desktop engravers. 
The high power and accuracy of this machine make it suitable for a wide range of different projects, from acrylic engraving and leather cutting to intricate paper cutting. You can also use it to engrave hard metals like stainless steel, as well as a wide range of other materials like MDF, plywood, and silicone. 
This DIY cutter is easy to assemble and has a 4.5-star rating on Amazon, which indicates some very happy customers. Ortur also provides a very helpful presale and postsale service, as you can get presale consultations and technical support if you encounter any issues with putting the engraver together.
Sainsmart Genmitsu 3018 PROVer – Popular CNC Router with Upgradable Laser Module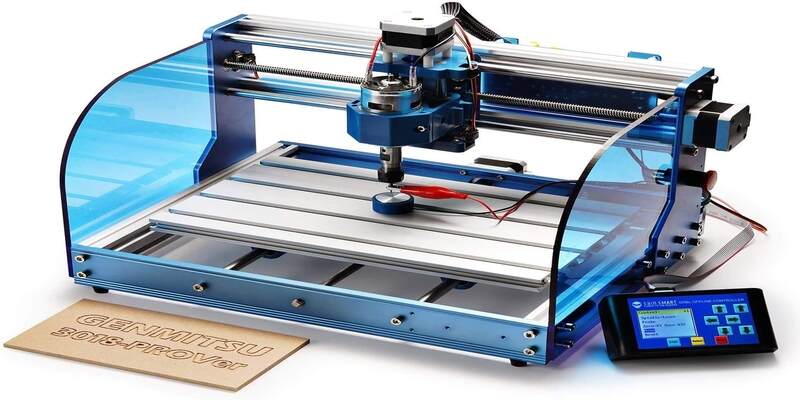 The Sainsmart Genmitsu 3018 is one of the most popular hobbyist CNC machines on the market. While the standard kit is just a CNC router, you can upgrade it to a DIY laser cutter by adding the Sainsmart laser module kit.
This makes this combination the perfect package if you're looking for a high-quality router that can double up as a laser engraver. There are several different options, including a fixed focus laser module and a laser rotary roller engraving module. 
The blue-violet light fixed-focus module is ideal for engraving, cutting, scribing and drilling materials such as wood or plastic, while the rotary module is best suited to engraving cylindrical objects.
Aside from that, there are several features that make the Genmitsu 3018 PROVer a great choice. For example, it has a safety-optimized design with 5mm acrylic buffers that contain cutaway materials during the engraving and cutting process. 
It also comes with an intuitive, newly designed offline controller so that you can use the machine without having to connect to a computer. The controller has a 1.8" display so that you can clearly view readouts. 
This DIY laser cutting machine comes with a detailed assembly guide to help you get started. There are loads of Amazon reviews praising the easy assembly and excellent support, so this machine is suitable for both beginners and experienced hobbyists. 
The laser modules are just one type of upgrade you can make to this machine. For example, there's also a Y-axis extension kit for an increased working area, an MDF spillboard to help prevent the machine from damage, and an aluminum spindle holder that allows you to mount a more powerful spindle. 
BobsCNC Evo 4 – Add Customizable Laser Kits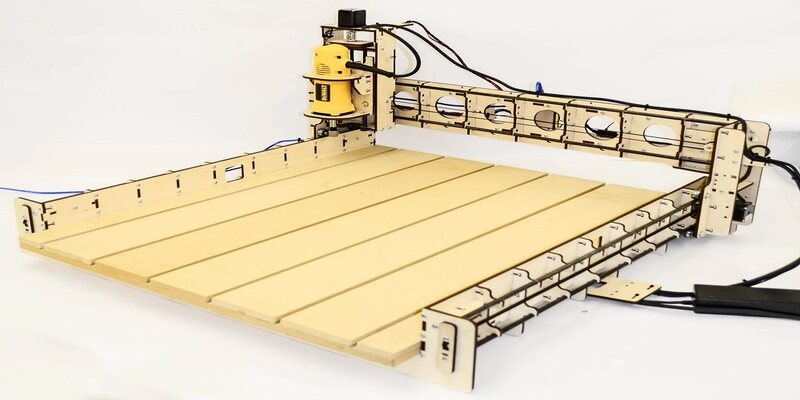 BobsCNC is a well-known and popular CNC brand among hobbyists. It's perhaps best known for its Evolution series of machines, distinguished by their laser-cut wooden frames and somewhat unconventional designs, with the Evo 4 being the best in the series.
The Evo 4 is designed as a CNC router and unlike the other machines on our list, there isn't the option to purchase a laser module directly from BobsCNC. However, other companies have made compatible laser modules, such as J Tech Photonics. 
J Tech Photonics offers well-made, all-in-one laser and mounting kits for the Evo 4 and Evo 3. The best thing is that you can customize the kit based on your requirements and budget.
There are three wattage levels to choose from — 2.8W, 4.2W, and 7W — with the higher wattage levels meaning more expense. You can also choose from three different routers: Dewalt D660, Dewalt DWP611, and Makita.
There's the option to add a magnetic shroud for improved safety, as well as a high-resolution lens for more precise engraving. The kits range in price from $339.97 to $734.96 depending on the specs you want.
In terms of the Evo 4 itself, the main benefits are the large 24" x 24" cutting area and very well-designed structure that provides optimum stability. So if you're looking for a robust machine that can act as both a router and engraver, it's a great option.
As this combination of CNC router and DIY laser cutter module is provided by two different manufacturers, this solution can be more challenging for beginners and is best suited to more experienced hobbyists.
Snapmaker 2.0 – 3 in 1 DIY Laser Cutter, CNC Router & 3D Printer 
The Snapmaker 2.0 is one of the most unique and versatile DIY CNC machines we've come across. This is because it's a laser cutter, a 3D printer, and a CNC router all at the same time. 
In terms of the laser module, the autofocus feature means that there's no need for you to manually test for the focal point. Instead, the optimal laser height is used automatically, making the overall engraving process much easier and more precise. 
There's also the fantastic camera capture feature which automatically takes and uploads a picture of the workpiece and uploads it to the Snapmaker Luban software as a canvas. You can then easily engrave the image shown in the software with just one click. 
One aspect of this machine that will particularly attract DIY enthusiasts is its modular design. All the ports are standardized, meaning you can customize the machine as much as you like. For example, there's a Snapmaker 2.0 rotary module bundle that you can integrate to add 4 axis CNC capabilities to the machine. 
This is an extremely popular DIY CNC laser engraver, with a 4.5 star rating on Amazon from over 100 reviews. Don't be put off if you've never worked with a 3 in 1 machine before – many reviews praise how good the assembly instructions are, so you shouldn't have any issues. 
This DIY laser engraver kit is available in three different sizes – 160x160x145mm, 230x250x235mm, and 320x350x330 – so you can save some cash if you only need a small working area.