Having tested and reviewed both the Ortur Laser Master 3, and the OLM2 Pro, we're well-versed in the differences between these two affordable diode lasers. We'll outline the differences between these two machines so you can pick the perfect option for your DIY projects, hobbyist builds, or side hustle.
TLDR: buy the Ortur Laser Master 3. The increased power, stability from the sturdier metal chassis, and general build quality improvements are a no-brainer – and also, the Ortur LM2 Pro models are being phased out. I'm very happy with my OLM3 (if not that, then go for the xTool D1 Pro – which we've compared directly vs the OLM3).
What Is the Ortur Laser Master 2 Pro?
Also called the OLM2 Pro, the Ortur Laser Master 2 Pro S2 was first released in June, 2021. It uses a simple metal frame to deliver great results at an incredible price. It's one of the more affordable options on the market, and it packs in plenty of power and usability.
This laser takes the place of the original OLM2 Pro which was discontinued. The original version offered a 4.5W or 5.0W laser head, and the new OLM2 Pro S2 (which is still called OLM2 Pro by Ortur) features a 10W cutter.
In fact, I've owned the OLM3, OLM2 Pro, and the original Ortur Laser Master 2. It was much flimsier, with an acrylic-looking body rather than the metal chassis the OLM3 now has – but it still did a good job! It's no longer sold now though.
We earn a commission if you make a purchase, at no additional cost to you.
---
What Is the Ortur Laser Master 3?
The Ortur Laser Master 3, or OLM3 for short, is the newest generation of open-frame laser engraver from Ortur. It features a number of upgrades from its predecessor, and it stands as one of the best laser cutters at its price point.
The OLM3 is perfect for hobbyists, DIYers, and people who run their own side hustle.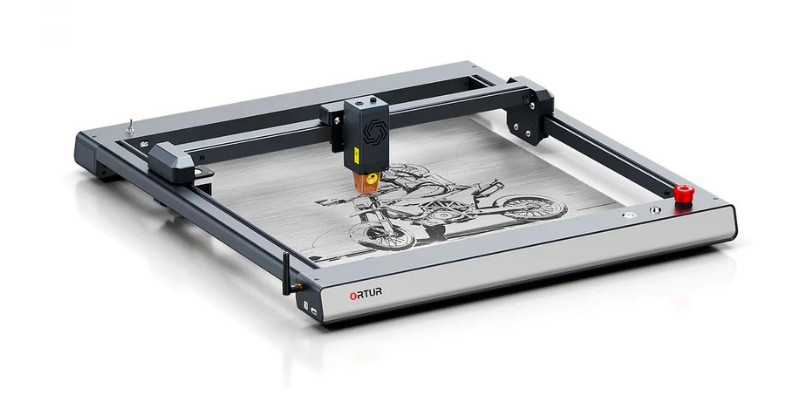 We earn a commission if you make a purchase, at no additional cost to you.
---
Price
OLM2 Pro: $500
OLM3: $700
First, let's look at the price. There's a $200 difference between these machines, but you get so much more with the OLM3 system. The added features, safety, speed, and quality more than make up for that price difference.
The other thing to mention is that these laser engravers are among the least expensive on the market, despite how great they are. Other laser engravers on the market offer a similar laser cutter with a much higher sticker price.
We personally believe that Ortur could charge hundreds more and it would still be worth it.
Availability
OLM2 Pro: Getting discontinued
OLM3: Readily available
The OLM3 is the newer addition to Ortur's line, and the company mentioned that they're phasing out the OLM2 Pro as a result. This is a typical business practice for laser engraver companies — they'll make a newer and better version of their flagship laser cutter, then discontinue the old one.
After all, why would they keep the OLM2 Pro on the market when the OLM3 can do everything even better? Don't get us wrong — the OLM2 Pro is a great laser cutter, but the OLM3 is just better.
You can buy either cutter from Ortur's website, but it's a matter of time before you can only get the OLM3.
Speed
OLM2 Pro: 15,000 mm/min
OLM3: 20,000 mm/min
The speed of your laser cutter will determine how long each project takes. It especially comes in handy when you're talking about engraving (since it only takes one pass, as opposed to cutting which could take multiple passes at lower speeds).
In this comparison, the newer OLM3 runs about 33% faster than its predecessor, the OLM2 Pro. That speed difference directly translates to completing engraving projects 33% faster.
Let's say it took you 60 minutes to finish an engraving project on your OLM2 Pro. If you run the exact same project on the OLM3, it should only take 45 minutes. If you run this project on your machine eight hours a day, you can finish more than two extra parts each day after upgrading to the OLM3 (15 minutes saved per part across an eight-hour day).
The saved time adds up. Every project will get finished quicker, so you can build up inventory or complete custom orders much faster. 
If you care about completion time and speed, you need the OLM3.
Power
Both of these laser engravers come with a 10W laser cutting head. The interesting thing to mention is that Ortur's team calls it a "true 10W", because they use two 5.5W lasers and combine them together.
When combining lasers, there's always energy loss in the final beam. That means that using two 5.0W lasers will result in a final power under 10.0W.
Since they opted for more powerful lasers, the result is closer to exactly 10W.
In this case, either laser engraver is a good option. Both deliver better results when compared to most 10W laser engravers on the market.
It's also worth noting that while the Ortur LM2 Pro S2 is 10W, the standard Ortur Laser Master 2 Pro is not. The original 2 Pro, which I own and have tested, is a 5.5W laser – so take care not to get confused here. Basically, S2 = 10W, but the original is 5.5W.
Assembly Time
OLM2 Pro: 30-60 minutes
OLM3: 30-45 minutes
If you buy the OLM2 Pro or OLM3, you need to prepare for some assembly. The manufacturer ships the engraver as a series of parts with bolts, tools, and instructions. Why? It saves you a lot of money, and it saves them on logistics woes.
Even though both of these laser cutters need to be basically built from scratch, there's a slight difference in how long it might take you.
The walls on the OLM3 slot into each other and require some fasteners to hold them in place, so it's like building with Legos. The toughest part is running the timing belts and getting everything dialed in before you can start cutting.
The OLM2 Pro requires the same time for setting up the belts and fasteners, but you also have to go through more hassle with physically building the frame. They opt for extruded aluminum pieces, so you'll need to deal with special nuts and potential issues with lining things up.
Although the assembly time shouldn't make or break your decision, it's nice to see that the engineers made assembly much easier on the OLM3.
Safety Features
OLM2 Pro: Four safety features
OLM3: Seven safety features
The team at Ortur decided that safety was a big focus as they put together the OLM3. The OLM2 Pro has four safety features: active position protection, a flame detector with a buzzer alarm, sloping position protection, and an emergency stop switch.
This is still a great series of safety features, but they decided to add even more in the upgrade.
The OLM3 has those four features, plus a safety lock, exposure duration detection, and current and voltage safety control. 
Combined, these features will keep you safer while you run the machine. It will also ensure that the part turns out great, since sensors check the position of the laser cutter the whole time.
When it comes to safety, the OLM3 does a better job.
Build Quality
OLM2 Pro: High-quality
OLM3: Very high-quality
We keep mentioning how well-made the OLM3 is, and we'll mention it again. The build quality is really impressive, especially with how inexpensive this laser engraver is. 
Not only does the part look really professional, but the engineering they put into the assembly is great. The OLM3 has a sturdier frame, better mounts, and a more robust interface between the pieces of framework.
The OLM2 Pro is still built really well, but the OLM3 is even better.
Max Cutting Depth
OLM2 Pro: 20mm pine board, 30mm acrylic
OLM3: 20mm pine board, 30mm acrylic
Your laser cutter's max cutting depth will determine the thickest piece of material you can work with. It's largely due to the strength of the laser, and how much material you can remove with each pass.
The good news? Both the OLM2 Pro and OLM3 offer the same max cutting depth. That means that you can't go wrong with either option.
If you're just engraving, you don't care about the max cutting depth. This metric only helps if you're cutting pieces out of base material.
Accessories
OLM2 Pro: Plenty of options
OLM3: Plenty of options
Since both laser engravers are from Ortur and have the same laser cutting head, they are both compatible with the same list of accessories.
Ortur has an impressive list of available add-ons and accessories. Some of our favorite accessories from Ortur for the OLM2 Pro or OLM3 are:
Make sure you have the right accessories to take your OLM2 Pro or OLM3 to the next level.
Which Ortur Laser Engraver Is Best?
In our opinion, the OLM3 is the clear winner and the best Ortur laser. It is the newer generation of the OLM2 Pro, and offers a lot of upgrades. The bottom line is that this laser cutter will handle almost every project better than its predecessor. 
Since the OLM2 Pro is phasing out, this is great news. You can pick up an OLM3 today and start learning more about the machine.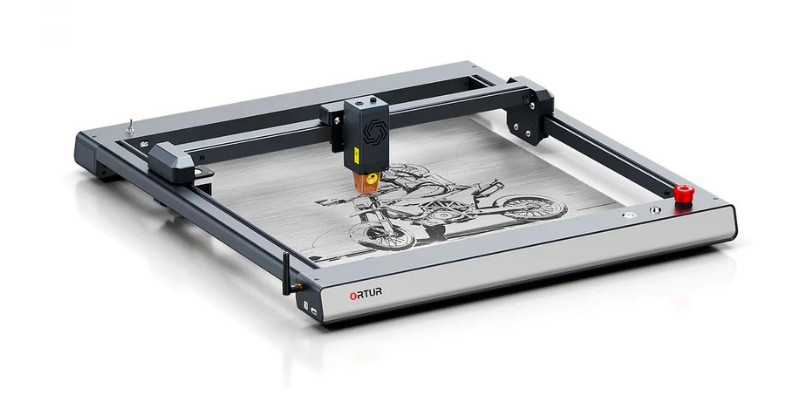 We earn a commission if you make a purchase, at no additional cost to you.
What to Do Next
Now that you know more about the Ortur Laser Master 2 Pro and Ortur Laser Master 3, you can make an informed decision. It's probably best to choose the OLM3 since it is the superior laser engraver. Be sure to pick up the right accessories for your machine, and start experimenting with it today.
Read more: